5 Best CrossFit Workouts For Beginners
When you first make the decision to jump off the couch and into a CrossFit workout, the panic sets in. The cult-like phenomenon is perhaps the most intimidating form of exercise to get involved with, from its seemingly endless parade of chiselled advocates to the near-impossible level of pull-ups everyone is supposed to endure. But despite your apprehension, there are CrossFit workouts for beginners, and they are among the most effective you can perform.
5 Best CrossFit Workouts for Beginners
Here is a list of the 5 best CrossFit workouts for beginners and WOD workouts as put forward by CrossFit champion Zack George.
1. DT
One of George's personal favourites, DT is among the simplest beginner CrossFit workouts. Relying on a serious of explosive movements that are great for building power and muscle, this workout routine is ideal for anyone trying to put on a bit more size, while also keeping their heart-rate up. According to George, he completes the DT in 3 mins 56 secs. Here is how you complete the DT WOD workout;
Deadlifts x 12 reps
Hang Power Cleans x 9 reps
Push Jerks x 6 reps
Rounds: 5 rounds
Weight: 70kg for men, 52.5kg for women
2. Fran
The second of George's CrossFit workouts for beginners is the Fran. This training plan sees you go for speed across a number of compound movements, targeting all major muscle groups in a full body regime. The idea behind this WOD workout is to push your heart-rate up and focus on a full-body burn. Starting with the highest number of reps first and lowering the number as fatigue sets in will help to burn calories, with the majority of the CrossFit exercises being completed using bodyweight. Here is how you complete the Fran effectively;
Thrusters x 21 reps
Pull ups x 21 reps
Thrusters x 15 reps
Pull ups x 15 reps
Thrusters x 9 reps
Pull ups x 9 reps
Rounds: Complete as fast as you can
Want to take your fitness to the next level? Check out all our medically reviewed fitness guides and workout plans
3. Helen
The third of George's beginner CrossFit workouts is the Helen, the first to incorporate traditional cardiovascular exercise. In this one, you start with a full 400 metre run, designed to deplete your body of energy and build lactic acid. From here, you head straight into complex, compound strength movements that burn your remaining energy and help to immediately get the heart rate up. To complete the Helen WOD workout;
---
Featured Video from Man of Many
---
400m run
Kettlebell swings x 21 reps
Pull ups x 12 reps
Rounds: 3 timed rounds
4. Cindy
The Cindy is the first of George's beginner CrossFit workouts that conforms to the AMRAP principle. This WOD workout relies on performing As Many Reps As Possible in the allocated time, meaning your required number of reps is entirely dependent on how hard you choose to push yourself. To complete the Cindy;
5 pull ups
10 push ups
15 air squats
Rounds: AMRAP (as many reps as possible) in 20 mins
5. Annie
Similar to the Fran, the Annie works on the protocol of completing the required exercises as fast as you can. This beginner CrossFit workout is built like an inverted pyramid, where the initial exercise has the most reps and you steadily step down as the lactic acid builds up. While there are only two exercises in this workout, you could easily substitute more or different high-intensity exercises in the change the system. Essentially, the Annie is a simple CrossFit workout that can easily be adapted to suit your favourite exercises and training plan. To complete the Annie:
Double unders x 50 reps
Sit ups x 50 reps
Double unders x 40 reps
Sit ups x 40 reps
Double unders x 30 reps
Sit ups x 30 reps
Double unders x 20 reps
Sit ups x 20 reps
Double unders x 10 reps
Sit ups x 10 reps
Rounds: Complete as fast as you can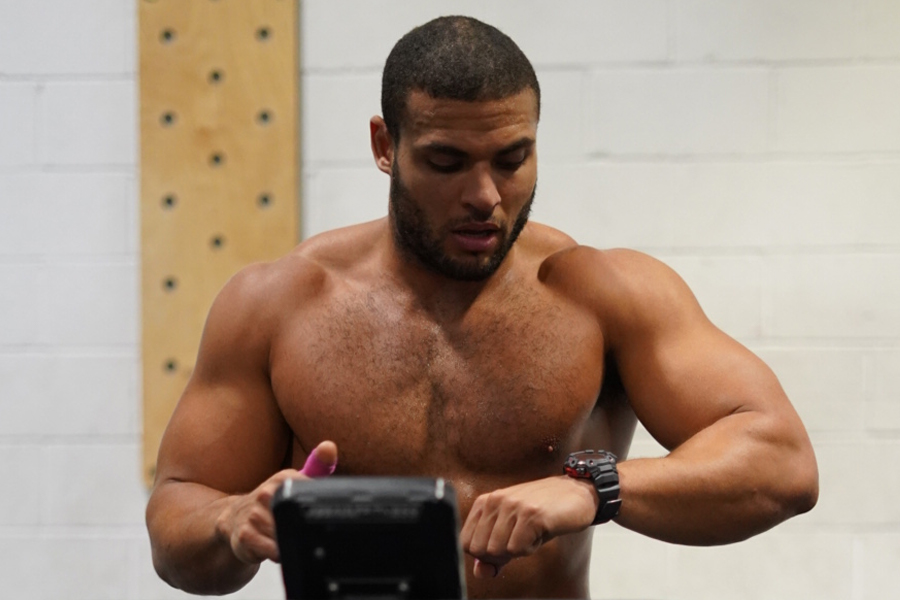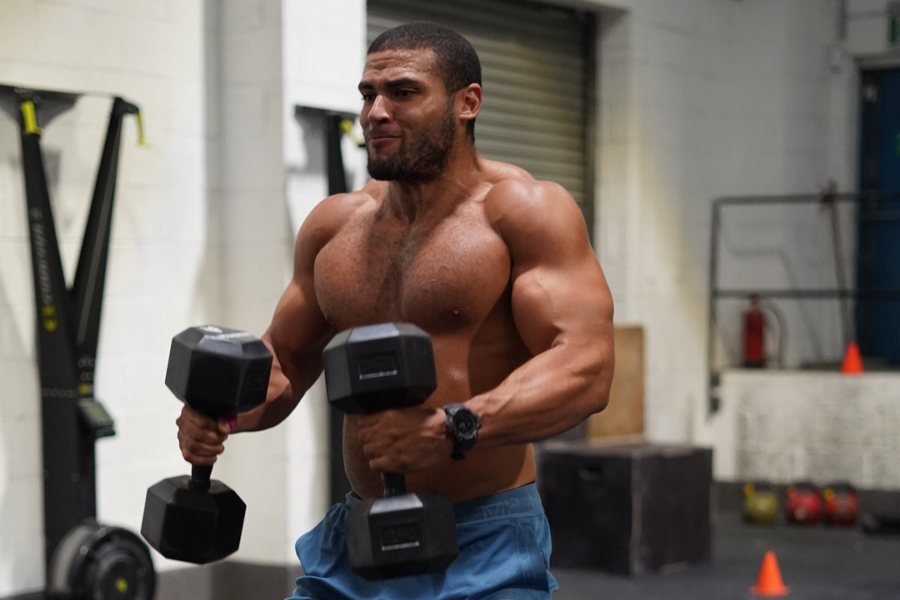 Crossfit Workout Beginner Guidance
If you aren't quite at the level of jumping into a gym just yet, George reveals there are some basic CrossFit workouts for beginners that you can get started with. Obviously, the best CrossFit exercises are the ones where you push yourself, but to get the ball rolling there are some training considerations to take into account.
"The exercise you should 100 per cent include in your workout routine for functional muscle building, would be the Deadlift," George says. "It's a great exercise move which uses the whole body to lift a weight from the floor to standing up tall. This exercise translates into everyday life so well, deadlifts performed properly teaches you how to lift things correctly from the floor, so in everyday life when you have to pick something off the floor you will know how too correctly, minimising risk of injury."
"Also because of the amount of muscles required to perform the exercise it is great for building good muscle and strength as so many muscles are being recruited and worked together at the same time, providing great muscle adaption."
With that in mind, we got Zack George, the UK's Fittest Man and the current CrossFit UK champion to give us his rundown on the best CrossFit workouts for beginners, which have some surprising names. "When most people think of classic CrossFit workouts, they include some of the original workouts designed by CrossFit when it was first founded, commonly referred to as 'Benchmark WODs' or 'The Girls', as they are all known by different female names," he reveals. The term WOD workouts simply refers to 'Workout of the Day', which is commonly used in a CrossFit workout routine or training plan.
Here is a list of the 5 best CrossFit workouts for beginners and WOD workouts as put forward by CrossFit champion Zack George.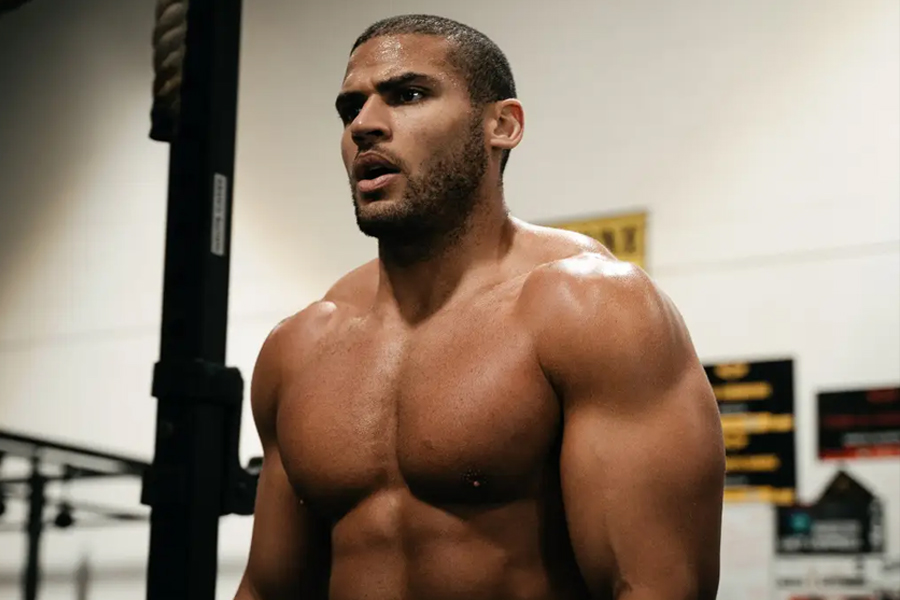 What is CrossFit?
If you haven't had the chance to hit the CrossFit gym before, there is a lot to know about the training methodology. Where traditional cardio workouts are designed to elevate your heart-rate over sustained periods and strength training is created to break muscle fibres, CrossFit combines the two notions in a whole-body approach. While bearing some similarities to High-Intensity Interval Training (HIIT), CrossFit exercises and workouts offer a more targeted muscle-stimulant focus that involves more heavy lifting and anaerobic exercise.
While you could argue that CrossFit is a style of training, fans of the workout will tell you it is more like a lifestyle. A combination of high-intensity workouts, low-carb nutrition plans and functional fitness forms the basis of the exercise protocol. These movements are actions that you perform in your day-to-day life, like squatting, pulling and pushing, meaning that in addition to improving your health and fitness, CrossFit can help boost your daily experience. Most of the beginner CrossFit workouts feature variations of squats, push-ups, and weight lifting set to a predetermined amount of time. The idea is to build muscle through progressive overload, a method that varies from a traditional rep-based workout.
Studies have shown that CrossFit workouts are effective because of their emphasis on the elements of load, distance and speed, which in turn, can aid participants in developing higher levels of power. But unlike traditional HIIT workouts, CrossFit exercise often make use of different equipment, such as kettle bells, rowers and bikes, medicine balls, speed ropes, rings and plyo boxes.
Over the past two decades, we've seen CrossFit gyms pop up all over the world, from here in Australia to the far reaches of Iceland. But while other fitness forms have been seen as fads, CrossFit has been able to traverse the industry's short-term popularity for one main reason; the CrossFit Games.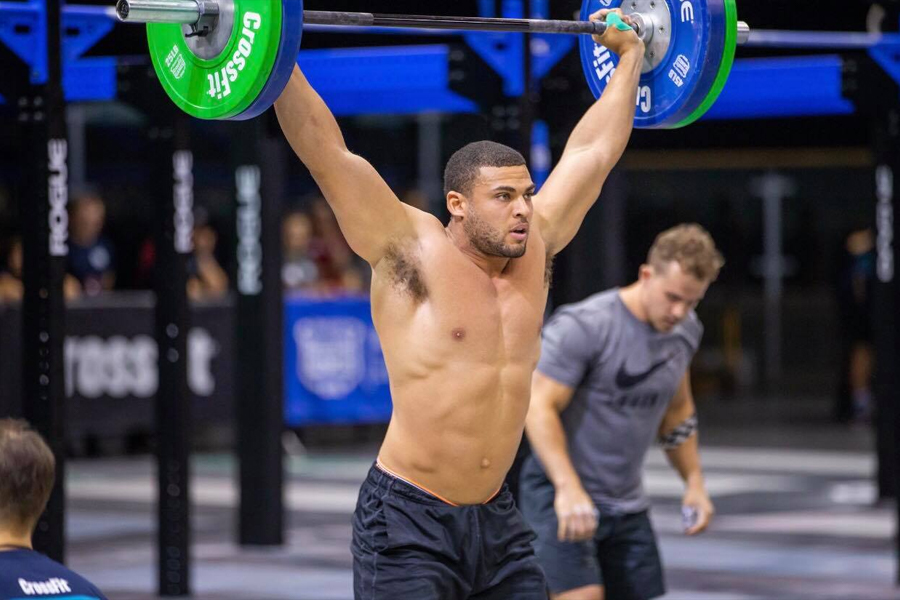 What are the CrossFit Games?
Much like the Olympics or the Superbowl, the CrossFit games pairs the best athletes in their chosen sport against one another in the ultimate display of physical prowess. The eventual winner is named Fittest in the World, a title currently held by US athlete Mat Fraser and Aussie star Tia-Clair Toomey. To claim the title, athletes must compete at regional tournaments to work their way up to the world stage, where they find themselves tackling a range of high-intensity workouts designed to test even the fittest of human beings. In the UK, CrossFit superstar Zack George lays claim to the throne. The man mountain recently took out the CrossFit games, officially becoming the UK's Fittest Man.
"It was such an incredible and slightly surreal feeling. I set this as my goal six years ago and to finally make it a reality and to qualify for the CrossFit Games, was so rewarding," George tells Man of Many. "My 10 year old self would have laughed so hard at the prospect of being awarded the title of the Fittest Man. Fitness just wasn't a part of my life then, but now I can't imagine doing anything else – I'm incredibly lucky to do something I love and it's so hard to describe how amazing it feels for all the years of hard work to pay off."
According to George, the reason that CrossFit workouts are so effective is because they utilise constantly varied functional movements performed at high intensity across broad time and modal domains. "In essence, CrossFit trains all the different energy systems of the body (ATP, Anaerobic, Aerobic) and works all 10 components of physical fitness: cardio, endurance, stamina, strength, flexibility, power, speed, coordination, agility, balance, accuracy," he explains. "It's a truly complete training method. It incorporates everything – HIIT training, plyometrics, gymnastics, calisthenics and Olympic weightlifting."
To help him get prepared for the games, George partnered with watchmaker G-SHOCK for a new timepiece designed specifically for his fitness endeavours. The new G-SHOCK GBD-H1000 is the brand's first-ever watch equipped with a heart rate monitor, which George said was a massive advantage going into the competition. "The combination of Heart Rate monitor and smart tracking functionality alongside sheer toughness of product means G-SHOCK can stand up to all aspects of training in and outside of the gym – and for the sport of CrossFit, it's brilliant as it's the toughest device around so can withstand heavy weights and complex movements like no other device."
But despite now being a champion, it has to be said, even George was a novice at one stage. It's precisely why he believes CrossFit for beginners in an excellent way to get back in shape this year. "It can be used to accomplish any goal and due to the scalability of movements and intensity level, it can work for everyone – from beginners to elite athletes," he says. "Combine all this together and you develop an amazing physical capacity which prepares you for a healthy, functional and independent life."
You'll also like:
20 Best Home Gym Equipment Pieces to Boost Your Workout
11 Must-Do Ab Exercises You Can Do at Home
10 Best Weight Loss Exercises for the Ultimate Shred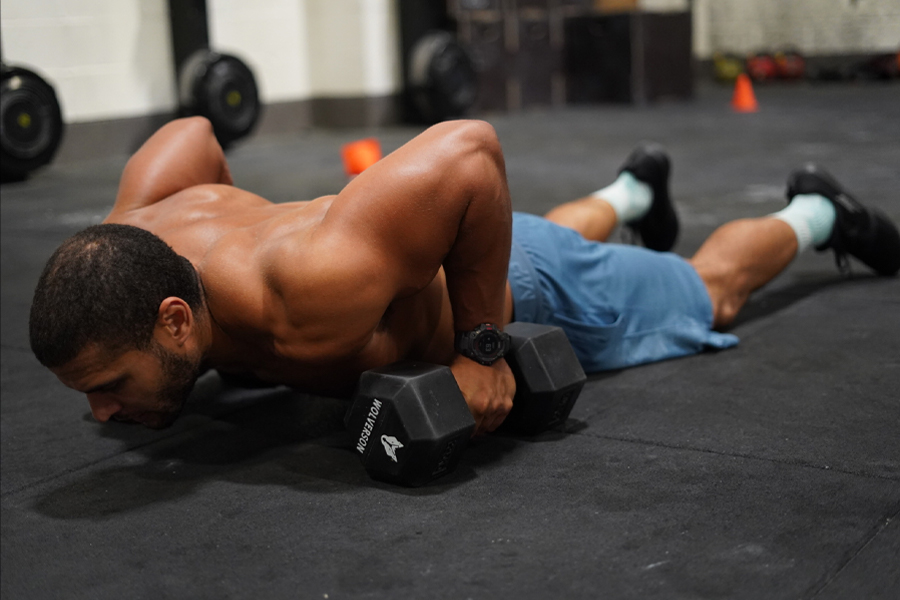 Common CrossFit Mistakes
One of the biggest misconceptions about CrossFit workouts is the prevalence of injuries. While a mixture of high-intensity exercises, speed and weight can proven to be dangerous, the biggest consideration to take into account is your physical limitations. Be sure to visit a GP before you get started and have any lingering injuries checked out. Aside from that, George explains there are a few other things you must avoid when getting into CrossFit.
Machines – "An exercise I would say avoid would be squatting on a smith machine. Squatting is one of the best exercises out there when performed correctly, but unfortunately you see a lot of people doing this exercise on a smith machine," he explains. "Due to the restriction of movement on a smith machine, you can't perform a squat properly, as you have to follow the path of the machine, which isn't the correct way a squat should be performed, also a squat is great for your legs but also amazing to develop great core and ab strength as they have to massively stabilise your body during the movement. When performing a squat on a smith machine, due to the machine stabilising for you, you don't develop as good a core as you would performing the exercise with just a barbell."
Nerves – "My advice to anyone who is curious about the sport is to just book yourself in, most places do a free trial, so just take the plunge and go for it. I'd also say that there are two camps of people who discover CrossFit through all the amazing documentaries out there now on the sport – one group think it looks awesome and immediately sign on up, but the other think it's intimidating."
Being intimated – "My ultimate advice is DO NOT be intimidated, I really cannot stress that enough," he says. "CrossFit is the friendliest and most welcoming sport there is. The community is everything, you don't just go and train at the gym in isolation, you create amazing bonds and meet friends for life. It becomes so much more than just training and going to the gym, it becomes a lifestyle that you'll become hooked on – it's the best kind of addiction and one you would never regret."
For more advice on training tips or to learn about his new coffee company – Opus Coffee, his Silverback Training Programming or his new partnership for the G-SHOCK GBD-H1000, check out Zack's official Instagram via the link below.
You'll also like:
20 Best Home Gym Equipment Pieces to Boost Your Workout
11 Must-Do Ab Exercises You Can Do at Home
10 Best Weight Loss Exercises for the Ultimate Shred
General FAQs
Is CrossFit safe?
Despite what certain gym goers and staunch strength training fans might tell you, CrossFit is safe, provided you take your current health, injury and physical limitations into account. The fast nature of a CrossFit workout coupled with advanced lifting may result in a higher rate of injuries than your average training program. As with all physical exercise, there is an element of injury-risk involved. Before completing a CrossFit workout, it is advised you seek a medical professional and have any underlying injuries identified. This way, you can tailor your CrossFit workout to suit.
What are some common CrossFit exercises?
The common CrossFit exercises are generally similar to standard HIIT and strength training workouts. Here, you'll find Deadlifts, Squats, Pull-Ups, Jumps, Lunges and Push-Ups.
Is CrossFit effective in building muscle?
As CrossFit involves a significant amount of heavy lifting and compound movements, it will be highly effective in building muscle. That being said, it is critical that you fuel your body with lean protein to complement the workout.
---
Featured Video from Man of Many