12 Best Pull Up Bars for Home
The pull up. An absolute staple of any home workout. All you need is a bar and your body. But what is the best pull-up bar on the market? Screw-in, stand-alone, doorway, wall-mounted, hanging, hooked, multi-function dip + pull up station or single-use, there is a surprisingly large range to choose from and even more to consider. You should be looking at the dimensions of the bar, how much weight it can hold, and what you can actually do with it.
What Should You Look For In A Pull-up Bar?
The biggest question you'll need to ask yourself is if you want a bar that fits neatly around or across a doorway, or if you can commit to a freestanding body weight machine. If space is an issue, it's a no brainer, but in even the biggest of houses always make sure that your walls have the integrity to fit a freestanding machine against.
Best Pull-Up Bars for Men
We've collated the best pull up bars from all walks of the fitness world to help you keep your chin up and not be overwhelmed by choice or underwhelmed with your final product. Here is a list of the best pull up bars.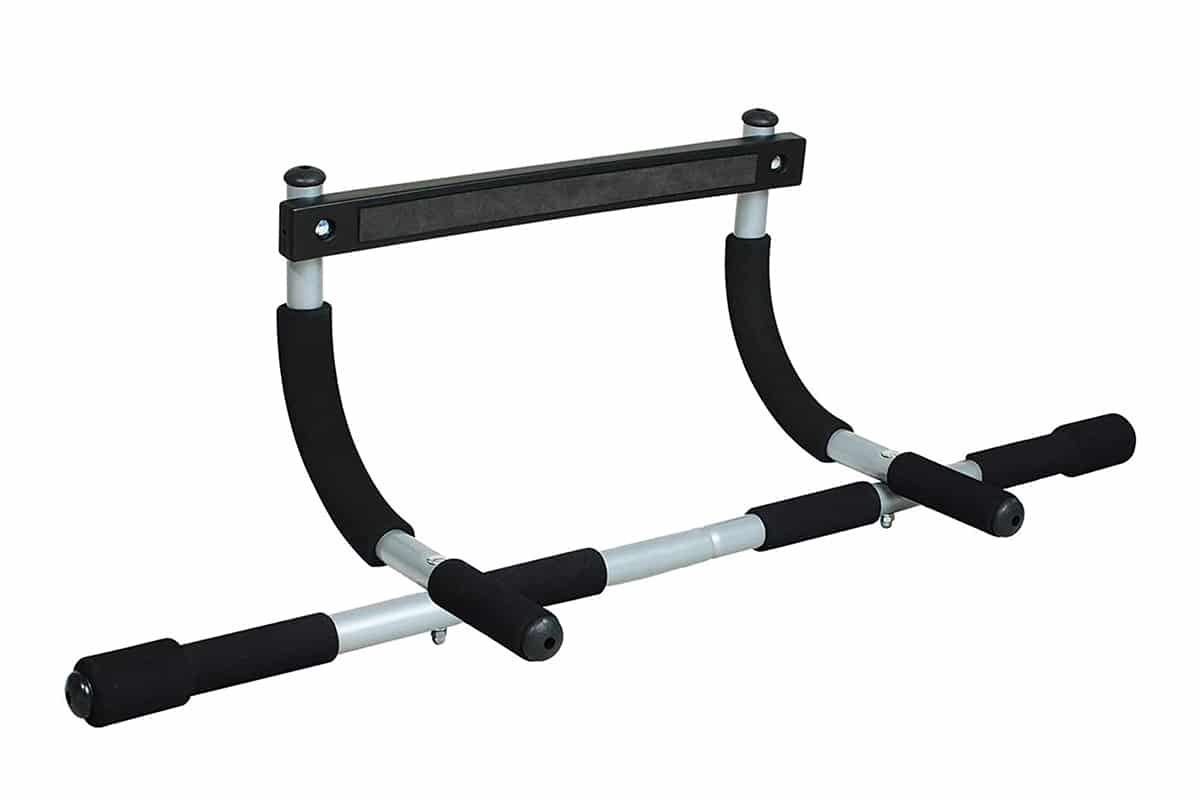 1. Iron Gym Total Upper Body Workout Bar
The Iron Gym utilises the power of leverage to let you slap it up with no screws and no dramas. It has foam grips to keep your hands working and can hold up to  300lbs / 140kg. There are three grip positions to ensure you work out the entirety of your upper body. They boast it'll fit 'most' doorways but make sure to double-check dimensions. You need 24-32 inches to fit this piece to your door.
Material: Plastic, metal
Brand: Iron Gym
Weight: 75.84 ounces
Dimensions: 12.99 x 36.61 x 11.02-inches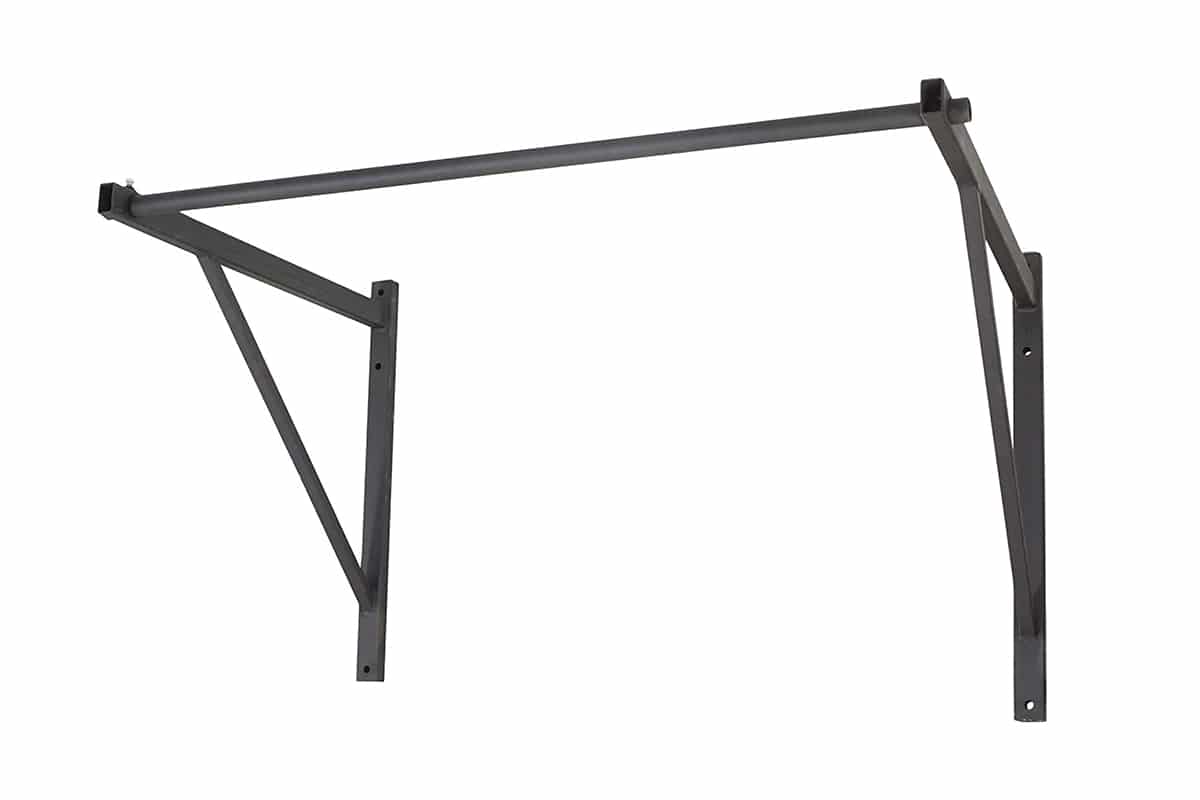 2. Titan Fitness Wall Mounted Pull Up Chin Up Bar
The Titan Fitness is a 'no frills' version of the pull up bar. It's a heavy-duty bar with a frame that screws directly into your wall. It's not here to mess about. If you're looking for a strong piece of metal to help you get strong with, it's there for you. It won't make you a latte or cook you breakfast, but it'll give you the lats to let you do it yourself. With Length x Width x Height being 52.00 x 32.00 x 31.00 Inches its simple dimensions ensure it'll fit around, or in, the spaces you need it to.
Material: Plastic, metal
Brand: Titan Fitness
Capacity: 500-lbs
Dimensions: 52 x 32 x 31-inches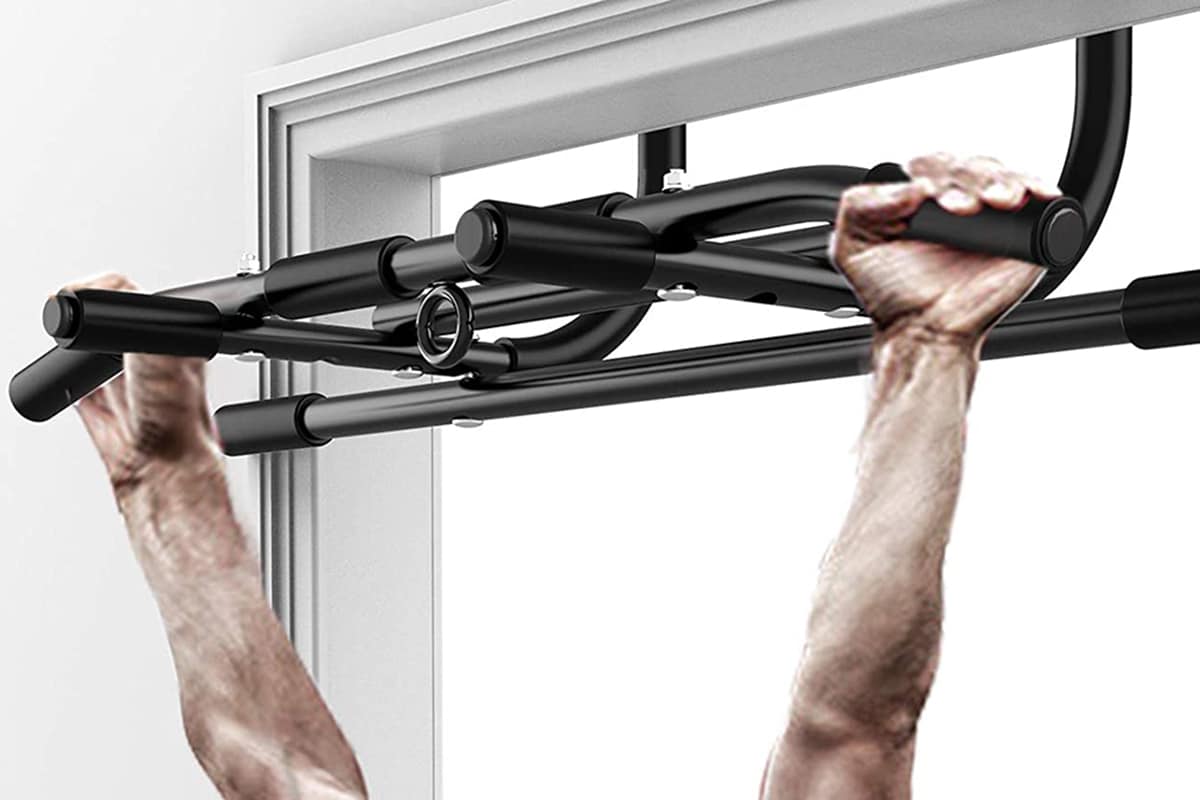 3. VUP Pull Up Bar for Doorway Chin Up Bar
The VUP pull up bar features a sleek solid construction. Packing a whole lot into a small space, it provides you with everything you need in the most economic fashion. You'll find wide, narrow, straight and angled grips all wrought out of 2.0 mm thickness seamless steel. Provides solid strength up to 440lb/200kg load without any bend and no risk of break all with a unique 3 bar fixation structure. Not that looks matter, but it's a handsome piece of metalwork.
Material: Plastic, metal
Brand: Titan Fitness
Capacity: 440-lbs
Dimensions: 39 x 12 x 2.5-inches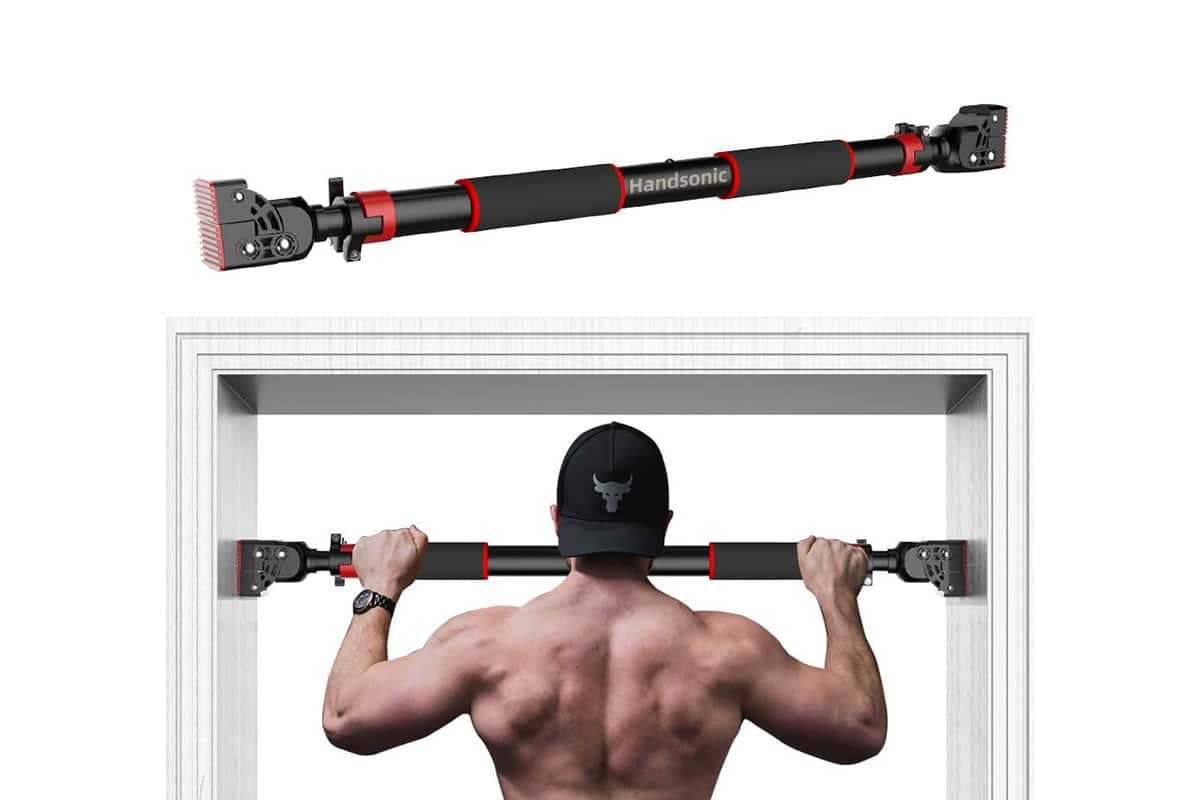 4. HANDSONIC Pull Up Bar for Doorway
In contrast to the levers of other bars, the HANDSONIC is a bar that pushes outwards as you rotate it. Combined with Anti-Skid pads on each end it is the easiest and simplest bar you'll find, with the added benefit of increasing in stability as more weight is pulled against it. It'll carry up to 440 lbs / 200kg and has a firm locking mechanism to ensure no slipping mid-workout.
Material: Plastic, metal
Brand: Handsonic
Capacity: 440-lbs
Dimensions:30.3 x 3.4 x 2.8 inches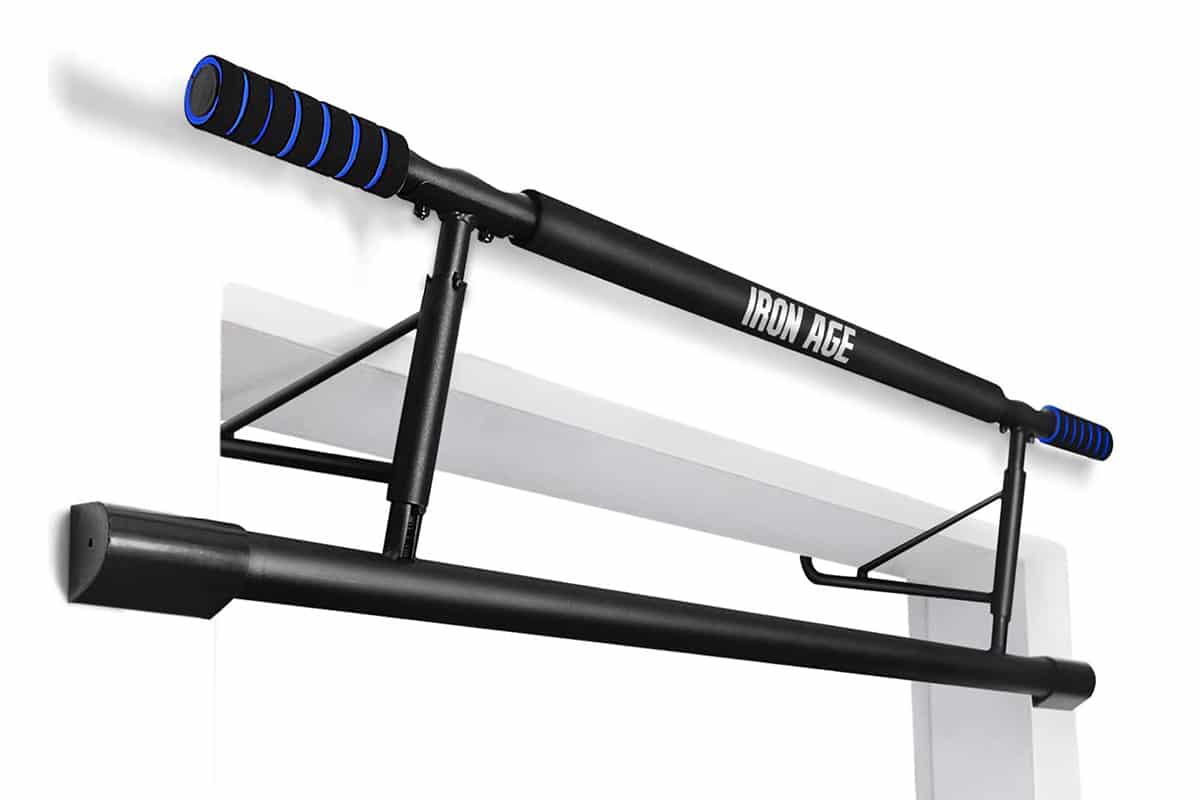 5. Iron Age Doorway Pull Up Bar
The Iron Age manages to refine the concept of leverage by dissipating downwards energy across a variety of vertical and horizontal points, instead of purely a back and forth exchange. Multiple protective pads will make sure you leave no scratches as well as two plastic sleeves for the extra cautious. The Iron Age ships whole leaving you with no need for set up. As close to plug and play as you can get with a wall hanging pull up bar. Its big sell is that the top bar is 6 inches higher than the average pull up bar, which helps the taller amongst us a huge amount.
Material: Plastic, metal
Brand: Iron Age
Capacity: 440-lbs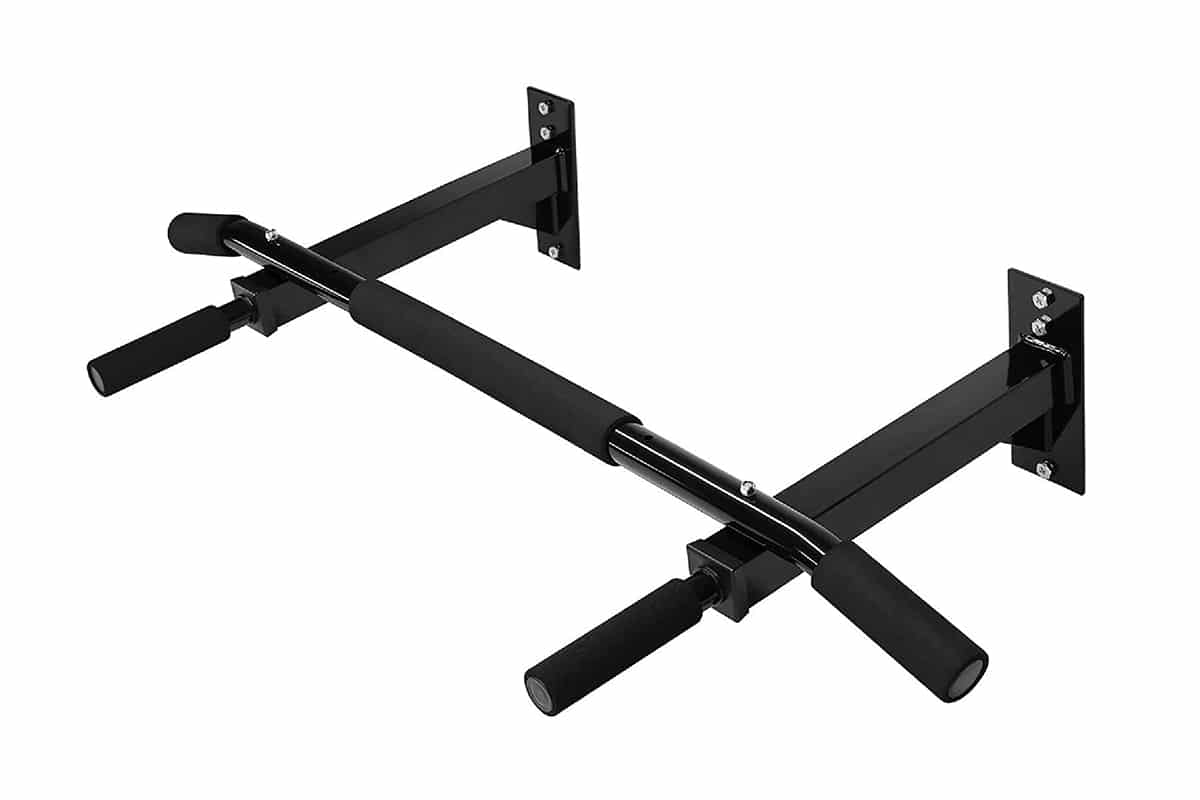 6. Yes4All Wall Mounted Pull Up Bar
The Yes4All is a wall-mounted bar, meaning it'll require you to screw it directly into the surface you're mounting it on. If you're a renter this means ensuring due diligence in making sure that whatever you're mounting it to is strong enough to bear the 300lbs /140kg this 16-24" solid steel construction can hold. It offers foam wrapped multi-grip positions letting you work every part of your upper body out with no fear of sweaty slippage.
Material: Metal
Brand: Yes4All
Capacity: 300-lbs
Dimensions: 40.25 x 7.25 x 3.25 inches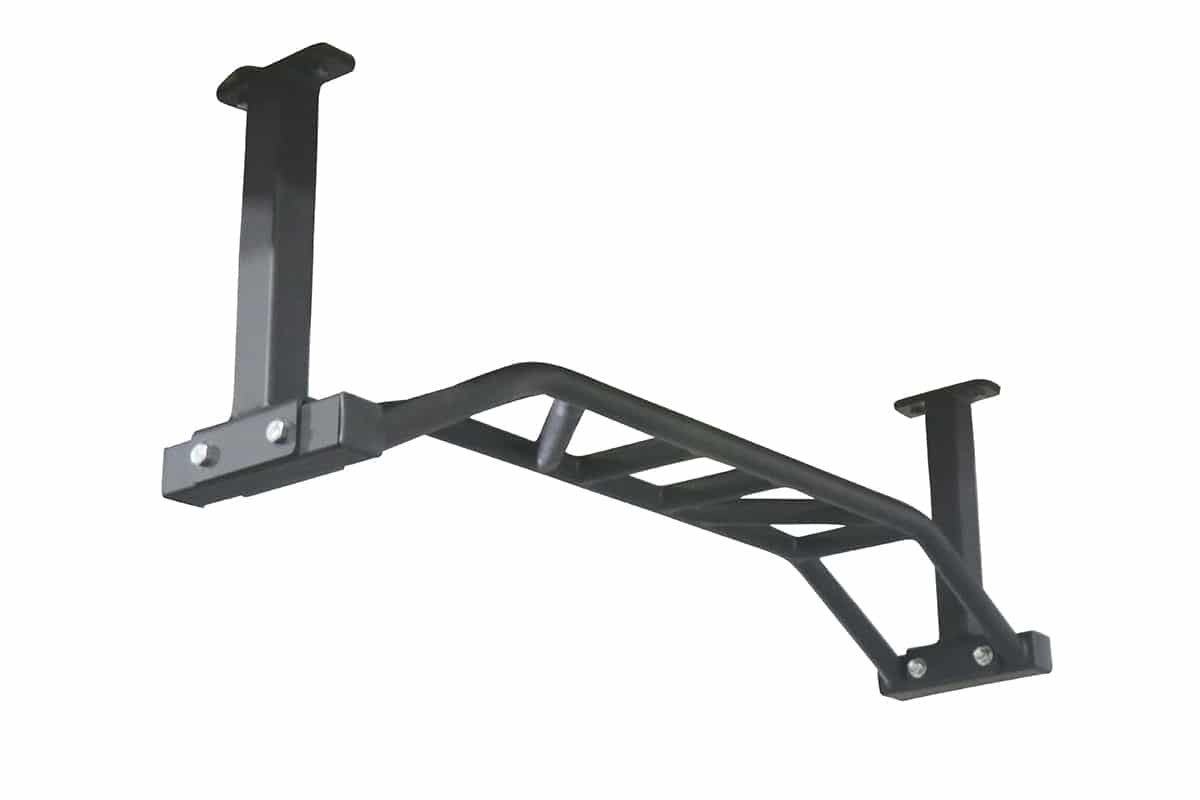 7. Gronk Fitness – Ceiling Mounted Multi-Grip Chin Up Bar
The excellently named Gronk Fitness Ceiling Chin Up Bar cuts out any fears of leverage going wrong or ripping parts out of a wall by directly working against the downward pressure you exert on it. By connecting directly to the ceiling it lets you stack the weight on with a shocking 800 lbs / 350kg capacity. With the stability and security of the ceiling mount, it also allows you to get wild with your bodyweight training so you can start incorporating reverse crunches, kip ups or skinning the cat into your workouts.
Material: Metal
Brand: Gronk Fitness
Capacity: 800-lbs
Dimensions: 49 x 7 x 15 inches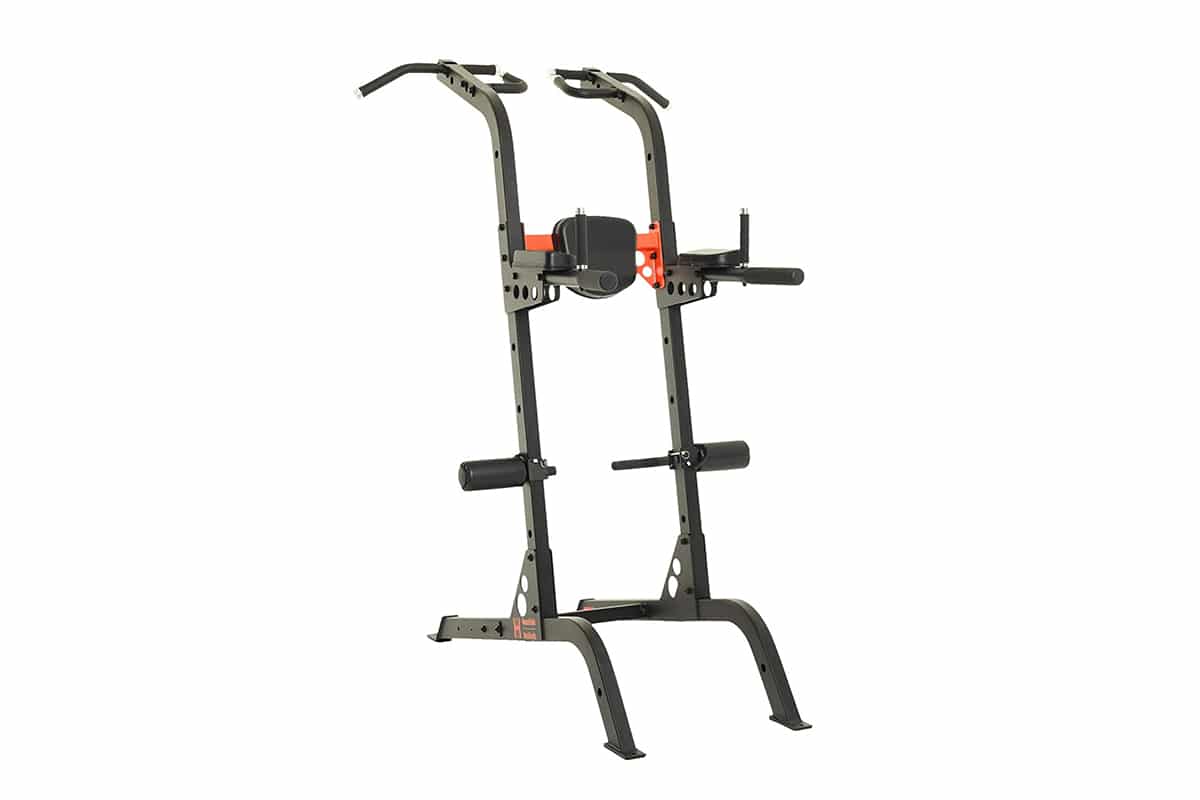 8. Men's Health Multi-Function Power Tower
The Men's Health multi-function power tower is a behemoth. It boasts a big, solid frame with three distinct handles allowing for a multitude of workouts and a 400lb weight capacity. You can do dips, pull ups, chin ups, leg raises and more once this beastie is properly set up. It'll take a bit more work than just a bar to start working out with, and make sure you have a strong, flat floor to hold it. But once in, there should be very little you can't use it for.
Material: Metal, plastic
Brand: Men's Health
Capacity: 400-lbs
Dimensions: 67 x 7 x 23 inches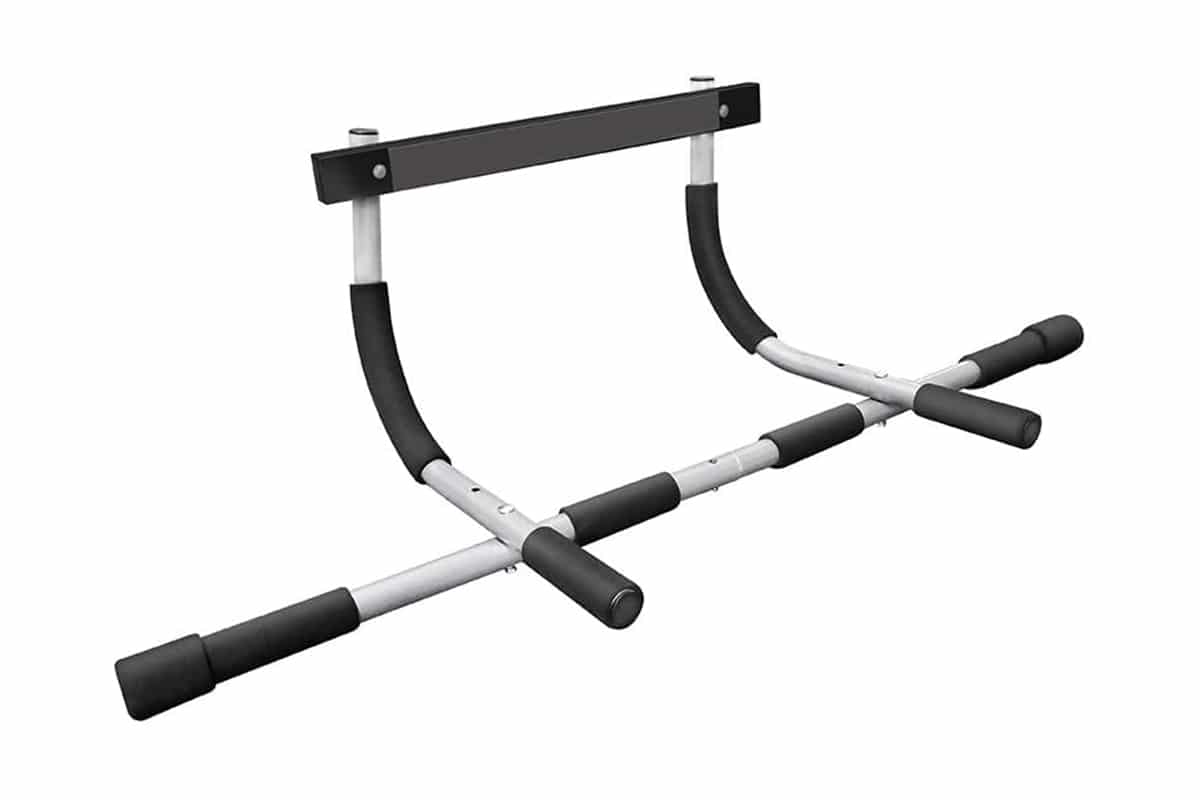 9. GH DYNAMICS Pull Up Bar
The GH dynamics is a simple, efficient piece of workout gear. The multi grip positions are ideal for those looking to slam out solid sets of pull ups. Wide, neutral and reversed for chin ups, you get major bang for your buck with this tool. Doubling up on its uses you're able to pull it down from the door easily enough for use as push up handles, or for planches once you're truly down the body weight track.
Material: Metal, plastic
Brand: GH Dynamics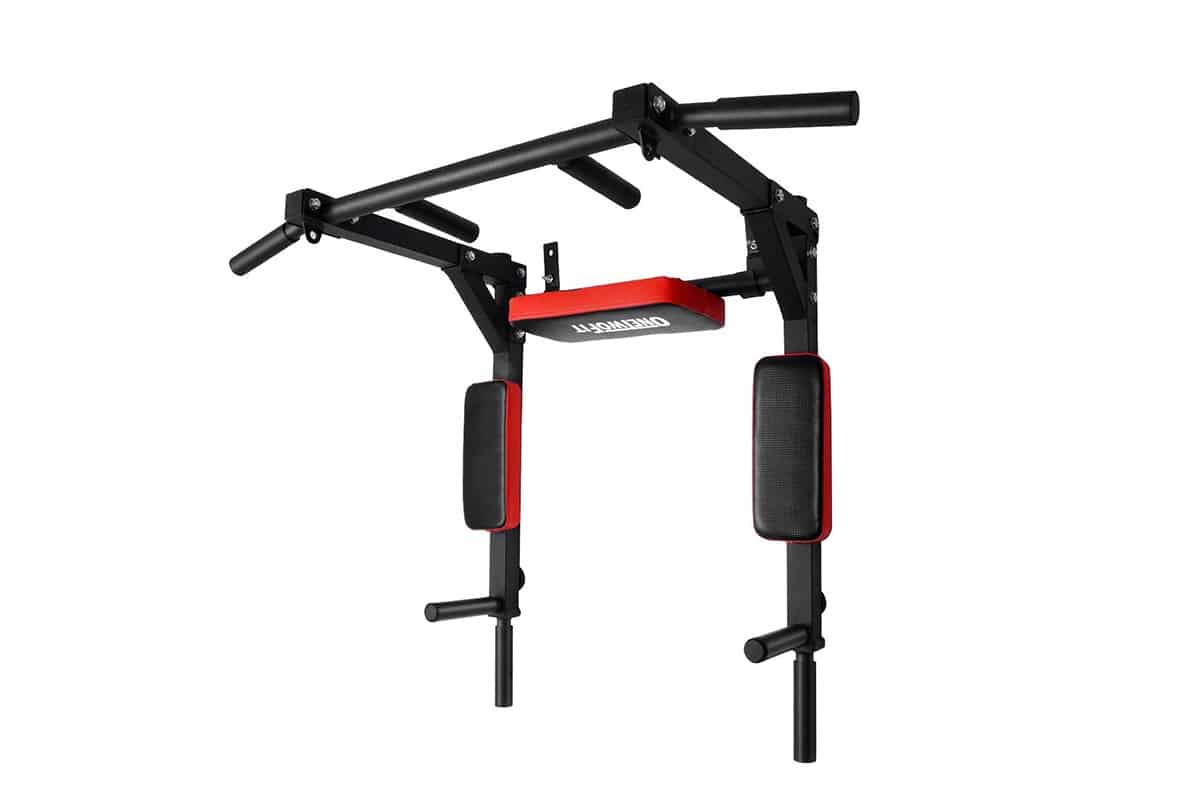 10. ONETWOFIT Multifunctional Wall Mounted Pull Up Bar
The ONETWOFIT is a one-stop shop for all your bodyweight exercise needs. Lush pads, pull up handles, a solid dip station, it lets you do it all. As it's a weighty piece of kit, it's recommended to put it into concrete or solid rock. It'll tear up your drywall or plaster so make sure you're ready to bolster it securely. It comes with almost everything necessary for set up but you'll need to provide your own hammer drill with a 12mm bit to secure it.
Material: Metal, plastic
Brand:  OneTwoFit
Capacity: 440-lbs
Dimensions: 31.7 x 10.3 x 6.1 inches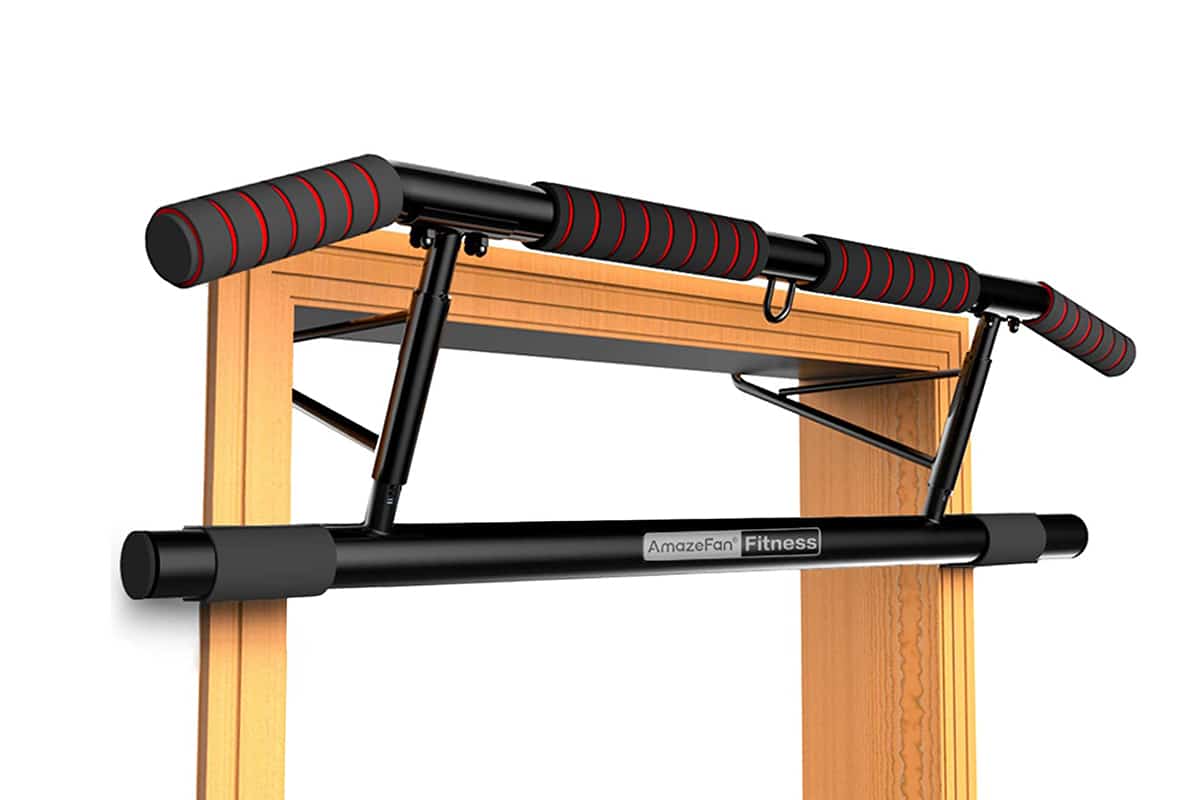 11. AmazeFan Pull Up Bar Doorway with Ergonomic Grip
Proving that you can never rest upon your laurels, the AmazeFan is another look at what could've been a singular simplistic design, refining it for the perfect in-home work out. A dip eyelet lets you add a punching bag to this bar to make sure you'll never need to join the gym again. Helping you maximise your workouts without damaging yourself it also ships with two wrist wraps for the ultimate protections. With a width of 23.33"- 36.22" (59 – 92 cm) and depth of 8.27" (21 cm).
Material: Metal, plastic
Brand:  AmazeFan
Capacity: 400-lbs
Dimensions: 39.5 x 10.5 x 1.77 inches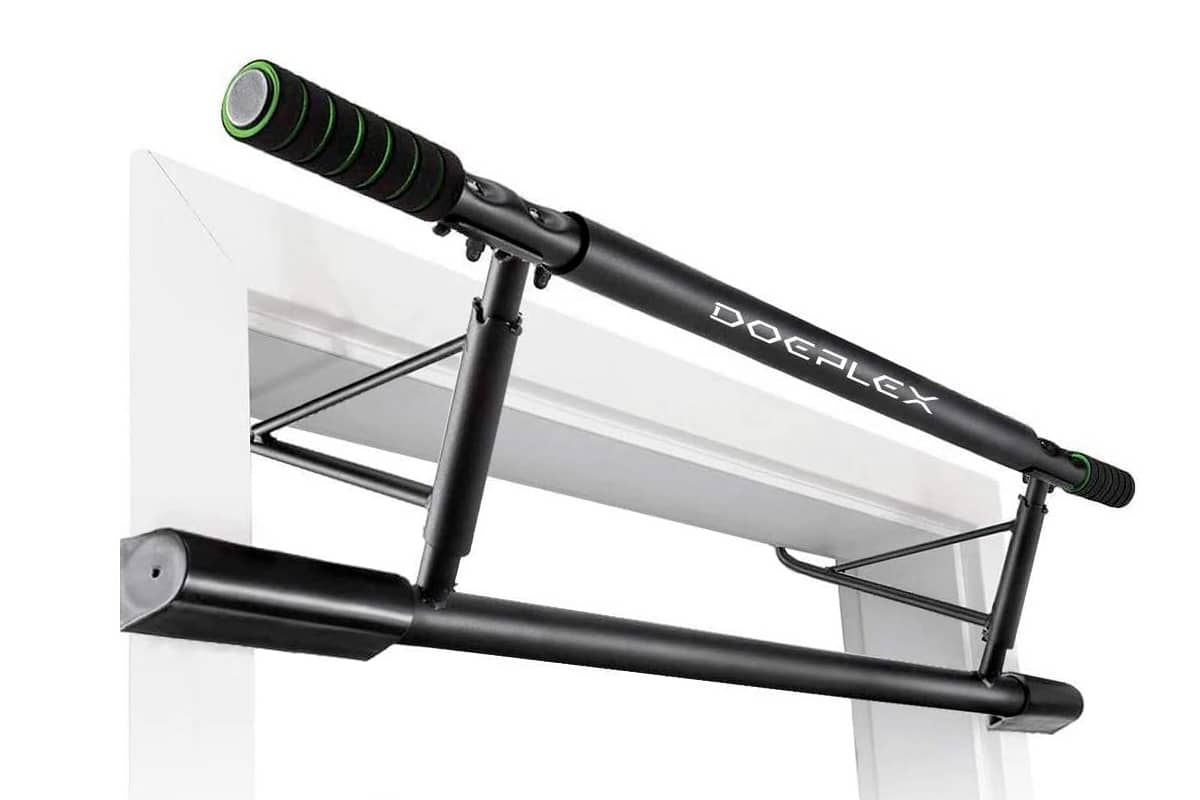 12. Ikonfitness Pull Up Bar with Smart Larger Hooks Technology
Bigger is not always better, but in the case of the IkonFitness, it absolutely is. Larger hooks let you counterbalance further away from your doorframe for a completely unobstructed pull up experience. A top bar raised above the height of your doorway ensures that if you can walk through it, you can pull up with it. The IkonFitness is made for wider doors with a width of 27.56" – 36.22".
Material: Metal, plastic
Brand:  Ikonfitness
Capacity: 440-lbs
Dimensions: 100.08 x 25.15 x 3.56 cm
General FAQs
What is the best pull up bar for home?
Big question, big answer! It depends on a variety of factors, most importantly how much space you have to spare, and where you'd like to put it.
Can you get ripped with just pull ups?
With pull ups and variants you can work out every muscle in the upper body. So with them as your only upper body exercise you can achieve a ripper bod. But, as always, exercise is only a part of the struggle, you'll need to make sure you're backing it up with correct nutrition.
Do at home pull up bars work?
They definitely do. They'll hold your weight, let you do pull ups as well as weighted bodyweight exercises. If you stick to the ones on our list you can be sure they won't break too.
Are home pull up bars safe?
Most home pull up bars are perfectly safe. Some may require set up or assembly, but once they're up, and you stay within their weight capacity's, the majority will be safe for years to come.