Patrick Mahomes' Diet & Workout Plan
More than the man with a diet and workout plan, Patrick Mahomes is an outright NFL sensation. The son of a former MLB pitcher, he joined the Kansas City Chiefs in 2017 and became their starting quarterback the following year. He's been a living legend ever since, with MVP awards, record-breaking stats, a Super Bowl trophy, and a 15 Best Brazilian Jiu Jitsu Gyms in Melbourne to show for it.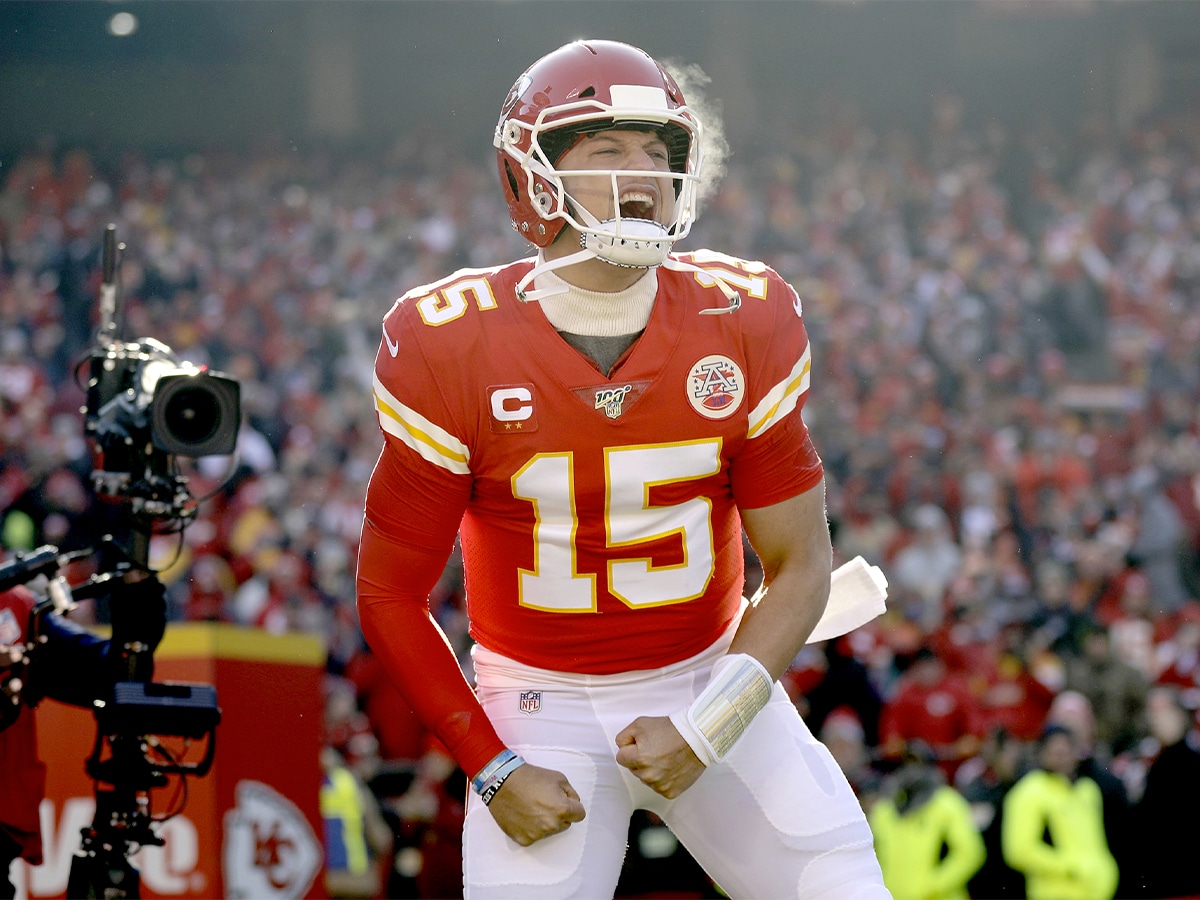 As innately talented he might be, Patrick Mahomes trains rigorously and practices a healthy lifestyle. He receives help in the diet department from long-time girlfriend Brittany Matthews, a devoted fitness freak. Personal trainer Bobby Stroupe fills in the remaining gaps by way of targeted workouts.
Put it all together and you get the Patrick Mahomes diet and workout plan, which results in a famously muscular physique. Even during the off-season, the iconic quarterback doesn't slouch when it comes to training and fitness. Put simply, the man is always rearing to go and it pays off in literal ways and figurative ones alike. Here are some of the secrets to his ongoing success.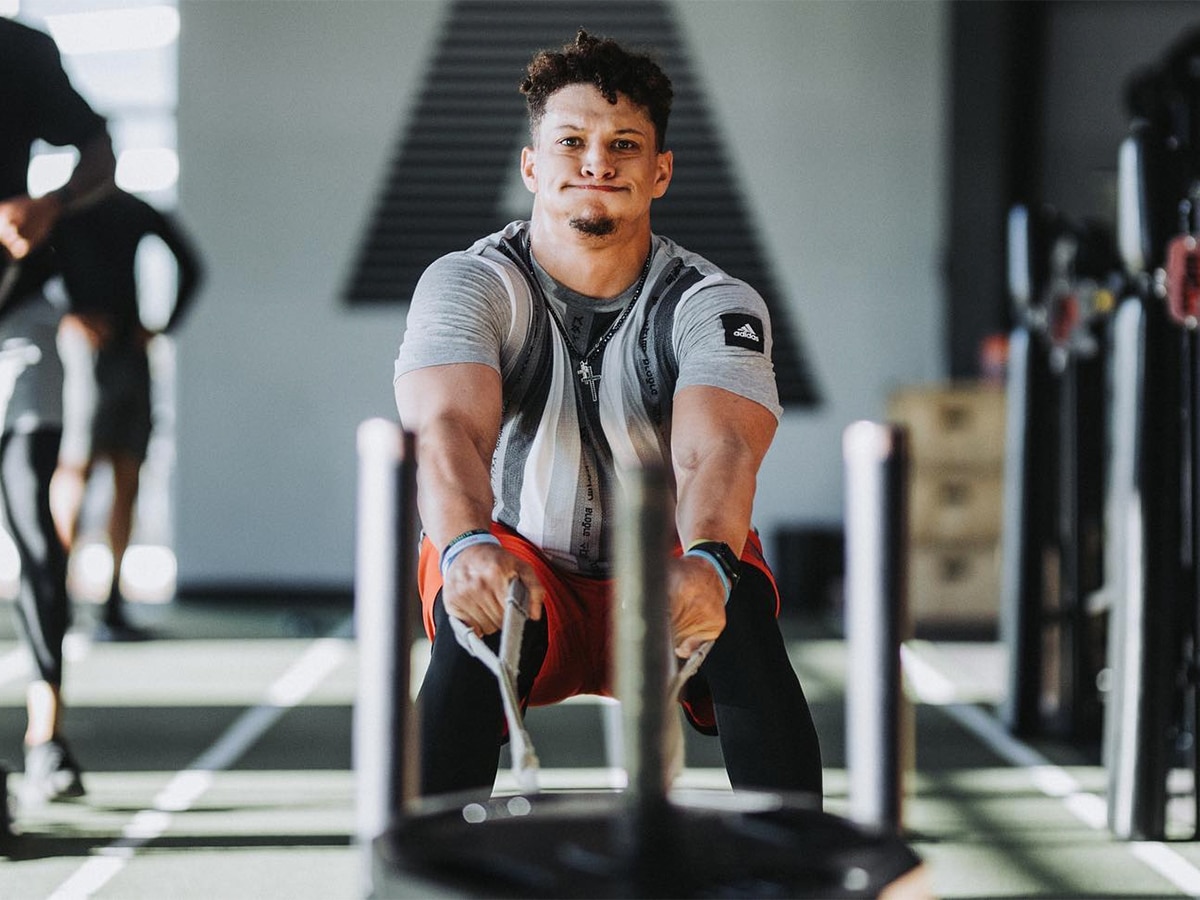 Patrick Mahomes' Diet Plan
According to recent reports, the 6'3″ Patrick Mahomes has weighed approximately 230 pounds since he first signed with the Chiefs in 2017. However, don't take that to mean he hasn't undergone physical changes over the course of his relatively short career. Even today, he continues to fine-tune his figure by cranking pure muscle out of any lingering baby fat.
As one might suspect, diet plays a significant role in Mahomes' progress. More to the point, he's making healthier eating choices so as to be in top shape all year round. Self-improvement remains at the forefront of his mind and it's clearly driven him to achieve benchmark after benchmark.
When asked about his fitness ambitions in 2019, Mahomes replied, "I think the biggest thing for me (has been) learning how to eat better, learning how to take away the snacks, the candies, the desserts, all that stuff and just focus in on how I eat and how I take care of my body that way."
He went on to say, "Eating-wise, I'm blessed that my girlfriend is (big on) nutrition so she helps me out with that—she's (about) fitness. I just try to eliminate some of the bad meals, the fast food, the foods that aren't great for your body and don't help you get the most out of it. I'm a picky eater, but I still try to eat healthy stuff like chicken, salmon, and all the (other) stuff I like a lot."
---
Featured Video from Man of Many
---
Potentially taking cues from other athletic diet plans, Patrick Mahomes tends to eat four to five meals per day. After breakfast and lunch, he spreads out his dinners to "make sure (he's) not eating too much at any one time," to quote him directly. It's said that he doesn't count calories and snacks on fruits such as strawberries, oranges, and apples.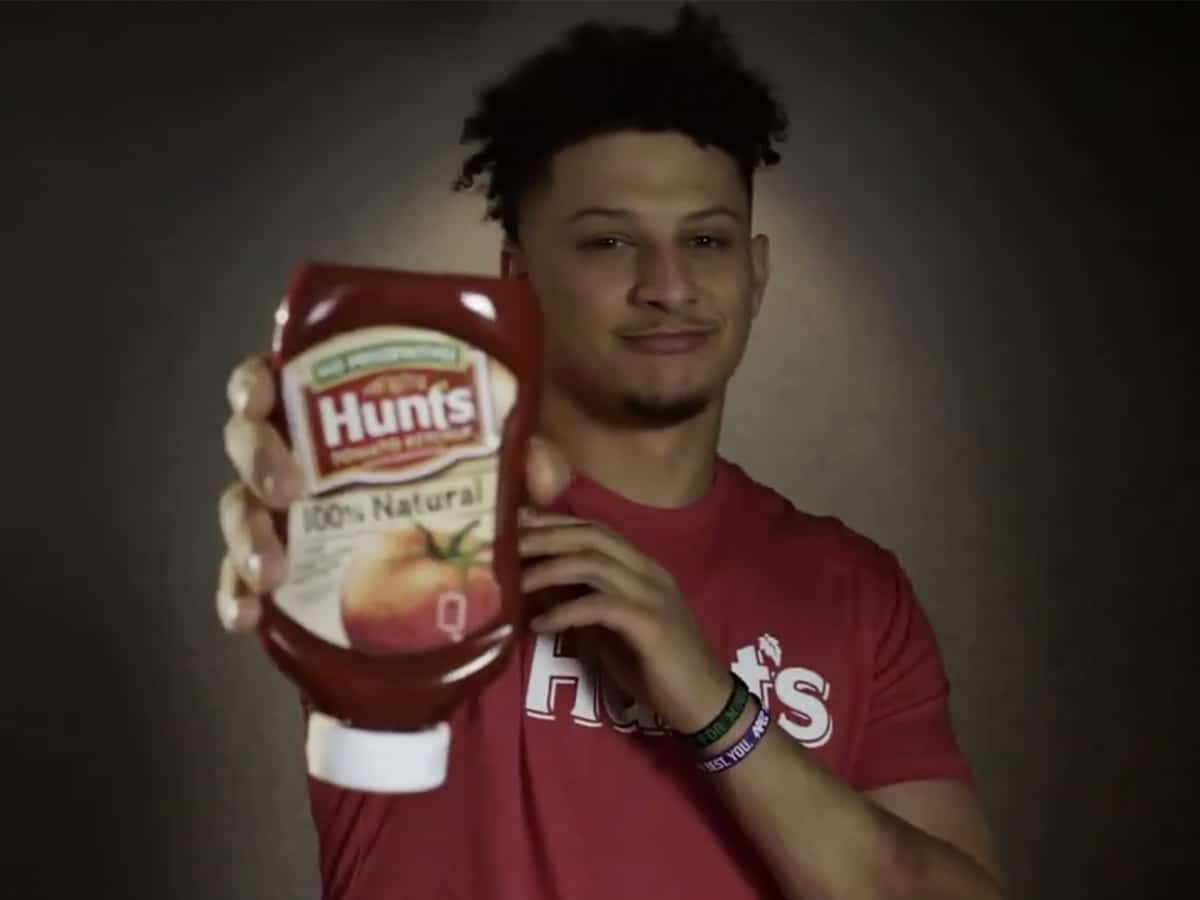 Famously, Mahomes is also a huge fan of ketchup. And when we say huge fan, we mean HUGE FAN. Not only does he put the condiment on just about everything, but he even collaborated with Hunt's on the brand's Best Ever Ketchup. Reflecting upon the partnership, he once claimed, "I just hope we keep finding different ways to expand on my love of ketchup."
When straying from the "healthy stuff" like chicken and salmon, Mahomes chows down on steak (with ketchup), mac and cheese (with ketchup), and Whataburger. He's also been spotted chugging the occasional beer. Otherwise, we can assume he's taking his girlfriend's advice by consuming lean proteins and other healthy foods.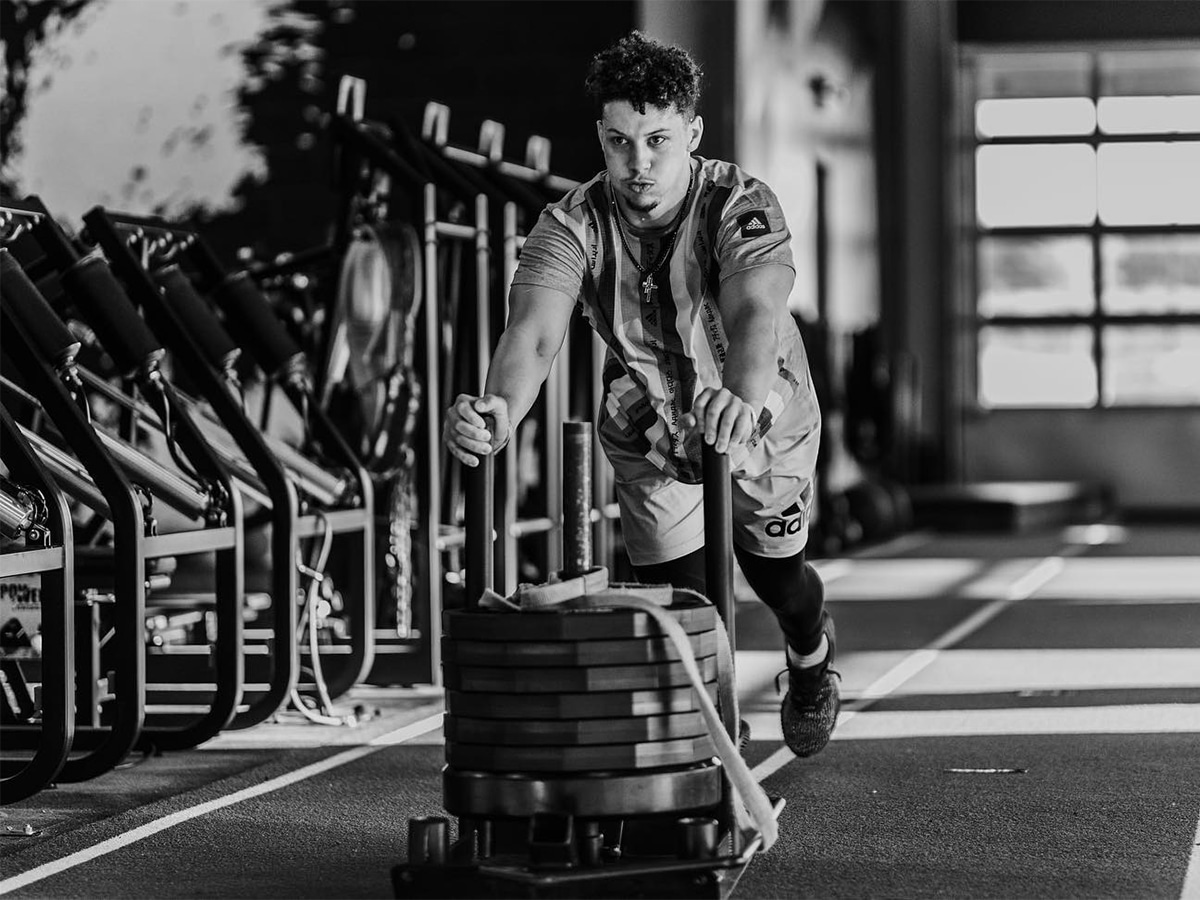 Patrick Mahomes' Workout Plan
Going well beyond the regular NFL season, Patrick Mahomes' training regimen is in a state of perpetual progress. He also understands the importance of sleep and makes it a fundamental aspect of his overall lifestyle. It's no secret that he's onto something, as proper amounts of sleep have been associated with optimal health of both the physical and mental variety.
Reportedly, the star quarterback's relationship with personal trainer Bobby Stroupe goes as far back as the fourth grade. Together, they've generated approximately 72 customised workouts for the off-season alone. As a direct result of his workout plan, Patrick Mahomes continues to shed body fat, getting a little more sculpted from one year to the next.
For obvious reasons, Mahomes works on his arms and shoulders when training during the off-season. To quote him directly: "Shoulder care is definitely something I'm doing more than I used to…My trainer, Bobby Stroupe, takes me through a routine where my shoulder is in awkward positions while gaining strength. I throw from so many awkward positions on the field, so it's an important part of my routine."
When asked by Men's Journal what he did to boost his speed and agility, Mahomes replied, "The thing I've worked on the most recently is mobility. I work a lot on mobility in my joints, hip flexor, and legs. It's important to get everything out of your body that you can."
In the same interview, he was asked to walk readers through a typical Patrick Mahomes workout session. Here was his response: "I make sure to get in some foam rolling and time with the Hypervolt volt to warm up. I have to make sure my body is ready to work out. I do legs one day and arms the next and then keep switching back and forth. We also always do shoulder mobility workouts and throwing mobility exercises. It's important that I always make sure my shoulder is the healthiest it can be."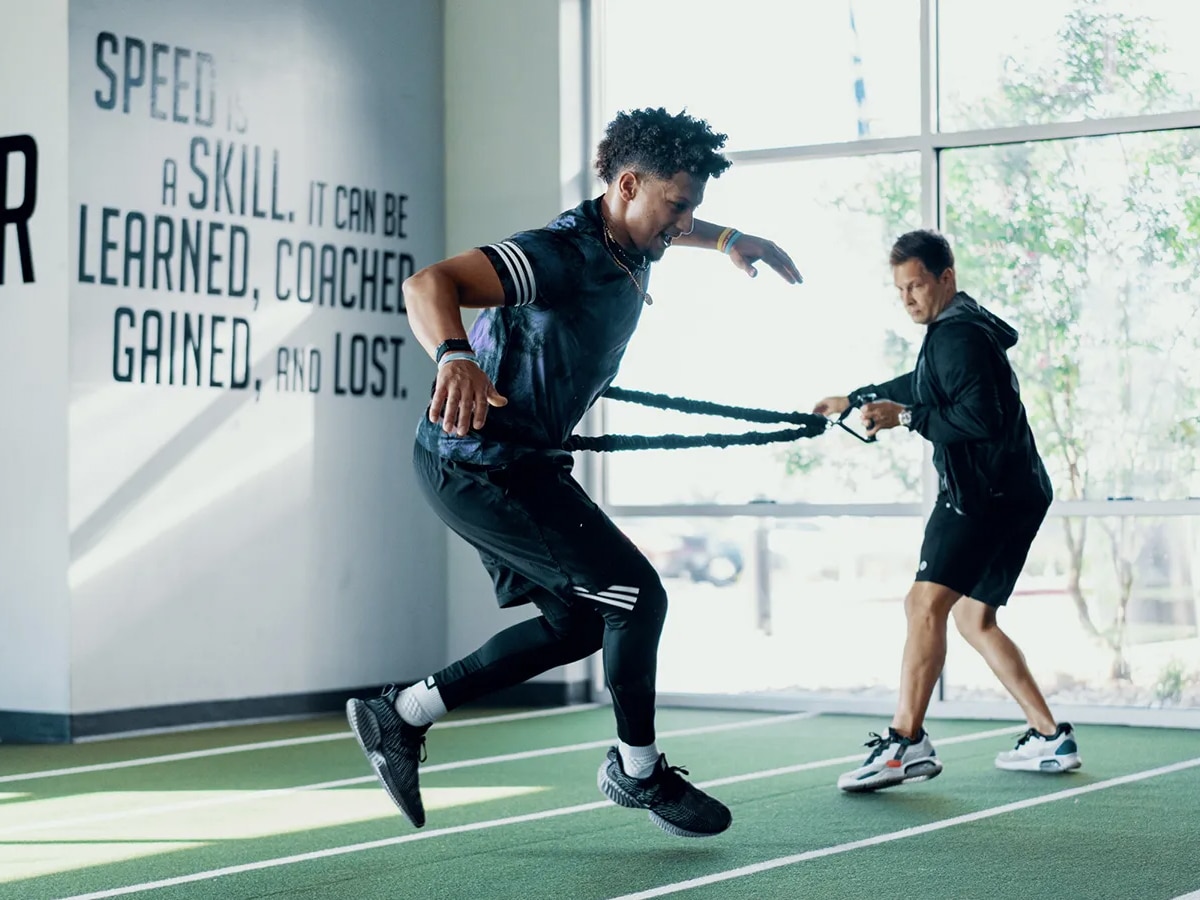 In a separate interview, Mahomes elucidated upon his relationship with personal trainer Bobby Stroupe: "He puts me in positions that I'm going to be in throughout the game…He actually watches the tape and sees exactly how I watch the game, so it's not just training that's for everyone—it's training that's specifically for me.
Stroupe also tries to improve Mahomes' upper-body mass without making sacrifices to things like agility or mobility. Pair that with the built-in talent and you get a best-of-all-worlds scenario, where the quarterback delivers power, stability, and mobility in equal measure. That's not to mention Mahomes' previous experiences as an accomplished baseball and basketball player, which surely help round out his athletic intuitions.
"Playing baseball has had a big impact on football for me and how I train," Mahomes told Men's Journal. "All the arm care that baseball players do definitely has had an impact on me and I've brought that to my football training and mindset. It translates directly to what I'm doing on the football field. I make sure to take care of that the same way I did when I played baseball."
While the exact details of the Patrick Mahomes workout plan are generally kept under wraps, he and trainer Bobby Stroupe do provide the occasional glimpse. In one video, Mahomes can be seen pulling tires, using resistance bands, slamming medicine balls, jumping, running, lunging, executing various throwing and plyometric drills, and performing pull-ups.
To improve upon Mahomes's movement skills and reaction times, Bobby Stroupe is known to incorporate an eight-point leaping sequence, during which the quarterback has to jump in different directions. That's typically followed by a series of mobility, stability, and flexibility exercises.
Patrick Mahomes' training regimen also features strength-building and conditioning. Specifically, the quarterback granny tosses objects weighing as little as two pounds and as much as 20 pounds. He performs standard lifts as well, even if most of the focus is on functional training. In fact, Mahomes can reportedly deadlift more than 500 pounds and that's nearly two-and-a-half times his body weight.
Referencing medicine ball tosses and other similar workouts, Stroupe claimed that Mahomes had the highest velocity of any client. His exact words? "Nobody matches Patrick…Nobody ever has."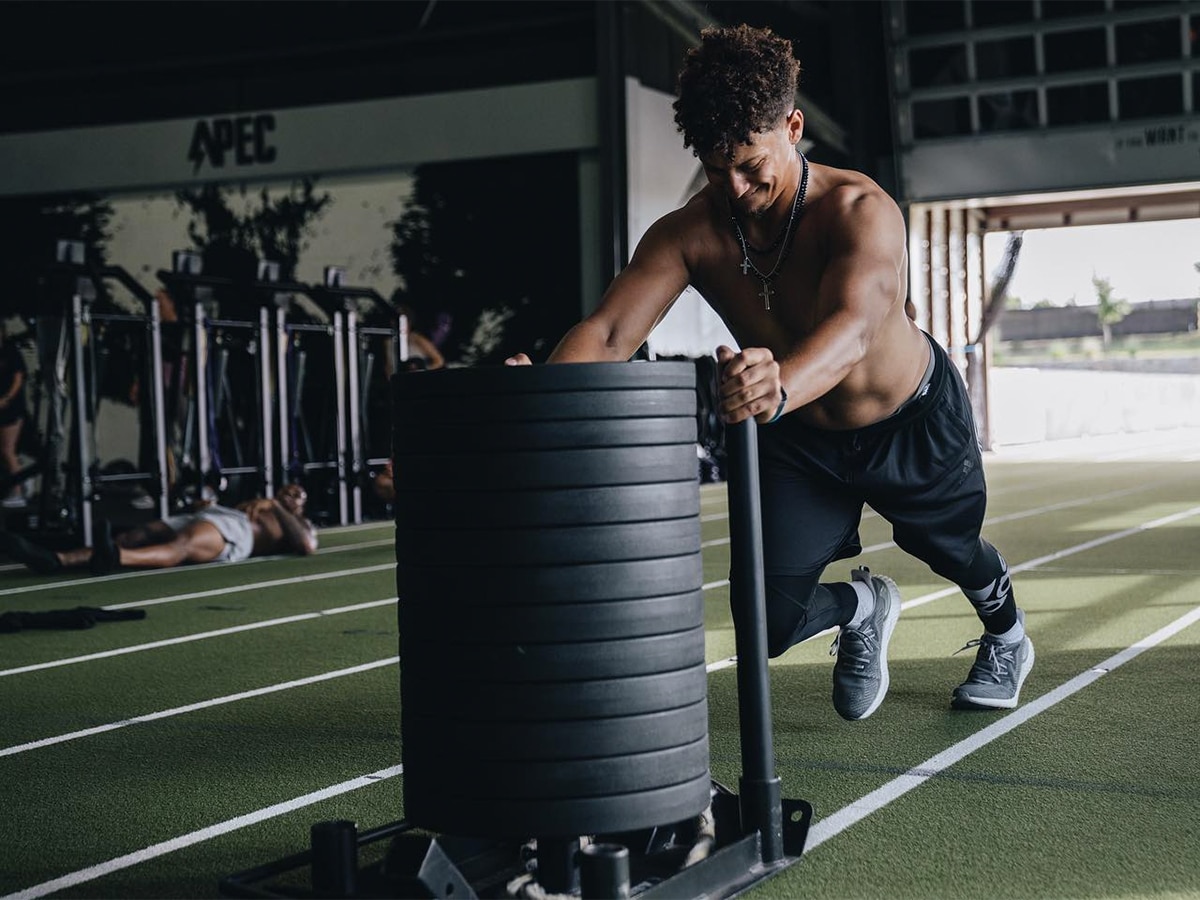 Patrick Mahomes Workout Example
While the intimate details of the Patrick Mahomes workout are relatively well-kept, there are some examples online. In this video posted by APEC Group, you can see that Patrick Mahomes workout fundamentals are rooted in full-body, hyper-mobility exercises. With a focus on core strength and lower-body mass building, this workout stabilises his mid-section to ensure greater performance on the field.
Patrick Mahomes APEC Workout
Deep stretch/yoga
Side bridge extensions
Sprints
Oblique twist (Wood Chop)
Pull-ups
Wall Balls
Dumbbell chest press
Sled push
Farmer's walk
Single leg Russian deadlifts
Vertical climber
You'll also like:
Mike Tyson's Workout & Diet Plan
Lionel Messi's Football Diet & Workout Plan
Chris Hemsworth's Thor Diet & Workout Plan
General FAQ
Does Patrick Mahomes like ketchup?
Patrick Mahomes doesn't just like ketchup, he LOVES the stuff. Not only does he put in on things like steak and burgers, but he's even been known to use it on macaroni and cheese.
Did Mahomes gain weight?
While Mahomes continues to turn body fat into muscle, he has generally weighed about 230 pounds since the start of his professional career.
How much money does Patrick Mahomes make a year?
Thanks to a new contract, Patrick Mahomes is expected to make just under $25 million in 2021, representing a significant increase over his previous salary.

You'll also like:
Mike Tyson's Workout & Diet Plan
Lionel Messi's Football Diet & Workout Plan
Chris Hemsworth's Thor Diet & Workout Plan

---
Featured Video from Man of Many