19 Best Ice Cream and Gelato Shops in Melbourne
Melting under the hot Melbourne sun? Yup, it's that time of year again, good old Summer. There are only a few things that do the trick to cool you down, and you guessed it, one of them is ice-cream. It's cool, it's refreshing, not to mention the fact you have about a billion flavours to choose from. We're in luck because Melbourne has some of the best ice cream and gelato shops, and you should definitely go and check them out.
Here is a list of spots for the best ice cream Melbourne has to offer.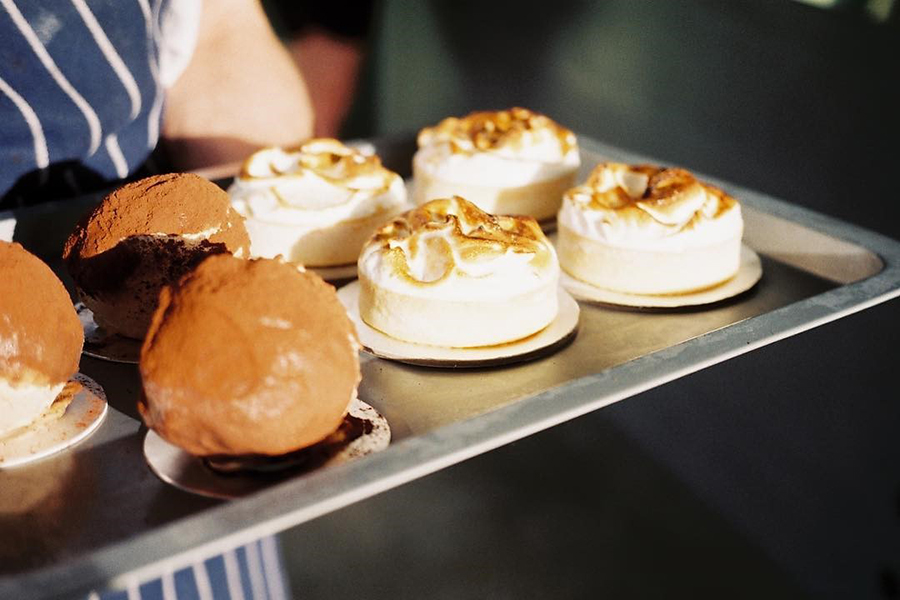 1. Gelateria Bico
Father and Son duo Domenico and Davide Gaglioti have created this cute, cosy little ice-cream shop in Brunswick. Gelateria Bico has traditional home-made gelati from recipes inspired by Pizzo in South Italy. Using exquisite fresh ingredients is at the heart of this gelato. They also specialise in Tartufo, a half-moon dome dessert with layers of hazelnut and chocolate which has a soft mousse centre. As a bonus, you can also find cannolis filled with gelato instead of the traditional ricotta.
Address: 288 Albert St, Brunswick VIC 3056
Contact: [email protected]
Hours: Tues — Thurs: 1 — 9pm, Fri — Sat: 1pm -10pm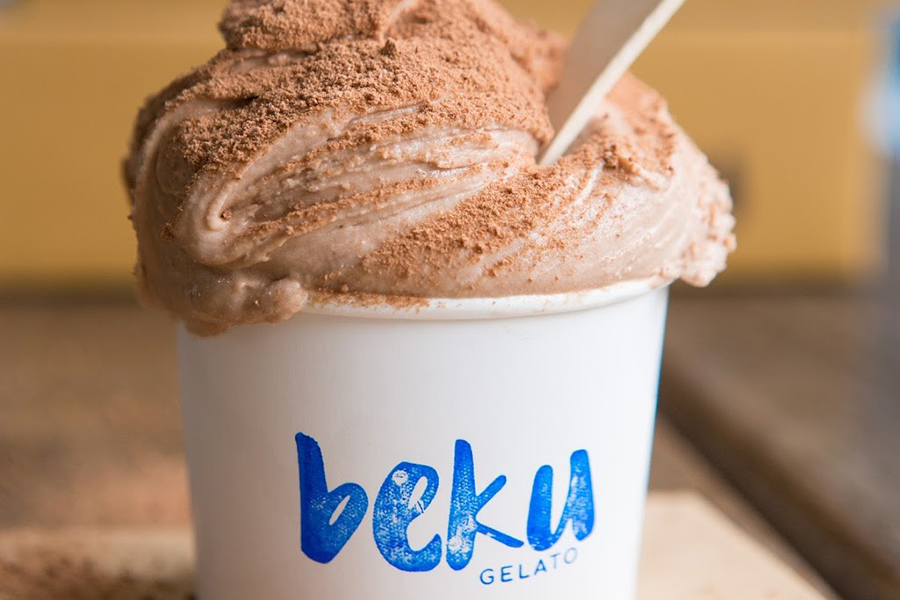 2. Beku Gelato
Beku experiments with unique flavours that you might not find in your traditional Melbourne ice cream, for one thing, you can find Durian and Yuzu gelato. If you're not that adventurous don't fret, they also have those classic staples like mango and raspberry sorbet. Their watermelon & basil and Turkish delight ice cream are must-tries – they'll blow your mind.
Address: 171 Lygon St, Brunswick East VIC 3057
Contact: 0432 011 728
Hours: Mon — Thurs: 3pm — 9pm, Fri: 3pm -10pm, Sat: 12 — 9pm, Sun: 12 — 10pm
---
Featured Video from Man of Many
---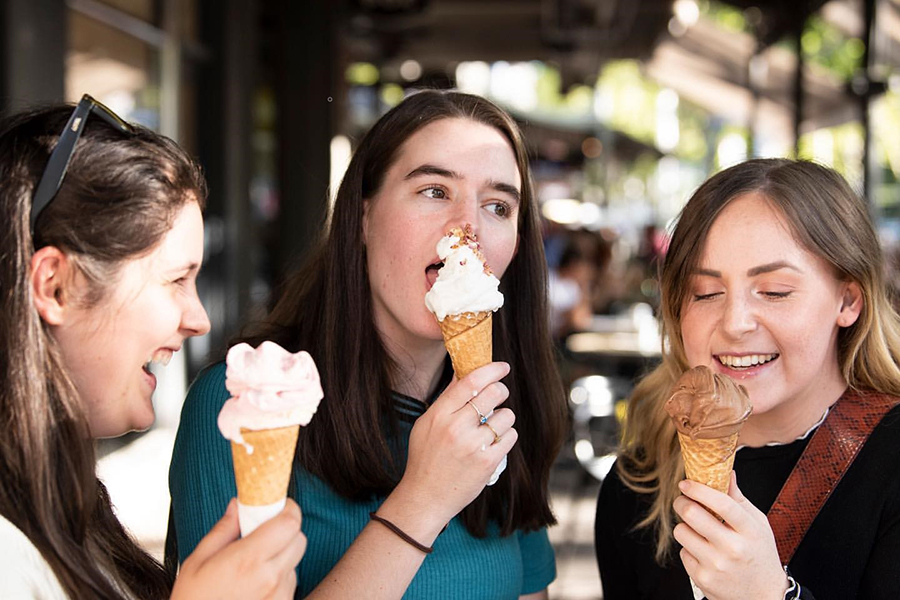 3. Lavezzi Gelateria
Rafello Laverzzi's passion for delivering the best gelato echoes his grandfather's desire, who established the Lavezzi business in 1870 on the Italian coast. They use natural ingredients that are 'churned daily', with a range of flavours from the traditional Strawberry to Matcha and even mojito. This place is one of the best ice cream shops in Melbourne because of its wonderful blend between tradition and modern flavours. You'll definitely want to come back to this one.
Address: 334 Lygon St, Carlton VIC 3053
Contact: (03) 9347 1462
Hours: Sun — Thurs: 11pm — 9pm, Fri — Sat: 11pm — 10pm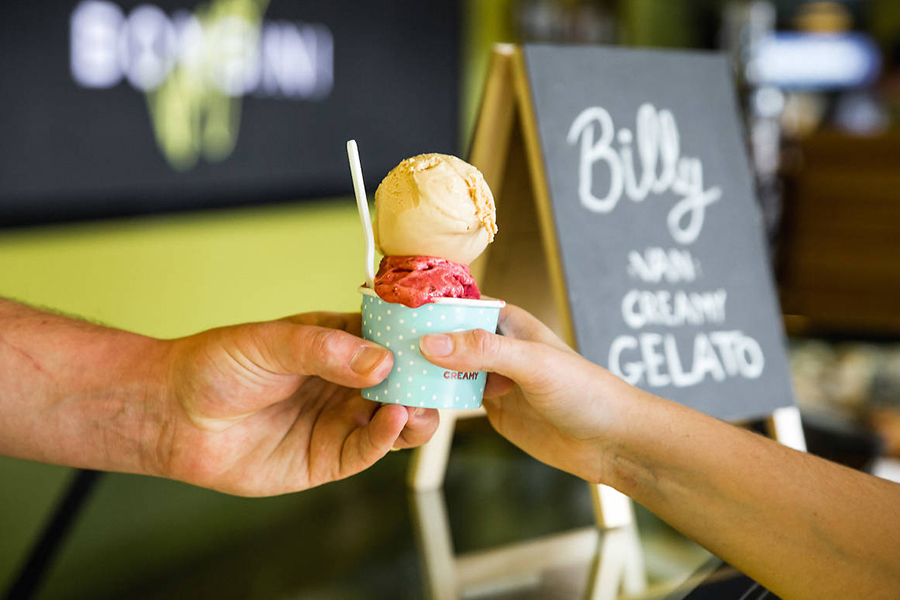 4. Billy van Creamy
Handmade in store, Billy van Creamy uses organic milk with seasonal and quality ingredients. They even create their own jams and sauces, which means nothing is artificial at this place. For our vegans out there, this ice cream shop uses cashew and coconut substitutes for their vegan options. Founded in 2014, brothers Alex and Mitch are committed to sustainability, with their stainless steel testing spoons and their BYO container policy for ice cream takeaway. Enjoy creamy, delectable ice cream whilst also helping out the environment.
Address: 27/29 Best St, Fitzroy North VIC 3068
Contact: [email protected]
Hours: Mon — Fri: 3pm — 9 pm, Sat & Sun: 12pm — 9pm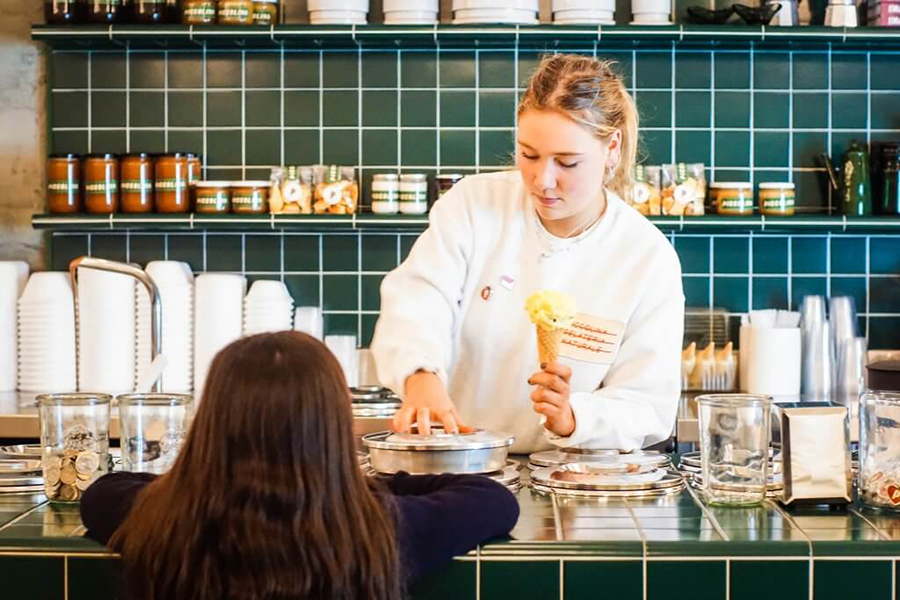 5. Piccolina Gelateria
One hundred per cent traditional and natural. This ice cream shop has authentic flavours made from recipes that have been passed down for generations. Made in house, Piccolina Gelateria even claims to have a nut sauce that trumps Nutella. Much like Billy Van Creamy, nothing is artificial here, which means you can be assured you'll be eating at one of Melbourne's best ice cream and gelato shops. Their gelato is also gluten and gelatin free with vegan-friendly sorbets.
Address: 296 Smith Street, Collingwood, VIC, 3066
Contact: (03) 8456 0071
Hours: 12pm — Late (Every day)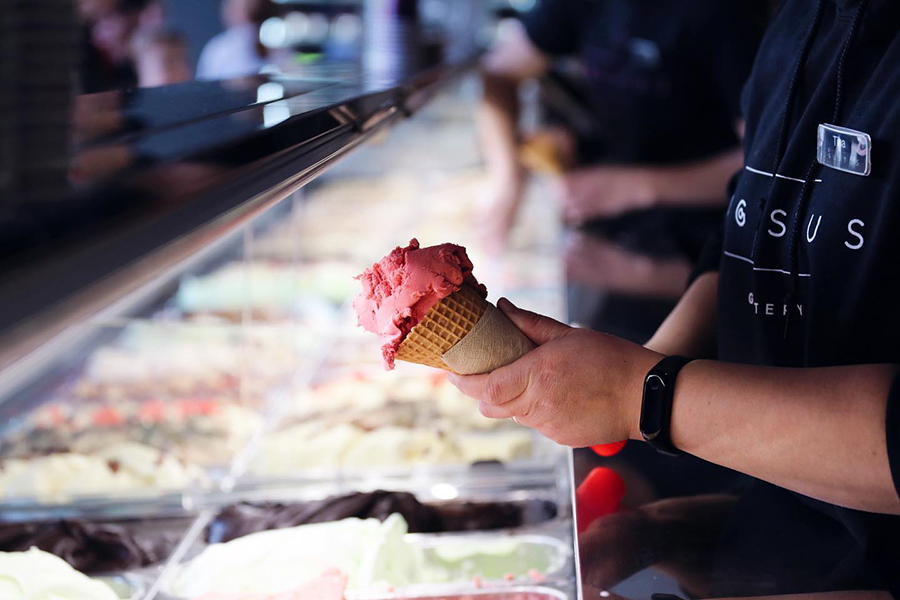 6. Augustus Gelatery
At Augustus you'll be sure to leave with a smile on your face, their mission is to 'spread happiness' with their 36 flavours. Cooking with local ingredients, they make their gelato fresh every day. With equipment imported from Italy, you're sure to get that authentic creaminess that you can find in Itay. The caramel mud cake and cotton candy are absolutely delicious and are a must for us.
Address: 13/21 Russell St, Essendon VIC 3040
Contact: (03) 9114 9812
Hours: Mon — Sun: 11am — 11pm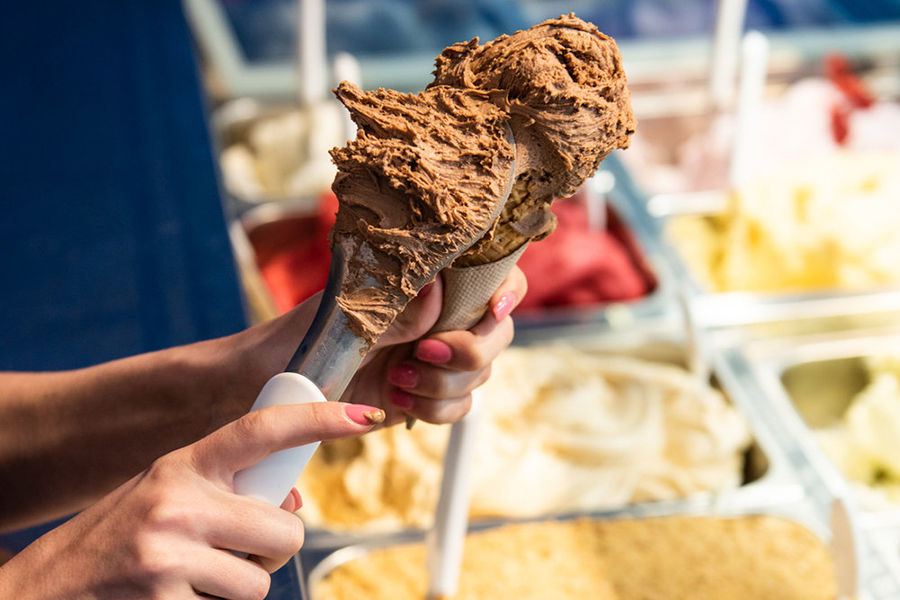 7. Gelato Papa
The gelati at Gelato Papa are vibrant, mouth-watering and simply fabulous. Founder Lily travelled to see her family in Sicily Italy, where they've been making their beloved gelato for over 40 years. Using traditional recipes with a modern artisan twist, each batch is precise and perfect for you to indulge in. It truly does has some of the very best gelato Melbourne has to offer.
Address: 14a Gilbert Rd, Preston VIC 3072
Contact: (03) 9480 5776
Hours: Tues & Wed: 1pm — 8pm, Thurs — Sun: 1pm — 9pm, Fri & Sat: 1pm — 10pm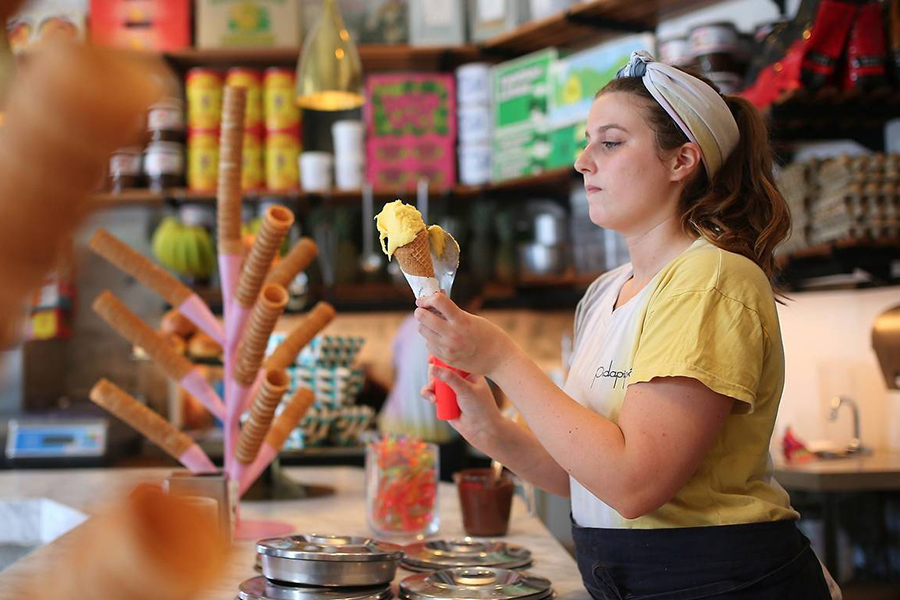 8. Pidapipó
Like Lily from Gelato Papa, Lisa Valmorbida went all the way to Italy to study the best gelato techniques just so that she could bring it straight to you. All their ice cream is made in house and in small batches to retain the flavour. Named after an Italian game she played with her Nonno (grandfather), Pipapipó should be on your list of places to visit. Their Papaya and Nectarine gelati are simply perfect.
Address: 299 Lygon St, Carlton VIC 3053
Contact: (03) 9347 4596
Hours: Mon — Sun: 12pm — 11pm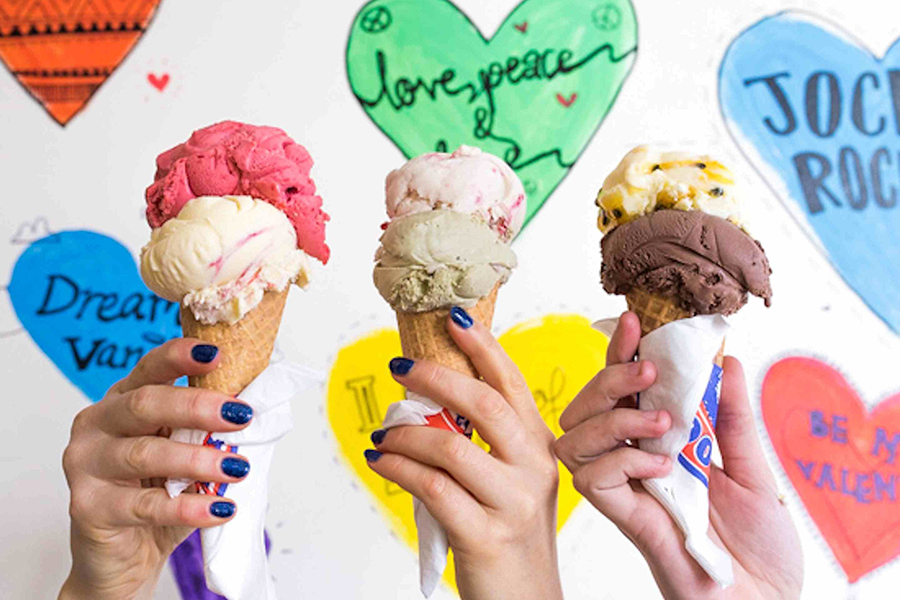 9. Jock's Ice Cream & Sorbet
Founded in 2001, this ice cream shop makes their ice cream from scratch with quality ingredients. Their use of double pasteurising full cream milk ensures you're getting the richest and creamiest gelato. The mocha and pavlova ice creams are just a few of the quirky flavours you'll find at Jock's Ice Cream & Sorbet. For those who can't have dairy, their lemon and raspberry sorbet are made just for you.
Address: 83 Victoria Ave, Albert Park VIC 3206
Contact: (03) 9686 3838
Hours: Mon — Sun: 12pm — 8pm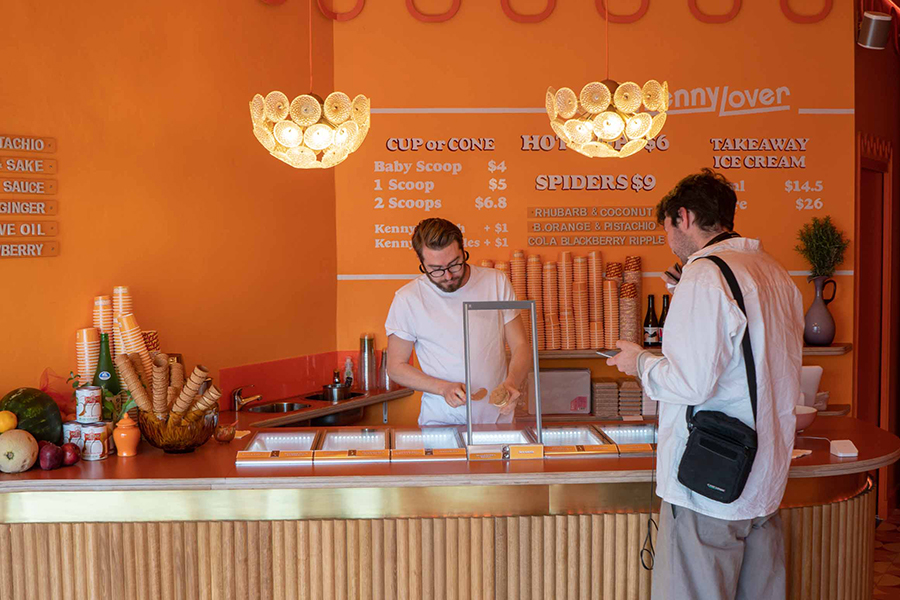 10. Kenny Lover
Choosing to use Native Australian ingredients, Kenny Lover is innovative with their flavours that are also made in-house. Wild strawberry, coconut and kaffir lime are some of our favourites as their ice-creams are rich with both milk and cream. One of their owners was a chef at a Michelin Star restaurant, so you know you'll be eating at one of the best ice cream and gelato shops in Melbourne.
Address: 796 High St, Thornbury VIC 3071
Contact: [email protected]
Hours: Mon — Fri: 2pm — 9:30pm, Sat & Sun: 12pm — 9:30pm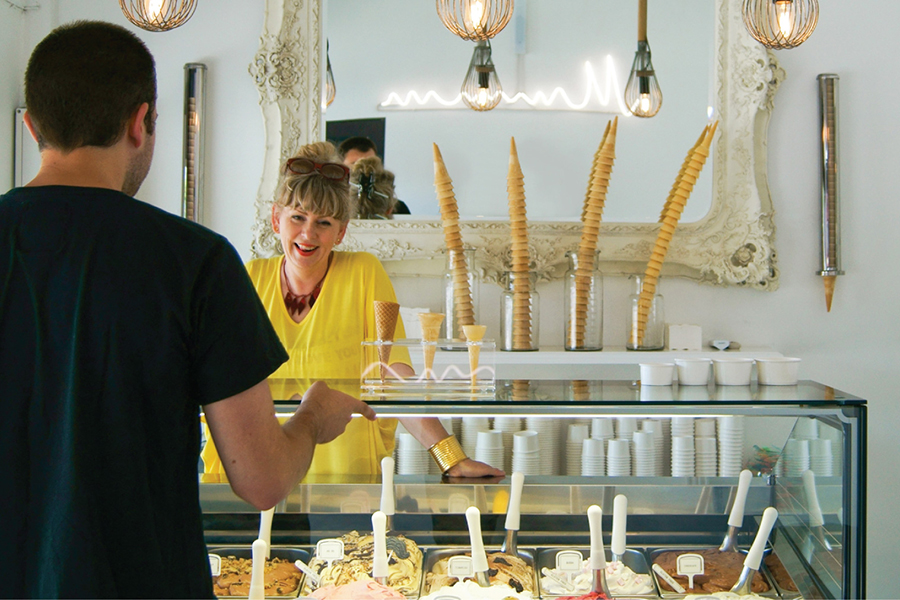 11. Miinot Gelato
With a vintage European feel, this bright and classic ice cream shop is run by two gelato connoisseurs, Husband and Wife duo Emma and Gary. Using their knowledge of gelato to bring you velvety ice cream that will melt in your mouth, the deliciousness found at Miinot Gelato is unmatched. Each batch doesn't taste the same because it's made fresh every day!
Address: 71 Melville Rd, Pascoe Vale South VIC 3044
Contact: (03) 9383 4258
Hours: Wed — Thurs: 1pm — 8pm, Fri: 1pm — 9pm, Sat: 12pm — 9pm, Sun: 12 — 8pm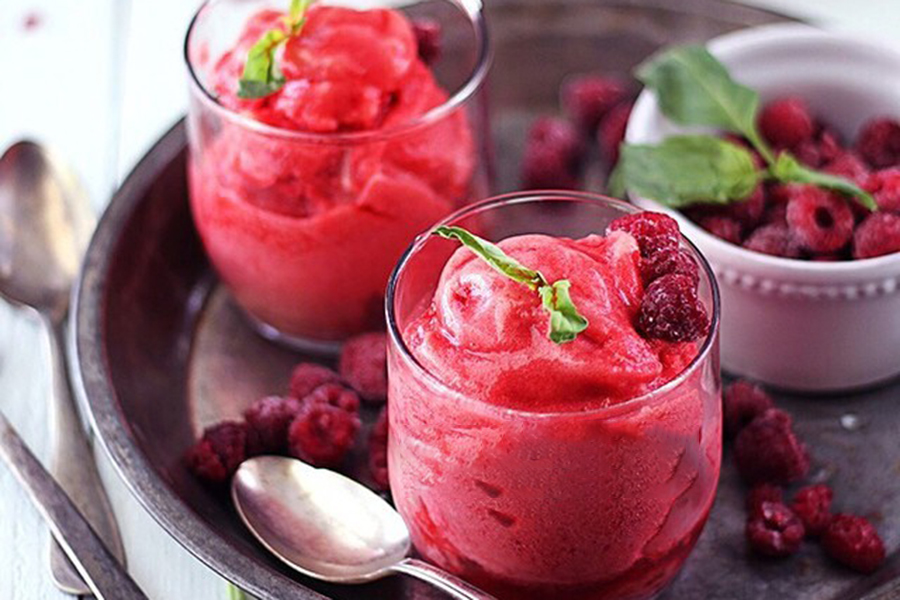 12. Fritz Gelato
At Fritz, the aim is to make Australia's best gelato, and they might be on their way to claim that title. Their creamy and soft gelato feels healthier than most ice-creams because everything is vegan, with 92-96 per cent of their ice cream being fat-free. With organic ingredients, their award-winning green apple sorbet is definitely a must-try from us.
Address: 334 Bridge Rd, Richmond VIC 3121
Contact: (03) 9427 9898
Hours: Mon — Thurs: 3pm — 8:30pm, Fri: 3pm — 9pm, Sat: 12pm – 9pm, Sun: 12pm — 8:30pm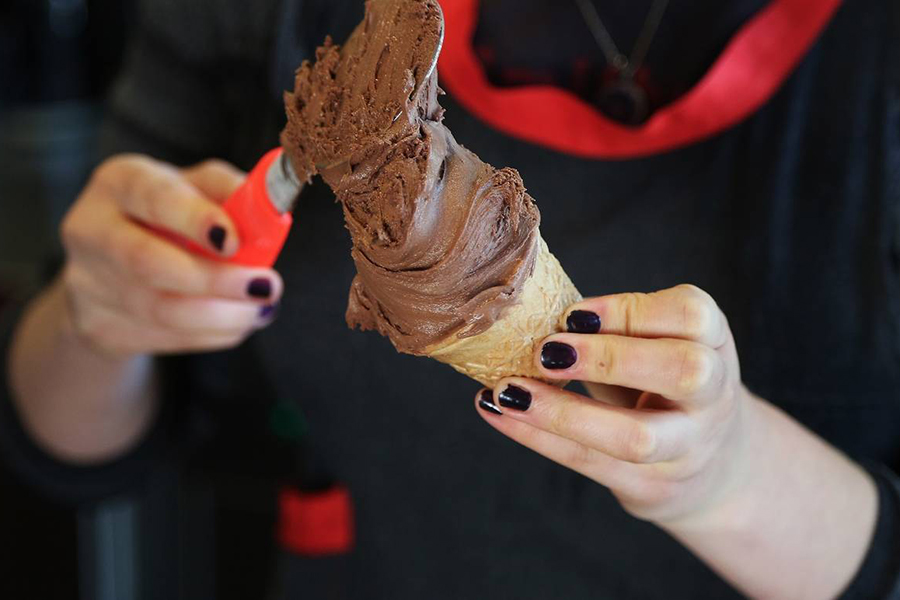 13. Gelateria Primavera
Experimental with their flavours, Gelateria Primavera gives you flavourful gelato that's so fresh you'll be begging to go back. They have 10 dairy and 6 non-dairy options. Their peach and basil sorbet is utterly delightful.
Address: 157 Spring St, Melbourne VIC 3000
Contact: (03) 9639 0335
Hours: Mon — Fri: 7am — 11pm, Sat & Sun: 9am — 11pm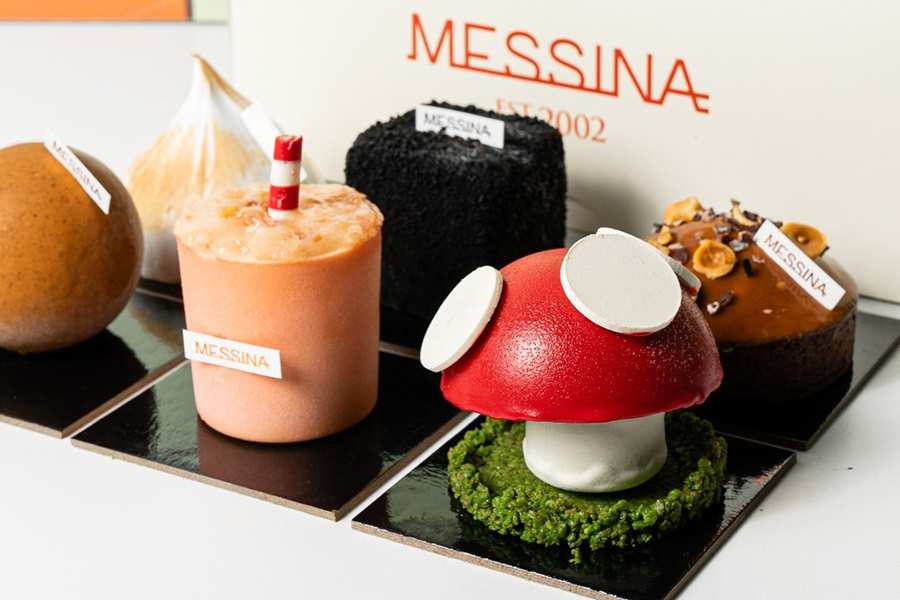 14. Gelato Messina
Messina is an Australian classic at this point. Known for having innovative flavour combinations with a range of dairy-free sorbets this gelateria doesn't disappoint. This is one ice cream you can count on being perfect every time you visit.
Address: 237 Smith St, Fitzroy VIC 3065
Contact: (03) 9417 0488
Hours: Mon — Thurs & Sun: 12pm — 11pm, Fri & Sat: 12 — 11:30pm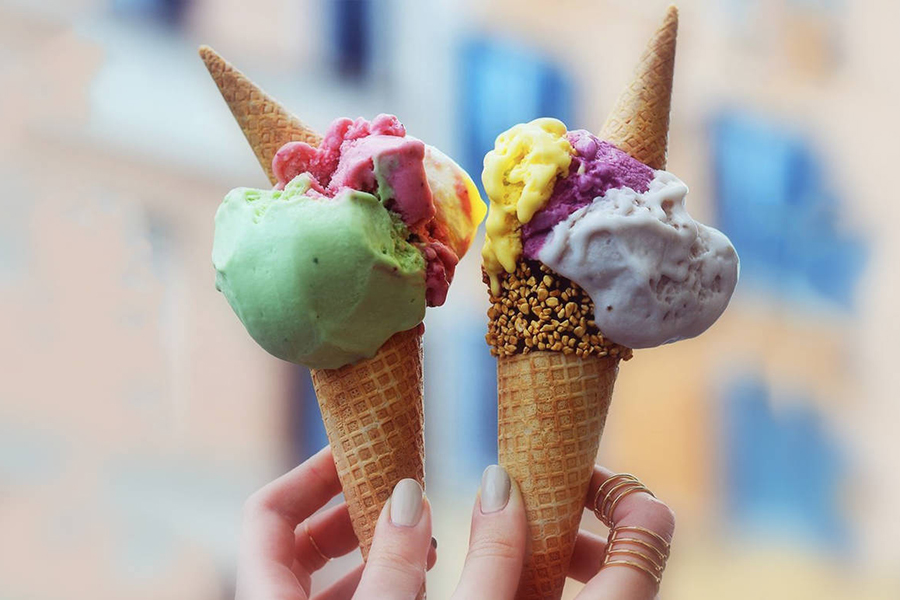 15. 7 Apples Gelato
Founder Mark Mariotti learned the craft of gelato making while living in Tuscany, Italy. Figuring out fresh seasonal ingredients was the way to go, the daily hand made ice cream at 7 Apples Gelato is award-winning. We love their french vanilla, Raspberry and Ferrero Rocher.
Address: 75 Acland St, St Kilda VIC 3182
Contact: (03) 9537 3633
Hours: Mon — Sun: 10:30am — 10pm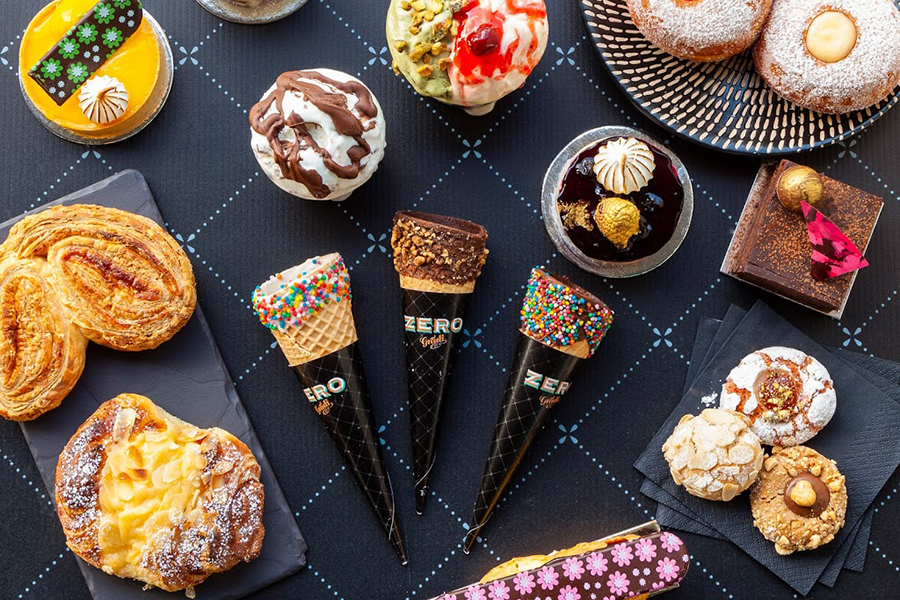 16. Zero Gradi
You've probably visited Johnny Di Francesco's 400 Gradi restaurant which specialises in having the best Pizza (winning the World Championship in 2014). You might not know that he owns Zero Gradi, the gelateria right next door. With 18 gorgeous flavours, including Lemon and Pistachio, this dessert restaurant will be the go-to stop after stuffing your face with Pizza.
Address: 99 Lygon St, Brunswick East VIC 3057
Contact: (03) 9994 5303
Hours: Mon — Sun: 12pm -11pm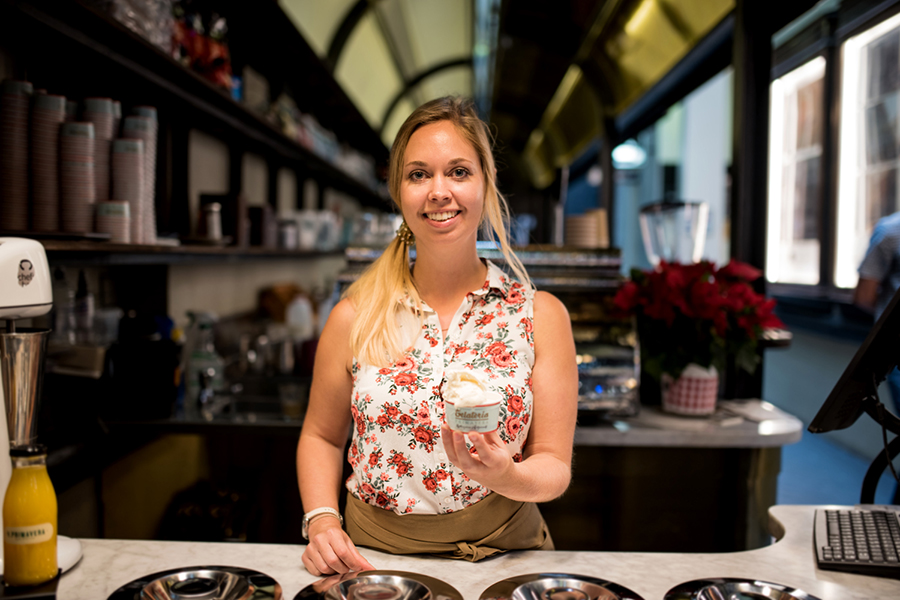 17. Barbarella
A nod to Milan's Galleria Vittoria, Barbarella transports you back in time to the Victoria era. They offer food, wine and sell ice cream from Gelateria Primavera to top off your elegant night around town.
Address: Block Arcade, 282 Collins St, Melbourne VIC 3000
Contact: (03) 9663 2214
Hours: Mon — Fri: 7am — 6pm, Sat & Sun: 8am — 5:30pm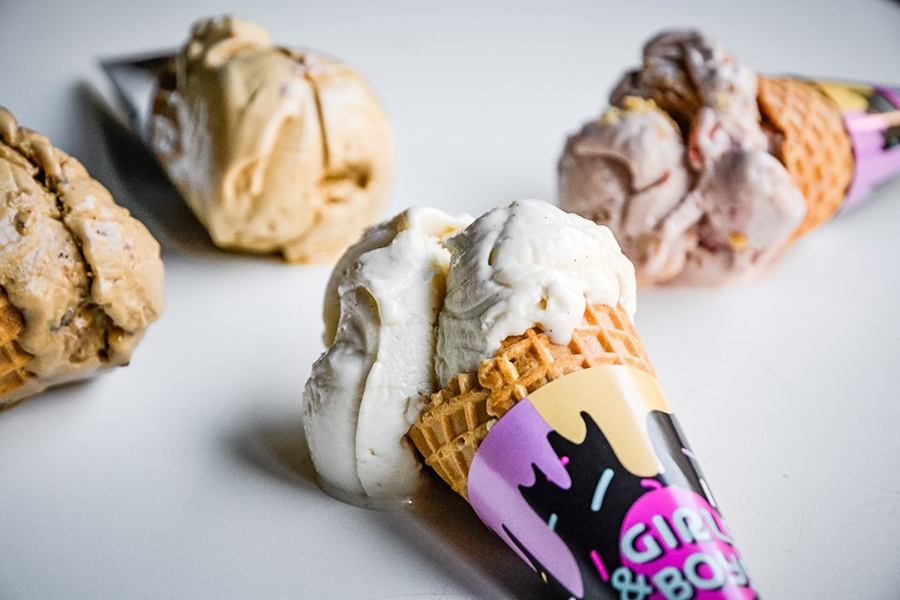 18. Girls & Boys
This ice cream shop is completely plant-based and mimics the classic Mr Whippy as at Girls & Boys they aspire to bring out your inner child. With fresh and organic ingredients, their staples Cherry ripe and Apple crumble will take you back to your high school days.
Address: 382A Brunswick St, Fitzroy VIC 3065
Contact: (03) 9417 6766
Hours: 11am — Late (Every day)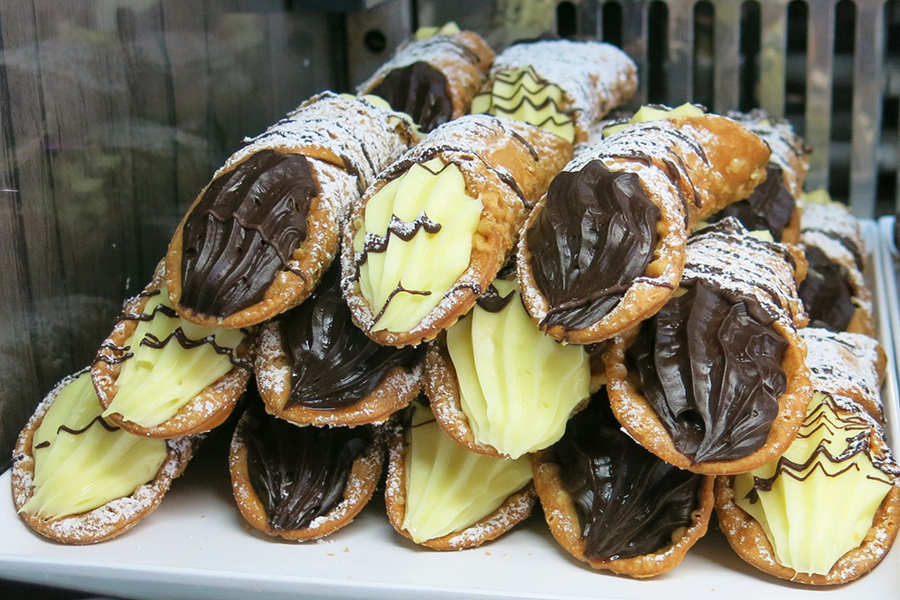 19. Gelobar
Gelobar is traditional, artisanal and iconic. With innovative flavours, this gelateria is entirely different from any you've ever been to because they strive to be different. Their Rafello and Panna e Fragola are unlike any others you might have tasted.
Address: 74/76 Lygon St, Brunswick East VIC 3057
Contact: (03) 9388 1419
Hours: Sun — Thurs: 7am — 11pm, Fri — Sat: 7am — 12am
You'll also like:
29 Best Italian Restaurants in Melbourne
10 Best Kebab Shops in Melbourne
16 Best Doughnuts in Melbourne to Get Your Glaze On
General FAQs
Where is the best ice cream in Melbourne CBD?
Pipapipó, Gelato Primavera and 7 Apples
What's the difference between ice cream and gelato?
Gelato tends to have less fat because it uses less cream to traditional ice cream. Gelato also often contains a lot fruit based options that are usually dairy free.
Where can I get vegan ice cream in Melbourne?
Billy van Creamy, Piccolina Gelateria, Fritz Gelato and Girls & Boys.
---
Featured Video from Man of Many