18 Spots for the Best Outdoor Dining in Melbourne
If you're looking for the best outdoor restaurants in Melbourne you'll want to head to places like Arbory Bar and Eatery, Naked in the Sky and Siglo Bar. Melbourne is known for its culinary dining scene and is teaming with outdoor dining spaces where you can sip cocktails and enjoy al fresco dining. Luck for you, our expert team of foodies and editors have directly sampled the best outdoor dining spaces Melbourne has to offer, compiling an independent list of their favourites.
Whether it be riverside by the Yarra River or high in the sky on a rooftop bar, you can expect good times, amazing city wine shops, waterfront dining and open-air vibes from Melbourne's best outdoor restaurants. Just be sure to dress accordingly for Melbourne weather, it's unpredictable.
RELATED: These are the best pubs in Melbourne, many of which have an outdoor area too.
Best outdoor restaurants in Melbourne at a glance
Our list of the best outdoor restaurants goes like this.
Now we've had a look at our favourites, let's check out the complete list.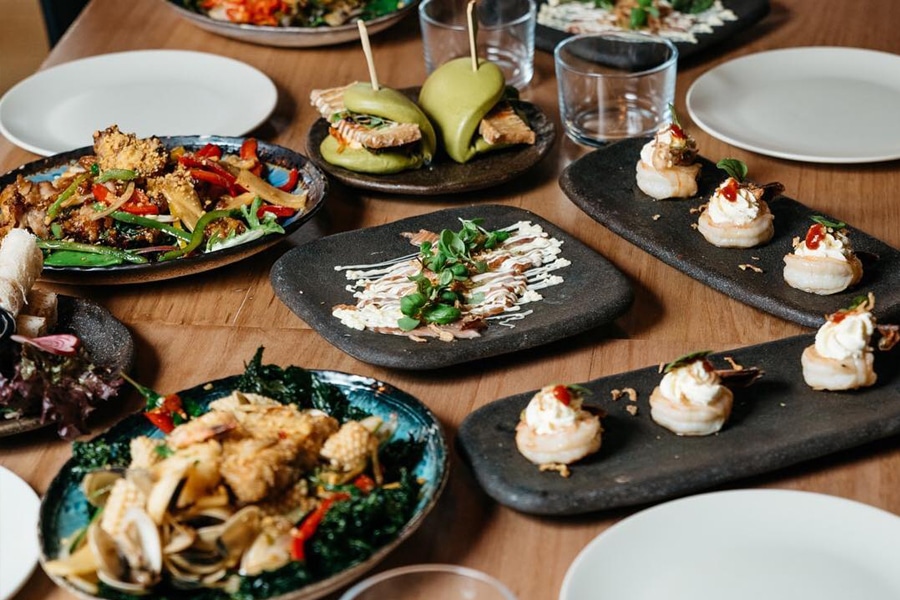 1. Hochi Mama
Hochi Mama serves up delicious Vietnamese cuisine, street food style. They have great outdoor dining spaces for sun lovers and a delicious menu utilising contemporary flavours making it an ideal spot. You can expect wooden tables a welcoming space, and delicious Vietnamese-inspired dishes like chicken banh bao, Saigon curry crispy pork hok and Hanoi seafood spring rolls. The main star though is the cocktails which also incorporate Vietnamese flavours such as lemongrass and coconut.
Address: 35 Little Bourke St, Melbourne VIC 3000
Hours: Sun-Thu 12pm-3pm & 5:30pm-9:30pm, Fri-Sat 12pm-3pm & 5:30pm-10:30pm
Phone: (03) 9078 2285
Check out Hochi Mama Hochi Mama Menu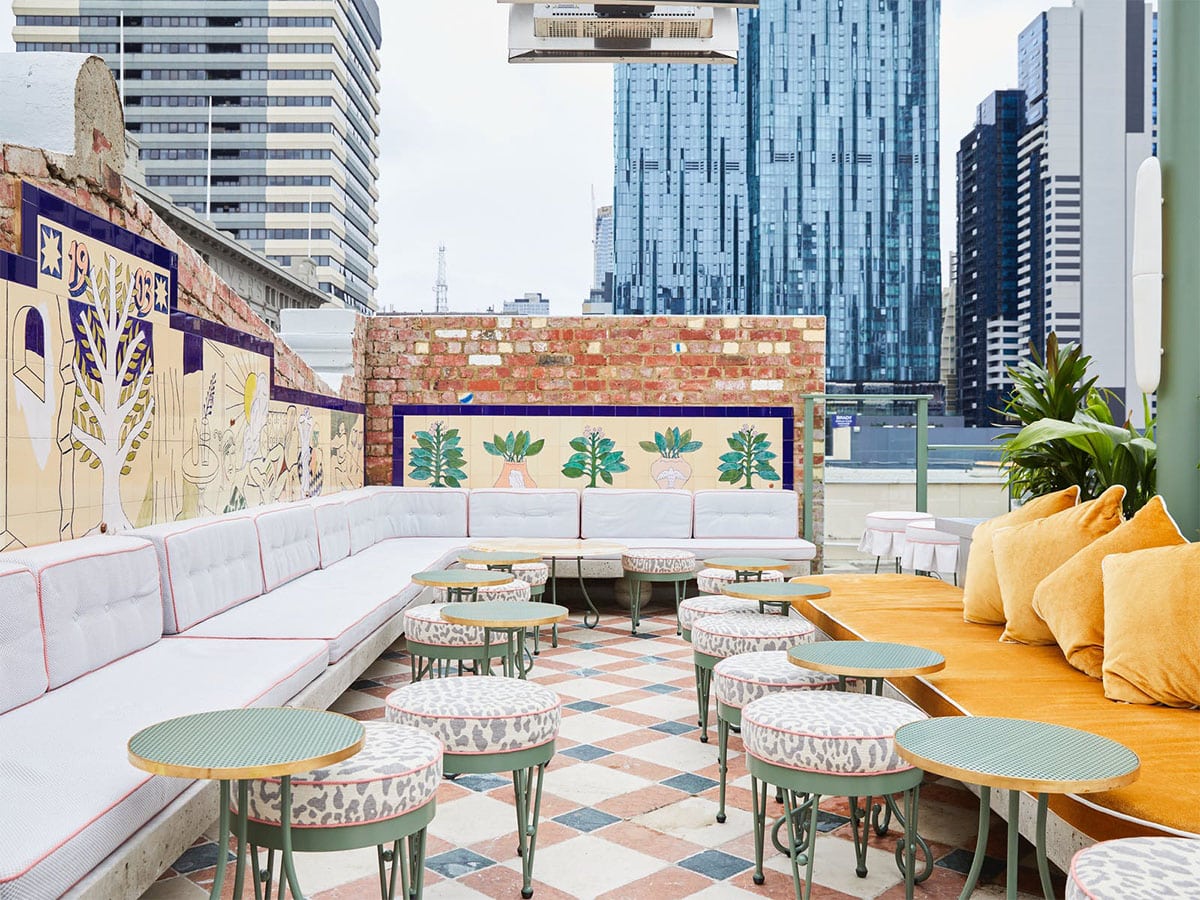 2. HER
Overlooking Melbourne CBD, you couldn't pick a prettier spot for outdoor seating. Her Bar offers an outdoor heated terrace that runs the whole length of the building. There are four levels of entertainment and one floor dedicated to a library of records. The Music Room is your chance to listen to some of the best local and international artists whilst being surrounded by an impressive collection of vinyl. Located on the ground floor, you'll find Her Bar serving breakfast favourites like bacon and egg rolls, and Market Lane Coffee during the day.
Address: 270 Lonsdale St, Melbourne VIC 3000
Hours: Mon-Wed 11:30am-12am, Thur & Sun 11:30am-2am, Fri-Sat 11:30am-3am
Phone: (03) 9997 0437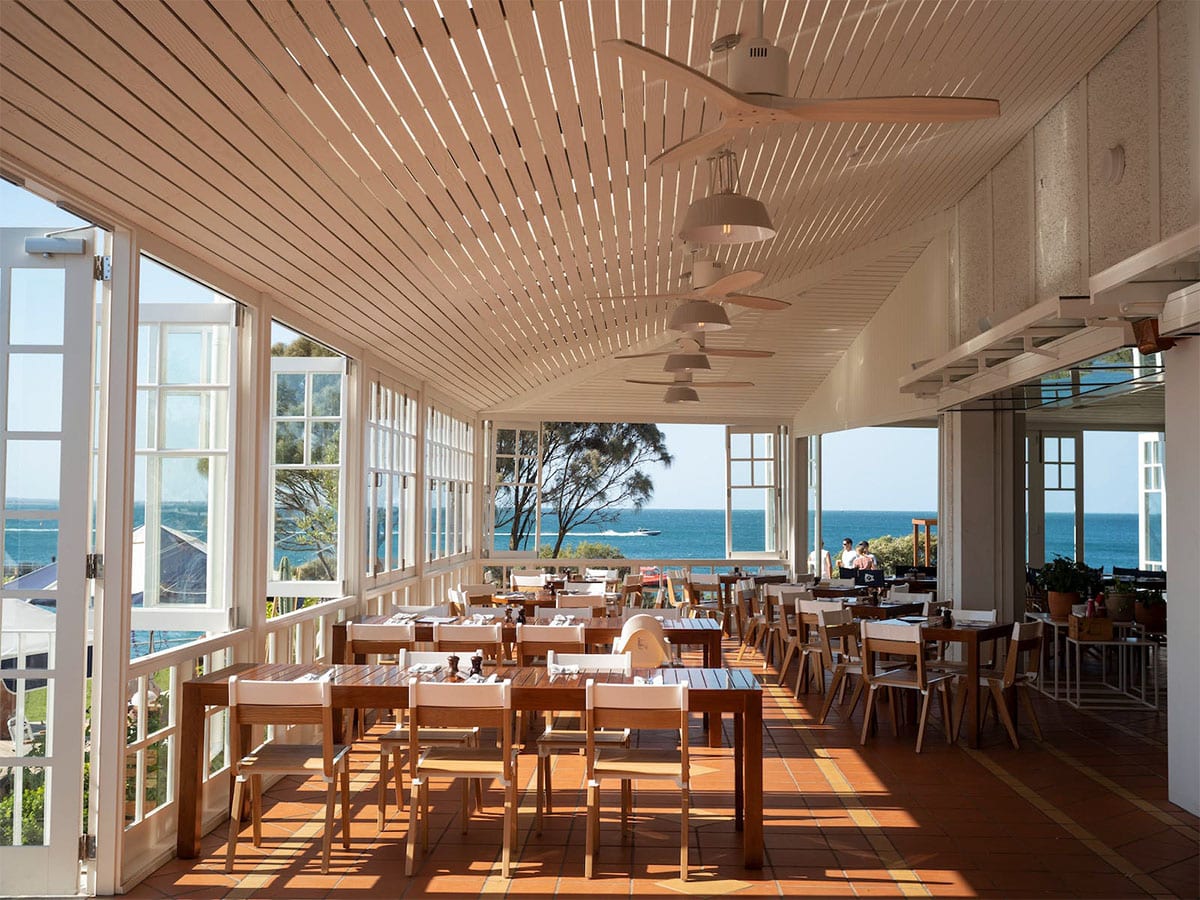 3. Portsea Hotel
For one of the best summer experiences Melbourne has to offer, look no further than the Portsea Hotel. It's one of the best spots for a summery drink along the Mornington Peninsula and features lush greenery, an ocean-view outdoor area encapsulating the best of Melbourne's coast. The menu features modern Australian dishes and you can't go wrong with the parma. Yes, it's an hour away from Melbourne's CBD and will transport you to the great outdoors, however, it's worth the trip for a special occasion or a summer day when you're looking for some fresh air.
Address: 3746 Point Nepean Rd, Portsea VIC 3944
Hours: Thur-Mon 11:30am-12am
Phone: (03) 5984 2213
Check out The Portsea Hotel The Portsea Hotel Menu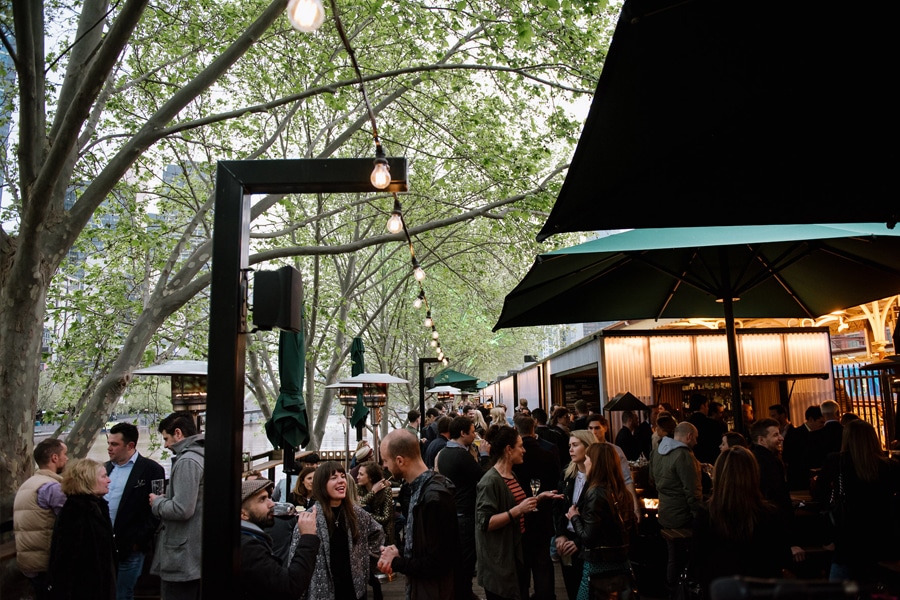 4. Arbory Bar and Eatery
This lively outdoor bar and eatery is one of the most well-known al fresco dining spots Melbourne has to offer. Arbory Bar and Eatery sits on the heart of the CBD, the Yarra River. With an open-air vibe and uninterrupted views, boasting a huge outdoor dining area, you'll have no problem finding a nice spot to settle in and enjoy classic cocktails and spectacular river views and even a bite to eat.
Address: 1 Flinders Walk, Melbourne VIC 3000
Hours: Sun-Wed 7:30am-11pm, Thur 7:30am-11:30pm, Fri-Sat 7:30am-12:45am
Phone: (03) 9614 0023
Check out Arbory Bar and Eatery Arbory Bar and Eatery Menu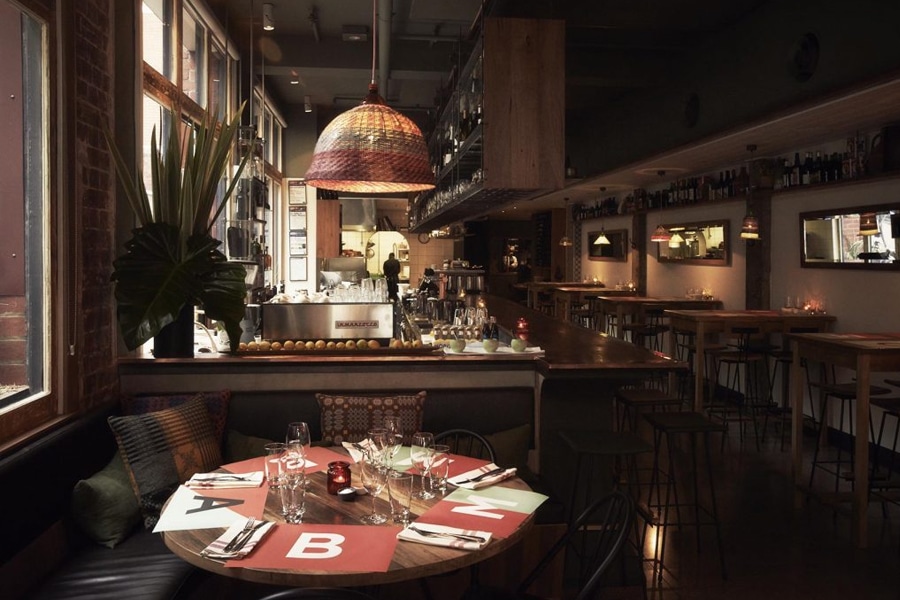 5. Bomba
Bomba's rooftop bar is one of the best outdoor restaurants Melbourne has to offer. The two-level venue pays homage to the Spanish worker's bar and was inspired by the modern bodega. Take a seat at the rooftop bar and take in the scenes while eating some of Bomba's flavourful tapas.
Address: 103 Lonsdale St, Melbourne VIC 3000
Hours: Tue-Sat 12pm-12am, Sun-Mon 5pm-12am
Phone: (03) 9650 5778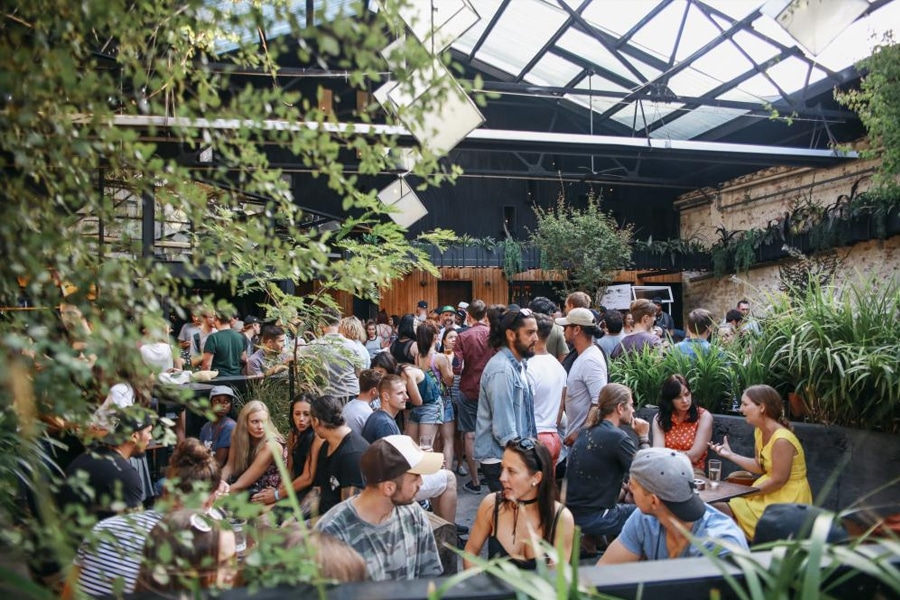 6. Howler
Just opposite the Brunswick city baths, you'll find Howler, a converted warehouse featuring a light and airy garden oasis. Pull up a chair in the garden and grab a cocktail for some outdoorsy vibes. Two performance spaces also mean there is never a dull moment at Howler with live DJs, bands, art exhibitions and screenings.
Address: 7-11 Dawson St, Brunswick VIC 3056
Hours: Tue-Thur 5-11pm, Fri 3:30pm-1am, Sat 12pm-1am, Sun 2-10pm
Phone: 0435 101 887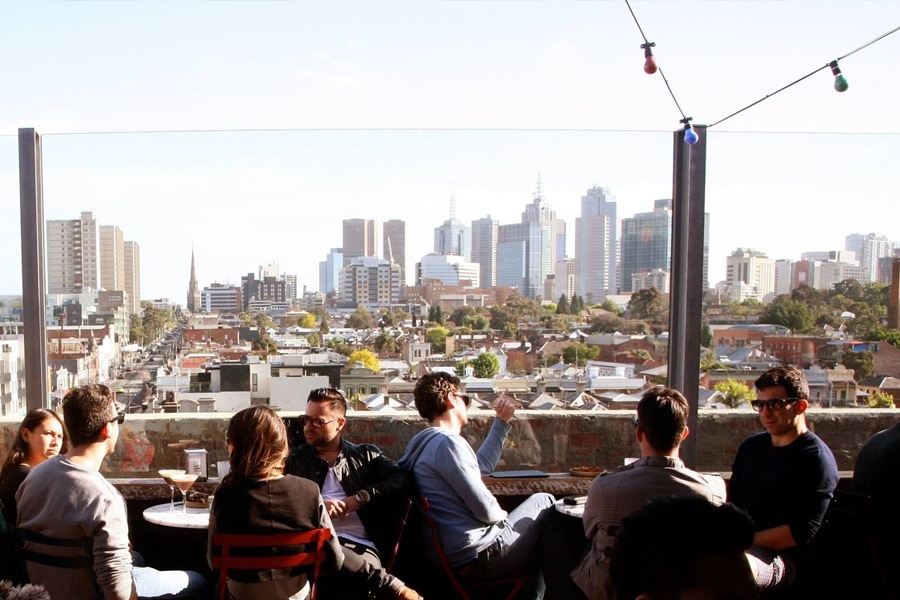 7. Naked In The Sky
Sitting above its famous Pintxos bar, Naked for Satan, Naked in the Sky provides some of the best outdoor seating and views of the CBD making it a fantastic summer option in Melbourne. The menu is heavily skewed towards Spanish cuisine with flavours from the Basque region. The drinks list will not disappoint either, with Spanish beers and ciders, cava and more.
Address: 285 Brunswick St, Fitzroy VIC 3065
Hours: Mon-Thur 12pm-12am, Fri-Sat 12pm-1am, Sun 12-5pm
Phone: (03) 9416 2238
Check out Naked In The Sky Naked In The Sky Menu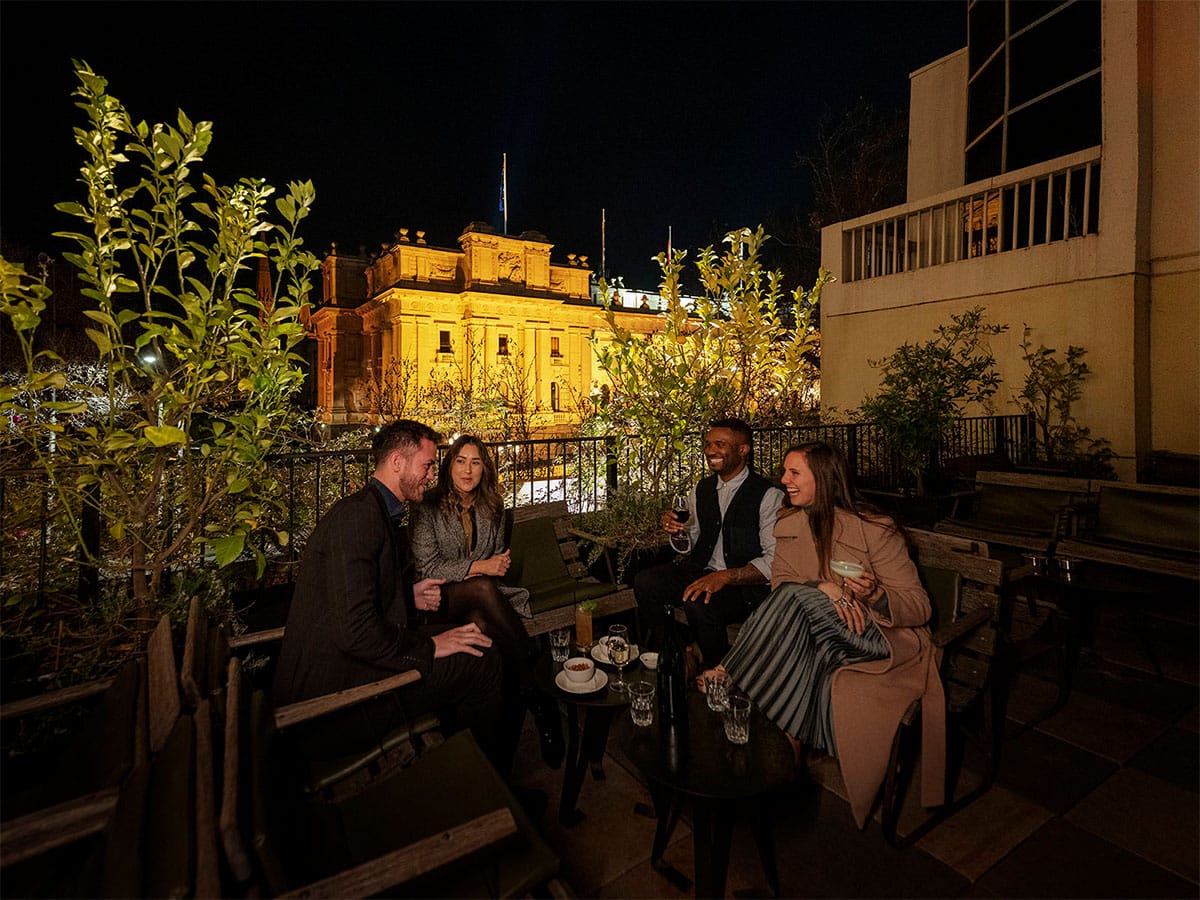 8. Siglo
Located in Melbourne's CBD, Siglo is a unique spot for some fantastic whisky and cigars. You can dine downstairs at the Melbourne Supper Club, and head upstairs for a view and cigar menu unlike anything in Melbourne. The setting and atmosphere almost make you think you're in Paris or New York.
Address: 2/161 Spring St, Melbourne VIC 3000
Hours: Tue-Sat 5pm-3am
Phone: (03) 9654 6631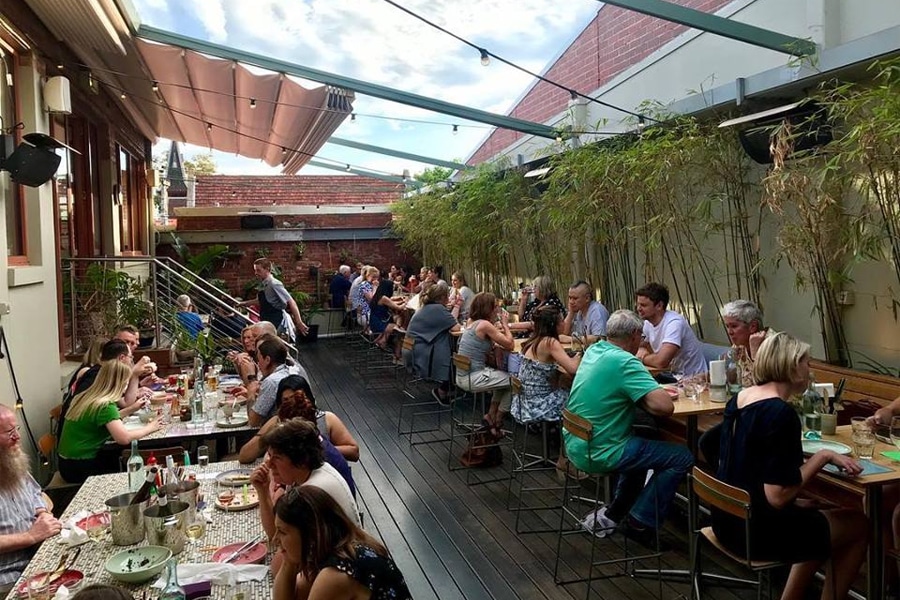 9. Uncle
The bamboo-encircled rooftop area at Uncle is the perfect spot in Melbourne. When most people think 'Vietnamese', they believe pho, but the cool thing is that you can order a 'mini' pho to save room for the other delicious menu items. Plus, it's the only Vietnamese restaurant with a rooftop terrace.
Address: Level 1/15 Collins St, Melbourne VIC 3000
Hours: Tue & Sat 5-10pm, Wed-Fri 12-10pm
Phone: (03) 9654 0829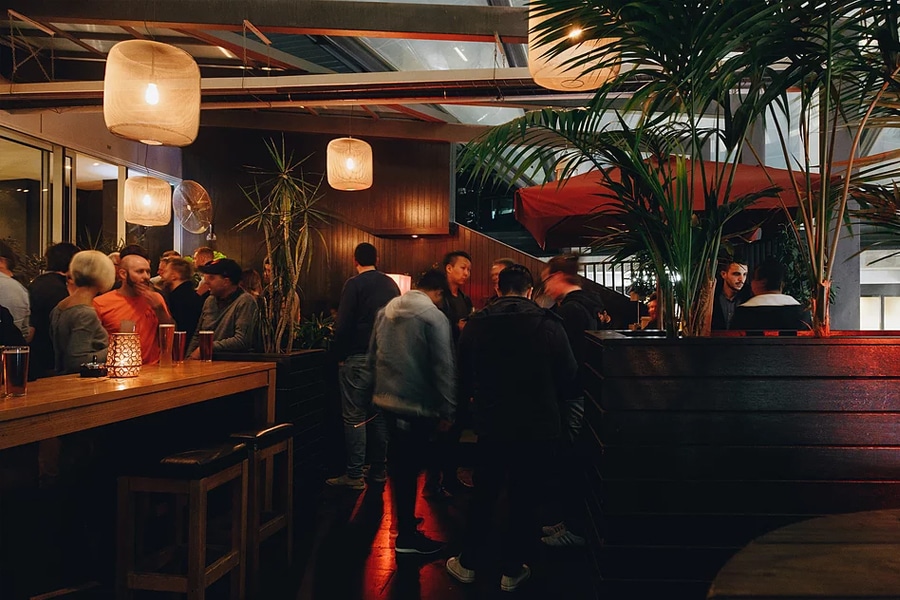 10. Slate Restaurant and Bar
Slate Restaurant and Bar has some beautifully zoned-off spaces, including a rooftop bar and a front and back terrace. You won't need to worry about the weather, as it's fully protected against rain, hail or shine. Inspired by New York rooftop bars, it's slick and sophisticated and the perfect spot for some al fresco dining.
Address: 9 Goldsbrough La, Melbourne VIC 3000
Hours: Tue-Wed 12-11pm, Thur-Fri 12pm-1am
Phone: (03) 9670 4311
Check out Slate Restaurant Bar Slate Restaurant Bar Menu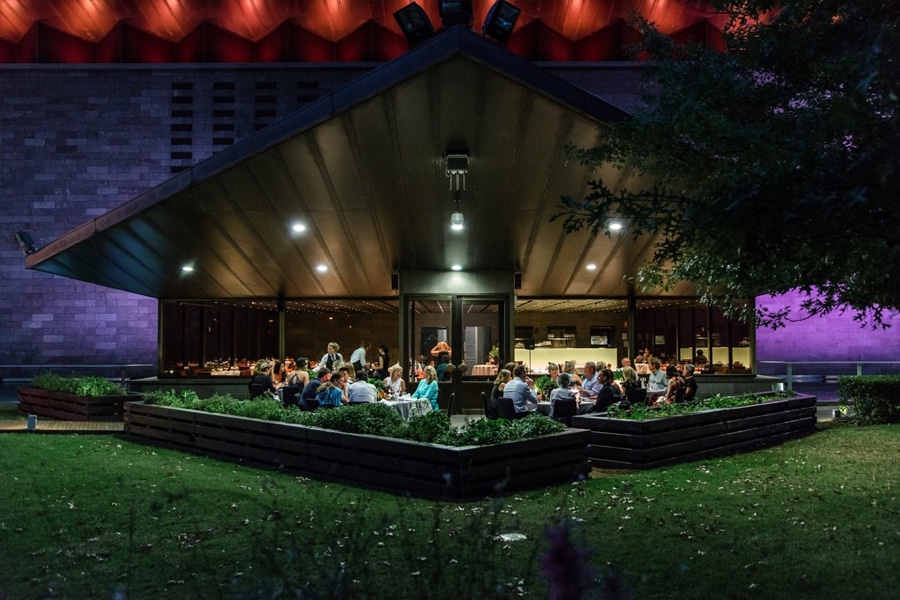 11. Garden Restaurant at National Gallery of Victoria
If you're after something a bit different than the usual outdoor restaurants, then look no further than Melbourne's National Gallery of Victoria Garden Restaurant. If you have the time, settle in with a two or three-course lunch special with wine included. The beautiful outdoor space is also reflected throughout the menu through its use of seasonal produce plucked straight from the soil.
Address: 180 St Kilda Road, Melbourne, VIC 3006
Hours: Mon-Sun 11:30am-4pm
Phone: (03) 8620 2434
Check out NGV Garden Restaurant NGV Garden Restaurant Menu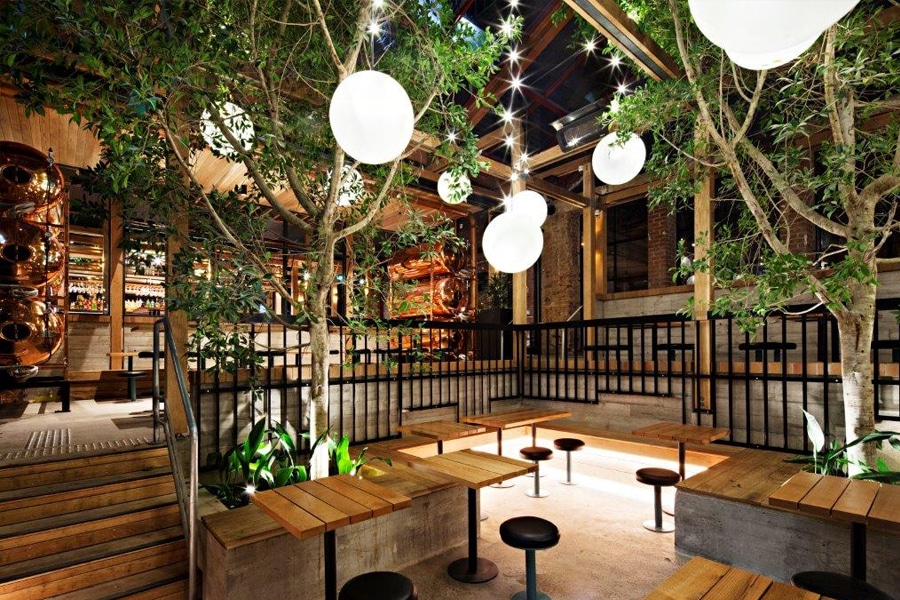 12. Garden State
Garden State Hotel has a whopping four levels with a two-level beer garden to satisfy your outdoor dining needs. Select from a comprehensive list of cocktails, craft brews, wines and a serious whisky collection. Grab something from the small bites menu, like the snapper and dill croquettes or the spiced cauliflower fritters.
Address: 101 Flinders Ln, Melbourne VIC 3000
Hours: Sun-Thur 12-11pm, Fri-Sat 12pm-3am
Phone: (03) 8396 5777
Check out Garden State Garden State Menu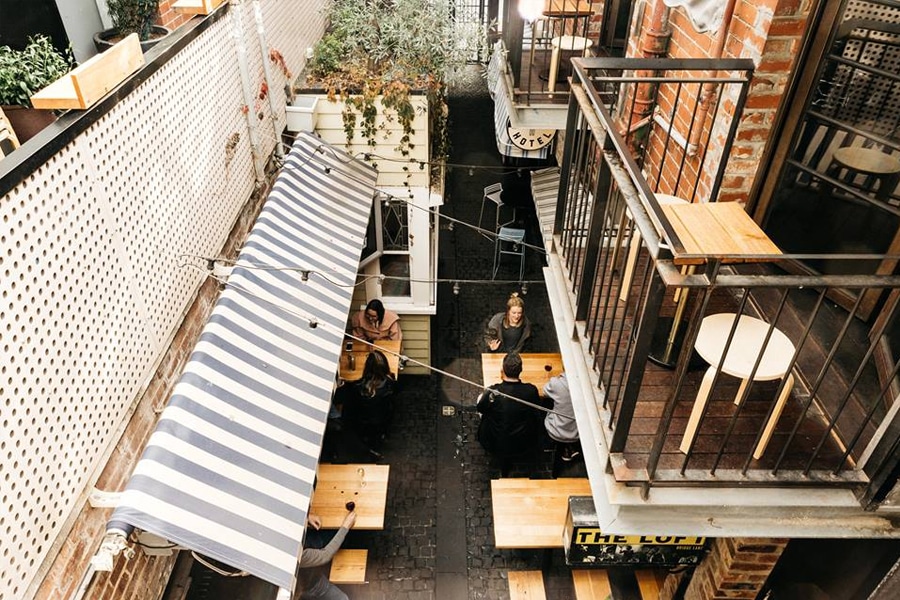 13. The Bridge Hotel
At The Bridge Hotel, nothing could be more quintessentially Melbourne than a pub with a cobblestone land running through it. It's all about bringing the outdoors in, with five themed areas, it's like a mini city in itself. Balconies and terraced spots make great places for outdoor dining with traditional pub food and seasonal mains.
Address: 642 Bridge Rd, Richmond VIC 3121
Hours: Sun-Thur 12-10pm, Fri-Sat 12pm-1am
Phone: (03) 9429 5734
Check out The Bridge Hotel The Bridge Hotel Menu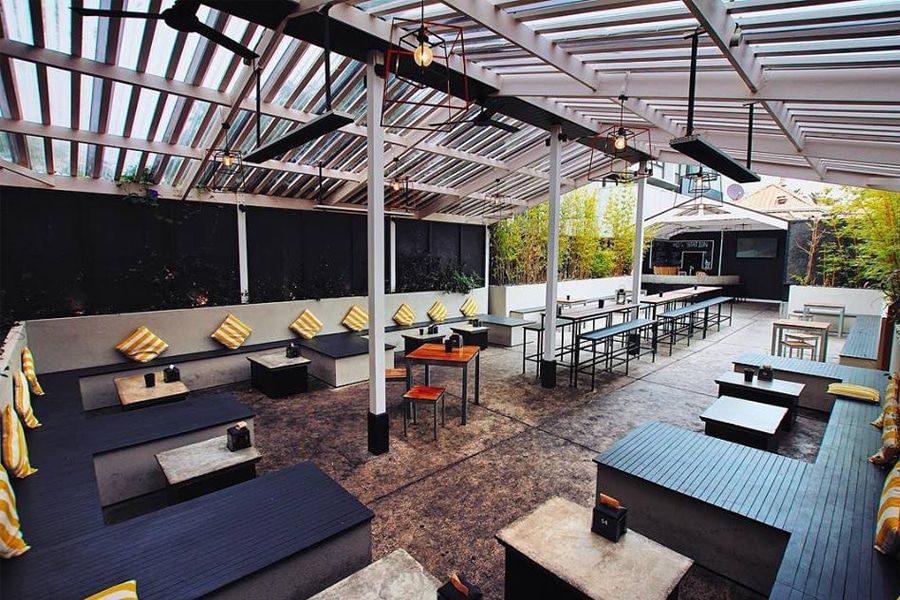 14. Lona
Lona's philosophy is all about sharing and trying new flavours. From shared tapas to pork and crackling sliders, it's all about a shared dining experience. The newly renovated Garden Bar is the perfect place for some outdoor dining while you share a plate of tasty tapas and a beer with some friends.
Address: Unit 64/66 Acland St, St Kilda VIC 3182
Hours: Wed-Sun 12pm-1am
Phone: 0421 861 143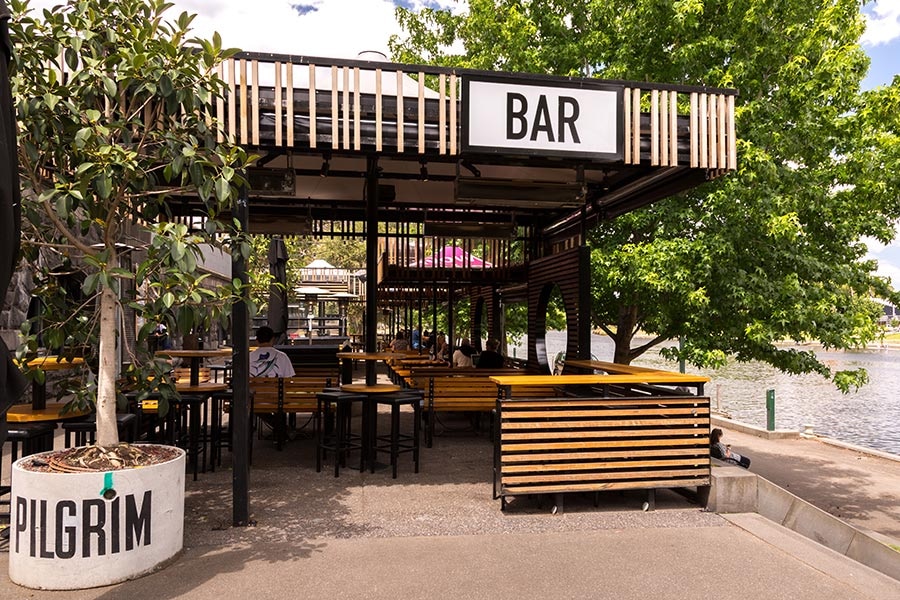 15. Pilgrim Bar
If you want a great outdoor restaurant with summer vibes, then Pilgrim is one of the best outdoor dining spots in Melbourne. It's architecturally beautiful and surrounded by foliage and wooden beams set against the backdrop of the river. Its seasonally bespoke food is wonderfully indulgent and, paired with a selection of boutique beers and wines, is a recipe for a good time.
Address: 15-19 Federation Wharf, Melbourne VIC 3000
Hours: Fri-Sat 12-9pm, Sun 12-8pm
Phone: (03) 9654 9575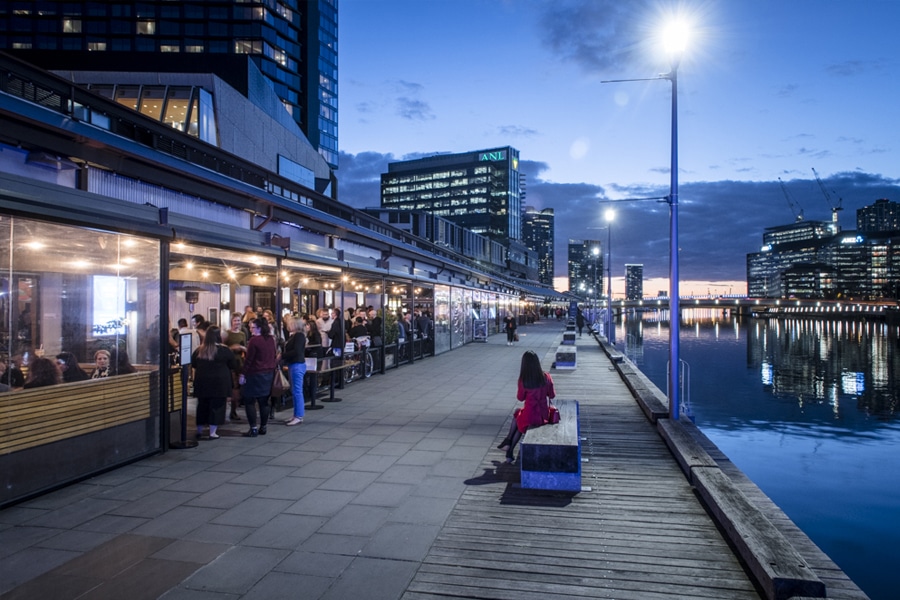 16. The General Assembly
Just next door to the Melbourne Exhibition and Convention Centre, The General Assembly is great for some al fresco dining in Melbourne. The outdoor dining areas offer a relaxed atmosphere with stunning river views. The menu has many tasty share plates, seafood like tiger prawns and salmon rillettes, grass-fed locally sourced steak and lamb, and local and imported beer and wine.
Address: 29 S Wharf Promenade, South Wharf VIC 3006
Hours: Sun-Thur 12-9pm, Fri-Sat 12-11pm
Phone: (03) 9682 6007
Check out General Assembly General Assembly Menu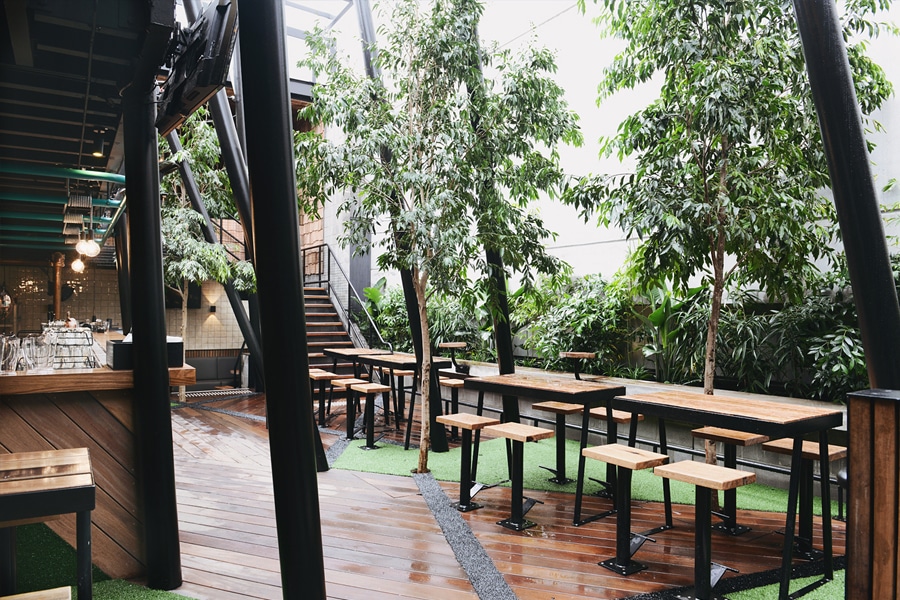 17. Terminus Hotel
The resurrected and reinvigorated, Terminus Hotel returns with a fresh look and a huge urban jungle beer garden. The leafy beer garden is a great spot for outdoor dining, and a look at the menu will make your taste buds salivate. On top of that, there's a broad selection of craft and draught beers, spirits, cocktails and ciders.
Address: 605 Victoria St, Abbotsford VIC 3067
Hours: Sun-Thur 12pm-10pm, Fri-Sat 12pm-1am
Phone: (03) 9427 0615
Check out The Terminus Hotel The Terminus Hotel Menu

18. Da Guido La Pasta
If you're in the mood for some Italian, you can't look past Lygon Street and De Guido. The menu gives an authentic slice of Venetian taste and style, serving up crowd favourites and traditional dishes by trained Italian chefs. Pasta is made fresh daily using only the best and most natural ingredients. The outdoor dining area is a real treat on warm evenings or even on cooler nights, with blankets and heating provided. Da Guido La Pasta is one of the best outdoor restaurants on Lygon Street.
Address: 130 Lygon Street, Carlton VIC 3035
Hours: Mon-Sun 12-3pm & 6-10 pm
Phone: (03) 8528 4547
Check out Da Guido La Pasta Da Guido La Pasta Menu
Key things to consider for outdoor dining in Melbourne
The key factors to consider
Location – Is it central?
Value – Is it value for money?
Service – Great service goes a long way, especially with big groups.
Venue – The atmosphere is vital when choosing to eat at an outdoor restaurant.
How Man Of Many chose the best outdoor dining in Melbourne
With an editorial team full of foodies, Man Of Many has had the unique opportunity to directly sample and experience food from the best outdoor dining spaces in Melbourne. It is also based on our experience, in-depth research and customer reviews of outdoor restaurants in Melbourne. As expert journalists who guide people between competing products and services, we have provided our independent opinion in formulating Man of Many's selections. Man Of Many has also utilised Steve Kavakos' expert knowledge of his home city when making our selections. Our editors have taken into account food, service and atmosphere while also making a concerted effort to highlight a few spots outside of the CBD. You can review our editorial policy here surrounding how we maintain our independence in our editorial reviews.
Alternatives to outdoor restaurants in Melbourne
If you're looking for other cuisines or dinner ideas in Melbourne, we've got you covered with some options listed below. You can also check out our list of Fun Thing To Do in Melbourne. If you're looking for a more specific cuisine, check out our list of Japanese Restaurants in Melbourne or the Best Italian Restaurants in Melbourne. If you've hit a food coma and want to get active, we can also show you the Best Beaches in Melbourne for Surfing and Swimming.
You'll also like: