Zing On! What's With Blokes and Their Zinger Boxes?
The admiration for a moment spent with a greasy box is something many Aussie blokes can relate to. We've all been there, a couple of sugarcane champagnes and it all starts to get a bit fuzzy, but there's one thing on your mind. You just can't get the taste out of your head, you turn to your non-bloke and whisper "Its time to Zing-On". Next thing you know, you're getting all hot and flustered at the thought of a night spent with something special. If that "thing" isn't a KFC Zinger Box maybe this isn't the article for you, so Zing Off you non-greasy box loving cowards.
If you're wondering what the go is with this 'Zing On' nonsense, we've got you covered. We had a chance to have a couple of words with Blokes and their Zinger Boxes own Rhys 'The Zinger Pope' Jones to get to the bottom of the colonel's gospel and understand what's really going on.
You'll also like:
KFC X Crocs Sandals Actually Smell Like Fried Chicken
What is a Simp? The True Simp Meaning Explained
Who is Daquan? The Meme Page Warner Music Just Paid $85 Million For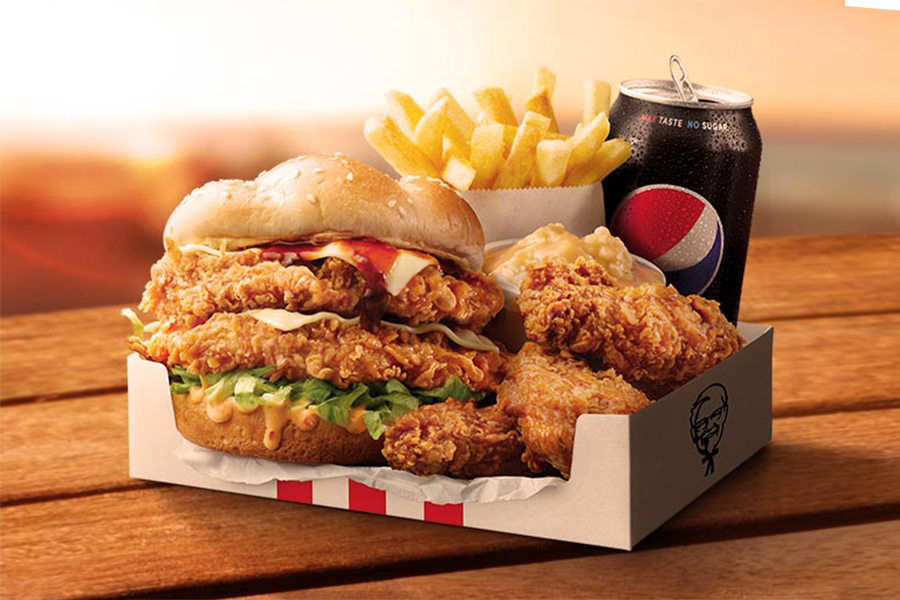 What is Blokes and their Zinger Boxes?
If you haven't had your head stuffed in a Zinger Box for the last six months, you've probably seen the 'Zing On' movement started by the page 'Blokes and their Zinger Boxes'. To say the movement has captured the nation by storm would be an understatement, the love for the greasy box has found its way into the hearts of lads across the nation and united KFC punters from all walks of life.
"I think every legend in this world has long appreciated the delectability of the Zinger Box," page admin Rhys 'The Zinger Pope' Jones tells Man of Many. "Lovers of the colonel decided to bring it into the spotlight and try to garner a community around the best burger box in Australia, and thankfully other like-minded blokes followed suit. The page became a haven for all things KFC, spicy memes, and banter."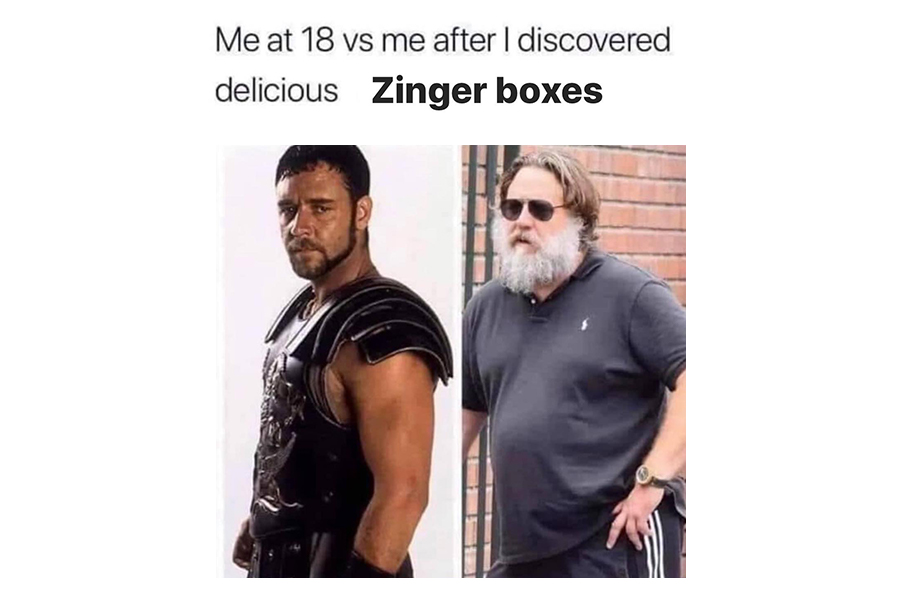 Why Has It Become So Popular?
The page started to gain traction around June, at the peak of COVID-19 in Australia. The page has created a space for blokes to share and laugh over the common good found within the succulent Zinger Box. In some ways, Blokes and their Zinger Boxes breaks the tradition of 'non-sharing' amongst Aussie men, if anything, a good laugh over Aussie humour is enough to put a smile on even the toughest bloke's face.
"I think blokes got behind the page because everybody has a good mentality about it," Jones says. "Most people are very welcoming and most of the time everyone is either cracking a joke or throwing a friendly roast around, but that's to be expected especially in Aussie culture. But the quality of the content in the page constantly revolves and we try to keep it as fresh as possible and work around the clock to remove anyone giving the page a bad reputation."
What's the Best Way to Zing?
Let's be clear, there's really no wrong way to have a Zinger Box, just the utterly mouth-watering smell alone should be enough to tell you that, and far out, just writing this is making us hungry. While there is no wrong answer, what the Pope says is usually gospel, so if you ever wondered what ideal Zinger Box looks like, here you are.
"My ideal Zinger Box is a Zinger Stacker with bacon, loaded with supercharged sauce, the long-discontinued crispy strips make a long-awaited return, a large chips with extra salt and a Pepsi Max," Jones says.
Can confirm; this is NOT one of the 11 herbs and spices… https://t.co/jewkvCdKnd

— KFC UK & Ireland (@KFC_UKI) January 27, 2020
The Highlight of the Page So Far?
The page is home to some of the best memes and original content on the internet. The originality is outstanding and elevates the experience to a whole new level, much like asking for a nine-piece of The Colonel's finest and receiving ten by accident. Each and every post is rewarding, the comments are hilarious, laced with proper laugh out loud material that you can't wait to share with your mates. The page stays relevant as it doesn't discriminate, anyone can cop a roasting, and it's all for a good laugh. If you can't have a laugh at your own expense we wouldn't suggest posting, however, there's a small list of rules in place to keep the reigns on the blokes who probably don't belong in a such a community anyway.
As for the Zinger Popes favourite meme? He doesn't have a favourite, there are just too many bangers, however, he does have a least favourite. "I don't have a favourite all-time Zinger meme but my least favourite would be the "Zinger Pinger Jaw Swinger". After seeing that posted 100 times a day we had to put a permanent ban on it!"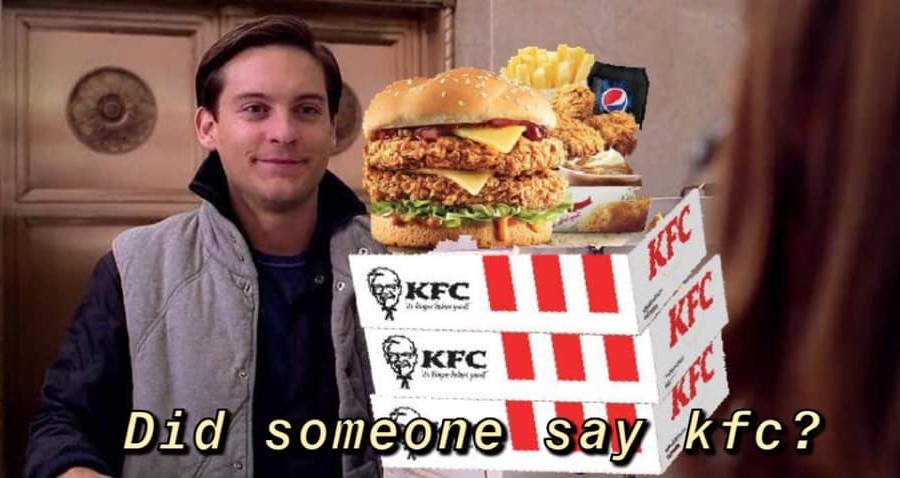 Where Does the Page Go From Here?
The page has gained some serious attention over the last 6 months, however, members and admin are remaining humble throughout the whole process. Keeping the new members under control and steering the page in the right direction is not an easy task, and we think Rhys, Matt, Alex, Max, Daniel, William, Jake, and Ben are doing a bloody good job, Zing-On KFC Board of Director's bloke guys.
"To be honest the growth in the last couple of months has completely blown not only mine but the other page admins minds as well. We absolutely exploded after June this year and we are extremely thankful for everybody's love and support for the page. We love what we do and will continue to do our best to keep the page a fun community to be apart of," said Jones.
As for a reward for their hard work? An acknowledgment from KFC has been a big accomplishment, and now there's only one thing left to do.
"KFC officially has taken notice of us and our catchphrase of "Zing on" is becoming a pretty well-known term, so hopefully they fly us out to the original KFC restaurant one day and treat us to a feed in the colonel's first restaurant. I think that'd be a very fitting reward," said Jones.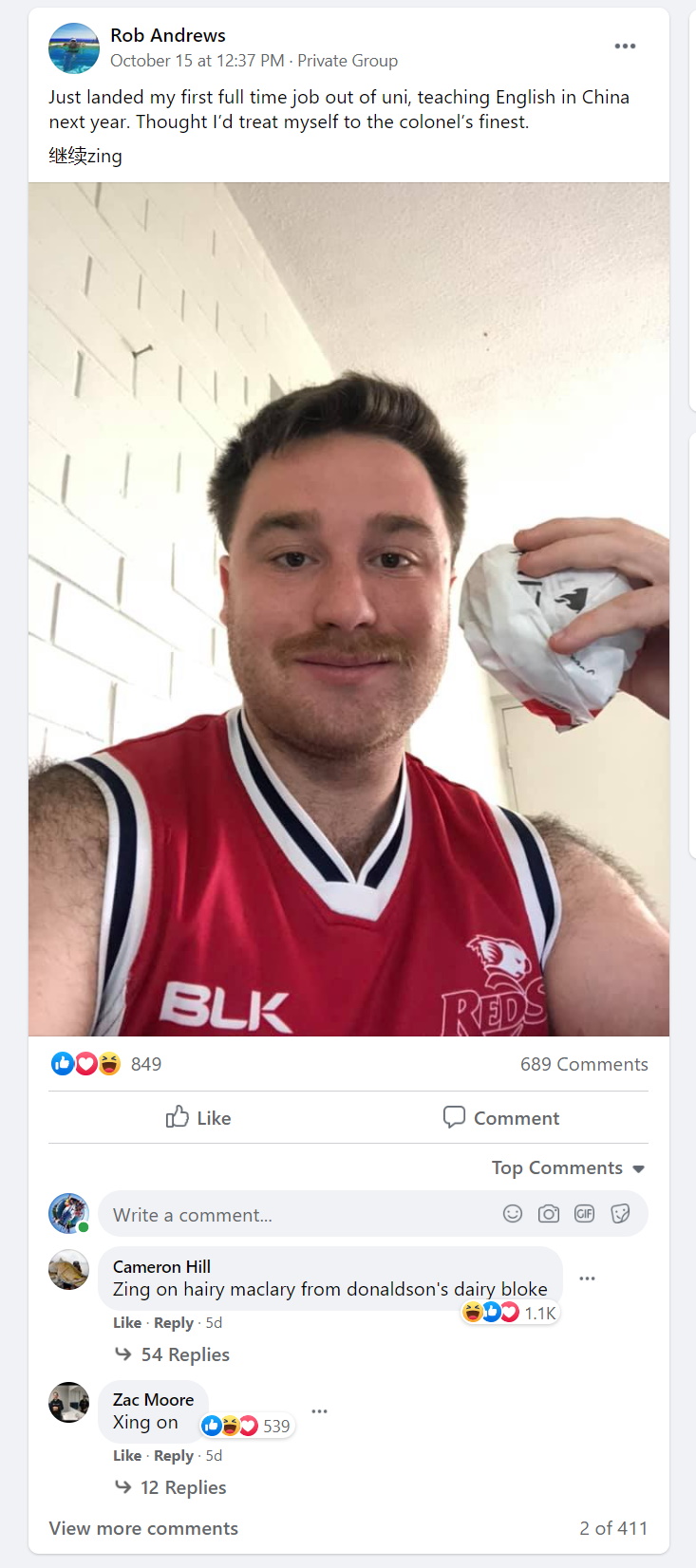 You'll also like:
KFC X Crocs Sandals Actually Smell Like Fried Chicken
KFC Australia's Popcorn Chicken Slab Secret Menu Item
Isolated Chef Creates KFC Zinger Nasi Goreng Recipe