Isolated Chef Creates KFC Zinger Nasi Goreng Recipe
Isolation has got us attempting some pretty wild things in the kitchen, and even though several restaurants are beginning to open their doors, that hasn't stopped us from showing off our new-found culinary skills. Combinations are the flavour of the month. Whether it's Pineapple milk or 17 Best Cafes in Hobart for Breakfast, Brunch and Lunch, everybody is getting in on the isolation fusion trend, even KFC. The iconic chicken chain has partnered with Dan Hong, the legendary chef behind Mr Wong, Queen Chow, Ms G's, El Loco and The Establishment, to create a Zinger Nasi Goreng monstrosity.
You'll also like:
11 Best Hibachi Grill & BBQ For Any Occasion
'How to Make McNuggets at Home' TikTok Video Goes Viral with 30 Million Views
Get Fireball Fried Chicken Buckets Delivered Straight to Your Door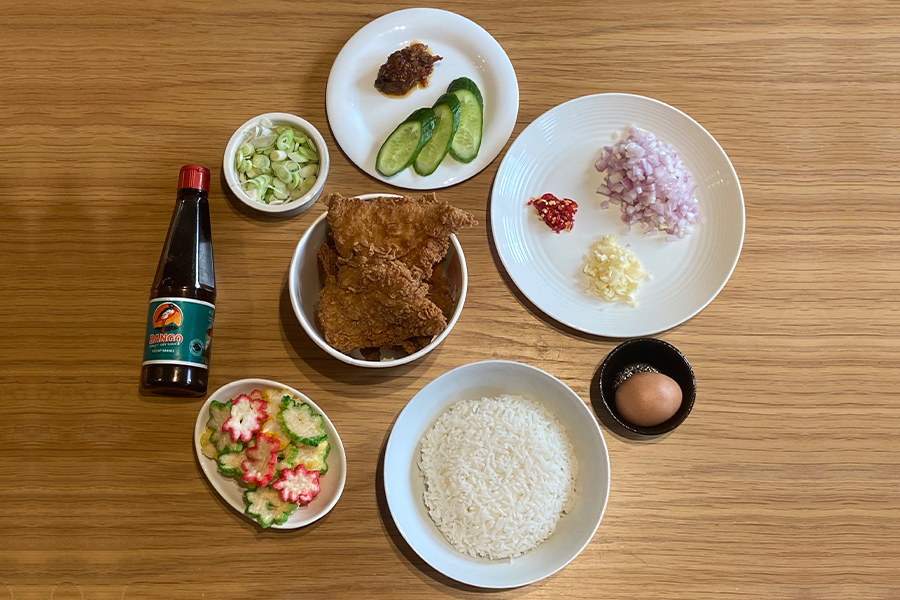 Taking to Instagram, Wong put a Kentucky fried twist on the heritage meal, adding 2 KFC Zinger fillets to the mix. The fillets, mixed with a flavour-filled sweet, salty and spicy fried rice, and topped with a fried egg make the KFC Zinger Nasi Goreng a bit of a winner, winner chicken dinner. Best of all, Wong has dropped the official recipe on us.
'But, how do I get Zinger fillets without ordering a burger', we hear you say? Well, KFC has gone and revealed that if you ask, you shall receive. All you have to do is ask over the counter at any KFC Restaurant or purchase a Zinger Fillets Box. In the KFC App, you can also order Zinger Fillets via the 'Menu Hacks' or 'Build Your Own Bucket' sections.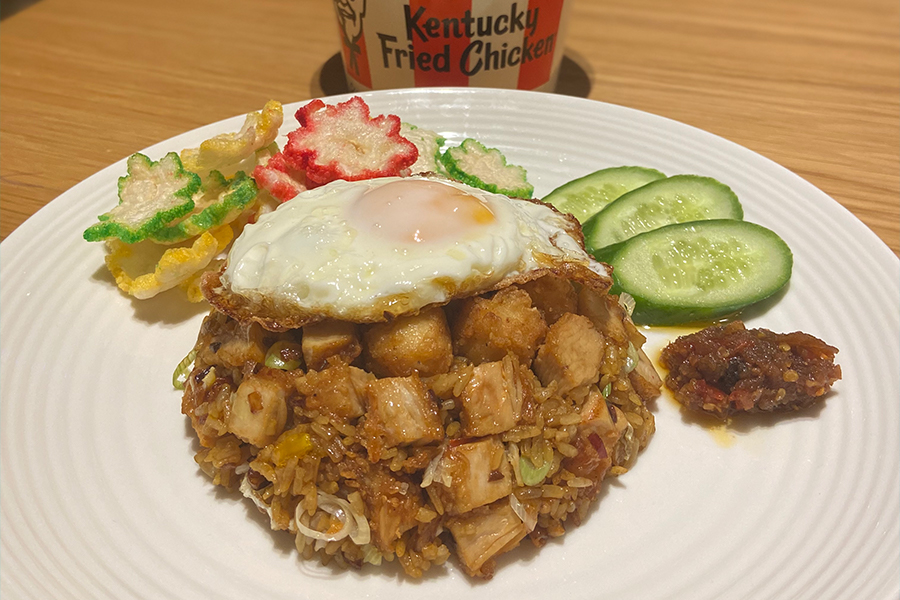 Here is what you need to make KFC Zinger Nasi Goreng;
KFC Zinger Nasi Goreng Ingredients
2-3 KFC Zinger fillets (cut into thick and small dices – use number of fillets to your preference)
1 birds eye chilli finely sliced
1 golden shallot finely chopped
1 clove of garlic finely chopped
1 stalk of spring onions finely sliced
1 free range egg
1 and a ½ cups of cooked jasmine rice
2 tablespoons kecap manis (Indonesian sweet soy sauce)
Indonesian rice crackers or prawn crackers for garnish
Cucumber slices for garnish
Indonesian spicy Sambal for garnish
Vegetable oil for cooking
Pinch of salt
KFC Zinger Nasi Goreng Recipe
In a wok or pan heat 2 tablespoons of oil over high heat. When the oil is hot, add the chilli, golden shallots and chopped garlic. Saute until golden and fragrant.
Add the rice and stir fry, continuing to loosen the rice by pressing down with the back of a large spoon. After about 2 minutes of stir frying, add the kecap manis, salt and the diced KFC Zinger Fillets, and stir through.
Keep stirring over a high heat for about 1 minute until the seasoning is incorporated throughout the fried rice and Zinger Fillets, and the rice is warmed through. Add the spring onions and stir. Add salt for additional seasoning to taste. It should be sweet, a little salty and a bit spicy.
Present the Nasi Goreng by placing the mixture in a small bowl. This will mould the Nasi Goreng. After flattening out the top of the Nasi Goreng mixture in-line with the edge of the bowl, turn the bowl around and place it on top of a plate. Remove the bowl slowly to allow for a dome of Nasi Goreng fried rice to be presented on the plate.
Heat some more vegetable oil in a pan and fry an egg sunny side up, ladling the oil on top of the egg to make it extra crispy. Once cooked, carefully place the egg on top of the Nasi Goreng rice dome.
Garnish with crackers and sliced cucumber around the rice, as well as a dollop of spicy sambal on the side.
Hong also released the recipe in an IGTV video. Check it out below.
You'll also like:
11 Best Hibachi Grill & BBQ For Any Occasion
'How to Make McNuggets at Home' TikTok Video Goes Viral with 30 Million Views
Get Fireball Fried Chicken Buckets Delivered Straight to Your Door