KFC X Crocs Sandals Actually Smell Like Fried Chicken
We at Man of Many see a lot of crazy things, but this my friends, kicks them to the curb. Kentucky Fried Chicken has just done a collab with Crocs, and we're not sure how to feel about the deliciously scented abomination. On 28 July the Colonel and un-ironic shoe company Crocs are bringing to market a pair of Classic Clogs that looks like a bucket of fried chicken for USD$60. According to crocs, it's an "iconic collab" between two of your favourite brands, "immortalised on a rivet to prove a collaboration happened."
You'll also like:
World's Most Expensive Pokemon Card Sold for $480,000
Supreme Pays Homage to NYC With 'Wheat' Nike Air Force 1
Kobe 6 Protro "Mambacita Sweet 16" is First Sneaker in New Nike Deal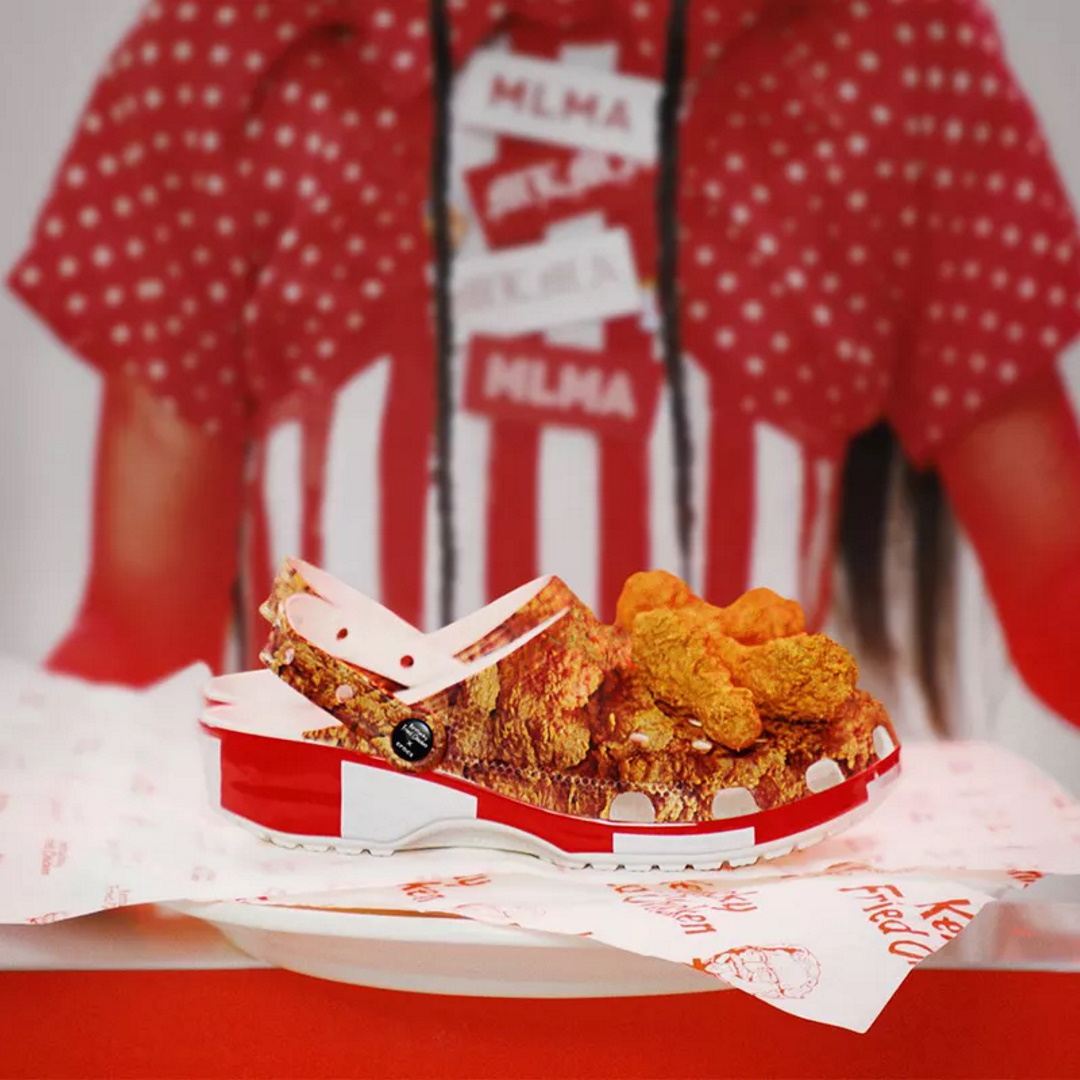 Remember that bit at the end of Dodgeball when Ben Stiller's character, White Goodman of Globo Gym America Corp – now morbidly obese – is eating all that junk food and fried chicken following his loss to all-round good guy Peter La Fleur of Average Joe's gym? Yeah, he said it was because Hollywood doesn't like anything that deviates from the norm. We're inclined to agree with him. Because WHAT ARE THOSE?!
Don't worry; it's not all bad. For every pair sold, KFC will donate $3 to Reach, KFC's Educational Grant Program, "which helps KFC restaurant employees further their education through college scholarships." While the shoe has already sold out, KFC says you can still get a real bucket of chicken at from any of their fast-food outlets around the world.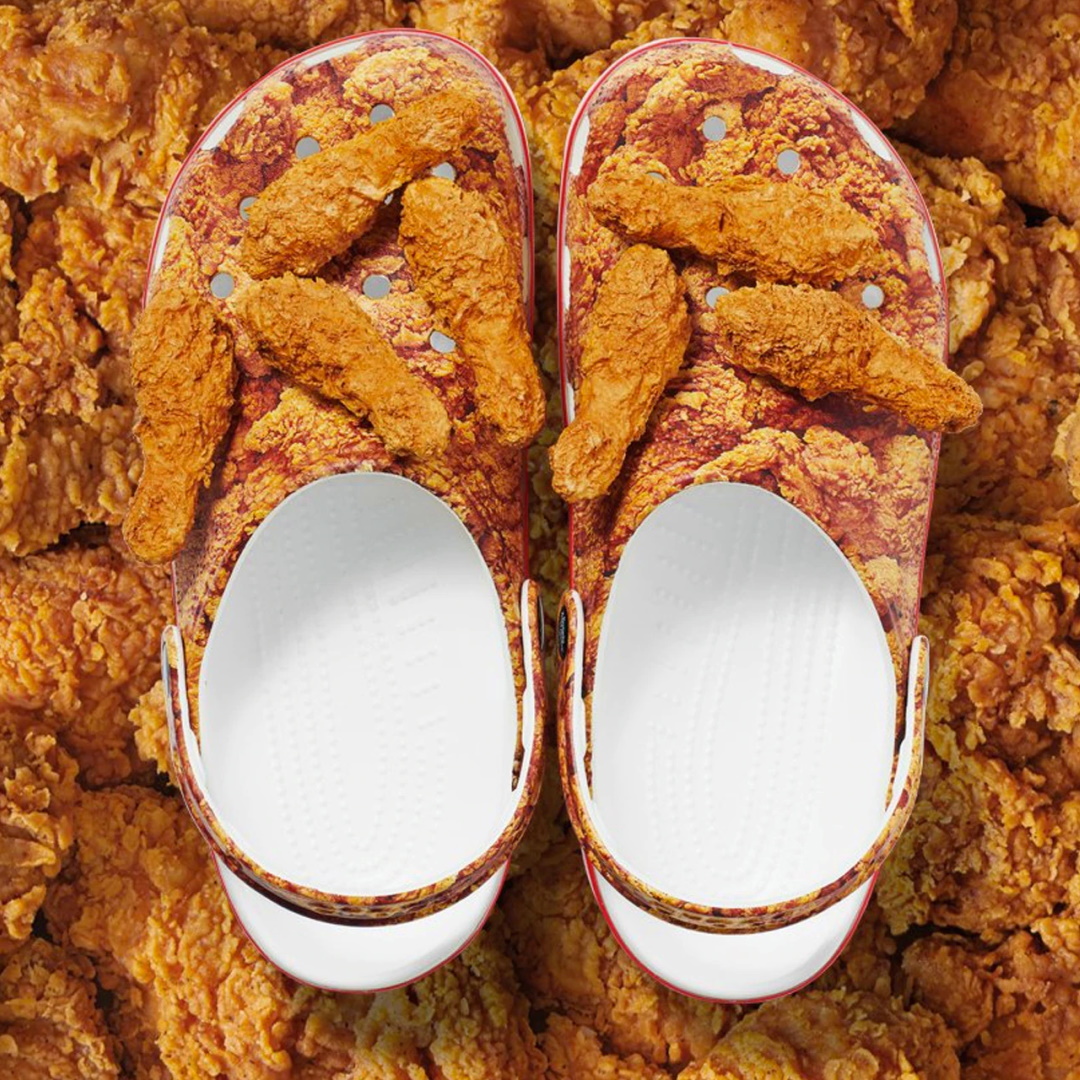 The shoes were first spotted on South Korean artist Me Love Me A Lot at New York Fashion Week in February. Wearing a platform version of the crocs, the model artist was also seen removing the shoes from a deep fryer in a KFC commercial.
Oh, and each pair co-branded footwear comes with two Jibbitz charms made to resemble and smell like fried chicken. But be warned, they are not for human consumption. Since we've also been told not to wear the bucket either, we're just going to have to hope and pray the Colonel will bring a second wave of the KFC branded clogs to the people. Next time include some potato and gravy, please. Or biscuit socks.
"The saying is true, good things and Crocs that look like a bucket of fried chicken come to those who wait," said Crocs on their Instagram post promoting the crazy fashion duet. "Covered in a fried chicken print and a striped base, these will make your dreams of wearing a bucket of chicken finally come true. "
It's not the first collab that crocs have done, with the shoe brand collaborating with artists like Luke Combs, Post Malone, the classic rock n roll band Kiss and Japanese clothing brand BEAMS.
Head on over to the crocs website to find out more about "a truly Original Recipe" and put these pair of shoes on your bucket list.
You'll also like:
World's Most Expensive Pokemon Card Sold for $480,000
Nike Air Force 1 Raygun Could Land in 2021
Michael Jordan's Signed 'Space Jam' Shoes Could Sell For Over $250,000
General FAQ
Do the KFC Crocs smell like chicken?
Each pair of KFC crocs come with two Jibbitz charms made to resemble and smell like fried chicken.
When can I buy KFC crocs?
The KFC Crocs can be purchased on the Crocs website.