How to Make Healthy Fried Chicken at Home
New year new me… Right? As it goes when the new year rolls in, we all try a little harder to be a better version of ourselves and this often means giving up old and unhealthy habits. And if you're anything like us, one of these unhealthy habits include a good piece of fried chicken and giving it up completely might not be the easiest of tasks.
Lucky for us all, a loophole exists that will allow us to continue to eat mouth-watering fried chicken (and other fried foods for that matter) but with up to 90% less fat. How can this be possible you might ask? The answer is quite simple: 1 delicious fried chicken recipe + 1 Philips XXL Airfryer.
Although airfryers are not a new concept, the Philips XXL Airfryer is the brand's largest and most powerful Airfryer designed to reduce fat for healthier meals and snacks. Not only can you make fried food with up to 90% less fat, you can also cook food 1.5 times faster than in a conventional oven. In fact, the Philips XXL Airfryer is great for not only frying, but also for baking, roasting and grilling making it a convenient all-rounder cooking appliance.
Now for the recipe. Ex -Masterchef finalist Callum Hann teamed up with Philips to create perfect air-fried chicken pieces that are indeed delicious. (We have tried and tested this recipe in the new Philips XXL Airfryer ourselves, so we can confirm how easy and tasty it is)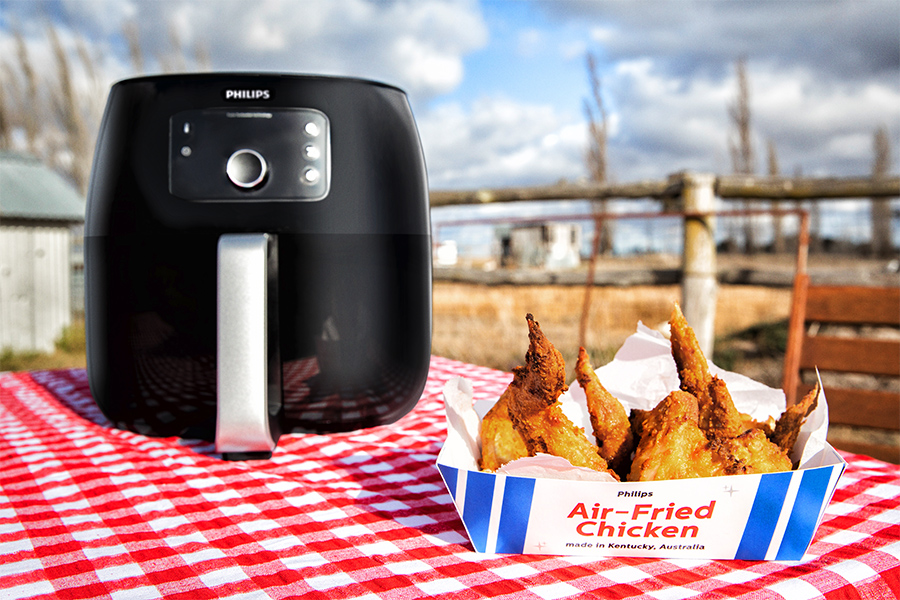 All you need is:
1/2 cup buttermilk
2 Tablespoons Dijon mustard
3/4 Cup plain flour
2 Tablespoons smoked paprika
2 Tablespoons ground coriander seeds
1 Tablespoon garlic powder
1kg Chicken pieces
Spray olive oil
Serves: 4
Preparation time: 10 minutes
---
Featured Video from Man of Many
---
Cooking time: 25 minutes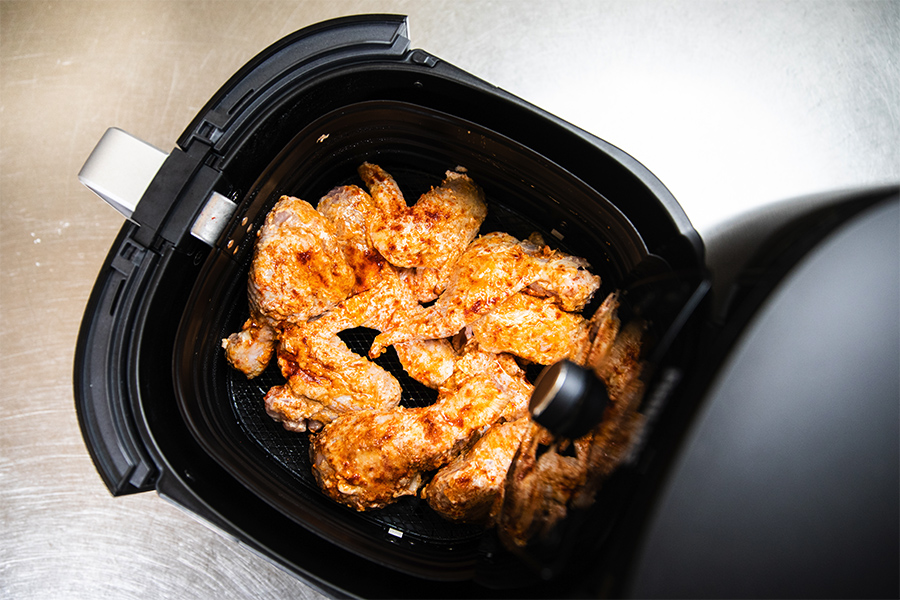 Method:
In one large bowl, whisk together buttermilk and mustard. In another large bowl, mix together flour, paprika, coriander and garlic powder.
Sprinkle salt over chicken wings and drumsticks, then add to the buttermilk mixture. Mix well until chicken is evenly coated. Then, transfer the chicken to the flour bowl and toss again until evenly coated in the herbs and spices.
Remove chicken from the bowl onto a tray, and spray all over with olive oil. Spray the basket briefly with the oil to avoid sticking.
Heat Philips Airfryer to 200°C. Add half the chicken to the basket in a single layer and cook for 20-25 minutes, turning carefully every five minutes, or until golden brown and crisp. Note: To check that they are cooked through, either cut one open and ensure there is no pink chicken remaining or use a meat thermometer and check the temperature has reached at least 70°C.
Remove cooked chicken wings and drumsticks from Airfryer and serve.
And that's it, folks. A deliciously healthy alternative that means you don't have to give up fried chicken after all.
---
Featured Video from Man of Many