Man of Many's Staff Favourites – 7 May 2022
When you wade through products all day every day, the task of picking your favourite things from the past week is seriously tough. Whether it's the latest 2023 Toyota GR Supra, the stunning new NOMOS Glashütte timepiece or anything in between, there are just too many options to choose from. But bless our cotton socks, we've managed to trim the fat, revealing only the best…according to us. Here's Man of Many's Staff Favourites for this week.
You'll also like:
Man of Many's Staff Favourites – 30 April 2022
Man of Many's Staff Favourites – 23 April 2022
Man of Many's Staff Favourites – 15 April 2022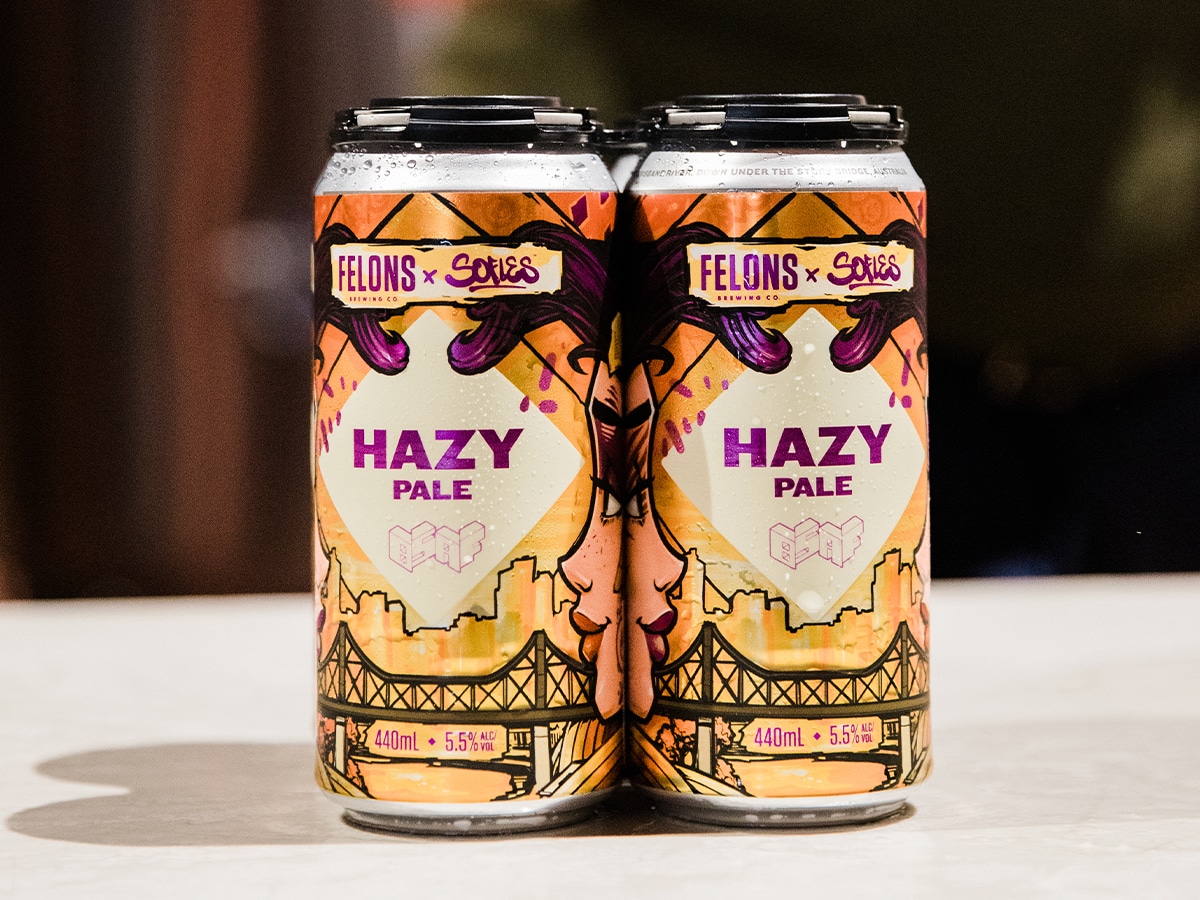 Felons x Sofles Hazy Pale
Nick Hall – Editor-in-Chief
Growing up in Brisbane as a borderline delinquent, I spent a lot of time admiring the work of Sofles. The graffiti artist was one of our favourites and we'd often hunt around the city looking for pieces (funnily enough, there's one now at my gym here in Sydney), so I was excited this week to get my hands on the new Felons Hazy Pale. The Brisbane brewery's latest release celebrates all things bright and colourful in the Sunshine State, with Sofles lending his hands and work to the can's unique design. Better still, the drop has been named as the official beer of the Brisbane Street Art Festival, which kicks off on Saturday 7 May. If you're in Brisbane this weekend, grab a Felons brew and get amongst it!
Champagne Bollinger La Grande Année Rosé 2014
Scott Purcell – Co-Founder
I've just stepped back into the office from a Bollinger event, so I think it's only fair that I write about the delicious Champagne I was lucky enough to try while the aftertaste still lingers in my mouth. While we worked our way through the Bollinger Special Cuvee NV, the Bollinger Rose NV and the reveal of the Bollinger La Grande Annee 2014, the absolute standout for me was the Bollinger La Grande Année Rosé 2014. A blend of the 2014 vintage with 63% Pinot Noir and 37% Chardonnay, this is an alternate expression of La Grande Année with the addition of 5% red Côte aux Enfants wine. This single plot of land only produces still red wine only when the grasp reach its perfect ripeness. What I loved about this Champagne were the smoky and oaky notes that come from the vinification in toasted oak barrels and prolonged ageing on its lees. What you're left with is a beautiful yet complex crimson-gold liquid with aromas of berries and notes of peach. On the palate, it's characterised by fresh acidity that is perfectly paired with seafood. It's not cheap though at ~$350 so best to open this on special occasions.
Bonus Product: Man of Many Exclusive Westward Whiskey American Single Malt Barrel Selection ($175) 
Favourite Article of the Week: Inside the Exclusive Launch Party for Our New Single Barrel Whiskey
'Almost Amaretto Sour'
Frank Arthur – Co-Founder
This week I'm letting you in on one of my favourite at-home drinks. I'm calling it the 'Almost Amaretto Sour'. Basically, it's Disaronno and lemon juice that I shake the living hell out of with ice. A classic Amaretto sour is a similar recipe but with the addition of egg white. The reason I've dropped the egg white (apart from my lazy ass not having the energy to crack an egg,) is it makes the drink a bit lighter, fresher and more summery on the palate.
If you haven't tried Disaronno, it's an amaretto, which is Italian almond flavoured liqueur whose origins date back centuries. It has a sweet, nutty flavour with subtle hints of cherry and vanilla. In the 'Almost Amaretto Sour', the lemon perfectly counterbalances the sweetness of the Disaronno and shaking it vigorously with ice slightly waters down the drink and mellows out the intensity of both ingredients.
Ingredients
60ml Disaronno
20Ml Lemon juice
Method
Pour Disaronno, Lemon juice and ice into a shaker and shake well.
Strain and pour into a short glass over ice.
Favourite Article of the Week: The Ferrari SP48 Unica is Truly One of a Kind
How to Play Your Best Golf: Strategies From a Tour Pro by Nick O'Hern
Sam Mangioni – Journalist – Entertainment & Culture
As a certified golfer boy, I've spent an embarrassing amount of time reading books on the sport. I was led down several paths on my quest for answers before finally finding my golf Bible: How to Play Your Best Golf – Strategies From a Tour Pro. Written by the former 16th ranked player in the world, Nick O'Horn reveals the secret sauce to better performance. However, this guide won't bog you down with swing mechanics and technique. Instead, it focuses on the game's tactical elements. Obviously, there are certain fundamentals to follow, but O'Hern points out that playing to strengths is the magic key that unlocks lower scores. Covering everything from course strategy and club selection to pre-game preparation and the power of mindset, this book has significantly improved my scorecards. – $22.95
Favourite Article of the Week: Hasbulla is Coming to Australia, Tour Details Announced
Blancpain Fifty Fathoms Bathyscaphe – 5000 0130 B52A
Rob Edwards – Branded Content Writer
What could possibly be better than freediving with green sea turtles on the Great Barrier Reef? Doing precisely that with a Blancpain Fifty Fathoms Bathyscaphe strapped to your wrist. I was fortunate enough to visit the reef this past week, and moments before I jumped into the water, one of the world-class scientists/cinematographers who was accompanying me – keep an eye on manofmany.com for more on that – strapped this impossibly cool Blancpain timepiece to my wrist.
The watch's easy-to-read dial was perfect for the limited visibility underwater that day. Without it, I know I would have lost track of the minutes and hours as I explored a beautiful corner of the world's largest reef system. Plus, as I'm currently not in peak physical condition, I appreciated how the watch's undeniable handsomeness helped to draw attention away from the sight of my frame squeezed into a wetsuit.
Favourite Article of the Week: 2023 Toyota GR Supra Plans to Save the Manual Transmission
Under Armour Flow Velociti Wind 2 Shoes
Clelia Niyikiza – Branded Content Assistant
I've been wearing the new UA Flow Velociti Wind 2 Shoes since they launched on April 15 and they have provided serious comfort while still feeling light. The type of shoes I wear when running has always been a big factor when it comes to comfort, durability, and weight. Something important to me is having enough durability/ cushion to prevent injuries, but I've also always liked my running shoes to feel light.
These running shoes and yet still comfortable enough to run long distances they feel. I just signed up for their 1 UA All Out Mile event at the Sydney Cricket Ground on June 1 and am excited to be training in my shoes this month. They are stylised too, so I've been putting in a lot of steps going for walks in them. If you like the feeling of light and effortless speed, I would highly recommend these.
Favourite Article of the Week: Police Identify Man Who Attacked Dave Chappelle During Netflix Performance