Hasbulla is Coming to Australia, Tour Details Announced
If you're having a bad day, let us warm your heart with some incredible news: Hasbulla is coming to Australia. Management company, The One Hour Group, has announced that the 19-year-old sensation from Dagestan is heading Down Under in late August and early September 2022 – assuming customs clear those weapon fists of his.
Update 28/06/2022: We're excited to confirm that the Dagestan fighter will be making his way to Australia from August 29, 2022. The tour will kick off in Sydney on the 29th and 30th of August and Melbourne on the 31st of August and the 1st of September. Meet and greet opportunities will be available for fans (except females, details below), with interactive experiences, professional photos, and merchandise packs also available – a life-size Hasbulla plush? One can only hope.
"I am very excited to be heading to Australia, I can't wait to see all my Aussie fans and visit these amazing cities, I've heard so many great things about Australia, I'm looking forward to all the great experiences your country has to offer," said Hasbulla.
Tickets for the event go on sale at 9 am on Thursday 30 June 2022 (AEST).
Related: Who is Hasbulla? Check out everything you need to know about the social media sensation right here.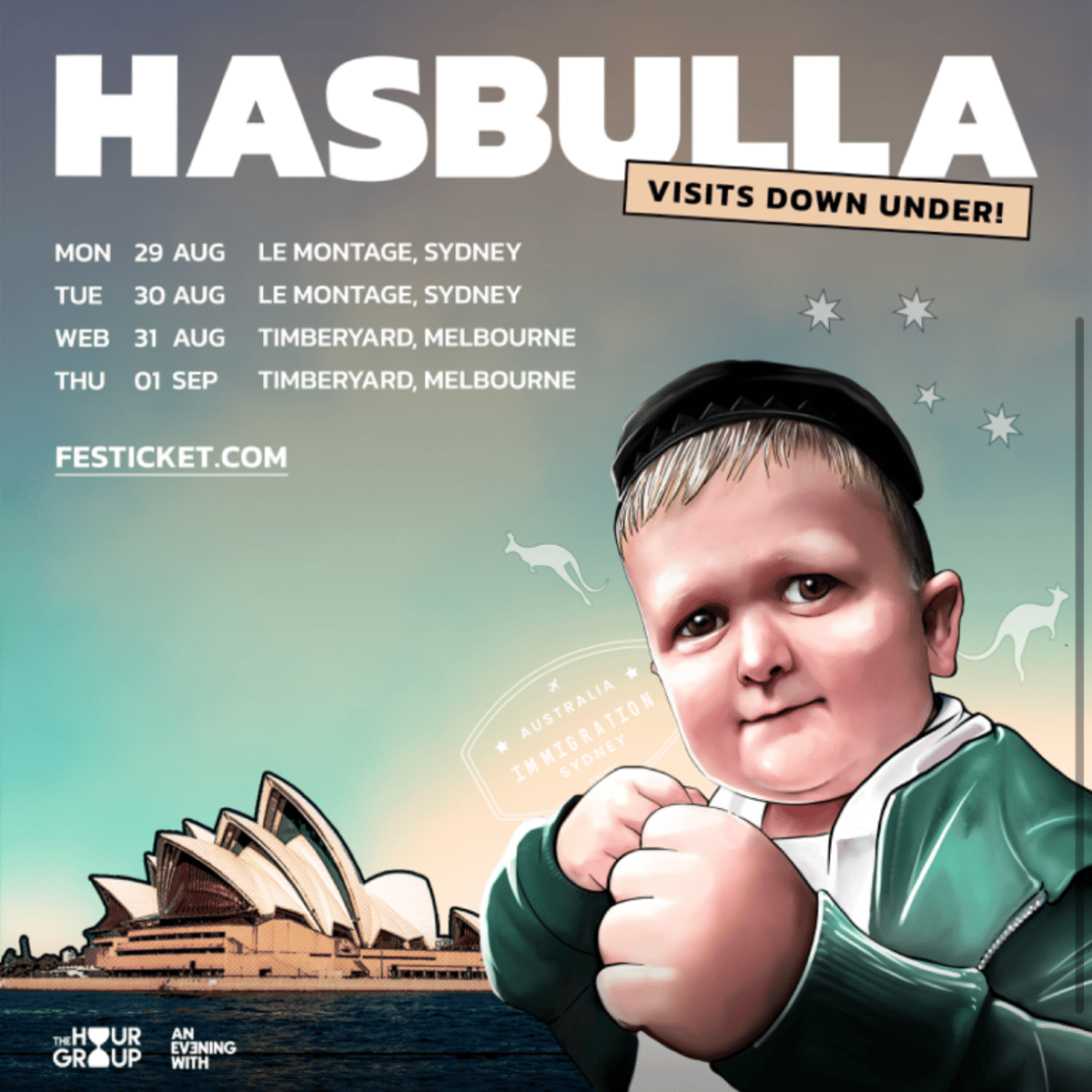 Hasbulla Australia Tour
The Hour Group has a history of successful tours Downunder, with previous tours such as An Evening With Khabib Nurmagomedov, An Evening With Kobe Bryant, and An Evening With Shaq leading us to believe Aussies may be in for another killer speaking event. And based on how the company has promoted the drop of two signed Khabib Nurmagomedov x Hasbulla x Tyson Beck Limited Edition Trading cards, we can assume the young CEO will be setting up shop with some collectibles for the fans.
Hasbulla Australia Tour Dates
Sydney
Melbourne
Hasbulla Tour Ticket Prices
General admission tickets will go on sale at 9 am on Thursday 30 June 2022 (AEST) via the links below with prices starting from $249.
First Release Tickets – $249
Second Release Tickets – $299
Final Release Tickets – $349
Buy Sydney tickets here Buy Melbourne tickets here
Hasbulla Tour Controversy
In an unexpected turn of events, The Hour Group has announced that Hasbulla will not be taking pictures with female fans, citing cultural beliefs.
"The Hour Group confirms that due to Hasbulla's personal and cultural beliefs, he regrettably cannot take photos with female guests. To our female guests if you would like to attend the meet and greet with Hasbulla, you are welcome to do so, but please acknowledge the limitations of photography. We understand the disappointment this creates; however, we respectfully acknowledge the cultural and personal beliefs of Hasbulla and have to accommodate his requests accordingly."
Reaction from Australian's
As you'd expect, locals were ecstatic to learn "Mini Khabib" was making the trip, sending the comment section into a frenzy. One commenter wrote: "MY LIFE IS COMPLETE. The F$@&ing King!", while another said it will be the "biggest arrival since The Beatles".
Giving Australians a taste of what's to come, Hasbulla recently sat down for his first-ever formal interview. Filmed on location in Dubai, Barstool Sports' interview specialist Caleb Pressley discussed numerous topics with the 3ft 4-inch superstar including his luxurious lifestyle, politics, fame as well as his ongoing beef with Manchester United forward Cristiano Ronaldo.
"I could not care less about Ronaldo. I am more famous than him," He stated proudly. "The only thing he does in a match is pass around the ball."
Hasbulla was also asked about his archenemy Abdu Rozik, who lives with the same growth hormone deficiency as he does, using the opportunity to address their rumoured upcoming fight. "When I'm in Dubai, his home, he is nowhere to be found," he said. "But when I go back to Dagestan he starts talking that talk. And when we actually square up in person, he freezes. He literally can't move. But next time I see him, it's on sight."
Later in the interview, the social media icon shared his political ambitions, entertaining the idea of one day working inside the government; "I want to become Minister of Internal Affairs for Dagestan… First I'll find my haters and make them panic. I'll slow down the speed limit within the city, but increase it on the highway. All the speed cameras are coming down."
You have our vote, Hasbulla.
You'll also love:
Who is Hasbulla Magomedov? Age, Condition, Net Worth Explained
WATCH: Jake Paul Releases Vicious Diss Track Aimed at UFC President Dana White
INTERVIEW: UFC Champion Alex Volkanovski Ranks His Top 3 Greatest Fighters of All Time