Hasbulla Magomedov: Age, Condition, Net Worth
UFC has it all – from McGregor to Jon Jones, Adesanya to Whittaker and Khabib to… Hasbulla Magomedov? You might've stumbled on this MMA newbie on TikTok or Instagram. And if case you haven't, he's the flash in the pan who's amassed over 2 million followers on Instagram and has had the fight world yakking ever since. But he's not your typical cage warrior, the pint-sized star's popularity picked up steam when he called out the likes of McGregor and Khabib on his various social media platforms alongside his side-splitting pre-fight press conferences against arch-rival Abdu Rozik. Not a lot is really known about the mysterious figure, however, we're breaking down Husbulla's Age, Condition, and Net Worth below.
Related: Husbulla is Coming to Australia.
Who is Hasbulla Magomedov?
Hasbulla Magomedov was born and grew up in Makhachkala, Dagestan. He took to social media during the height of the COVID-19 pandemic and began posting content to Instagram and TikTok where his notability grew dramatically. Early social media posts showed his hotheaded nature and the high jinks of his life. Later posts saw him sporting fighting gear, routinely boxing, striking & grounding opponents in the gym.
| | Hasbulla Magomedov Personal Information |
| --- | --- |
| Age | 19 years old |
| Born | 2003 |
| Height | 99 cm/ 3 feet 3 inches |
| Weight | 16 kg/ 35 lbs |
| Condition | Growth Hormone Deficiency (GHD) or 'Dwarfism' |
| Net Worth | $200,000 USD+ |
How Old is Hasbulla Magomedov?
Hasbulla was born in 2003 and is 19 years of age, although he has a babyface, childlike features and a high-pitched voice.
What is Hasbulla's Net Worth?
Since blowing up on TikTok, there have been many questions surrounding Hasbulla's net worth. According to reports, his social media status and promotional works, have seen Hasbulla's net worth swell to over $200,000 USD with an average monthly income of $80,000 USD. It's worth noting that this figure is an estimation, and if the Hasbulla vs Abdu Rozik fight would go ahead you can expect that figure to climb dramatically.
What is Hasbulla's Condition?
Hasbulla has Growth Hormone Deficiency (GHD) or 'Dwarfism'. It's a rare genetic condition that affects some notable stars, including Lionel Messi who is well known to have been diagnosed with GHD when he was 11-years-old. The monthly treatment billings were expected to cost $900 USD, but for a more accurate representation of how treatment for GHD is taken care of in Australia, see this referring Government document.
Related: These are the highest-paid athletes in the world for 2022.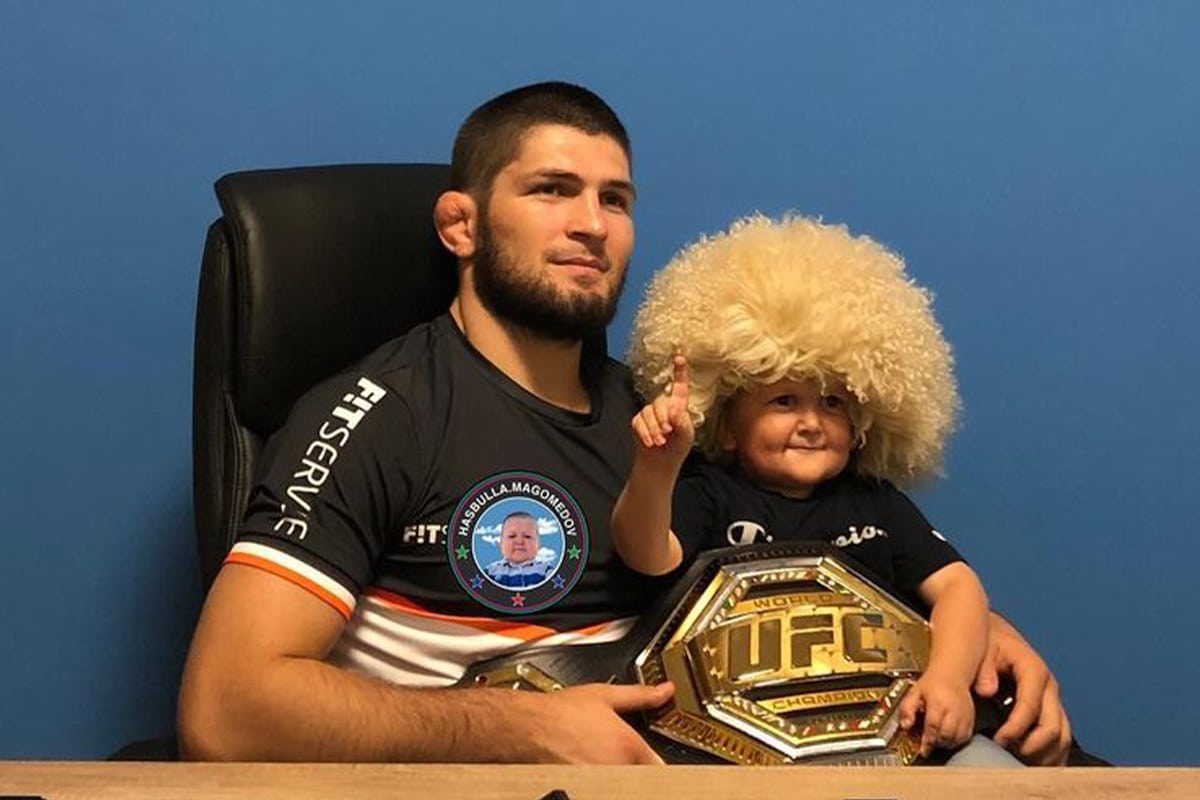 Why is Hasbulla Famous?
In May 2021, his popularity exploded after his pre-fight press conference with popular 17-year-old Tajikistan singer Abdu Rozik. Despite being born with Growth Hormone Deficiency (GHD), aka dwarfism, this has not curbed the charisma and commitment of the fighter to accepting challenges and calling out the likes of former UFC featherweight, lightweight, and current Twitter, champion Connor McGregor. So if you've mistaken him for some spoilt youngling when arbitrarily flicking through your Instagram — you're not alone.
Mini Khabib
The Russian social media sensation has made quite a splash in the MMA world and has taken pride in his newfound moniker  'Mini Khabib', which he gained after a video saw him copycatting Khabib Nurmagmadov's iconic UFC 229 weigh-in. And interestingly, the two are homies. Since Hasbulla hails from Dagestan and has taken up MMA, he's has struck up a friendship with UFC and the pair have been photographed and featured on one another's social media. And while the two have a likeness in appearance, they are not of blood relation.
On Habulla's social media, there are photographs & videos of him with prominent Russian fighters as well as he's shown to roughhouse with his friends. And after several videos of his escapades and training went viral, Hasbulla blew up in the MMA world. His most popular video is his pre-fight press conference with singer Abdu Rozik, who suffers from the same growth condition and is about the same height as Habulla.
Boxing
Since Dagestan has been a steady supplier of formidable MMA fighters, to hop on to the herd mentality, Hasbulla has taken to boxing and mixed martial arts. The miniature fighter's social media is heavy with videos of him bridging up to peers double his size and taking a jab at the camera.
And due to his camaraderie and go-getting nature, his posts also show him routinely weight training, sparing & ground opponents in the gym — but that's probably just for show and antics — and the gradual progression of his training techniques, combination strikes and submissions.
Revving Cars
Fans of his Instagram will note, Hasbulla has an exquisite taste in cars. His social media channel is inundated with photos of him flanking and flaunting fresh BMWs and AMGs. Granted that he's short, he has been shown to steer cars while sitting on the driver's lap, recklessly riding a quad bike in the streets of his community and solely driving a 4WD on beach fronts.
Aside from the cars, there are many videos of the daredevil toting weapons and jokingly brandishing knives at his peers. He's been seen firing an AK-104. With the help of a police officer, he tries to hoist the weapon himself and flops. But with the assistance of a cop, he fires multiple shots from the rifle as though he were a veteran soldier.
Related: Australia's first floating basketball court recently landed in Sydney Harbour.
Hasbulla's Hobbies
Hasbulla recently sat down with Barstool Sports host Caleb Pressley on their Sundae Conversation segment to reveal his true inner workings like never before. While he didn't go deep into any one particular topic – unlike our recent interview with Alex Volkanovski – the interview reignites his hate for Abdu Rozik (more information on their fight below), his goal to become the Minister of Internal Affairs for Dagestan, and his passion drifting, driving, and tuning cars.
If Hasbulla did become the Minister of Internal Affairs for Dagestan, he revealed his plan would heavily revolve around reducing traffic infringement, with plans including;
Slow down the speed limit in the city, but increase it on the highway.
No limit on window tint for the rear of a vehicle.
Drive without a license plate.
Remove all speed cameras.
No more witness photography or evidence of speeding.
He also preached his love for his cat Barsik alongside his disdain for the world's most famous athlete Ronaldo, claiming, "I'm more famous than him". His answer for the classic cats vs. dogs argument? Obviously, it's Cats.
He let his haters know his fighting prowess is born from the streets. Reminding them when he's not carrying his switchblade on him, Hasbulla will take care of any situation with his hands, whooping more asses than "he can count". Of course, he considers himself an expert in the field of MMA.
Related: Want to train like Hasbulla? These are the best MMA Gyms in Sydney.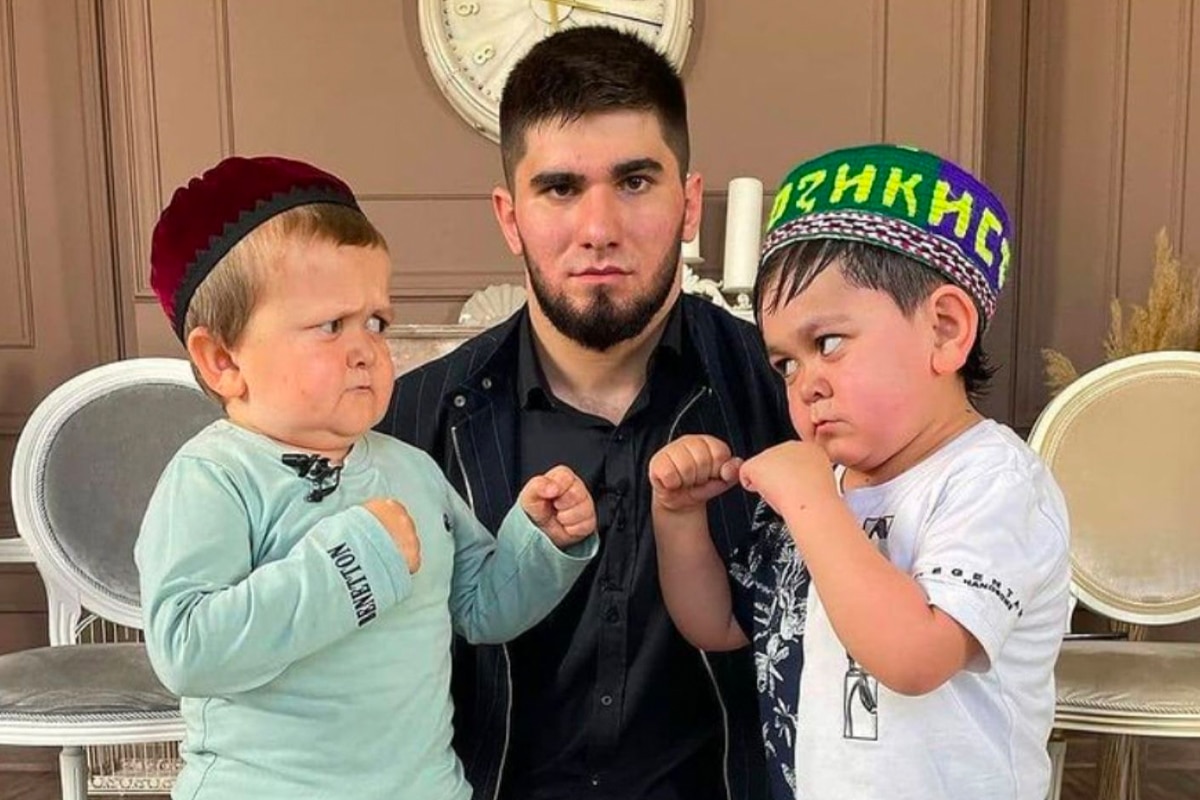 When is the Hasbulla vs Abdu Rozik Fight?
Update 04/05/2022: In a recent interview with Barstool Sports, Hasbulla re-energised tensions with Abdu Rozik, claiming the next time he sees Rozik it is "on sight," and that he'll "throw a hook," continuing on to say "how about you put us both in a room and close the door, one man will walk out and the other can stay slumped on the floor".
Say what you want about their size, this pre-fight press conference, like any major UFC one, was purely a case of testosterone poisoning. From name-calling to cheap shots, barking to physical challenges and personal attacks to exposing one another's shortcomings. The Hasbulla and Abdu Rozik pre-fight press conference, – which was really a sit down in a living room of a humdrum house – is what the fight world is waiting for. Seeing the two pints trade barbs with their squeaky voices most probably had every viewer piss themself and had set fire to the comment section.
"It's not even like a show fight — they get paid a lot of money and it's a show to make people laugh. There's nothing serious about this, this isn't sport. This is unethical, wrong, from my point of view." – Head of the association, Uliana Podpalnaya.
According to Chechen Fighter Ashab Tamaev, the pair are set to battle it out in mid-to-late June (that never happened). But the matchup between two teenagers with dwarfism has been condemned by the Russian Dwarf Athletic Association for being "unethical".
General FAQs
How old is Hasbulla Magomedov?
Hasbulla is 19 years old. He was born in 2003.
What condition does Hasbulla have?
Hasbulla has Growth Hormone Deficiency (GHD), also known as dwarfism. This genetic condition stunts growth and is the reason for Hasbulla's childlike features and high-pitched voice
What is Hasbulla's net worth?
Hasbulla's net worth is $200,000 USD+ with an estimated average monthly income of more than $80,000 USD according to reports.
You'll also like:
Best MMA Gyms in Melbourne
Best Brazilian Jiu Jitsu Gyms in Melbourne
Tom Hardy's Insane 'Bane' Workout & Diet Plan