F1 Driver Romain Grosjean's 'Miracle' Escape After Terrifying Crash
Race officials have praised the quick actions and modern safety protocols of the Formula One organisation (F1) after a horrifying crash almost ended in disaster. On Sunday, F1 driver Romain Grosjean's became engulfed in a ball of flames following a high-speed crash on the opening lap of the Bahrain Grand Prix. After contact with AlphaTauri's Daniil Kvyat, the Frenchman's Haas split in two and erupted in a deadly fireball. Saftey and official medical car Alan van der Merwe was quick on the scene, working alongside chief medical officer Dr Ian Roberts to battle the blaze.
You'll also like:
NSW Police's $200k BMW Just Blew Up in Flames
The Spectacular Rise and Fall of WeWork
Guy Crashes 2020 Corvette C8 Immediately After Picking It Up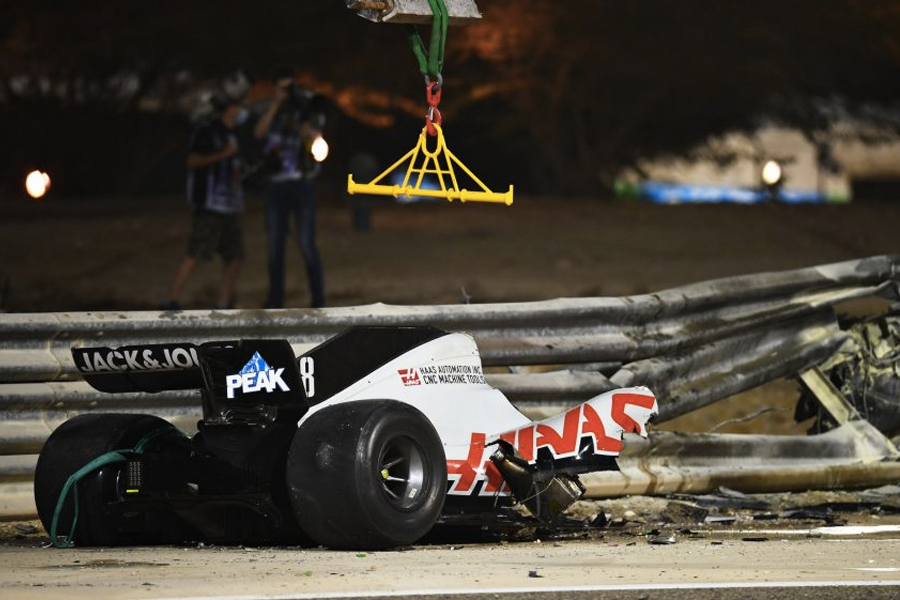 Amazingly, the fast actions of the two medical staff were enough to save Grosjean's life. As the fire tore through the car, van der Merwe and Roberts pulled the F1 driver to safety.
"Naturally it was terrifying to see," said eventual race winner Lewis Hamilton. "I haven't seen something like that for a long, long time and it really hits home for a driver…So I'm really grateful that he's safe and was able to get out. But I think it's a real stark reminder of just how dangerous this sport can be."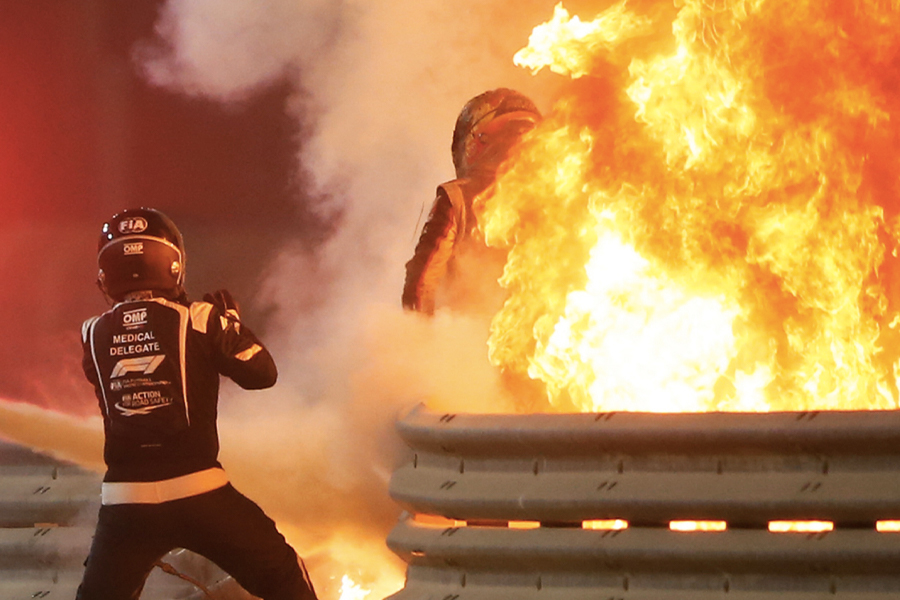 Grosjean's Haas teammate Kevin Magnussen described his survival as a "miracle", while fellow drivers were quick to acknowledge F1's medical improvements. Max Verstappen praised not only the work of medical staff but also the 'halo', a ring of titanium circling the cockpit introduced in 2018.
"It was a crazy incident. When I saw the flames I was… that was pretty scary to watch but luckily he jumped out of the car himself and that was the most important, and you could really see the safety, how much it has improved," Verstappen said.
---
Featured Video from Man of Many
---
"I think the halo today saved his life. In the beginning, when it came onto the car I was quite critical about it that it looked ugly but you can't say anything about the safety because today it definitely saved Romain so I'm very happy with that."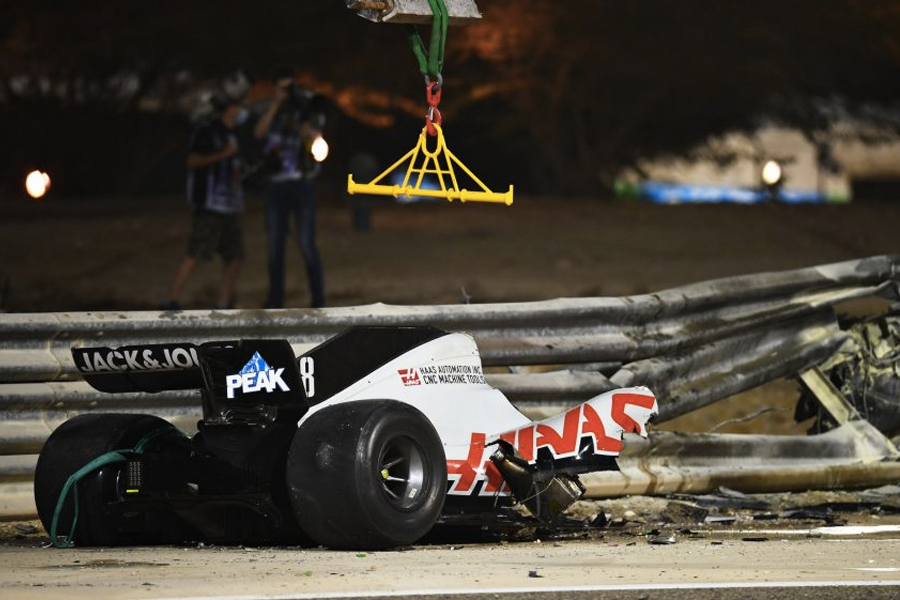 Luckily enough, Grosjean is now recovering in hospital. He was taken to the circuit's Medical Centre before being airlifted by helicopter to the Bahrain Defence Force Hospital, revealing that while he had suffered burns to his hands, x-rays showed that he'd not sustained any fractures.
"Hello everyone, just wanted to say I'm okay, well, sort of okay," Grosjean said from his hospital bed. "I wasn't for the halo some years ago but I think it's the greatest thing we brought to Formula 1 and without it, I wouldn't be able to speak to you today."
An update from Romain himself. Pleased to see you're in good spirits! We hope you make a speedy recovery 🙏 pic.twitter.com/njnjjH4GBi

— Haas F1 Team (@HaasF1Team) November 29, 2020
You'll also like:
NSW Police's $200k BMW Just Blew Up in Flames
13 Best Places to Watch Super Bowl LVII in Sydney
Guy Crashes 2020 Corvette C8 Immediately After Picking It Up
---
Featured Video from Man of Many