Man Gets Penis Attached to Arm After Losing His to Infection
A mechanic in the UK who lost his penis to a horrific blood infection has just had a new one built for him. Unfortunately, though, there is a catch. Forty-five-year-old Malcolm MacDonald's new penis is located on his forearm.
It's not all bad. According to The Sun, Malcolm was given an extra two inches by surgeons, but a series of delays mean he is forced to live with the dangling appendage on his arm for four years. Understandably, Malcolm is desperate for his £50,000 ($AUD92,000) NHS-funded appendage — which he has nicknamed 'Jimmy' — to be finally transferred to where it should be. Nevertheless, the UK father of two is seeing the funny side of his forearm phallus.
You'll also like:
Sorry Clown Feet, Study Suggests Foot Size and Penis Length are NOT Linked
5 Ways to Get Your Sex Drive Back and Feel Closer to Your Partner
Moët & Chandon Bring the Romance This Valentine's Day With Two Stunning Gift Packages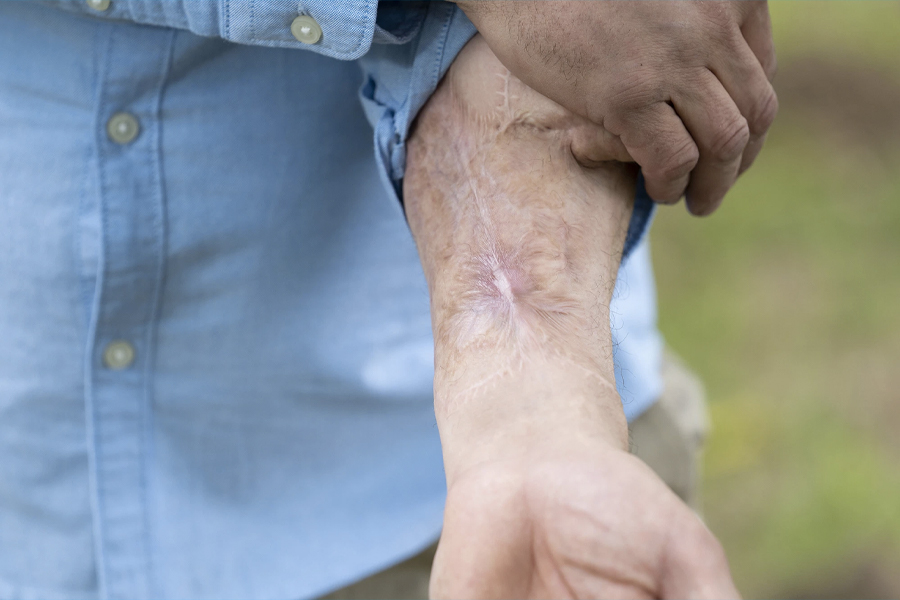 "Of course it is mad – having a penis on your arm," he told The Sun. "Not even I am used to it. But when you think about it, it's actually amazing. That they can make me a new penis at all is incredible – but that they can build it on my arm is mind-blowing."
Malcolm is hoping his strange new addition might lead to some further positive news in the future. "It looks like something out of a weird sci-fi comic. But it's my chance at a normal life," he said. "It's been the first step towards being able to go to the toilet and even being intimate with someone."
It's been a long road to get to this point. Malcolm, a long-time perineum infection sufferer was shocked to learn the infection had developed into sepsis, turning his fingers, toes and penis black. Horrifyingly, Malcolm's penis simply 'fell off' one day back in 2014, however, his testicles remained intact.
"I had struggled for years with an infection in my perineum but I had no idea what could happen," he said. "It spread to my fingers and toes and turned them black. When I saw my penis go black I was beside myself. It was like a horror film. I was in a complete panic. I knew deep down it was gone and I was going to lose it. Then one day it just dropped off on to the floor."
So, what do you do when your penis falls off? According to Malcolm, you clean it up. "Because I had been through the devastation of knowing I was going to lose it, I just picked it up and put it in the bin," he told The Sun. "I went to the hospital and they said the best they could do for me was to roll the remaining stump up like a little sausage roll. It was heartbreaking."
His medical issues left him devoid of confidence, turning him into a recluse that found solace in the bottle. But all that is in the past now, thanks to a new appendage courtesy of London University College Hospital's expert in phallus construction, Professor David Ralph.
Professor Ralph took a skin flap from Malcolm's left arm and rolled it to form a 'penis', with its own blood vessels and nerves. Surgeons then created a urethra and installed two tubes inflated with a hand-pump, allowing him to have a 'mechanical' erection. The shaft was detached from his forearm, leaving a dangling base which can now form naturally as skin and tissue.
As for what Malcolm thinks of his new penis, let's just say, he's grown quite attached to it. "When I saw it on my arm for the first time I was so, so proud," he said. "I took to it so much I nicknamed it 'Jimmy' – that was what me and my mates called each other growing up and this penis was definitely my new mate."
You'll also like:
'One-of-a-Kind' Victorinox Swiss Champ Damast Reinvents an Icon
5 Ways to Get Your Sex Drive Back and Feel Closer to Your Partner
How Warren Buffett Invests: The Oracle of Omaha's Investment Strategy Explained