Never Never Distilling Co's Sean Baxter on New Aussie Gin
Never Never Distilling Co from South Australia is the latest addition to a hugely popular market for Australian-made spirits, though its point of difference isn't the fresh, modern approach favoured by other local producers, but a nod to traditional ideas and methods.
Where some prefer to utilise Australian botanicals and a lighter style, Never Never's angle is to heavily feature juniper, gin's traditional main flavouring agent. The hefty use of juniper oil in the final product leads to a big, viscous spirit with a strong, balanced flavour, rich mouthfeel and a lengthy finish. The spirit also louches, meaning it develops a cloudy appearance when diluted, thanks in part to the residual juniper oils that remain in the final cut.
Co-founder and hospitality veteran Sean Baxter is one third of Never Never, and took some time to answer our questions about this delicious new spirit.
This article is part of our Brews & Bottles Series.
You'll also like:
16 Best Australian Gins for the Tonic of Your Dreams
13 Best Gin Bars in Sydney
17 Best Gin Bars in Melbourne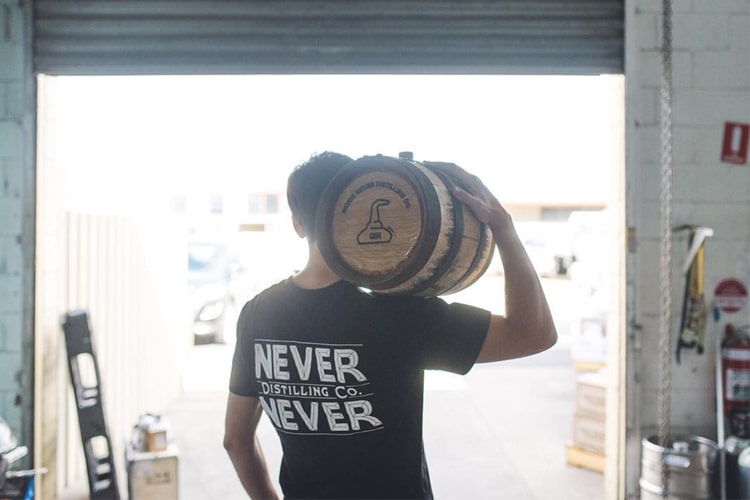 There are more Aussie gins now that you can shake a stick of cassia bark at, tell us why Never Never Distilling Co's deserves a spot on the shelf. 
It definitely deserves a spot on that literal shelf because we made the gin delicious and the bottle small. This is particularly important in the world of small bars. We didn't want a big unwieldy bottle that eats up back bar real estate, we wanted something small that fits on the shelf as comfortably as it fits in the bartender's hand.
Never Never Distilling Co. sets out to do things differently. Weird and wonderful combinations of gin botanicals are great, but to me gin is all about juniper, so why not make the gin a celebration of that wonderful conifer? Gin after all grew from the familiar flavours of the European spice trade in the eighteenth century, long before any European had seen a Quandong or a finger lime. So we added more juniper to our gin than any other gin on the market, using three separate extraction methods and made something that flies in the face of most 'New World' gin styles. This is a throw-back to the old school with a few contemporary flourishes.
Why are peoples' palates moving back towards richer, more juniper-heavy gins?
Bartenders are the greatest salespeople when it comes to converting people to drink what they themselves love and many bartenders love drinking heavier gin styles. Gin is the hottest spirit in Australia right now with more and more people getting on board every day. Gin is about juniper as much as tequila is about agave and whisky is about malt. Once people get hooked on gin, even those who love the lighter, more floral styles, they will always be intrigued by the source, by the carrier of character. Every gin lover in the world, every true gin lover in the world is a juniper freak. If you can't stand juniper, turns out you're a vodka drinker.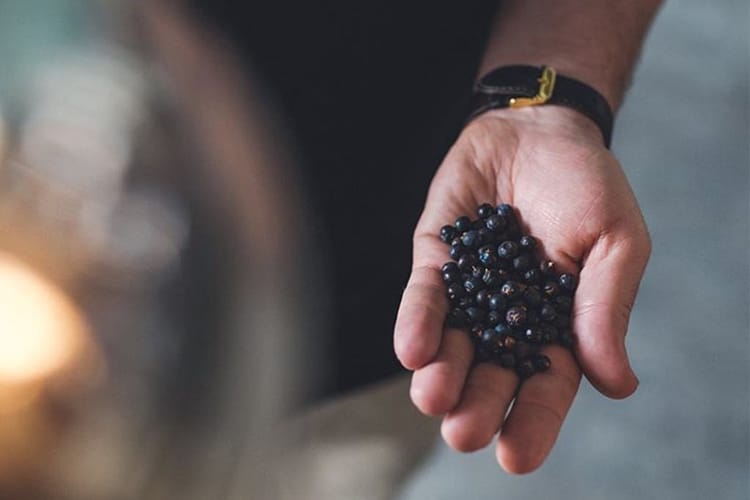 So hypothetically, I've just made my first Never Never martini – what's the deal with the cloudy, opaque effect in the glass?
One of the by-products of using so much juniper is that inevitably, some of the oil is left behind. Juniper oil, as well as citrus oil (we also use a lot of lemon) often clouds when it is diluted below a certain alcoholic strength or temperature. Many big brands prefer to keep their gin crystal clear for consistency and also aesthetic appeal, however we wanted the flavour and mouthfeel to be the key driver here. It's not a massive deal for us, a lot of tasty spirits cloud such as Pernod and Cointreau. Why not gin? It's almost an advert for the heavy character we leave in.
If Hendrick's gets cucumber and Tanq 10 gets pink grapefruit, what's Never Never's best garnish?
A lot of gin companies like to use garnishes that connect to ingredients used in the production. Hendricks is a great example. Never Never Triple Juniper Gin relies on lemon to work its magic. Sure, it's a humble garnish, but it works so well for our gin. There's also the added fact that it's available all year round here in Australia, is inexpensive to source and offers the right balance of flavour for our gin and tonic. For something a little bit fancier, try it with a twist of lemon peel and some thyme in a wine glass with really good ice.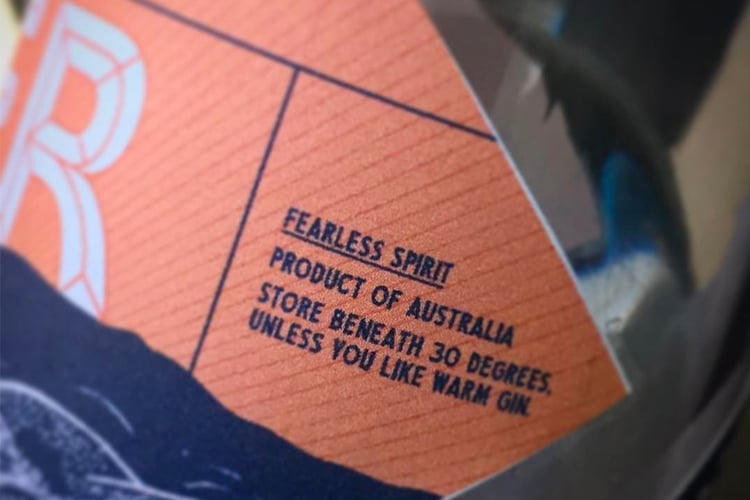 Tell us a little about the distillery itself – who, where and why.
Never Never Distilling Co was founded by three friends keen to shake up the Australian spirits industry. In order to do this, we needed to let go of the norm and do things a little differently than the majority of other distilleries out there. It was late 2016 when we all agreed to go on this crazy adventure together. The destination was the seemingly insurmountable task of being known as the most exciting distillery in Australia, recommended by bartenders across the country, and for being fearless with flavour.
After purchasing an Australian designed still from Spark Brewing in Melbourne, we set up shop in Royal Park, leasing a space at the back of the Big Shed Brewery. The space is small, but suits our needs and is the perfect place to hone our skills and grow our spirit offering. When the time finally comes to upsize, we have our minds firmly set on relocating to McLaren Vale. A brand like Never Never belongs beneath the stars.
Never Never Distilling Co is the coming together of three fiercely passionate individuals. George Georgiadis the 'Spirit Creature', leading distilling, has learnt tremendous amounts from time spent at over 40 different distilleries, learning from some of the most exciting minds in the business. Tim Boast, the 'Fermentalist' and distiller is pivotal in production and will be leading brewing and fermenting activities that are integral for our whisky development. And there's myself, the 'Hoarder of orders', I'll be leading marketing and assisting with product development. I've been in the hospitality trade for 18 years and have learnt a fair bit after making, training and representing the best drinks and people in the business.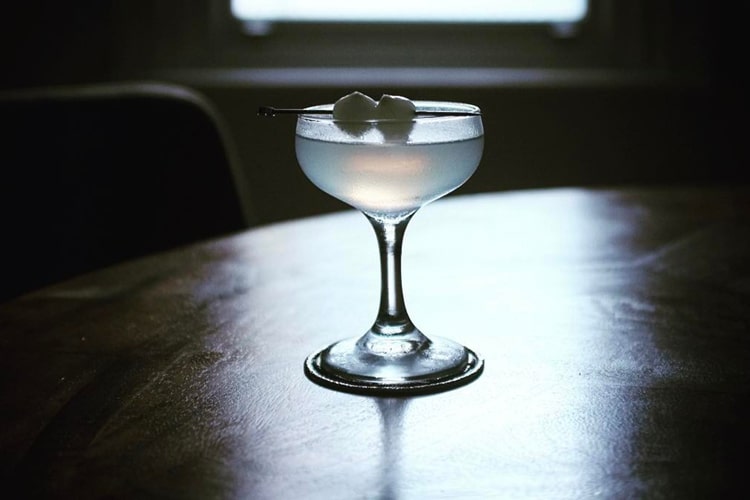 What's the story with Australian botanicals? There seems to be a huge trend happening right now, how will you be featuring them?
It's great that the gin industry is using more of Australia's native ingredients. It's very inspiring when you see how rich and diverse Australia's botanical range has become (and how popular they have become overseas). We have experimented with over 15 different Australian native botanicals and will be featuring some in the following releases as we become more experienced in their availability and how they play together. Our first release however is aimed at paying homage to what a gin is really all about, the juniper berry. That said, we do use native pepperberry for its spice and mouth-feel.
Some popular Australian flavours are rather light and floral, we wanted to go the opposite direction and highlight the heavier characteristics found in juniper which means relying on more traditional balancing agents such as Coriander, Angelica and Liquorice.
If I'm going to be trying Never Never Gin for the first time, how should I have it?
You should certainly try it in a gin and tonic. Ask the bartender to serve it up with a fresh slice of lemon in a highball or if you're feeling fancy, in a wine glass with a twist of lemon peel and thyme. Also, use a good quality tonic water like Fever Tree and don't go hard on it, you still want the gin to shine through.
Does the company plan on branching out into other spirits anytime soon, or is this strictly a juniper-laden affair?
We are in the planning stages of creating a multitude of exciting spirits and a whisky is definitely on the cards. However, we won't be rolling out just your standard single malt variety. It would be a missed opportunity to not work with the incredible minds at Big Shed Brewing when it comes to exploring different flavours in malt and yeast as well as experimenting with how these flavours work together.
If you could make a Never Never Gin martini for anyone in the world, dead or alive, who would it be?
Phroar. That's a tough one. For me it would be my dad. He passed away in 2015. He doesn't drink martinis, it wasn't a regular item on the specials board at the Kilkivan Hotel Motel. In fact he'd probably hit me up for XXXX Gold after politely putting it to one side, but it would be good to see him anyway, and show him what we've done together.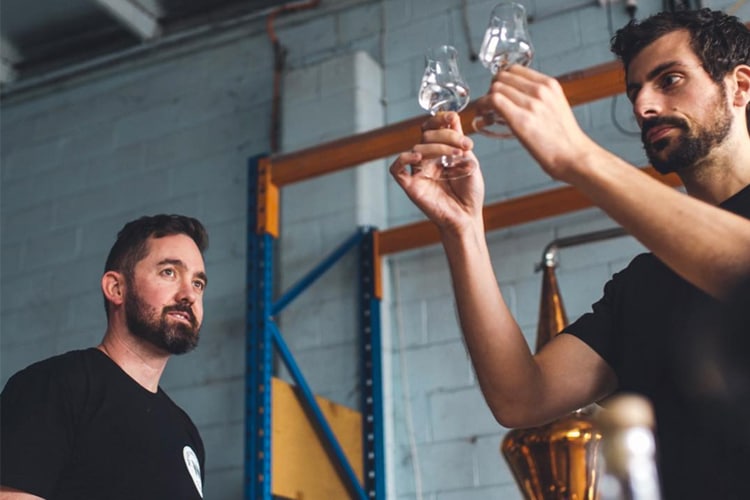 What's been the biggest inspiration for the team to create this product?
As a team, we are inspired by creativity. It's not enough to create a gin, it needs to be a gin that hits a gap in the market, which looks, feels and tastes totally different to everything else out there. This creativity will be a part of everything that we do as a business, constantly holding ourselves accountable to being innovative in what we do.
I have always wanted to create something that has been inspired by the hospitality industry that I love so much. Every part of this brand has been influenced by the life I have lived both as bartender and an ambassador. It's been incredibly exciting to watch the Australian bar scene get behind what we're doing and the decisions we are making in regards to flavour and style. My inspiration has always come from behind the bar, both as an employee and a patron, so why stop now?
This article is part of our Brews & Bottles Series.