Pornhub Reports Massive Traffic Spike During Self-Isolation
It's safe to say that with sports canned, work called off and the pub closing its doors, there isn't a lot to occupy your time. Some people are using the isolation period to brush up on some old passions, learn a new skill or get more in touch with their loved ones, which according to adult website Pornhub, also includes a little self-love. Or, to be more accurate, a lot of self-love. In the new Coronavirus Insights report from Pornhub, the streaming site revealed that worldwide traffic online is up 11.6 per cent since the global pandemic reached fever pitch.
You'll also like:
Dating Site for Men With Small Penises Has Almost 30,000 Members
Pornhub Releases First-Ever Non-Adult Film
Last Longer in Bed With These Climax Controls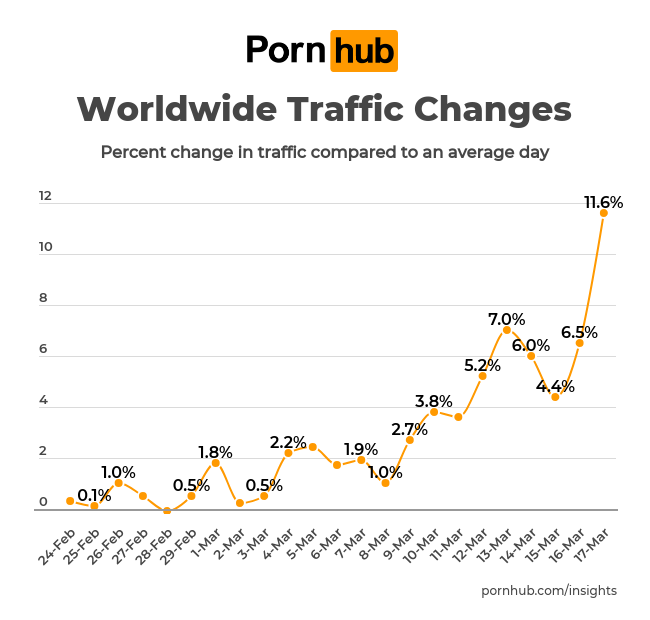 Pornhub's Coronavirus Insights report was released to detail the rising demand for porn streaming since lockdown restrictions were placed on the countries most impacted by the deadly COVID-19 virus. When contraction started to rise significantly earlier this month, Pornhub announced free premium membership to all citizens in Italy, France and Spain to encourage them to stay indoors. Turns out, it worked. Pornhub's site traffic in Italy jumped by 57 per cent, 38 per cent in France and a whopping 61 per cent in Spain.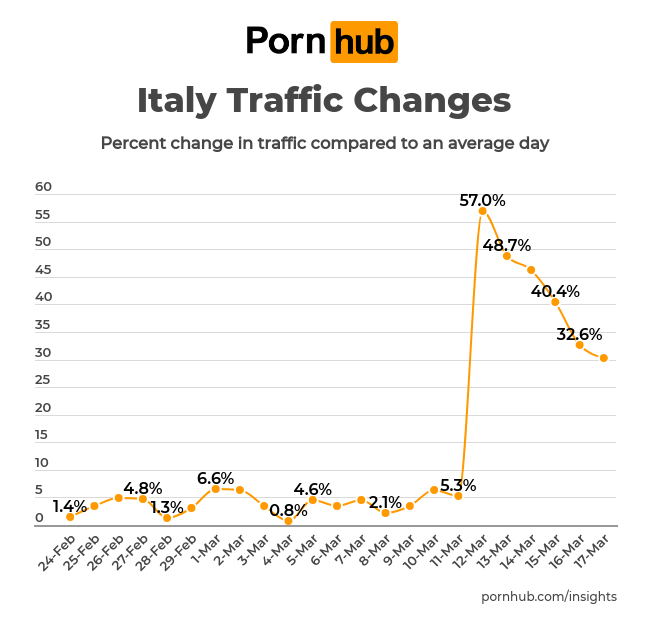 "Italy was the first European country to close it's borders and put into effect a nation-wide quarantine. The drastic increase of 57 per cent on March 12 came after Pornhub offered free Premium service to all of Italy, an offer that was clearly well-received by home-bound Italians," Pornhub said. Europe wasn't the only region to bump up its numbers though, with the U.S. reporting a 6.4 per cent jump with Canada up 7.2 per cent.
The report also revealed a disturbing trend for searches involving coronavirus, ironically coming from the nation's capital. "In fact, D.C. visitors are proportionately 33 per cent more likely to search. Visitors from New York are 24 per cent more likely to search, 22 per cent in Washington state and 18 per cent more in West Virgina," Pernhub said. The sentiment isn't carried across the country though. Folks from North Dakota are the least likely to search by -43 per cent when compared to the rest of the country.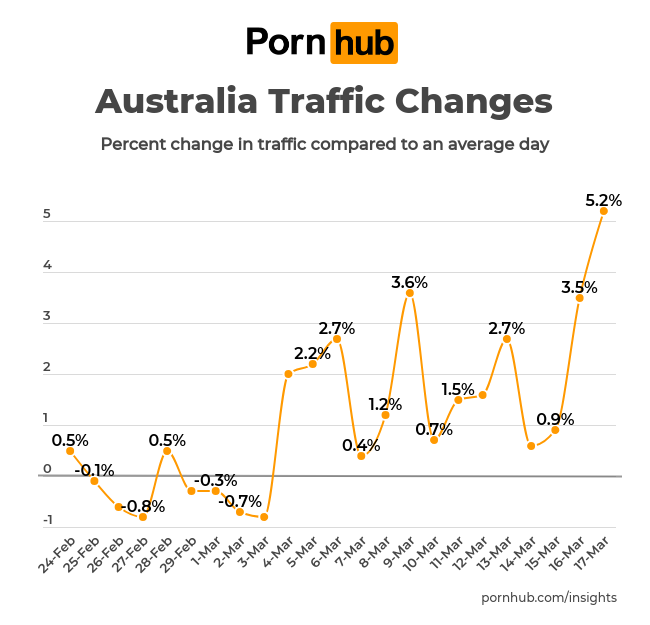 Back home down under, where lockdown restrictions are only just taking effect, we've apparently got a pretty firm grip on our intra-personal relationship. Pornhub reported that Australian traffic was up 5.2 per cent in light of recent events. The spike started to take effect on March 3, rising by 2.2 per cent, however, the biggest jump came on March 17 when reports that some aircraft were likely to be grounded first broke.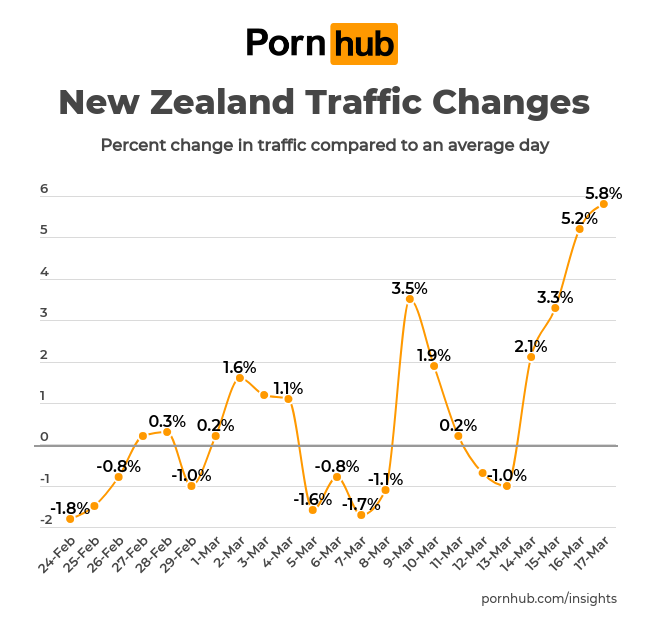 It was a similar story for our Trans-Tasman tossers, who reported a 5.8 per cent spike in Pornhub traffic. It actually came just three days after a -1.0 per cent drop, suggesting that for a brief period, something may have been more pressing.
Like a true statistical endeavour, the Pornhub Coronavirus Insights report ent into great detail of our personal pleasuring preferences. The best time for a bit of self-love? according to the report, 1 pm in the afternoon, with global traffic up 26.4 per cent. "During certain events like the Government Shutdown and Polar Vortex, our statisticians previously found that people will change the time of day they visit Pornhub when they stay at home and don't have to go to work. Hourly changes during the Coronavirus outbreak follow the same trends," Pornhub said.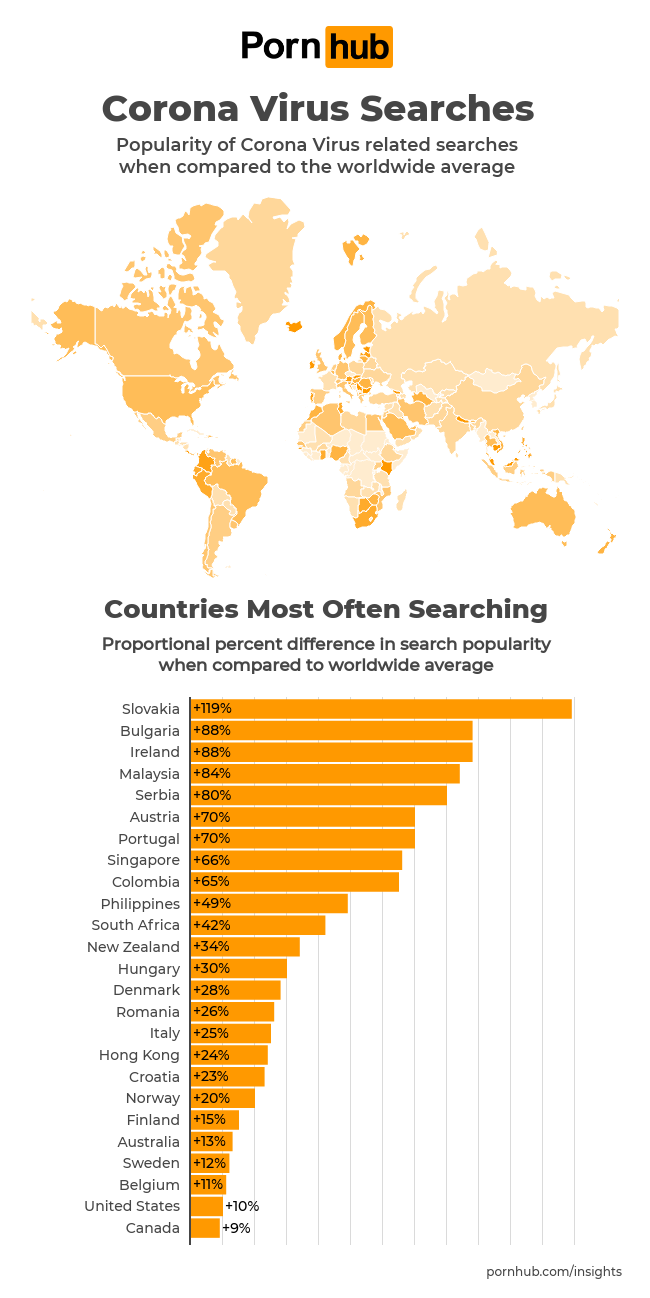 You'll also like:
Dating Site for Men With Small Penises Has Almost 30,000 Members
Pornhub Releases First-Ever Non-Adult Film
Be a Rockstar in the Bedroom This Year With the Ultimate Vibrator for Couples