SKINBUDDY the World's First Facial Sheet Mask for Bearded Men
Exclusive Man of Many Reader Discount: 30% off a set of 5 masks + free shipping with code MAN30
If you haven't noticed, 50 is the new 40 and 40 is the new mid-30s. All around the world, men are acting younger and looking younger in the process. You'll want to keep pace but that's easier said than done, as the signs of your former hard-partying ways continue to catch up with you. That's not to mention your impressive beard, which looks great but gets in the way of a quality skincare routine. This is exactly where SKINBUDDY comes in. Hailing from Germany, the nascent brand makes the world's first facial sheet masks for bearded (and non-bearded) men. Use it to look your youngest and best on a weekly basis, no filter required.
Odds are you're familiar with facial sheet masks, which have been a fixture of the beauty industry for ages. While they continue to be massively popular with the ladies (and with good reason), the effective skincare product has recently gained tons of momentum amongst men as well. In fact, male celebrities such as P. Diddy and Jimmy Fallon frequently use sheet masks to retain their handsome and youthful glow.
Meanwhile, most existing sheet masks are simply too small to cover larger facial shapes. These masks have a particularly hard time covering the neck area or adhering to the shape of a beard, even a well-groomed one. As a direct result, a number of men develop significant signs of ageing on their neck, also known as "Turkey Neck Syndrome." Yes, it's real and it's a turn-off and if you don't believe us, try Googling it.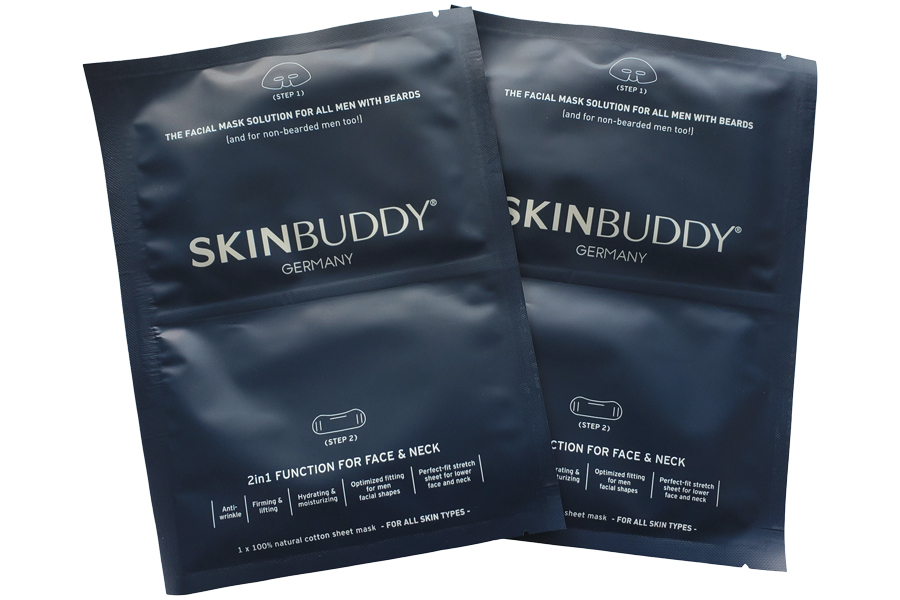 Thanks to SKINBUDDY's 2-in-1 facial sheet masks, you can keep that beard intact while warding off the signs of ageing. Made from 100% natural cotton, each mask is designed to fit larger male shapes and equipped with an innovative strip that can stick to your beard or neck. Both the mask and strip deliver long-lasting hydration, tackle wrinkles, reduce fine lines, and unclog pores, to provide healthier and younger skin in no time at all. The best part? You only need to use it for 15 minutes a week and at the price of an average latte.
On the underside of each SKINBUDDY 2-in-1 mask is a scientifically proven lab facial serum that's been specially formulated for men's skin. Vegan-friendly, easy-to-apply, cruelty-free, and safe on all skin types, the serum is packed with nourishing and effective ingredients, including Aloe Vera, Lotus, Bamboo, Liquorice, and Hyaluronic acid. The stretch-cotton material adheres perfectly to the face as it transfers the serum onto your skin, all while retaining a soft and breathable feel.
Being a relatively new brand, SKINBUDDY is eager to get the word out. That's good news for you because it means big savings when you try out the 2-in-1 facial mask. For a limited time, you can get two trial facial sheet masks for just US$4.99 with free shipping. Consider it the inaugural step in your journey toward total nourishment and maximum hydration. At long last, your impressive beard and former hard-partying lifestyle don't have to get in the way of healthy-looking skin.
Exclusive Man of Many Reader Discount: 30% off a set of 5 masks + free shipping with code MAN30