How to Turn 20 Days of Leave into 45 Days Off in 2020
Time off is a valuable commodity, but there's never enough of it, so judicious use of those precious days is required. Using your time off wisely and to the optimal maximum takes careful planning and a sound strategy. Don't worry, Contiki has you covered. If you're a worker in Australia, Contiki has outlined a strategy that lets you turn 20 days of leave into 45 days off in 2020.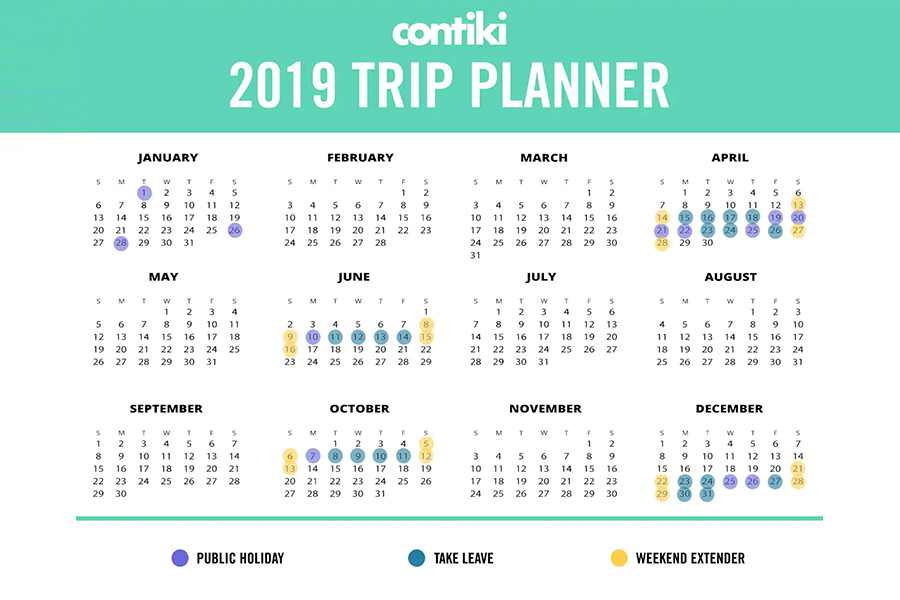 Here's how it works. Contiki has outlined three different day types for you to be aware of on an online calendar. The calendar shows blue dates, purple dates, and yellow dates. The blue dates are those dates that you need to request time off for. The purple dates represent public holidays, and the yellow dates are weekend dates that are set aside for travel. Contiki has figured out how to align those days for maximum payout. For instance, April is a prime time for Australians to take time off. By combining holidays, leave, and travel, you can get 16 consecutive days off using only seven days of leave—that's April 13 through April 28. Also on the list are nine days using only four days of leave for the Queen's Birthday (June 8 through June 16) and Labour Day (October 5 through October 13). You can also get 11 days off for Christmas while only using five days of leave. As Contiki notes, using your days wisely frees you up to take some pretty great trips. Their suggestions include a Great Britain and Ireland trip, a European encounter, a jaunt to the Kiwiana Panorama, or a tour of Asia.
But what if you're not an Australian? Never fear, the same principles still work. Take a moment to identify on a calendar the holidays you get from your employer. Next, fill in the days of the week that you don't get off with your leave. Finally, remember that weekends are days best spent traveling rather than visiting your destination. Many people will try to use the weekend to visit locations, which means they're busier and you won't be able to enjoy them as much. Instead, spend that time in the airport or the car, and then enjoy less busy times. With a little planning, you can double your limited time off and take even bigger holidays.