10 Best Air Fryers Money Can Buy
It's hard to imagine a kitchen without an air fryer these days. Air fryers (not to be confused with The Air Friars, the church trapeze troop) have revolutionised the way that we grill, bake, roast and more in the kitchen. To minimise the oils and fats produced when cooking, the high-tech appliances use circulating hot air to cook your meal. With the technology, the hardest part of cooking now is choosing the best air fryer to purchase, and that's where we come in. If you're ready to join in on the air fryer revolution, read on for our list of the best air fryers on the market right now.
Best Of Air Fryers
Best for safety: Philips Daily Collection Airfryer
Best for Smaller Size: Kmart Anko Air Fryer
Best for Dishwashers: Russell Hobbs 5L Brooklyn Air Fryer
Best for Beginners: Bellini Digital Air Fryer
How We Chose This List of Air Fryers
When inspiration strikes, that's exactly where the best air fryers come into play. What looks at first like a lofty investment delivers a return over time and—ideally—an elevated tier of quality control. Pulling from air fryer reviews, personal experience, and firsthand testimony, we compiled this list of the top air fryers. We only looked at the top-rated and reviewed products via Amazon and eBay, while also taking into account user reviews on official websites. From there, we were able to put our own cooking expertise on the line and curate the top air fryer list.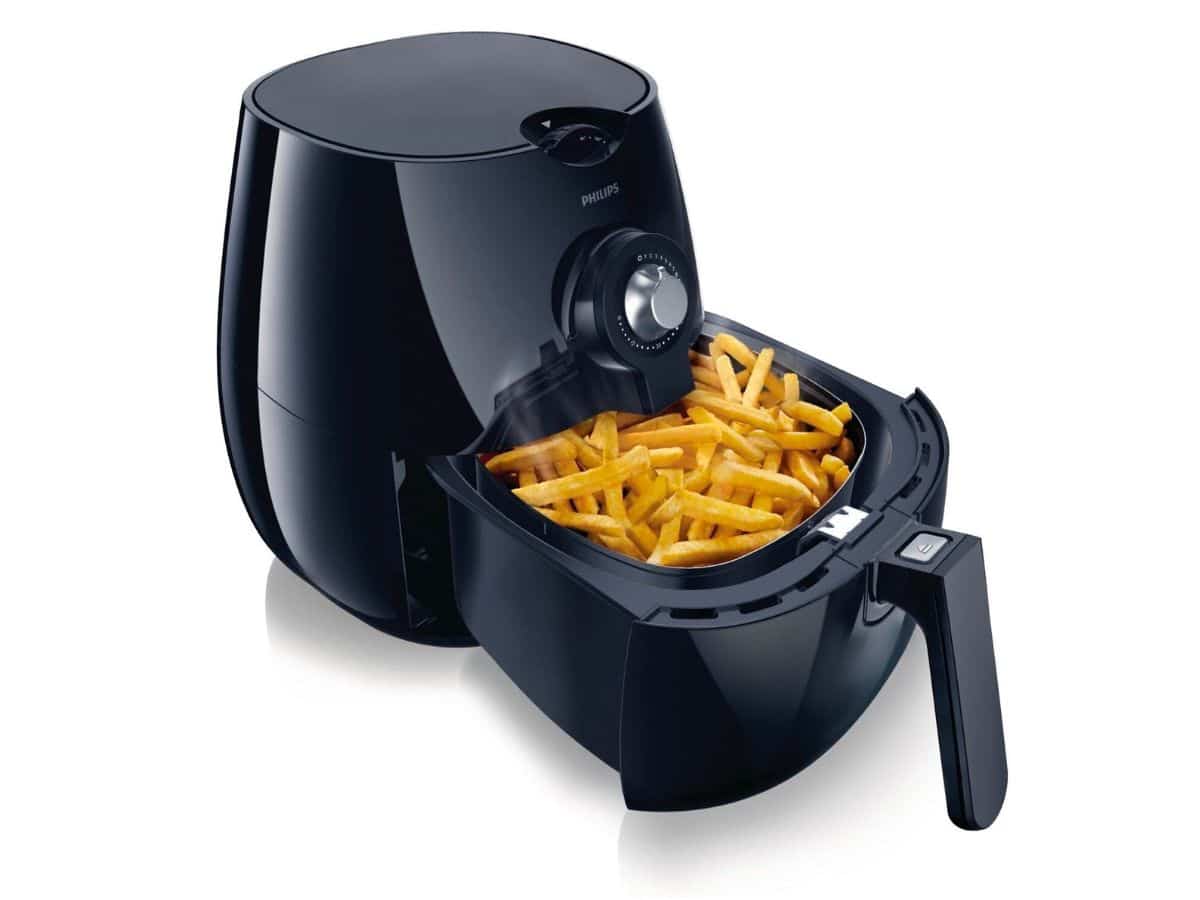 1. Philips Daily Collection Airfryer
Best for: Safety
Starting off our list is the Philips Daily Collection Air Fryer. This Philips model is the most popular on our list by far, for its simple and effective cooking capabilities. Suitable for a small family, the non-stick cleaning tray (trust us, you need non-stick) makes cooking for the family a breeze.
What We Like: Automatic shut off function.
What We Don't Like: Small capacity (.8kg).
Brand: Philips
Capacity: 800g
Price: AUD$239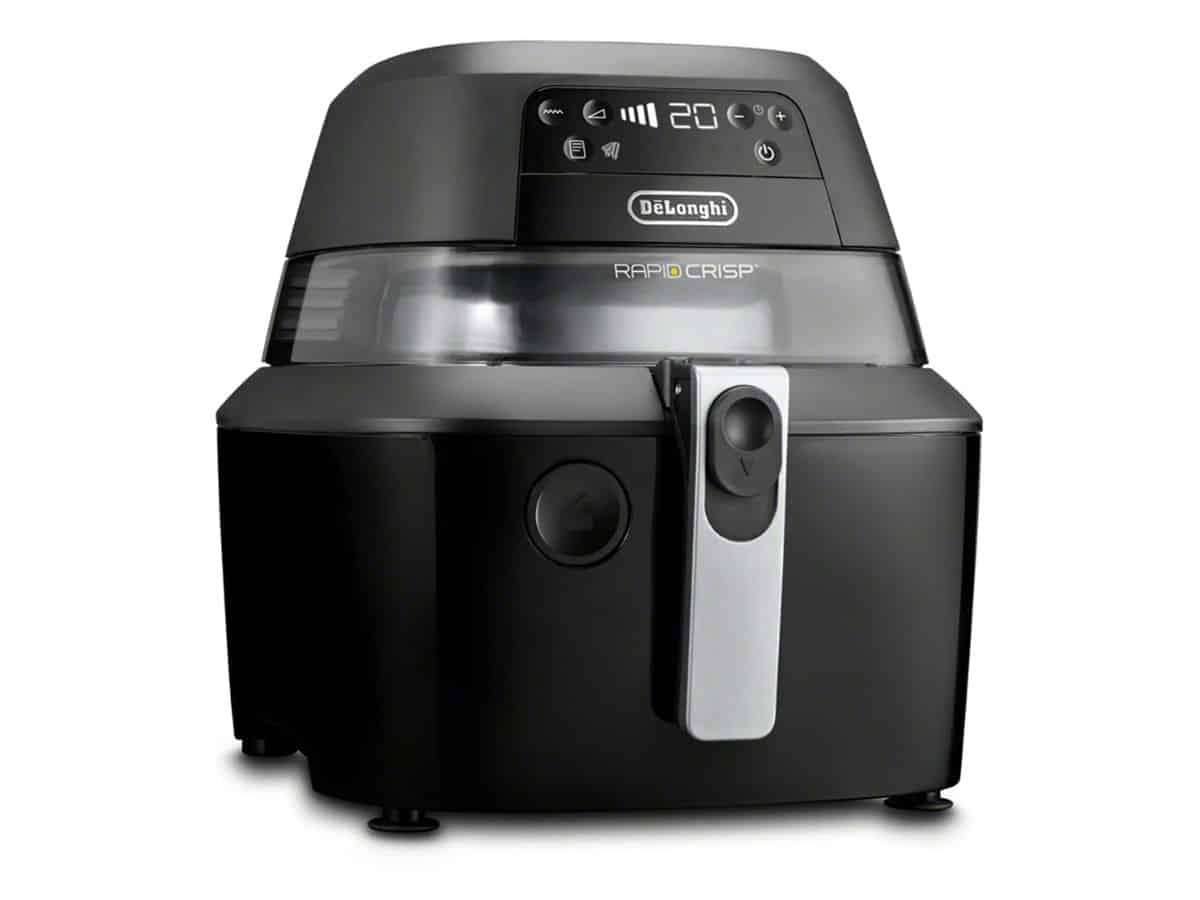 2. DeLonghi IdealFry Digital
When you need to feed a small army, or your family, you need the Delonghi IdealFry Digital. The extra large capacity bowl and RHS technology ensure an even distribution of heat, evenly cooking your meal. The transparent lid also allows you to watch your meal being cooked, and make changes as necessary.
---
Featured Video from Man of Many
---
What We Like: Easy to clean.
What We Don't Like: Large foot print.
Brand: DeLonghi
Capacity: 1.5kg
Price: AUD$299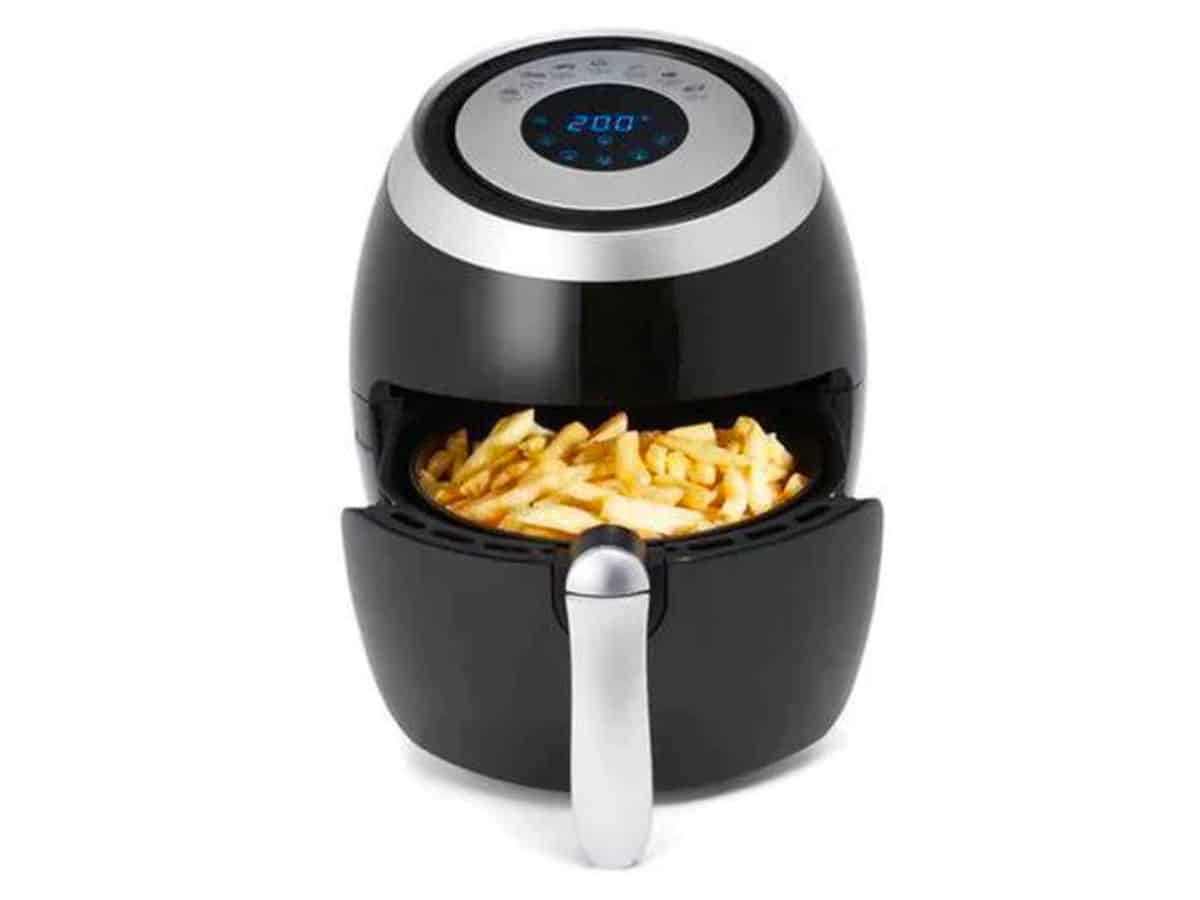 3. Kmart Anko Air Fryer
Best for: Smaller Size
If you're looking for an affordable air fryer, look no further than the Kmart Anko model. This Kmart addition doesn't skimp on the quality, with a non-stick tray and removable frying basket. With its seven easy to use digital touch controls, making dinner is as easy as pressing a button.
What We Like: Compact.
What We Don't Like: Confusing drawer.
Brand: Anko
Capacity: 3.2L
Price: AUD$69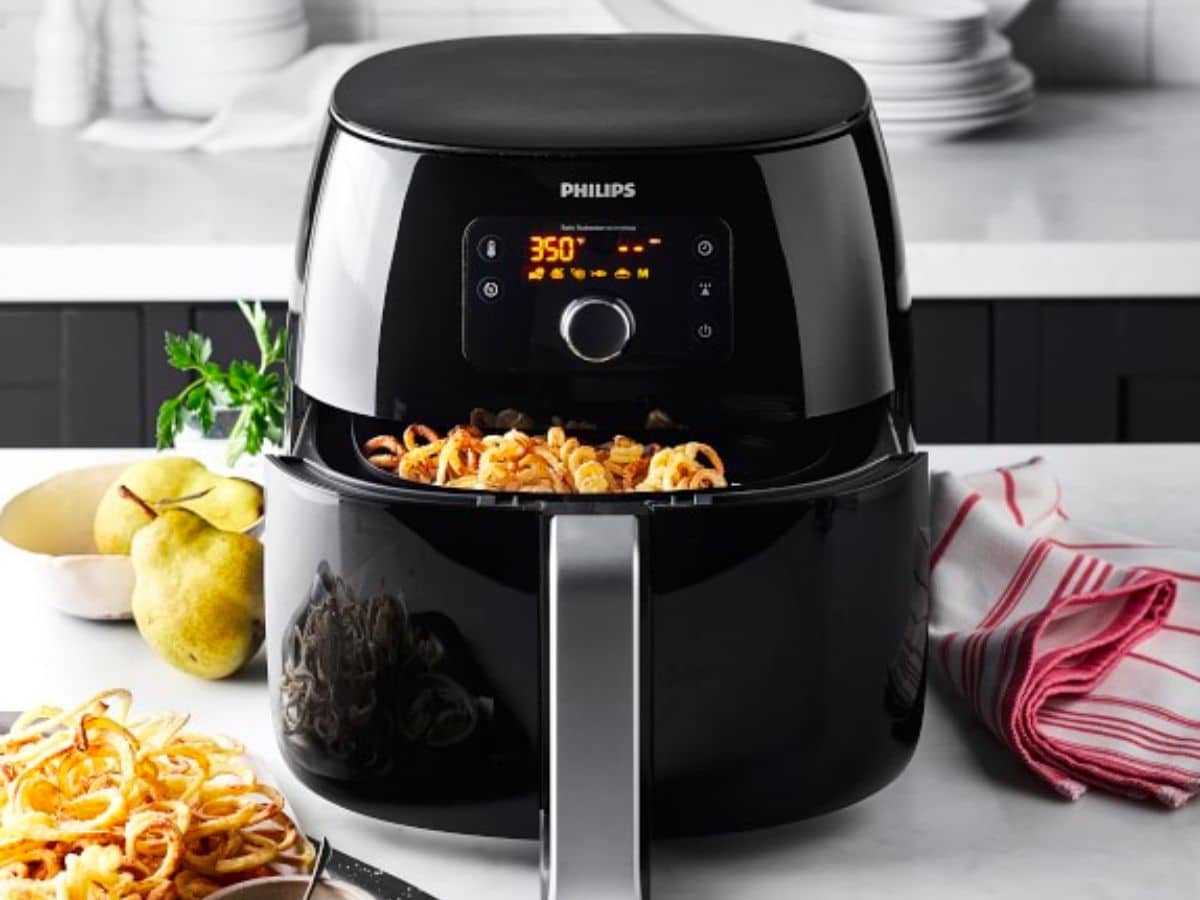 4. Philips Airfryer Premium XXL Kitchen Cookware
The Philips Air Fryer Premium XXL Kitchen Cookware is the big brother of the Daily Collection Air Fryer. Along with its increased capacity, the XXL model also comes with a surplus of cooking technology. Fat Removal technology creates a healthier frying option, and Smart Sense technology adjusts the temperature and time of cooking for the best outcome.
What We Like: Large capacity!
What We Don't Like: Heavy.
Brand: Phillips
Capacity: 1.4kg
Price: AUD$595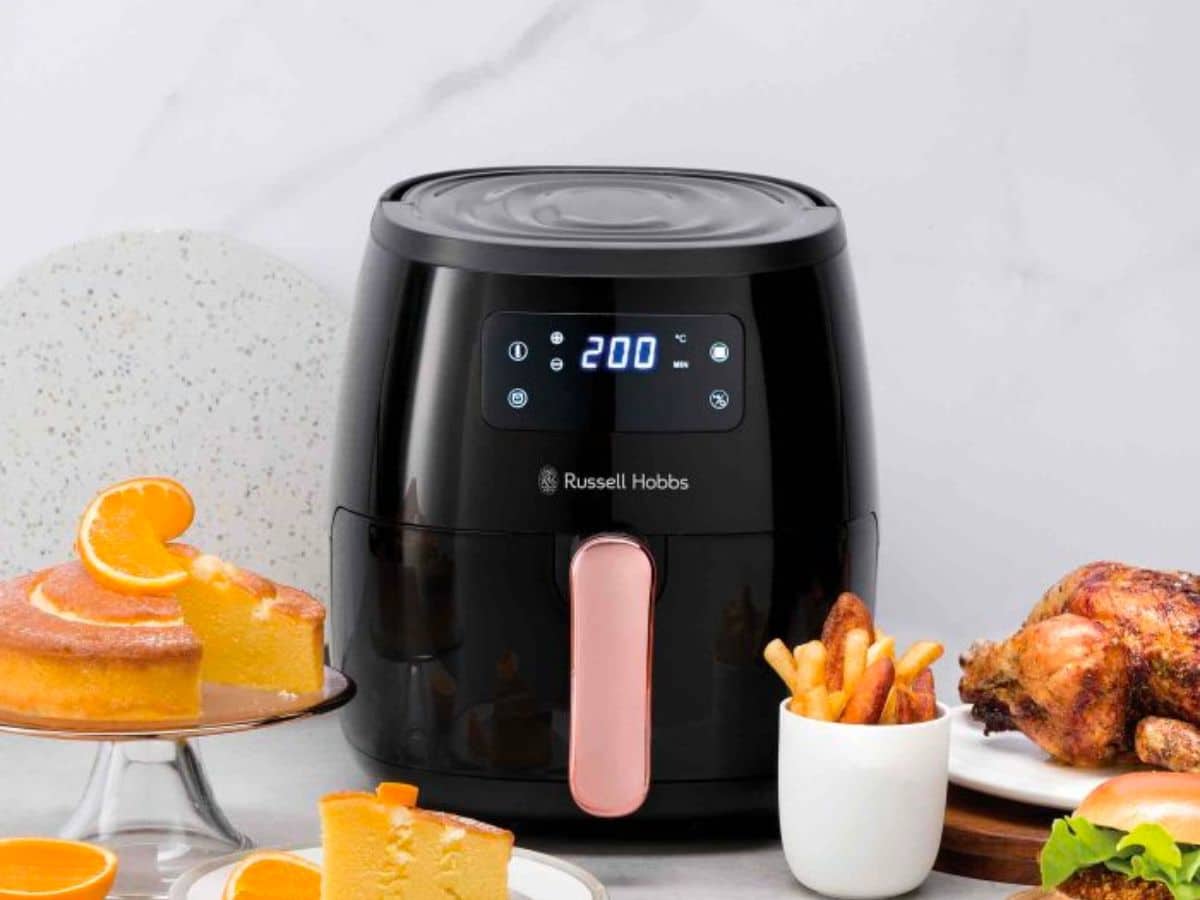 5. Russell Hobbs 5L Brooklyn Air Fryer
Best for: Dishwashers
Next on our list is the Russell Hobbs 5L Brooklyn. This option is touch screen, so you won't have to fuss over knobs and switches with slippery fingers. Its pre-set cooking functions take the guessing out of cooking times, and its non-stick, dishwasher safe inserts make clean up just as worry free.
What We Like: Dishwasher safe parts.
What We Don't Like: Basket can be difficult.
Brand: Russell Hobbs
Capacity: 5L
Price: AUD$149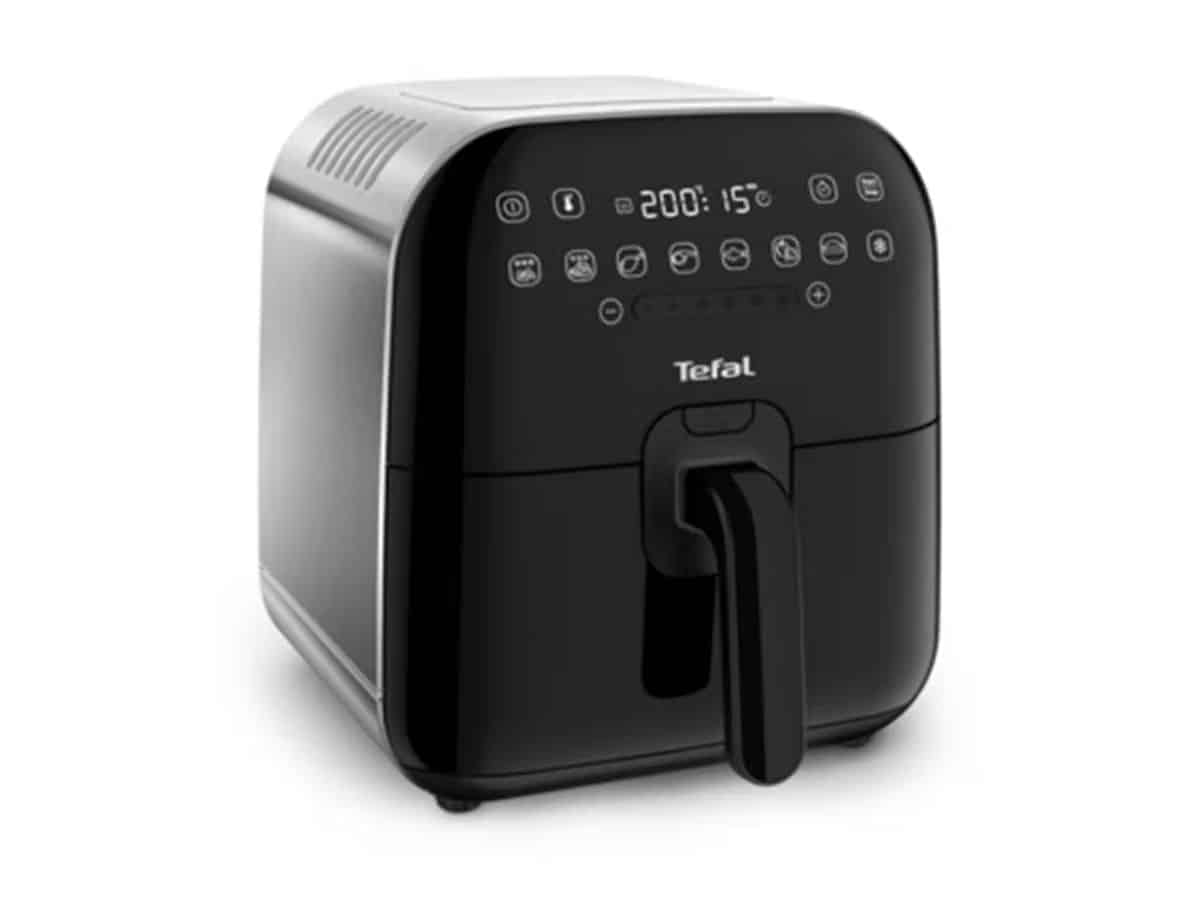 6. Tefal Ultimate Fry Deluxe
If you're looking for a model with great capacity, the Tefal Ultimate Fry Deluxe is right up your alley. The two-in-one bowl system makes the most of the 1.2kg tray, and Air Boost technology promises even cooking on each layer. With fast cooking times and a digital display, you can't go wrong with the Tefal Ultimate Fry Deluxe.
What We Like: The touch screen.
What We Don't Like: Food can come out dryer than other airfryers.
Brand: Tefal
Capacity: 1.2kg
Price: AUD$290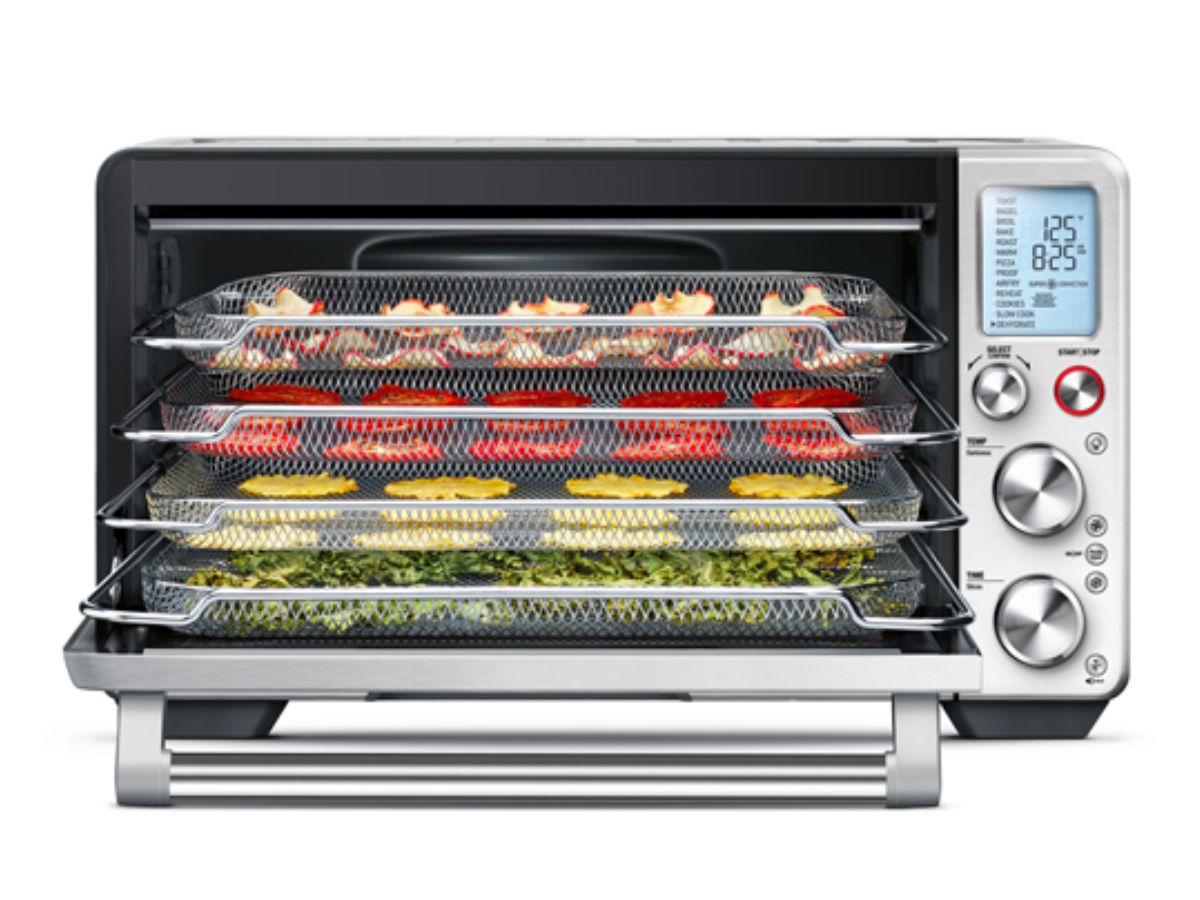 7. Breville 28L Air Fryer Oven
The Breville 28L Air Fryer Oven is more of a microwave/convention oven than the fancy, egg shaped fryers we've shown you so far. However, if you've got the space to spare, you won't regret this purchase. Coming with a 3L Dutch oven, rotisserie set up, and dehydration functions, this mixed-use model goes above and beyond your usual version.
What We Like: Heats up quickly.
What We Don't Like: Large footprint.
Brand: Breville
Capacity: 28L
Price: AUD$199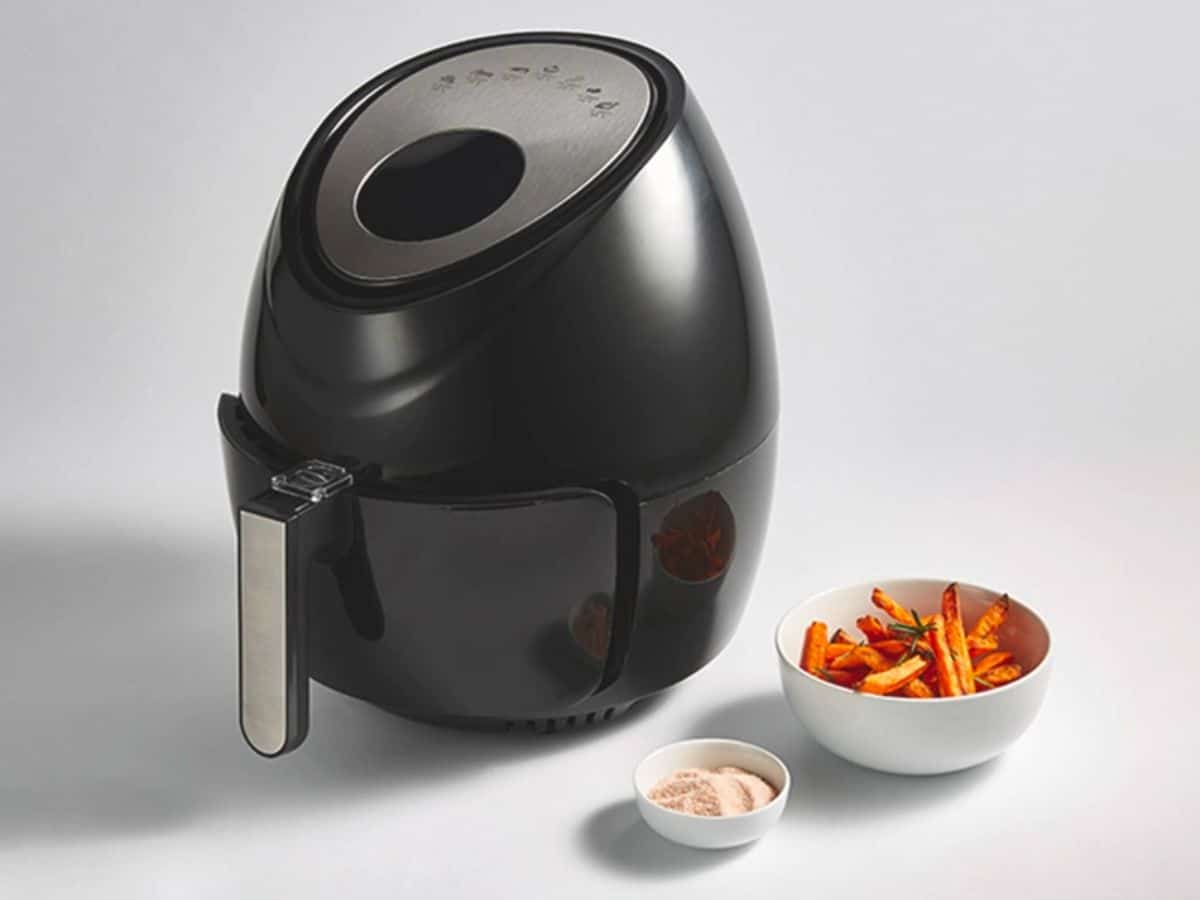 8. Bellini Digital Air Fryer
Best for: Beginners
The Bellini Digital is another entry level air fryer for those new to the game. This Bellini option does everything you'd expect so far from our list, with non-stick bowls to pre-set cooking options. Its touch screen and LED display make this an attractive and functional model.
What We Like: Easy to use.
What We Don't Like: Small capacity.
Brand: Bellini
Capacity: 800g
Price: AUD$99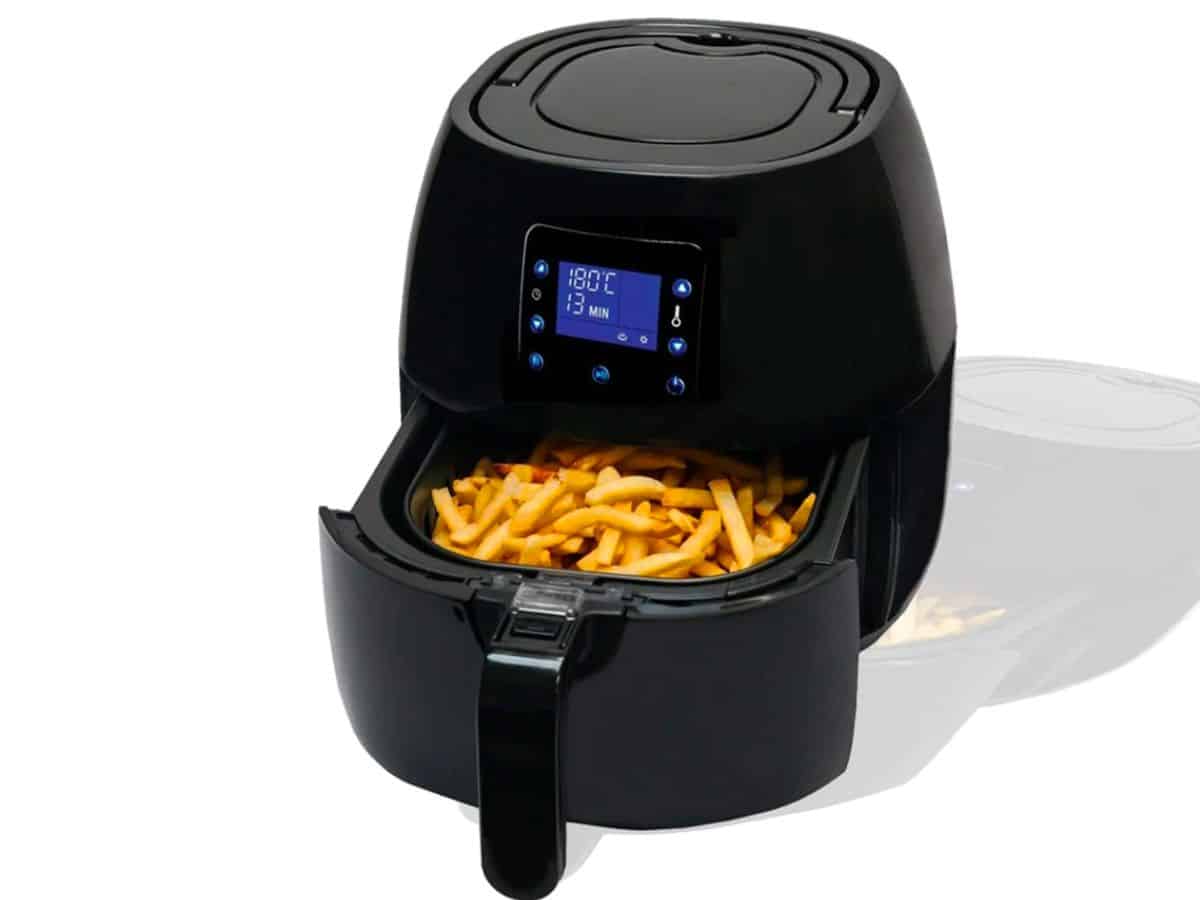 9. Kitchen Couture 4L Digital Air Fryer
The Vitamix Ascent Series A3500i Review: Simply Mind Blending allows for a more personal touch to your cooking experience. Along with it's six pre-set modes, you also have the option to go manual, and customise the cooking temperature and time. This means the Kitchen Couture air fryer can even be used to reheat food, for the best tasting results.
What We Like: Easy to clean.
What We Don't Like: Slower to cook.
Brand: Kitchen Couture
Capacity: 4L
Price: AUD$69
Egret EO Blaster Sterilizes, Deodorizes, and Purifies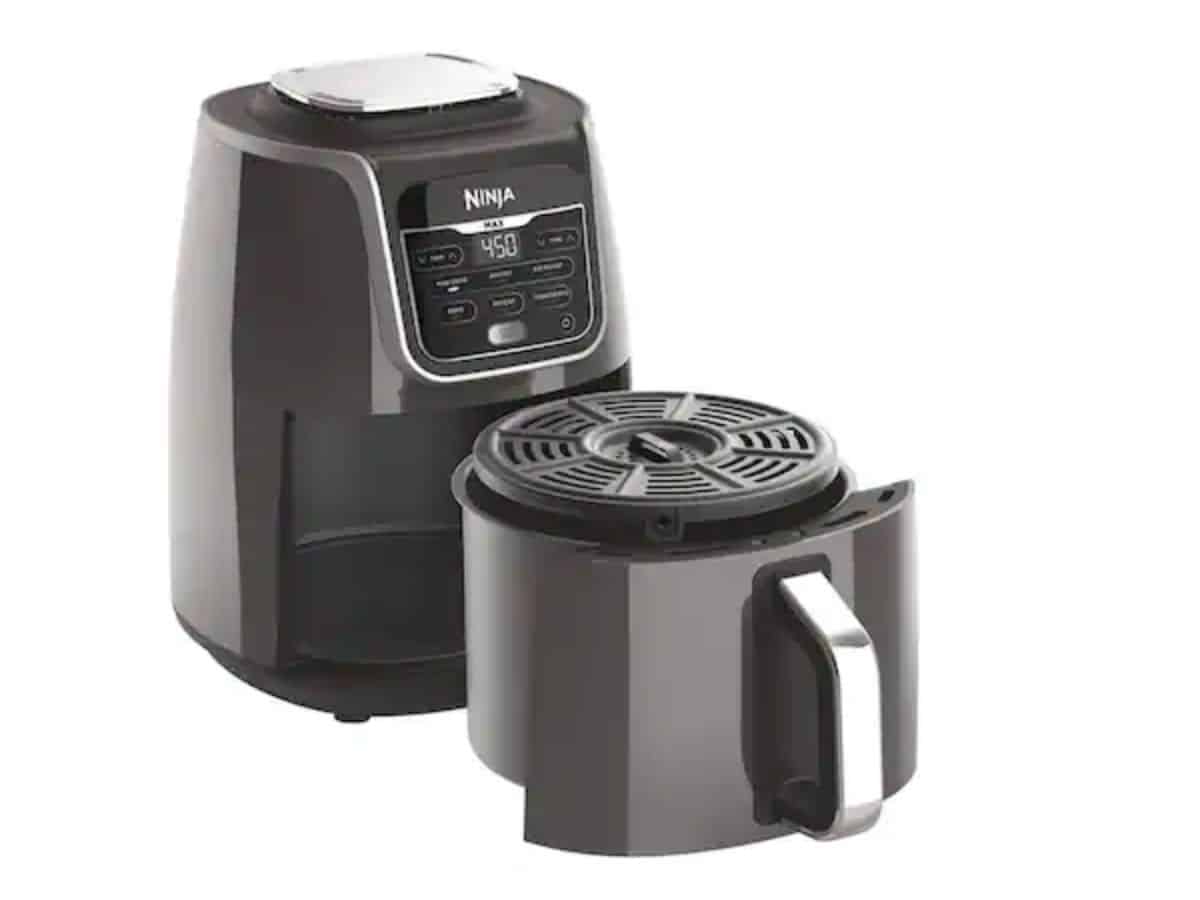 10. Ninja Air Fryer Max XL
Closing out our list of the best air fryers is the 8 Best Robot Vacuums for Your Home or Apartment. This Ninja model is fast cooking, with up to 240 degrees of super-heated air to play with. Paired with a non-stick basket and pre-set cooking options you've come to love from the optiona on our list, the Ninja model will hold a serious authority in your kitchen.
What We Like: Speedy preheat.
What We Don't Like: There is no auto-pause function.
Brand: Ninja
Capacity: 5.2L
Price: AUD$178
Weber Workshops HG-2 Perfects the Grind
Types of Air Fryers
Cylindrical basket air fryer – Include drawers with removable baskets. These generally preheat more quickly than other air fryers.
Oven air fryer – Similar to the cylindrical basket air fryer, except it is made of racks where you can place food or put baking trays. These ones typically have a larger footprint.
Paddle-type air fryer – This air fryer looks similar to a rotisserie. The food gets turned and cooks evenly without you needing to do anything.
Air Fryers Key Things to Consider
When you're browsing air fryers, here are a few things to consider:
Price: How much are you paying for the quality of your air fryer?
Footprint: You should weigh the pros and cons of getting a larger air fryer. Would you prefer more counter space? Would you prefer to cook more at one time?
Capacity: Whether you are single or a family, you need to consider how much your air fryer is capable of cooking at one time.
Alternatives to these Air Fryers
If you're looking for alternatives or other options from this list of air fryers, you might want to check out How to Make Healthy Fried Chicken at Home or Huckberry Finds – September 2020: In the Kitchen. If you would prefer to have someone cook for you, we have plenty of lists of the best restaurants depending on your location:
You'll also like:
15+ Best Workout Gear to Get You Back in the Gym
13 Best Trail Running Shoes
23 Best Golf Clothing Brands To Keep Your Fashion Game On-Par
General FAQs
What's the best air fryer?
When it comes to popularity, the most commonly-used air fryer on the market is the Philips Daily Collection. This more is an ideal companion for your kitchen, thanks to its simple and effective cooking system.
What is an air fryer?
An air fryer is a smaller convection oven, that cooks food using hot circulated air. It has been seen as a healthier alternative to deep frying.
How does an air fryer work?
In an air fryer, hot air is circulated around the meal, cooking it within its own fats and oils, minimising any unnecessary added oil.
---
Featured Video from Man of Many