13 Best Trail Running Shoes
Trail running shoes have become somewhat of a fashion statement since the scene exploded in 2015. The sport itself has become one of the most popular adventure activities, but don't get too ahead of yourself. We don't want you hitting the tracks without the right equipment.
To get the most out of your runs, a good pair of trail running shoes is essential when covering these types of terrain. They'll likely prevent a rolled ankle or bruised foot. To make your life easier and a fair bit comfier here are 13 of the best trail running shoes money can buy.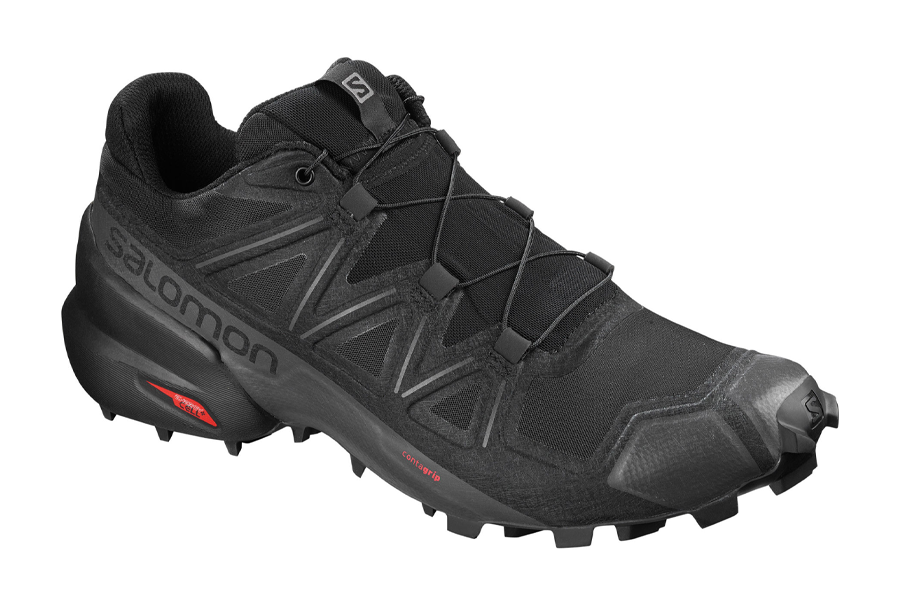 1. Salomon Speedcross 5
The Salomon Speedcross 5 trail running shoe is designed for both trail training and race days. The sneaker is both a lightweight and durable thanks to its innovative anti-debris mesh upper. Your heel will remain locked in even on the rockiest terrain thanks to SensiFit technology. The cushion department is taken care of by an EnergyCell+ midsole and OrthoLite insole, which is breathable and moulds to your foot perfectly. Finally, the Contagrip TA sole and lugs provide all the grip even on the muddiest and loosest surface.
Outer: Polyamide 100%, Rubber 100%
Lining: Polyamide 100%
Sole: Rubber 100%
Features: Quicklace™ closure and lace pocket; SensiFit™; Contagrip® TA sole; 320g
Price: AU$229.99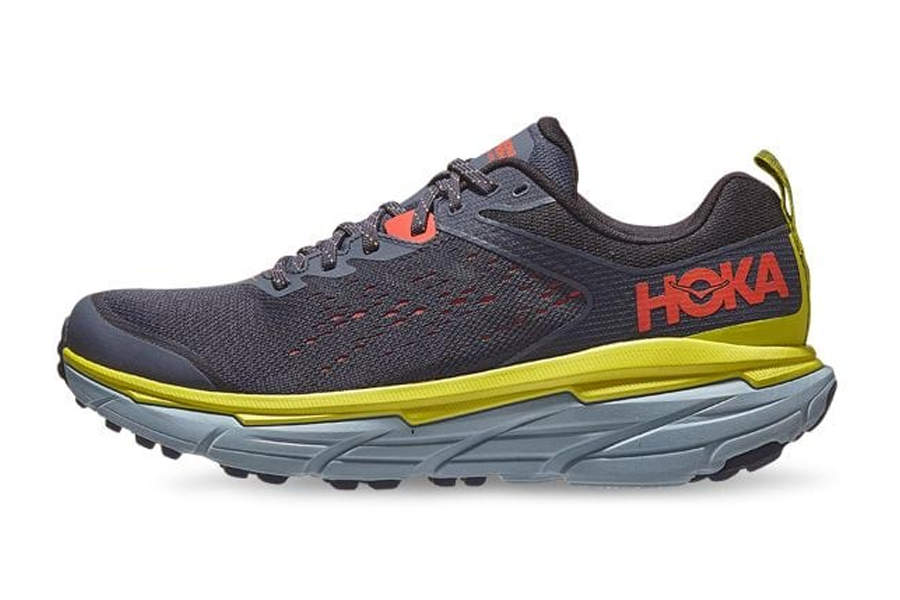 2. Hoka One One Challenger ATR 6
The Challenger ATR 6 is light, agile and stable, it's built to adapt to every terrain. Hoka is world-renowned for their cushioning systems and for such a well-cushioned shoe it provides remarkable stability. This trail running shoe for men and women is perfect for smooth-riding, high-mileage training and can also be used as a long-distance racer. You're looking at one of the best trail running shoes on the market with this one.
Outer: Rubber 100%
Lining: Rubber 100%
Sole: Rubber 100%
Features: Unifi REPREVE® Recycled Yarn; toe rand for support and protection; gusseted tongue; CMEVA Foam Midsole; 4mm lugs; all-terrain traction
Price: $239.95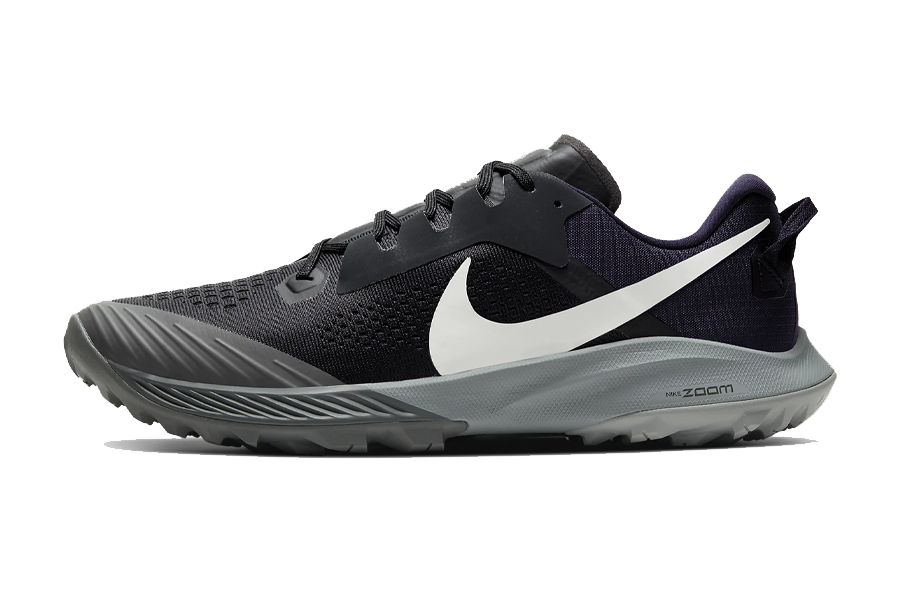 3. Nike Zoom Terra Kiger 6
The Nike Zoom Terra Kiger 6 is the style-conscience trail runners choice. This shoe conquers all terrains with its rugged traction and low profile lightweight upper. It offers an anatomical heel that is rounded to roll with the ground, and the lowered midsole offset creates a more natural position of the foot. The result is a natural, efficient stride with enhanced stability and a barefoot-like feel. The hard-hitting cross-country-inspired lugs on the outsole grip the ground for exceptional traction in all conditions.
Outer: Rubber 100%, Fabric 100%
Lining: Rubber 100%
Sole: Rubber 100%
Features: react compression-molded EVA midsole; light-trail
Price: AU$190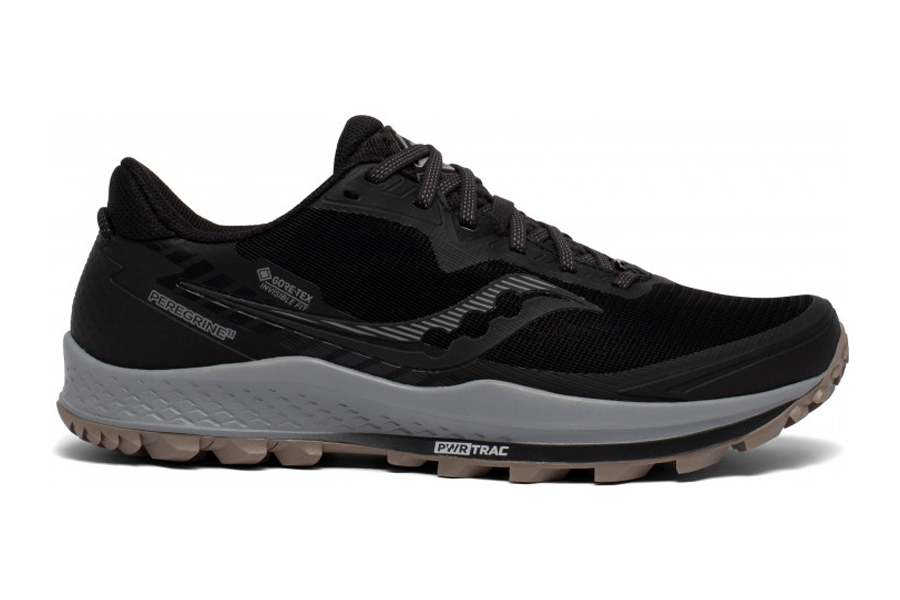 4. Saucony Peregrine 11 (GTX)
The Saucony Peregrine 11 trail runner sets the vibe on all types of terrain. It manages to achieve this while simultaneously providing enough protection from rocky surfaces, tree roots and unstable terrain. This speed-driven running shoe is a long time trail running favourite and this time, it returns with the addition of GORE-TEX. Thankfully, they've kept the good framework from the past, including an amply cushioned midsole and an aggressive outsole.
Outer: Rubber 100%, Fabric 100%
Lining: Rubber 100%
Sole: Rubber 100%
Features: GORE-TEX® Invisible Fit technology; PWRRUN cushioning; waterproof protection
Price: AU$259.99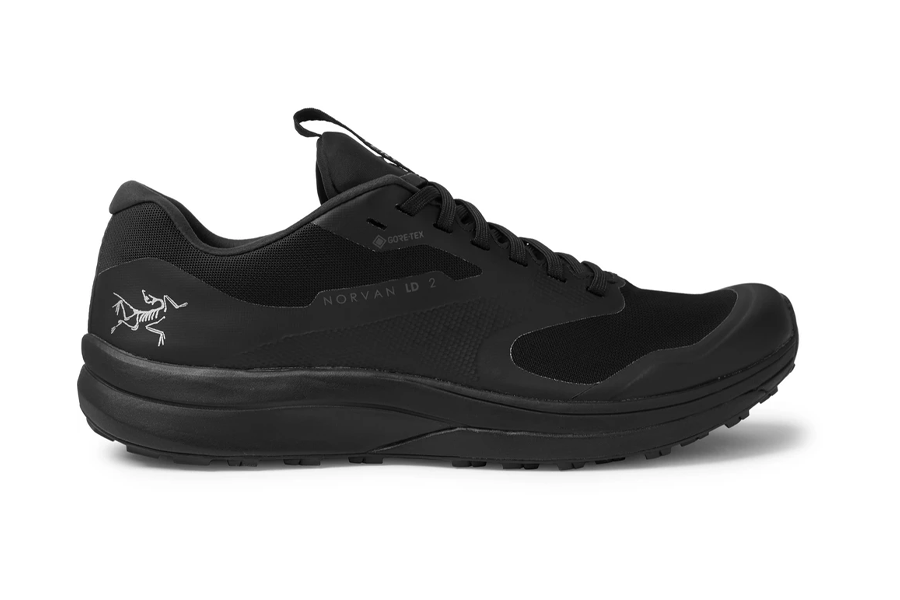 5. Arc'teryx Norvan LD 2
Kings of Gorp-wear, Arc'teryx was established in the Canadian mountains. They're widely regarded for producing innovative gear you can rely upon under extreme conditions. The brand is innovative and fashion conscience and these 'Norvan LD 2' trail sneakers are no different. Made from black GORE-TEX, they offer a waterproof and windproof finish. Traction is taken care of by the infamous Vibram Megagrip outsoles for stability and added traction.
Outer: GORE-TEX
Lining: Fabric 100%
Sole: Vibram Megagrip
Features: Vibram® Megagrip outsole; LITEBASE technology
Price: AU$274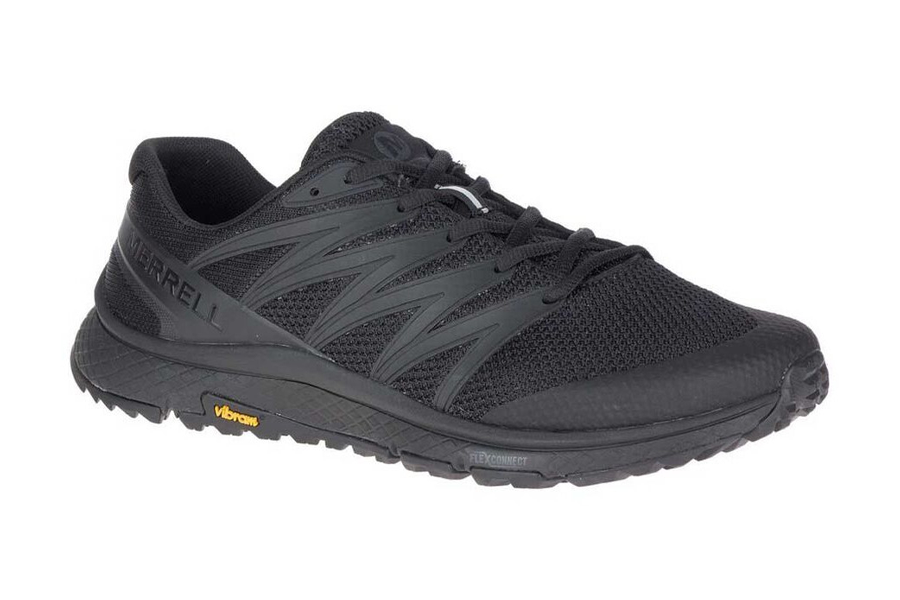 6. Merrell Bare Access XTR
The Merrell Bare Access XTR is a zero-drop trail running shoe that's designed to be worn barefoot. The completely flat bottom providers intense shock-absorbing cushion, combine this with the sticky Vibram outsole for enhanced agility. This trail running shoe for men is best used for fast running on intermediate to easy tracks.
Outer: Mesh and TPU
Lining: Fabric 100%
Sole: Vibram TC5+
Features: FLEXconnect® dual-directional flex-grooves (midsole); TPU film heel counter; Vibram® TC5+; Vegan-friendly
Price: AU$159.91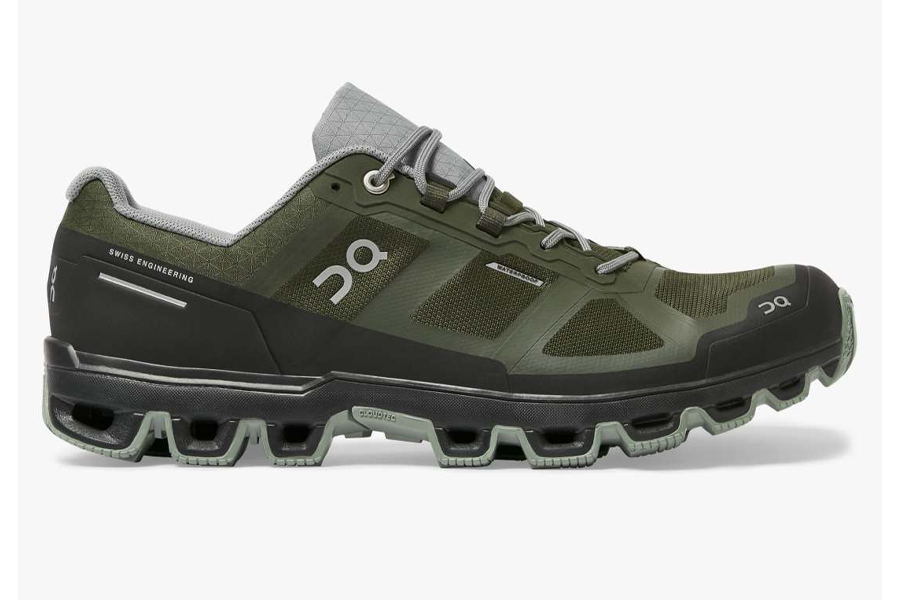 7. ON Running Cloudventure
This trail running shoe stands out for its aggressive outsole. Name the 'Missiongrip', this outsole combines multiple grip patterns to keep you in control on the track under a variety of conditions. You can own the downhill with the unrivalled cushioning of Zero Gravity Cloud elements. The strategically placed heel clouds absorb impact on inclines, these are the best trail running shoes for rocky terrains with steep descents.
Outer: Leather 100%
Features: waterproof; abrasion-resistant; breathable
Price: AU$269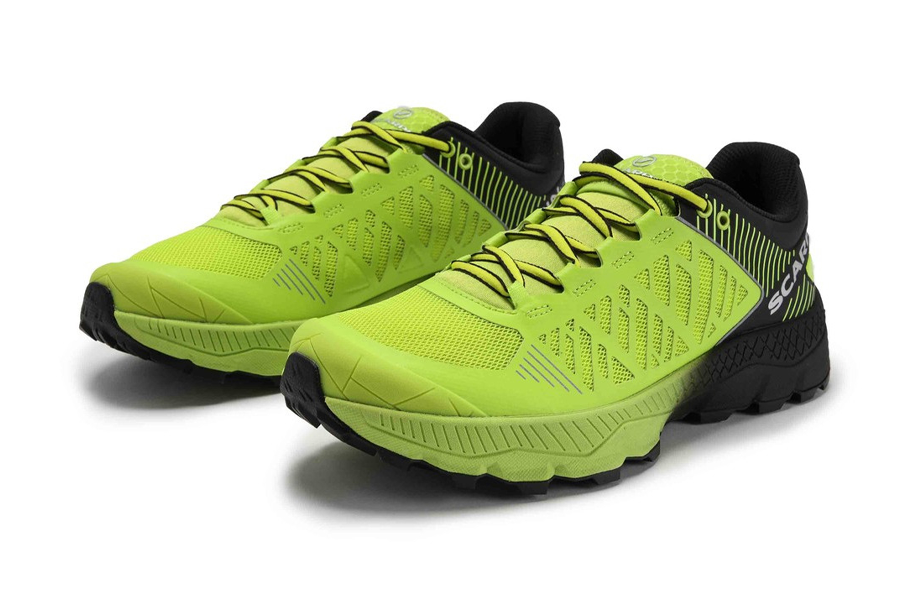 8. Scarpa Spin Ultra
These trail running shoes from Scarpa are designed to keep your feet comfortable and ventilated. All thanks to the mesh upper that acts as a lightweight 'second skin' to ensure you are able to go the distance in complete comfort. This is the best trail running shoe for moderate to ultra-distance runs. The multi-award-winning SCARPA Spin Ultra offers big comfort levels in an ultra-lightweight silhouette.
Outer: Mesh/ TPU
Lining: Fabric
Sole: Rubber 100%
Features: shock- resistant 3D TPU toe cap; Velox LB Max sole with midsole; Vibram ® Megagrip
Price: AU$226.54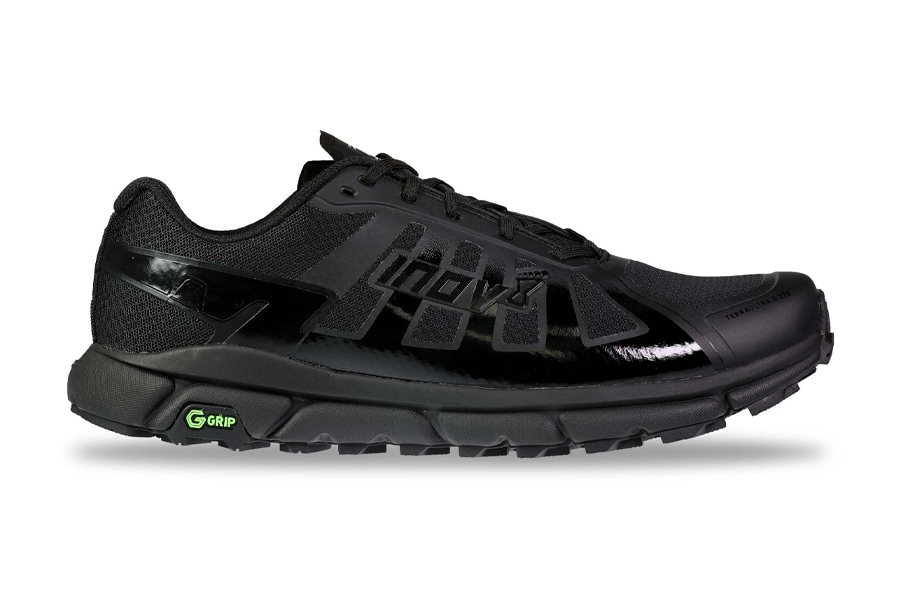 9. Innov-8 Terraultra G 270
The Innov-8 Terraultra speaks for itself. It was named 'Trail Running Shoe of the Year' in 2020 by Runner's World and three other publications. This shoe is truly taking the world of trail and ultramarathon running by storm. World-renowned athlete Damian Hall wore a pair to set a new record time for the 268-mile Pennine Way (Great Britain's toughest track) of 61hrs 35mins. That's enough convincing for us.
Sole: Graphene Grip
Features: Graphene-enhanced rubber cleats; POWERFLOW MAX foam; ADAPTERFIT technology
Price: AU$290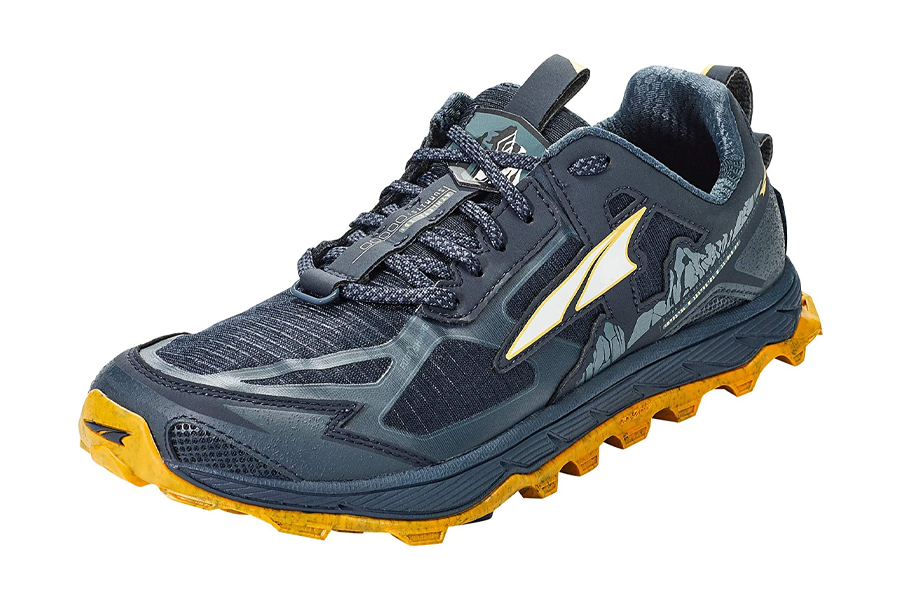 10. Altra Superior 4.5
The updated version Altra's original trail shoe, the 4.5 features a trimmed-down layer that offers added flexibility and comfort. The trail running shoe also offers a simplified lacing system for improved micro-adjustment. There's a very necessary 'StoneGuard', ample cushioning and 'FootShape' toe box. The cushioning department can be attributed towards the midsole foam formula that has been tweaked just enough to give you a more resilient feel underfoot.
Outer: Skeletal stone guard for lightweight rock protection.
Lining: Trimmed down upper for enhanced comfort.
Sole: Maxtrac w/ multi-directional lug pattern for best in class traction.
Features: Maxtrac outsole; multi-directional lug pattern; gaitertrap tech
Price: AU$149.91
You'll also like:
Here's to a New Year and a New You in 2021
14 Best Walking Tracks and Trails in Sydney
18 Fitness Products to Smash Your New Year's Resolutions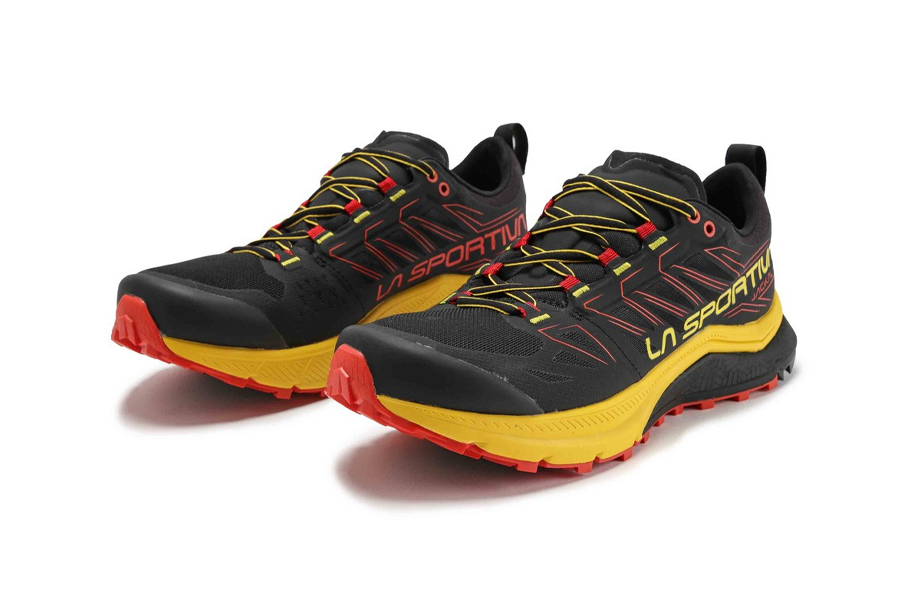 11. La Sportiva Jackal
The Asics' Metaracer Running Shoe is Marathon Ready is the perfect trail running shoe for mountain running. These shoes feature an innovative Infinitoo energy return cushioning system that promises load-bearing characteristics over ultra-long distances. A mesh upper encases each foot and provides long-term breathable comfort.
Outer: Net mesh
Features: EVA and Infinitoo ™ PU inserts in midsole; Frixion AT 2.0 rubber compound
Price: AU$203.64
ASICS Sportstyle GEL-QUANTUM 'Metallic Pack'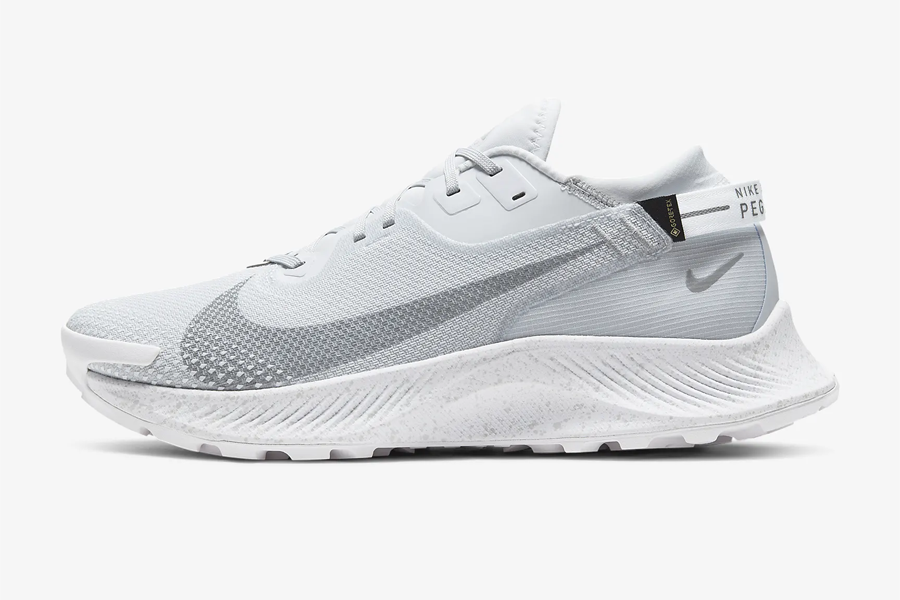 12. Nike Pegasus Trail 2 GORE-TEX
What is a trail running shoe without GORE-TEX? You can keep moving through even the wettest conditions with the Nike Pegasus Trail 2 GORE-TEX. The revolutionary upper provides a waterproof protective barrier for running that is simultaneously versatile enough for everyday use. Traction is taken care of with an arrowhead design and the toe box features a protective guard for tougher tracks.
Outer: Polyamide 100%, Polyester 100%
Lining: Polyester 100%
Sole: Rubber 100%
Price: $240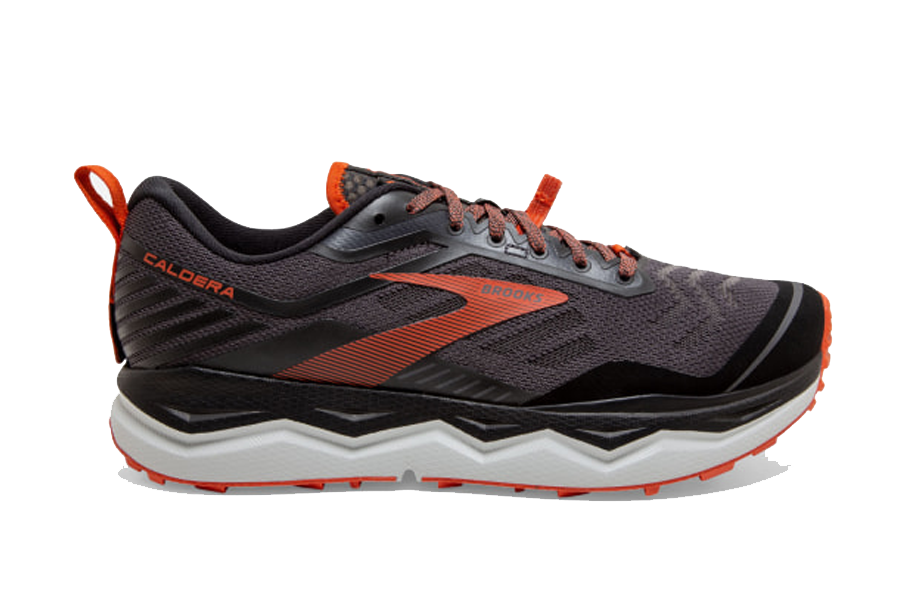 13. Brooks Caldera 4
The Brooks Caldera 4 is a well-cushioned and very protective shoe which features a new seamless mesh upper. You'll find a free-floating mid-foot webbing and a TPU-reinforced saddle that offers a more locked-down fit than previous versions. The shoe contains four pivot points—a feature that allows this shoe to be much more agile on technical terrain. A forefoot rock shield relieves underfoot blisters and allows this shoe to attack all types of terrain without hesitation.
Outer: Engineered Mono Loop Mesh.
Lining: Engineered mesh for ventilation and drainage.
Sole: TrailTack Rubber, Lateral Groove.
Features: Mudguard and TPU toe cap provide protection; BioMoGo DNA midsole; TrailTack sticky rubber outsole; secure lace keeper
Price: AU$239.95
General FAQ
What is Gorpcore?
Gorpcore is a style of fashion that features high levels of technical and functional outdoor wear. This can include fleece jackets, parkas, gore-tex jackets and pants.
What is the longest marathon ever?
On 20 March 1967, a Japanese man by the name of Shiso Kanakuri completed a marathon in Stockholm, Sweden, that he had started in 1912. It took him a mere 54 years 246 days 5 hours 32 minutes 20.3 seconds to complete a marathon.
How long is a marathon?
A marathon is a long-distance running race. It is strictly one of 42.195 km, or 26 miles 385 yards.
You'll also like:
Here's to a New Year and a New You in 2021
14 Best Walking Tracks and Trails in Sydney
18 Fitness Products to Smash Your New Year's Resolutions