Show of hands who loves pizza. Everyone? Just as we thought. It's the food that makes us salivate in unison, and yet when looking to indulge in Italy's greatest achievement we frequently find ourselves settling for a less than stellar experience. That's because more often than not it arrives on the back of a bike either lukewarm or looking like it's been tossed around in a spin dryer, with more cheese stuck to the box than left on the pizza itself.
Fortunately, Everdure is here to solve all that, empowering Aussie pizza lovers to enjoy this most perfect of cuisines in an equally perfect way. With the combination of Everdure's easy-to-use KILN R Series Oven and the sleek Pizza Station, you're never going to look at pizza night the same way again. So break out the pepperoni!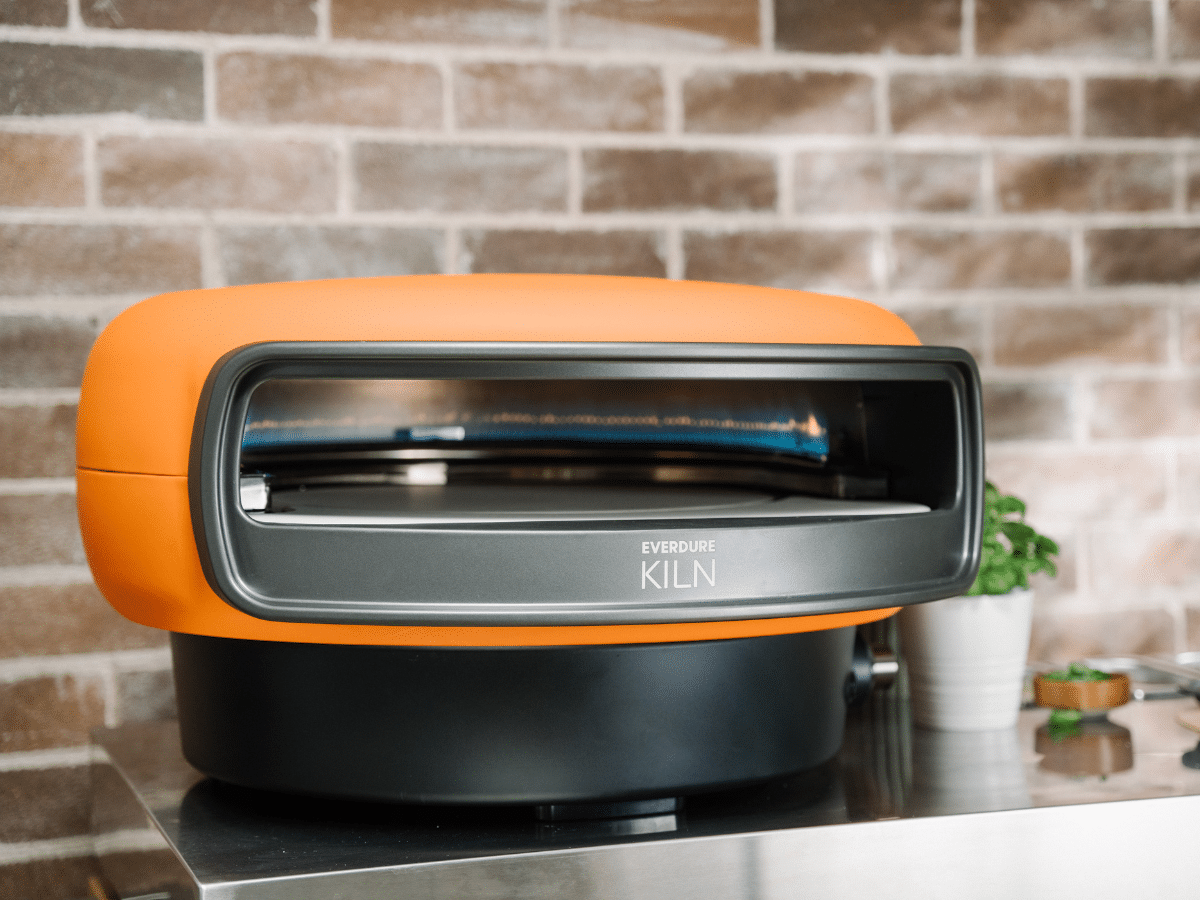 KILN R Series Oven
Pizza ovens have long been the perfect finishing touch for any plush outdoor entertaining area, but we're not sure we've ever seen one quite as stylish as Everdure's KILN R Series two-burner offering. Designed to make it as easy as possible to create authentic pizzas at home (that you can then enjoy while they're still hot and with toppings still intact), the KILN R Series offers a number of functions, but most importantly it can be used to cook a large pizza in under two minutes.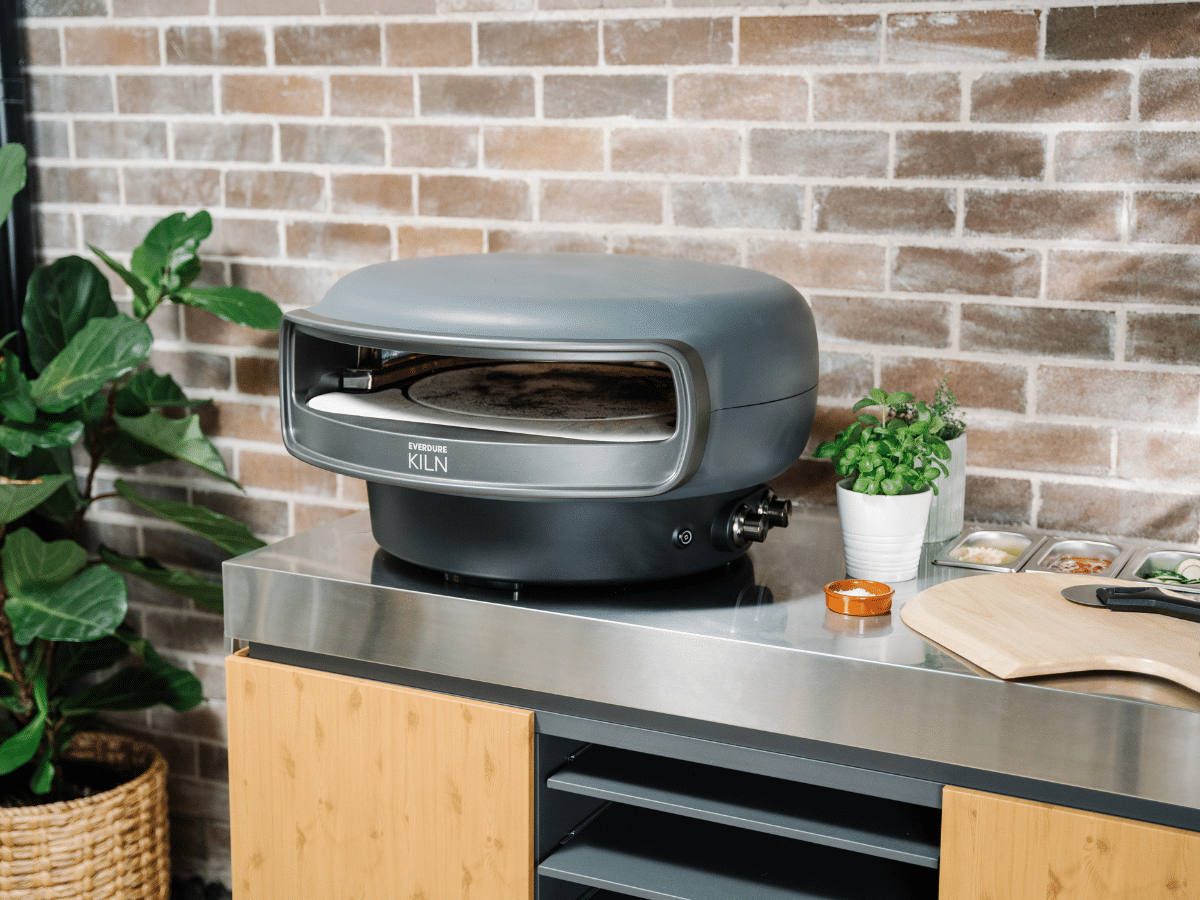 Unlike less premium pizza ovens, the KILN R Series features a rotating turntable and u-shaped burner, meaning you can be confident of an even cook every single time without having to go to the trouble of manually turning your pizza. You can hook it up to the mains or the turntable holds up to 50 hours of battery life—that's a lot of pizza—while the dual-insulation body maximises internal heat for optimum energy efficiency. With room to house pizzas up to 16 inches in diameter and the ability to reach 400°C in less than 15 minutes, you'll be chowing down on your favourite toppings before you know it. Plus, it's easy to set-up, cook, clean, and store, making the experience as practical as it is polished.
Available in Stone, Graphite, and Terracotta finishes, you're sure to find a KILN R Series Oven that enhances your outdoor space as much aesthetically as it does culinarily.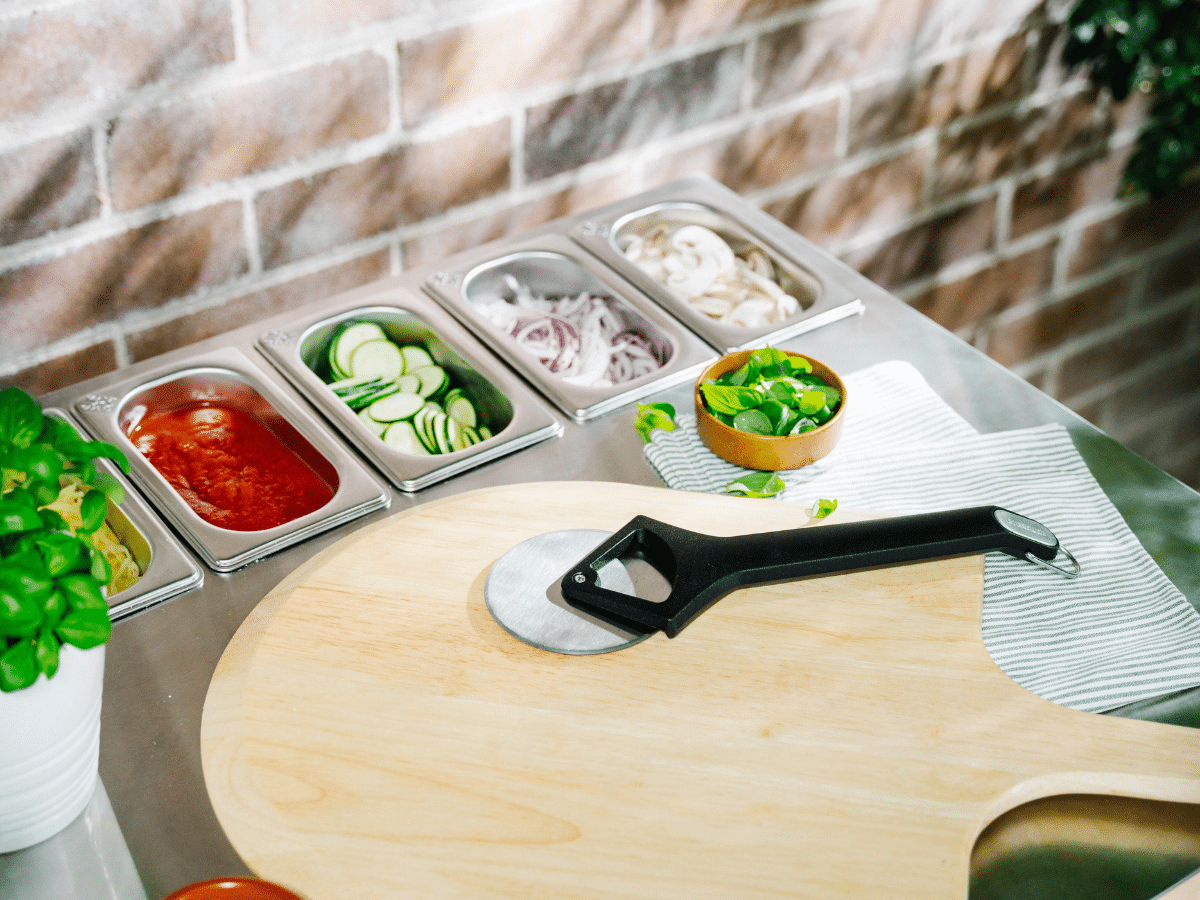 Pizza Station
When your outdoor entertainment area boasts the slickest pizza oven around, you need somewhere equally slick to prep your favourite pizzas. The Everdure Pizza Station can be used with any oven from the Everdure range and it features a stunning stainless-steel benchtop and durable door fronts, making it a preparation station that's built to last.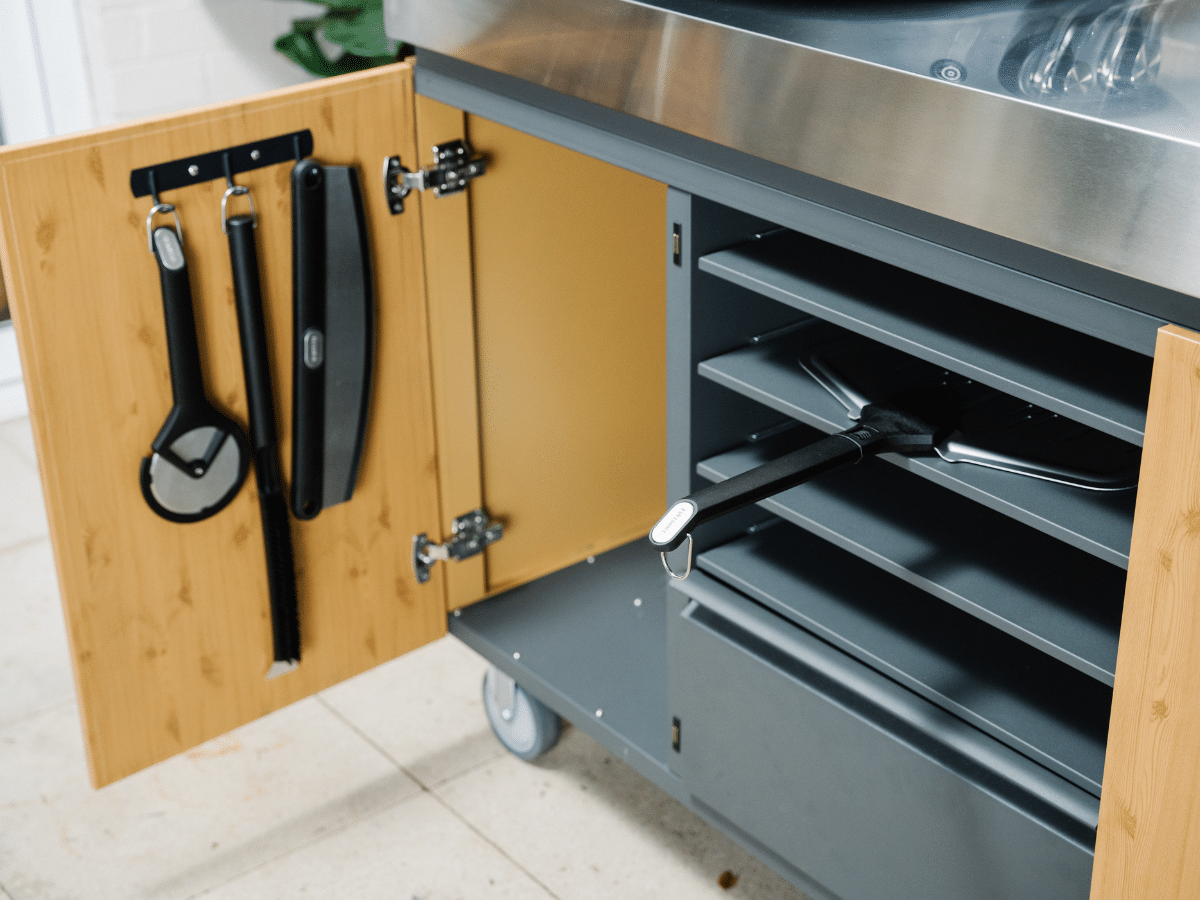 With five removable 65mm-deep trays mounted in the benchtop for your top ingredients and ample storage underneath, it's never been easier to wrangle all your favourite toppings and bases in one place. Plus, lockable castors (the wheels on the base) make it easy to perfectly position and secure the station in place before rolling it out of the way once everyone's eaten their fill.
All in all, the Everdure Pizza Station will help to make your home the ultimate pizza destination for all your friends and family.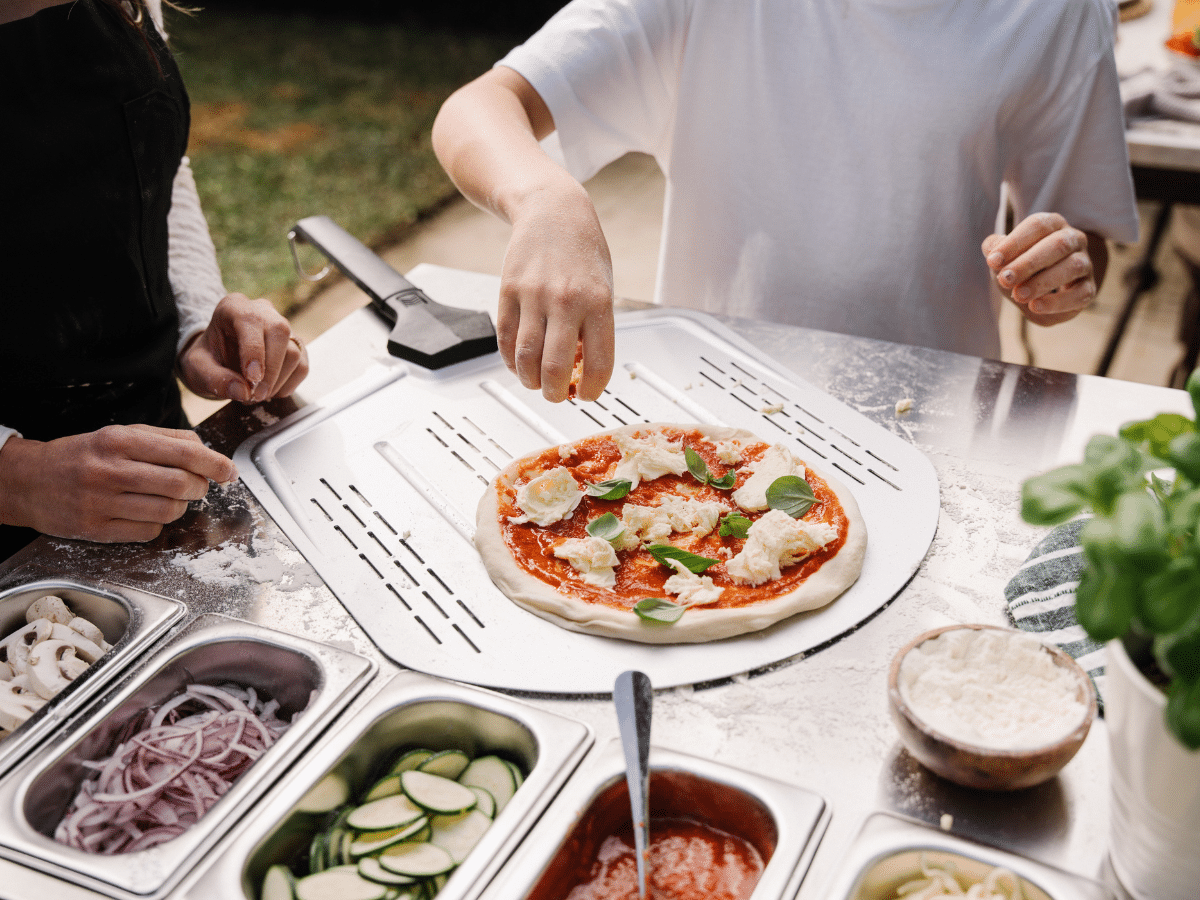 Thanks to the KILN R Series Oven and Pizza Station the perfect pizza is always just a few minutes away. Hot, fresh, and with toppings firmly affixed, every single pizza that's prepped on the Pizza Station and cooked within the KILN R will emerge like a cheesy, tomato-y dream. You'll never have to settle for subpar pizza ever again.