15 Best NERF Guns to Wage Workplace Warfare
NERF stands for "Non-Recreational Standing Foam", but that doesn't even begin to tell you how much fun it is to actually play with a NERF Blaster. These "guns" shoot foam darts that will stick to various wall surfaces with a tiny suction cup, or if you are an excellent shot, you can even hit someone's glasses. Not that we recommend aiming for anyone's face, but running around with an arsenal of these plastic faux weapons can be a great way to play with friends, kids, or even blow off steam at work.
Waging a midday workplace warfare with the best NERF guns can be just the stress reliever to break up the monotony of the day or make the next office picnic one to actually remember. Just remember you never know who is going to be the best shot, it could be that mousy Suzy in accounting, so watch out for anyone wielding one of these neon blasters. Here is a list of the 15 best NERF guns to bring to your next workplace warfare party.
You might also like:
American Horror Story Season 10 – What We Know So Far
15 Best Coffee Table Books for Men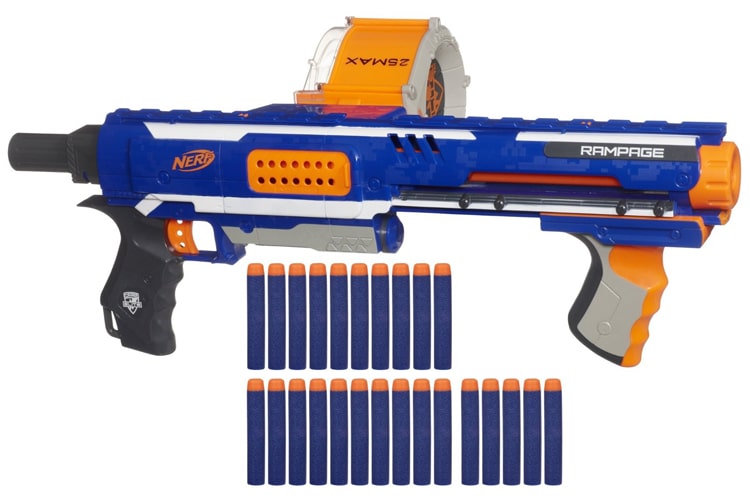 1. NERF N-Strike Elite Rampage
This is the high power you are looking for from the Nerf N-Strike Elite line. What that means is you are getting a blaster that can go the distance. It can rapid fire the foam darts up to 75 feet. So you don't even have to get that close to your boss to nail him with a bunch of these babies. It has a 25 dart magazine for reloading quickly to make this Rampage blaster one of the very best NERF guns you can buy.
Features: 25-dart Slam Fire; 75-foot range
Dimensions: 4.45 x 21.3 x 13.43 inches
Price: $125
---
Featured Video from Man of Many
---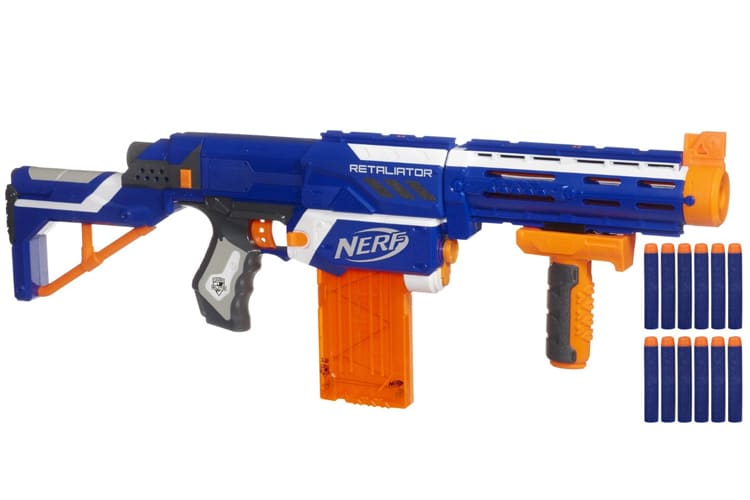 2. Nerf N-Strike Elite Retaliator Blaster
As part of the N-Strike Elite line, this Retaliator Blaster gives you the option of changing up the settings in four different, unique ways. It has a 12 dart quick reload clip to give you plenty of ammo to take out your kids in an epic family battle.
Features: 12-dart clip; fires up to 27 meters
Dimensions: 2.99 x 19.02 x 11.5 inches
Price: $50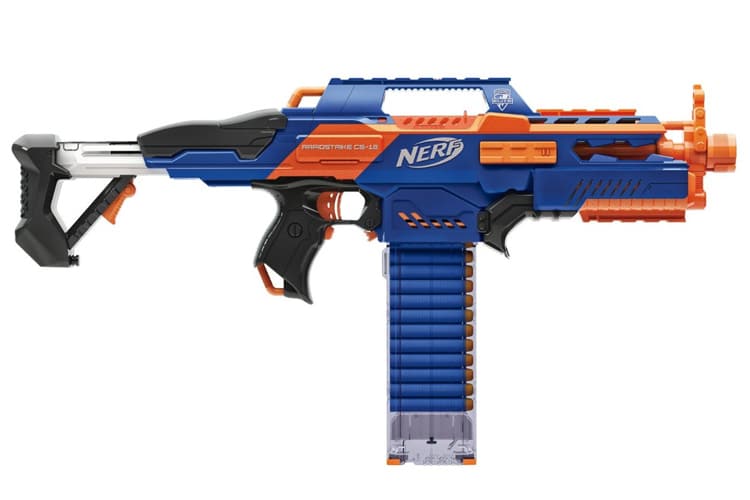 3. Nerf N-Strike Elite Rapidstrike CS-18 Blaster
With the blue and orange detailing this RapidStrike Blaster has a clip that holds up to 12 darts and surely qualifies as one of the best NERF guns on the market. It's motorized for high powered action but is still lightweight. Your youngest child could probably handle this Blaster with ease. Watch out for the little ones, they tend to be ruthless when chasing after their cool uncle!
Features: 12-dart clip; fires up to 27 meters
Dimensions: 2.99 x 19.02 x 11.5 inches
Price: $89.99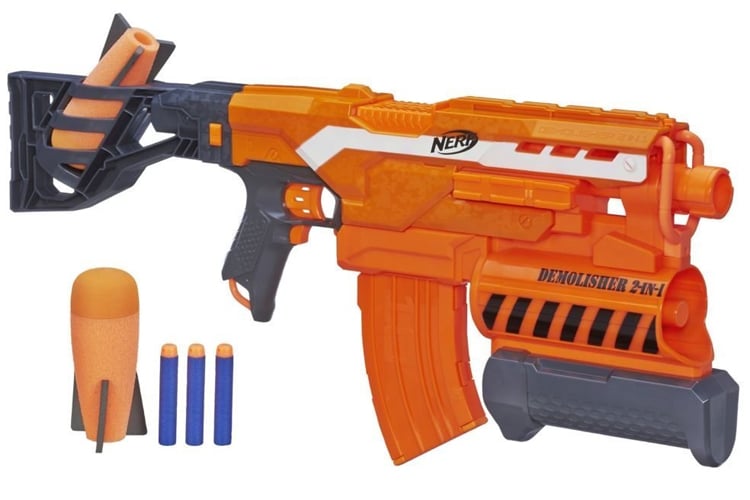 4. Nerf Elite 2-in-1 Demolisher
Up your game with this dual purpose blaster that fires both darts, and missiles! This is truly one of the coolest options in the NERF N-Strike Elite line. It's motorized for rapid-fire action, but the fun missiles work on a pump action that is easy to handle. Your co-workers will scatter like mice when they see you barrel into the room with one of these instruments of fun.
Features: 10-dart banana clip; fires up to 90 feet
Dimensions: 3.74 x 12.01 x 20.24 inches
Price: from $31.04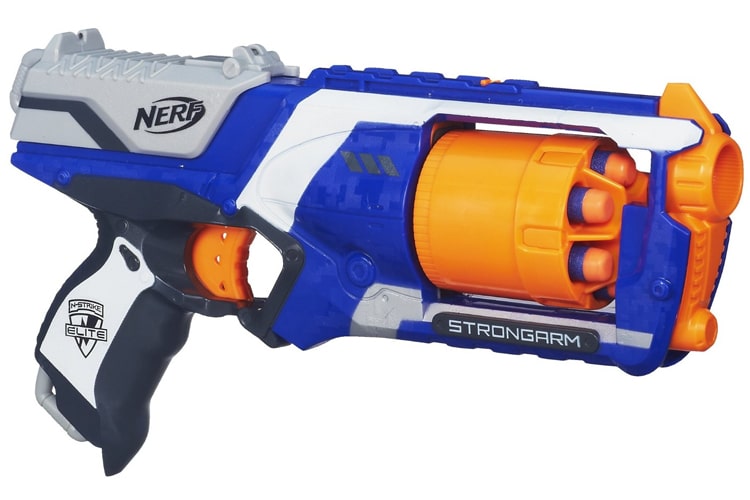 5. Nerf N-Strike Elite: Strongarm Blaster
Holding six Elite dart, this model will shoot all six in rapid succession with just the touch of one trigger. The barrel rotates for easy loading, so you can reload and get back in the game rather quickly.
Features: fires 6 darts in a row;
Dimensions: 7.01 x 12.76 x 2.76 inches
Price: $19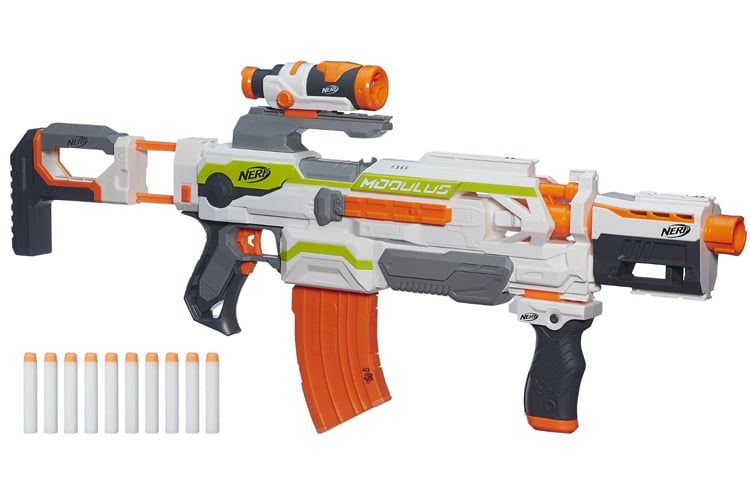 6. NERF N-Strike Modulus ECS-10 Blaster
A more subtle model (albeit still easily one of the best NERF guns) with colours that are white, grey and a little orange, this Blaster has an adjustable scope with drop grip. That means that you'll be able to fire faster, and make up to 30 different modifications on this toy.
Features: more than 30 combinations; holds up to 10 darts; requires 4 "AA" batteries
Dimensions: 2.99 x 30 x 15 inches
Price: from $69.98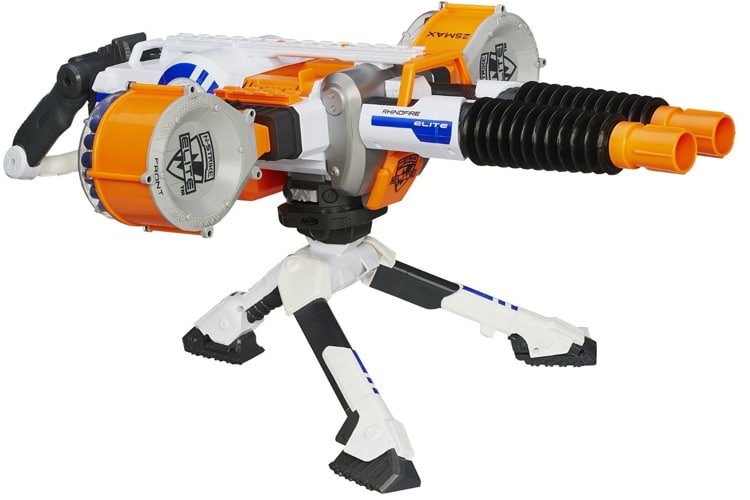 7. NERF N-Strike Elite Rhino-Fire Blaster
Here is where the Blaster's get a little more complicated. This one even has a tripod that will help you steady your shots. The more darts, the better with this one since it comes with 50! There are two barrels on each side that allow you to plug in 25 darts each for motorized rapid fire fun. This is truly one of the best NERF guns if only because it enables some sniper action!
Features: rapid-fires Elite darts from 2 alternating barrels with motorized blasting; holds 25 Elite Darts each
Dimensions: 5.87 x 33.82 x 15.87 inches
Price: $249.95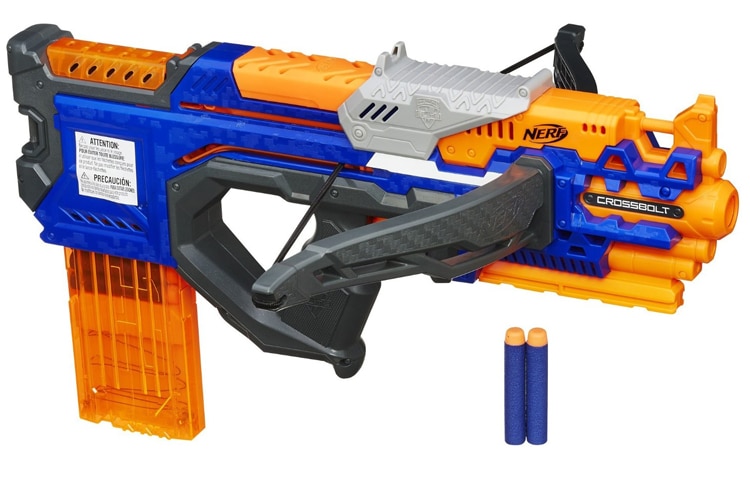 8. Nerf N-Strike Elite CrossBolt Blaster
Emulate Hawkeye from the Marvel Avenger's movies with the real crossbow action of this toy. Not only does it rapid fire darts up to 90 feet through its 12 clip apparatus, but the cross bow feature truly makes this a unique Blaster and one of the best NERF guns with the extra special potential to cause office mayhem.
Features: fires darts up to 90 feet; 12-dart clip
Dimensions: 2.68 x 18.5 x 10 inches
Price: $39.99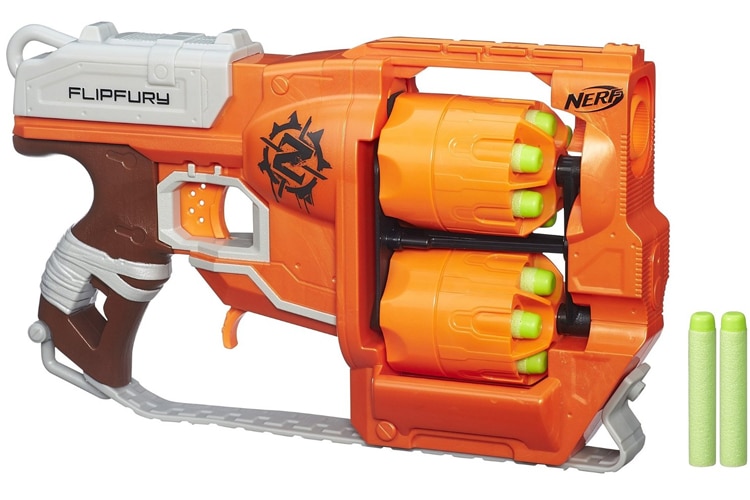 9. Nerf Zombie Strike FlipFury Blaster
Part of NERF's Zombie Strike line this interesting Blaster looks much different than the other ones in the line. It has two flipping side drums to rapid fire 12 darts each. It's bright orange and brown in color with the Zombie logo on each side of the Blaster.
Features: fires up to 12 darts without reloading; 2 flipping dart drums hold 6 darts a piece
Dimensions: 2.99 x 15 x 10.98 inches
Price: $19.99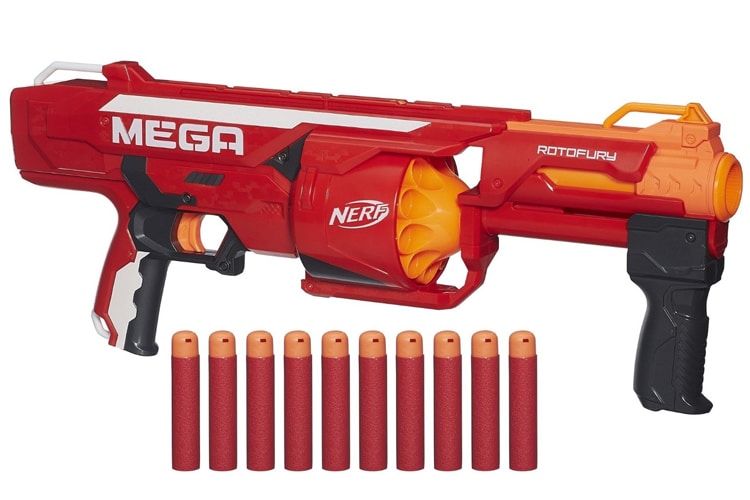 10. NERF N-Strike Mega Series Rotofury Blaster
The name says it all in this one "FURY!" This Blaster can up your game significantly. It includes 10 Mega Whistler darts that can go up to 90 feet in distance. It's a red gun, so it's not as inconspicuous as some of the other ones. These patented darts make the coolest sound as they sail through the air at your intended target. They will hear you coming, but they probably won't be able to do anything about it!
Features: darts up to 90 feet
Dimensions: 4.61 x 25.51 x 12.01 inches
Price: $34.99
11. NERF N-Strike Stampede ECS
Here is the deal with this Blaster, it is huge. Gigantic. They will see you coming with this one. It is loaded with interesting features that make playing with this piece very exciting. The fully automatic clip can hold up to 60 darts, so you get a ton of playtime with this one to take out all your best friends, siblings, or co-workers.
Features: fully-automatic blasting power
Dimensions: 4.49 x 30 x 15 inches
Price: $69.99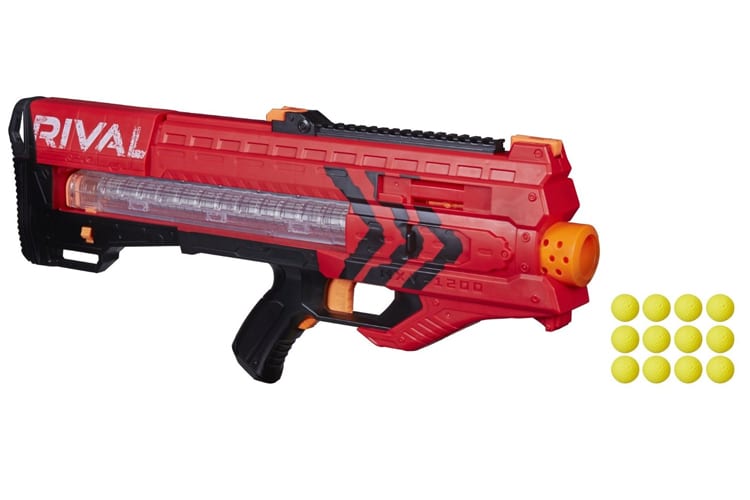 12. NERF Rival Zeus MXV-1200 Blaster
As part of their Rival line, this shoots little NERF yellow balls as opposed to darts. It has flip up sights, and a trigger lock to prevent it from going off when you don't want it to, like if it's hidden in your work desk door until the lunchtime office battle.
Features: charges up every battle with motorized blasting; with 12 high-impact Nerf Rival rounds; requires 6 C batteries
Dimensions: 2.99 x 24.49 x 10 inches
Price: $69.99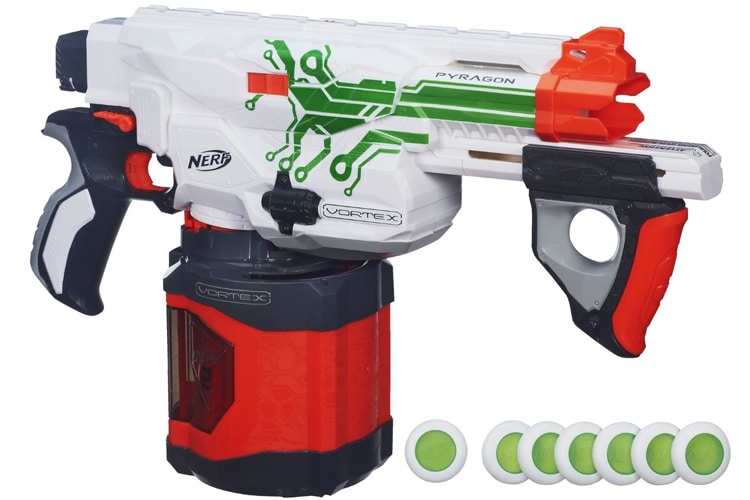 13. NERF Vortex Pyragon Blaster
This shoots special limited edition green NERF discs that will melt your enemy (you know the IT people) with expert precision. Holding up to 40 discs will allow for long play to really get you ahead of the worktime warfare. Sometimes the best NERF guns are the ones that you only you possess.
Features: can hold up to 40 Vortex discs
Dimensions: 5.32 x 20.98 x 12.01 inches
Price: $199.99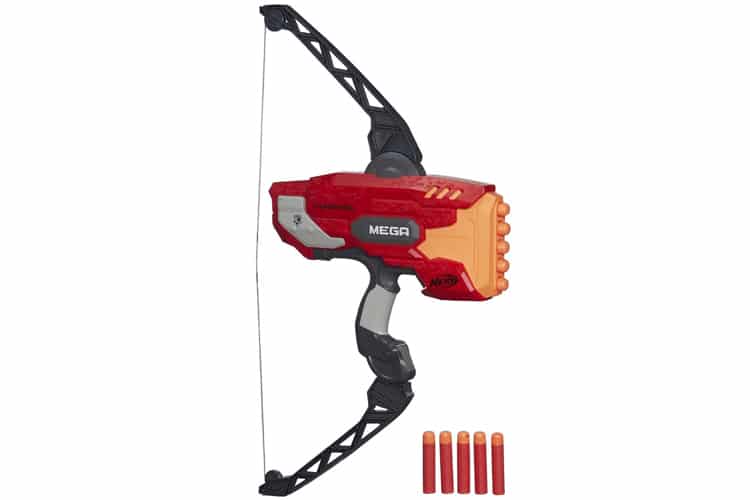 14. NERF Mega Thunder Bow Blaster
Even though this one fires darts, its crossbow action will make you feel like a real acher. Think of Katniss in the Hunger Games, and emulator her precise shooting bow and arrow style. This Blaster is able to shoot the darts much farther at 100 feet.
Features: fires up to 100 feet; includes 10 Mega Darts
Dimensions: 2.99 x 31.5 x 16.5 inches
Price: $37.99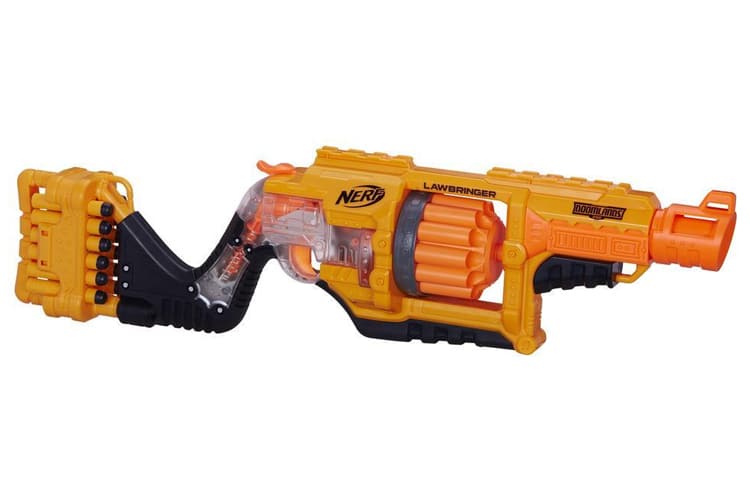 15. NERF Doomslands 2169 Lawbringer
Bring the law into your office war party with this excellent Blaster. It has a firing power of 12 Elite darts that have see-through plastic so you can actually visualize how the Blaster is working.
Features: 12-dart rotating barrel
Dimensions: 4.25 x 25.98 x 10.98 inches
Price: from $59.99
You might also like:
This $6.6 Million Mickey Mantle Baseball Card is Now the Most Expensive Ever Sold
Top Video Games and Release Dates for May 2021
---
Featured Video from Man of Many