18 Best Camping Spots Near Brisbane
Who wouldn't want to leave behind the hustle and bustle of city life for the best camping Brisbane has to offer? You're sure to find the ultimate scenic camping experience somehow in the Sunshine State, but where should you start? With beautiful beachy island getaways and lush rainforests in the national parks basically, on your doorstep, you'd be crazy not to check out the local campsites that QLD has to offer. There's something here for everyone, from hiking to surfing to stunning panoramic mountain views. So for the best quick getaways, under two hours from the CBD, check out our list of the best camping spots near Brisbane.
RELATED: These are the best driving ranges in Brisbane right now.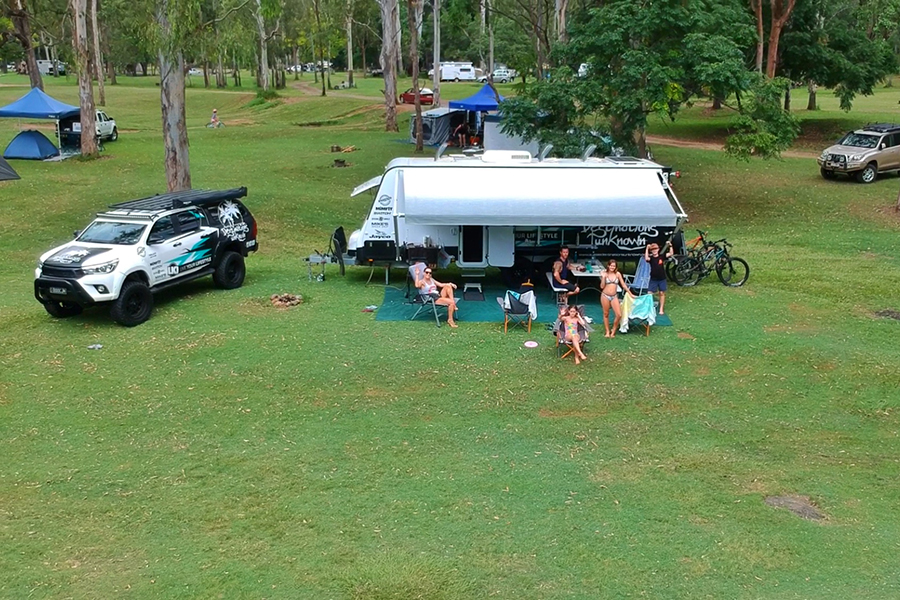 1. Bigriggen Park
Approximately 1.5 hours drive from Brisbane, you'll find the incredible Bigriggen Park. This beautiful park is surrounded by 100 acres of bushland and only a short drive to the scenic national parks nearby. This place has some fantastic amenities, offering unpowered and powered camping sites, a local store, and even hot showers, you will be sure to feel like you are home away from home.
Address: 196 Bigriggan Rd, QLD 4287
Phone: +61 (07) 5463 6190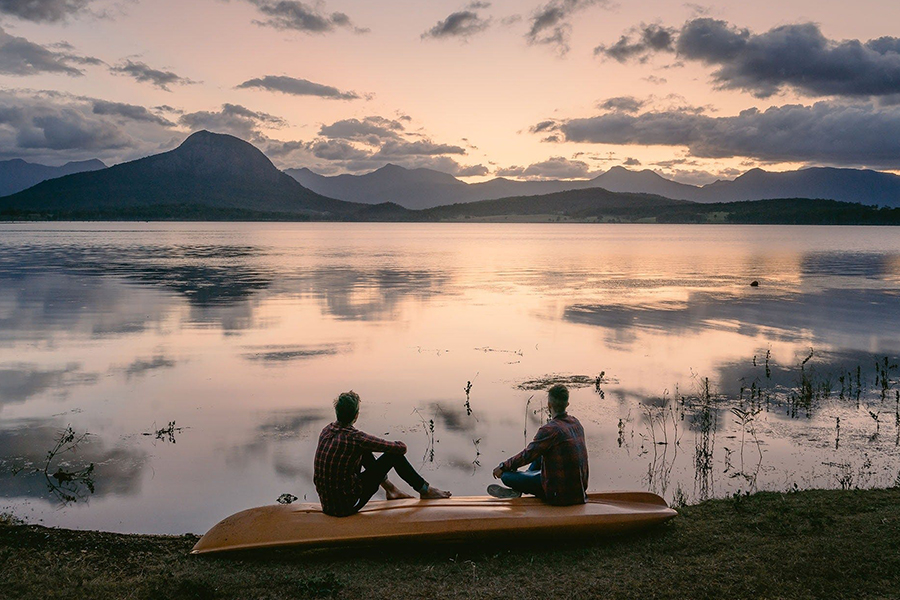 2. Lake Moogerah Caravan Park
For a relaxing weekend away, head to Lake Moogerah Caravan Park, a tranquil private campground situated right on the shores of the gorgeous Lake Moogerah and surrounded by rolling green hills. This camping spot is great if you love your water sports, with kayaking, paddleboards, waterskiing, and fishing right on your doorstep. There is also a large range of activities just a short drive away including a Lavender Farm, bushwalking, and local wineries.
Address: 1 Muller Park Rd, Moogerah QLD 4309
Phone: +61 (07) 5540 5600
---
Featured Video from Man of Many
---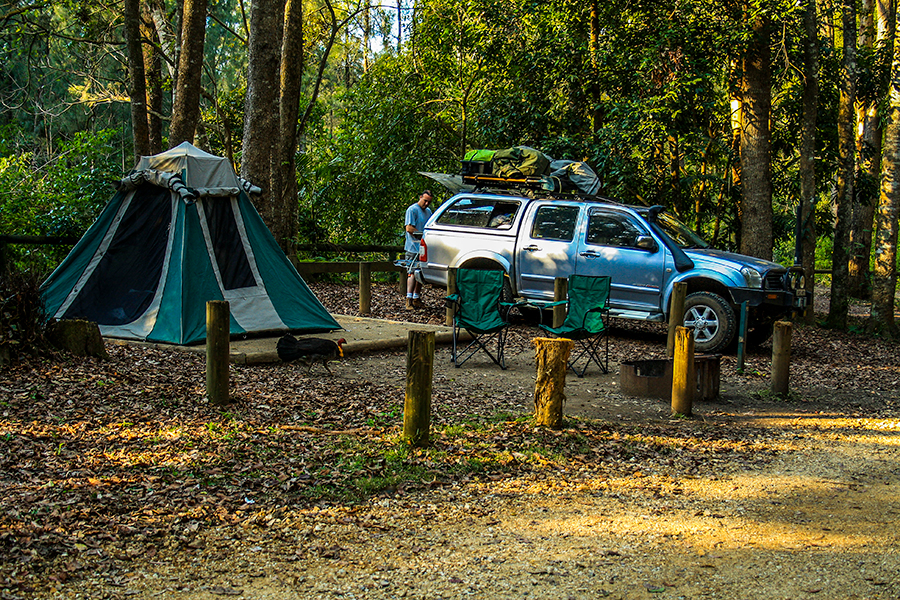 3. Conondale National Park
The Conondale Range Walk is a challenging 56km walk, getting up close and personal with the rugged natural features of the Conondale Range. There are three camping areas in Conondale National Park, two grassy campsites nestled in the dewy rainforest or a beautiful open forest site close to the mountain streams. Do check before you go, depending on your vehicle, as some sites are only accessible by 4WD.
Address: Conondale QLD 4552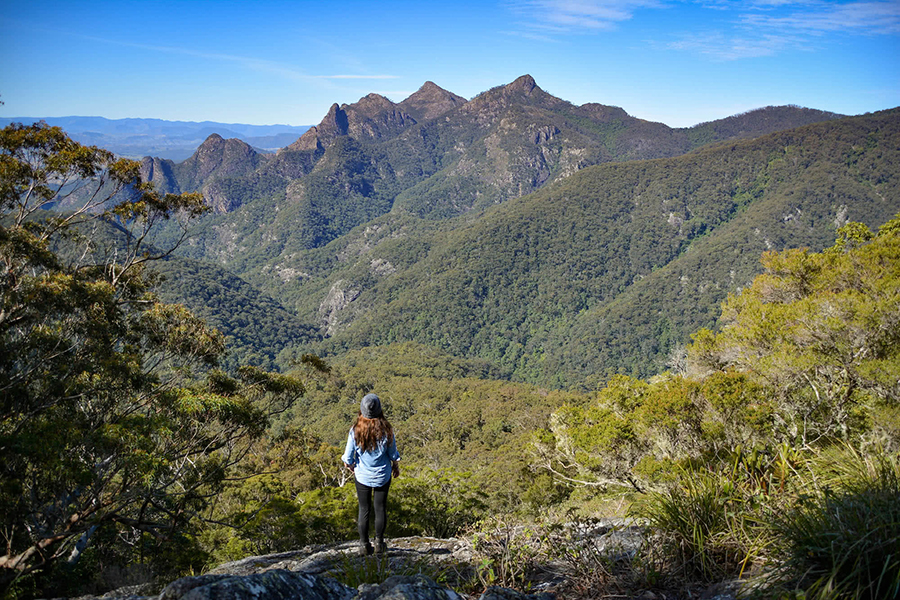 4. Mount Barney National Park
Mount Barney National Park is one of Brisbane's most picturesque camping getaways. Camped under the stars, the rugged rocky mountain peaks look amazing at sunset. For adventure lovers, take a trip to the summit of Mount Barney, a full day trek for experienced hikers. Or tackle the 1.5 hour Lower Portals track instead, where you'll be rewarded with a refreshing dip in the beautiful local swimming hole, underneath a stunning cascading waterfall.
Address: Burnett Creek QLD 4310
Phone: 13 74 68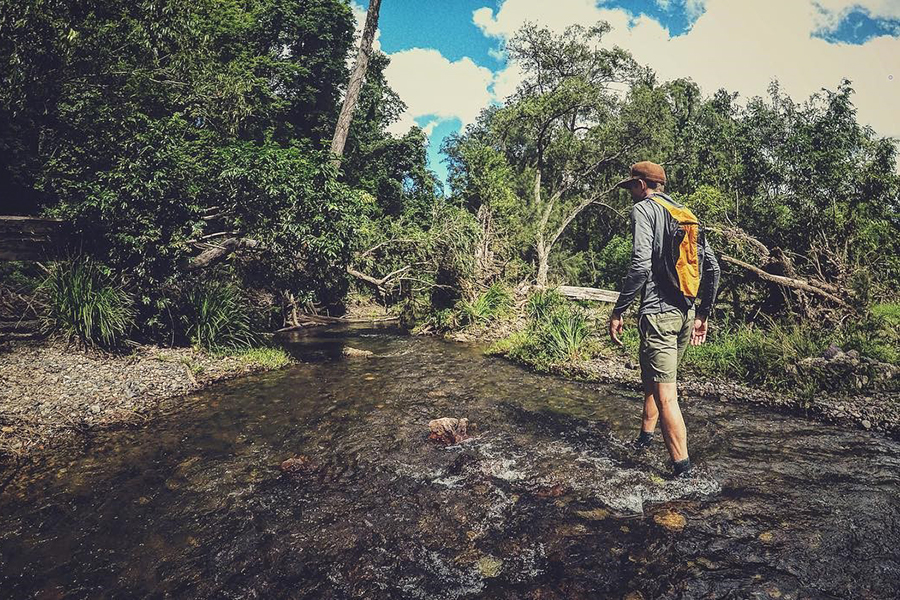 5. Cedar Grove Camping Area
Cedar Grove Camping Area is surrounded by dense forest and a small creek, so it's perfect for a weekend off-grid and away from the hustle and bustle of city life. Hike through the bird-filled forest or spend a day lazing by the creek, with less campers than some of the main tourists sites, you really can relax and make this place your own. Cedar grove is highly rated as one of the best camping spots near Brisbane and rightly so.
Address: Amamoor Creek Rd, Amamoor Creek QLD 4570
Phone: 13 74 68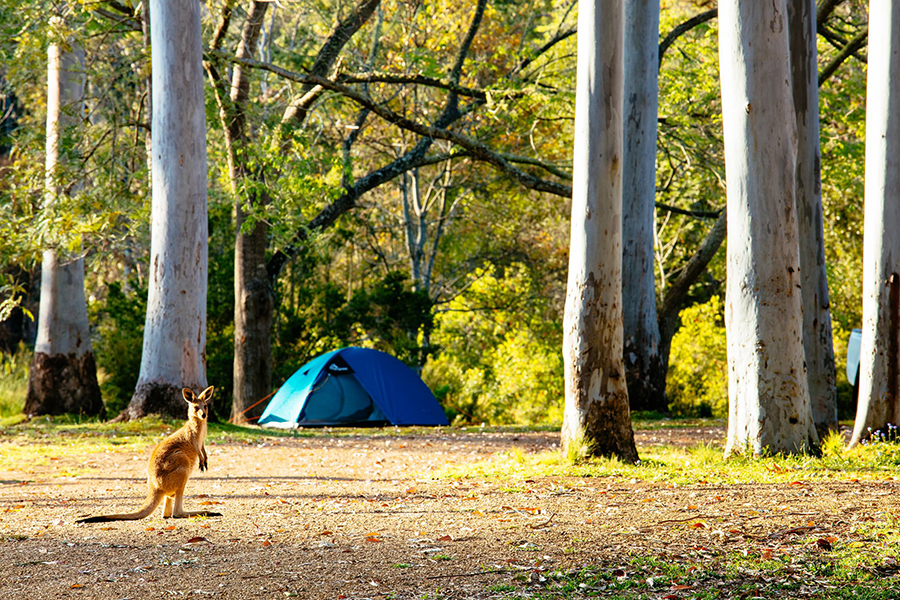 6. Peach Trees Camping Area
Only two hours from Brisbane, Peach Trees Camping is great for a relaxed weekend away with your mates. Kangaroos keep you company tent-side at dusk and a shared fire pit makes for a fun and vibrant camping experience. So grab a couple of beers and kick back by the fire, then hike off the hangover the next day with some gorgeous short local bush walks.
Address: Yabba Road, Jimna QLD 4515
Phone: +61 (07) 5446 0925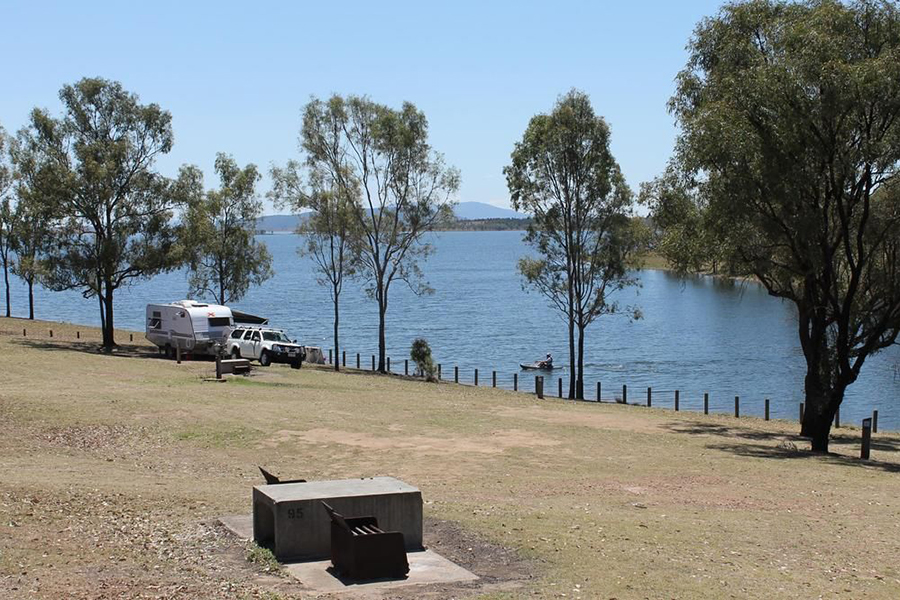 7. Lumley Hill Camp Ground
Located on the beautiful Lake Wivenhoe, Lumley Hill Campground caters to both families and large groups. Partake in canoeing and kayaking if camping by the lake or enjoy a more relaxing stay under the natural shade of the lush leafy vegetation further up the hill. Plenty of nature spotting to be done here, you'll see kangaroos, possums, and pelicans as well as a wide variety of native birds during your stay.
Address: Lake Wivenhoe QLD 4306
Phone: +61 (04) 2831 0740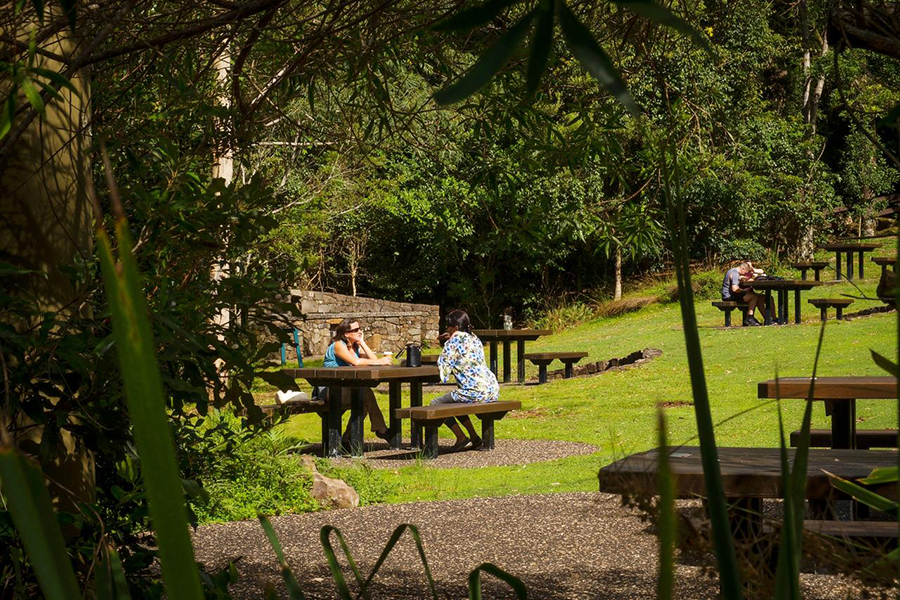 8. Lamington National Park
With ancient trees, spectacular views, and extensive walking tracks, Lamington National Park is perfect for an eco-conscious weekend getaway. The Australian World Heritage area is a protected piece of subtropical rainforest filled with copious amounts of unique flora and fauna. Here you'll find two campgrounds, a public site at the Green Mountains, and a private site at Binna Burra Mountain Lodge. Bush camping is also permitted except during December and January.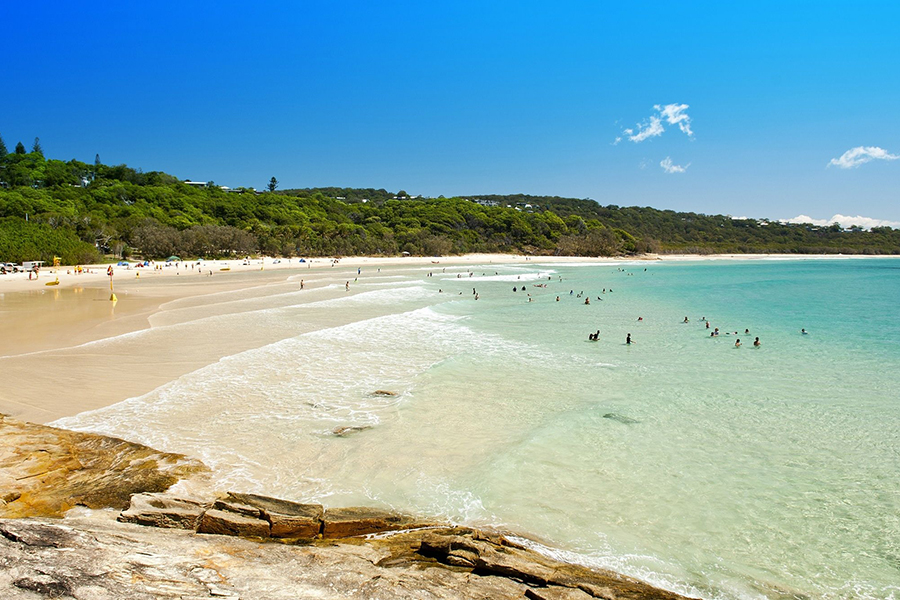 9. Cylinder Beach Camping Ground
For the perfect weekend getaway, drive 45 minutes to Cleveland and take the 45-minute ferry to North Stradbroke Island, where you'll discover the incredible Cylinder Beach Camping Ground. Here you can do everything, from surfing, cycling and hiking, and for the really adventurous, even scuba diving! This really is one of the best camping spots near Brisbane, as you can camp right on the beach and the views are second to none.
Address: 300 Dickson Way, Point Lookout QLD 4183
Phone: +61 (07) 3409 9668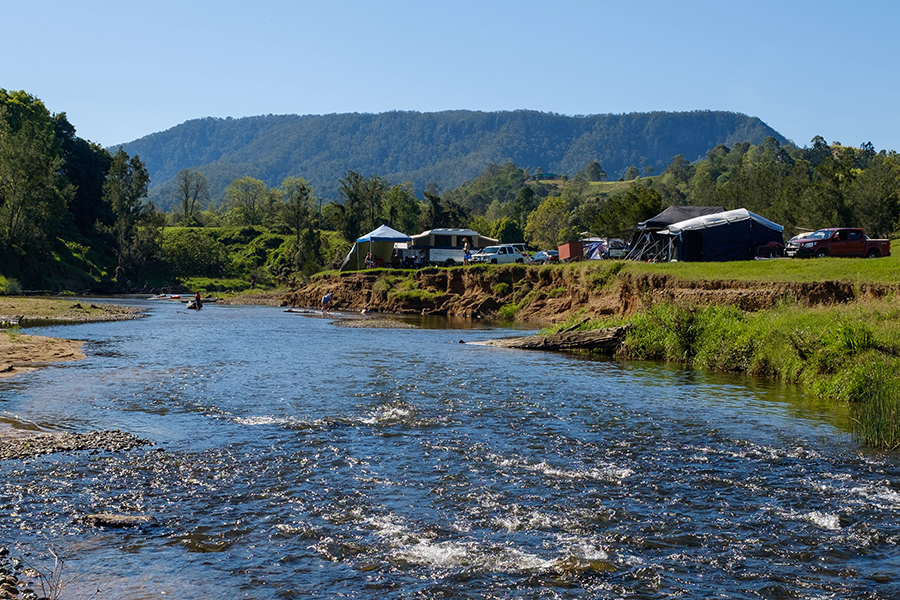 10. Kenilworth Camping
Kenilworth Camping is a must-visit camping spot for families and for short getaways. Located on a picturesque 580-acre dairy farm, right on the banks of the Mary River, the property is full of non-powered camping spots and campfires and dogs are permitted. Try to spot a platypus in the Mary River, which with its beautiful pristine waters is also a great spot for swimming and kayaking.
Address: 18 Paulger Rd, Kenilworth QLD 4574
Phone: +61 (04) 5517 6240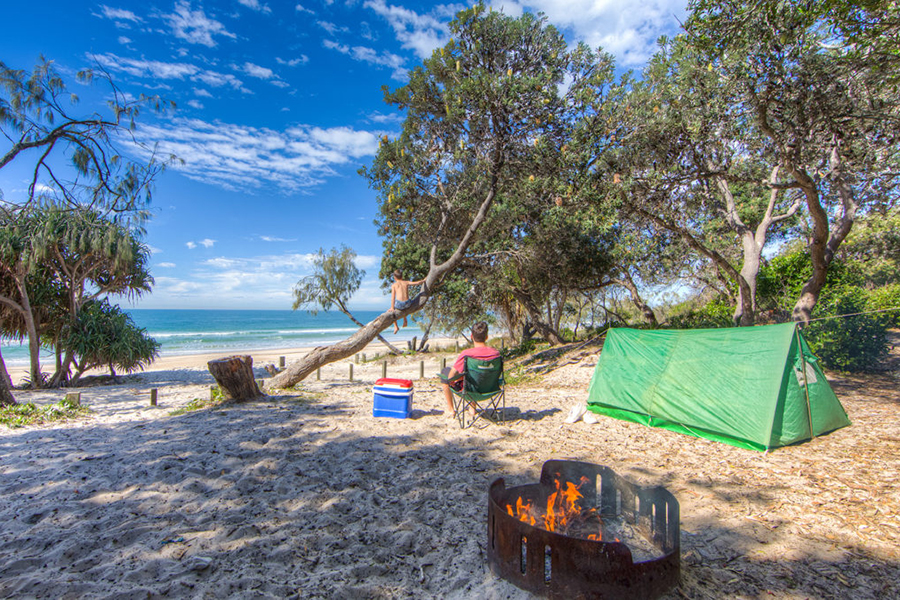 11. Bribie Island National Park and Recreation Area
If you are looking for remote or secluded camping spots around Brisbane, look no further than Bribie Island. Bribie Island National Park offers a range of great beachside camping spots. Though be aware that most require 4WD access or are only accessible by boat. There are many camping sites to choose from including Poverty Creek, Ocean Beach, and Mission Point. There's plenty to do here, why not try your hand at the local water sports in the Pumicestone Passage or relax with some swimming, fishing or kayaking.
Address: White Patch Esplanade, Bribie Island QLD 4507
Bribie Island National Park and Recreation Area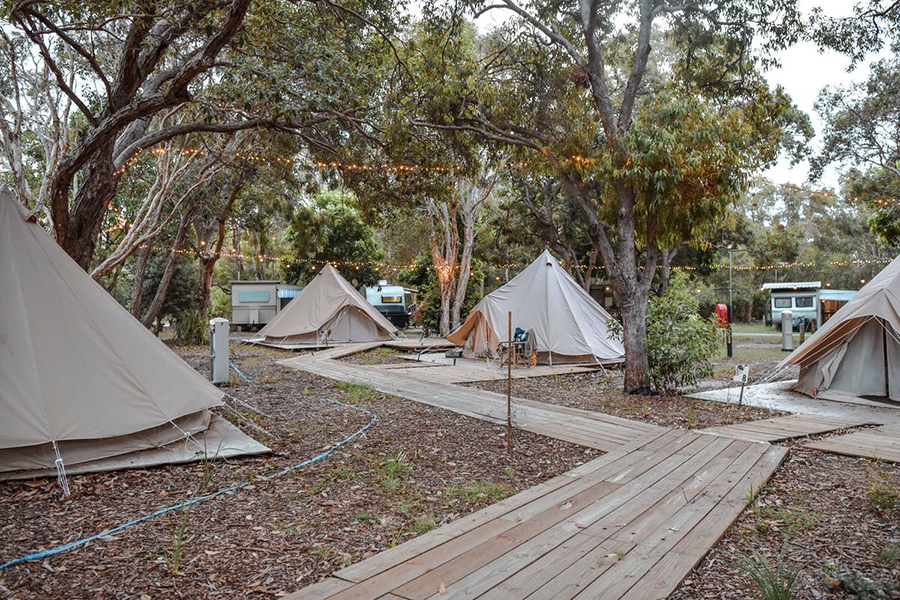 12. Minjerribah Camping
Minjerribah Camping is situated on North Stradbroke Island and is accessible by either Vehicle Ferry or Water taxi from Cleveland. Here you'll see nature at it's finest, with island delights such as koalas, flocks of pelicans, and dolphins playing in the waters. Activities include scuba diving & snorkeling and paddleboarding. Or for something a bit different check out the day spa, art studio, or local heritage museum.
Address: Dunwich, 1 Junner St, North Stradbroke Island QLD 4183
Phone: +61 (07) 3409 9668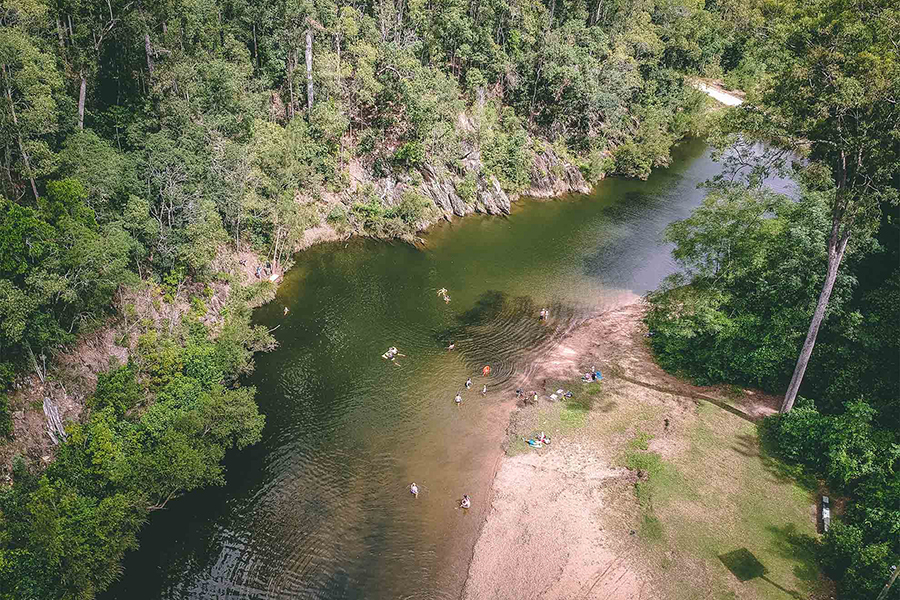 13. Charlie Moreland Camping Area
Be at one with nature at Charlie Moreland Camping Area, a lovely rustic little campsite on the edge of Conondale National Park. This spacious camping spot is full of local birdlife and you can climb Mt Allan, which is a rewarding 8.8 km hike for beautiful panoramic views over the mountain ranges. For a mid-range walk take a stroll to Booloumba Falls or to the charming nearby town of Kenilworth, which is home to an incredible award-winning cheese factory!
Address: Sunday Creek Rd, Kenilworth QLD 4574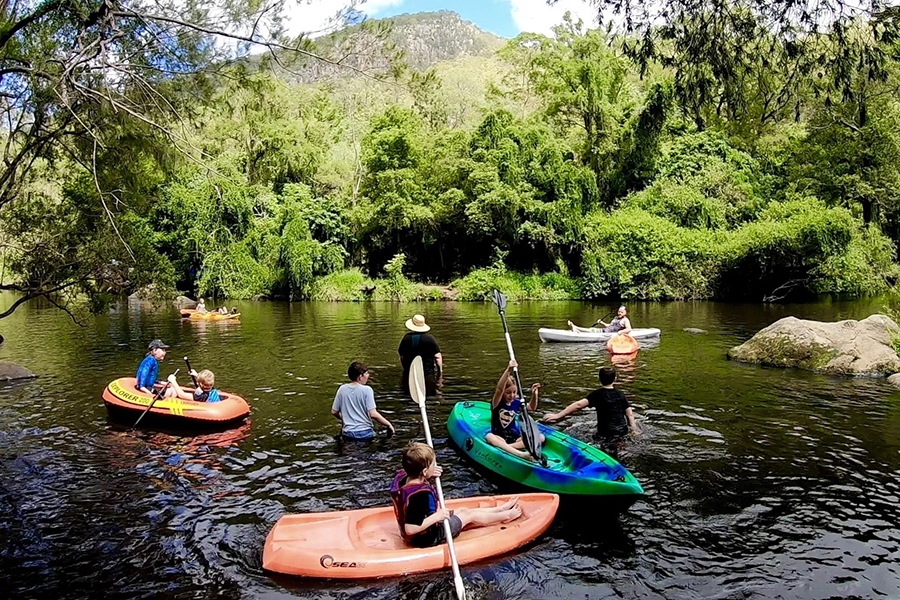 14. Yarramalong Park
Located along Reynolds Creek, Yarramlong Park is one of the best bush camping sites around Brisbane. Reynolds Creek is fantastic for swimming, kayaking, and fishing, or take one of the local bushwalks and spot the local wildlife including koalas, wallabies, possums, and bilbies. Perfect short walks for all the family.
Address: 688 Lake Moogerah Rd, Charlwood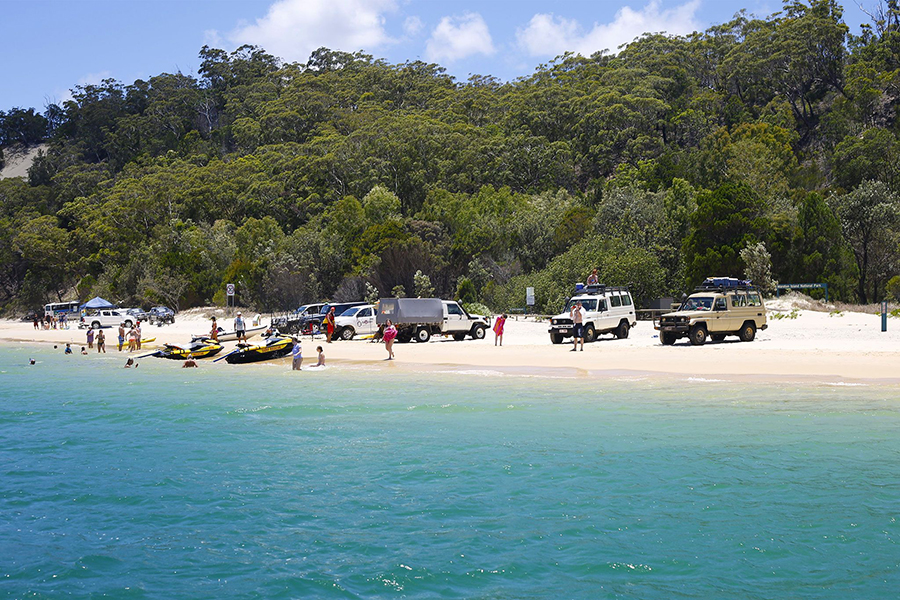 15. Comboyuro Point camping area
For crystal clear creeks and beautiful lagoons take a trip to Comboyuro Point camping area at Moreton Island – which is a 40km ferry from Brisbane. The vast rocky headlands are juxtaposed with abundant wildflowers and miles of sandy beaches. Humpback whales can even be seen from Cape Moreton at certain times of the year. This is a jewel of an area to discover and is home to one of the best camping spots near Brisbane!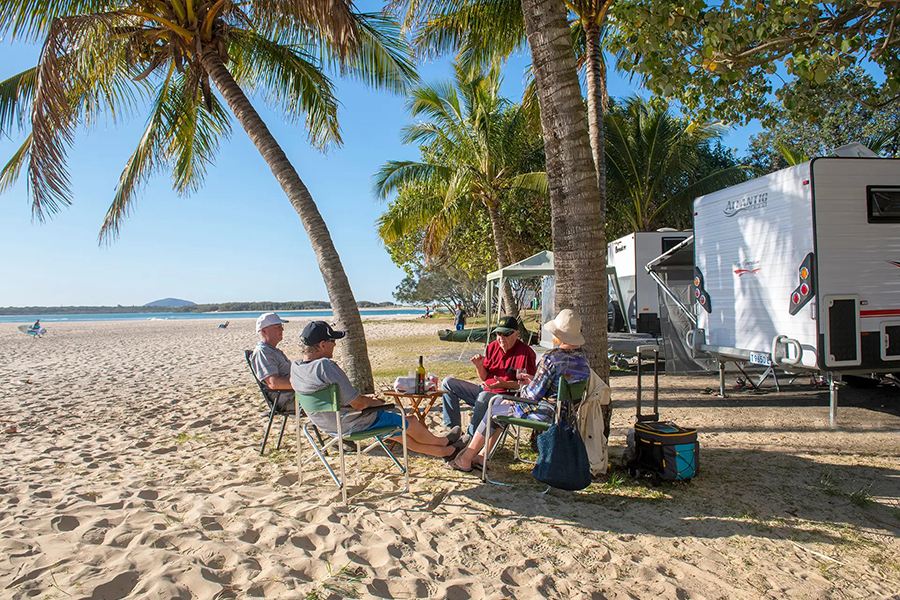 16. Cotton Tree Holiday Park
Cotton Tree Holiday Park, is heralded as 'two holiday destinations in one', with both direct access to the Maroochy River as well as the stunning Maroochydore Beach. Surf the beach waves or head to the river for windsurfing or sailing. This holiday park has so much to do, take the kids to the Cotton Tree swimming pool complex or dine at one of Cotton Tree's incredible local cafes or restaurants, well known for using the stunning local produce.
Address: Cotton Tree Parade, Maroochydore QLD 4558
Phone: +61 (07) 5459 9070
This Handy Car Awning Deploys in Just 3 Seconds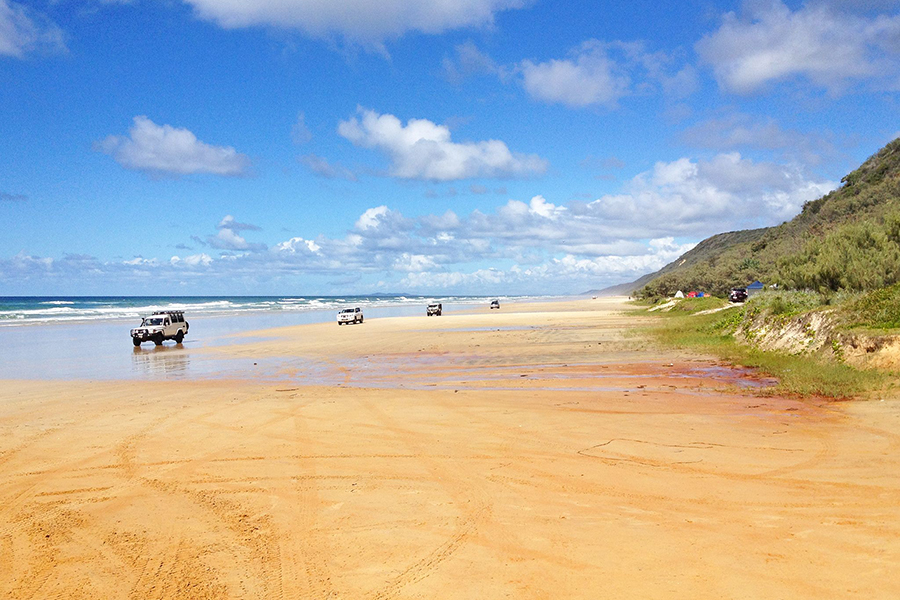 17. Great Sandy National Park
For the ideal camping escape, head to the sandy banks of Tin Can Bay. Here you'll find Great Sandy National Park, one of the best camping spots near Brisbane as it's jam-packed full of activities all year round, such as fishing and boating (when the tide is high you can even fish from the camping area!) Here you can try your hand at more unique activities such as yabby pumping and sailing.
Address: Cooloola QLD 4581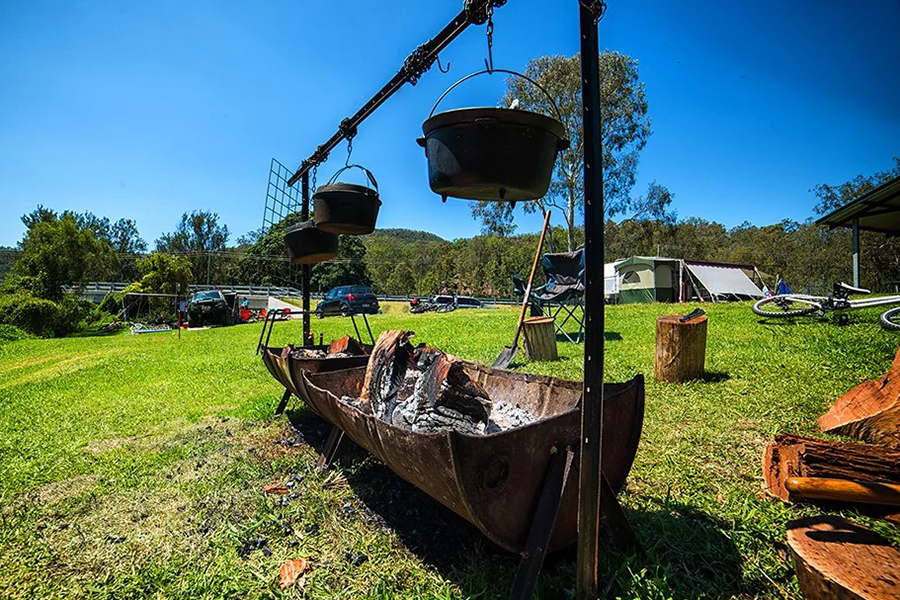 18. Darlington & Burgess Parks Camping Grounds
Just over an hour from the city, Darlington and Burgess Parks Camping Grounds are perfect for some much-needed R and R. Want to take the little ones? The campgrounds are super kid-friendly and you're in the perfect location to explore Lamington National Park and Lost World Valley. Camping during the school holidays? You'll find an excellent range of activities for kids and there's an onsite playground all year round.
Address: 2505 Kerry Rd, Darlington QLD 4285
Phone: +61 (07) 5544 8120
Darlington & Burgess Parks Camping Grounds
General FAQs
Where is the best camping near Brisbane?
Within 2 hours from Brisbane, you'll find a multitude of different spots for a weekend getaway, including beach, river, and bush camping.
Where is the best free camping in QLD?
A great free campsite in QLD is Lake Somerset Holiday Park. The area is free to camp but some facilities do include a small fee.
Where is the best campground near Brisbane for one night?
Darlington & Burgess Parks Camping Grounds and Bigriggen Park are both within 1.5 hours drive of Brisbane and are perfect spots for an overnight stay.
You'll also like:
---
Featured Video from Man of Many