2023 Fiat 500e Review: Australian Launch
With my penchant for quirky Italian hatchbacks, the all-electric Fiat 500e was always going to be one of my most anticipated cars of the year. Claiming a range of 311km WLTP from its 42kWh high voltage lithium-ion battery pack, when it was announced it had almost double that of the previous electric MINI hatch.
This excitement was echoed by the loyal customer base in Australia that placed 30 orders for the AUD$52,500 plus on-road costs car before they even hit the showrooms.
While it costs nearly double the base-spec petrol Fiat 500 'Dolcevita' (AUD$27,220 plus on-road costs), the car ticks all the boxes. However, things move fast in the EV world and because it took Stellantis almost three years to bring the 500e down under, they revealed the car to Aussie media the week after the new Mini Cooper Electric made headlines at the Munich Auto Show with up to 400km of range.
If we fold the plethora of Chinese-made EVs that you can get for under AUD$40,000 into the equation, the question begs "Does the Fiat 500e pull on your heartstrings enough for you to forgive its shortcomings?" I attended the Australian media launch to put this EV nugget to the test.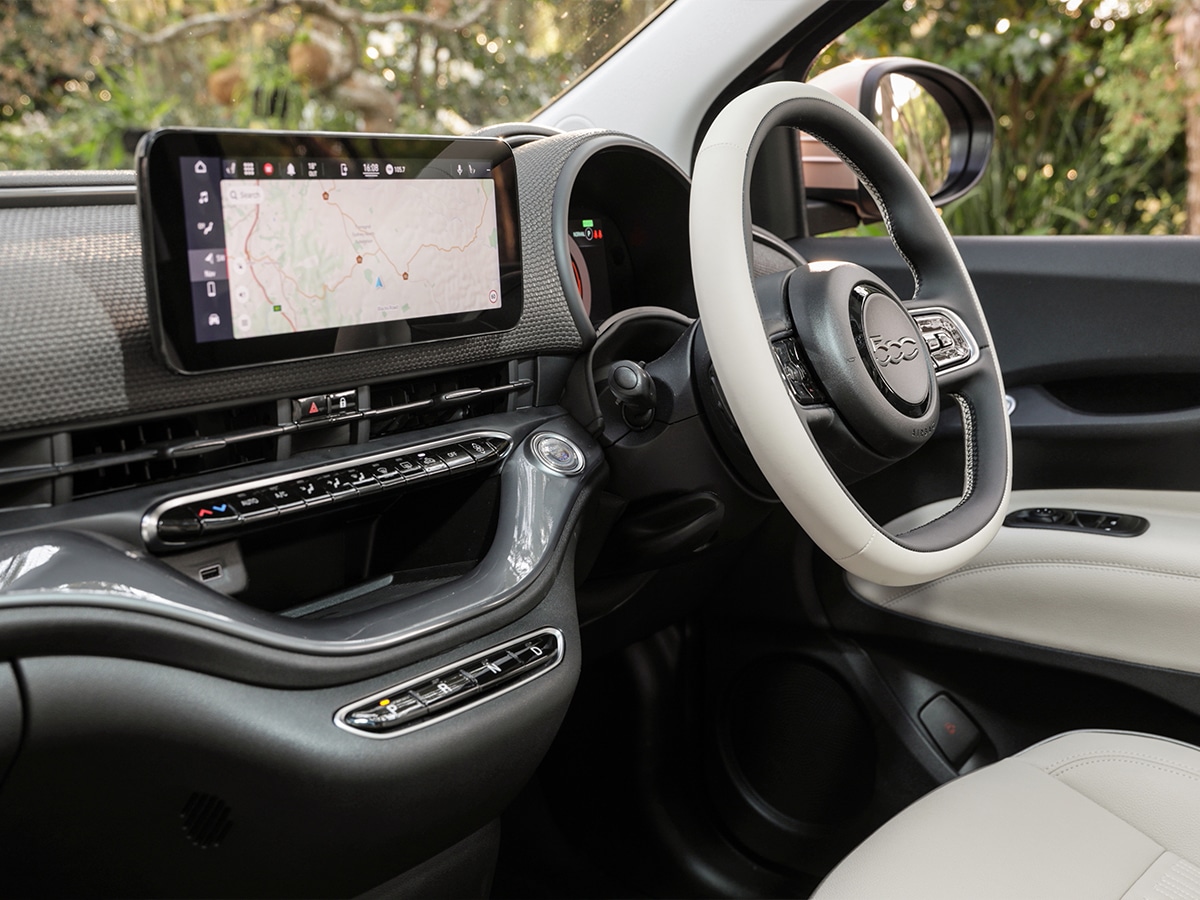 What's the Fiat 500e Like on the Inside?
Step inside the Fiat 500e and you'll be swept by nostalgia. I love the two-spoke steering wheel and rounded cluster that make a clear connection to the original 1957 Fiat 500. Inside this round cluster, you'll find a 7-inch TFT full digital readout that's clearer and offers more functions than something out of the traditional Stellantis parts bin i.e. Jeep Compass.
The integration of scrolling volume and drive mode buttons on the centre console are a neat touch. Also, the physical climate control buttons that sit just below the infotainment screen.
Materials are a mixed bag. Scratchy, hard plastics are found at eye level while the standard manually adjustable ice-beige eco-leather seats are heated, and comfortable, and they even have a FIAT logo monogrammed into them.
The same goes for the woven dashboard finisher that offers shades of Polestar 2. It's premium enough for the price, just.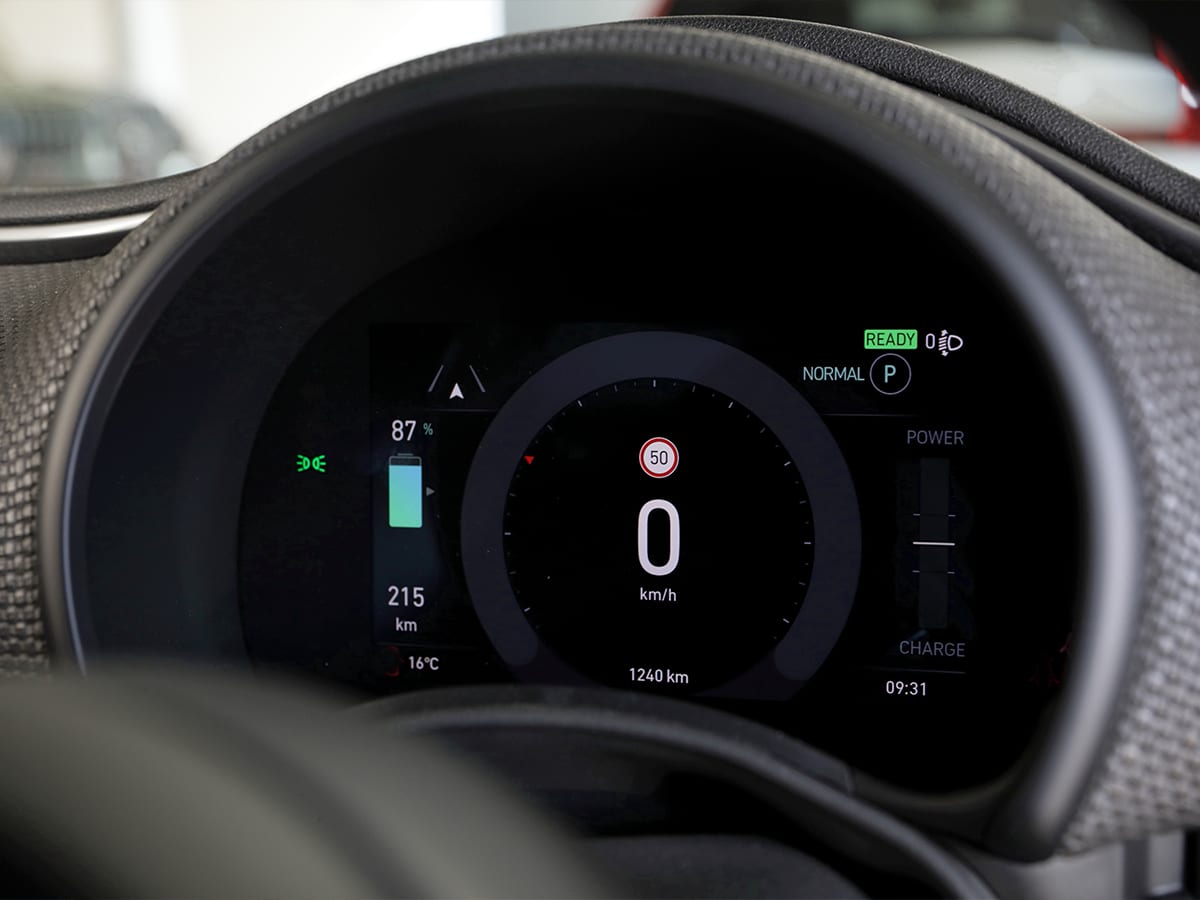 What I'm less excited about are the electronic door buttons. Not once in my life have I looked at a door handle and thought "too hard". Also, as the car has been stretched, the windows are unusually gigantic (which I love) but the doors follow suit and make vehicle ingress/egress difficult in car parks.
The same goes for the six-speaker unbranded sound system that makes no effort to sound particularly great with any genre of music. Some fine-tuning through the equaliser fixed this a little, but it's a lack-lustre system for a nearly $60,000 car.
Space in the front and the rear of the vehicle is also at a premium, but as long as you're under 6'2″ you'll fit comfortably. Unfortunately, the batteries and flat floor haven't helped with seat height.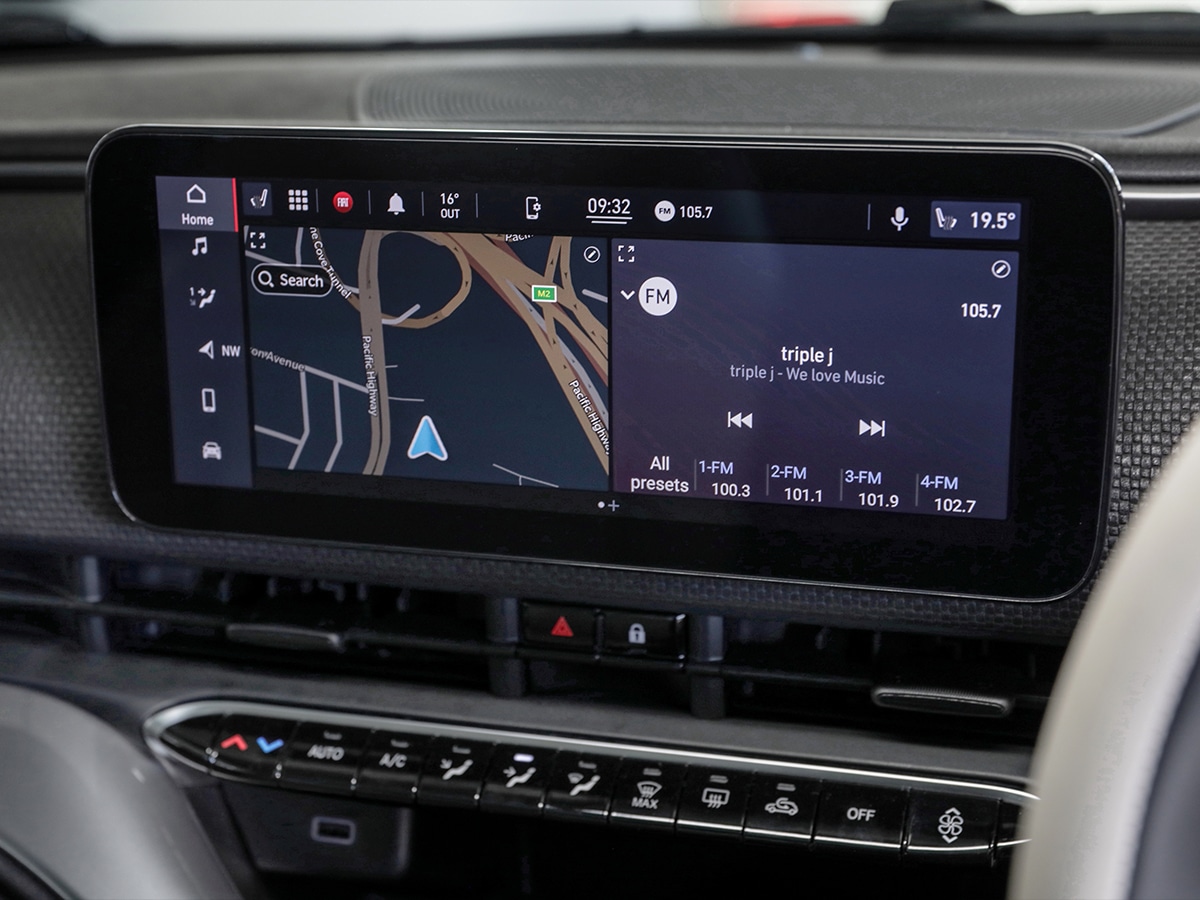 How Big Are the Screens?
Infotainment is taken care of by a 10.25-inch tablet that responds swiftly and offers wireless Apple CarPlay and wireless Android Auto.
A wireless charging pad is also included front and centre with the skyline of Turin detailing showcasing the location in which the car was built.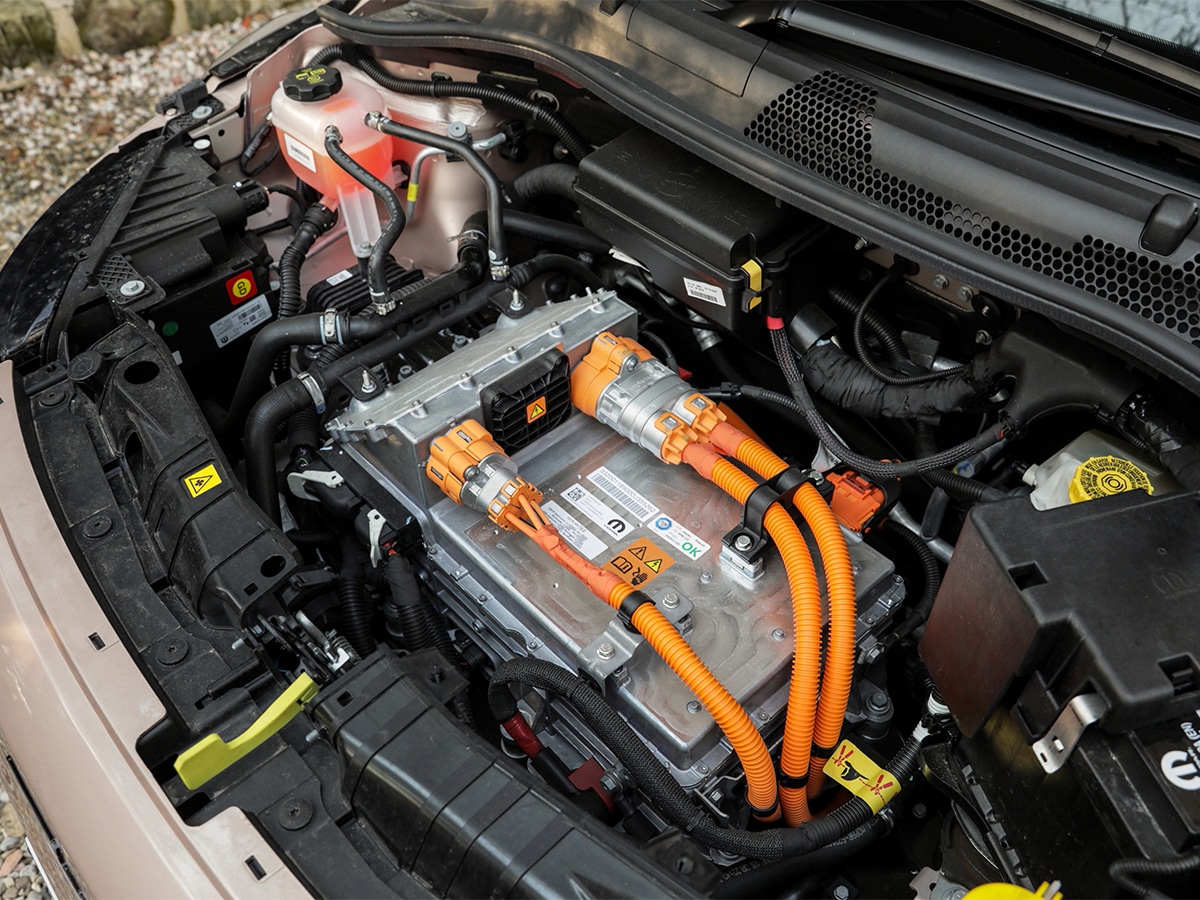 What Powers the Fiat 500e?
The Fiat 500e is powered by an 87kW front-mounted electric motor that's supplied by a 42kWh lithium-ion battery. This helps the car accelerate from 0-100km/h in 9.0 seconds.
It's not the most powerful electric vehicle on the market, but it feels quicker than it sounds on paper. You'll have no trouble accelerating to 60km/h with anger.
To fit the battery pack, the length (+56mm) and track (+61mm) of the Fiat 500e have been increased over the standard car, but this has a negligible effect on the handling characteristics of the car.
It's also at this point I'll mention the entire 500e chassis is a bespoke unit, made from 96 per cent new parts. This is not a standard Fiat 500 that's been pulled and stretched to fit a battery. It's a completely new and bespoke platform that isn't shared with any other Stellantis product.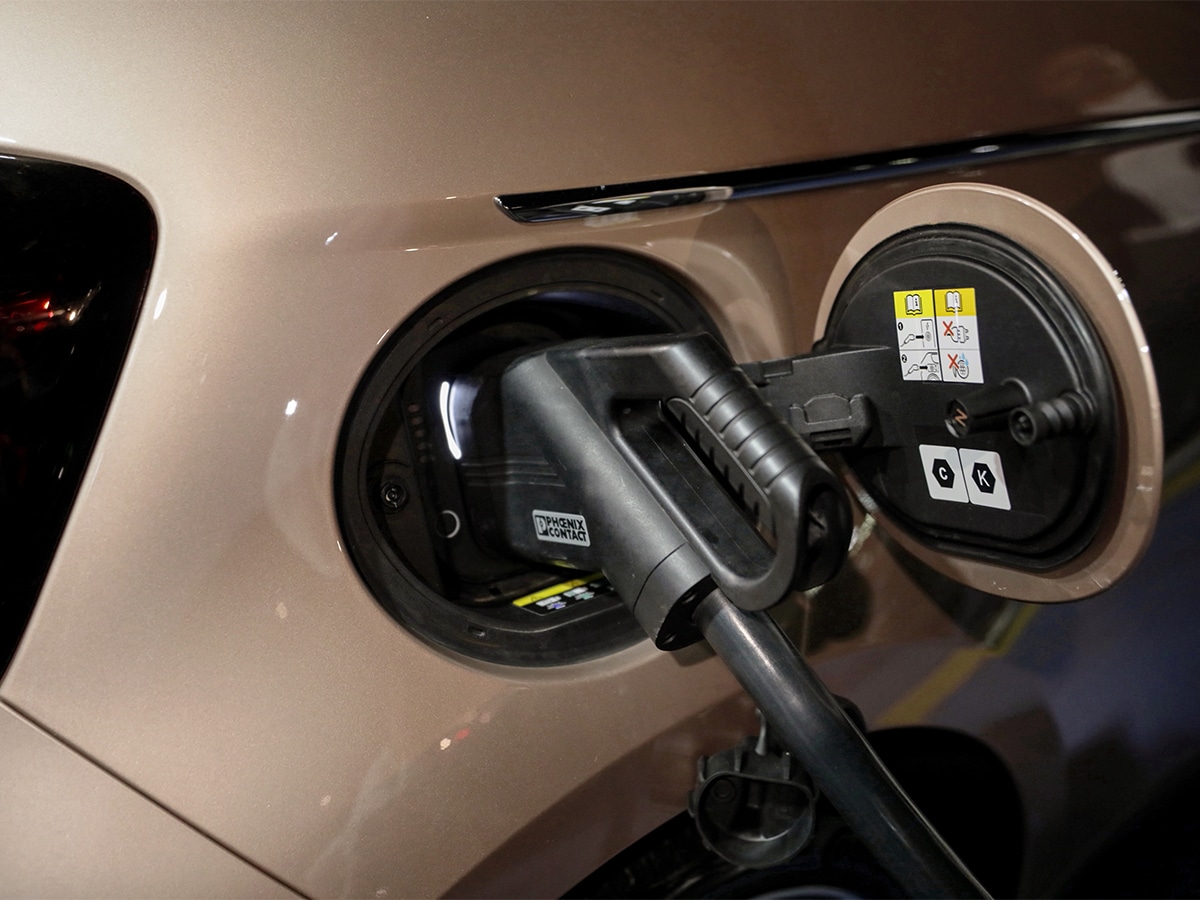 Does it Have a Good Range?
With 311 kilometres of range from the 42kWh lithium-ion battery, it's about average for vehicles with this size battery. However, you can now buy EVs like the MG4 Excite (AUD$44,990 plus on-road costs) which has a range of up to 450km from a much larger 64kWh battery.
As I've always said with EVs, you want to knock about 100km off the total claimed range to understand how much real-world range you'll actually get. The same goes for the 500e and with 98 per cent charge in the battery we saw 250km of range displayed before we even started driving.
If it's a cold day and you're running the heater, expect these numbers to fall even further. It's not a problem limited to the 500e, but more range equals more headroom. At least you can see just how much power you're sapping out of the battery through the car's efficiency screen.
How Can You Charge It?
The Fiat 500e can charge at a maximum DC fast-charging rate of 85kW that's capable of filling the 42kWh lithium-ion battery from 0-80 per cent in 35 minutes. Due to the size of the battery, you could feasibly top it up overnight with a 240v wall plug if your commute is less than 60km per day.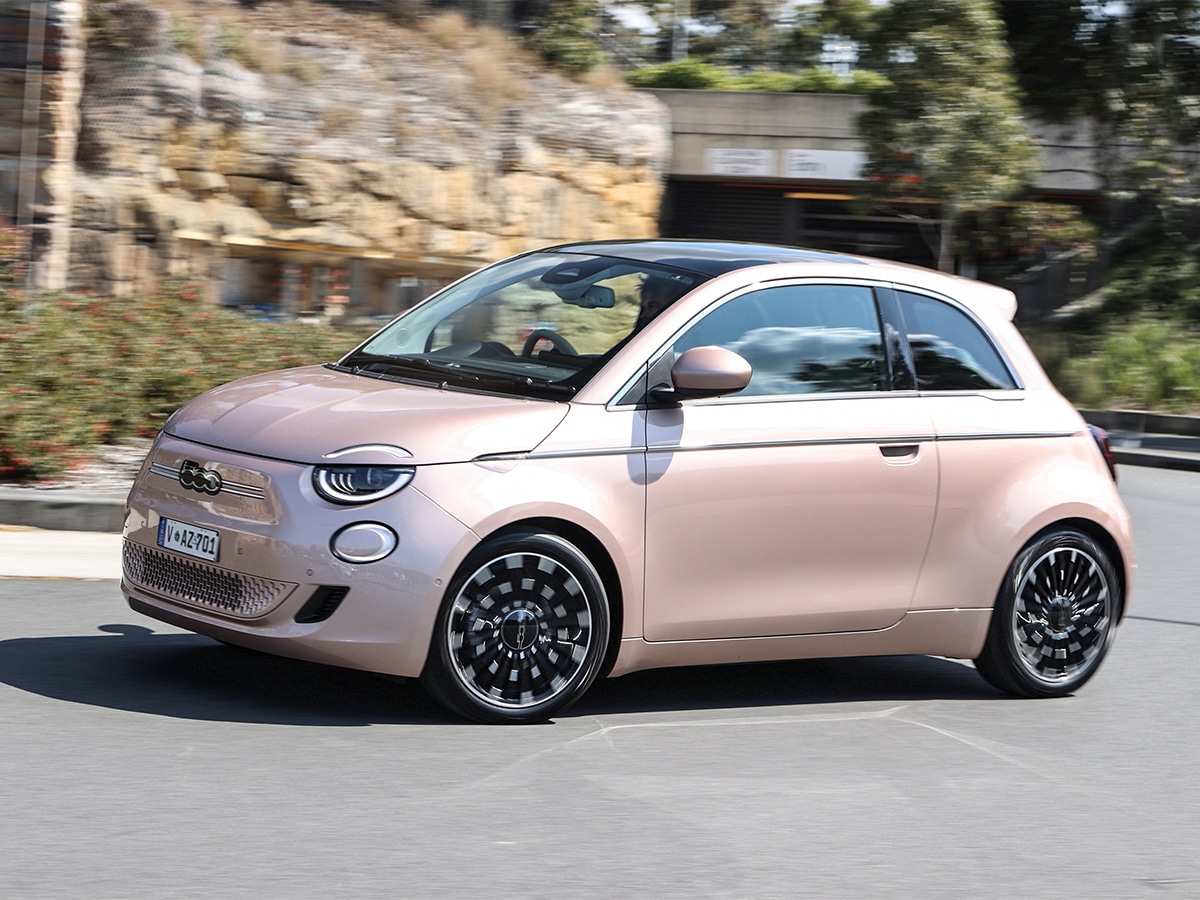 How Does the Fiat 500e Drive?
Quick, nimble, and sharp is how I'd describe the driving experience in the 500e. It's exactly what you'd expect on paper and even though the car has added 400kg of weight to the chassis, it's nice and low down so the centre of gravity hasn't been ruined.
Of the three driving modes on offer – Normal, Range and Sherpa – you'll want to use 'Range' mode which adds one-pedal regenerative braking to the equation to conserve range.
'Sherpa' mode is best reserved for extreme situations where you forget to plan a charging station top-up. You won't want to use this around town because the top speed is limited to 80km/h (usually 150km/h) and it also switches off the HVAC system.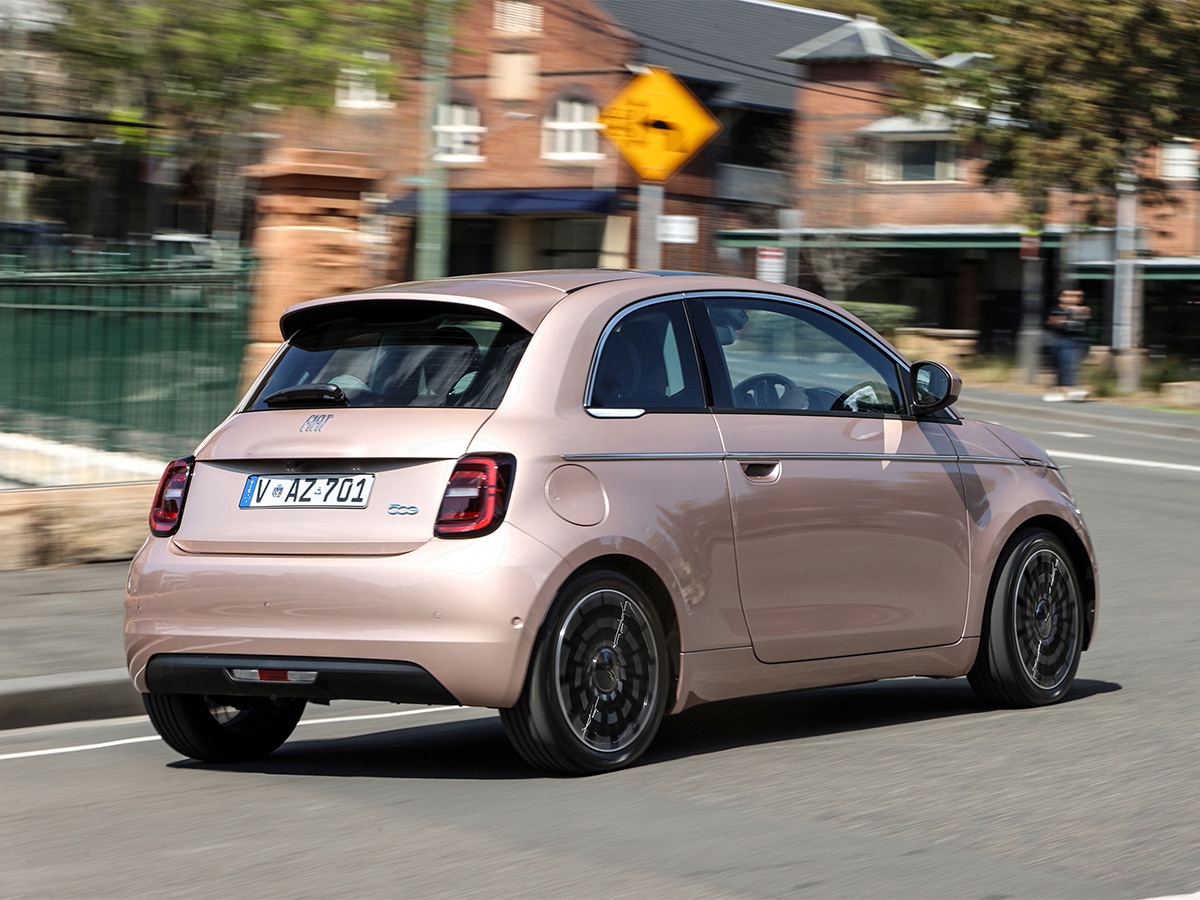 The suspension does a good job of soaking up bumps for the primary ride, but as soon as you hit a sharp dip in the road or even a speed bump, the secondary ride is uncomfortable and your passenger will get a sore head from bumping their noggin on the roof if they're tall.
Of course, none of this is much of an issue if you plan on using this as your daily commuter where the only roads you'll be 'attacking' are the highways and motorways around major cities. However, you're paying a premium price for the looks, because there are better, more comfortable EVs for less money.
If you're looking for a sporty driving experience, we recommend holding off for the Abarth 500e that's just been announced and priced from AUD$60,500 plus on-road costs.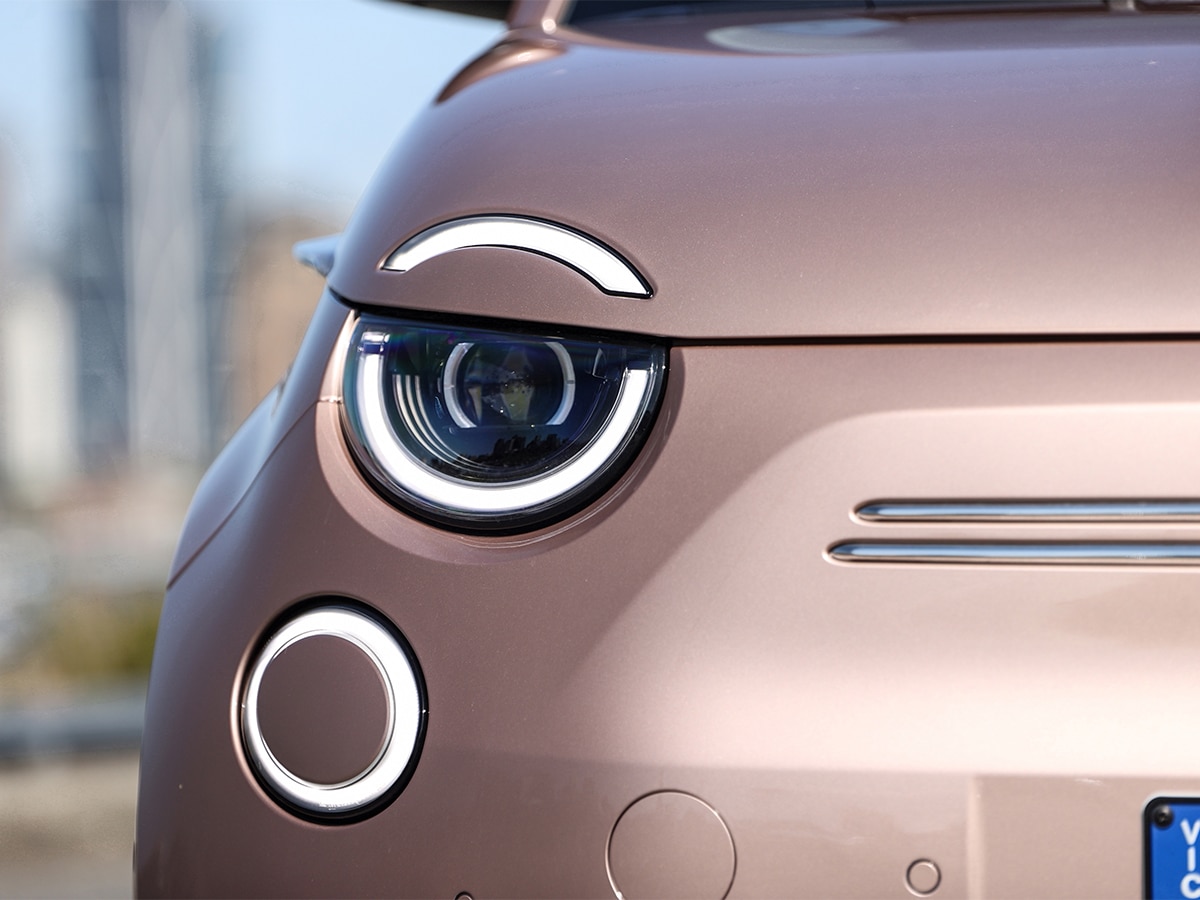 Is the Fiat 500e Safe?
The brand knows the 500e will have its work cut out in the urban environment. As such, it's included an all-new regenerative braking system, Adaptive Cruise Control (iACC), Lane Centring (LC), rear-view parking camera and blind spot monitoring.
However, this only achieved a four-star ANCAP safety rating based on testing conducted by Euro NCAP in 2021.
It misses out on additional safety features found on cheaper Chinese-made EVs such as the MG4, including but not limited to rear cross-traffic alerts, centre airbag, and reverse auto braking.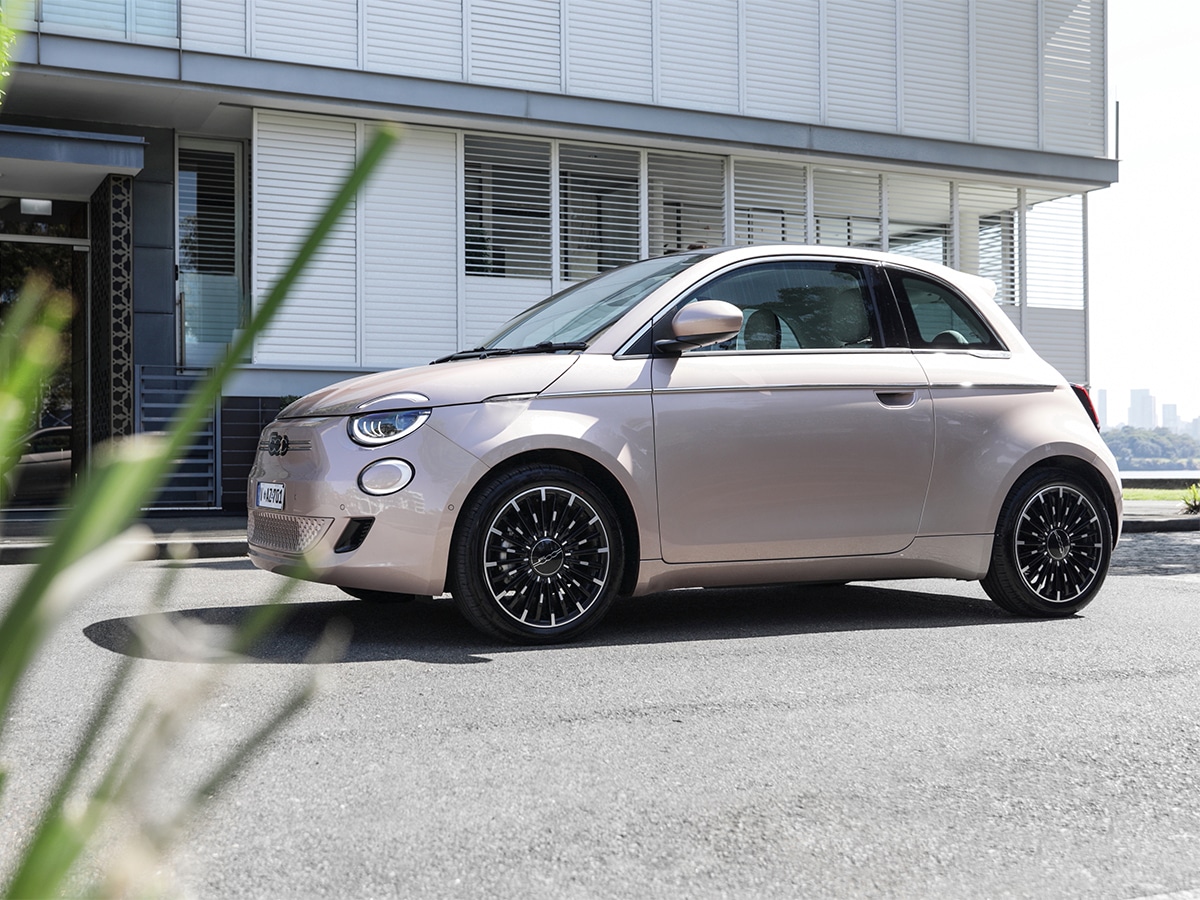 Man of Many's Verdict on the Fiat 500e
The charm of the 2023 Fiat 500e is more than skin-deep. It's a small EV that offers a good range for its size and a price that's fair for this market. Maybe the only real glaring knock to the car is a three-year, 150,000-kilometre warranty that exists in the era of seven-year unlimited KM warranties.
You'll also miss out on the range, power, and charging capabilities that Chinese EVs offer for less money, but they're about as interesting as a fridge and until the new Mini Cooper Electric makes its way down under this is truly a one-of-a-kind vehicle.
If you're looking at buying a 500e, your mind is probably already made up, but if you have a few extra pennies to spare on the Abarth 500e that's just been announced (priced from AUD$60,500 plus on-road costs) it will give you that extra fizz you might be looking for.
Priced from AUD$52,500 before on-road costs, the new Fiat 500e is available in one 'La Prima' hatch trim and six colours (Ice White, Onyx Black, Ocean Green, Mineral Grey, Rose Gold, Celestial Blue). You can check it out for yourself in nine Australia showrooms across Australia right now.
2023 Fiat 500e La Prima Standard Features
Exterior:
17" diamond-cut alloy wheels
Full LED Infinity headlamps
LED daytime running lights and rear lamps
Panoramic fixed glass roof
Chrome exterior accents including chrome aluminium liner on side and chromed DLO moulding
Interior:
Ice beige eco-leather seat trim with FIAT monogram & door panel
Bi-colour soft touch steering wheel
Premium woven dashboard finisher
50:50 split rear seats
6-way manual adjusting front seats
Heated front seats
Branded floor mats
Kick plate
Centre armrest and closed centre console
6 speakers
Features:
Blind spot monitor
Front & rear parking sensors
Rearview camera
AEB (VRU) + TSR/ISA + LSS + DAA
Tyre pressure monitoring system
7" TFT instrument cluster
10.25" infotainment with DAB and wireless Apple Carplay & Android Auto
Keyless Entry & Keyless Go
Climate control
Privacy glass
2 USB ports (A+C)
iACC with Lane Centering & Traffic Jam Assist
Auto-dimming rearview mirror
Wireless charging pad
Auto headlamps, high/low beam and wipers
Automatic wipers
e-Powertrain:
You'll also like: