2023 Ford Everest Platinum Review
I've enjoyed every moment I've had in the new-gen Ford Ranger this year, so I was really looking forward to getting behind the wheel of the new-gen Ford Everest. In its Platinum guise, the Everest is more 'luxury SUV' than the rugged badge would leave you to believe, there's a leather-wrapped interior amongst all the creature comforts you could poke a stick at.
Of course, I wanted to challenge just how far the 21-inch alloys would limit its ability off-road. My adventure for the weekend featured a mixture of very light offroading with some proper city miles, giving the Everest the chance to prove that even in its luxurious guise, it's still an Everest under the skin.
Related: Ford Ranger Raptor Baja 1000 Desert Racer Detailed
2023 Ford Everest Platinum at a Glance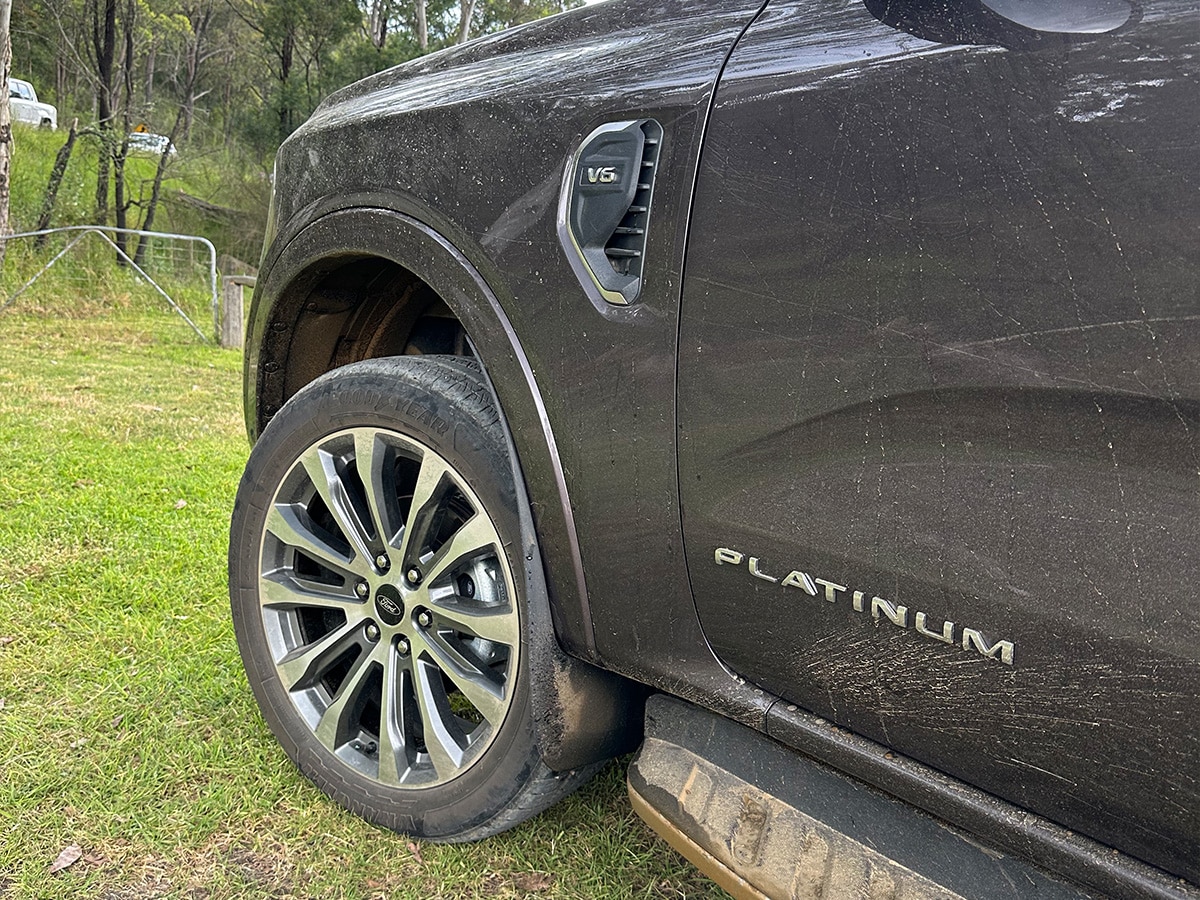 What Powers the 2023 Ford Everest Platinum?
| | 2023 Ford Everest Platinum Performance Figures |
| --- | --- |
| Engine | V6 turbo-diesel |
| Power | 184kW @ 3250 rpm |
| Torque | 600Nm @ 1750 rpm |
| Acceleration | 0-100 km/h in 8.4 seconds (as tested by Performance Drives) |
As I mentioned in my round-up article detailing the full Ford Ranger lineup for this model year, the new Ford Everest receives the turbo-diesel V6 just like the Ranger. Sadly, there won't be a Raptor variant of the Everest anytime soon with the Bronco Raptor representing the closest thing in the Ford stable, albeit unavailable in Australia.
It's a well-known secret that while the 400HP Raptor is a riot of a vehicle, the V6 diesel is the sweet spot for adventure touring. The turbo-diesel is no slouch either, with 184kW of peak power at 3250rpm and 600Nm of peak torque between 1750 and 2250rpm. Lower ends of the range receive the reliable and proven 2.0-litre Bi-Turbo diesel engine found in the previous Ranger and Everest, it's the choice for those looking for the most fuel-efficient model. In my time with the Everest I average just over 10 litres per 100km.
All engines are backed by a 10-speed automatic transmission, a gearbox that's had its issues in the past, but one I've come to appreciate as Ford has refined it over the years.
Related: 2022 Aston Martin Vantage F1 Edition Review
How Does the New Ford Everest Platinum Drive?
The engine and gearbox combination works a treat. While there are 10 gears for the box to climb through, it's more than happy as you accelerate away from traffic lights and intersections. It never hunts for gears when you're merging in traffic thanks to the wave of torque that's achieved so low in the rev range. Plant your foot and there's a small pause before it happily kicks down a few gears.
You'll only manage to upset the gearbox when slowing down in traffic before quickly speeding up again. In my testing, it would confuse the slowing down with stopping and the brisk acceleration would cause the box to jump around a few gears unnecessarily. It's no deal breaker, but it's present and a fact of life when you're dealing with 10 gears.
The good news for Platinum buyers who are also looking to take their car offroad is that Ford is willing to swap the giant 21-inch wheels for an 18-inch all-terrain tire and wheel combo for no cost. I'd recommend simply buying a second set of steelies for offroad driving with some aggressive rubber.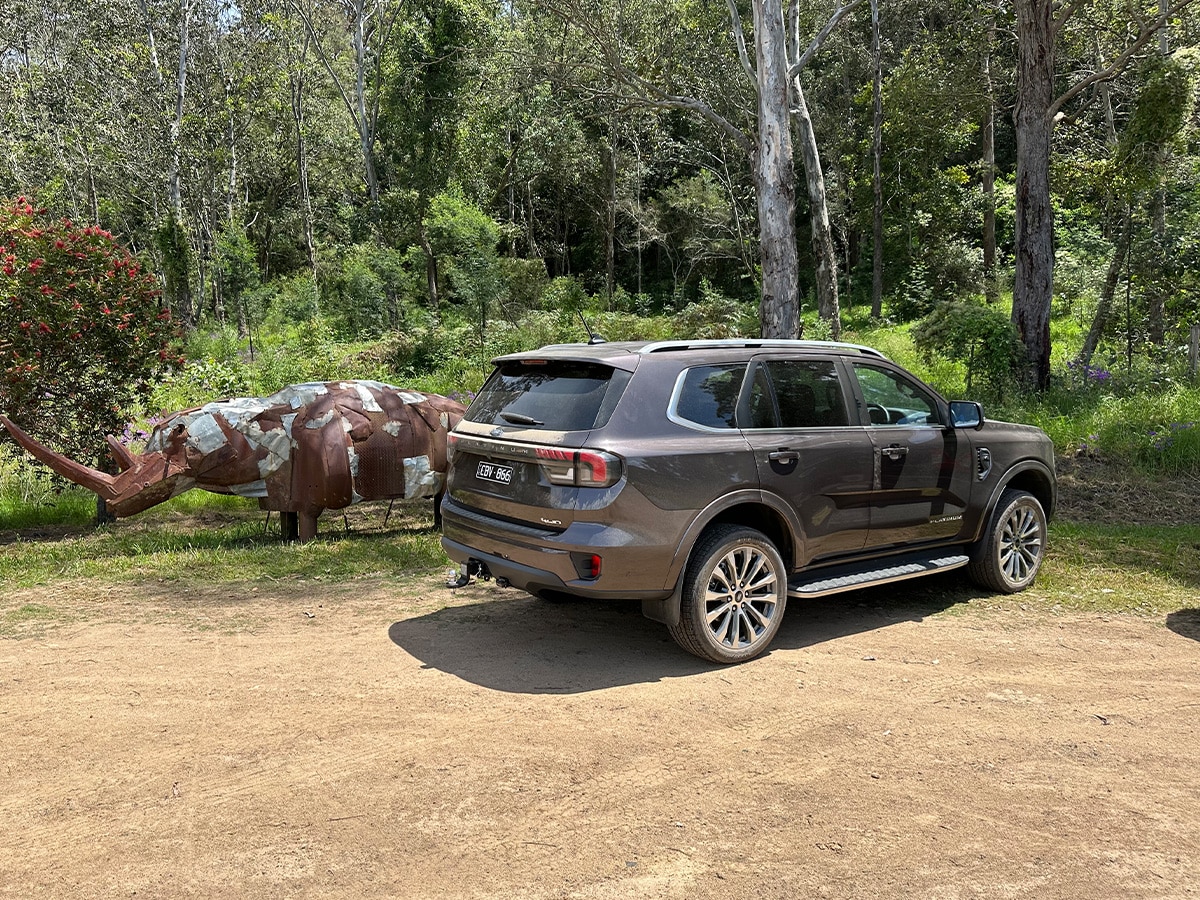 What's the Ride Comfort Like?
I had the chance to jump out of the Everest and straight into a Ranger Wildtrak, which meant I had a rare chance to see the difference in ride comfort between the two.
On paper, the Everest has a coil-sprung rear-end setup whereas the Ranger adopts leaf springs in a typical ute fashion, so you would assume the Everest is far comfier and compliant around town. While that's true to an extent, I found the difference to be hardly noticeable. In fact, I'd say that unless you drove the cars back to back you wouldn't notice the difference at all around town. Get out into the dirt and it's a different story, but the Platinum has a clear focus on street.
Factor some weight into the equation and the suspension on the Everest would soften up quicker than the leaf springs on the Ranger, however, very few owners will be driving around town with 400kg in the back of an Everest.
I drove the Everest on some light offroad trails and found the ride to be acceptable, however, the 21-inch wheels are something I'd swap out instantly if heading offroad. With little weight over the rear axle on my day trip, the rear suspension didn't perform particularly well and felt very light on loose surfaces as it would skip over bumps rather than absorb them. Add some weight, a fridge, camping gear, etc. and you'll find the coil springs soften up.
I'd say this is more a compliment for the Wildtrak than a complaint about the Everest, as for all engineering reasons, the latter should be far comfier on road and off. I don't think the ride offers the comfort levels that the price bracket and 'Platinum' badge on the front ask for, and of course, the 21-inch wheels don't help the equation.
In the future, I'd love to see Ford introduce a softer spring even if that means a lower towing capacity. If you're using the car to drop the kids off at school, there's a good chance you'll never tow 3500kg of trailer behind it. Air suspension wouldn't go astray on the top-of-the-range model either, especially when you're getting into the $80,000 bracket.
Related: 2022 Ram 1500 TRX Review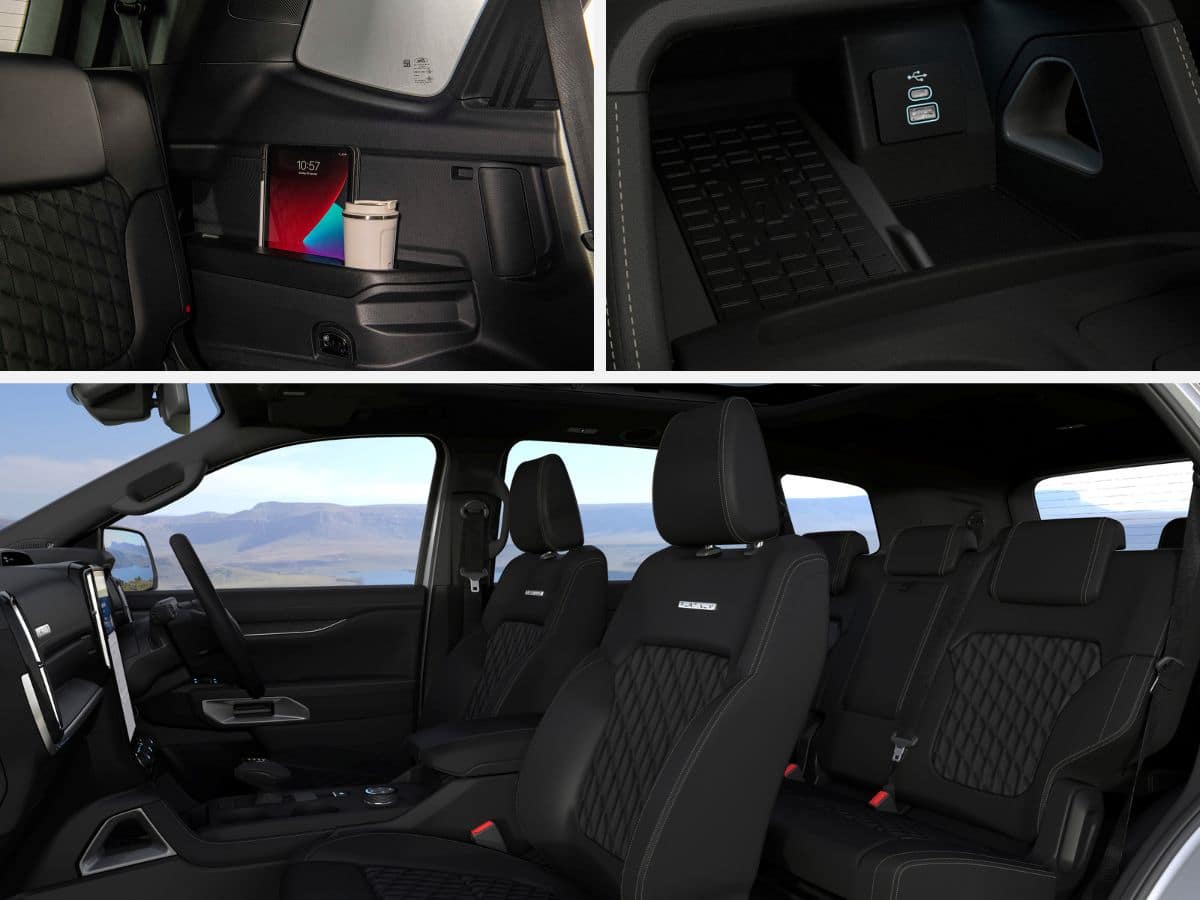 What's the Interior Like on the 2023 Ford Everest Platinum?
The biggest change in the new Ford Everest can be found inside. And once you jump into the cabin using the side step you'll be welcomed by a well-laid-out cabin that features the latest technology and a nice combination of materials and soft-touch plastics. Touchpoints in the Platinum edition are mostly leather-wrapped, including around the door area, dashboard, and steering wheel.
Front seats are both heated and ventilated while the new door pulls have been inbuilt into the door armrest area. I expect other manufacturers to replicate this feature as it's a rather ingenious design. Comfort levels are good and I'd happily travel hundred of KMs touring around the country in them. The rear passenger legroom for my 6ft frame was plentiful and the doors open nice and wide for ease of access situations.
A large digital driver's display is found behind the heated steering wheel, with improved legibility over the outgoing model. Animations change every time you switch driving modes and the start-up sequence is one of the best in the industry, however, the car that drives onto the screen doesn't match your car which is a little disappointing.
Information provided includes lane assist, adaptive cruise control, trip data, navigation instructions, speed limits, and oil/water temperatures amongst a number of other features. Unfortunately, you can't customise these displays to the extent I'd like to see in a car at this price point.
Those looking to take advantage of the 7-seater setup will love the electronic folding third row, however, the headroom and access are only kid-friendly for longer trips. The sub-floor storage in the boot area is mighty useful for carrying camera gear and things you don't want juggling around in the boot.
Here are the Ford Everest storage capacity figures.
Boot capacity (7 seats): 259 litres
Boot capacity (5 seats): 898 litres
Boot capacity (2 seats): 1818 litres
Related: 2023 Genesis Electrified GV70 Review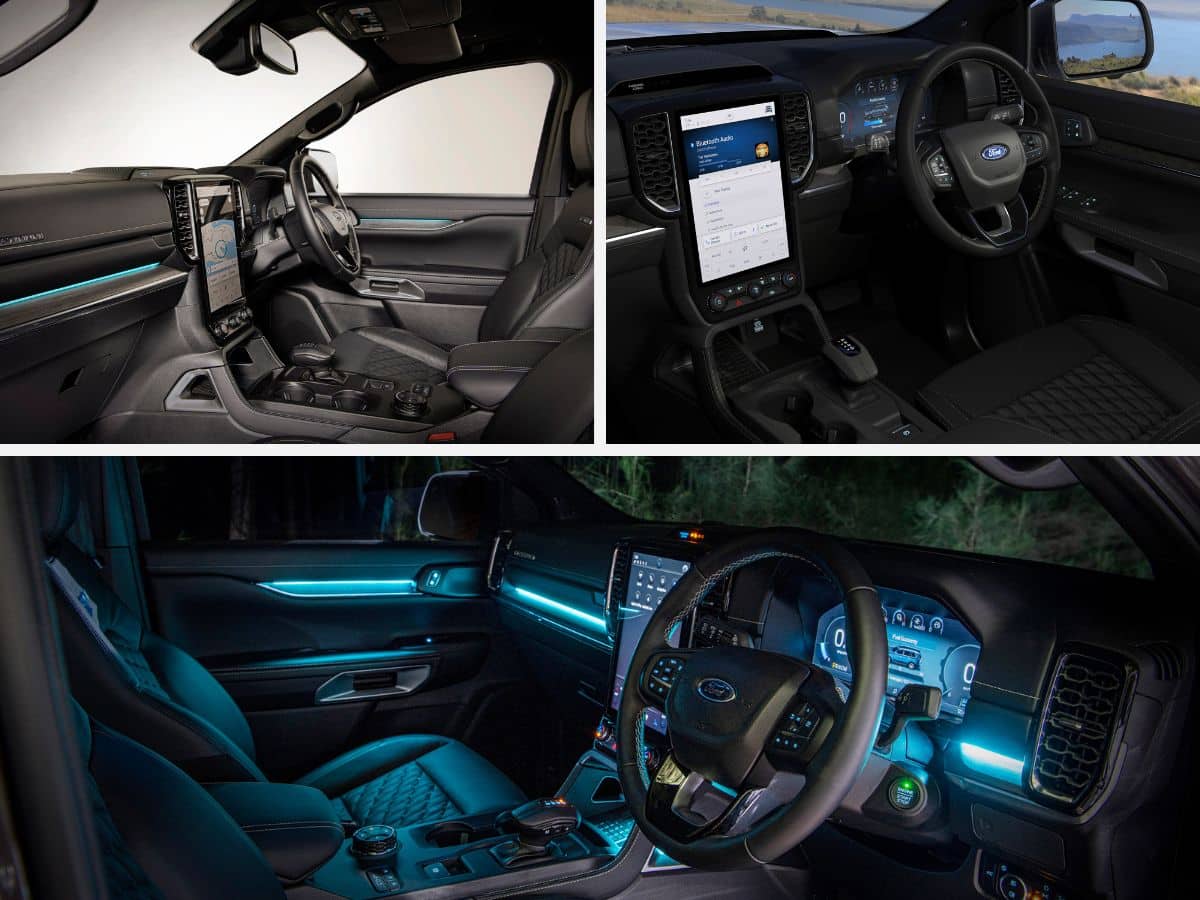 Is the Infotainment System Modern, Does it Have Apple CarPlay?
The portrait-mounted 12-inch centre screen is the first thing you'll notice when you jump into the Everest. It features wireless Apple CarPlay and Android Auto in three-quarter screen layouts. This can be shrunk to give more space to the climate and quick access menus.
There's almost too much functionality to mention, but the most important include vehicle settings accessible via the Everest logo in the top corner while the various function menus can be found in the centre touch button in the top middle of the screen. All of this is rather difficult to navigate while you're offroad, however, the climate controls are kept as physical buttons and you don't find yourself jumping for different menus too often.
Those looking to take their Everest offroad will appreciate the 360 camera options that can be brought up to better view your surroundings. Seasoned offroaders might roll their eyes at the thought of spotting a line through a camera but I reckon this is a must-have for anything off-road moving forward. I loved it in the Defender, RAM TRX and now the Everest.
The Platinum package also adds a 12-speaker Bang & Olufsen branded sound system which is a solid upgrade from the standard system. While a wireless charging pad is found underneath the screen and both USB-A and USB-C ports when a physical connection is necessary.
Related: 2022 Subaru WRX Wagon Review
Should You Buy the New Ford Everest Platinum?
These are the things you should consider before purchasing the new Ford Everest.
How Much Does the Ford Everest Platinum Cost?
The 2023 Ford Everest Platinum is priced from $77,530 before on-road costs.
This is nearly $20,000 AUD more expensive than the $58,290 Ambiente 4×4 base model (which I will be driving in January). That particular model is only available with the 2.0-litre engine, however, the Ford Everest Sport 4×4 is priced at $69,590 AUD which has the V6 as an option. By the time you mess around with on-road costs, the Platinum is about $10,000 more expensive than the next cheapest option in the range.
In terms of wait times, it's best to contact your local dealer, however, I have a friend who placed an order on the day the order books opened and they're not picking up their car until January 2023. This is the case for most new cars not built in China, with Toyota, Isuzu, Mitsubishi, etc. all dealing with stock issues.
Warranty and Servicing
The 2023 Ford Everest is backed by Ford Australia's five-year, unlimited-kilometre warranty that includes roadside assistance. Servicing is capped-price at 12-month or 15,000km intervals and are priced as follows.
Basic service prices for Ford Everest, correct at the time of writing:
12 months or 15,000km – $329
24 months or 30,000km – $329
36 months or 45,000km – $329
48 months or 60,000km – $329
60 months or 75,000km – $350
More information about servicing your Ford Everest can be found through your nearest dealer.
Related: 2022 Audi e-Tron S Review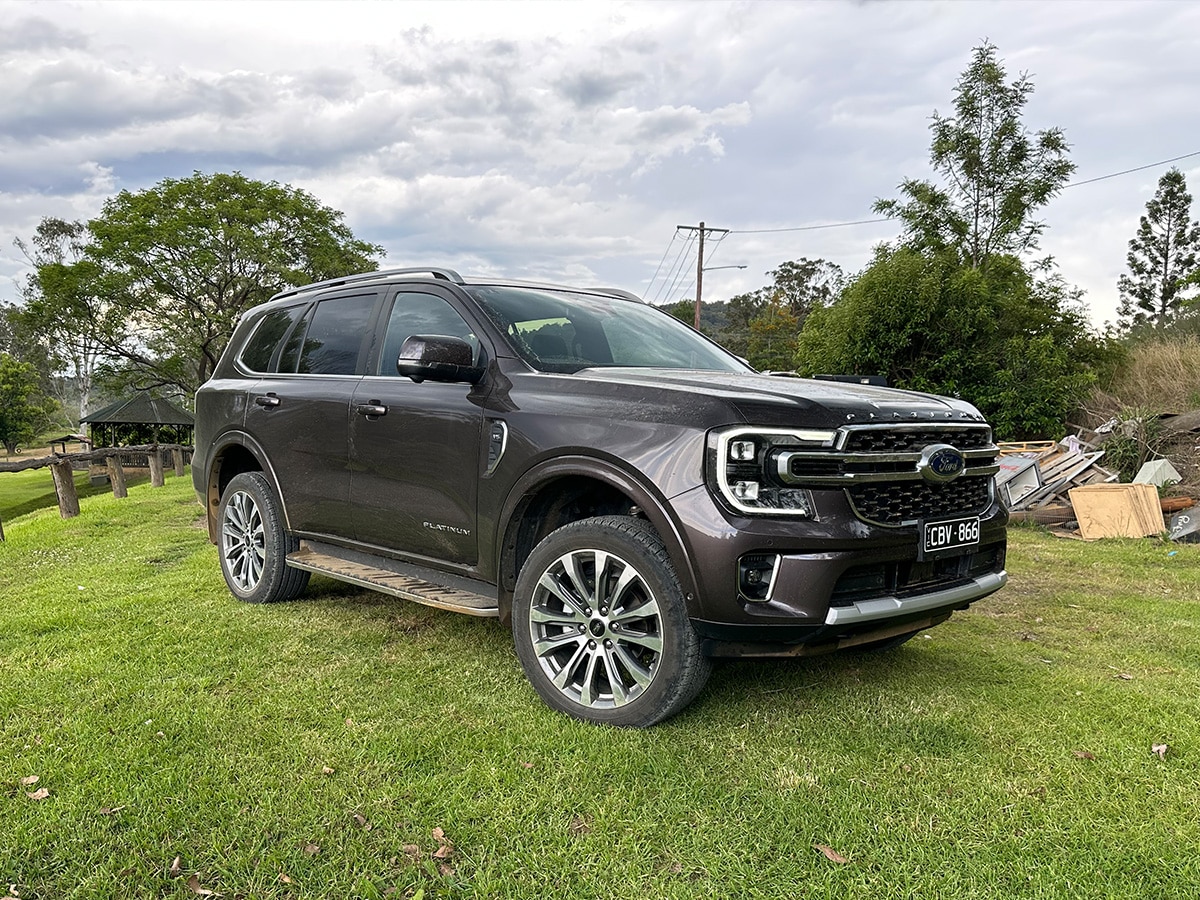 Man of Many's Verdict on the 2023 Ford Everest Platinum
My time in the Ford Everest was twofold. I spent time on a mixture of terrains; light offroad trails, highways, and city streets to really figure out where the Platinum was most comfortable.
To my surprise (with its 21-inch wheels) it was more than capable of light off-roading and would make for a great family camping rig, however, it's clearly targeting those who will make use of all 7 seats on a day-to-day basis.
The engine and gearbox combination is great, albeit a little thirsty, and the technology inside the cabin is excellent and makes for a very comfortable place to sit for longer trips. I look at these technology-filled interiors as future-proofing for the long run, asking "will this look modern in 10 years?" In the case of the Everest, the answer is yes.
Trying Not to Compare the Everest to the Ranger
Ultimately, I found myself constantly comparing it to the Ranger. Of course, the number one buyer of an Everest is a family who wants to make use of the third row, however, if you're simply buying the Everest because you "don't want a ute," the Ranger makes such a great counter-argument I wouldn't be so quick to jump in the Everest.
In the case of the new Ranger, Ford spent a great deal of time and effort creating the best dual-cab ute we've ever seen on the Australian market, but I'm not sure it's fully translated to the platform-shared Everest. It doesn't go above and beyond the Ranger Wildtrak in terms of ride comfort or technology as you would expect for something that's targeting families with kids who will be spending most of their time on-road.
You have to look at this car as an $80,000 luxury vehicle, and if you remove the offroad and towing elements from the equation, there are comfier places to sit on a daily basis. The interior is great, but so it should be for that amount of money. The ride on the other hand is simply too stiff when you don't have weight over the rear axle, and you'll kick yourself if you don't make use of all 3500kg towing capacity.
The Everest buyer is a person who's looking to tow a 3500kg trailer one day, do some camping here and there, and drop the kids off at school the next day. If you're doing either of those things, I can't think of a better vehicle for the money. On the other hand, if you're looking to putt around the city and drive a few dirt roads, the ride comfort may have you looking elsewhere.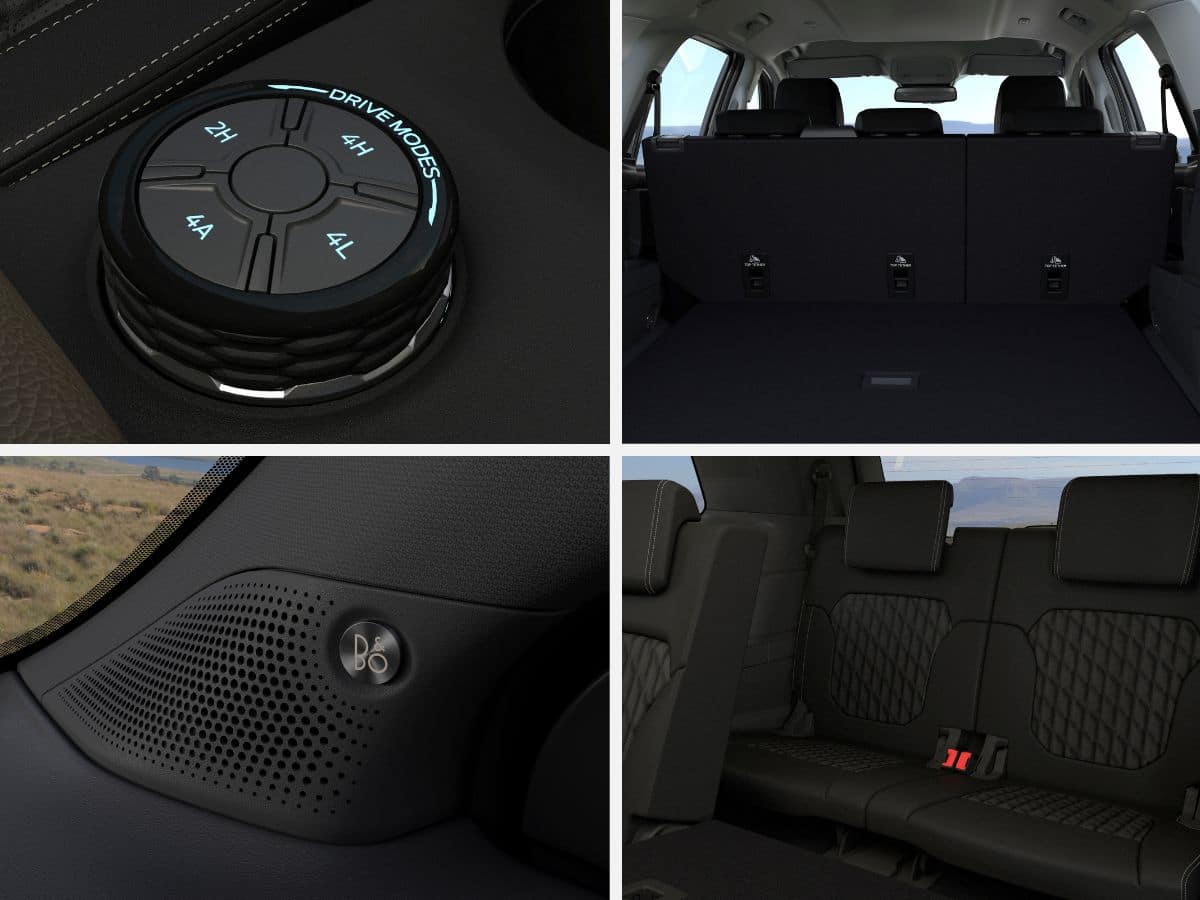 2023 Ford Everest Platinum Standard Specification
Exterior
21-inch wheels.
Full-size spare.
Matrix LED headlights with dynamic bending and auto-levelling.
LED daytime running lights.
LED tail lights.
Adjustable exterior zone lighting projectors.
Acoustic laminated windscreen.
Side mirrors: Heated, power-folding, puddle lamps.
Hands-free powered tailgate.
Proximity key fob.
Panoramic sunroof.
Side steps with steel inserts.
Chrome roof rails.
Front and rear parking sensors.
Tyre pressure monitoring system.
Rain-sensing windscreen wipers.
Interior
7-seater layout.
Quilted leather-accented seats.
Seats are heated, cooled, powered, and memory functioning.
A leather-wrapped steering wheel that's heated and fully adjustable.
Dual-zone climate control, three-row vents
Ambient lighting
12V sockets in the console, 3rd row, and boot.
Mirror with dashcam USB port.
Technology
12.4-inch instrument cluster.
12-inch portrait touchscreen.
12-speaker audio by B&O.
Digital radio/AM/FM.
Bluetooth phone and streaming.
Connected satellite-navigation.
Voice controls.
Wireless Apple CarPlay.
Wireless Android Auto.
Wireless phone charger.
Embedded modem.
FordPass Connect app integration.
USB ports: First and second rows.
Optional extras
Prestige paint, you can have Artic White for nothing or pay $675 for every other colour.
Off-road pack as a no-cost option.

18-inch alloys
255/65 R18 all-terrain tyres

Tow pack ($1700) that includes:

Blind-spot monitor trailer mode
Tow bar
Trailer-brake controller
You'll also like:
Exploring Fraser Island in the 2022 Mazda BT50
Ford Ranger Raptor Baja 1000 Desert Racer Detailed
The Off-Road Spec Porsche 911 Dakar Could Be the Coolest Porsche Ever