2023 Genesis Electrified GV70 Review
Genesis has added three new electric vehicles to its product portfolio this year, and the Electrified GV70 completes the trio of new EVs arriving locally with a range-topping model that sits above the already impressive twin-turbo V6-powered model. We had the chance to get behind the wheel before it officially went on sale to the public, testing it for two whole weeks across a variety of different roads around Sydney.
In this review, we'll answer a few questions. First, why you'd choose this over the twin-turbo V6? And second, why you should consider this over other premium EVs from Europe. As the price (and quality) exceeds that of any car in the Tesla range locally, we won't be bringing them into the equation in this review. If you want to check out our favourite Tesla alternative you can check out our 2023 Polestar 2 review right here.
Related: Genesis has also launched an exciting GV60 built on the Kia EV6 and Ioniq 5 platforms.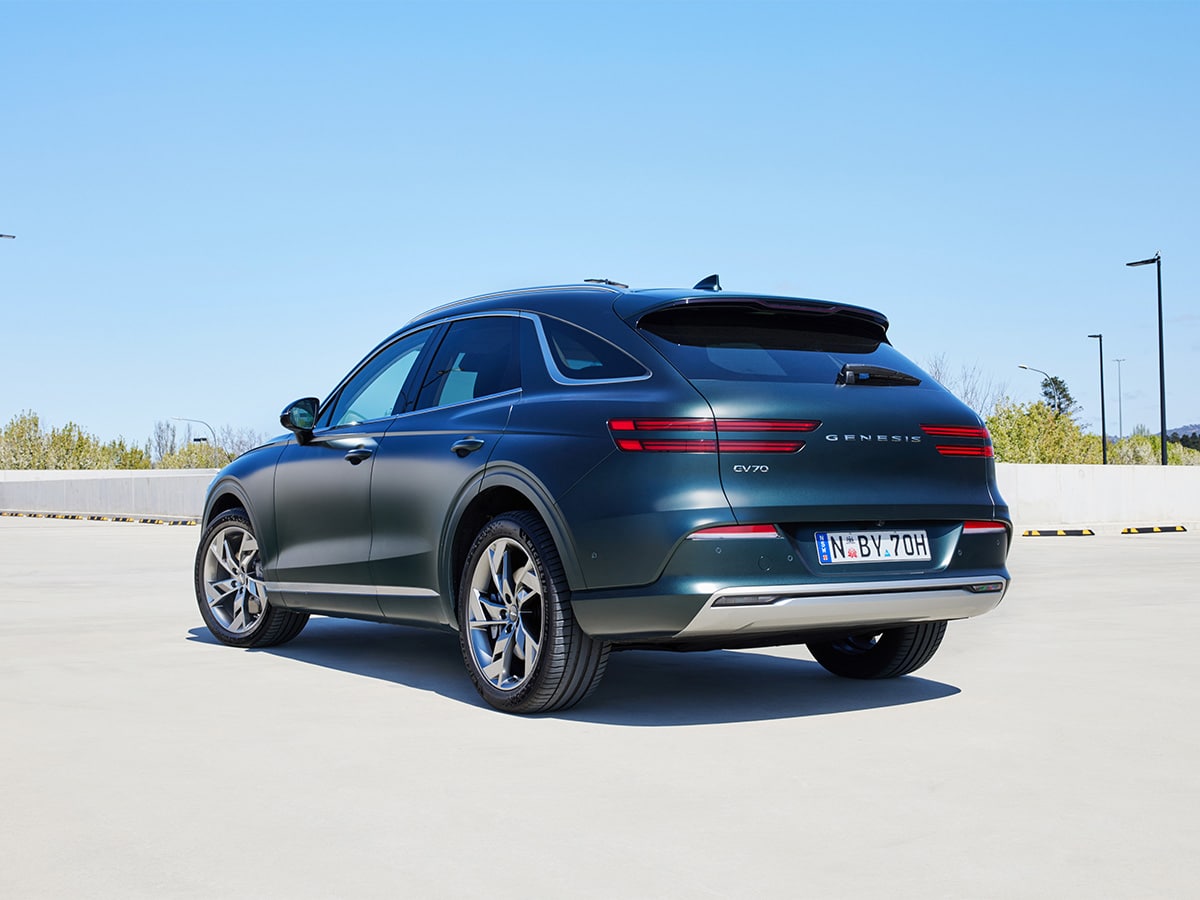 2023 Genesis Electrified GV70 At a Glance
| High Point | Low Point | Verdict |
| --- | --- | --- |
| Ticks all the boxes and then some with trick features you can't get in other cars, regardless of price. Comfortable ride around town, with plenty of straight-line speed, and a very nice cabin that blends classic luxury with modern technology. | Pricing and position in the market are rather confusing. It's more expensive than its 'rivals' in BMW iX3 and Mercedes EQC400 but cheaper than flagship models in the BMW iX and Audi e-Tron. Will Genesis steal sales from the best of the best? We're still not sure. | We highly recommend any electric SUV buyer check out the Electrified GV70 because it's one of the best all-around packages on the market. We just worry the $127,800 AUD price point will be too high to steal sales from the Europeans. |
If you're hanging around for a quick answer to the aforementioned questions, we'll break down the highs and lows of the $127,800 AUD (plus on-road costs) 2023 Genesis Electrified GV70 in a couple of paragraphs.
First and foremost, this car gets a lot of interest. It's one of the better-looking SUVs on the market and the general public can't get enough of the swooping roofline and gorgeous wheel design that's neither too gaudy nor obnoxious. It strikes the perfect balance in looking 'expensive' (which it is) but is never embarrassing to the point some over-the-top "look at me, I'm an EV" can be.
It's why we've been so positive about the entire Genesis EV lineup locally for months. And it continues into the performance, ride, and handling where the trick control systems, including the Road-Preview adaptive Electronic Control Suspension system, do such a great job of reading the road in front of you – and adjusting the suspension accordingly. You could be forgiven for thinking you're in a car two times the price.
Does it handle the corners as well as the 2022 Audi e-Tron S we drove to Canberra earlier this year? No, but you'd struggle to tell the difference in ride comfort when you're putting around town with family in the back. Let's not forget the Genesis Electrified GV70 is faster in a straight line and has more real range.
Above all, we love the features that Genesis has included to make your day-to-day ownership experience that much better. Touch controls in the seat adjusters tell you exactly what part of the seat you're adjusting, lines project onto the curb when reverse parking at night to prevent gutter rash, and cameras in the mirror display a feed on the driver's display when you're changing lanes.
---
Featured Video from Man of Many
---
The 2023 Genesis Electrified GV70 is priced from $127,800 AUD plus on-road costs, which makes it more expensive than the BMW iX3 ($114,900 before on-road costs) and the Mercedes EQC ($122,724 before on-road costs) but cheaper than our next favourite European EV SUV, the BMW iX xDrive40 Sport ($141,900 before on-road costs). If the iX is out of your price range, we recommend checking out the Electrified GV70.
Related: Genesis G70 Shooting Brake is Part Coupé, Part Station Wagon, Part Fighter Jet.
What Powers the Genesis Electrified GV70?
| | 2023 Genesis Electrified GV70 |
| --- | --- |
| Motor configuration | 1x 180kW front and 1x 180kW rear. |
| Power | 360 kW in boost mode. |
| Torque | 700 Nm in boost mode. |
| Acceleration 0-100 km/h | 4.2 seconds in boost mode. |
Sitting at the top of the Genesis GV70 range means the electrified model is also the fastest in the lineup. Boasting an impressive combined power figure of 360kW in boost mode from its twin 180 kW electric motor layout, the Electrified GV70 posts an equally impressive 0-100km/h time of 4.2 seconds in boost mode. A time that's good enough to beat the 2022 Audi e-Tron S and 2022 Kia EV6 GT-line AWD we drove recently.
Related: Genesis X Speedium Coupe is Gorgeous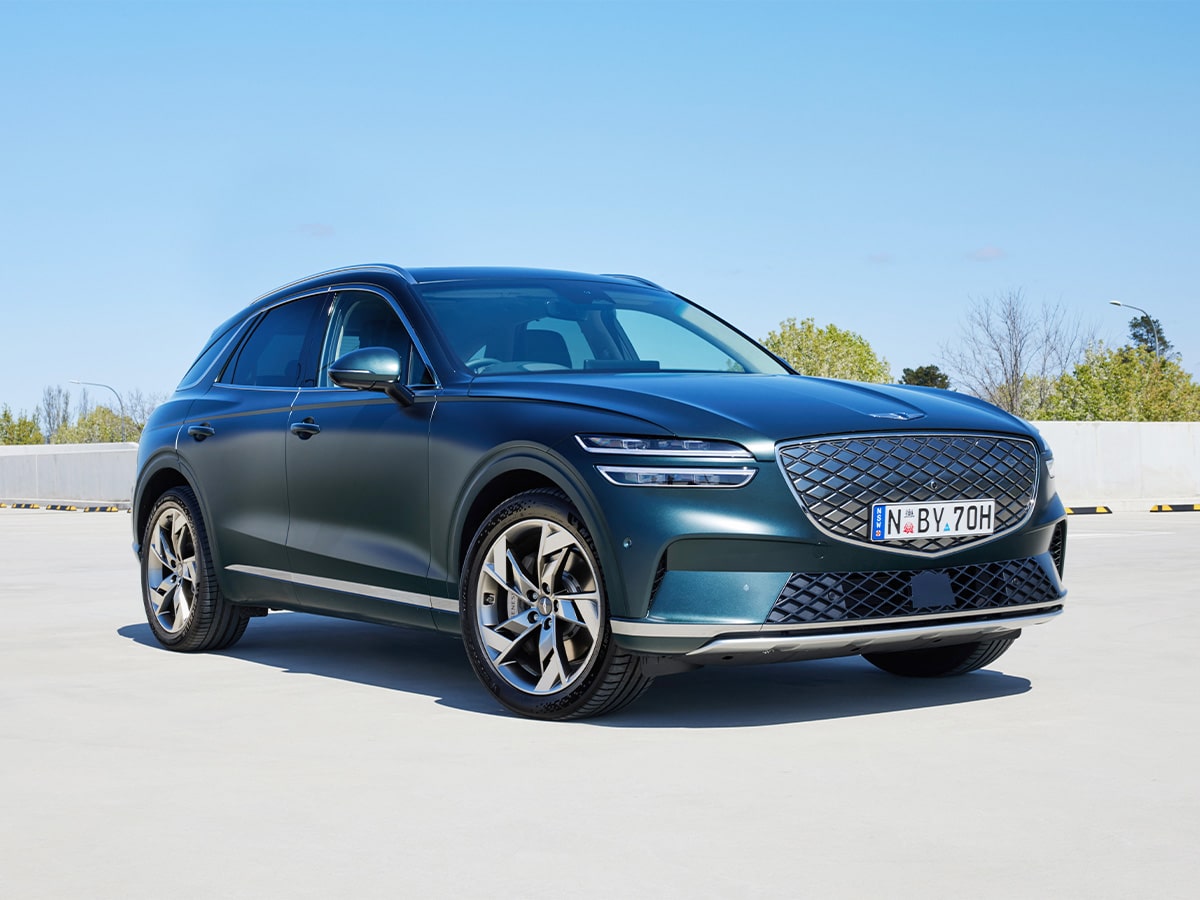 2023 Genesis Electrified GV70 Battery, Range, and Charging
While all the power in the world is nice, charging times and range are nicer. Here's how the Genesis Electrified GV70 stacks up.
| | |
| --- | --- |
| | 2023 Genesis Electrified GV70 Battery, Range, and Charging |
| Range (WLTP) | 445 km |
| Capacity (useable) | 77.4 kWh |
| Max Charging capacity (DC) | Up to 240 kW |
| Charging time (DC) 10-80% | 18 mins |
Sitting at the top of the charging features is the battery conditioning function that maintains the car's battery at the optimal temperature. This is particularly useful for longer trips in cold weather when fast charging is important, something you don't want to do with a cold battery. A heat pump system even sends waste heat into the cabin during colder months to optimise the range.
Most importantly, the Genesis Electrified GV70 will sustain peak charging from 15-55 per cent lending to a quick recharge time of just 18mins from 10-80% at a maximum charge rate of 240kW.
The Smart Regeneration System 2.0 will read the road and adjust the regen level depending on traffic conditions and data from the sat-nav, but it's not as good as that on the more expensive BMW iX, although it's far better than the cheaper iX3 and EQC400. You can select from no braking effect right through to Genesis's i-Pedal set-up, the latter providing one-pedal driving.
Related: 2022 Genesis G80 Sport Revealed as Luxury Sedan to Undercut the Competition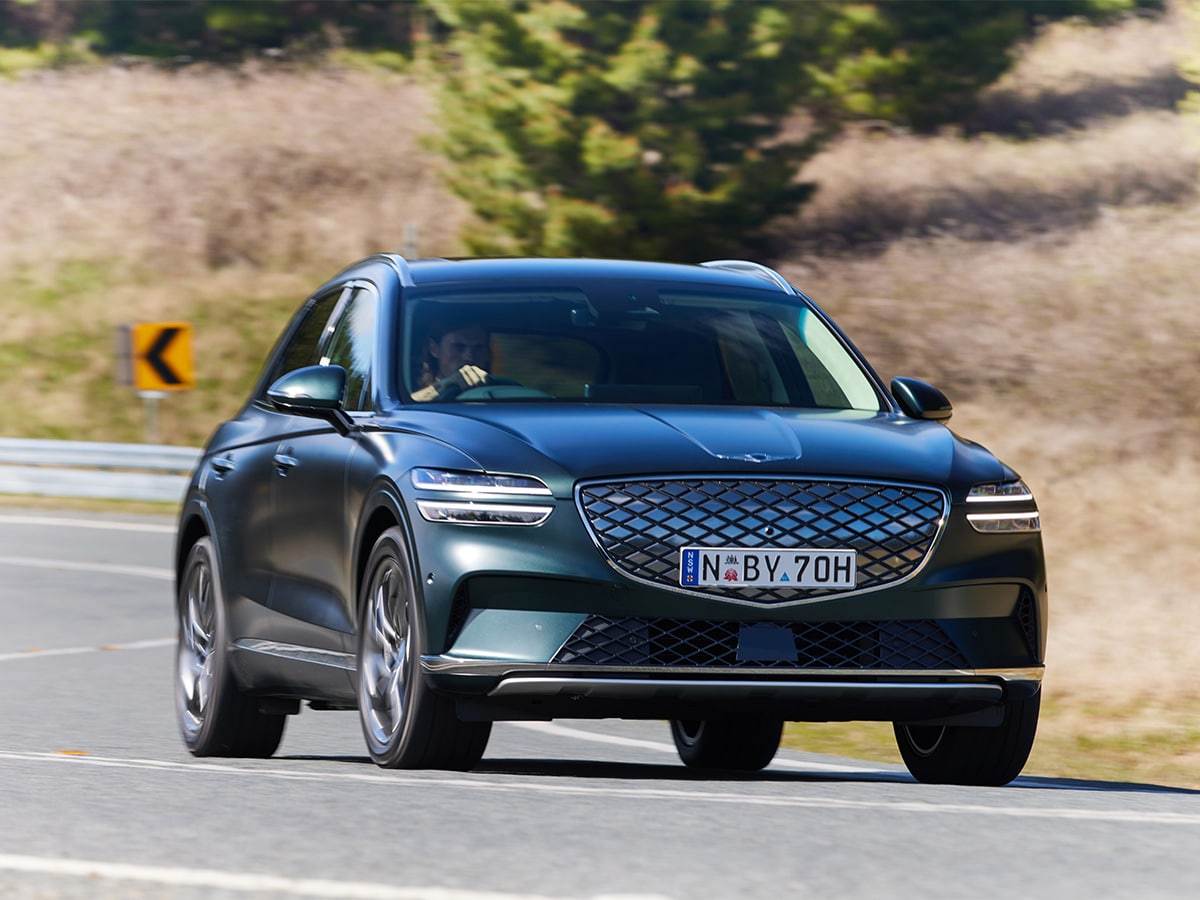 How Does the 2023 Genesis Electrified GV70 Drive?
We've already established the Genesis Electrified GV70 is a quick car, so we'll focus on the ride and handling.
Firstly, some facts. It's hard to manufacture an SUV that's "exciting to drive" when it weighs in at more than 2.3 tonnes so forget that idea entirely. Is it competent? Yes, but at no point while driving the car will you even think about throwing the GV70 into any corners. What it does excel at is day-to-day life; driving the kids to school, commuting to the office, and taking a trip to the beach on the weekend.
As the electrified model shares a platform with internal combustion engined GV70, you get the same strut front and multilink rear layout with Road-Preview adaptive Electronic Control Suspension, variable gear ratio steering rack, and 20-inch wheels and tyres. In short, it's very comfortable.
Related: 2021 Genesis GV70 Review: The Everyman's Luxury SUV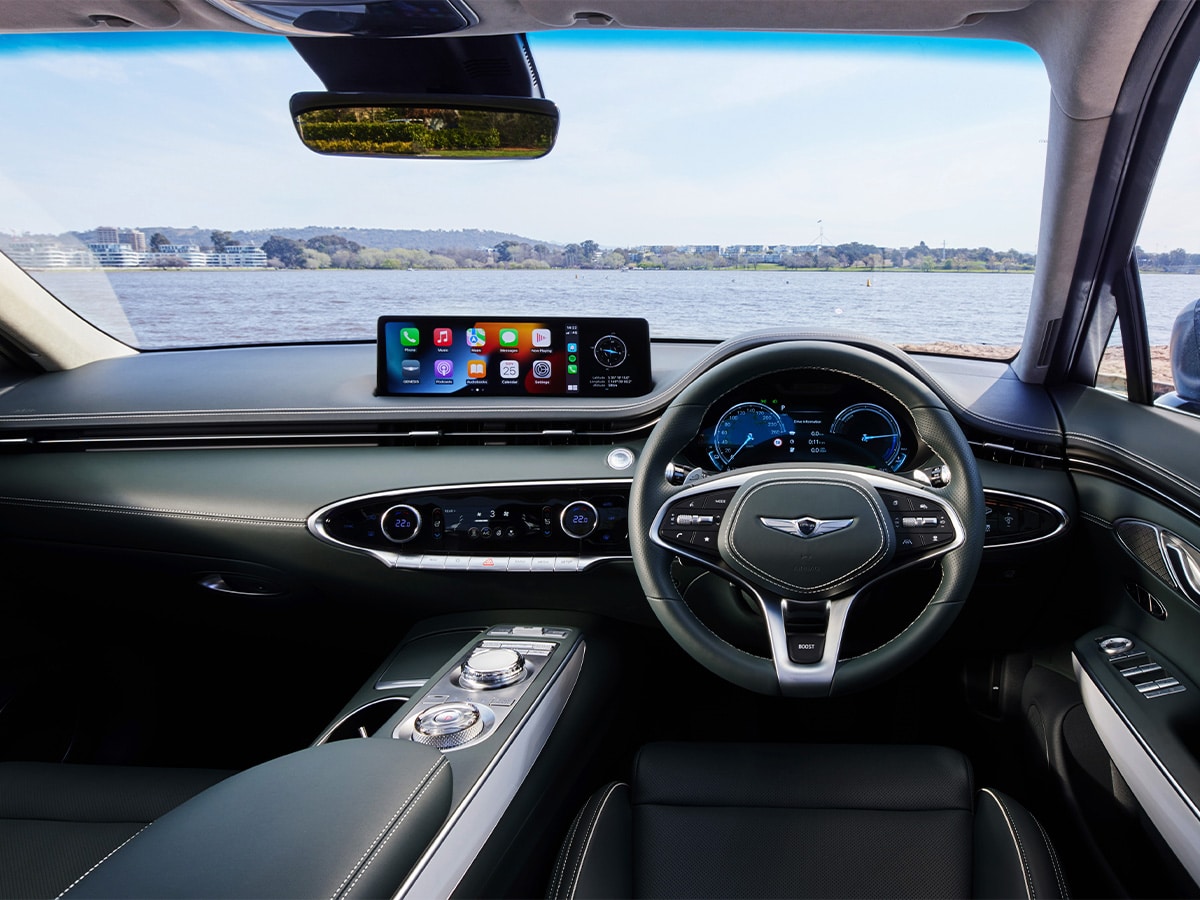 What's the Interior Like in the 2023 Genesis Electrified GV70?
There's nothing to point the finger at on the interior either. We love the seats (18-way adjustable with driver position memory and an easy access function), alongside the small touches such as plush carpets, a wireless charging pad that's on a nice slanted angle, and laminated windows that result in an exceptionally quiet cabin. The manual rear shades are a nice addition, and overall, the cabin feels every bit of the $127,800 price tag.
Infotainment System in the Genesis Electrified GV70
We give full marks to Genesis for having one of the best driver displays in the business, a 12.3-inch 3D digital cluster that provides the perfect balance between analogue-look with digital functions, including that lane-change camera feed we mentioned earlier. It recognises your eyes through the camera to present the display in 3D view and features themes linked to each drive mode. Very trick stuff.
In the centre of the dashboard is a 14.5-inch infotainment screen that incorporates an EV-specific Graphic User Interface (GUI) and functionalities, and a futuristic Augmented Reality (AR View) navigation function.
Of course, your usual Apple CarPlay and Android Auto functionality is there, with AM/FM/DAB+ digital radio with Radio Data System (RDS) available. We'll give full marks to the 14-speaker, 1050W Lexicon by HARMAN Premium Audio system that's about as good as you'll find in a new car today.
Related: We Drove $2.3 Million Worth of Bentleys on a Race Track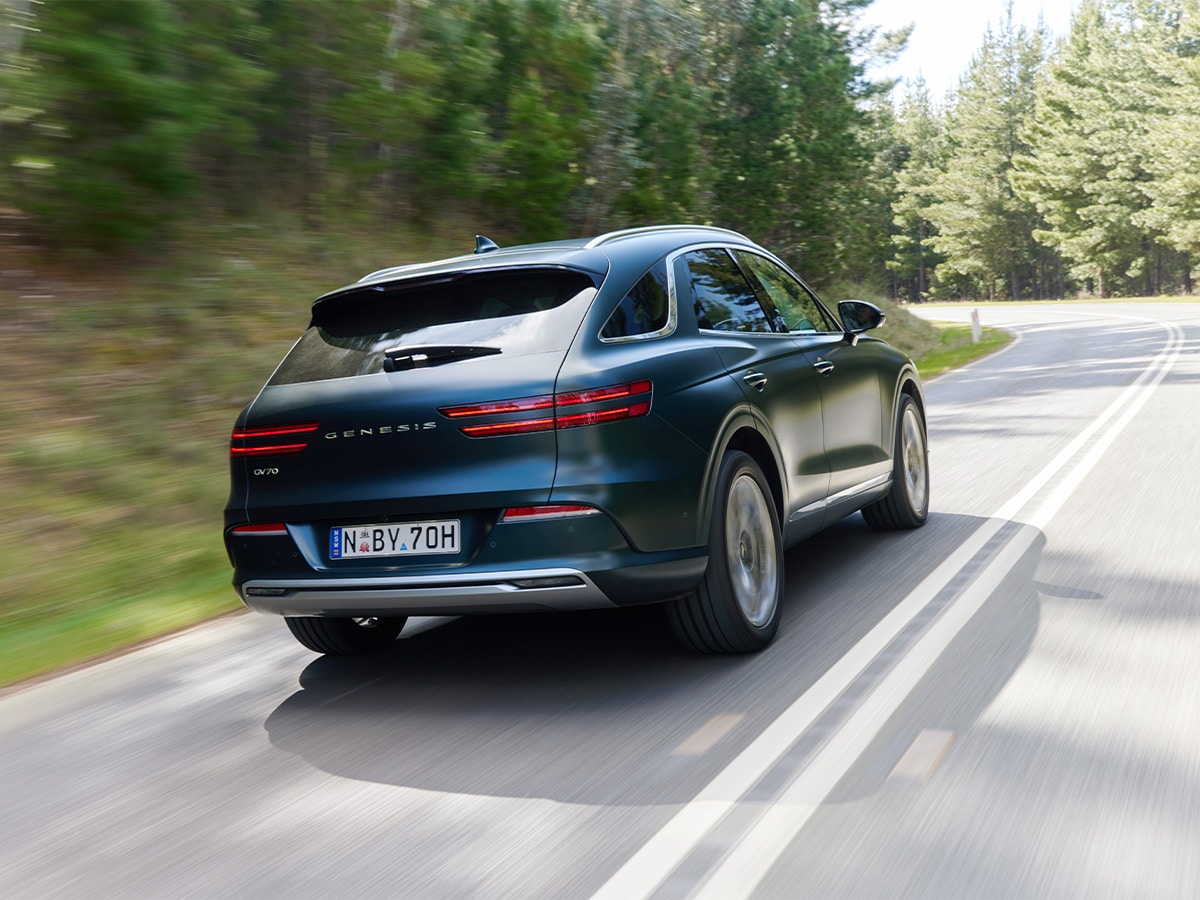 Should You Buy the Genesis Electrified GV70?
Here's everything to consider when looking to purchase a 2023 Genesis Electrified GV70.
How Much Does the Genesis Electrified GV70 Cost?
The 2023 Genesis Electrified GV70 is priced at $127,800 plus on-road costs. The only option is matte paint, which is priced at $2000 AUD. Included in the purchase price of your new Genesis Electrified GV70 are the following customer service-related additions.
5-year Genesis To You & valet service.
10-year 24/7 roadside assistance.
10-year complimentary map updates.
Choice of a 5-year Chargefox subscription or home AC charger & installation.
If we had it our way we'd be optioning the home AC charger installation as our experience with the Chargefox network in and around Sydney has been abysmal. The NSW Government Investing $39.4 Million to Install 500 New Charging Bays Across State, but with no commitment to 'up times' expect a good portion of these to be out of service with lack of maintenance. Something that's driven us away from the public charging network entirely.
Warranty and Servicing
5-year / unlimited kilometre warranty.
8-year / 160,000 kilometre warranty on high voltage battery.
5-year complimentary servicing
Safety
The Genesis Electrified GV70 is yet to be scored by ANCAP, however, there is data available on the four-cylinder examples of the car that includes a five-star rating based on testing conducted in 2021. Other safety features on the car include the following.
Blind-Spot Collision Avoidance-Assist – Rear/Side (BCA-R/S)
Blind-Spot View Monitor (BVM)
FCA (Forward Collision-Avoidance Assist), including:

Junction Turning & Crossing
Lane-Change Oncoming & Side
Evasive Steering Assist

High Beam Assist (HBA)
Intelligent Front-lighting System (IFS)
Intelligent Speed Limit Assist (ISLA)
Manual Speed Limit Assist (MSLA)
Lane Keeping Assist – Line/Road-Edge (LKA-L/R)
Lane Following Assist (LFA)
Reverse Parking Collision-Avoidance Assist (PCA-R)
Multi-Collision Brake (MCB)
Rear Cross-Traffic Collision-Avoidance Assist (RCCA)
Rear Occupant Warning (ROW)
Safe Exit Assist (SEA)
Smart Cruise Control with Stop & Go and Machine Learning functions (SCC)
Surround View Monitor (SVM)
Smart Parking Assist (SPA)
Remote Smart Parking Assist (RSPA)
Tyre Pressure Monitoring System (TPMS)
Driver Attention Warning (DAW)
Related: 2022 Audi S3 Sedan Review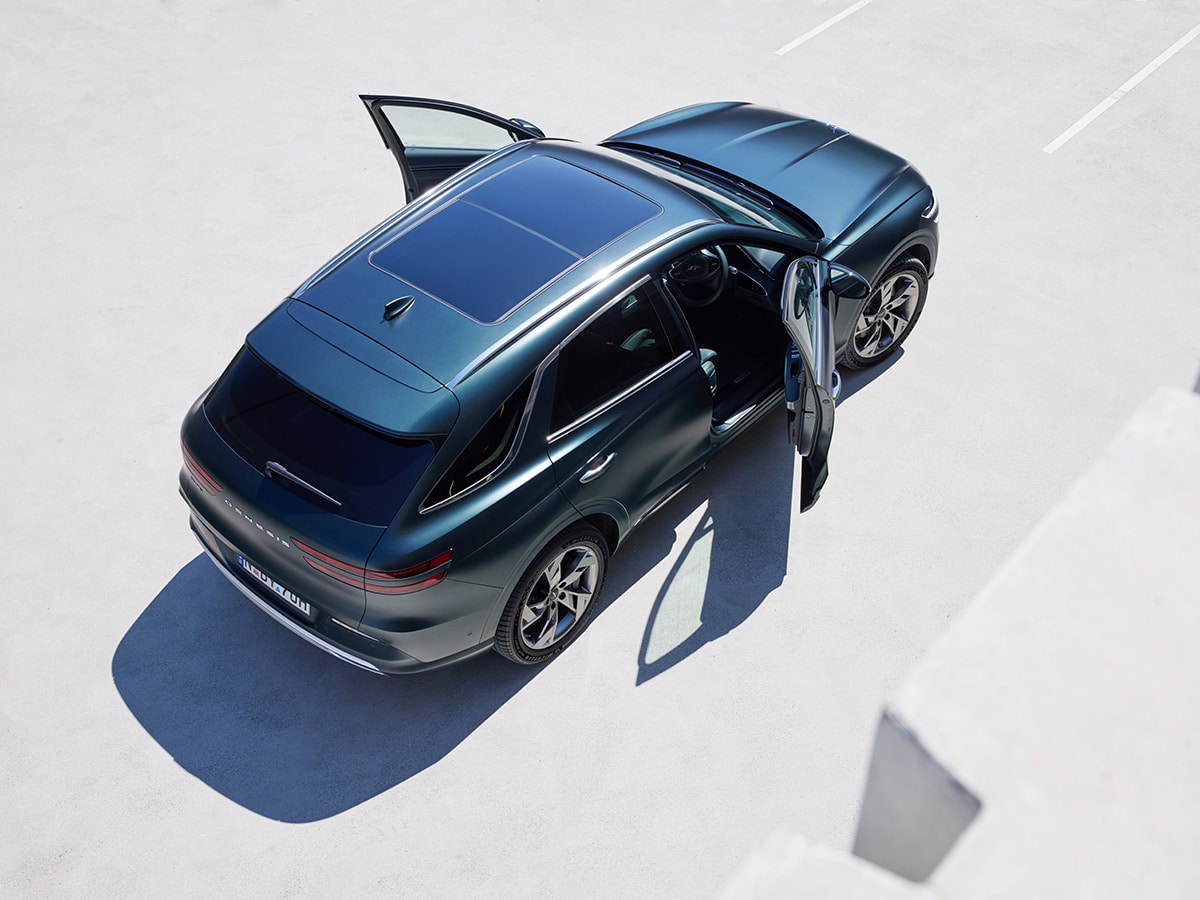 Man of Many's Verdict on the Genesis Electrified GV70
The 2023 Genesis Electrified GV70 is priced at $127,800 AUD plus on-road costs, which is a rather big chunk of change to swallow. It's priced below the premium European SUVs such as the BMW iX and Audi e-Tron S that sit upwards of $150,000 AUD, but it's more expensive than the entry-level European SUVs, including the 2022 BMW iX3 that we absolutely loved, and the Mercedes-Benz EQC that's due for an update.
It's an interesting pricing position, to say the least. It blows the iX3 and EQC out of the park but is simply no competition for the BMW iX and Audi e-Tron S. So whose sales are Genesis looking to tap into? The 2023 Genesis Electrified GV70 is a fantastic car, however, we can't help but think they'd sell three times as many if it were priced closer to the $114,900 BMW iX3.
You'll also like:
2023 Toyota GR86 Review
2022 Mini Electric Hatch in a Tour of Sydney's Trendiest Spots
2022 Lamborghini Huracan STO Track Review

---
Featured Video from Man of Many