With a thriving market of cheap and sometimes cheerful Chinese electric vehicles hitting Australian shores, it's pushing our most popular brands to rethink their position in the market. Mazda, Kia, and Hyundai have always stood for value for money. They still do, however, brands like BYD, MG, and Haval are heavily subsidised by their government and have created a 'race to the bottom' on price. Consequentially, this has revived the medium-range luxury segment where brands like Volvo, Jaguar, and Lexus like to play.
It's a strange and competitive time to be selling cars in Australia, and in an extreme pivot, Kia is now throwing its hat in the ring with the launch of its flagship Kia EV9. On paper, this all-electric three-row SUV promises the same great value for money at a record price point for the brand. Let's take a closer look.
| | | |
| --- | --- | --- |
| Pros | Cons | Verdict |
| Dual motors, 500km of all-electric range, plenty of tech, safety features, and locally-tuned ride and handling for superior driving dynamics. | With a lack of infrastructure and long distances between major cities, can your family car also be electric? Digital Side Mirrors should be optional. | The most expensive Kia ever is also the best Kia ever. It's a suitable flagship for the evolving 7-seater EV SUV segment. |
RELATED: Kia EV6 GT-Line AWD Review.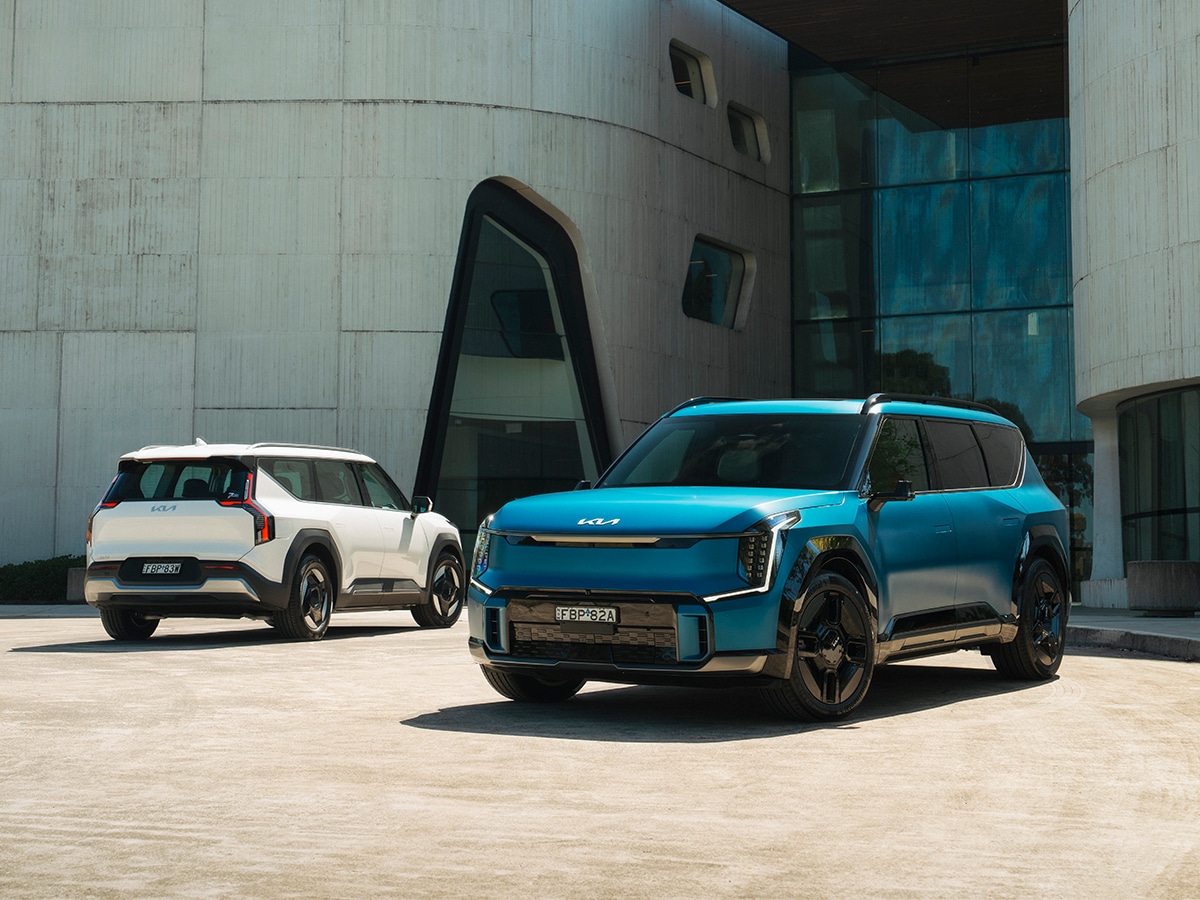 Kia EV9 Price and Competition
Kia's most expensive production vehicle ever, the 2024 Kia EV9 is priced from AUD$97,000 plus on-road costs in Australia in single-motor Air model grade. The top-of-the-range Kia EV9 GT-Line is priced at AUD$121,000 plus on-road costs and offers a dual-motor configuration with 283kW of power 505km of range and a handful of exclusive options that we've outlined on our list.
Full pricing for Kia EV9 line-up in Australia:
Kia EV9 Air: from AUD$97,000 plus on-road costs
Kia EV9 Earth: from AUD$106,500 plus on-road costs
Kia EV9 GT-Line: from AUD$121,000 plus on-road costs
Side-by-side comparison of the Kia EV9 line-up in Australia:
| | | | |
| --- | --- | --- | --- |
| Model | Kia EV9 Air | Kia EV9 Earth | Kia EV9 GT-Line |
| Powertrain | RWD Single Motor | AWD Dual Motor | AWD Dual Motor |
| Power/ Torque | 160 kW / 350 Nm | 283 kW / 700 Nm | 283 kW / 700 Nm |
| Acceleration (0-100km/h) | 8.2 seconds | 6.0 seconds | 5.3 seconds |
| Wheels | 19-inch alloys | 21-inch alloys | 21 inch alloys |
| Range (WLTP) | 443 km | 512 km | 505 km |
| RRP | AUD$97,000 plus on-road costs | AUD$106,500 plus on-road costs | AUD$121,000 plus on-road costs |
The Kia EV9 is a unique all-electric three-row SUV, and as such, doesn't have many direct competitors in Australia. The closest competitor to the new Kia EV9 is the all-electric Volvo EX90 which hasn't launched in our country yet, however, we do currently have the XC90 Recharge which is a plug-in hybrid variant of the XC90 priced from AUD$125,990 plus on-road costs. We'd expect the all-electric model to be more expensive again.
If you're looking at electric vehicles only, the Mercedes-Benz EQS SUV is the closest competitor currently available in Australia and is priced from AUD$194,900 before on-roads. If rumours are true we could also see the Cadillac Lyriq join our market soon with expected pricing around AUD$120,000 plus on-roads.
---
Featured Video from Man of Many
---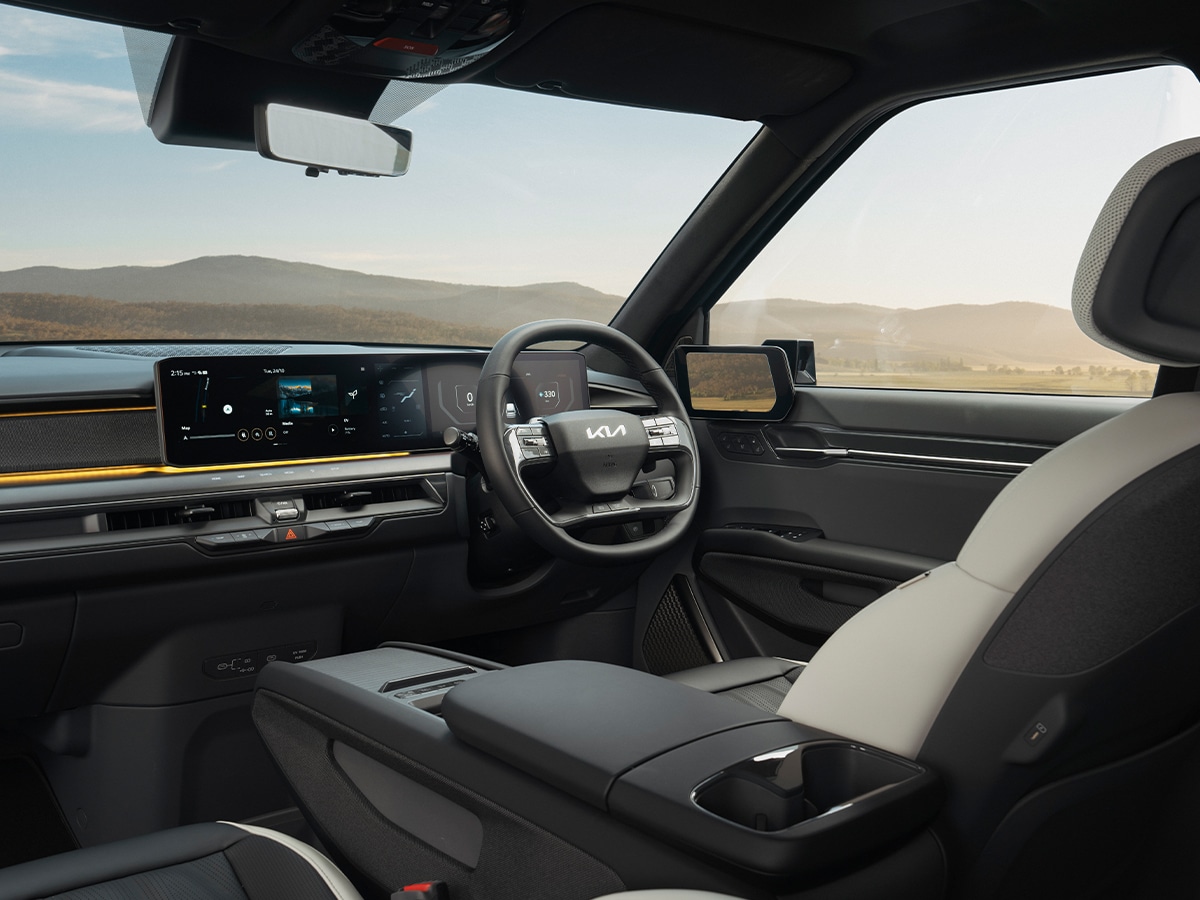 What's the Interior Like?
Once you're sitting in the front seat and driving you'll notice two things. First, just how comfortable the heated and cooled front seats are with massage seats for the driver. Second, you'll notice how quiet the cabin is. We haven't had a chance to test the decibel ratings ourselves, but the brand has provided benchmark tests against its key competitors, see table below.
| | | | |
| --- | --- | --- | --- |
| | Road Noise (dBA) | Constant Speed (dBA) | Wind Tunner Interior Noise (dBA) |
| Kia EV9 | 61 | 62 | 62.5 |
| Tesla Model Y | 64 | 66 | 63.7 |
| Audi e-Tron | 62.1 | 62.6 | 60.7 |
| Jaguar i-Pace | 63.1 | 65.9 | 62.4 |
2024 Kia EV9 noise rating (dBA) against key competitors | Data: Kia
The Kia EV9 measures just over five metres in length (5,010mm) so you'd expect the interior to be spacious, and it is. There's plenty of headroom for first, second, and third row occupants and you won't struggle for boot space either with 573 litres (SAE) of space behind the third row. Fold the third row down and you'll find 1,233 litres or 2,314 litres if you fold both the second and third rows.
There's also a front trunk with 90 litres of storage for RWD models and 52 litres of storage for AWD models. We've always found these to be useful for groceries when reverse parked.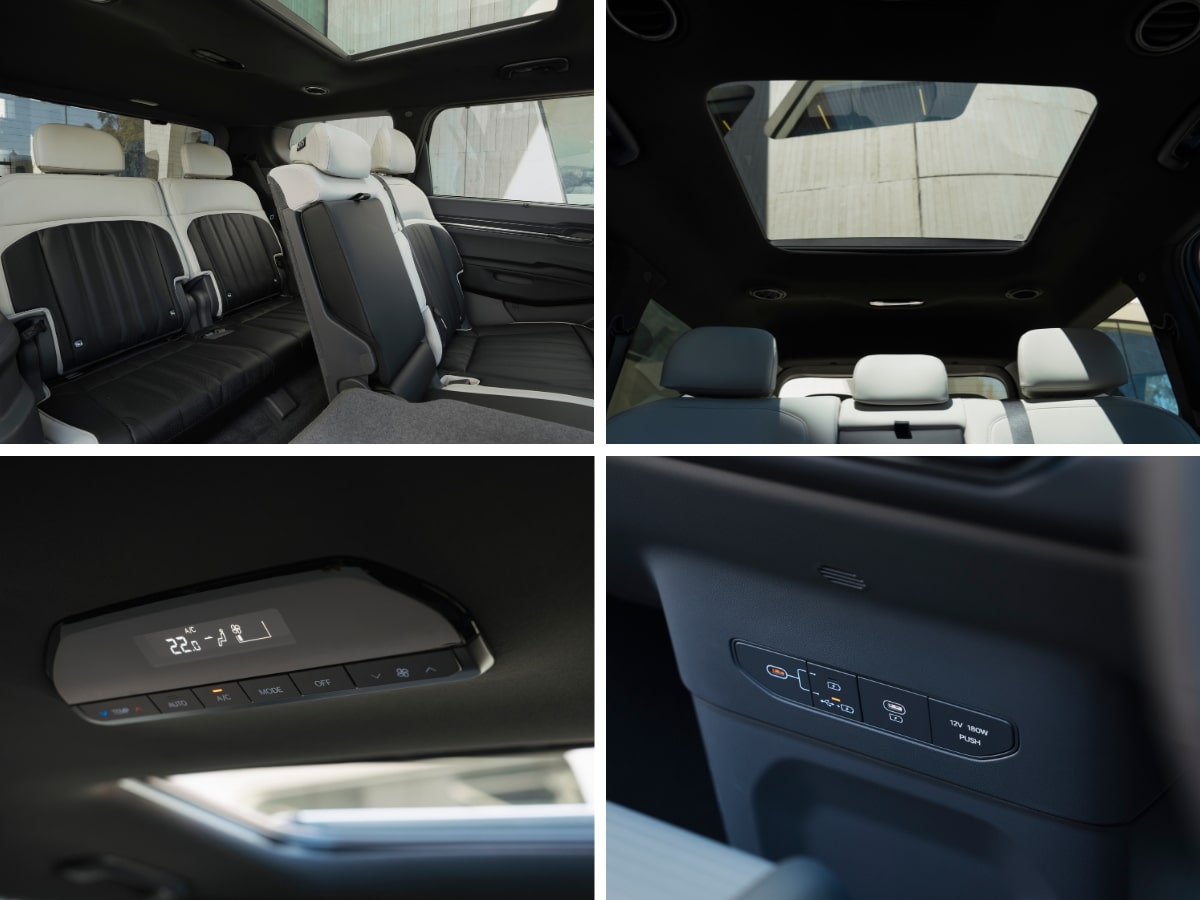 You can access the third row of seats with a tilting walk-in system that allows you to leave a child seat in place, and once you're back there you'll find 752 mm of legroom, 935 mm of headroom, and 1,345 mm of shoulder room which compares well to other three-row SUVs on the market like the Land Rover Defender 130.
Moving back into the middle row, you'll find diffused air vents in the roof and independent HVAC controls with touch buttons and an LED display.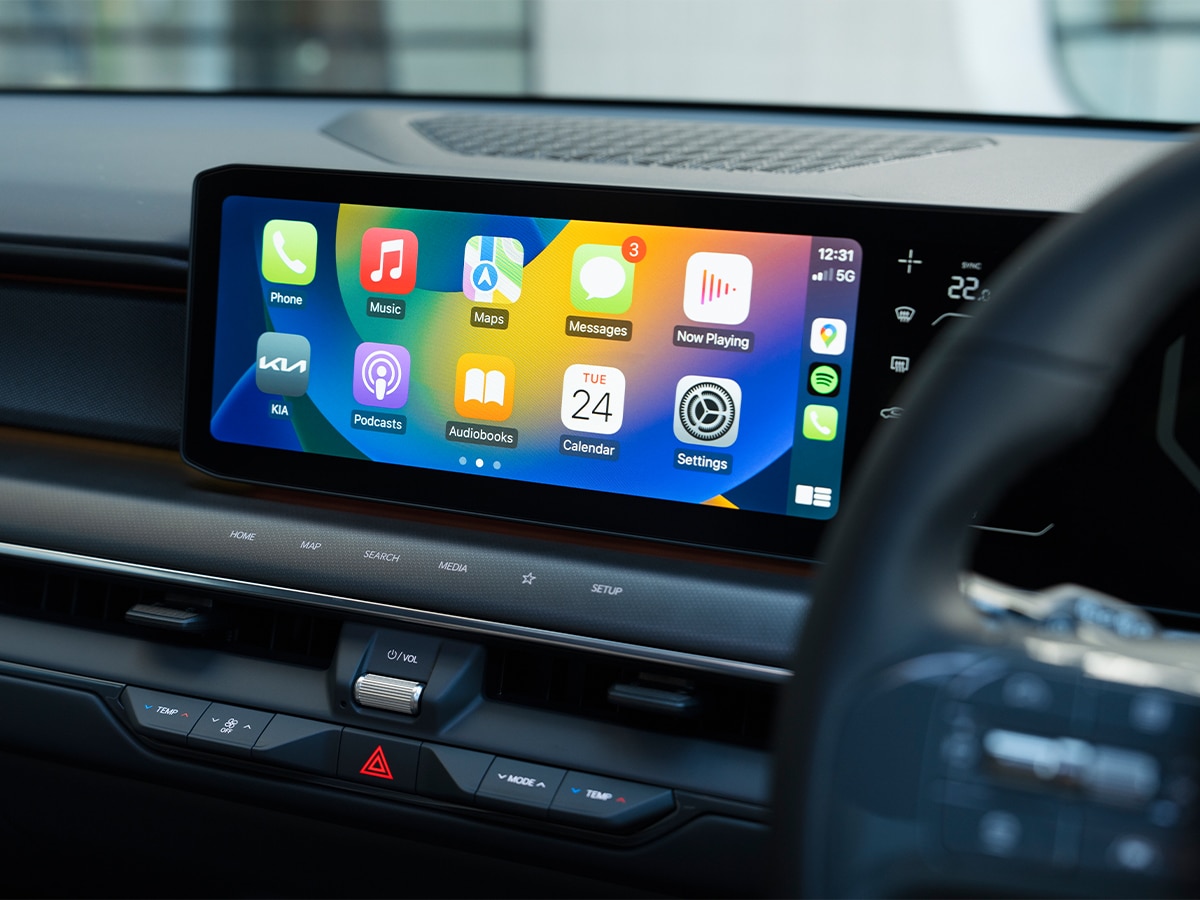 Infotainment and Connectivity in Kia EV9
Connectivity inside the Kia EV9 starts with an integrated panoramic display that measures 12.3 inches for the driving cluster, 12.3 inches for the infotainment display, and there's a neat five-inch climate monitor that gives you quick information and access to the various HVAC controls.
It's an over-the-air (OTA) update-capable unit that offers wired Apple CarPlay and wired Android Auto as standard. We'd like to see both of these as wireless options moving forward. We'll also note that we did have connectivity issues on Apple CarPlay that weren't resolved after going through the various troubleshooting methods. If you're only going to offer a wired connection, it better work.
As mentioned, this system now offers over-the-air updates (OTA) that can serve almost 60 per cent of the vehicle's onboard control modules. You can choose when to update the vehicle through the screen when prompted and this can fix any software bugs (like Apple CarPlay) without going to a service centre.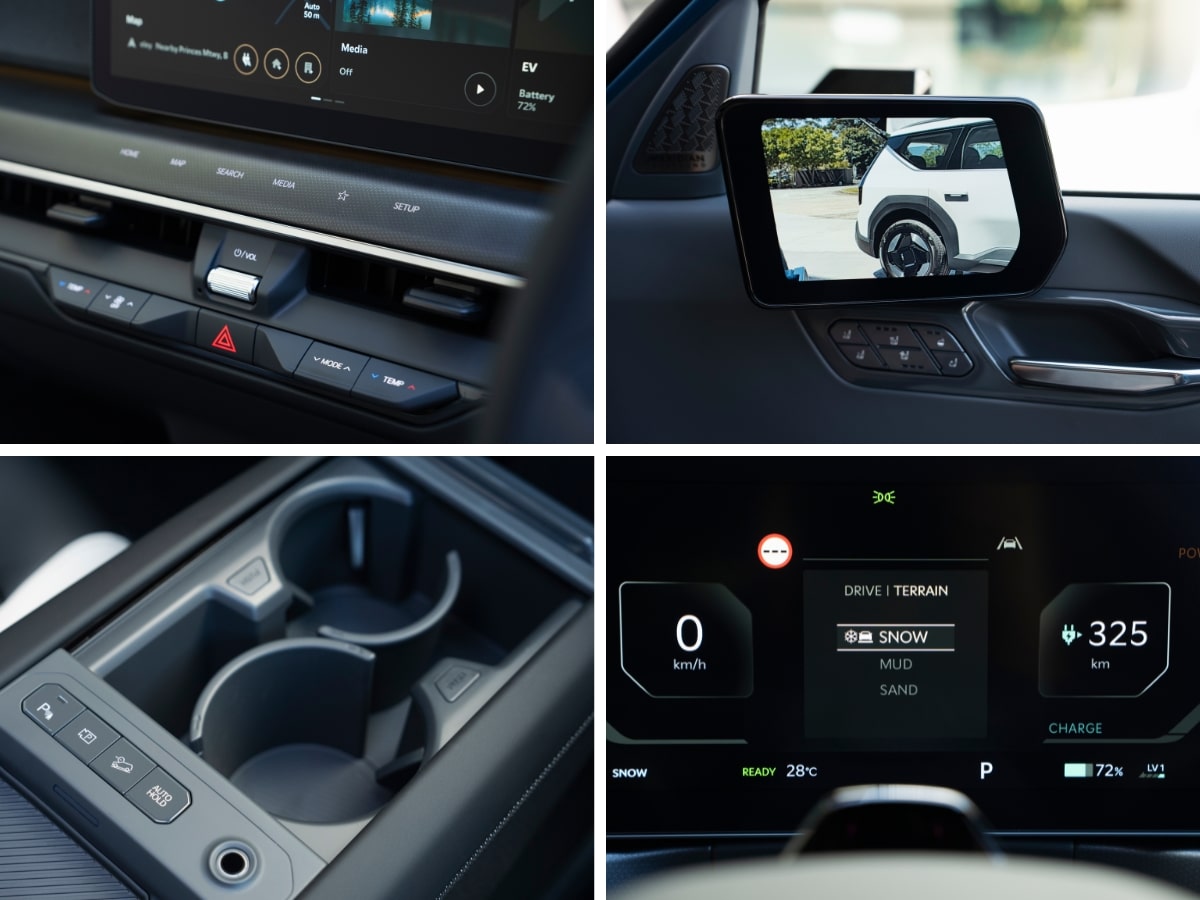 There's a hidden touch bar below the infotainment display (exclusive to the GT-Line) that features haptic feedback for a number of shortcuts: home, map, search, media, favourite, and set-up. We didn't find it particularly useful on our launch drive, however, with some extended use we could see it becoming helpful, especially the favourite, map, and home buttons as they're not easily found through the screen.
Meridian premium sound is available on the GT-Line models only and sounds great, however, we didn't get a chance to test the standard unit in the Air model on our launch drive. This 14-speaker sound system uses 4x tweeters, 2x midrange, 4x woofers, a subwoofer, a centre channel, and 2x surrounds.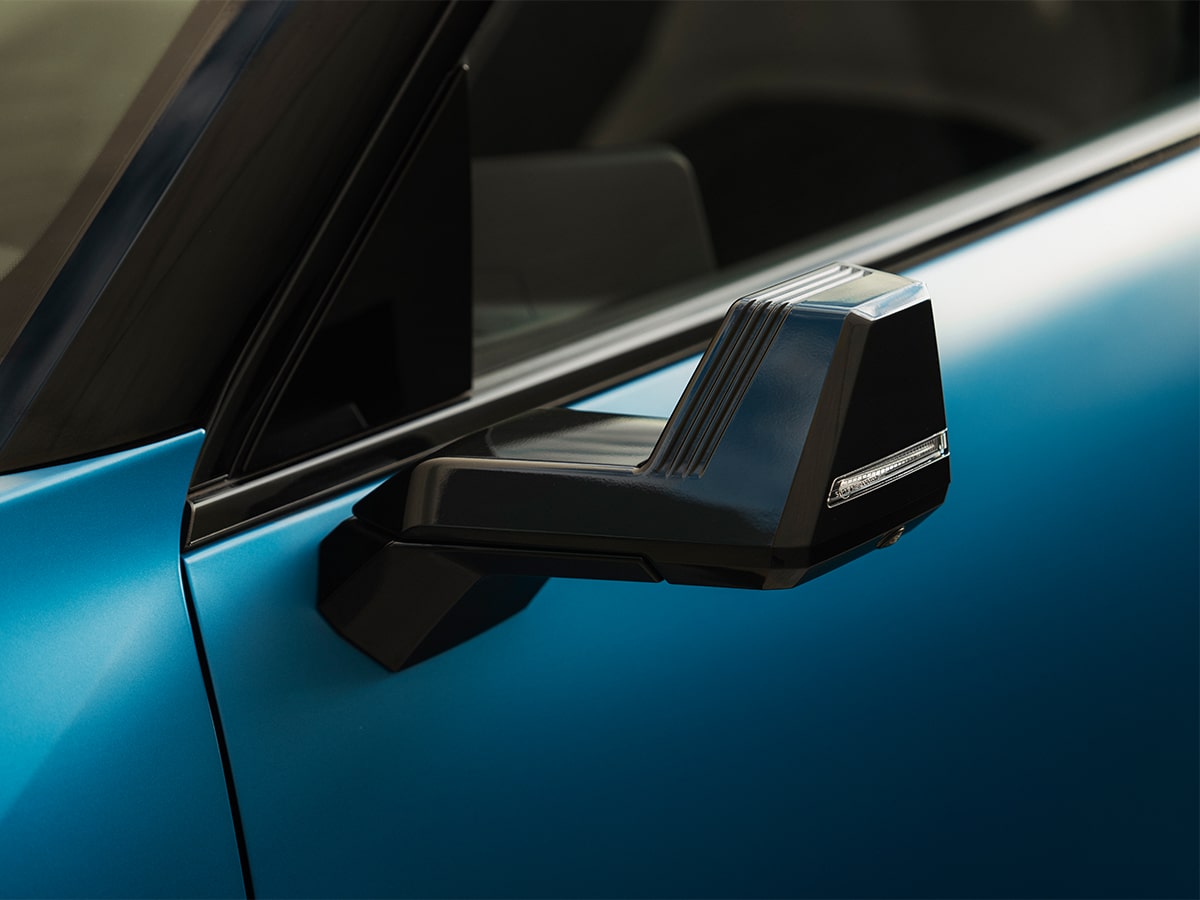 We also have to talk about the Digital Side Mirrors (DSM) that are available on GT-Line models only. Firstly, there's currently no option to refit the standard glass side mirrors, and unlike Audi, Kia makes no claim as to how much range these mirrors add. Beyond the limited benefit of the DSM itself, the screens inside the cabin look aftermarket and the cameras on the outside of the vehicle are bulky. I could go on all day about these, but it's only fair owners get the choice. At least the Digital Centre Mirror (DCM) is useful for rear visibility.
Finally, there's a fingerprint module that starts/stops the car and can be linked to a driver profile for in-vehicle personalised settings at the touch of a finger. In theory, you never need to carry the key with you.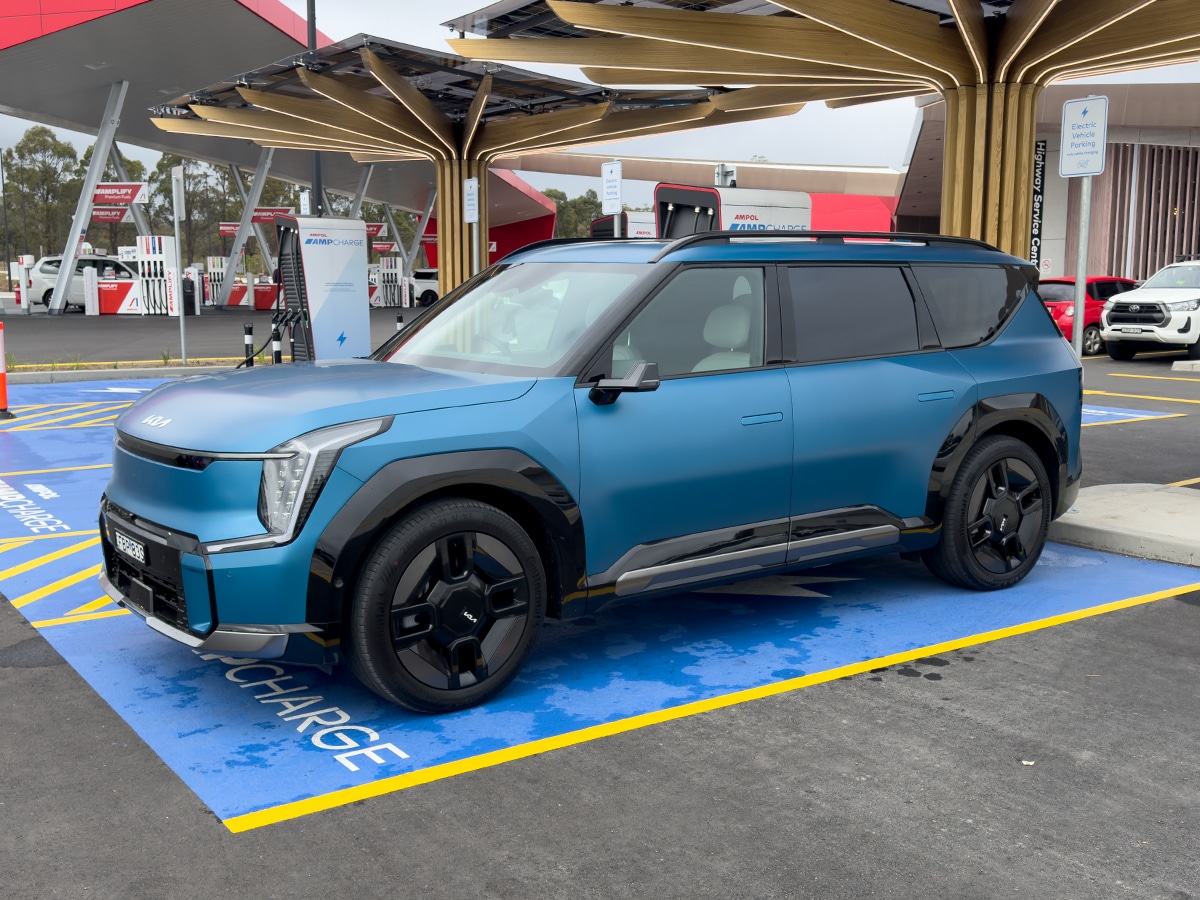 Motors, Batteries, and Range
There are two motor options available for the Kia EV9 in the Australian market. First, a RWD 160kW / 350Nm single electric motor configuration for the entry-level Air model that's supported by a 76.1 kWh battery pack offering a maximum driving range of 443 km and a 0-100km/h time of 8.2 seconds.
Second, an AWD 283kW / 700Nm dual electric motor configuration for the middle-range Earth and top-of-the-range GT-Line vehicles that's supported by a 99.8 kWh battery pack offering a maximum driving range of 512 km or 505 km respectively. The Earth model has a 0-100km/h time of 6 seconds while the GT-Line comes factory-optioned with a software upgrade to give it a quicker 0-100km/h time of 5.3 seconds.
| | | |
| --- | --- | --- |
| | Standard | Long Range |
| Battery type | Li-ion | Li-ion |
| Energy | 76.1 kWh | 99.8 kWh |
| Number of cells | 348 | 456 |
| Voltage | 632 V | 552 V |
| Capacity | 120.6 Ah | 180.9 Ah |
| Battery weight | 463.3 kg | 566.6 kg |
Battery configurations for Kia EV9 in Australia
RWD Single Motor
(Air model)
AWD Dual Motor
(Earth AWD / GT-Line AWD)
Maximum power
160 kW
141.3 kW / 141.3 kW
Maximum torque
350 Nm
700 Nm
Combined power output
160 kW / 350 Nm
283 kW / 700 Nm
Acceleration 0-100km/h
8.2 seconds
6.0 seconds (Earth)
5.3 seconds (GT-Line)
Top speed
190 km/h
200 km/h
Transmission type
1 speed automatic transmission (Reduction Gear)
1-speed automatic transmission (Reduction Gear)
Motor configurations for Kia EV9 in Australia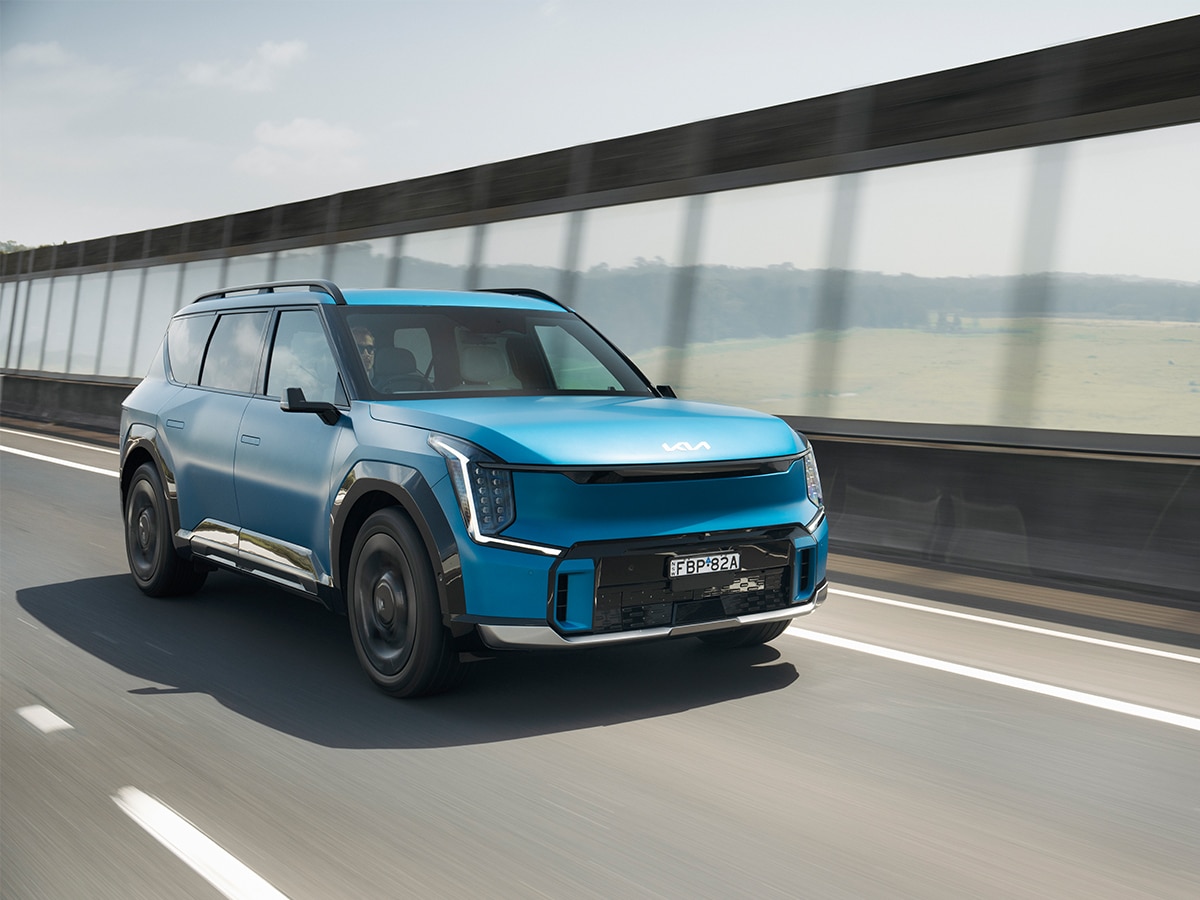 How Does the Kia EV9 Drive?
We were invited to attend the Australian launch of the Kia EV9 which gave us a chance to test both the Air and GT-Line model grades in different driving environments, including city, highway, and mountain roads.
The car has been subject to extensive local ride and handling tuning which has specified two suspension configurations for RWD and AWD. There's not a huge difference between the tunes but you can tell the Air is slightly softer than the GT-Line through corners while remaining confident on turn-in thanks to a lack of front motor weight. With 283 kW and 700 Nm, the AWD GT-Line has been tuned to sit flatter through corners and accelerate out of them quicker with double the torque of the RWD.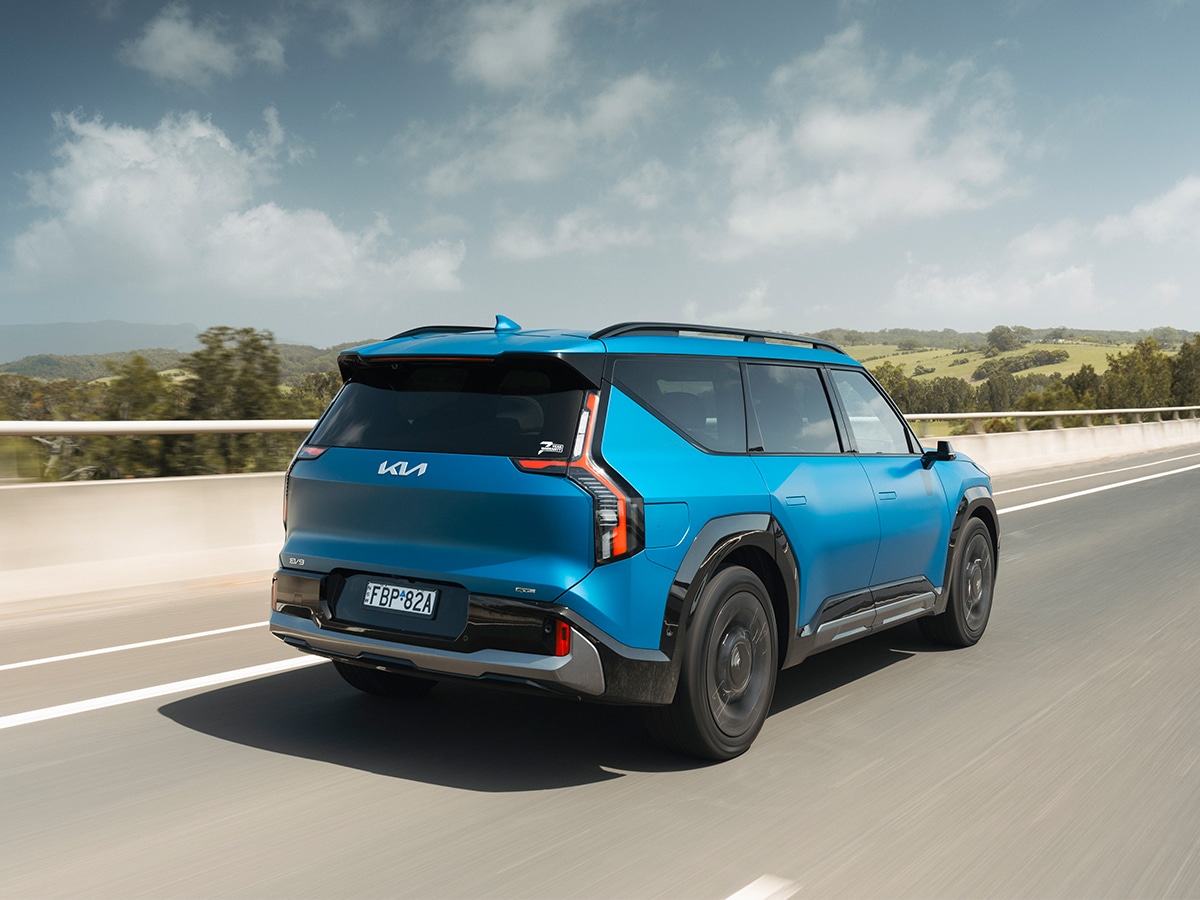 When you look at the 2634kg weight of the 99.8kWh AWD GT-Line, it's a surprisingly capable vehicle through mountain roads. You're not going to be hunting them on a day-to-day basis on your school run, but the hardware, predominately the rack-mounted belt-driven steering, helps the Kia EV9 strike a balance between both worlds through the wheel. It offers direct steering (that sharpens in Sport Mode) and combined with the McPherson multi-link suspension up front and 5-link system in the rear, the result is a car that's very comfortable to drive around town, on the highway, and on winding roads.
Finally, the regenerative braking is adjustable through paddles on the back of the steering wheel and we're glad to see that you can ramp it all the way up into 'i-Pedal' which offers a true one-pedal drive function.
Safety and Driver Assistance Features
In terms of safety hardware, the Kia EV9 features 9 airbags across the range, including a driver airbag, passenger front airbag, 4x side curtain airbags, 2x curtain airbag, and a front centre airbag between driver and passenger. It's currently going through Euro NCAP testing and we'll add results when available.
Safety software features include:
AED – Junction Turning, Crossing, Lane Oncoming, Lane Direct
Lane Follow Assist 2 (LFA2)
Highway Drive Assist 2 (HDA2)
Blind-Spot Collision Avoidance Assist (BCA)
Rear Cross-Traffic Collision Avoidance Assist (RCCA)
Multi-Collision Braking (MCB)
Centre Side Airbag (CSB)
High Beam Assist (HBA)
The Earth adds:
Parking Collision Avoidance Assist Reverse (PCA)
Blindspot View Monitor
Surround View Mirror
The GT-Line adds:
Parking Collision Avoidance Assist Forward/Side (PCA)
Remote Smart Park Assist (RSPA2)
Augmented Reality Head Up Display (AR-HUD)
Warranty and Servicing in Australia
The Kia EV9 is covered by Kia Australia's seven-year unlimited kilometre warranty with high voltage components covered up to 150,000 km. This is on par with those offered by European manufacturers such as BMW who offer an eight-year 160,000 km warranty on batteries and a five-year warranty on new vehicles.
Servicing for the Kia EV9 is every 15,000 km or 1 year, whichever comes first.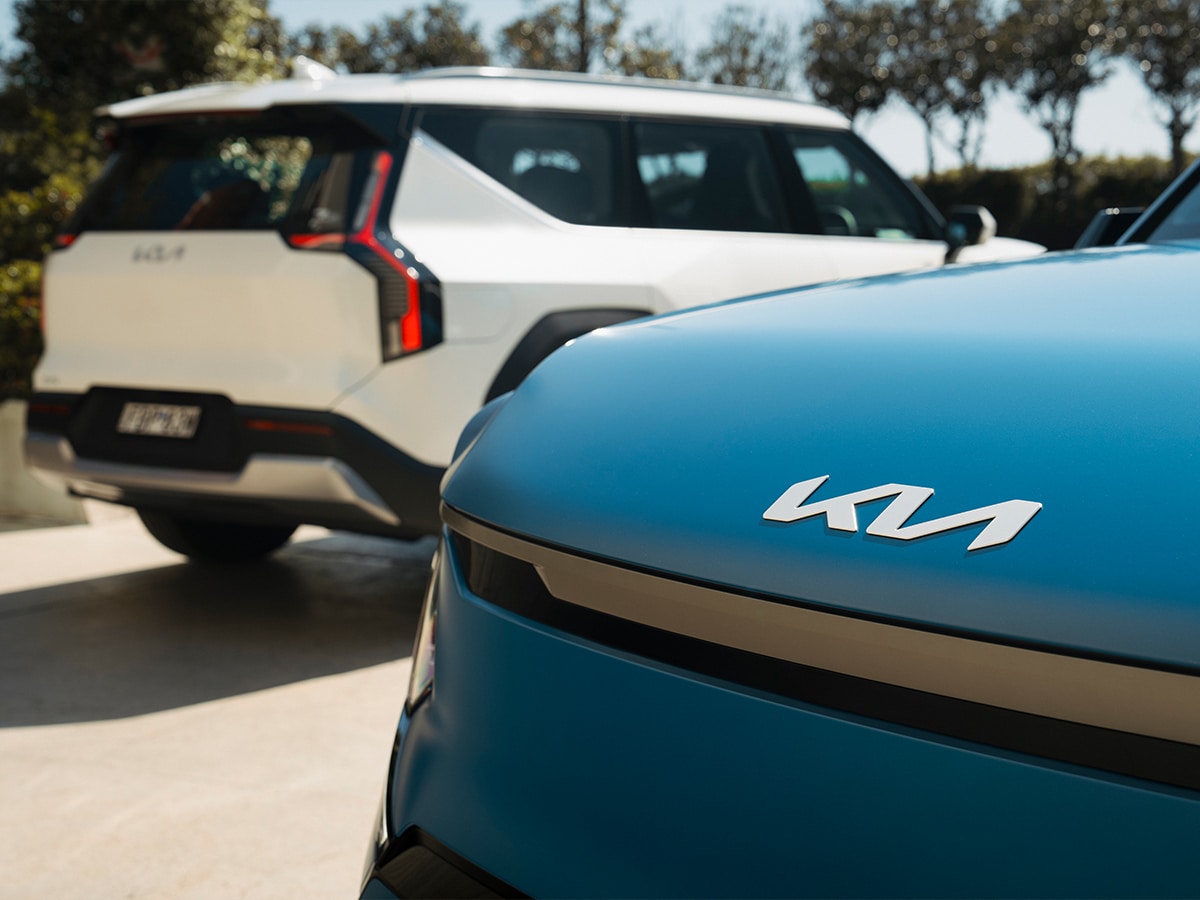 Man of Many's Verdict on the Kia EV9
Kia has created a true 'halo' product in the new EV9. It might be the brand's most expensive vehicle ever, but it still makes a case for value for money when you look at the European and Japanese petrol-powered competitors.
Ultimately, it occupies a new and growing segment in the Australian market. We're talking about a seven-seater electric vehicle with 500km of range, advanced driver assistance features, premium appointments on the interior and exterior, plenty of power, and concept car looks. However, being the first of its kind, with no direct competitors, it's also a test for the Australian market. Can your family car also be electric?
You'll also like:
---
Featured Video from Man of Many