Kahn Breaks out of the Rut with the Land Rover Defender 90
There are so many Land Rover Defender custom builds out there that it's almost becoming almost blasé to talk about yet another one. But, then, we're not talking about just another custom Land Rover build; we're talking about Kahn Design's 2015 Land Rover Defender 90 Flying Huntsman Homage II. "The Defender is probably the most iconic and well-loved British vehicles in existence," states Afzal Kahn, CEO and creative director of the Kahn Group.
"With the series Homage II edition, I set out to create something fashionable, iconic, and revolutionary which carries on the spirit of the Defender. Everything on this car, from the mechanical and engineering upgrades to the custom stitched leather, has been created at our state-of-the-art laboratory."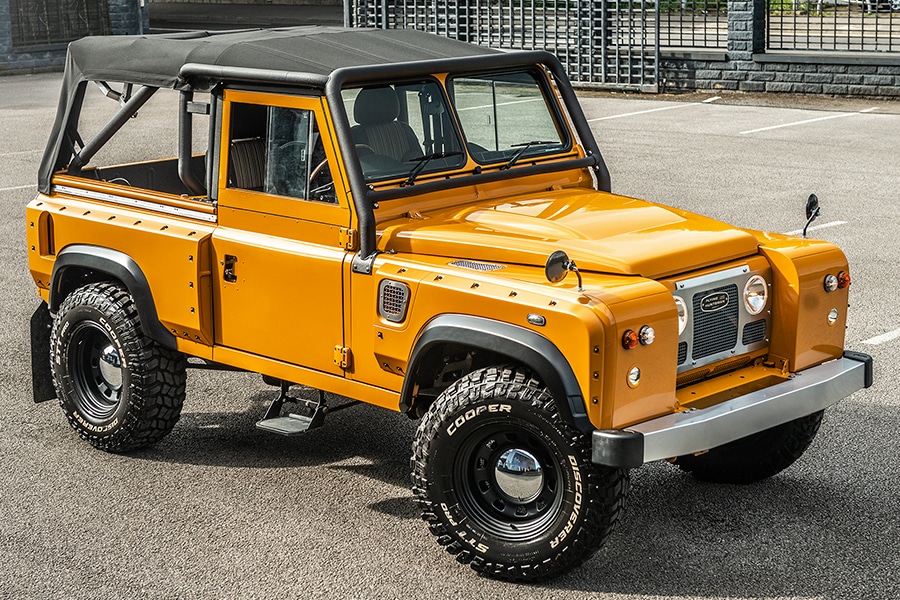 For the Defender 90, Kahn went with an old-school look and feel. Many of the aesthetic, mechanical, and engineering aspects of the Defender had to be completely reworked and upgraded, creating a redesigned silhouette. The front grille is new and is flanked by re-designed lighting that consists of indicators, headlights, and a driving light.
This new look serves the purpose of bringing to mind the classic series 2 Defender. The bonnet was also re-sculpted, and the Defender was outfitted with twin cross-hair exhaust. It also comes with a SVX-style soft-top conversion. The 1983 Heritage steel wheels are shod in Cooper STT tires. The build is based on a 2015 Defender and comes with a 2198cc engine capable of 122 braking horsepower.
Inside, the Defender is decked out in black and chocolate pinstripe leather, including the seats, roof headlining, custom centre console, grab handles, door panels, dashboard, instrument binnacle, headliner, and sun visors. The foot pedals are machined aluminium.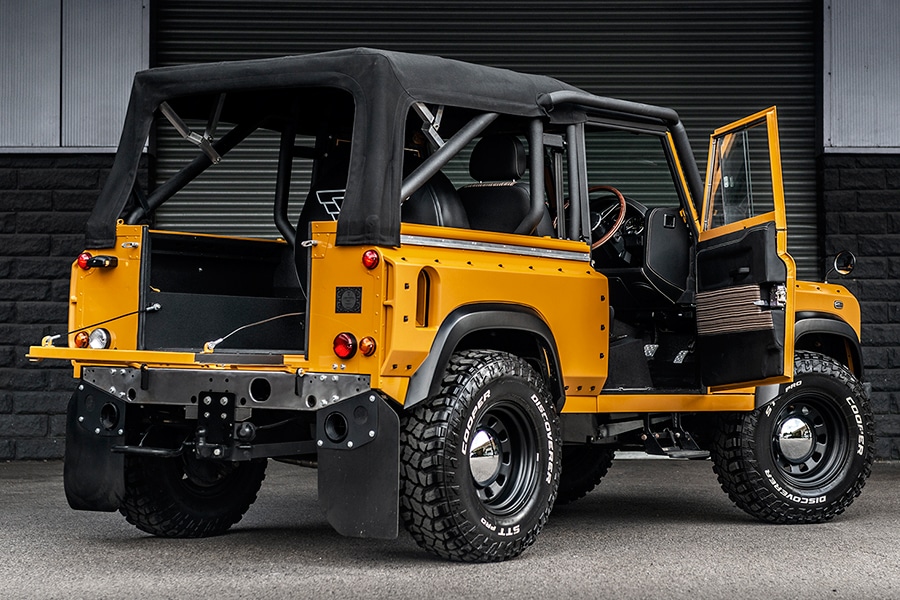 "These days it's not what you wear, it's what you drive," states Kahn. "I believe discerning fans and clients will instantly recognize this vehicle as a real tribute to the legend that is the Defender II model." If you're searching for a new look, then for USD$137,000 you can update your appearance with the Defender 90.