Terra Wind Amphibious RV is a Floating Motorhome
Oh, those trips to the lake. Pulling up to the boat ramp in your motorhome, and then driving out into the water. It sounds like the summary of a local news story—"Man drives RV into lake, news at 11." But that's not a story to add to the humorous local happenings section of the newspaper; rather, it's the work of a company called CAMI LLC. "Just doesn't seem right, does it?" quips John Giljam in regard to the 42.5-foot, 15.5-ton recreational vehicle driving into the water. Giljam is the man behind the Terra Wind Amphibious RV—a one-of-a-kind vehicle that combines the luxuries of a top-end RV with those of a yacht for a vehicle that is at home both on the land and the water.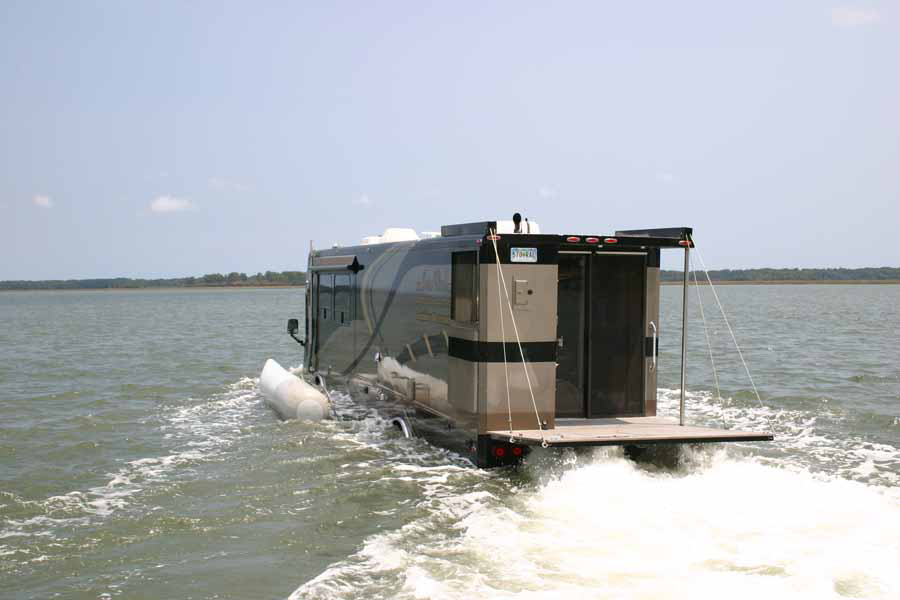 The idea for the Terra Wind came to Giljam after he bought an old military amphibious vehicle called a LARC-V. Soon after, Giljam built an amphibious motorhome 39-foot, 49-passenger touring vehicle. Giljam and his 10-man crew out of South Lima, New York, then tackled building a 42.5-foot-long, 102-inch wide motor coach that they mounted to an aluminum boat hull. They added a 330 horsepower diesel RV engine to power the wheels and two 19-inch propellers. After some successful tests, they moved on to the RV, but were disappointed with what they found coming out of dealerships. "We went to every high-end RV dealership we could find," says Giljam. "And what we found was not so much what we wanted, but what we didn't want—plastic slides in the cabinets, cheap construction materials. We wanted to do things right."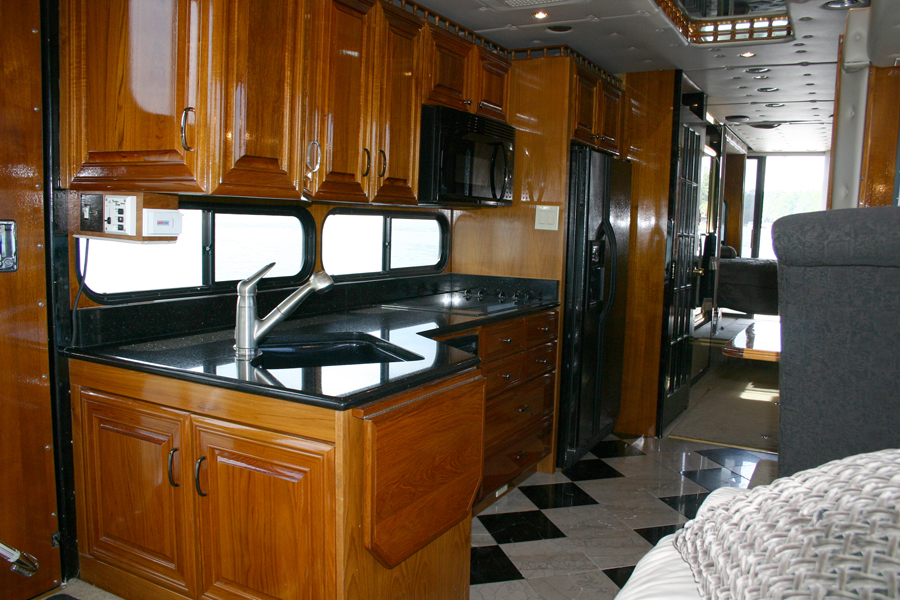 So they set out doing just that. They installed granite countertops, marble tile floors, and teak cabinets. There's a washer and dryer, dishwasher, stove, microwave oven, and a trash compactor. Then there's the entertainment center that includes a five-disc DVD changer, a surround-sound theater system, a 42-inch plasma TV, and a full-size Jacuzzi and shower combination with eight massage jets. The queen-size bed also has its own 24-inch TV with DVD, CD, and VHS (as well as a mirrored ceiling). And almost everything is covered in leather. And what about performance? The Terra Wind can hit a top speed of 80 mph on land and 7 knots on water. It comes with everything you need to get where you're going—including a fold-out diving platform. Trips to the lake just got a whole lot better.