Una Festa Maserati: A Track Day with Italy's Finest
The role of 'motoring journalist' can take you from the Alcantara bucket seat of a supercar one week to the side of a highway, bitterly cursing a lemon another, with little to no warning as to what you might be driving (or calling the NRMA on) next.
Friends and family are always curious about what's in the garage, to which I respond as modestly as possible. I'm usually greeted with excitement and smiling faces; familial encouragement, if you will. But when I recently said "I'm going to a Maserati Track Day", I experienced a different reaction indeed.
A sea of jealous rage, a chorus of "I hate you" and I felt like I was about to be lynched by a sea of trident-wielding loved ones. Clearly, a tipping point had been reached.
Since 1914, Maserati has been producing cars capable of pure elation for owners, and, apparently, murderous fury for onlookers. The funny thing is that most people walked away before I even had the chance to tell them what was actually planned for my day at Sydney Motorsport Park.
---
You'll also like:
Mercedes-Benz "Entry Point" EQA SUV Electrifies the GLA
The Tesla Cybertruck Will Have 4 Motors and a Crab Mode
Dongfeng Warrior M50 is an "AliExpress" Hummer With Ridiculous Price Tag
---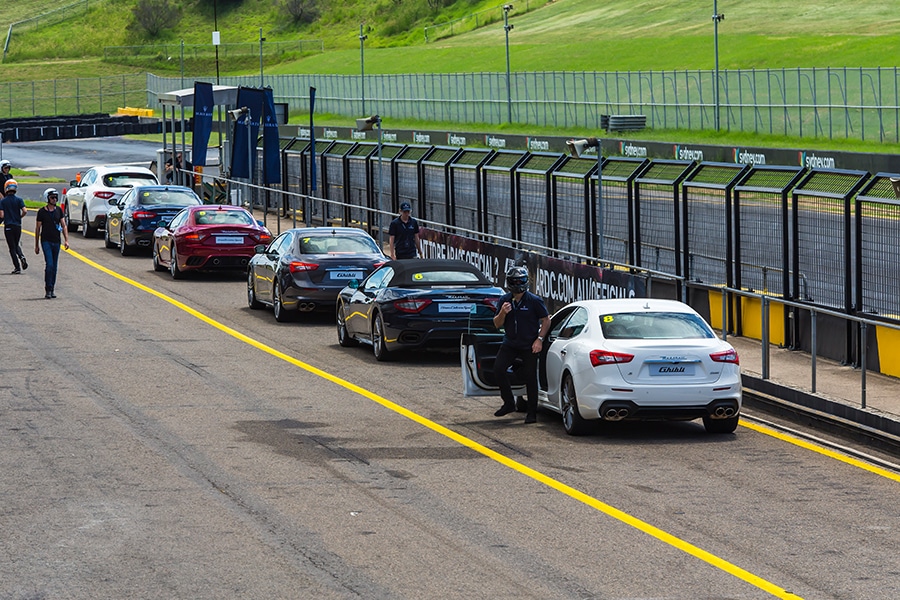 Aperitivo: As I arrived at Sydney Motorsport Park on a balmy Summer morning, I was greeted by the friendly Maserati crew and my convertible-crush for the past decade; the Maserati GranCabrio. It might have been the one hour ride to Eastern Creek on my motorbike, or the Italian coffee coursing through my veins, but even sitting still, the four-seat convertible gave me jitters.
I would have been happy sitting in the carpark revving that 4.7 litre, atmospheric V8, but I had to come inside and talk to the grown-ups. The grown-ups informed me that I would get to drive the entire Maserati fleet on not uno, not due, not tre, but quattro different circuits.
I quickly smuggled a few more Italian pastries in my pocket and headed for the track.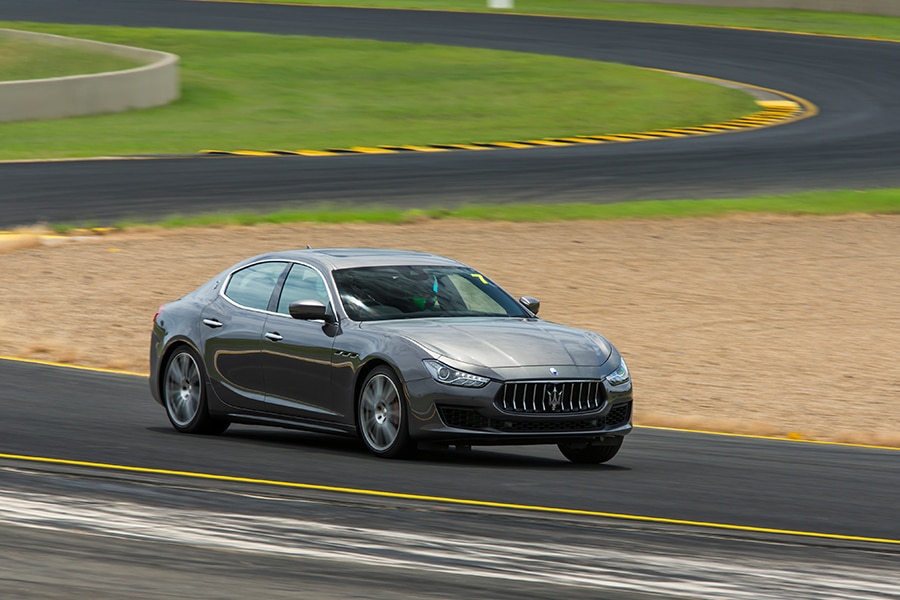 Antipasto: Waiting for me at Eastern Creek's infamous turn two was the Maserati Ghibli S. Powered by a sweet sounding 430 hp V6, the four-door sedan looks as at home in the city as it does the circuit. The elegant body is capable of covering 0 – 100 km/h in 4.9 seconds and so Maserati thought it might be a good idea to start the day with some cornering school basics.
Launching from a standstill, I was encouraged to let the V6 scream all the way to the braking marker and trail the Ghibli deep into the neverending left-hander just waiting for a sniff of an apex. Once spotted, it was back on the throttle, and setting up for a pesky right-hand exit.
I continued this sequence for another five rounds, each time braking a little harder, looking a little further, and turning a little smoother. It was enough to get the blood pumping but just as I started to get close with the Ghibli S, it was time to put down the cutlery, and switch for a larger plate…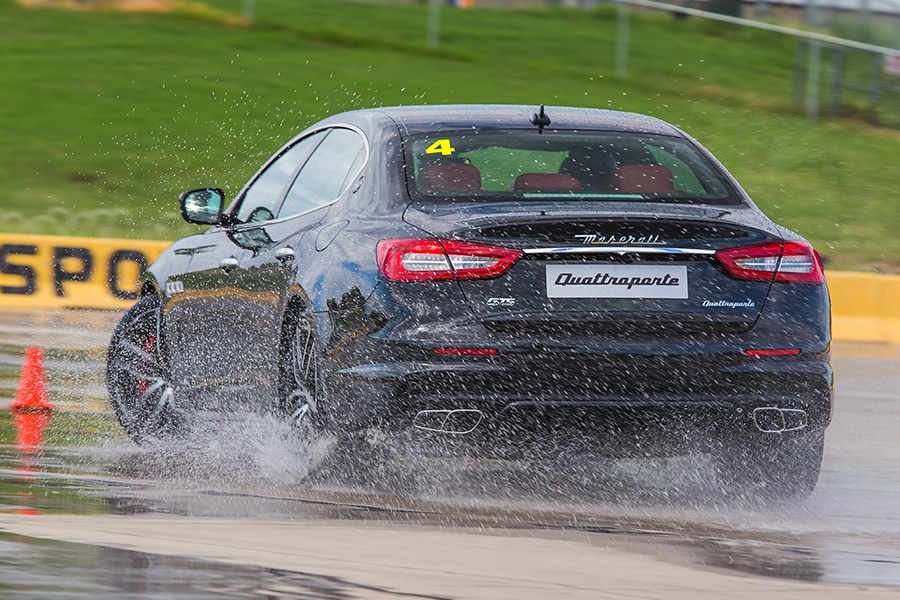 Primo: Next up was a car that I was quite familiar with, the Maserati Quattroporte.; having test Toyota LandCruiser 70th Anniversary Edition is a Big, Boxy Ode to the Outback Warrior late last year, I was quite prepared for how juicy this main course was going to be.
What I wasn't expecting, however, was that fact I'd be driving the Quattroporte on the skid pan. I always love a bit of drift tomfoolery, but I'd never done it in something so, well, Maserati.
My first few laps around the imaginary roundabout were performed with driving aids engaged. Even with aggressive oversteer movements and even more aggressive throttle inputs, the Quattroporte politely said no grazie. As much as I respected this life-saving technology, however, this was in fact, a skid pan.
Traction control off, a dash of oversteer, a dollop of power and away you go. The usually stoic Quattroporte became a lunatic when given the chance, and although I doubt many owners will approach their local car parks with such lunacy, it's nice to know there's always a skid pan close by to let off some mutual steam.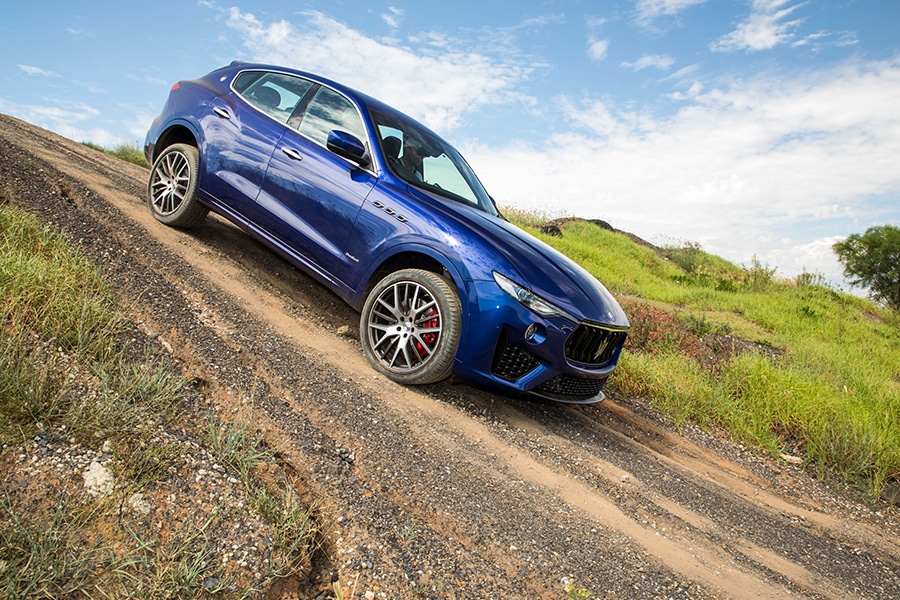 Insalata: With two hearty courses under my belt, Maserati thought some leafy greens might be in order. The Levante was waiting at the top of a grassy knoll with an off-road Labyrinth in its peripherals, and even I was a little bit concerned for the SUV's wellbeing.
I'm more than aware of We Test Drive the Luxury Cars of Forza Horizon 4, but with some near vertical dirt descents on the circuit, I didn't want to be the first person to face plant a shiny trident in the sandpit. Not only did the Levante complete the course with ease (on factory tyres, I might add), it did so with bewildering levels of comfort.
Adaptive air suspension took care of undulations with minimal effort and the extra height allowed enough articulation to get through the big boy bumps. Hill descent control allowed you to safely point your Maserati at the Earth's surface with the peace of mind that the electronics would nurse you down there smoothly and safely.
A few more spirited laps in the dirt, and it was time to head over to pit lane for lunch.
Formaggi e Frutta: My previous flirtations with Eastern Creek's gastronomy consisted of instant coffee, pies, and sad sandwiches. So, when Maserati unveiled Chef Giovanni Pilu, you could say I was a little bit eccitato.
Italian parmesan grated over delicious Plates of pasta… Freshly baked focaccia dipped in Balsamic from Modena… I forgot I was at a race track in Western Sydney. I'm not sure what Pilu's team had to work with, but whatever came out of that mystery kitchen was so delicious it genuinely transported you.
If carbohydrates make you sleepy, then I had basically been put under a food-based anesthetic. It was only when a staff member gently shook me with an espresso in hand and whispered, "You're on track", that I saw the light and reached for my helmet.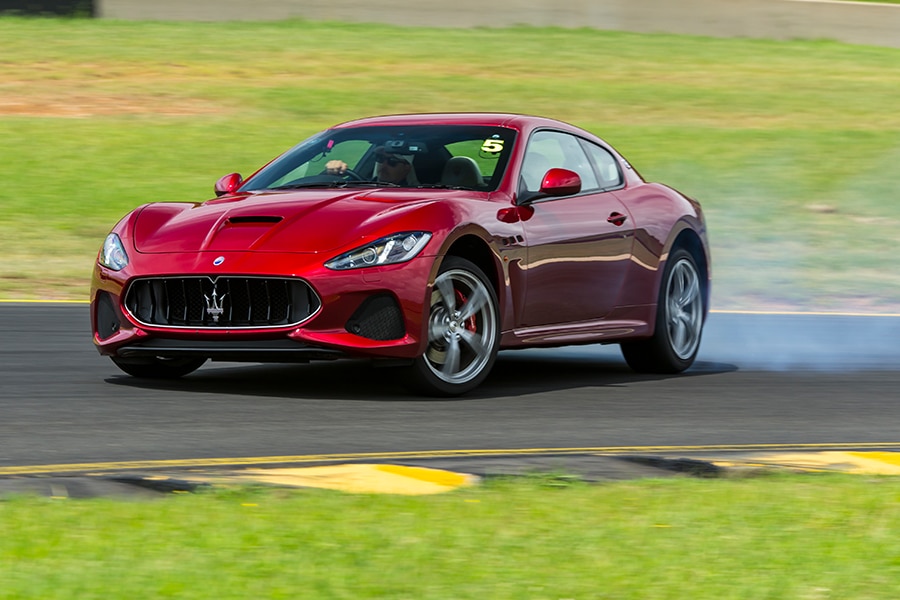 Dolce: "You remember everything from cornering school?", asked my smirking instructor as I climbed inside the GranTurismo MC.
I don't even think I answered. With 460hp underfoot and those growls that could only be produced by a Maserati V8, I must have tuned out for the first few corners. "More brakes!", the instructor rightly snapped me out of my V8 induced fog.
With a lap under my belt (and half of Pilu's kitchen), I could fully appreciate how much sharper the GranTurismo MC was. Steering input was more direct, suspension firmer and although the chassis felt stiff and playful, there was a sharpness there that had the potential to be less forgiving.
But it's the endangered species under the bonnet that's the GranTurismo's swan song, and what a song it is. The 4.7 litres of normally-aspirated goodness is as linear as it is loud, and seemingly has the ability to purse your lips on demand.
A V8 Maserati on track was the dolce the day deserved.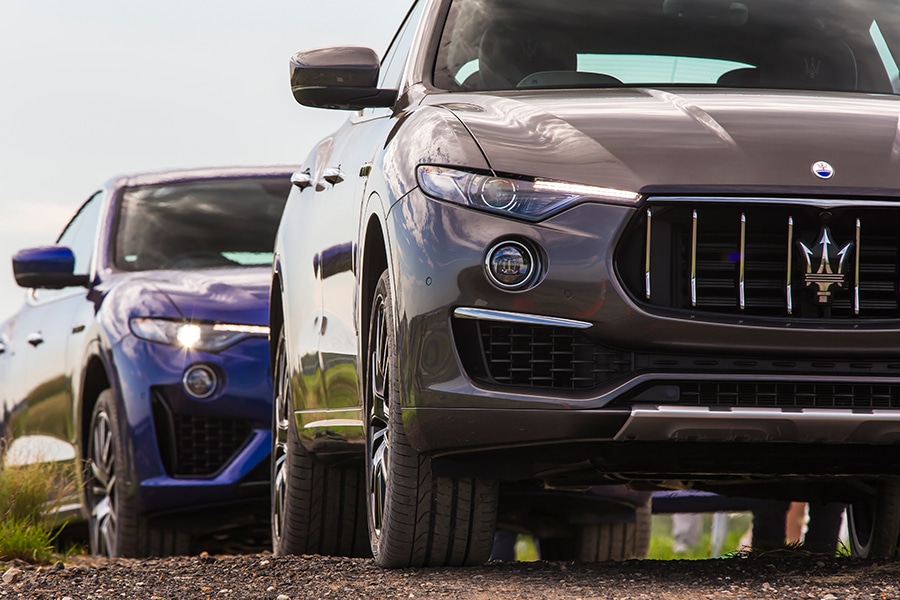 Digestivo con caffè: How do you digest such an extravagant day? Well, once I said my goodbyes and hopped back on my two-wheeled Italian steed, I had a long ride home to process the day.
Whilst this was, at its core, a track day to showcase the capabilities of the Maserati fleet, 'speed' rarely hogged the spotlight. This day cemented the fact that Maserati makes some of the best sounding engines in the world. They still make cars that are simultaneously interesting and beautiful.
And they still manage to feel exclusive while being warm and accommodating.
Can you buy more sensible cars for less money? Absolutely. But in many ways, a Maserati isn't sensible. It's bold and understated; handsome and quirky; loud and shy; luxurious and fun
But above all, it's engaging from head to toe. A Maserati won't be everyone's taste, but for those that get it, it will be a degustation they'll never forget.
---
You'll also like:
Carbar Review – 5 Reasons Why This Car Subscription is a Smart Choice in 2021
Ram 1500 Rebel OTG Concept Is Adventure Ready
2015 Mercedes-Benz G63 AMG 6×6 is Spectacular