Harley Davidson Sportster S Review: A Fitting New Ride
There are a few models in the motorcycle world that bear a little more weight than others. Models that carry so much history, that the release of each evolution carries an enormous burden of both scrutiny and expectation. Similar to Porsche's "911", Harley Davidson's "Sportster" brand, is one such iconic namesake. Not only is it the longest continuous line to rock the bar and shield, but it's also always one of the longest in the entire motorcycle industry.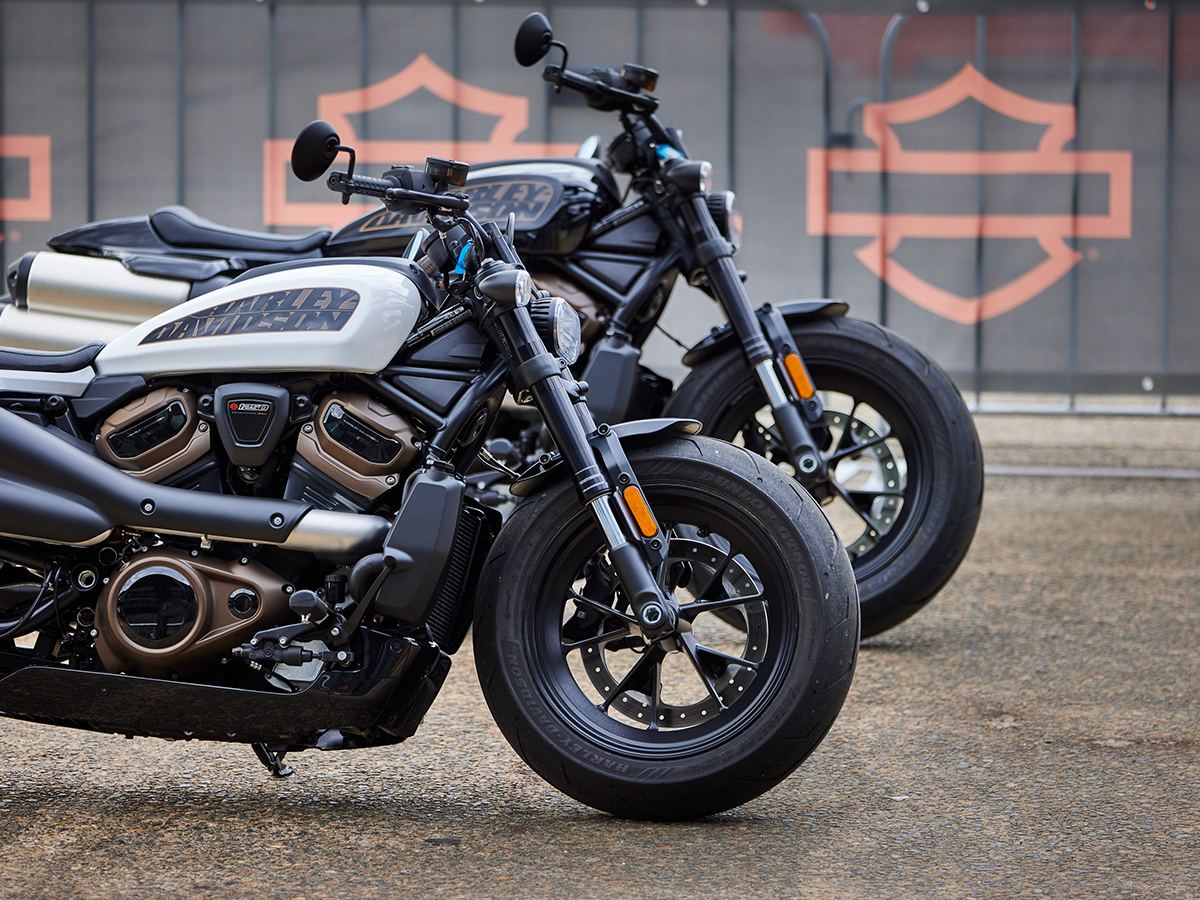 Since 1957, bikes flexing the "Sportster" name, have been some of Harley's most exciting and controversial, but ultimately, some of their most enjoyable. From the original "XL" through to the "XR-750", each Sportster has been unique in its form, united in its soul, and while some die-hards have never really "got" the Sportster ethos, the cult following that exists is the only proof that matters in Harley's iconic pudding.
So, with the launch of a brand new Sportster in our periphery, Harley Davidson Australia knew that such a colossal release would require an equally impressive venue to showcase the starlet. With that in mind, they decided to exclusively book a cruise terminal on Sydney Harbour, invite us along, and throw us the keys to one of the most exciting motorcycle releases of 2021.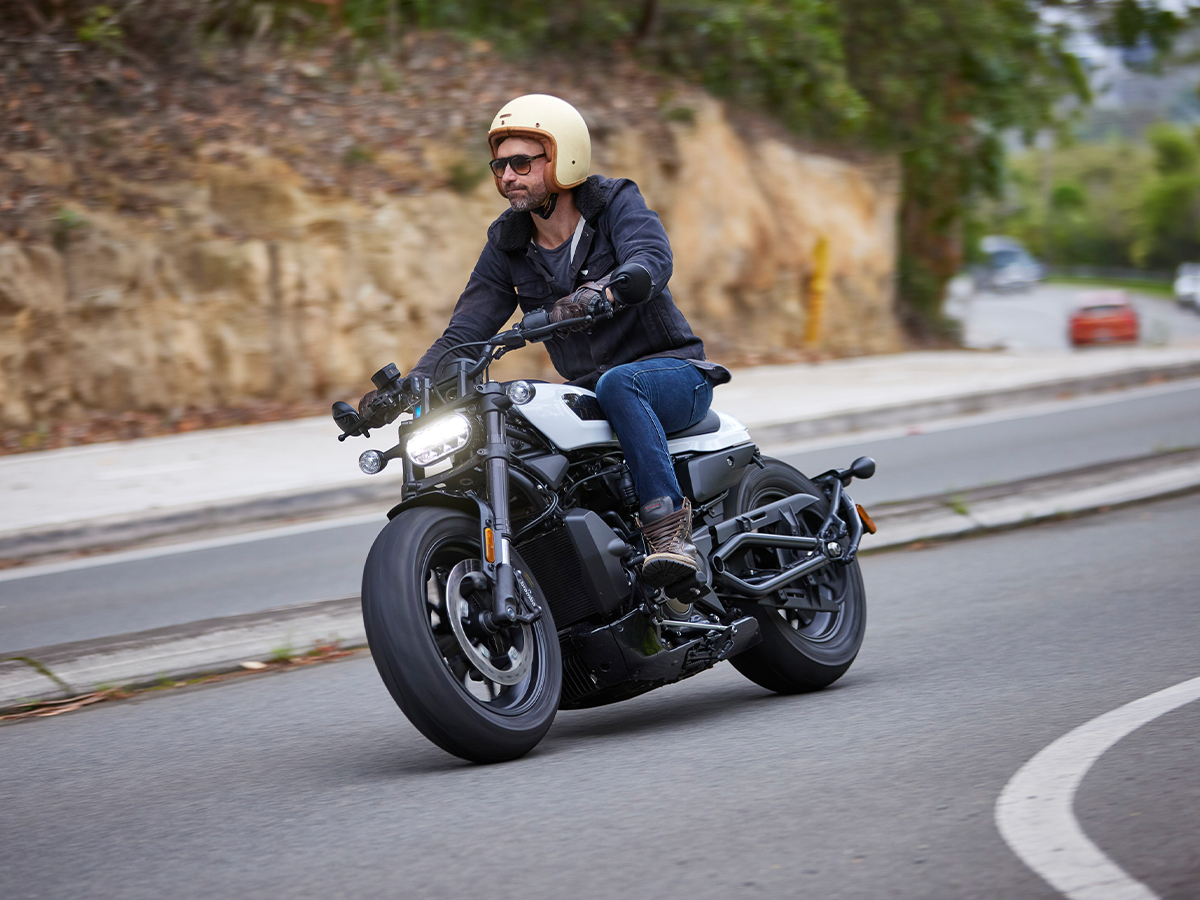 Design
We've got to say, walking through Balmain's White Bay cruise terminal is awe-inspiring on a bad day, but when it's accompanied by Harley Davidson's new Sportster S, you know you're in for something special.
The new bike's presence is instantly felt. It's a little bulky in places… a little bit pretty in others… It's one of those interesting melting pots that Harley Davidson is getting so good at. From a distance, you see a powerful stance in an all-new silhouette, but when you get up close with the new Sportster S, there's a lot of history peeking out of that masculine package.
From the old XR-750, we see a high-mounted exhaust system inspired by the iconic flat-track days. The new pipes are made from corrosion-resistant stainless steel and are engineered to stay cool at all times.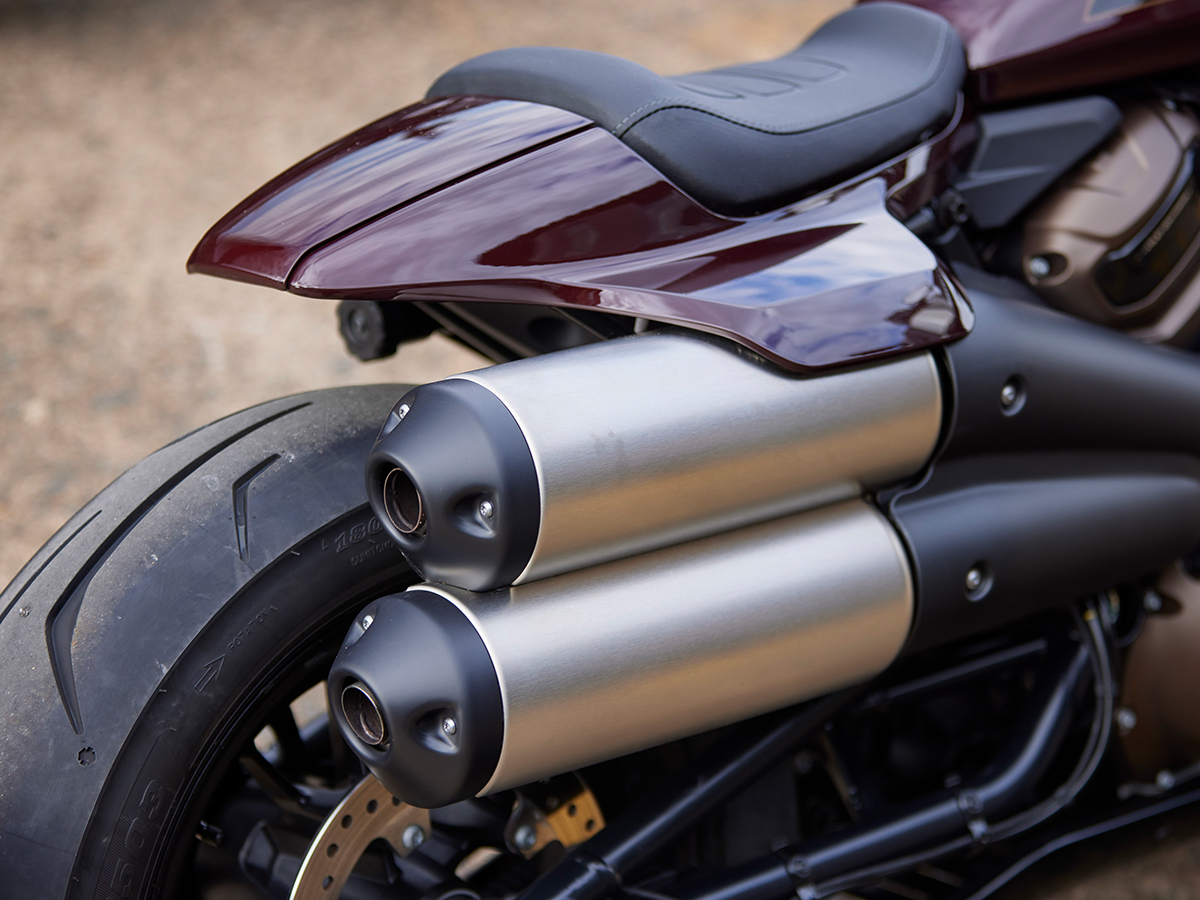 While you may think a high mount exhaust system seems functionally out of place on this modern set-up, Harley has balanced the lines and diameters so well that it's difficult to picture the bike without it.
Out the front, we've got a fenderless set-up with an oversized tyre, which gives a sly wink to the "bobber", and with some thick, inverted front forks, you'd be forgiven for making comparisons to some of the Sportsters from the 70s and 80s. Down below, some cast-aluminium five-spoke wheels add a modern take on a retro pattern that anchors the visual landscape quite tastefully. The entire powertrain is coated with a "Chocolate Satin" finish (almost like a deep bronze), which is something that has to be seen in the flesh to be appreciated. Harley Davidson says it "draws the eye and exaggerates the engine size", but we just think it adds some unique texture and colour and separates this bike from the rest of the pack.
---
Featured Video from Man of Many
---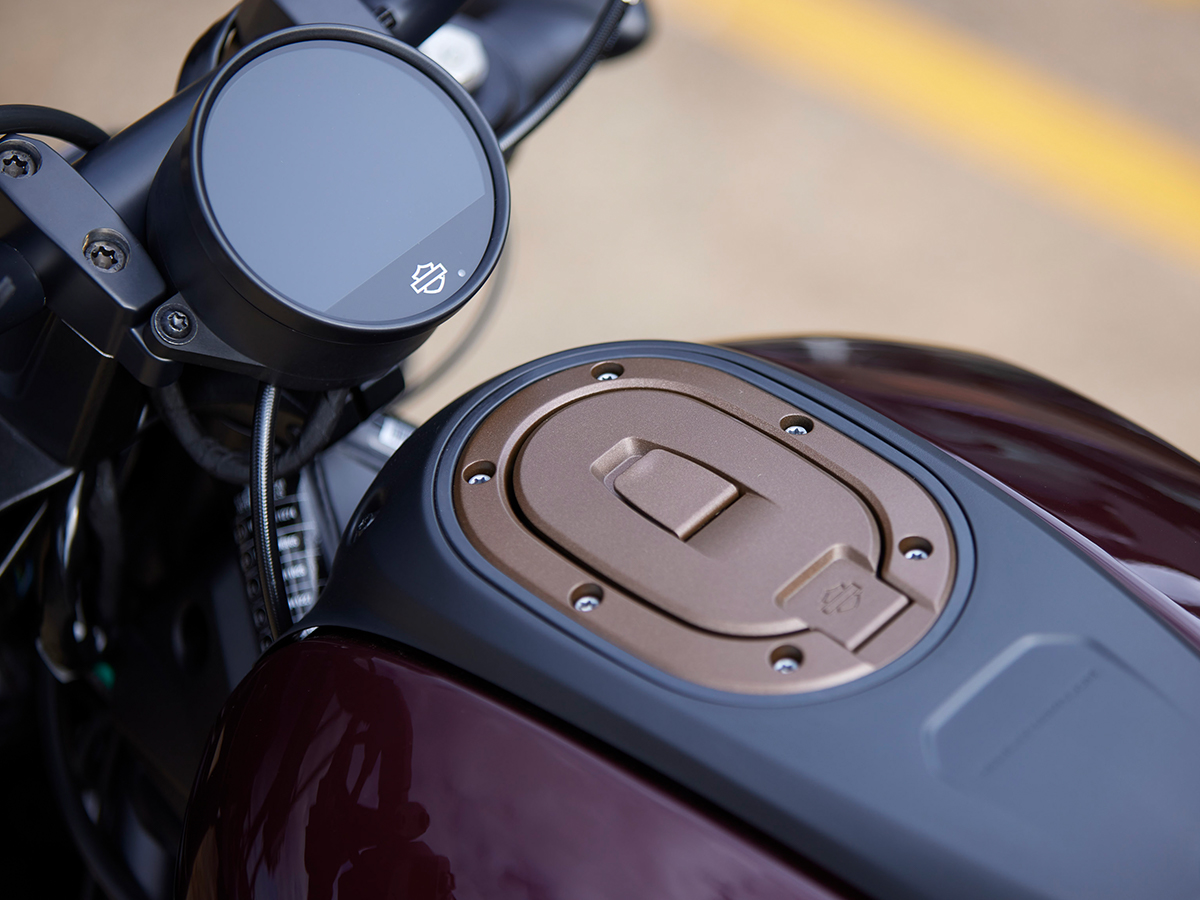 In terms of electronics, the bike unashamedly disregards its history and carves its own path. The Daymaker LED headlamp has a distinctive oval shape that looks straight from a concept bike, but ultimately it provides a distinctive front end, even within the Harley Davidson models. The 4.0-inch TFT gauge is a thing of absolute beauty that's as pragmatically useful as it is visually impressive, and while it might take some time getting used to, once set-up, not many would go back to analogue.
The entire design flirts between streamlined, butch, custom and clean. While the Sporster S looks impressive in photos, it is a bike that has to be seen in person to truly appreciate the material quality and structural details that scatter its unique canvas.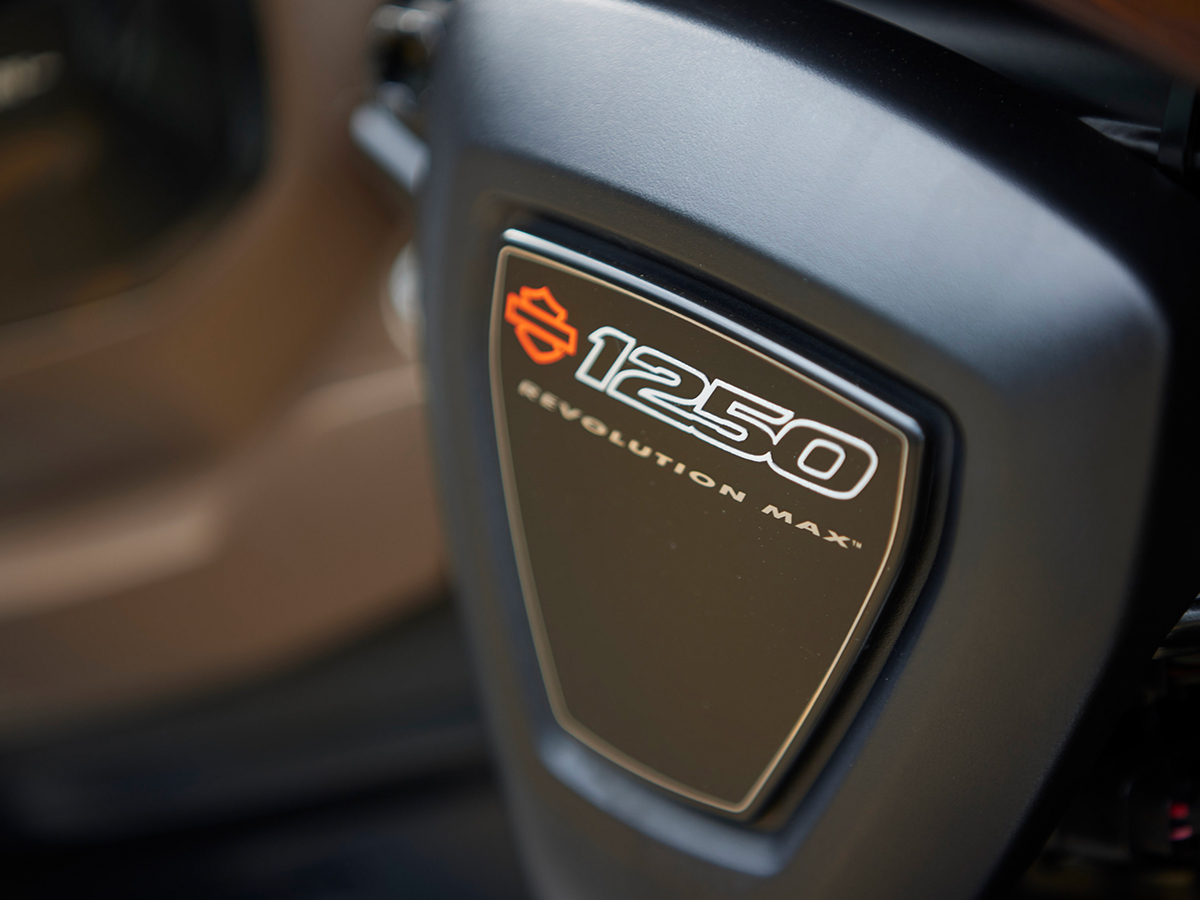 Engine
With all of this cutting edge design and technology onboard, Harley knew they needed something special to power the new Sporster S. Gone are the days of pushrods and open exhausts, the new engine had to be powerful, reliable, and meet modern emissions standards. So, they took the impressive 1252cc Revolution Max engine from the Pan America, tweaked a bunch of the internals, and tuned it to suit.
Punching the muscular hot rod up and down the cruise terminal, and we could really get a feel for its impressive torque. The 60 degree, water-cooled V-twin just pulled and pulled until we ran out of space. Mid-range torque was beefy, to say the least, and when that variable valve timing kicked in, that familiar Pan-America-esque top-end really started to sing. Audibly, we'd probably prefer a little more theater from such a dramatic motorbike, but in terms of performance, the package is an absolute blast.
For the keyboard engineers out there, Harley has shaped the pistons to "match the combustion chamber dimensions of the cylinder heads and the length and shape of the intake velocity stacks, combined with the airbox volume, are tuned to maximize performance across the engine speed range." If that doesn't mean much to you, rest assured, this 121 horsepower engine is smooth at low speed, torquey where it counts and pulls hard all the way to 9500 RPM.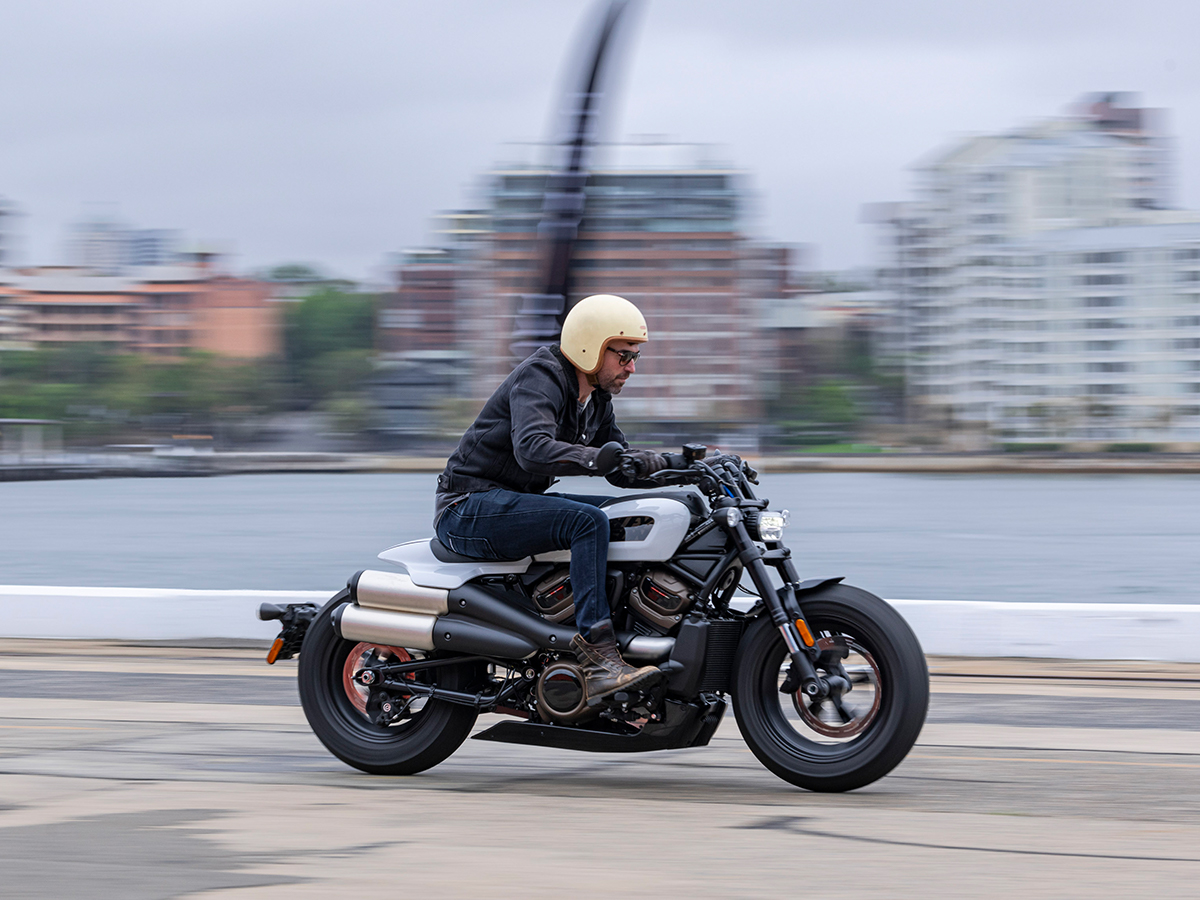 Riding
Once we'd been told to retire from our temporary drag-bike careers, Harley Davidson was kind enough to let us loose on Sydney roads.
The lightweight package took a little while getting used to, as we'd never ridden a bike that had so much going on. On one hand, the chassis was so stiff and responsive, that you always felt planted under acceleration. On the other hand, the oversized tyres felt a little 'balloony' in terms of steering, and probably required more time in the saddle to figure out. Harley claims the Sportster S can achieve a lean angle of 34 degrees, but we think it would take some more capable riders than ourselves to just jump on and achieve such scrapey success.
In terms of damping, the Sportster S is very well sorted. Upfront, Showa have provided 43mm inverted forks with fully adjustable preload and compression/rebound damping, which not only looks impressive but also gives stiffness and pliability that's rarely seen on Harley Davidsons.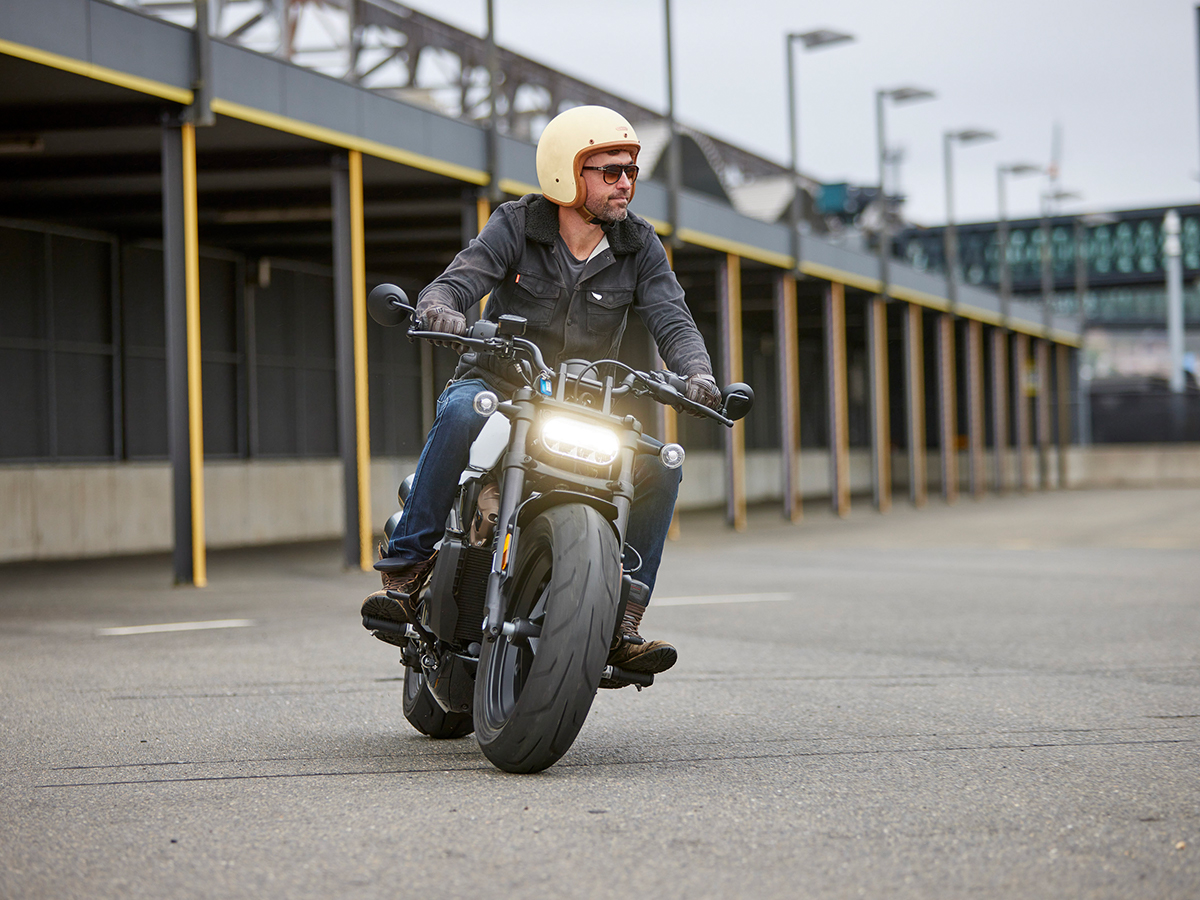 The rear suspension is a single Showa 37mm Piggyback reservoir shock with adjustable hydraulic preload and compression/rebound damping, which is adjusted simply using a knob located under the seat. While not the sort of thing you'd probably adjust ride to ride, it would become very handy if you were switching between pillion and solo riding.
Stopping power is supplied via industry legends, Brembo, with a single disc, mounted to a radial monoblock four-piston (32 mm) calliper. The brake feel is excellent when dipping between corners, and while a dual-disc setup might be preferable when you're starting to push, the single should do the job without fading on most occasions.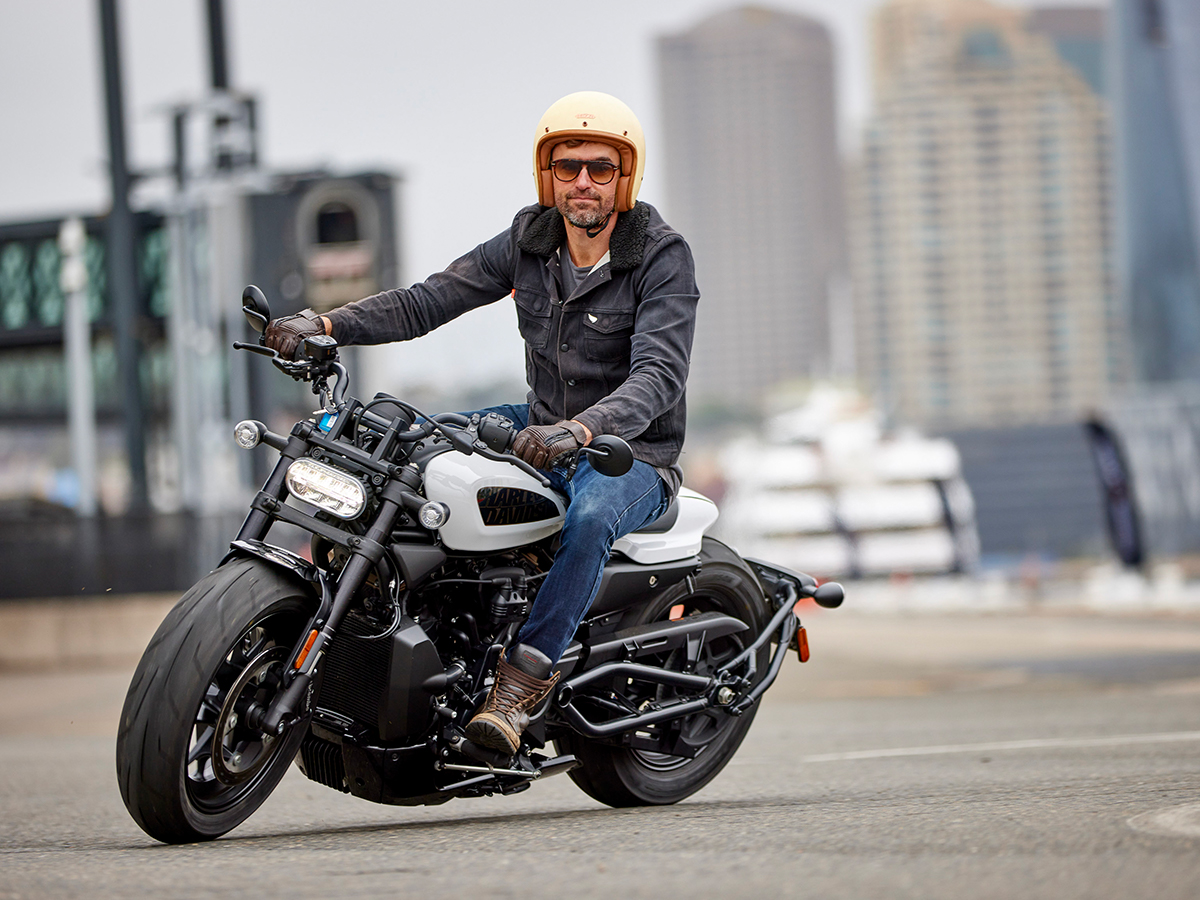 The Verdict
So, does the new iteration deserve to wear the " Sportster " badge we pride? Absolutely.
Harley has produced a beautifully designed, well-built cruiser that looks the part. They've drawn upon the success of the Pan America powertrain, tweaked it a little, and it feels right at home tucked away in that cool little chassis. Some Sporster purists might find it a little too tame in terms of noise and smoothness… some might find the design a little too progressive… but for those open to change, the new Harley Davidson Sportster S is a sublime offering.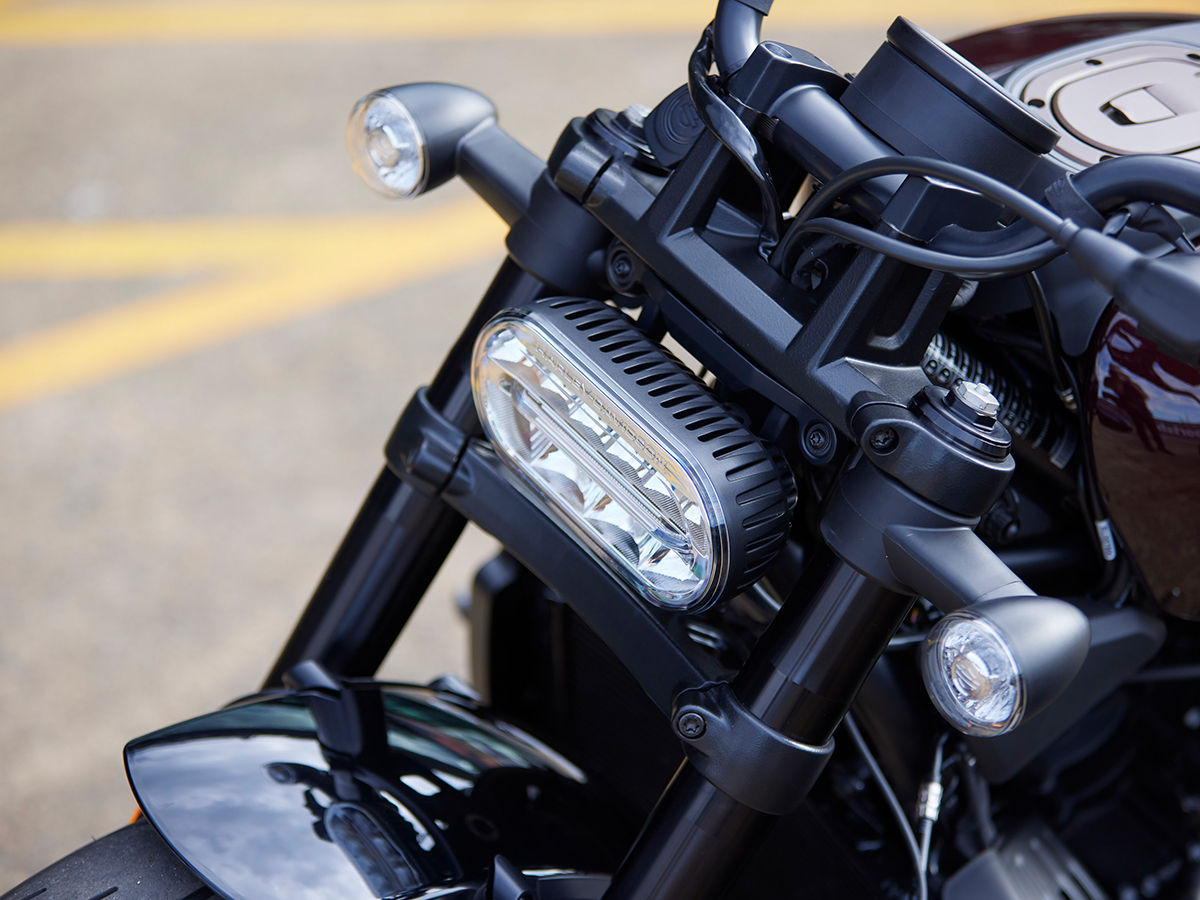 You'll also like:
Retro Meets Adventure with Ducati's DesertX
Air Jordan Legend Tinker Hatfield 'Portlandizes' a Custom Motorcycle
Harley-Davidson's New Sportster S is Born to Be Wild
---
Featured Video from Man of Many