13 Best HDMI Cables: Gaming, Television and Audio
While the average consumer might find the humble mere par of the course when it comes to playing audio and video out of their TV, there's far more to HDMI cables than meets the eye. You see, for film buffs, gamers and couch potatoes the HDMI cable is like a gift from the gods themselves, bringing glorious 4K high-definition picture and audio to the masses. But if you've ever been shopping for an HDMI cable, you'll quickly find yourself lost down a rabbit hole of technical terms and jargon, when all you wanted was to be able to play the latest Call of Duty in 4K.
Some cables go for only a couple of dollars, while others are far more expensive yet look relatively the same. We're here to clear the confusion with our guide to the best HDMI cables on the market based on picture quality, audio, and value for money. Let's check them out.
You'll also like:
Open-Back vs. Closed-Back Headphones: Buyer's Guide
14 Best Desktop Monitors for Gaming and Work
Sennheiser AMBEO Soundbar is an All-in-One Home Cinema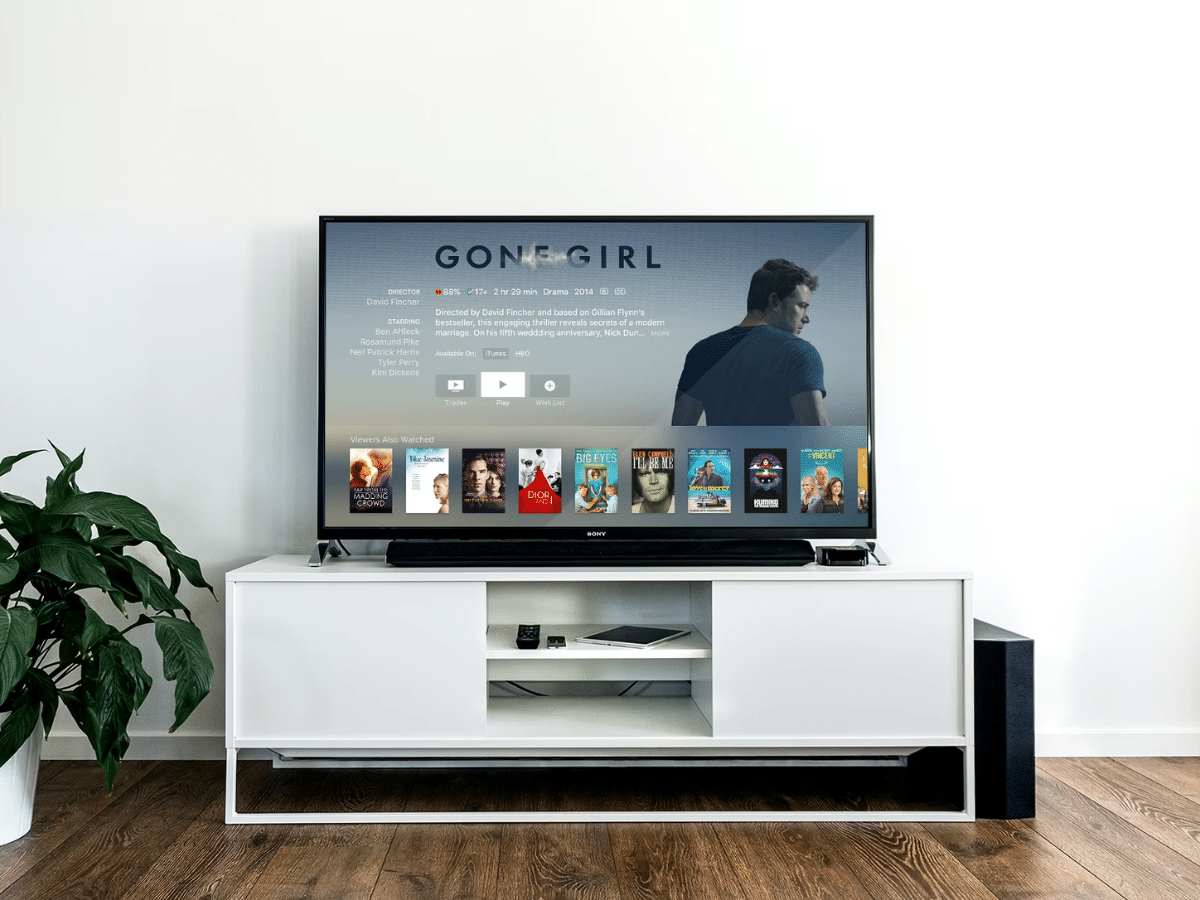 What to Look For in an HDMI Cable
There are many important factors to keep in mind before buying an HDMI cable. Ask us a few years ago and we'd say there's no difference in audio or sound quality between the cheapest and most expensive HDMI cables, but today, that couldn't be farther from the truth and it's a cause for confusion for many. HDMI 2.0 vs. HDMI 2.1, what's the difference?
What is HDMI 2.0?
When it comes to HDMI 2.0 cables, there are two main categories and only one has the ability to play 4K content. Both categories of HDMI also come with or without ethernet capabilities, meaning there's technically four different types of HDMI 2.1 cable.
High-speed (Category 2)
High-speed with Ethernet (Category 2)
Standard-speed (Category 1)
Standard-speed with Ethernet (Category 1)
Category 1 (standard-speed) cables are rated to carry at least 1080i, but may also be capable of handling 1080p. In comparison, Category 2 (high-speed) cables can transmit up to 4K as well as 3D. So if you're looking for [email protected], you'll need to get a category 2 HDMI cable.
As it stands today, there's also very little difference in price between standard-speed and high-speed HDMI cables, so even if you don't need 4K we recommend going for a high-speed Category 2 HDMI cable to future-proof yourself as much as possible. High-speed HDMI 2.0 cables will be more than adequate for basic visual entertainment needs on televisions that are more than a few years old, however, newer systems with HDMI 2.1 support will need a better cable, and that's where frame rate, Dolby Atmos and high-speed data streaming comes into play.
What is HDMI 2.1?
HDMI 2.1 is the most recent type of cable to hit the market, and with the arrival of smart TV's, 8K resolution and Dolby Atmos it's the new norm when it comes to HDMI cables. In basic terms, these cables support a range of higher video resolutions and refresh rates including [email protected] and [email protected] Dynamic HDR comes as standard, and bandwidth for streaming is increased from 18Gbps to 48Gbps. These cables are backwards compatible with older systems as well.
Like the systems they're designed to support, these cables house a list of features necessary to get the most out of your television, gaming setup, or audio system. Including;
High resolution and refresh rates, [email protected] and [email protected]
Dynamic HDR support for extended dark to bright contrast resulting in deeper blacks and brighter whites.
48Gbps bandwidth for uncompressed HDMI 2.1 on Ultra Certified Cables.
eARC for uncompressed 192kHz, 24-bit audio, including 5.1 and 7.1, and 32-channel uncompressed audio.
DTS-HD Master Audio, DTS:X, Dolby TrueHD, Dolby Atmos.
Variable Refresh Rate (VRR), Auto Low Latency Mode (ALLM), Quick Frame Transport (QFT).
As these are the new industry standard for cables, we recommend the use of HDMI 2.1 cables exclusively for most modern applications. If you've purchased a new television, console, or soundbar the product will come with an HDMI 2.1 capable cable, so the only trouble you might come across revolves around length, we've got you covered with our list below but you'll struggle to find an HDMI 2.1 Ultra Certified cable longer than 10-metres.
Which Is Better?
When it comes to comparing cables we recommend taking a look at the application for your cable. If you're using the latest generation gaming console, 4K television, or monitor we recommend choosing an HDMI 2.1 cable. Here, you'll be able to take full advantage of the screen, audio and refresh rates provided on these devices with streaming up to [email protected] (frames per second) as well as [email protected] Considering most televisions and monitors also feature Dolby Atmos, you'll want to take advantage of this feature as well.
Best HDMI cables
1. GTEK Ultra High Speed 8K HDMI 2.1 Cable
When you're looking for a long HDMI 2.1 cable, look no further than the GTEK range. These cables come in a variety of lengths up to 5-metres long, feature uncompressed 8k video resolution at 60Hz refresh, and are also capable of supporting 4K UHD resolutions at 120hz with bandwidth up to 48Gbps. These are the best cables for Sony Playstation 5, Xbox Series X/S and modern graphics cards. This cable also features a lifetime warranty and a connection guarantee, with Ultra certified HDMI cable to back up its authentic certification mark.
Length: Up to 5m
Supports: HDMI 2.1, including all resolutions up to [email protected], [email protected]
Price: from AU$59.00
2. UGREEN 8K HDMI 2.1 Cable
The best value for money cable on this list, the UGREEN cable measures in at only a couple of feet in length but offers HDMI 2.1 support for next-generation gaming. Your console might come with a cable of this length, however, if you're looking to run dual displays, soundbar or maybe just need a backup cable for another room this is the option for you.
Length: Up to 3m
Supports: HDMI 2.1, including all resolutions up to [email protected], [email protected]
Price: from AU$18.99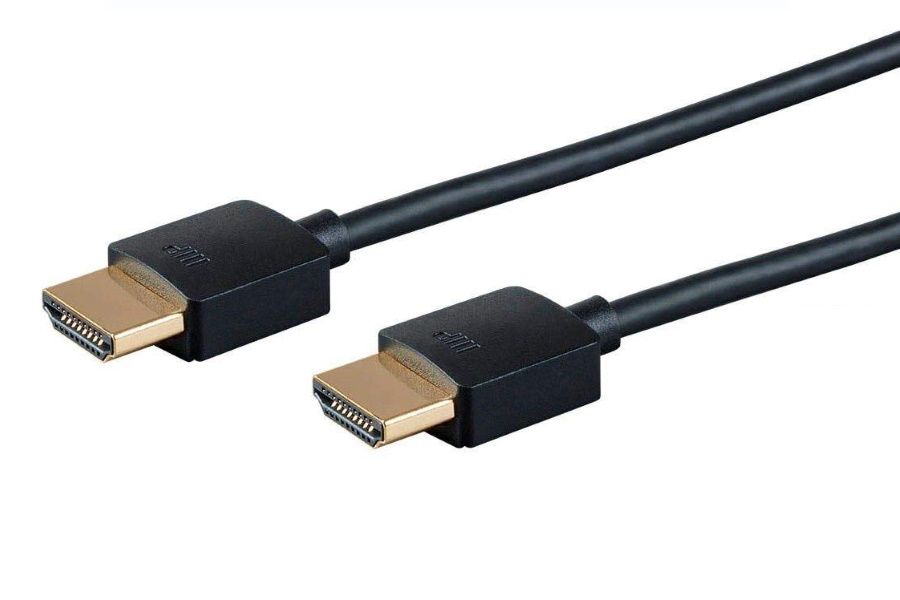 3. Monoprice Certified Premium Ultra Slim
If size matters, then Monoprice more than delivers, with seven different-length HDMI cables, from a baby 3-ft all the way up to a monster 30-ft. Rigorously tested, premium certified, and beautifully affordable, it can simultaneously relay dual video streams to a single display screen.
Length: 3 feet
Supports: all HDMI resolutions up to 4K (3840x2160p @60Hz), including 3D and Multi
Price: from $8.99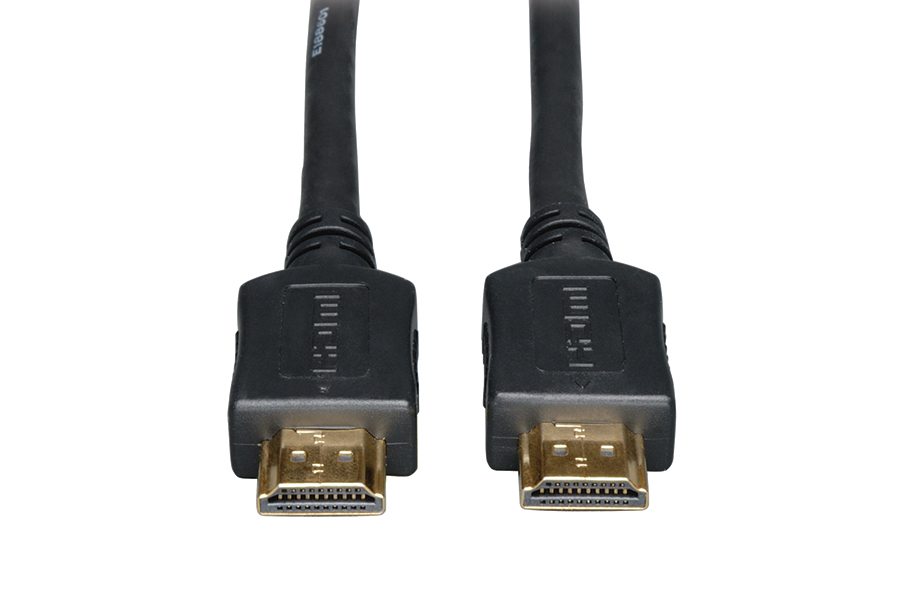 4. Tripp Lite P568-006
The Tripp Lite might be a fairly standard 6-ft HDMI cable, but that doesn't mean it's not one of the best. Backed by a lifetime warranty, it features gold-plated signal connectors for optimal transfer. Pair it with an Apple Digital AV adapter and it will support iPad video mirroring for games, videos, and presentations.
Length: 6 feet
Supports: Ultra High Definition (UHD) 4K x 2K video resolutions up to 3840 x 2160, and up to 18.0 Gbps of bandwidth capacity.
Price: from $6.91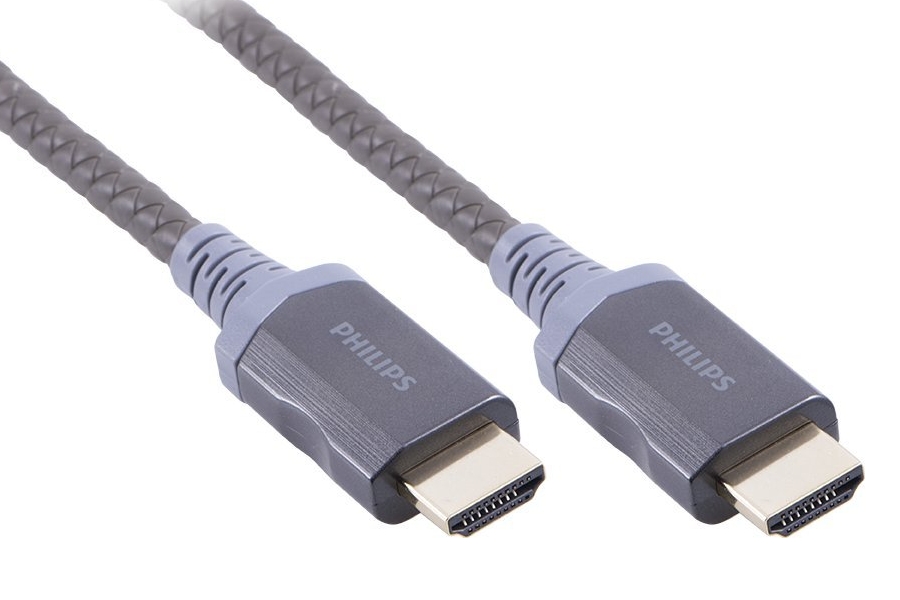 5. Philips 4ft. High-Speed HDMI Cable
Between its braided cord, metallic finish, and gold-plated connectors, this 4-ft cable doesn't just perform but looks downright sleek in the process. Use it to connect DVD players, Blu ray players, Fire TV, Apple TV, streaming devices, cable boxes, DVR, game consoles, computers, and other HDMI-enabled devices to your TV, display monitor, and more.
Length: 4 feet
Supports: Lossless surround sound, increased HDR capabilities, 18Gbps data transfer, and smooth video refresh of 60hz- 600hz
Price: from $16.52
6. Dynex DX-SF116
Coming in at 6 feet, this is a sturdy and affordable option for those looking for a longer HDMI cable. Thanks to triple-layer shielding, it keeps the interference at bay while delivering an audiovisual experience of cinematic proportion. All those five-star reviews can't be wrong.
Length: 6 feet
Supports: Up to 4K UltraHD and speeds up to 18 Gbps
Price: from $6.99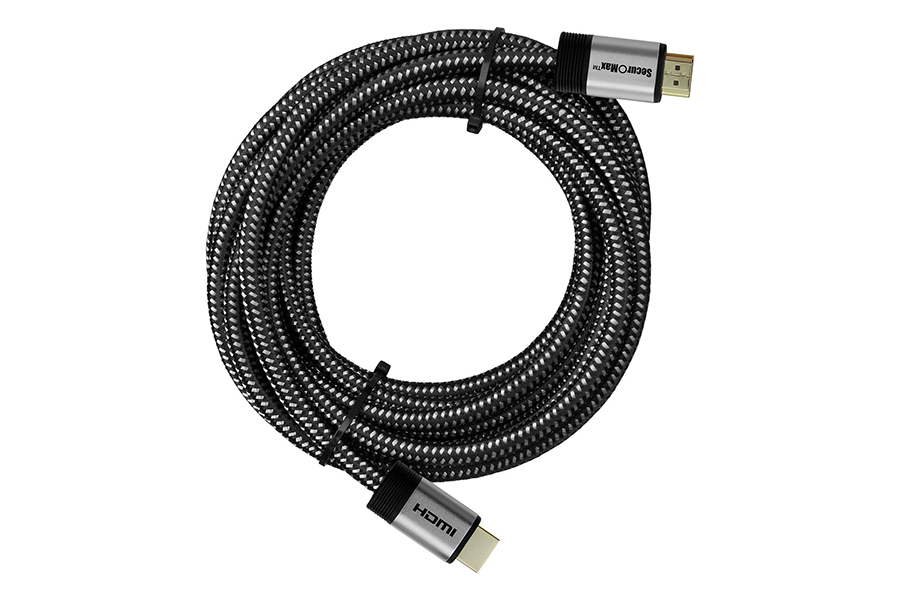 7. SecurOMax HDMI Cable 15 FT
It may sound like some kind of prison facility, but SecurOMax actually offers a rather extensive HDMI cable selection. Wrapping a braided cord over oxygen-free bare copper wiring, it also features 24k gold-plated shielded connectors. With 15 feet of length at its disposal, this superior cable leaves nothing to chance.
Length: 15 feet
Supports: HDMI 2.0, UHD 4K 2160p, QHD 1440p, HD 2K 1080p, 3D and HDTV
Price: from $14.99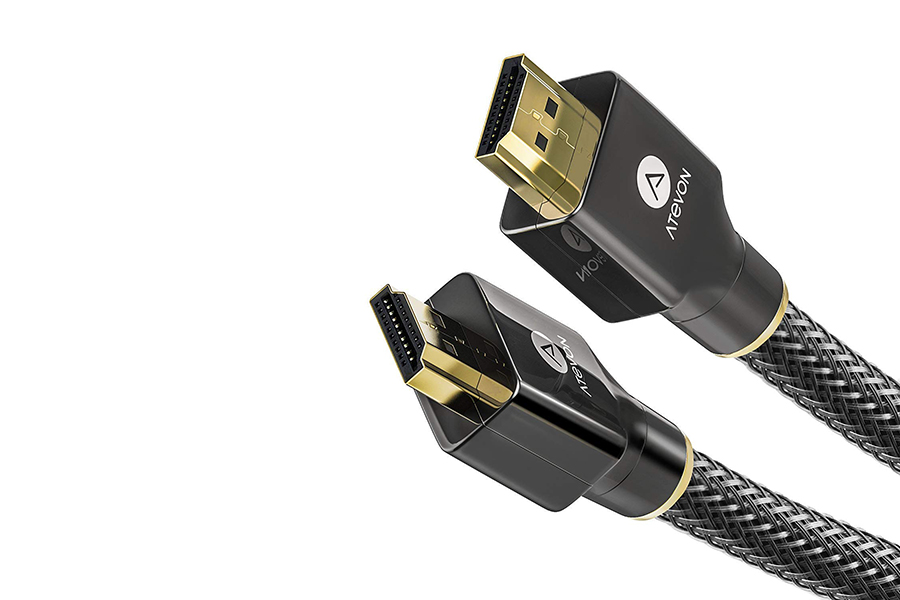 8. Atevon High Speed 18Gbps HDMI Cable 2.0
Ignoring the spec-heavy name (18gbps is the standard for high-speed HDMI cables), this cable is heavy-duty durable and also comes with a lifetime warranty. Compatible with just about everything, it reduces interference while delivering maximum performance.
Length: 10 feet
Supports: HDMI 2.0b including 18 Gbps, Mirror & Extend mode, UltraHD 4K 2160p (up to 60 Hz 4:4:4), HD 2K 1080p (up to 240 Hz), QHD 1440p (up to 144 Hz), HDCP 2.2, 48-Bit Deep Color, ARC, Dolby TrueHD 7.1 audio and hot plugging
Price: from $13.99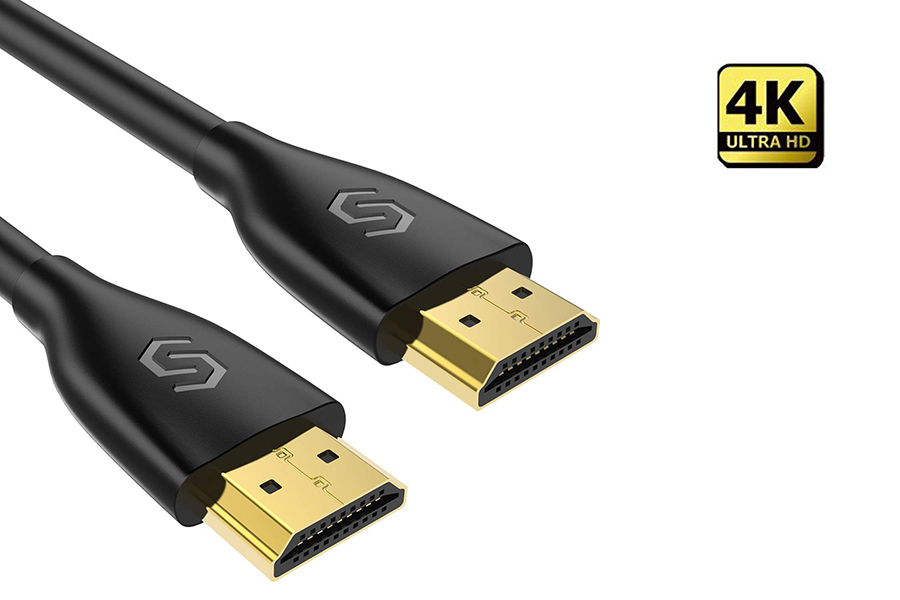 9. Syncwire HDMI Cable 2.0
Syncwire may be bucking the trend somewhat with a 6.5-ft cable, but this is one of the more aesthetically-pleasing HDMI cables on the market, if that kind of thing matters to you. For optimal conductivity, lightning-fast transmissions, broad compatibility, and minimal interference, accept no substitutes.
Length: 6.5 feet
Supports: [email protected] Hz, UHD, FHD, 3D, Ethernet, ARC, 48 Bit deep color and HDR. 4x clear compared with 1080P
Price: from $10.99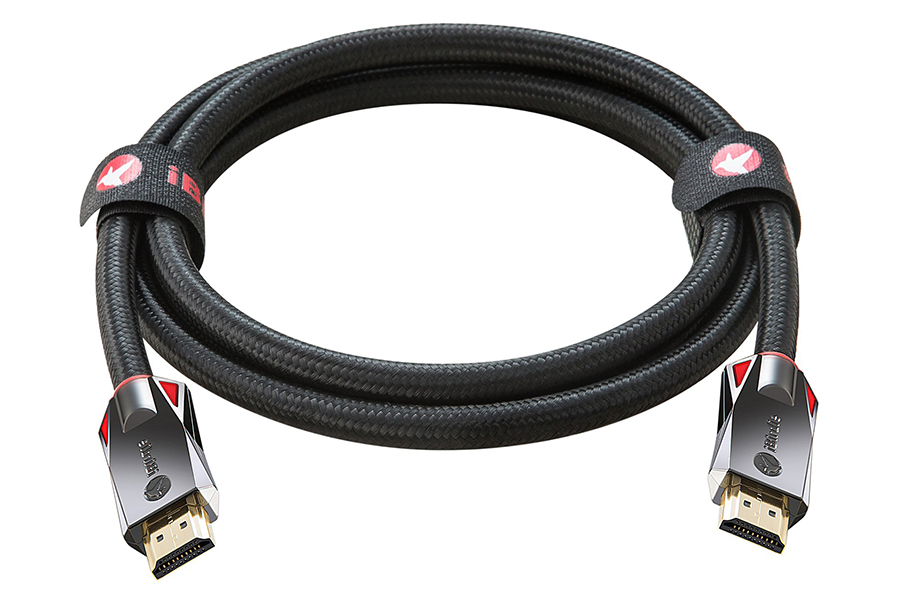 10. iBirdie 4K High Speed HDMI Cable 8ft
Looking like something out of an Avengers film, the iBirdie is one of the more robust longer cables available. Hook it up to your new 4K Ultra HD TV and prepare to immerse yourself in sight and sound alike. Put simply: the best HDMI cables don't get any better.
Length: 8 feet
Supports: 4K 120hz, 4K 60hz (4 4 4, Dolby Vision, HDR10, HDCP 2.2) 1440p 144hz and ARC
Price: from $14.99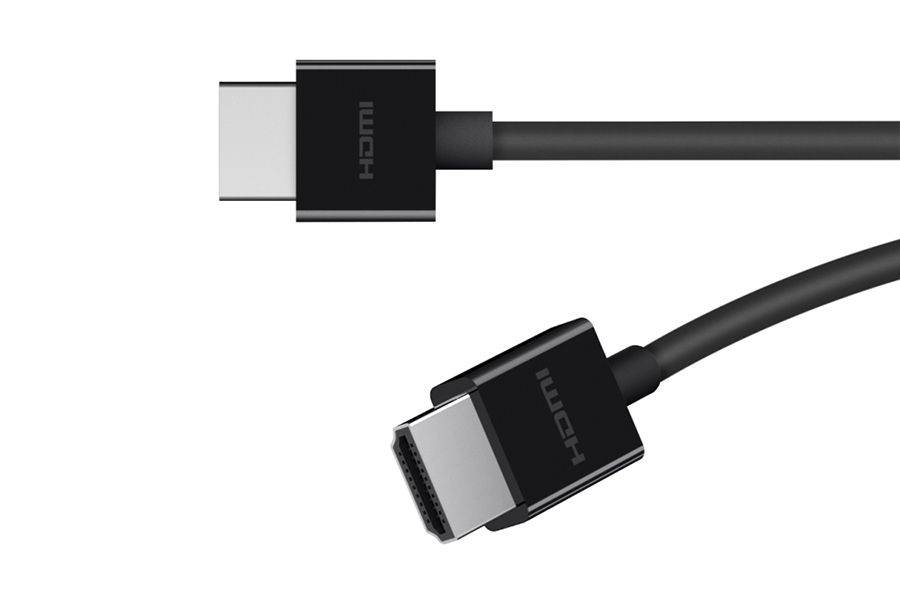 11. Belkin Ultra HD High Speed
Unlike the Syncwire, this is a bulkier beast, but boasts Belkin's superior product quality. Use it on Apple TV 4K, HDTV, streaming devices, gaming consoles, Blu ray players, and projectors alike, getting nothing but smooth and seamless performance in return. That's the Belkin way.
Length: 6 feet
Supports: 4K/120Hz resolution and frame rates; transfer speeds up to 48Gbps; Dolby vision and HDR 10 compatible
Price: from $39.99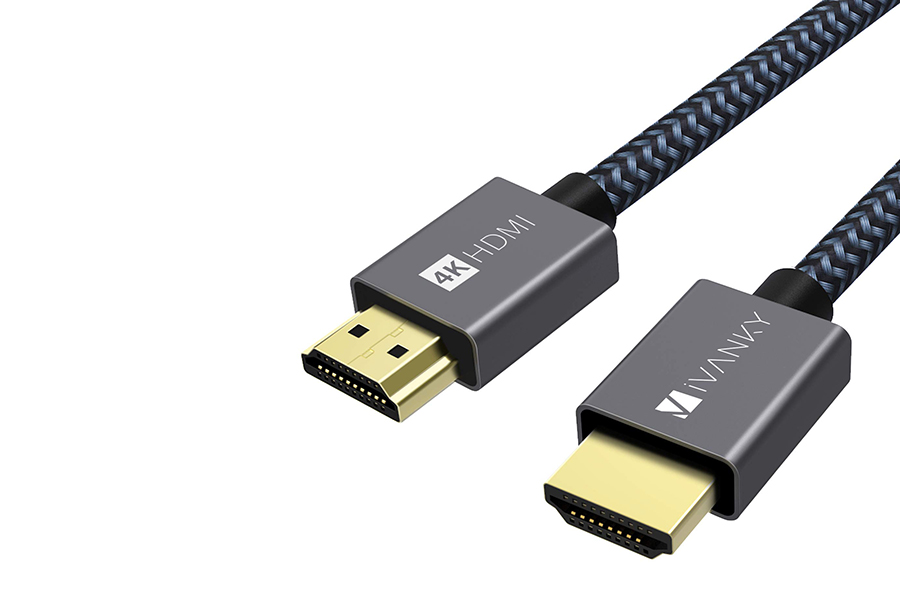 12. Ivanky 6.6ft High Speed 18Gbps HDMI Cable 2.0
Like others on our list, this is a gold-plated (literally) and flexible mid-sized cable. Also like others, it's broadly compatible and super durable. Providing extra peace of mind is an unconditional lifetime warranty.
Length: 6.6 feet
Supports: HDMI 2.0b including 18 Gbps, Mirror & Extend mode, Ultra HD 4K 2160p, HD 2K 1080p, QHD 1440p, HDCP 2.2, 48-Bit Deep Color, Audio Return(ARC), Dolby TrueHD 7.1 audio and Hot plugging
Price: from $12.99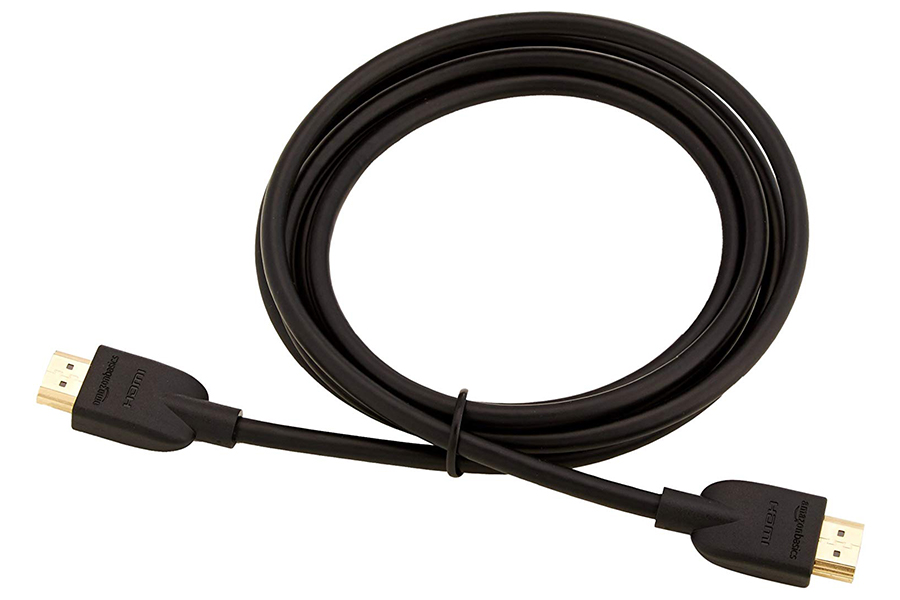 13. AmazonBasics High-Speed HDMI Cable
In this day and age, an HDMI cable is as vital a household item as a toaster, so it's no surprise Amazon sells its own model under their AmazonBasics range. As the name suggests, it's pretty standard fare, coming in only one size (1.8m/6 feet), and offering 4K and UHD, 3D and audio return.
Length: 6  feet – 25 feet
Supports: 4K Video at 60 Hz, 2160p, 48 bit/px color depth
Price: from $9.54
General FAQ
What is an HDMI Cable used for?
An HDMI is used to relay audiovisual data from one source to another by way of a single cable. It can be used on Blu ray players, HD TVs, gaming consoles, and streaming devices, amongst other things.
Are there different kinds of HDMI Cable?
HDMI cables can vary in terms of length, materials, and the signals they support. For example, standard HDMI cables can generally support 720p and 1080i signals while High Speed cables can support 3D.
What does HDMI stand for?
HDMI stands for High Definition Multimedia Interface. An HDMI cable is used to transmit audio and visual data.
What is the best HDMI cable?
Some (but not all) of the best HDMI cables are as follows: Monoprice Certified Premium Ultra Slim, Atevon High Speed 18Gbps HDMI Cable 2.0, and Belkin Ultra HD High Speed.
You'll also like:
Open-Back vs. Closed-Back Headphones: Buyer's Guide
14 Best Desktop Monitors for Gaming and Work
Sennheiser AMBEO Soundbar is an All-in-One Home Cinema