15 Best Smartwatches for a Connected Life
Watchmaking is an industry steeped in rich heritage. Tradition, character and personality have dictated the centuries-old practice, but towards the turn of the millennia, things began to change. The rapidly evolving technology market met the horological sector head-on, fusing digital efficiency with more innovation, birthing the smartwatch. While many heritage watchmakers were quick to dismiss the update as a gimmick, others began looking at ways to introduce the new additions into their lineups. As the industry has swirled and adapted to constant change, one thing has become apparent, the best smartwatches, much like the rest of the top watch styles, are here to stay.
RELATED: Already have an Apple Watch? These are the apps you'll want to get ASAP.
Best smartwatches you can buy
Our list of the best smartwatches on the market goes like this.
Now we've had a look at our favourites, let's check out the complete list.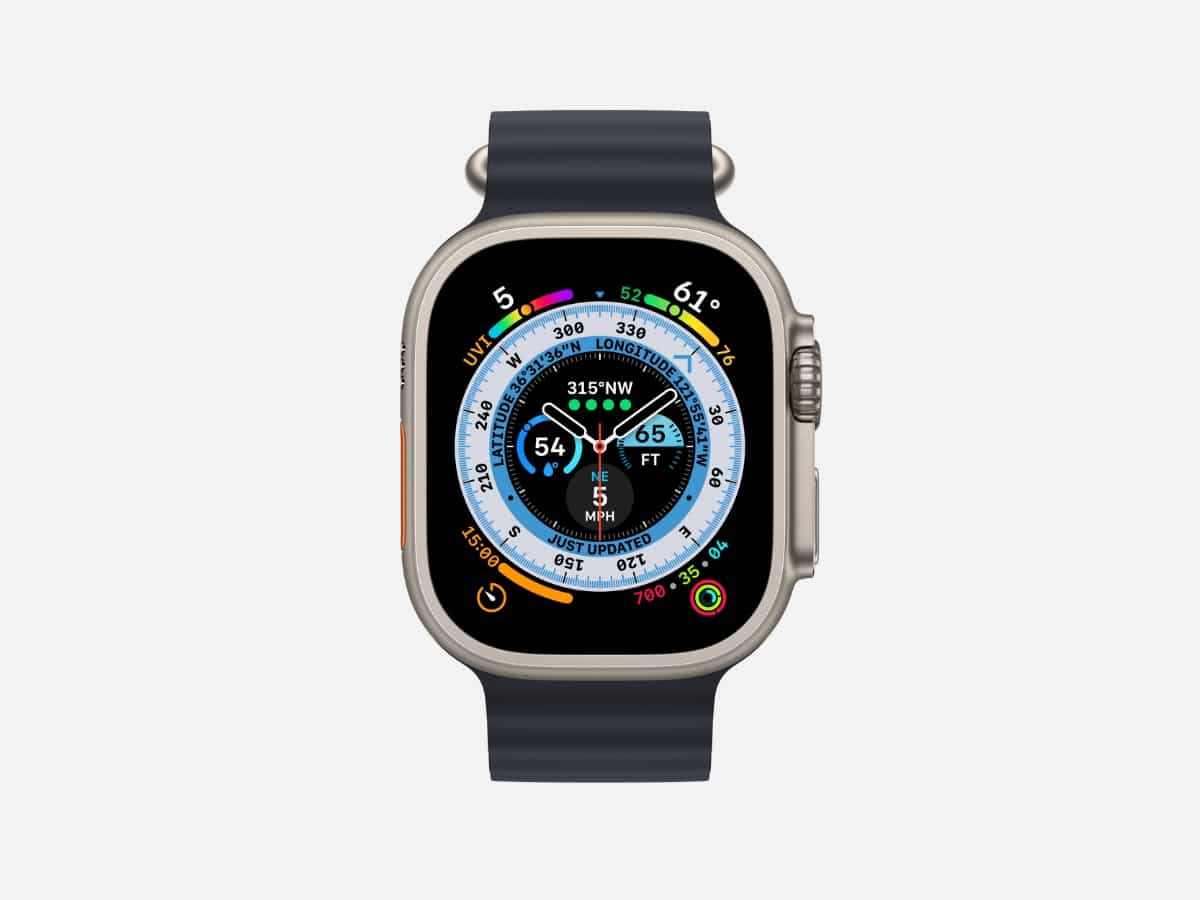 1. Apple Watch Ultra
When everyone expected Apple to go 'Pro' with the latest Apple Watch, they zagged and went 'Ultra'. They brought to the table a titanium cased 49mm monster with up to 36 hours of battery life, a redesigned Compass app for explorers that now includes longitude, elevation and incline as well as an orienteering view, all powered by watchOS9 that features a host of new running metrics to measure performance, such as Stride Length, Ground Contact Time, Vertical Oscillation and Running Power. New Workout Views, such as Segments, Splits and Elevation.
It marks the beginning of a new era for smartwatches, those that want a do-everything device that offers more than text message notifications and calling capability. The market is asking for performance smartwatches that can make anyone an athlete, and Apple delivered. If you're an iPhone user looking for the best smartwatch, this is our top pick. The software integration is second to none, as is always the case with Apple.
Key features of the Apple Watch Ultra
During normal use, Apple Watch Ultra can reach up to 36 hours of battery life with the iPhone present.
The new Retina display is up to 2000 nits, which is 2x brighter than any Apple Watch display.
The new Action button in orange is customised for instant access to technical features.
Three built-in microphones to significantly improve sound quality in voice calls.
'Trail Loop' band is the thinnest band to date/
There's an 'Ocean Band' for watersports with a long tail for use over wetsuits.
Case: 49mm titanium
Compatibility: iOS
Display: Retina display is up to 2000 nits, which is 2x brighter than any Apple Watch display.
Battery Life: Up to 36 hours
Price: from $1,299 AUD
Shop at Apple Shop at JB Hi-Fi Shop at Officeworks
---
Featured Video from Man of Many
---
2. Suunto Vertical
The latest smartwatch to come through the Man of Many office, we've been wearing the Suunto Vertical Titanium as our daily and have been impressed by the amount of tech they've squeezed into a relatively lightweight device (74 grams). At face value, it looks like just another GPS adventure sports watch, but it's extremely comfortable on the wrist, has a large 1.4-inch screen, and even features FREE offline maps. This includes heatmaps, 3D maps, and road surface-type layers that are important for runners.
Beyond all else, it's the battery life that really stands out when you compare it to traditional smartwatches from brands like Apple and Samsung. In our testing, we managed to eke out more than three weeks of battery when combined with the in-built solar and it still had more than 20% battery before we decided to top it up again. We're power users and this includes alerts through our Google Home doorbell and all chat notifications and messages. We haven't seen a smartwatch perform this well since the Huawei GT 2 Pro we tested a few years ago.
Those who are looking for a smartwatch for activities, look no further. The Suunto Vertical has more than 95 sports modes to choose from, with everything from trail running to swimming included. You can even link it with Strava, Training Peaks and Komoot.
Finally, and in terms of construction, the Suunto Vertical we tested was made from grade 5 titanium (74 grams) although there's also a stainless steel version (86 grams) both are tested to the highest military standard of toughness (MIL-STD-810H), designed in Finland, and made from 100% renewable energy. Priced at $1,299 AUD it's far from the cheapest smartwatch on the market but with so many standout features there's a reason it sits at the pointy end of this list.
Key features of the Suunto Vertical
Free of charge outdoor offline maps on watch.
Plan routes in the Suunto app with sport-specific heatmaps and road surface type information.
Solar charging in the titanium solar variants provides at least 30% more power on sunny days.
Market-leading accuracy provided by dual-band GNSS system.
Weather forecasts, compass and barometer-based altitude readings and storm alarms.
Made with sapphire glass, stainless steel, and four models with grade 5 titanium.
The titanium model weighs just 74 grams, steel model is 86 grams.
Made and designed in Finland with 100% renewable energy.
Fully carbon compensated in a Tree-Nation reforestation project with Verified Carbon Units.
Tested to the highest military standard of toughness (MIL-STD-810H).
Over-the-air software updates.
Waterproof down to -100 m.
97 sport modes.
Case: Grade 5 titanium (74 grams), tested to MIL-STD-810H specifications.
Compatibility: Android/iOS
Storage: 32GB of map storage
Battery life: up to 85 hours with best accuracy, 500 hours in Tour mode, and 60 days in daily use.
Price: from $1,299 AUD
Shop at Suunto Shop at Find Your Feet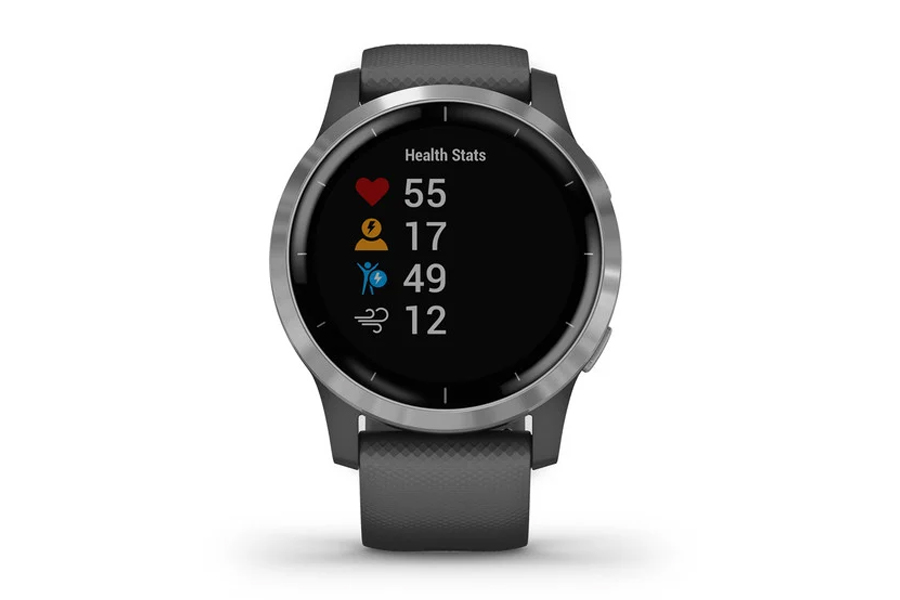 3. Garmin Vivoactive 4
Another great all-rounder, the Garmin Vivoactive 4 offers a range of features tailor-made for everyday life. Fitness fans will score full workouts with animations on their wrist, along with over 20 pre-loaded sports apps. You can also go phone-free during your workout, thanks to the crafted workout playlists loaded into the watch. The Garmin Vivoactive 4 is designed for an active life.
Case: 40mm/45mm
Compatibility: Android/iOS
Display: 1.3″
Battery Life: Up to 196 hours
Price: AUD$579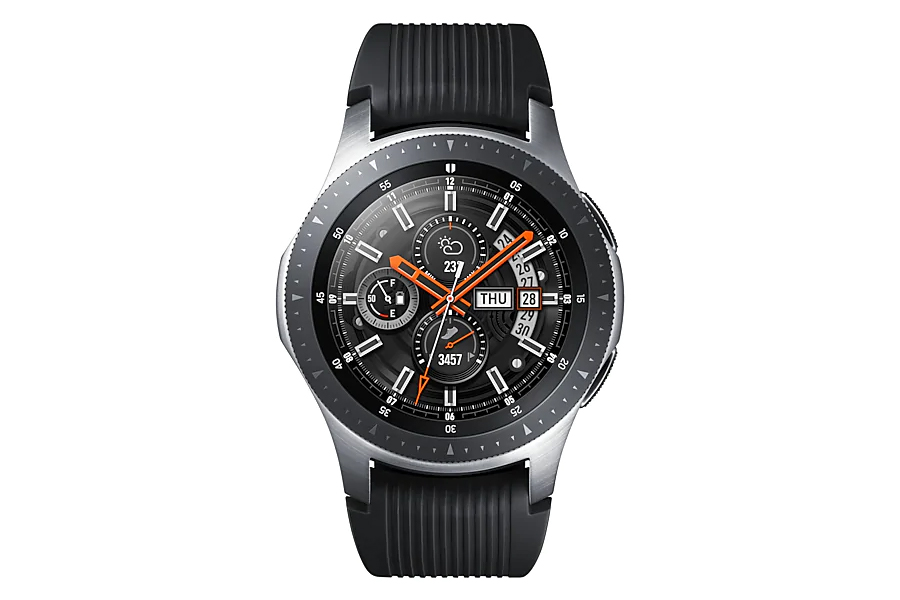 4. Samsung Galaxy Watch
With a round face, watch hand shadowing and even a ticking sound, the Samsung Galaxy Watch is just about as close to the traditional timepiece as you can get. This smartwatch also cops a 1.3″ super AMOLED display with 360 x 360-pixel resolution. For fans of the great outdoors, the Samsung Galaxy Watch is water-resistant and will even track your strokes as you swim, along with a built-in altimeter and barometer for when you want to get off the beaten track. A true all-rounder, this is one of the best smartwatches you can buy.
Case: 46mm
Compatibility: Android
Display: 1.3″
Battery Life: Up to 168 hours
Price: AUD$549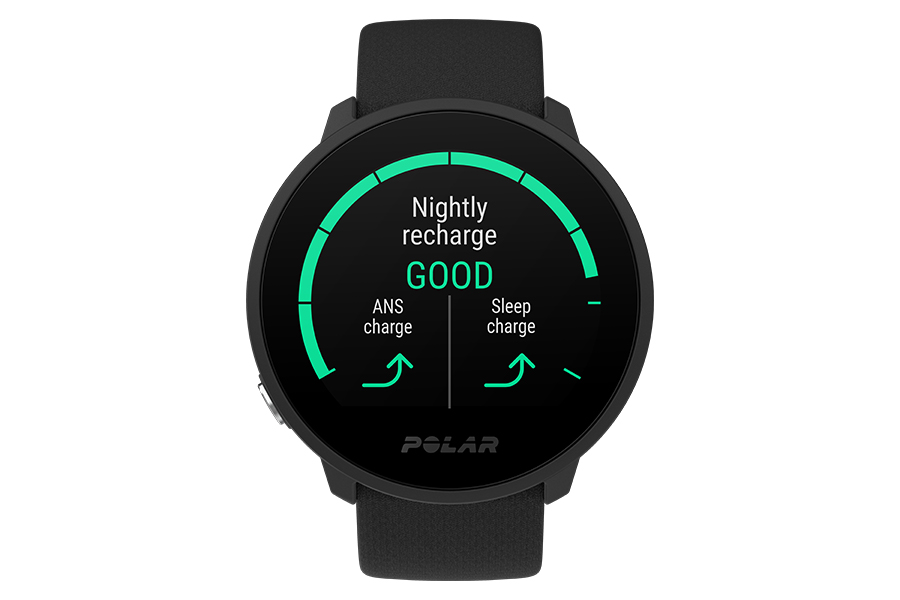 5. Polar Unite
With a focus on beginner health and fitness, the Polar Unite is an entry-level smartwatch that packs a punch. This new edition was only released in July and offers a range of workouts with simulations, alongside the new FitSpark feature. The only real downside with this one is the lack of storage.
Case: 43mm
Compatibility: Android/iOS
Battery Life: Up to 96 hours
Price: AUD$249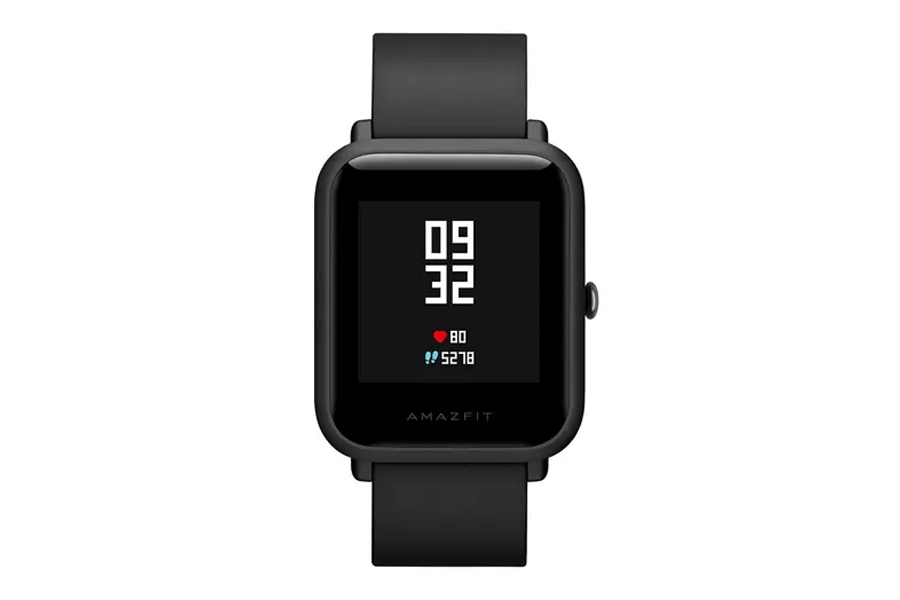 6. AmazFit Bip
Boasting up to 45 days of battery life, the AmazFit Bip isn't just one of the best smartwatches on the market, it's also one of the longest-lasting. Powered by a Sony 28mm low-power GPS chip, this piece of wearable tech offers some interesting fitness features, whether you've got your phone on you or not. Check your heart-rate, steps or speed all day long, whilst also answering calls, setting alarms and receiving notifications. This affordable smartwatch for fitness fans is a major winner.
Case: 43mm
Compatibility: Android/iOS
Display: 1.28″
Battery Life: Up to 45 days
Price: AUD$99
Vario's Empire Automatic Watches are Selling Fast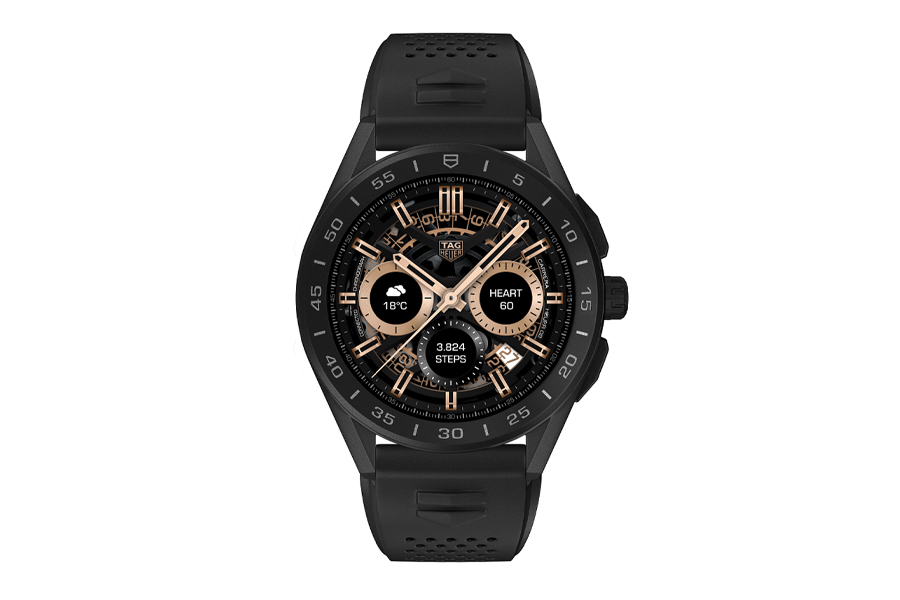 7. Tag Heuer Connected 3
Built for precision, in keeping with the history that Tag Heuer has built over years, the Connected smartwatch is a marvel of modern wearable tech. This third-generation watch features the iconic lines of Tag's chronographs, with push buttons and a crown for sporty elegance. Tag Heuer has also added the ability to change the watch-face depending on your style, so you can stay cool while connected.
Case: 45mm
Compatibility: Android/iOS
Display: 1.39″
Battery Life: Up to 1 days
Price: USD$1,800 – $2,150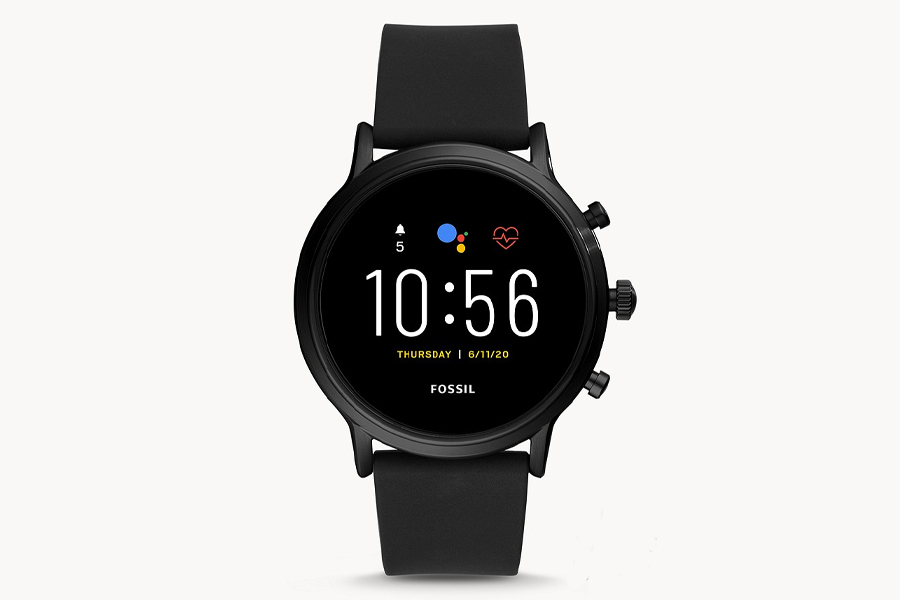 8. Fossil Gen 5
With features including an alarm clock, app alerts, calendar and email, the Fossil Gen 5 is a great addition to the working man's arsenal. Into health? This smartwatch also boasts an activity tracker, heart rate tracking, a GPS and the ability to personalise your dial, making it one of the best smartwatches for fitness. Another great all-rounder in this list of the best smartwatches on the market.
Case: 44mm
Compatibility: Android/iOS
Battery Life: Over 24 hours
Storage: 8GB
Price: AUD$499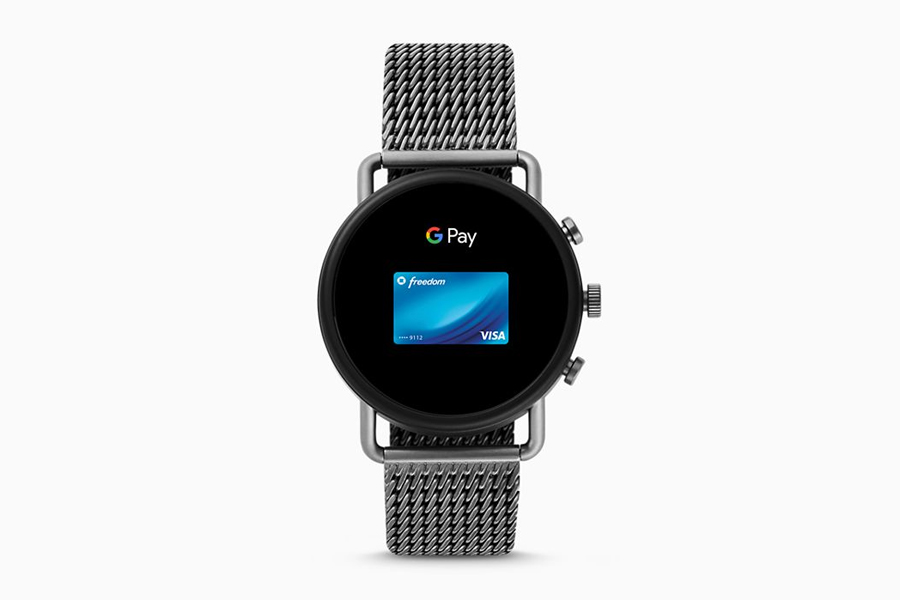 9. Skagen Falster 3
Skagen's most popular smartwatch, the Falster 3 is a swim-proof, touchscreen beast. The smart features are powered by Google Wear OS, meaning you'll score the power of Google Assistant on your wrist. The battery-efficient dial design also provides up to 24 hours of use on a single charge, with the interchangeable heavy gauge stainless steel-mesh strap customisable to your style.
Case: 42mm
Compatibility: Android/iOS
Battery Life: Up to 24 hours
Storage: 8GB
Price: USD$199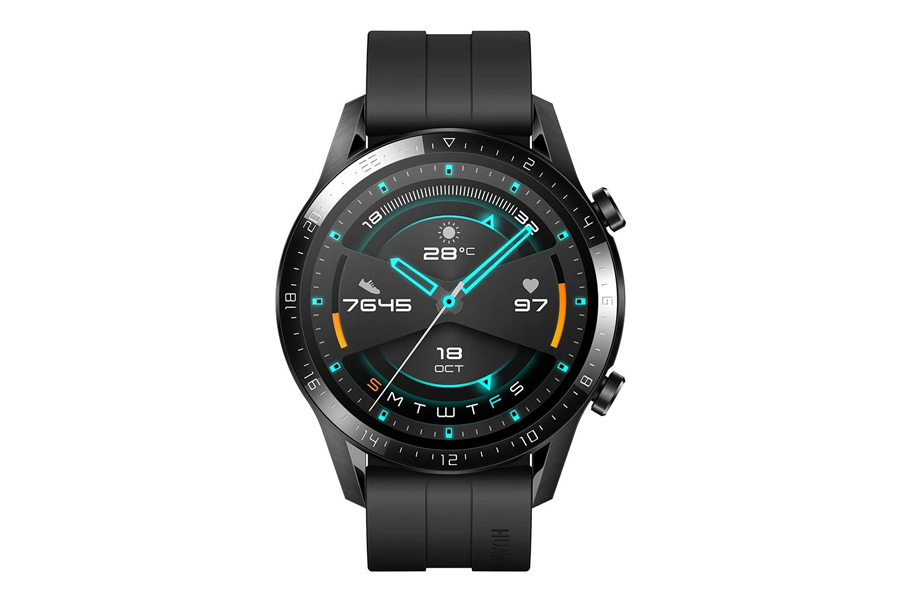 10. Huawei Watch GT 2
Copping an impressive two weeks of battery life, it's safe to say the Huawei Watch GT 2 is one of the best smartwatches on the market. It is powered by Huawei's self-developed wearable chip Kirin A1, along with intelligent power-saving technology. For everyday improvements, look firward to SMS capabilities, email, calendar and social media additions, along with standard updates to weather, alarm, stopwatch, flashlight and find my phone.
Case: 42mm/46mm
Compatibility: Android/iOS
Display: 1.39″
Battery Life: Up to 14 days
Storage: 4GB
Price: AUD$329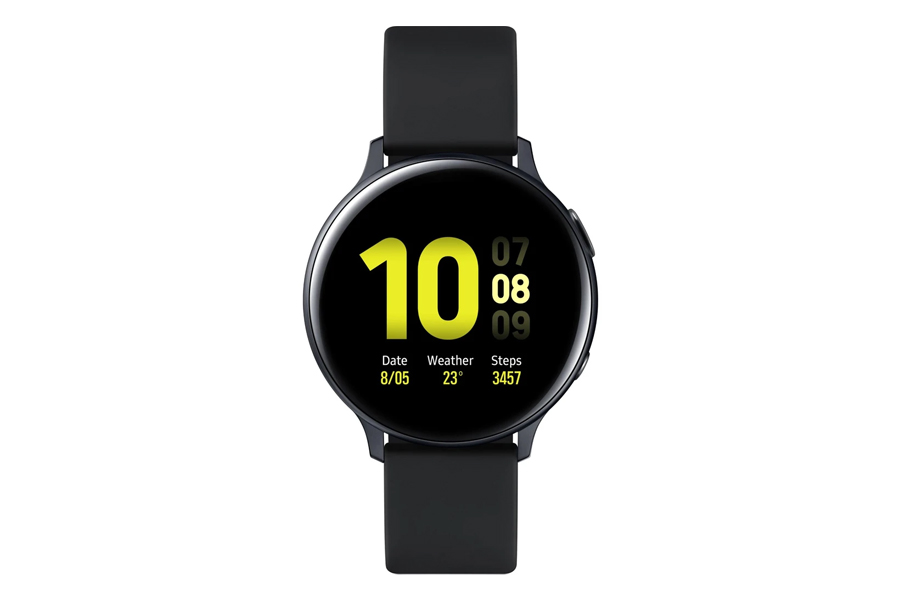 11. Samsung Galaxy Watch Active2
With a large display and touch bezel for easy navigation, the Samsung Galaxy Watch Active2 is one of the best smartwatches for work, sport and everyday life. You can automatically customise your watch face to match your style, while also controlling your phone camera for your wrist. For fitness fans, you can also manually track 40+ activities, auto-track seven activities, with real-time pace coaching for runners, with lap time recording for cyclists.
Case: 40mm/44mm
Compatibility: Android
Display: 1.2″/1.4″
Storage: 4GB
Price: AUD$599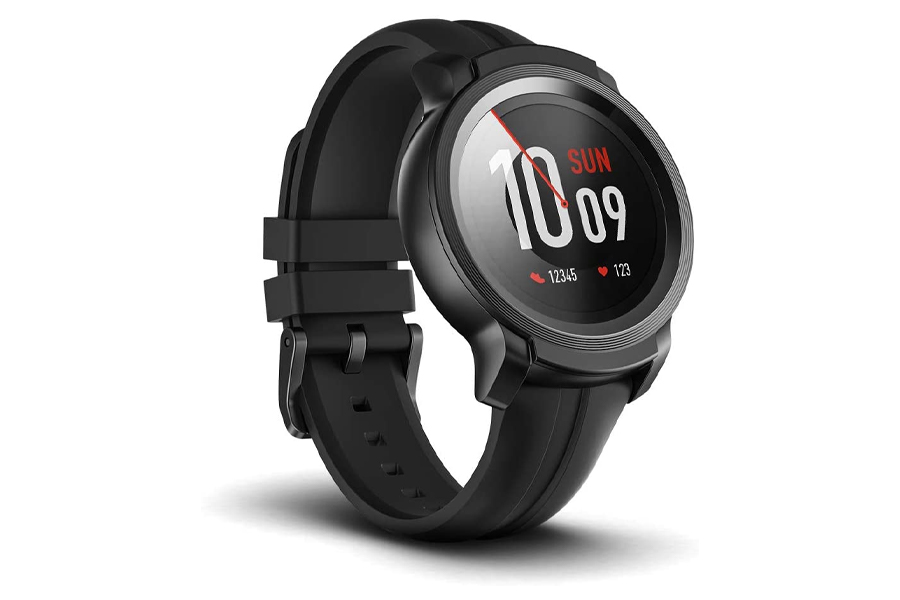 12. TicWatch E2
Powered by Wear OS by Google, the TicWatch E2 offers in-watch downloads through the Google Play store. You can receive notifications, access the Google Assistant and even take a swim with the 50-metre water-resistance.
Case: 46mm
Compatibility: Android/iOS
Display: 1.39″
Price: USD$159.99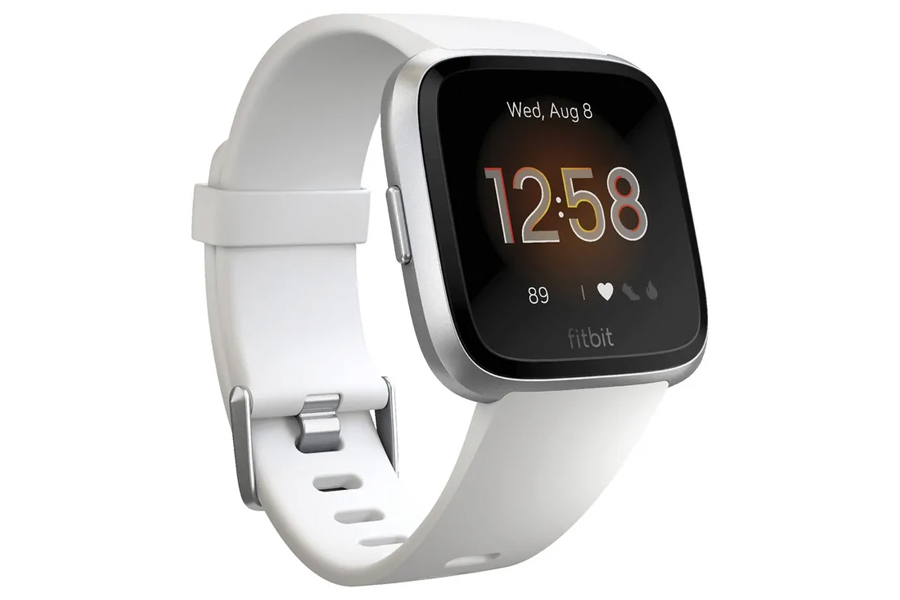 13. Fitbit Versa Lite
It's no surprise that Fitbit makes some of the best fitness smartwatches, but the Versa Lite has some extra features that make it a terrific all-rounder. Aside from being exceptionally affordable, this smartwatch can be used to track your steps and distance covered, while also receiving calls, texts and other notifications. Above all else, fitness and health reign supreme with this addition. There are more than 15 built-in exercise modes, making it easy to track your workouts in real-time.
Compatibility: Android/iOS
Display: 1.34″
Battery life: Over 4 days
Price: AUD$248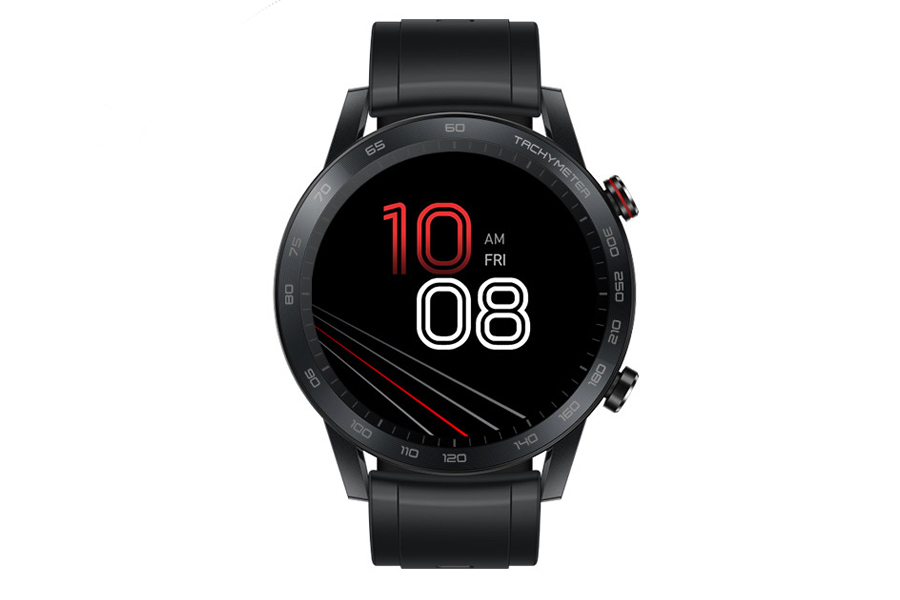 14. Honor MagicWatch 2
A personalised smartwatch that offers a wealth of features, the MagicWatch 2 from Honor is a must-have addition to your accessory list. Made from refined 316L stainless steel, the smartwatch boasts high strength to weight ratio, making it less susceptible to nicks and scratches. The always-on AMOLED display is crystal clear making it easy to read in any light. Additionally, this innovative timepiece sports a SpO2 monitor that measures oxygen saturation levels in the bloodstream so that you can assess how your body is adapting during a workout or a high-altitude.
Case: 46mm
Compatibility: Android/iOS
Display: 1.39″
Battery life: Up to 14 days
Price: USD$210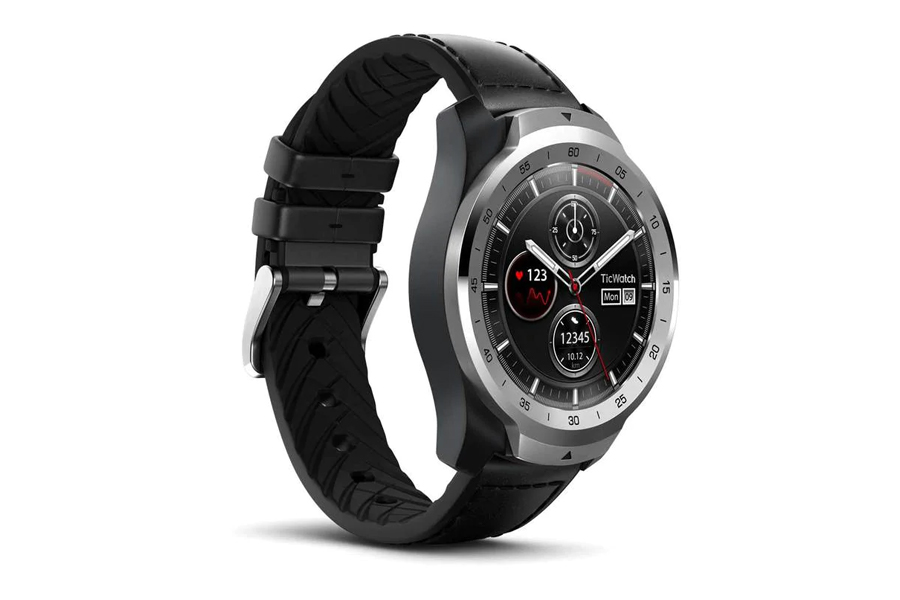 15. TicWatch Pro
The premium release from Mobvoi, the TicWatch Pro offers military standard durability and Corning Gorilla Glass 3. Whether you are a fan of AMOLED or LCD, you're in luck; this smartwatch has both. With two screens and two modes, you take control of the battery life and performance. Additionally, the watch offers app purchases through the Google Play store, including Spotify and Maps.
Case: 45mm
Compatibility: Android/iOS
Display: 1.39″
Storage: 4GB
Battery life: Up to 30 days
Price: AUD$435.99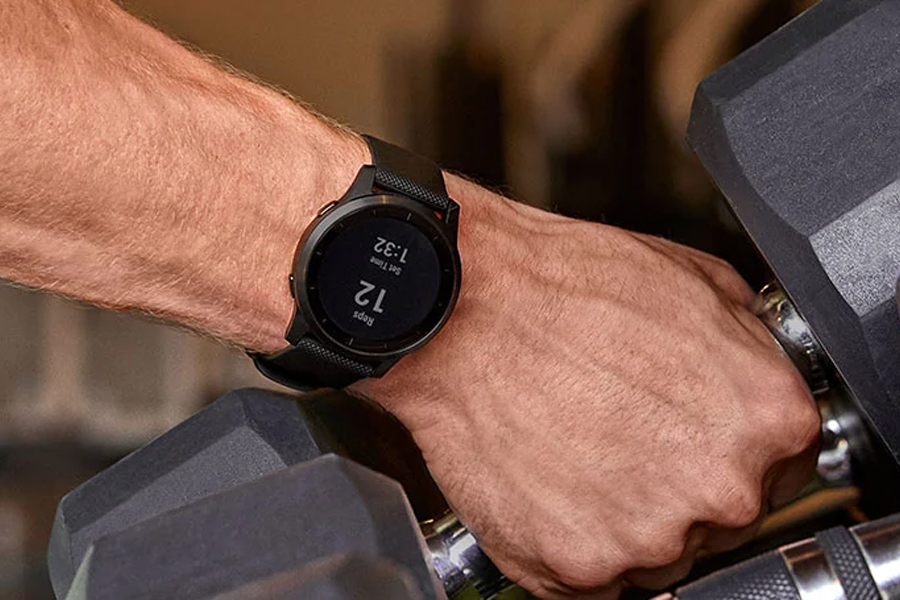 What is a Smartwatch?
Wearable technology has come a long way since the early days and smartwatches shoulder much of the load. Put simply, the best smartwatches can do a lot of things. From tricks and features that may improve your life, such as health tracking and location monitoring, to more simple communication aspects like talk and text, smartwatches now do many of things you formerly had to purchase a specialised device for. The wearable computer looks like a standard watch, however, it bridges the gap between smartphone and fashion accessory, and they've been doing so for some time.
Back in the 1970s, Hamilton Watch Company released the first digital watch ever; the Pulsar. The brand was quickly acquired by Seiko, with the 1982 variation offering 24-digit storage. This innovation is widely regarded as the birth of the modern smartwatch, signalling the first watch to cop user-programmable memory. Nowadays, it's not uncommon to see the best smartwatches boasting 8GB worth of memory, making that original 24 digits look minuscule in the process.
But more than just punching numbers and equations, smartwatches have evolved to be an everyday item designed to drastically improve their wearers' lives. The addition of health and fitness tracking, sleep data collection and communication has streamlined a number of previously unattainable practices. In fact, a doctor in the US recently noted that his first-generation Apple Watch picked up a critical heart condition that had, until that point, gone unnoticed. Dr Donald W. Milne from Antelope Valley Hospital believes without the smartwatch, he would have succumbed to the health condition without even knowing he had it. Turns out those smartwatches might actually be worth the price.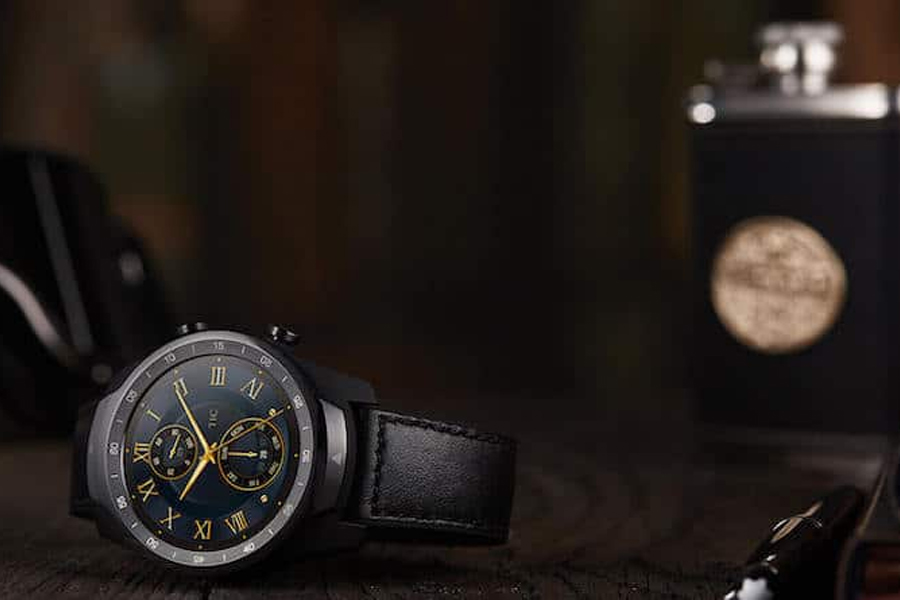 What to Consider When Buying a Smartwatch
When it comes to buying the best smartwatch you can find, there are a few considerations you need to be aware of. While regular watches and timepieces are characterised by their calibre and movement, smartwatches have different stipulations. Here is what to consider when looking for the best smartwatch;
Price – With smartwatches, you can find a solid piece for far less than you would a luxury chronograph or automatic. While on the entry-level spectrum, you can find affordable smartwatches from around $100, the luxury price tag associated with others, such as Tag Heuer's Connected will be in the thousands. As expected, the cheaper the price tag, generally the less smartwatch features it will have.
Size – like all good timepieces, it pays to find a smartwatch that suits your wrist size. Check the case size and weight before purchasing.
Water-resistance – While most modern watches will be water-resistant to some degree, your smartwatch should definitely have some significant waterproofing. As most smartwatches are used in conjunction with fitness activities, you want to make sure you won't destroy it with sweat.
Features – This really comes down to what you plan on using your smartwatch for. The best smartwatches for fitness offer data analytics around your step count, heart rate, sleep tracking and mobility. Similarly, if the workflow is a major concern, seek out a smartphone with communication capabilities and memory.
Style – Like any good watch, your smartwatch style says a lot about you. Be sure to temper your features with an aesthetic that mirrors your personal and professional pursuits.
Are Smartwatches worth the investment?
While Smartwatches have proven to be a bit of a fad trend, the technology is the undeniable evolution of wearable technology. If you suffer from medical issues such as an irregular heartbeat, smartwatches can be pivotal in charting your overall health without the need for invasion additions.
Is the Oshen Watch good?
The Oshen Watch has all the hallmarks of a good fitness tracker. The long-lasting battery is also a plus, so, by and large, the smartwatch is a value for money addition.
What is the best Android Smartwatch?
By all accounts, the Samung Galaxy Watch Active 2 is the best overall Android Smartwatch, however, other competitors such as the Mobvoi TicWatch E2 and the Skagen Falster 3 are strong competition.
You'll also like:
---
Featured Video from Man of Many