Like the Apple Watch itself, the best Apple Watch apps pretty much guarantee that you'll never grow bored, get lost or fall behind again. Whether using these apps to play games, track fitness, hail a ride, or catch up on the latest in sports, they'll keep you occupied, informed and entertained for hours on end, or at least until the battery runs out.
You'll also like:
14 Best Budgeting & Money Apps
20 Best Productivity Apps in 2018
Furthermore, thanks to Apple's latest innovations, at least some of these cool Apple Watch apps can be used without a smartphone nearby, making an easy thing that much easier. You do you, technology. You do you.
Before you jump in, you can buy an Apple Watch Series 5 here.
Contents:

If you're looking to enhance your life and kill your boredom at the very same time, here is a list of the 30 best Apple Watch apps:
Best Sleep Tracking Apple Watch Apps
1. NapBot
NapBot is pretty much exactly as it sounds, a bot for tracking your naps or aka sleep. It automatically tracks and records your sleep but better yet, it also actively monitors ambient noise while you're alseep to see if you're being interrupted by any loud noises at night (don't worry, it doesn't record any sound). The paid version offers 'Sleep History' and 'Sleep Trends' to get a better sense of how you're tracking over time. It also integrates with Apple Health. We love the look of the simple, easy to understand charts.
Best for: Simple Sleep Tracking
Developer: Majid Jabrayilov
Size: 6.7 MB
Category: Health & Fitness
Price: Free
2. Pillow Automatic Sleep Tracker
Pillow is one of the best apple watch sleep trackers on the market with an interface very similar to Apple's own Activity app although it simply tracks you while you are alseep. It not only measures the quality of your sleep you're getting but uses that information to gently buzz you awake at an optimum time. Similar to NapBot, it also syncs with Apple Health.
Best for: A gentle morning start.
Developer: Neybox Digital Ltd.
Size: 336.2 MB
Category: Health & Fitness
Price: Free
3. AutoSleep Tracker
The AutoSleep tracker delivers more information than you could ever ask for and is among the most in-depth sleep tracking apps in the App Store. The apple watch app is organised into three key areas: Sleep (how long you slept for); Quality (how restless you were); and Readiness (how ready you are to cope with the day ahead). Similar to Pillow, it's interface also shares a familiarity with Apple's Activity app and also works as a complication for your chosen watch face.
Best for: Morning go-getters.
Developer: Tantsissa
Size: 27.7 MB
Category: Health & Fitness
Price: $3.99
Best Health & Fitness Apple Watch Apps
4. Strava
For those wondering when a quality fitness app would finally rear its head, wonder no more because Strava is here to serve your running and cycling needs. Undoubtedly one of the most popular and best free Apple Watch apps, Strava records your milestones with painstaking precision, and also connects you with like-minded fitness freaks.
Best for: Basically the best fitness tracker in the game.
Developer: Strava Inc.
Size: 161 MB
Category: Health & Fitness
Price: Free
5. WorkOutDoors
As the only Apple Watch app that delivers real time vector maps while you run, ski, bike or hike, WorkOutDoors brings whole new meaning to the concept of fitness tracking. Of course, it also measures your vitals and tracks your stats as well, making this top app a must-have for all the exercise lovers out there.
Best for: Long hikes & workouts
Developer: CCS Ltd
Size: 14.6 MB
Category: Health & Fitness
Price: $5.99
6. Peak Brain Training
Pass the time and simultaneously sharpen those brain muscles by instaling the Peak app on your Apple Watch. The acclaimed app offers 40 unique games, each one developed in partnership with neuroscientists in order to best challenge your memory, creativity, problem solving skills and more.
Best for: Brain training on the go.
Developer: brainbow
Size: 421.7 MB
Category: Education
Price: Free
7. Standland
If character building is your thing, then Standland is your app. The addictive app not only allows you to create lovable animals, but it rewards you for performing physical activities in the real world. That's called win/win.
Best for: Gamification of your workouts.
Developer: Flask LLP
Size: 170.8 MB
Category: Health & Fitness
Price: Free
8. Nike+ Run Club
Now supporting all generations of Apple Watch, the Nike+ Run Club is the foremost fitness app from the world's foremost fitness brand. Accordingly, the app offers a bevy of features, such as personalised audio guides, rewards for your achievements, tracking, storage, and leaderboards if you feel like competing. The best Apple Watch apps don't get much better than this!
Best for: Tracking your runs.
Developer: Nike, Inc
Size: 322.9 MB
Category: Health & Fitness
Price: Free
Best Travel Apple Watch Apps
9. Citymapper
Easily one of the best Apple Watch apps, Citymapper injects you directly into the bloodstream of any given city. That means providing real-time train and subway departures, disruption alerts, transportation maps and so much more. You're not adequately connected to your surrounding urban terrain until you've got this top smartwatch app at your disposal!
Best for: When you're lost.
Developer: Citymapper Limited
Size: 289.2 MB
Category: Navigation
Price: Free
10. Elk Travel Currency Converter
One of the potential annoyances of travelling the world is getting sidetracked by all the various currency exchange rates. Thanks to Elk Travel Currency Converter, those annoyances are a thing of the past. The legendary app knows exactly where you are and accordingly delivers instant exchange rates. To raise or lower the value, simply swipe left or right. It's that easy.
Best for: Currency conversion on the go.
Developer: Clean Shaven Apps
Size: 41.1 MB
Category: Travel
Price: Free
11. ETA
Providing a resolute answer to the perennial question of "are we there yet?" is the ETA app. The handy resource gives you an accurate (albeit approximate) time of arrival at your next destination. Additionally, you can share the app with friends and loved ones so that they know just when to expect you.
Best for: Managing your time on the go.
Developer: Eastwood
Size: 50.3 MB
Category: Navigation
Price: $2.99
12. iTranslate Converse
Granting you swift access to 38 languages at the drop of a voice command is the iTranslate Converse app. To use the app, simply tap the screen and speak the word or phrase you want translated. In no time at all, the app brings you accurate results, making it a no-brainer inclusion on your next overseas trip.
Best for: Easy conversing with foreigners.
Developer: iTranslate
Size: 224.4 MB
Category: Travel
Price: Free
13. Lyft
Ride-sharing plus smartwatches equals a whole lot of convenience. That's why the Lyft app is one of the best you can use. It allows you to hail a ride with the tap of a button, split the cost with friends, tip your driver and more. Getting around has never been so easy.
Best for: Ride-sharing.
Developer: Lyft, Inc.
Size: 361.5 MB
Category: Travel
Price: Free
14. Night Sky
The incredibly awesome Night Sky app packs the power of a planetarium inside a brilliantly small package. Not only does the top smartwatch app identify stars, planets and constellations above your head, it now comes with an augmented reality platform (for an additional cost), allowing you to bring the galaxy itself down to ground level.
Best for: Star gazing.
Developer: iCandi Apps
Size: 1.9 GB
Category: Reference
Price: Free
15. ViewRanger
Lets keep that fitness momentum going strong with the stellar ViewRanger app. This award-winning app offer best-in-class maps and trail guides to an endless swath of hiking trails and bike paths. If you get lost in the wilderness with this app at your disposal, it's because you want to.
Best for: Hiking
Developer: Augmentra
Size: 216.2 MB
Category: Health & Fitness
Price: Free
16. Currency
Money conversion doesn't get any easier than the Currency app, which provides exchange rates for over 150 currencies, and works offline. It's been the #1 currency app since 2008 and has no reason to stop now.
Best for: Tracking exchange rates.
Developer: Jeffrey Grossman
Size: 37.9 MB
Category: Travel
Price: Free
17. Yelp
Whether you're craving the best in beauty, food, apparel, booze or so much more, the Yelp app is your friend. It has literally millions of reviews on literally millions of businesses. It can't guarantee that your next experience won't disappoint, but it can certainly increase the odds in your favour.
Best for: Restaurant reviews.
Developer: Yelp
Size: 331.8 MB
Category: Food & Drink
Price: Free
Best Gaming Apple Watch Apps
18. A Tiny Game of Pong
Proving that some things simply never go out of style, A Tiny Game of Pong brings one of the first computer games back to life by way of one of the best gaming apple watch apps there is. The premise couldn't be simpler: try to keep the ball from getting past your side of the screen by using a tiny bar. Compete against friends or against the watch itself, and prepare to get hooked.
Best for: Entertainment on the go.
Developer: Matt Wiechec
Size: 16.9 MB
Category: Games
Price: $1.99
19. Trivia Crack
Think you've got good Crack? Give Trivia Crack a go. The Apple Watch app game is a basic version of one of your favourites, Trivial Pursuit. Best yet, you play against another opponent online and can choose from six categories of questions.
Best for: Showing off your knowledge.
Developer: Etermax
Size: 433.9 MB
Category: Games
Price: Free
20. Lifeline 2
A successor to the original Lifelife, this Apple Watch game follows the story of a young woman named Arika on a quest to rescue her long-lost brother and avenger her parents' death, You'll have to answer multiple-choice questions to keep her alive and help her along her quest.
Best for: A mini-adventure.
Developer: 3 Minute Games, LLC
Size: 81.9 MB
Category: Games
Price: $0.99
Best Sports Apple Watch Apps
21. ESPN
The #1 sports app is also one of the best Apple Watch apps, period. We're speaking, of course, of the ESPN app, which offers instant access to scores and updates from the wide world of professional and collegiate sports. Also featured are stories, videos, and live audio streams.
Best for: All sports lovers.
Developer: ESPN
Size: 116.3 MB
Category: Sports
Price: Free
22. Hole19 Golf GFP & Scoring
Hol19 is everyone golfer's companion providing you with information such as distance to the green and the par of the hole. You'll need the accompanying iPhone app started up before you play though. You can also keep a track of your score by entering your strokes and putts.
Best for: Golfers.
Developer: Stat Track Technologies Lda.
Size: 118.3 MB
Category: Sports
Price: Free
Best Weather Apple Watch Apps
23. Dark Sky Weather
Frequently touted as the best weather app for your Apple Watch, Dark Sky Weather delivers up-to-the-hour weather updates by way of a supremely approachable layout. With this top app on your wrist, you'll never get stuck in downpour again.
Best for: Those who plan ahead.
Developer: Apple
Size: 43.3 MB
Category: Weather
Price: $3.99
Best Productivity Apple Watch Apps
24. Just Press Record
True to its name, Just Press Record makes mobile audio recording an absolute breeze. All it takes is one tap to start recording, and another to pause. Use your iOS device to share recordings, or keep them all to yourself. Also featured is the ability to transcribe your voice memo to text, as well as the option to store your recordings on the cloud. All that and more makes this one of the best Apple Watch apps you can instal.
Best for: Those who keep voice memos.
Developer: Open Planet Software
Size: 8.1 MB
Category: Utilities
Price: $4.99
25. Microsoft PowerPoint
For decades now, PowerPoint has remained a cornerstone in the world of business presentation. Thanks to the Microsoft PowerPoint app, you don't have to lug a laptop into the boardroom. Instead, load the presentation onto your iPhone and use your Apple Watch as a remote of sorts. Easy, breezy.
Best for: Corporate types.
Developer: Microsoft Corporation
Size: 271.3 MB
Category: Productivity
Price: Free
26. Huemote
Remember back in the 90s when everyone was talking about Bill Gates' ability to remotely adjust the lighting inside every single room in his mansion? Not just the brightness, but the colours as well? Thanks to Philips Hue Lighting and the Huemote app, you can be just like Bill Gates. Who wouldn't want that?
Best for: Home-automation experts.
Developer: Fernando Toledo Guerrero
Size: 11.4 MB
Category: Utilities
Price: Free
27. Shazam
One of the app game's earliest trend-setters is still going insanely strong. Use Shazam to quickly identify the song that's playing nearby, or risk having it bug you for hours that you didn't check.
Best for: Music lovers.
Developer: Shazam Entertainment Ltd.
Size: 41.4 MB
Category: Music
Price: Free
28. Pocket Casts
The best podcast app comes to your wrist and it still remains one of the best ways to stay on top of your podcast feeds. As with other podcast apps, you need to have the accompanying iPhone app, but the Apple Watch app allows you access to handy features like playback control, speed control, silence trimming and, of course, volume control.
Best for: Podcast listeners.
Developer: Podcast Media LLC
Size: 101.7 MB
Category: News
Price: Free
Best Money Apple Watch Apps
29. Mint
Not every one of us can afford a personal money manager, and thanks to the Mint app, not every one of us needs one. The wildly popular app saves time and money by helping you budget, manage bills, avoid fees and stay on top of your credit score. It's all swift, secure and wildly popular.
Best for: Penny pinchers.
Developer: Mint.com
Size: 234 MB
Category: Finance
Price: Free
30. Pennies
Manage your finances down to the last penny with the Pennies budgeting app. It tracks your spending and helps you determine whether or not you can realistically afford that next big purchase you keep clamouring on about. There's no limit to the number of budgets you can implement, and the app works with multiple currencies.
Best for: Thrifty Shoppers
Developer: Super Useful Ltd
Size: 77.5 MB
Category: Finance
Price: £3.99
You'll also like:
14 Best Budgeting & Money Apps
20 Best Productivity Apps in 2018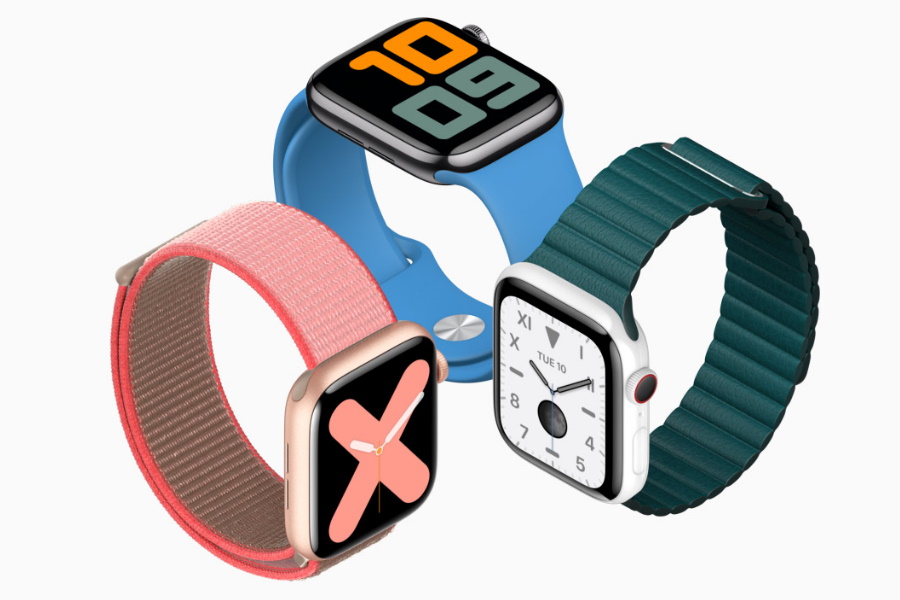 Buy the Apple Watch Series 5 Here
The Apple Watch Series 5 is their latest generation smartwatch featuring all the same features from previous versions including waterproofing and built-in GPS, plus a few added features. It has a larger display, upgraded S4 processor with W3 wireless chip, an electrical heart sensor on the digital crown. It also offers an Always-On display, built-in compass and comes in two different size options at 40mm and 44mm.
Sizes: 40mm, 44mm
Models: GPS only and GPS and Cellular
Material: Aluminium, Stainless Steel
Colours: Three aluminium, three stainless steel
Straps included: Sport Band, Sport Loop, Milanese Loop, Leather Loop, Modern Buckle
General FAQ
What are the best Apple Watch apps?
Some of the best Apple Watch apps include Shazam, Citymapper, NapBot, Night Sky. There are plenty more across all categories.
What apps run on Apple Watch?
Lots of standard Apple apps work on the Apple Watch such as Apple Pay, Weather, World Club, Workout, Apple Health, plus many more.
What are the best free Apple Watch apps?
NapBot, Shazam, Night Sky, ESPN, Hole19 and Pocket Casts are some of the best free Apple Watch apps.