If you're seeking an affordable alternative to Apple's MacBook Pro, Microsoft has just the thing for you. More than that, the new 15″ Surface 3 in Matte Black is one of the best-looking laptops we've ever seen. Between its lightweight body, long-lasting battery, and generous screen size, the device leaves precious little to be desired. That makes it a near-perfect computer, which would be virtually flawless were it not for the port and plug locations and a lack of ports in general. Barring those minor issues, Microsoft's latest is a tech head's dream come true and one that's replaced the Dell XPS 13 as our current laptop PC of choice.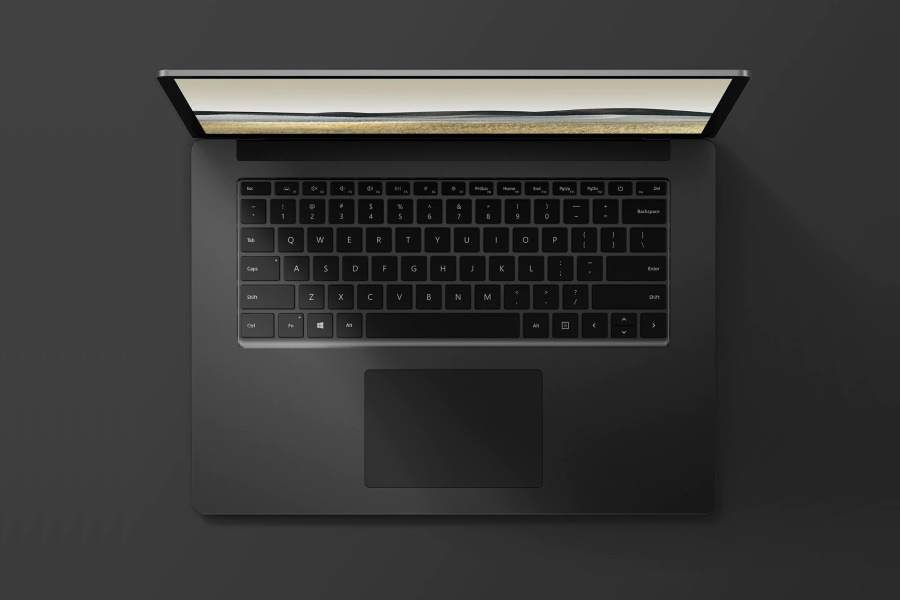 When presented in Matte Black, the Surface 3 laptop resembles a completely black MacBook Pro at first glance. Upon closer inspection, we realised that Microsoft's model is possibly cleaner looking. It's also impeccably thin and supremely lightweight, making transport a breeze. Along similarly approachable lines, the keyboard—while slim—is brilliantly ergonomic and an absolute joy to type on. That's not to mention the seamless trackpad, which is now 20% larger than previous models. Pair that with the laptop's machined aluminium finish and you get what we can only describe as a truly stealth and minimalist design.
In terms of pure performance, the Surface 3 doesn't slouch. Making a predictable number of improvements upon its predecessor, the laptop delivers increased speed, an 11.5-hour battery life, and lightning-fast charging. When we say "lightning-fast," by the way, we're talking 0-80% in literally one hour. That's not to mention the high-resolution display, which delivers a 3:2 ratio and looks larger than life as a result. It also doubles as a Pixelsense touchscreen with Surface Pen compatibility.
To our surprise, the 15″ Surface 3 is Microsoft's first flagship laptop to go with an AMD Ryzen chip in lieu of a trusty Intel processor (which powers the 13.5″ model). Along with that comes an AMD Radeon Vega graphics card and removable solid-state drive, all of which can be upgraded for a premium. The DDR4 RAM memory is likewise open for upgrades, jumping from 8GB to 16GB.
The switch to AMD Ryzen—which was a major win for the microprocessor brand—places greater emphasis on multi-tasking. In fact, it's not a stretch to say that Microsoft crafted the new 15″ Surface 3 with business professionals and content creators in mind. Flexible in both the literal and figurative sense of the word, the 2-1 laptop makes for a veritable office resource. Everything from the improved processing speed to the 4K graphics to the exceptional Wi-Fi performance to the long battery life enables a palpable tier of productivity. Throw in Office 365 and you get a workhorse for the modern workhorse.
Microsoft is always popular among tech-heads and the Surface 3 will definitely keep that trend alive and well. More to the point, this already-versatile device is modular. That means an authorised service provider can replace specific hardware the way one might upgrade engine components in a sports car. Don't like the hard drive? Have them swap it out. Want to replace the graphics card? Go right ahead. In the process, you'll be making a great thing that much greater.
Previous Surface owners might recognise a few familiar features on Microsoft's new laptop. That includes Windows Hello facial recognition, which works as swiftly as ever before. And like other Windows laptops, this one includes a Your Phone feature, allowing you to sync up your Android smartphone and respond to calls or text messages via your desktop. Of course, don't take that to mean the laptop is a carbon copy of its peers, as immediately evidenced by the larger screen, aluminium finish, and AMD Ryzen processor.
If we have any grievances with the new Surface 3, they all have to do with the ports and plugs. For starters, we wish the power plug was on the left-hand side and the USB ports were on the right-hand side. Being right-handed, we'd prefer to plug a corded mouse into the right side of the device as opposed to the left and for fairly obvious reasons. However, both the USB-A and USB-C ports are on the left side of the device, which irked us a bit.
It also would've been nice to have a few more ports, in general. However, this is somewhat made up for with the Surface Dock, a peripheral station that provides pretty much all the connectivity you could ever ask for. On the other hand, it's not included with the base purchase price and pretty much any device on the planet improves once you bring in peripheral accessories.
With its larger screen, lightweight body, seamless performance, and long-lasting battery, Microsoft's 15″ Surface 3 in Black Matte makes for a no-brainer purchase. That rings especially true when you take its price tag into consideration, as this premium tech costs far less than your average MacBook Pro. We're officially dubbing it our favourite laptop PC of the moment and you might too. Take it for a spin to find out.