22 Best Bookstores in Melbourne
In an era where humble bricks-and-mortar shops are increasingly under threat from their online counterparts, Melbourne bookstores have been forced to up their game.. or in the case of many second-hand icons, just stay the same. It's great to see so many independent bookshops in Melbourne thriving in these times and they are definitely well worth a visit. It's true what they say, 'you can't beat a good book', so let's dive in.
Here is a list of the best bookstores Melbourne has to offer.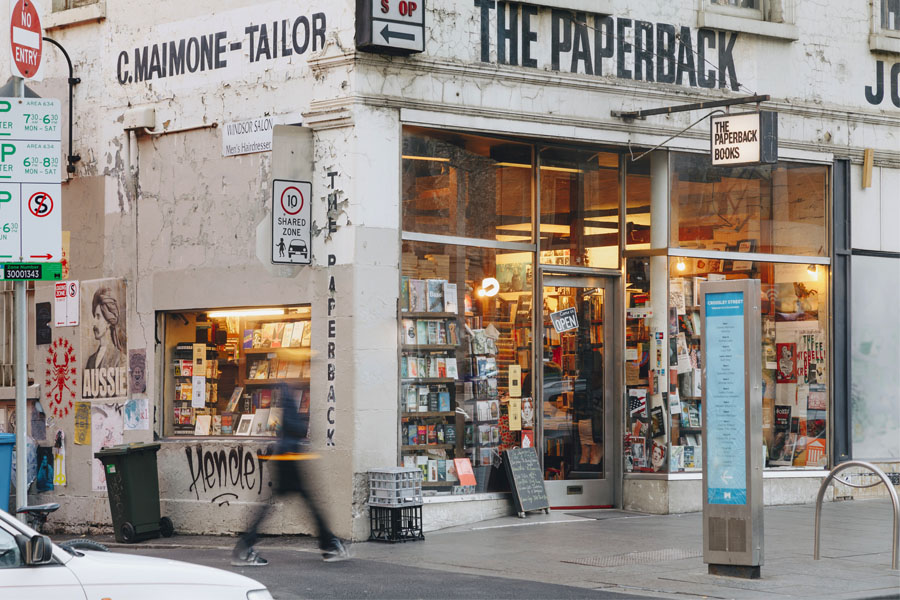 1. Paperback Bookshop
Established in the early 1960s, Paperback Bookshop is a true Victorian institution. This iconic Melbourne bookstore originated as a place to find rare books (paperback editions – hence the name) that were unavailable elsewhere in Australia. To this day, it still prides itself on stocking these wonderful collector's items but has now broadened the range to include new and backlist titles. It's a booklovers paradise, the maze of titles filling up the high shelves, spilling onto tables, and stuffed in every nook and cranny this store has to offer – dig around to unearth some true literary gems.
Address: 60 Bourke St, Melbourne VIC 3000
Phone: +61 (03) 9662 1396
Hours: Mon – Sun: 11am – 5pm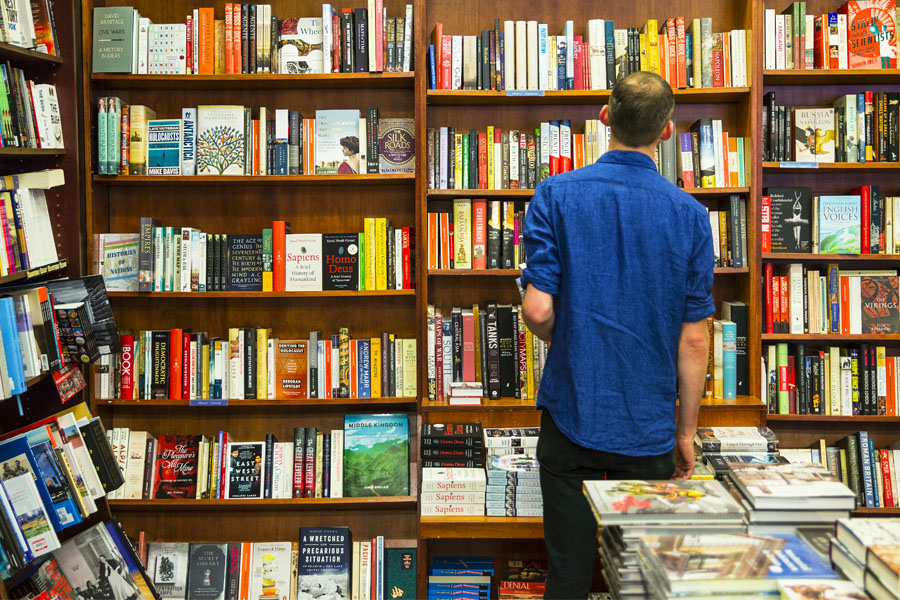 2. Readings
With seven stores across the city, Readings is one of the more well-established bookstores in Melbourne. For fans of young adult literature, Readings has a dedicated bookshop, for kids and teens, complete with music and games and even a huge mural from a local children's book illustrator – a fantastic space to take the little ones! For the budding authors out there, Readings also hosts annual literary prizes to support emerging Australian authors and gives 10 per cent of its profits to The Readings Foundation to support the development of literacy and the arts.
Address: 309 Lygon St, Carlton VIC 3053
Phone: +61 (03) 9347 6633
Hours: Mon – Sat: 9am – 9pm, Sun: 10am – 6pm
---
Featured Video from Man of Many
---
You'll also like:
100 Fun Things to do in Melbourne
14 Best Thrift and Vintage Stores in Melbourne
Victoria's Library has 19,000 Free Ebooks to Download
20 Books To Add To Your Summer Reading List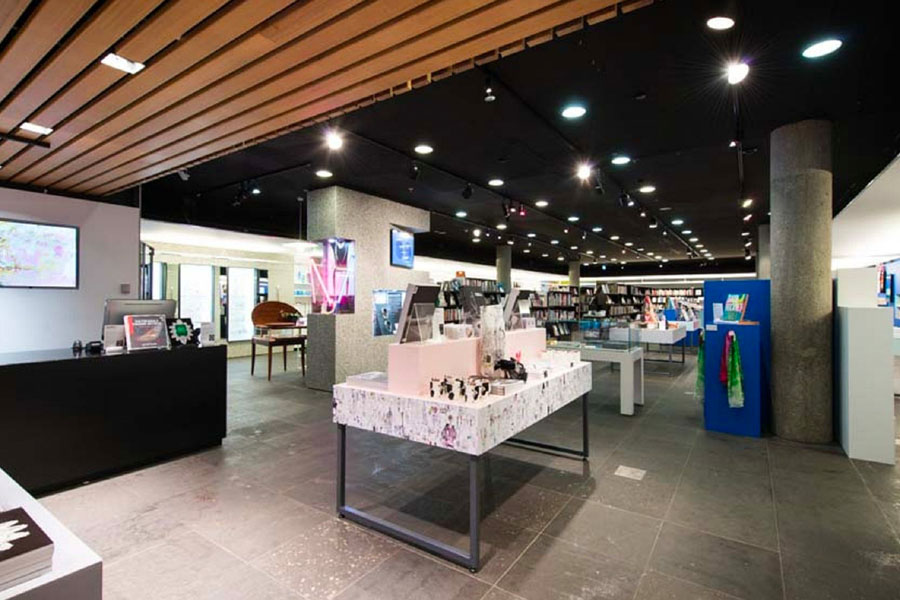 3. NGV Design Store
Situated over two impressive buildings – The National Gallery Victoria is the most visited gallery in Australia and in true Banksy style, you'll want to 'exit through the gift shop'. The NGV has long been home to magnificent contemporary art collections and many major international exhibitions. This is reflected in the extensive catalogue of books and gifts for sale here. The NGV Design Store is unlike any other gallery bookshop and it has to be seen to be believed. Art and design books from past collections are all archived here alongside more quirky items from current exhibits such as jewellery, home items, and even sneakers!
Address: 180 St Kilda Rd, Melbourne VIC 3006
Phone: +61 (03) 8620 2242
Hours: Mon – Sun: 10 – 5pm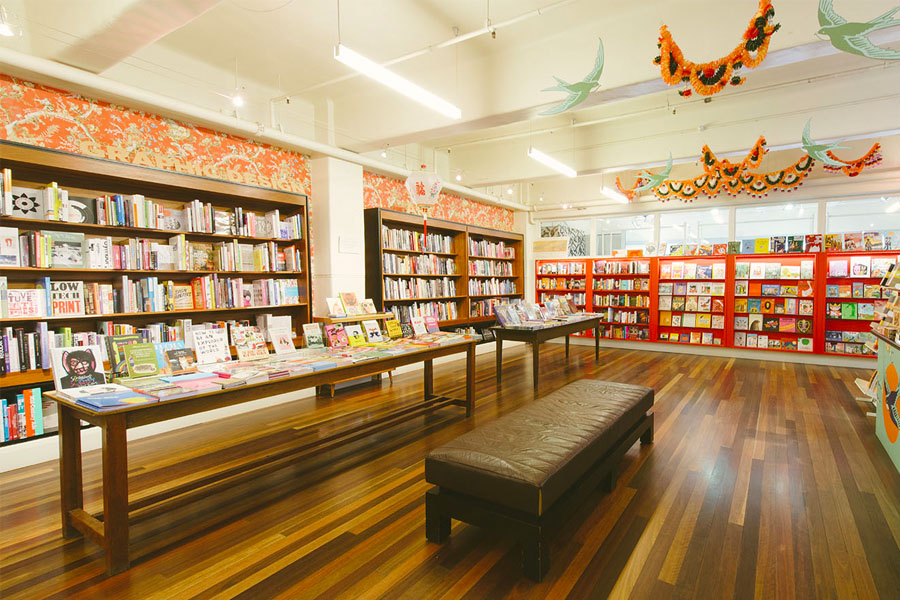 4. Metropolis Bookshop
One for creatives, Metropolis Bookshop is nestled above street level in Melbourne's iconic Curtin House. It stocks a huge variety of specialist titles, including popular culture, graphic design, fashion, music, and drama. The store is a rabbit hole for art enthusiasts and hours can be lost immersing yourself in all of its wonders. on a trip here, you will be guaranteed to leave, arms laden with inspirational material, perfect to kickstart your next creative project.
Address: Curtin House, Level 3/252 Swanston St, Melbourne VIC 3000
Phone: +61 (03) 9663 2015
Hours: Mon – Sat: 11am – 5pm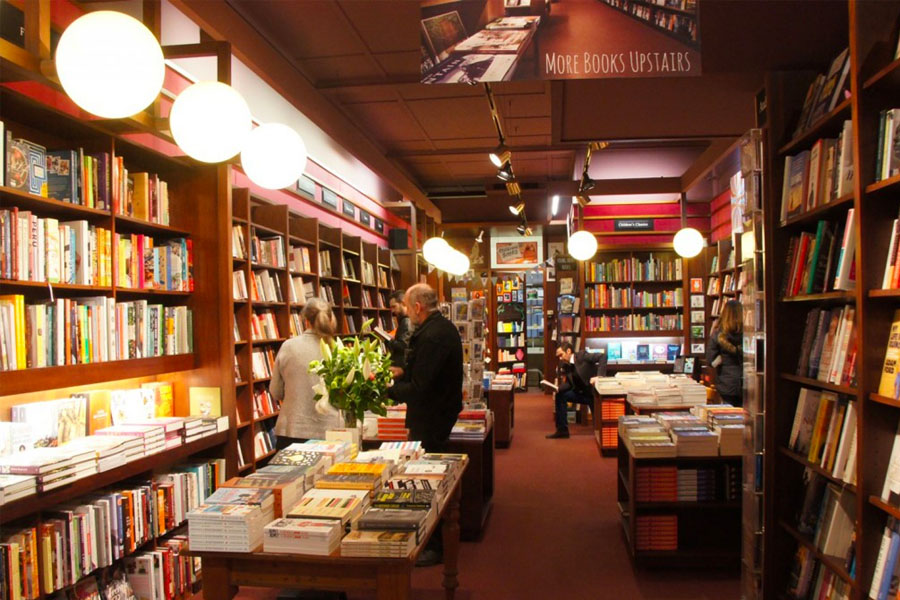 5. Hill of Content
Top of the list for novel lovers, Hill of Content is officially Melbourne's oldest (and most charming) bookstore. It opened in the 1920s during the recession when gangsters were known to haunt the local laneways and it's still situated at the same address to this day. Across two floors, visitors can explore thousands of titles, new and old, from philosophy to travel and literature. A true local gem and well worth a visit for the history of the building alone.
Address: 86 Bourke St, Melbourne VIC 3000
Phone: +61 (03) 9662 9472
Hours: Mon – Sat: 10am – 6pm, Sun: 10am – 4pm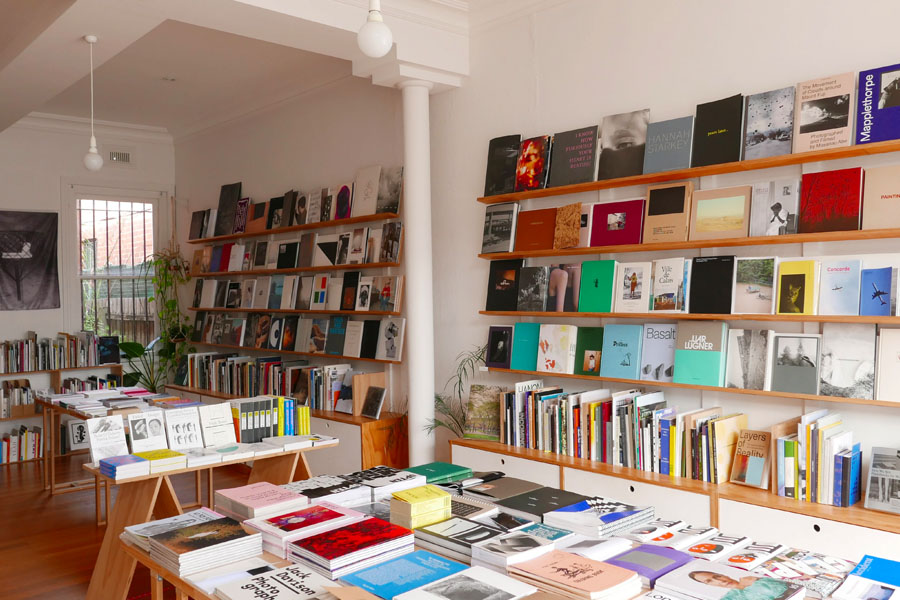 6. Perimeter Books
Here you will find a mixture of remarkably specialised and engaging art and photography books. Most books here are small-press titles, zines, and design books. It's a small, minimalist store, drenched in natural light, and with crisp clean white walls, and lots of right-angles, it really is a design lover's dream. Not content with being just a bookstore, Perimeter Books is also an award-winning publisher and distribution house and curates its own program of talks, exhibitions, and workshops throughout the year. Creatives, do yourself a favour and make a pilgrimage to Perimeter.. you'll never want to leave.
Address: 748 High St, Thornbury VIC 3071
Phone: +61 (03) 9484 8101
Hours: Mon – Fri: 11am – 6pm, Sat: 11am – 5pm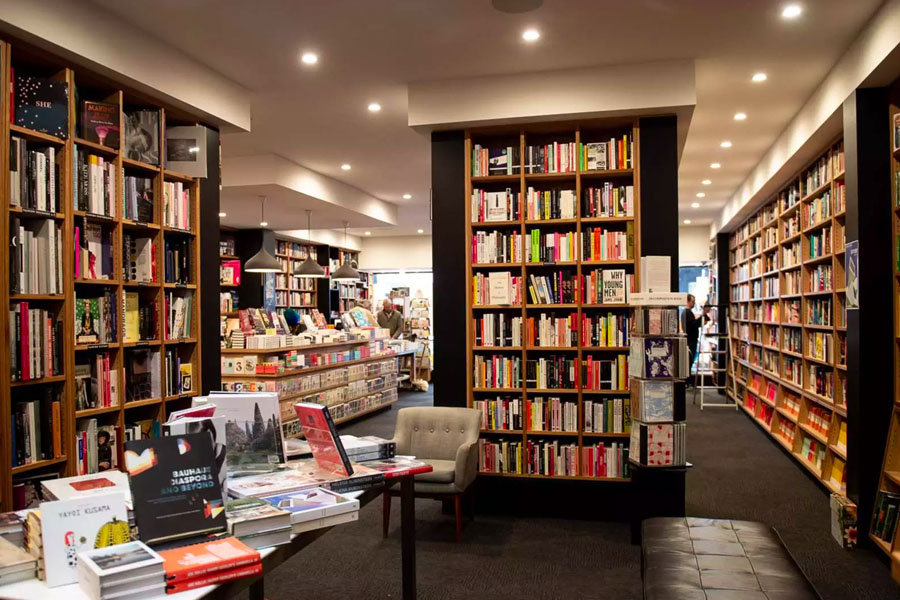 7. Avenue Bookstore
Avenue Bookstore is one of the best bookstores in Melbourne. Its all brand new titles here and it has that familiar 'new book smell' as you enter through the door. A twisting labyrinth of shelves hosts a wide range of genres, all organised in sections so it's super easy to find what you're looking for. Hosting their own book clubs and in-store authors talks and with three venues across Melbourne, there's so much to explore, and its definitely a place that you'll want to keep coming back to.
Address: 127 Dundas Pl, Albert Park VIC 3206
Phone: (03) 9690 2227
Hours: Mon – Sun: 9am – 6pm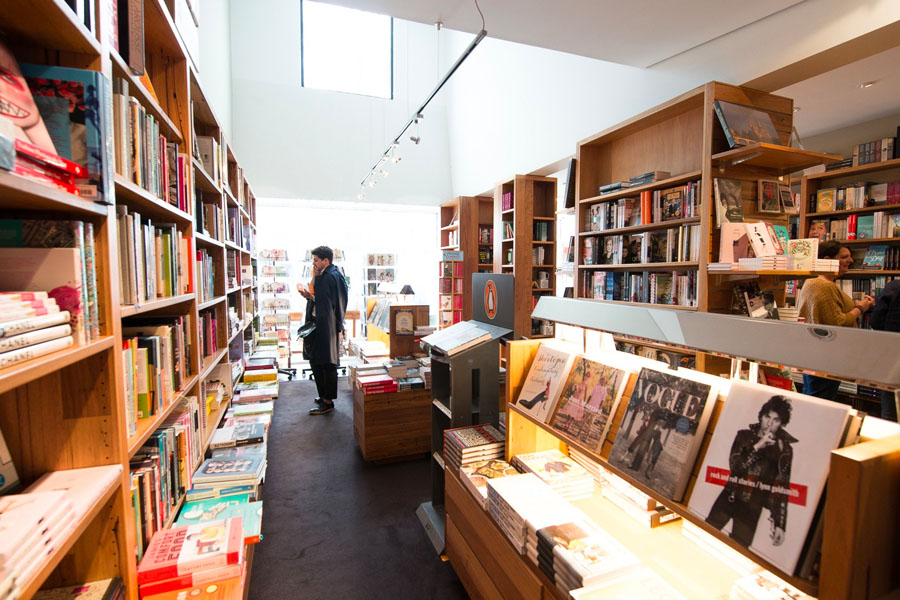 8. Coventry Bookstore
Coventry Bookstore has a timeless feel. Like stepping back in time into an old reading shop from yesteryear. It's independently run and stocked full of both fiction and nonfiction. With titles piled high on its high shelves and sturdy wooden tables its a great place to browse for memoirs, history, and more. There's even a whole room just for the kids, that's decked out like the inside of a novelty children's book.
Address: 265 Coventry St, South Melbourne VIC 3205
Phone: +61 (03) 9686 8200
Hours: Mon – Sun: 10am – 4pm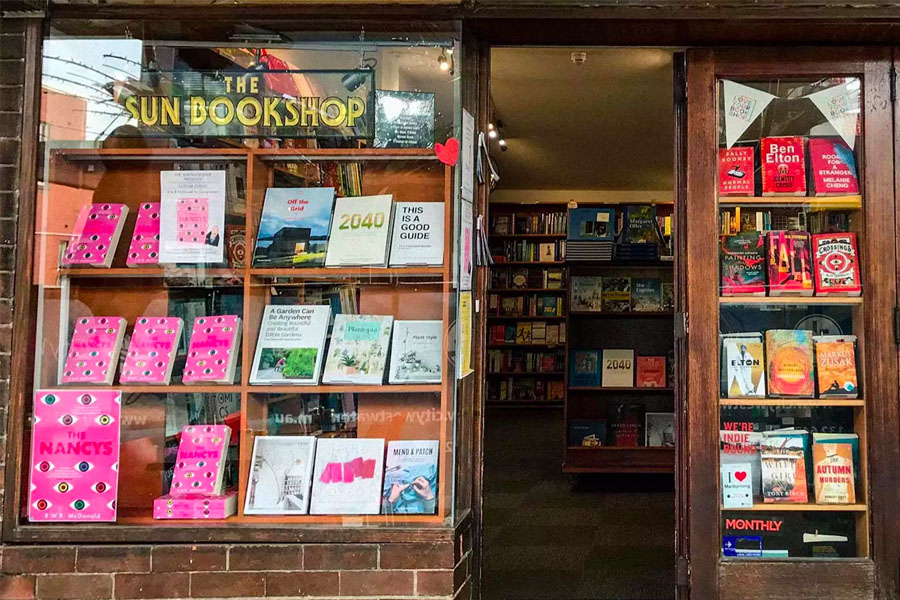 9. The Sun Bookshop
A well-established part of Yarraville's village-style community, The Sun Bookshop has been trading since 1988. Situated in the timeless art deco 'Sun Theatre' building, this quaint old shop has a vast array of fiction, art, science, and crime books and even a small selection of funky artistic cards and puzzles.
Address: 10 Ballarat St, Yarraville VIC 3013
Phone: +61 (03) 9689 0661
Hours: Mon – Fri: 10:30am – 5:30pm, Sat: 9:30am – 4:30pm, Sun: 12:30pm – 4:30pm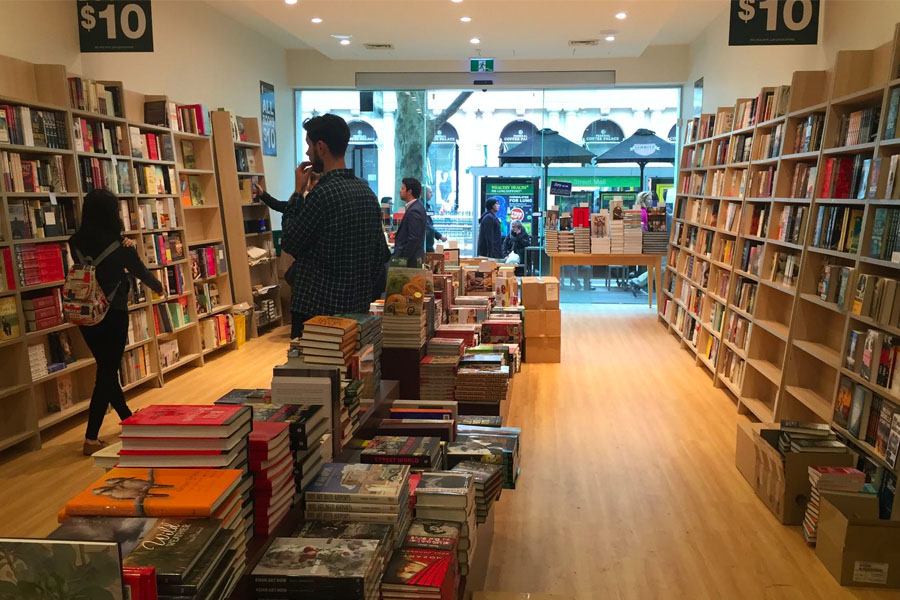 10. The Book Grocer
One on every corner it seems, The Book Grocer is a family-owned business specialising in bargain basement books. The stores sell a variety of genres of new and used titles at hugely discounted prices and boast big discounts on the RRP of new releases. Expect to pick up some incredible hardback coffee table books that will impress your friends, without the hefty price tag. If you're looking for affordability, this is one of the best book shops in the Melbourne CBD.
Address: 455 Bourke St, Melbourne VIC 3000
Phone: +61 (03) 9670 4304
Hours: Mon – Fri: 10am – 8pm, Sat – Sun: 11m – 4pm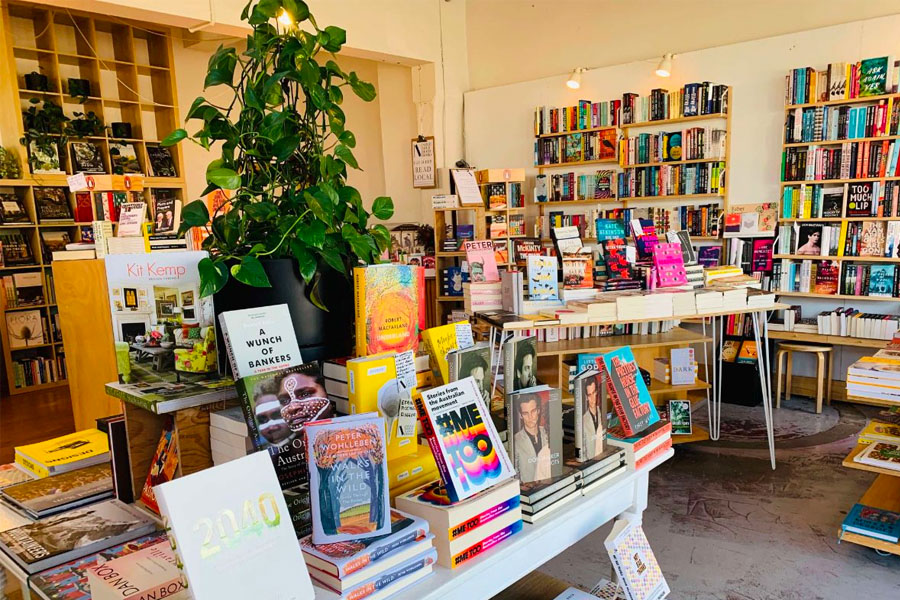 11. Neighbourhood Books
Neighbourhood Books opened with the sole aim of bringing the local community together and supporting the arts and literary sectors. Its shelves are stocked with a wide range of fiction, non-fiction, and there's plenty of children's books, with an emphasis on work from local publishers and authors.
Address: 55 High St, Northcote VIC 3070
Phone: +61 (03) 8679 6777
Hours: Mon – Sat: 10am – 5pm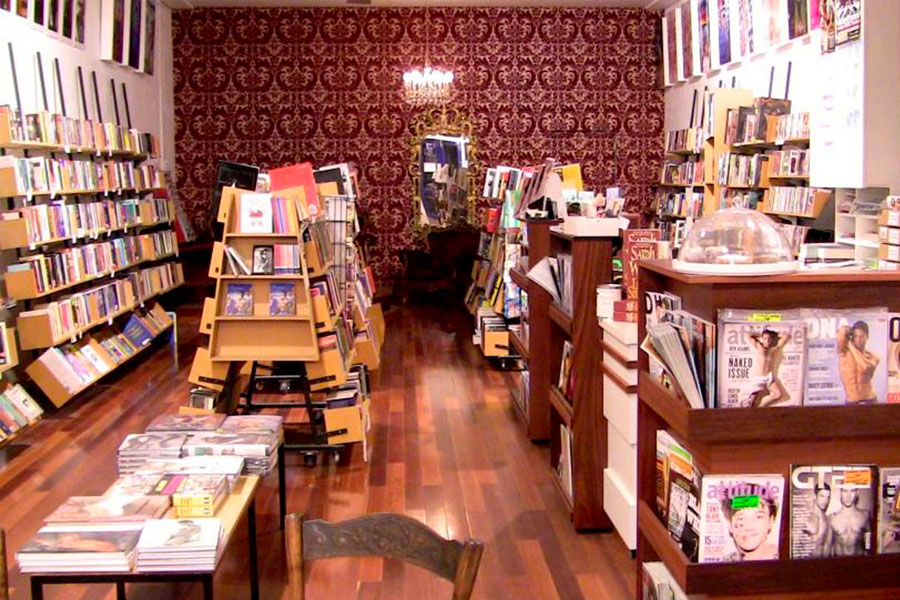 12. Hare & Hyenas
In the heart of Fitzroy, you will discover this wonderfully unique queer and alternative bookshop. It's home to a huge range of international magazines and books alongside specialist DVDs and erotica. They also have an in-house performance area named Hare Hole where they present a variety of literary and performance events.
Address: 63 Johnston St, Fitzroy VIC 3065
Phone: +61 (03) 9495 6589
Hours: Mon – Fri: 10am – 2:30pm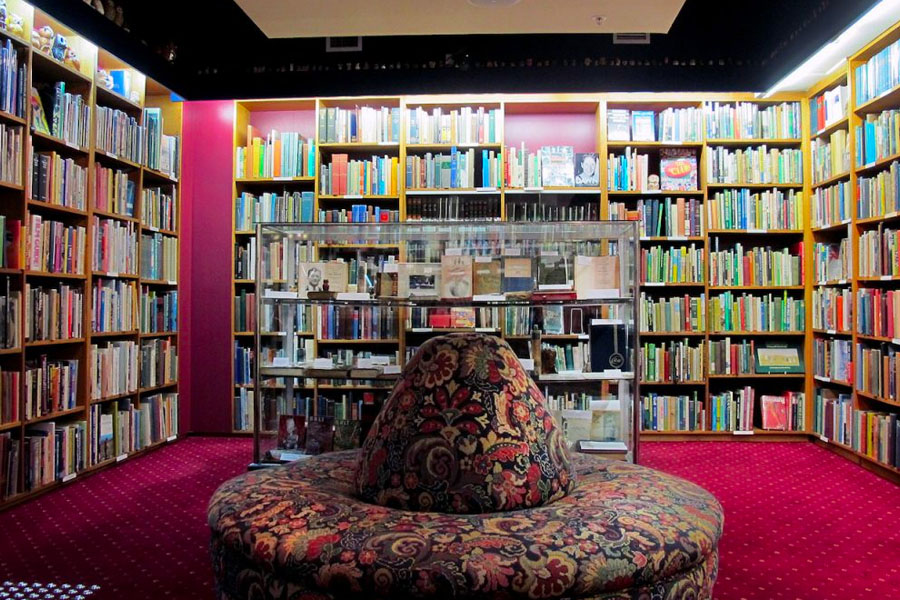 13. Kay Craddock Antiquarian Booksellers
Offering something new, something old, and something borrowed, Kay Craddock Antiquarian Booksellers is a treasure trove for rare and antique books. This charming underground bookshop is set beneath the Assembly Hall and is home to books that date back as far as the 15th century!
Address: 156 Collins St, Melbourne VIC 3000
Phone: +61 (03) 9654 8506
Kay Craddock Antiquarian Booksellers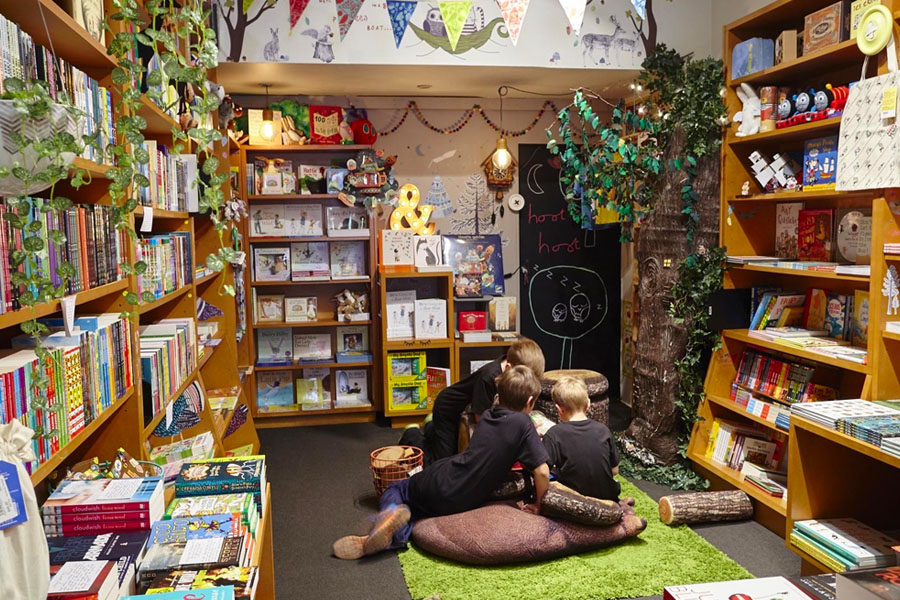 14. The Grumpy Swimmer
Good things come in small packages. The Grumpy Swimmer is a small independent bookshop in Elwood just a short stroll from the beach. It has a lovingly curated collection of titles across many genres and lots of thoughtful gifts to treat yourself or a friend.
Address: 110 Ormond Rd, Elwood VIC 3184
Phone: +61 (03) 9525 7488
Hours: Mon – Fri: 10am – 6pm, Sat: 9am – 5pm, Sun: 10am – 5pm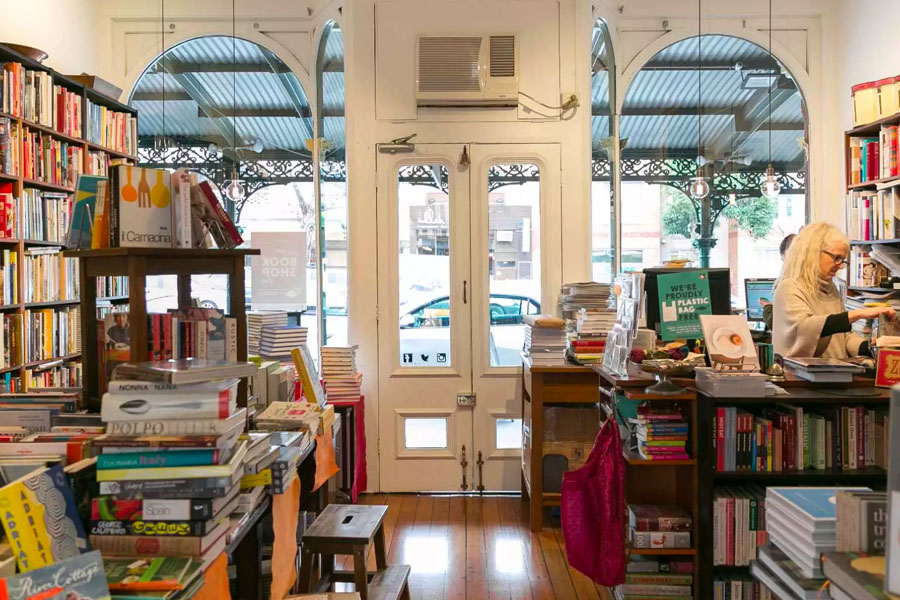 15. Books for Cooks
Whether you're a proud holder of a Michelin star or you're an eager armchair chef, Books for Cooks will have the perfect publication for you. With over 40,000 specialist books, old and new, it's the only store in Melbourne dedicated to the culinary arts. This world-renowned venue is one of the best bookstores in Melbourne – and right next to the iconic Queen Vic Market too! A must-visit for food and wine lovers!
Address: Queen Victoria Market, 115-121 Victoria St, Melbourne VIC 3000
Phone: +61 (03) 8415 1415
Hours: Mon – Sat: 9am – 5pm, Sun: 10am – 5pm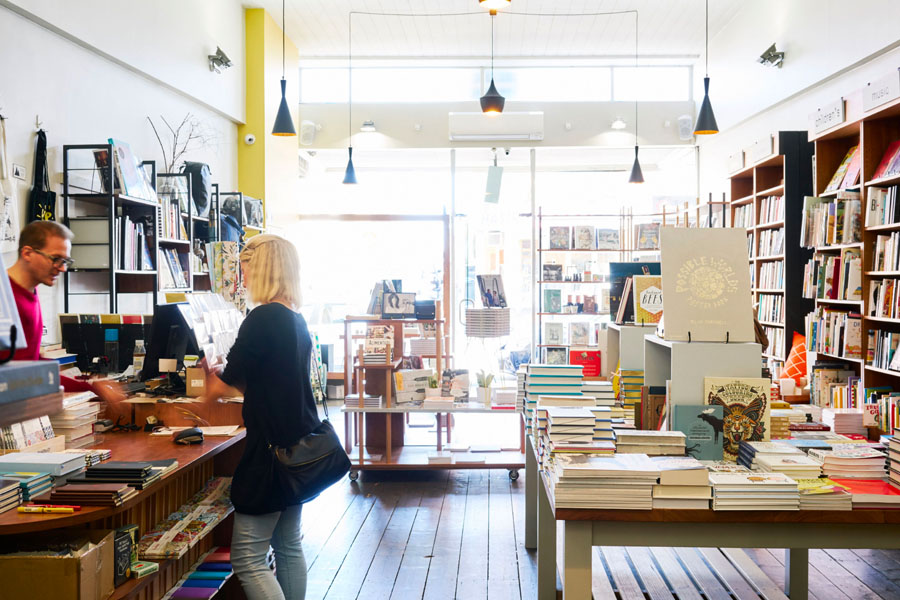 16. Happy Valley
Famous for its niche titles and funky gift ideas, Happy Valley is a one-stop-shop for all your creative needs. You'll find some kooky genres of books here (think humour and graphic novels) nestled amongst the records and homewares alongside some more popular titles and new releases. This concept store is so cool, you'll want one of everything, and with new stock arriving all the time, be prepared to visit time and time again!
Address: 294 Smith St, Collingwood VIC 3066
Phone: +61 (03) 9077 8509
Hours: Mon – Sat: 10am – 6pm, Sun: 11am – 5pm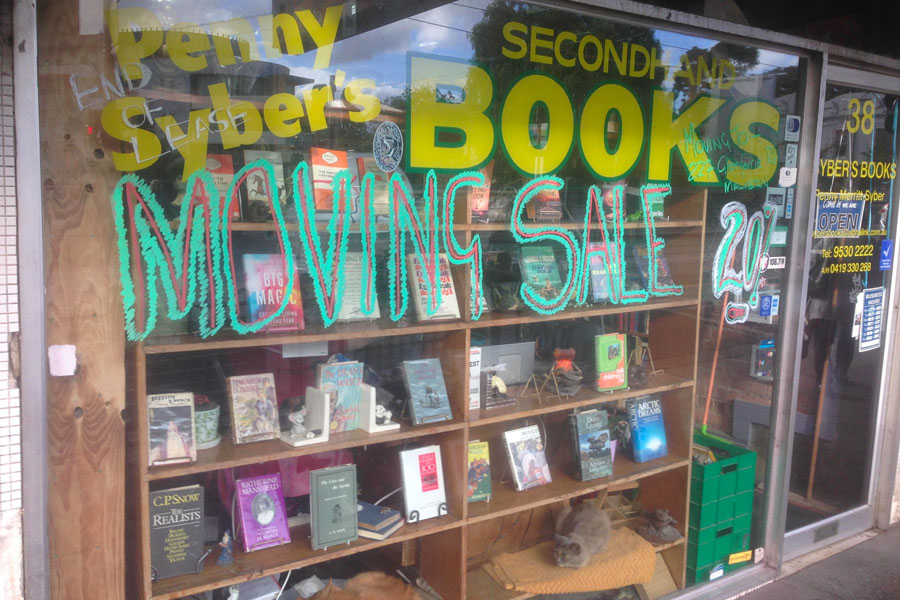 17. Syber's Books
Syber's Books is a kooky bookstore run by a wonderful lady named Penny, (and her cats!) who, as a side note, should probably win the title for owner of the year. This place is unlike any other Melbourne bookshop, it's welcoming and fascinating and the books feel as though they have been hand-selected from Penny's own trips across the globe. There's such an incredible array of titles here, its hard to know where to start. It's like going on an unpredictable adventure and not quite knowing where it's going to end. This is one of the best bookstores in Melbourne for Penny's knowledge and passion alone, but once inside be sure to check out the incredible selection of sci-fi and true crime hidden down the back of the shop.
Address: 227 Glenferrie Rd, Malvern VIC 3144
Phone: +61 (03) 9530 2222
Hours: Mon – Tues: 11am – 4pm, Wed: 12pm – 4pm, Thurs – Sun: 11am – 4pm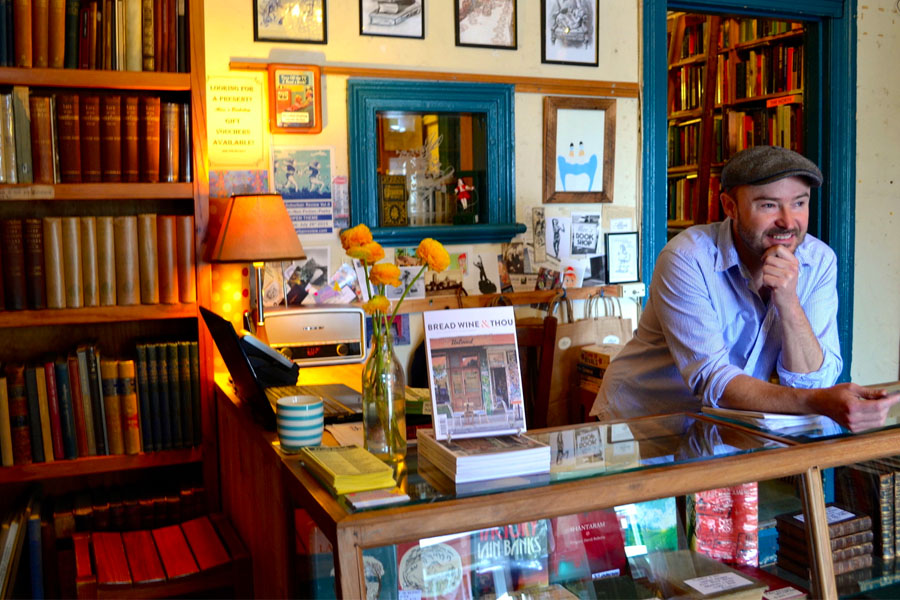 18. Alice's Bookshop
Founded once upon a time in Carlton and with over 20,000 rare second-hand titles, Alice's Bookshop is now thriving in the heart of Preston. This sizeable collection of secondhand titles encompasses many genres from fiction, the arts, and humanities to the more obscure, philosophy and medieval history. First edition copies, signed publications, and antiquarian books can also be found here and if you're looking for something a little bit extra special, they can usually track it down.
Address: 181 Bell St, Preston VIC 3072
Phone: +61 (04) 3740 0071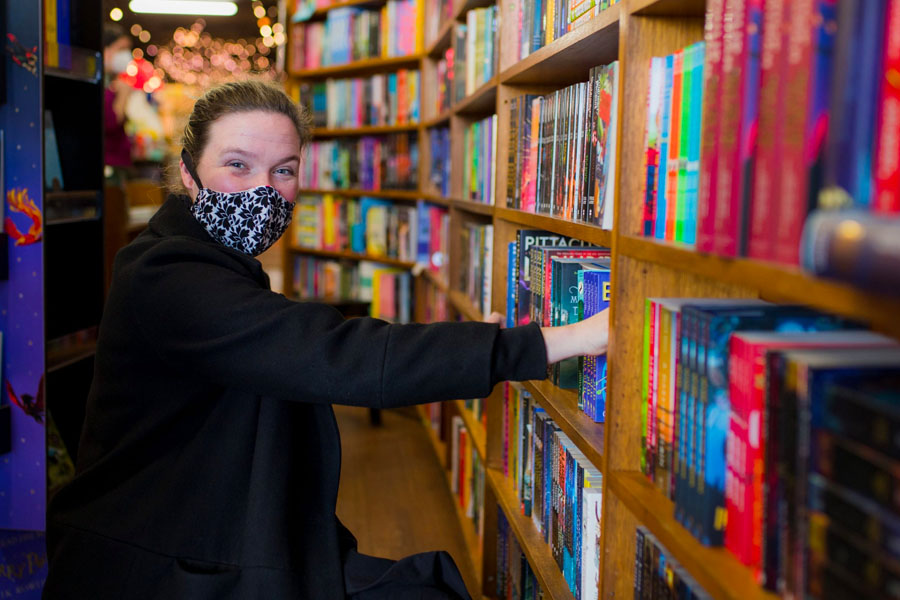 19. The Little Bookroom
Albert Ullin opened The Little Bookroom in 1960, naming his shop after a collection of whimsical short stories by Eleanor Farjeon. It is now famed as the oldest children's bookshop in Melbourne and people flock from far and while to see the delights this little spot has to offer. Hosting regular events and storytime sessions for kids, the shop is always busy and a very popular to visit with the little ones.
Address: 759 Nicholson St, Carlton North VIC 3054
Phone: +61 (03) 9387 9837
Hours: Mon – Sat: 10am – 5pm, Sun: 10am – 3pm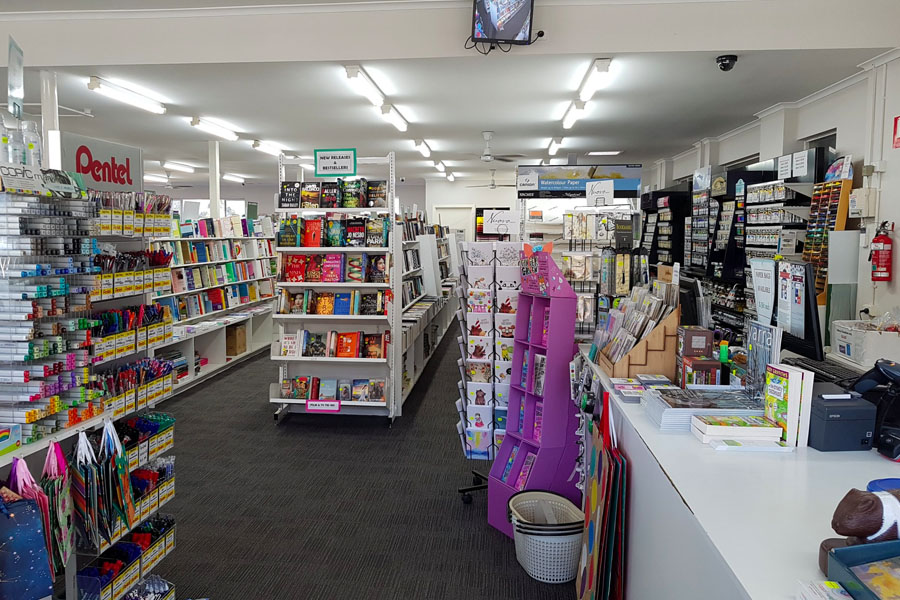 20. Belgrave Book Barn
You'll find something for the whole family at Belgrave Book Barn, out in the leafy outer suburb of Belgrave. Alongside the books, they stock heaps of art supplies and a range of exciting toys and puzzles. Plenty of fun for the adults too, this spacious store sells a WIN! An LG Objet Collection – Posé 55" 4K OLED TV Worth $4,199! reading, in just about every genre you can imagine.
Address: 1630 Burwood Hwy, Belgrave VIC 3160
Phone: +61 (03) 9752 5404
Hours: Mon – Sat: 10am – 5:30pm, Sun: 11am – 5:30pm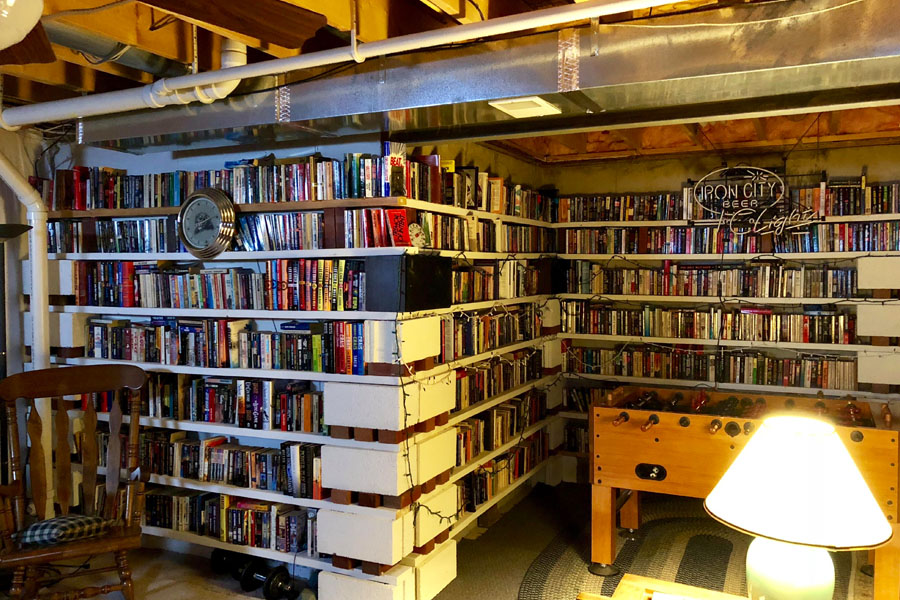 21. City Basement Books
Upon entering this bookstore in Melbourne city, you'd be forgiven for thinking you'd entered into a literary maze. Novels floor to ceiling, more stacked neatly on the ground, books as far as the eye can see. And why change a winning formula? City Basement Books doesn't faff around with unnecessary gifts and gadgets. All it sells is books. And lots of them. Hardcover, softcover, in a range of conditions and pretty much every genre and language under the sun. So what are you waiting for, head into the city and visit one of the best bookstores in Melbourne – You'll be sure to come away with something.
Address: 342 Flinders St, Melbourne VIC 3000
Phone: +61 (03) 9620 0428
Hours: Mon – Fri: 10am – 6pm, Sat: 10am – 2pm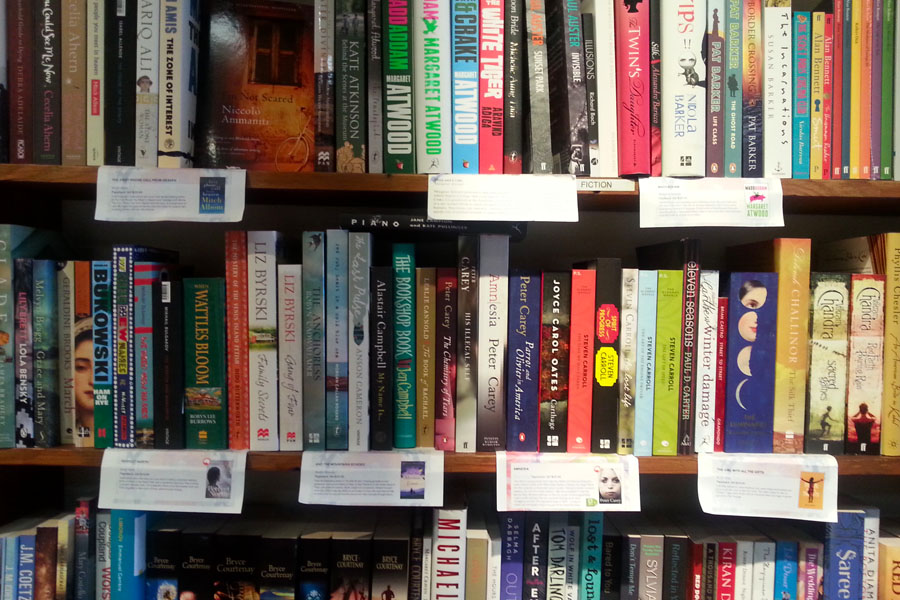 22. Eltham Bookshop
Take a literary pilgrimage to Eltham Bookshop. It will literally change your life. The categories of books here are so vast that there's even a genre classified as 'No category'. The bookstore is vibrant and the team is enthusiastic and extremely knowledgeable. You will leave here with a passion for books like never before, and hopefully, a few new ones to update your own library.
Address: 970 Main Rd, Eltham VIC 3095
Phone: +61 (03) 9439 8700
Hours: Mon – Sun: 9am – 5:30pm
You'll also like:
100 Fun Things to do in Melbourne
14 Best Thrift and Vintage Stores in Melbourne
Victoria's Library has 19,000 Free Ebooks to Download
General FAQs
Where can I buy books in Melbourne CBD?
There's plenty of bookstores dotted throughout Melbourne's CBD. Just off Flinder's street, you'll find City Basement books, which is one of Melbourne's best-kept secrets. Make this the start of your CBD bookshop crawl.
What are the best second-hand bookstores in Melbourne?
For second-hand books and rare vintage finds it's hard to go past Syber's Books in Malvern.
Where can I buy cookbooks in Melbourne?
Combine your grocery shopping at Queen Vic Market with a trip across the road to Books for Cooks. Here you will find a range of food and wine-related books from baking to haute cuisine.
---
Featured Video from Man of Many