SteelSeries Arctis Prime Review: Brilliant Basics
SteelSeries bridges the gap between eSports and leisure gaming with its new Arctis Prime headset. This modest wired rig was designed with input from over 100 esports pros but features none of the excess one might expect from gaming gear. Instead, SteelSeries keeps things simple and promotes the Artics Prime by likening it to a rally car: possessing everything you need and nothing you don't. With a minimal design and solid performance, many gamers will appreciate what this headset has to offer. But is the SteelSeries Arctis Prime right for you? Let's find out!
You'll also like:
SteelSeries Rival 5 Gaming Mouse Review
BMW's Futuristic Gaming Chair Has Air-Con & Massage Functionality
Valve's Bonkers New Steam Deck is a Nintendo Switch For PC games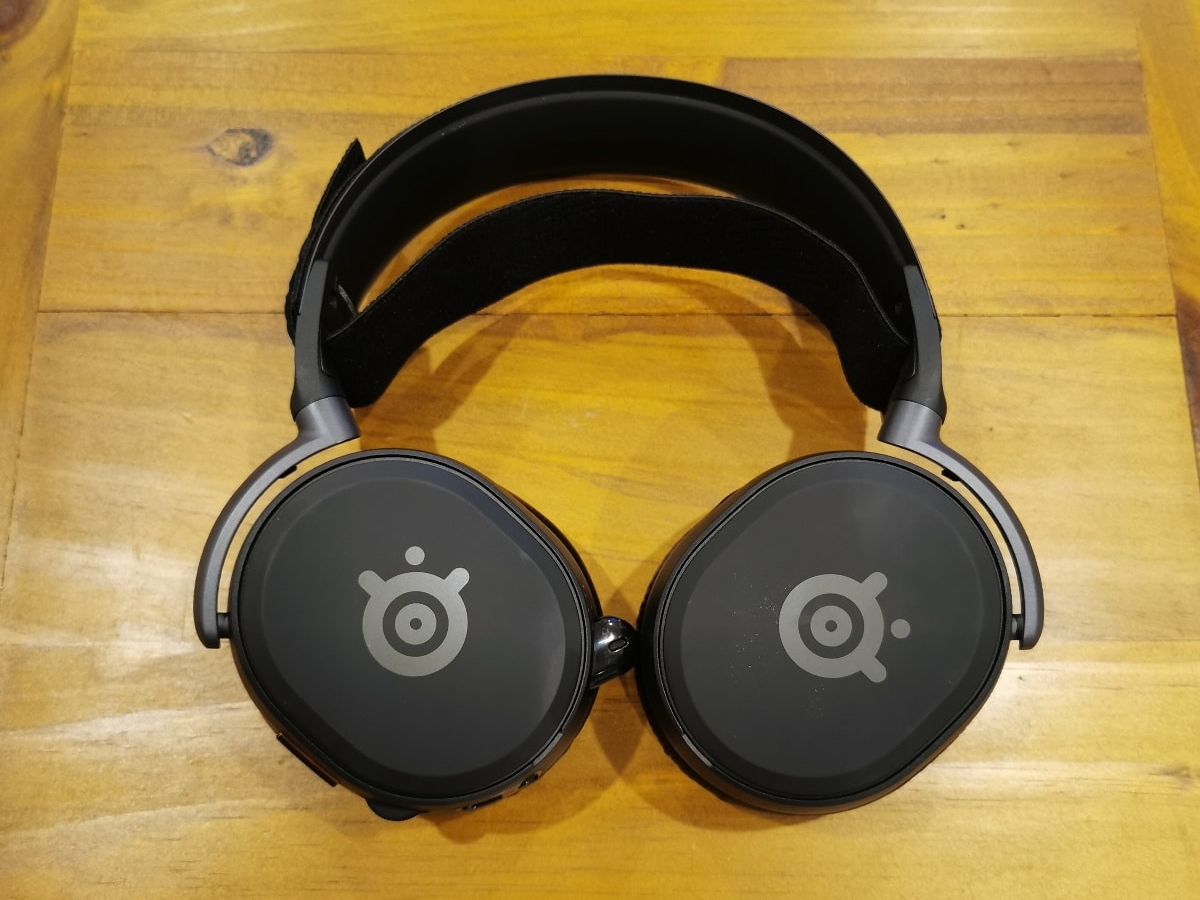 SteelSeries Arctis Prime Design & Features
This matte black headset unites hard plastic with lightweight metal for a sturdy, long-lasting build that ultimately feels between budget and premium quality.
Arctis Prime features an innovative top band constructed from aluminium with a ski goggle suspension strap underneath. This allows the headset to fit comfortably over the head without coming in contact with the cold metal.
The ski goggle strap automatically distributes the headset's weight, but you can also tighten it using a simple Velcro tab, which will adjust how high or low it rests on your head.
SteelSeries has been using ski goggle straps for a while now, but this is the first time we've tested one out. Surprisingly, the suspension design works well, and it can be more comfortable than using some padded headbands.
The generous ear cups are cushioned with plenty of padding protected by soft faux leather. Designed for passive noise isolation, the ear cups reduce outside noise to an extent. However, passive noise isolation can never live up to the highs of active noise cancellation technology.
Arctis Prime is powered by Steelseries' own high-fidelity 40mm drivers, the same hardware found in the brand's premium ArctisPro headset. We'll talk more about these in the performance section below.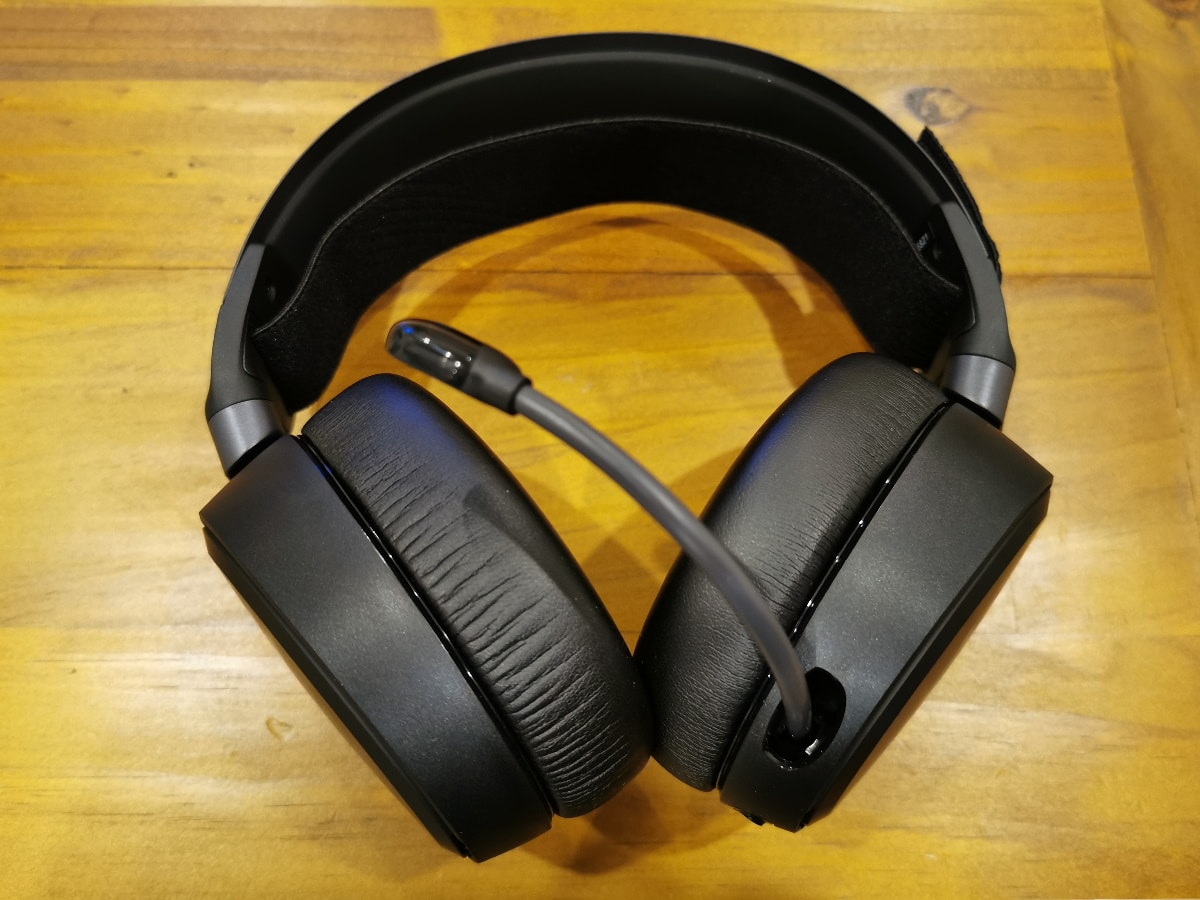 The ear cups exterior features cosmetic plates with a magnetic connection that can be removed and replaced with alternates if you wish to purchase some from the SteelSeries website. Remove the default plates, and you'll discover a cool prism pattern, which is a nice alternative to the default SteelSeries logos.
The left ear cup is where you find the onboard controls. We're looking at a large, textured button at the rear for muting the mic, then a volume wheel beneath. The audio in/out has two separate connections for various gaming hardware and sharing audio.
SteelSeries Arctis Prime has a 3.5mm dual audio jack and USB so you can use the headset for PC, PlayStation, Xbox, Switch and some phones. The two accompanying cables are plenty long enough, so you shouldn't have any trouble in that department.
Move around to the front of the left cup, and you'll find the retractable ClearCast microphone. The flexible mic can be pulled out of the headset casing and pushed back in when not in use. It's a nice touch that the mic can be put away to keep the gaming distraction-free. But it is disappointing that retracting the mic doesn't automatically put it into mute.
You still need to press a separate button to block unwanted communications. There's also no light or visible indicator that the mic is actually muted. You will need to refer to the connected hardware for confirmation.
Arctis Prime is a wired experience. Aiming for an affordable price tag, Bluetooth connectivity is not supported here. Which does make sense, considering esports gamers were involved in the design. However, wired connections are said to offer better sound quality with a shorter delay.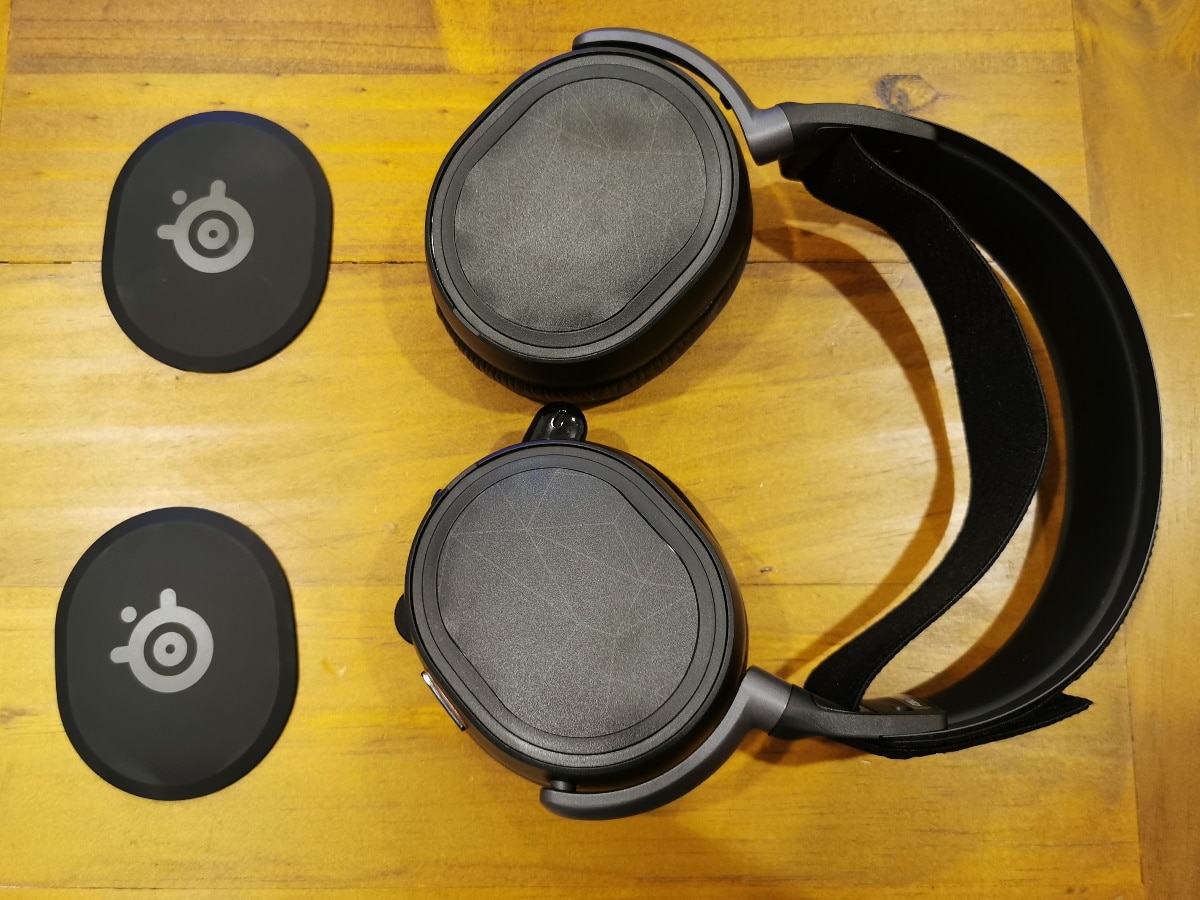 SteelSeries Artics Prime Specs
Speakers: High fidelity 40mm drivers
Microphone: Discord-certified ClearCast boom
Connectivity: Detachable 3.5mm cable
Noise Cancelling: Passive
Weight: 350 grams
Cable length: Main – 1.2m, Extension – 1.8m
Price: AUD $169
Compatibility: PC, MAC, PS5, PS4, XBX/S, XB1, Switch, VR
SteelSeries Arctis Prime Performance
Arctis Prime performed well across all the tested games. Playing Returnal on PS5, the headset delivered solid audio, whether it was the subtle footfalls in muddy puddles or the blaring klaxons and gunfire from an area full of enemies.
On PC, the dialogue-heavy scenarios of The Forgotten City were a treat! The soundscape offered here doesn't feel as wide as some headsets, but the audio was crisp and clear at all times – especially in well-spoken dialogue. That's in part a testament to the strong design of the game itself.
The microphone and chat functions were tested on PlayStation while playing Anthem with a friend. Yes, I'm playing Anthem! Conversations were always clear with ambient noise filtered out, and the fine-tuning between mic and game audio is simple and effective. I would argue that the retractable mic is one of Arctis Prime's best features.
It's worth noting that max volume never actually gets very loud. Arctis Prime can't reproduce those sort of volumes that have you tearing the headset off in a blaze. This is arguably a good thing, but some gamers may want higher volume than what's capable here.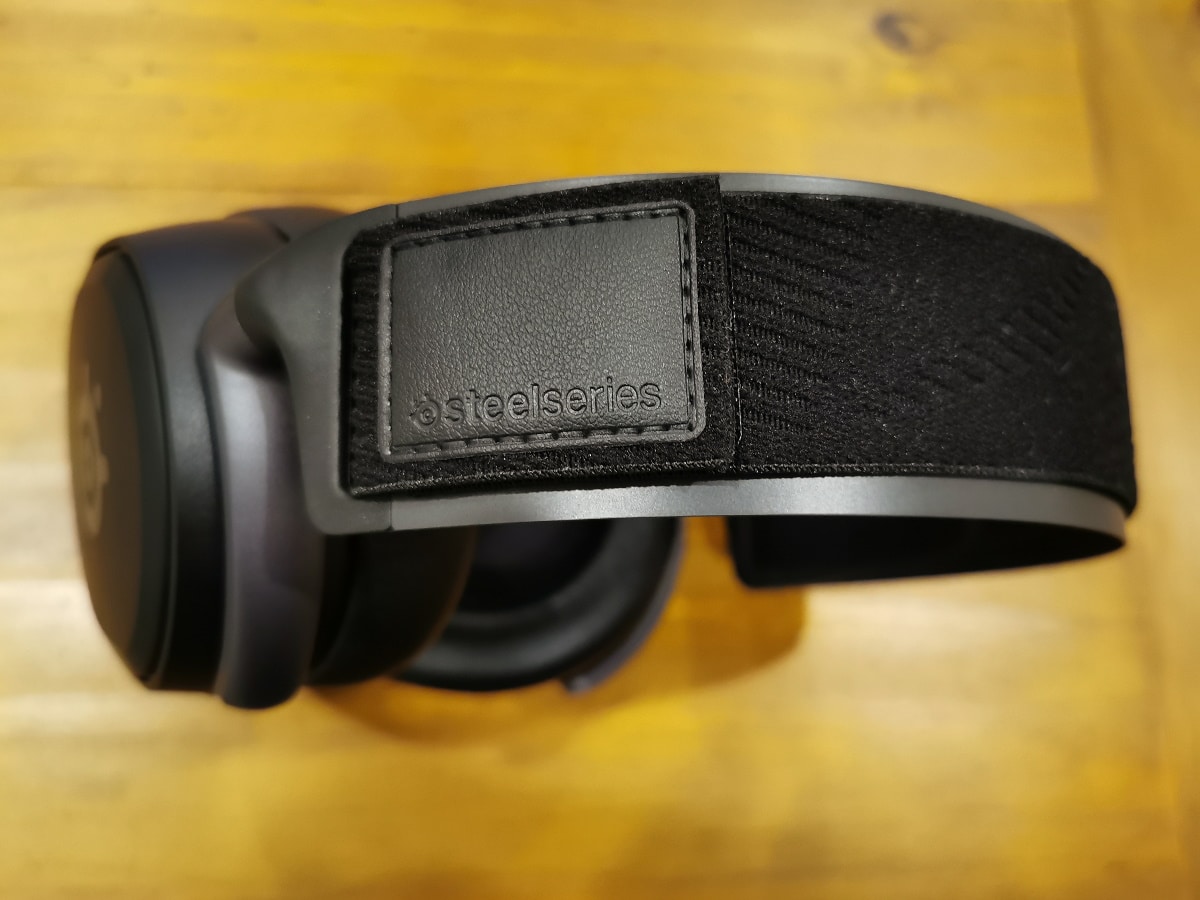 Arctis Prime – The Verdict
At AUD $169, SteelSeries Arctis Prime is more expensive than you might expect from a mid-range headset. But it does offer comfort, solid audio reproduction and possesses a sleek design that would look right at home in a living room or at a gaming setup. We have no idea how over 100 eSports professionals were involved in the development, and SteelSeries isn't breaking any boundaries with this one. Instead, Arctis Prime covers the basics incredibly well. It's everything you need and nothing you don't – like a rally car.
The writer received a headset for review courtesy of the brand
You'll also like:
SteelSeries Rival 5 Gaming Mouse Review
BMW's Futuristic Gaming Chair Has Air-Con & Massage Functionality
Valve's Bonkers New Steam Deck is a Nintendo Switch For PC games
General FAQ
Is the SteelSeries Arctis Prime a good headset?
SteelSeries Arctis Prime is more expensive than you might expect. But the headset offers comfort, impressive audio, one of the best mics available, and a sleek, minimal design that steers clear of the usual over the top gaming aesthetic. SteelSeries compares Arctis Prime to a rally car: everything you need, nothing you don't.
Is the SteelSeries Arctis Prime wireless?
The Arctis Prime headset features a detachable 3.5mm wired connection making it suitable for use across all gaming platforms. The cable even comes with an extension, so it measures 3 metres in length all up. Unfortunately, Bluetooth is not supported, so there's no option to go wireless with this SteelSeries headset.
Does SteelSeries make good headsets?
Absolutely! SteelSeries crafts some of the best gaming gear available, and their headsets are no exception. The Danish brand receives a lot of praise for its premium Arctis Pro Wireless, which tops many best headset lists. However, there's a new challenger on the field. It's the Arctis Prime. This mid-range headset is co-developed by over 100 eSports professionals and should help elevate your competitive gaming without breaking the budget.