Interview with Ben Thatcher of Royal Blood
It's incredible to think that it's only been four years since the Brighton-based duo from the UK, Royal Blood, released their self-titled first album. It filled a bluesy rock hole that we never knew we had, and spawned hugely successful single Figure it Out.
Since its release, the band has been racking up accolades and touring extensively, including a current run of dates in Australia and New Zealand playing music from their latest album How did we get so Dark?.
And Australia holds a very special place in the hearts of the band as drummer, Ben Thatcher, explained recently to Man of Many, "We came here for nine months travelling around and loved the place. It's not hard to see why so many people move here from the UK," comments Thatcher. "While we were here, we just started working on music, being inspired by the places we were travelling…that led to the first album – so it's great to be back."
---
You'll Also like:
This Month In Music
---
The band has been on a whirlwind tour of late playing festivals around the world and supporting some very notable names. The Australian and New Zealand shows offer them the opportunity to play a full set once again, something that they have not had the chance to do much of recently.
"We're really looking forward to the shows as we haven't played a full set in a while," comments Thatcher. "A full show is totally different and we're really excited to be playing more of our songs and the new album. The energy of the crowd in Australia after the first few shows, has been incredible so we can't wait to play more shows."
The measure of the success for any 'emerging' band is always to produce a second album of equal or better quality to the first, "It was hard. With the first album our thoughts were really that only our mates would hear it," muses Thatcher.
Often referred to as the 'difficult second album', the band felt the pressure of ensuring that the second album was as good, while making sure they continued to grow musically.
"The success of the first album meant we knew it wouldn't just be our mates that would listen. Once we started the process though, it was quite smooth and we enjoyed experimenting with the music," comments Ben. "But we found that the writing process was much better on this album and focussed on subjects we knew like, being in and out of relationships – those kinds of things."
For the most part, the album has been well received critically – sharing enough of its predecessor to appeal to avid fans, while interjecting enough new music to garner new ones. And despite the bands accomplishments, it's still a two-man operation – albeit with a whole team in the background now, "It's still just the two of us. We have been friends for years so we love spending time on the road experiencing new things together. It's something different that you don't see as often."
Thatcher is referring to the distinctive make-up of the band that separates them from the pack, in that it consists solely of a bass player and drummer, with the odd extra instrument thrown into the mix that see lead singer and bass player, Mike Kerr dashing from piano back to his bass and so many more.
The unique make-up has drawn parallels to the likes of the White Stripes and Black Keys previously – with the latter being a band that Royal Blood shares the most similarities with, thanks to the blues undertones that perforate both bands music.
And while they may be still relatively 'young' in terms of the bands inception, success and the members themselves, they have learned a great deal from working and touring with their older counterparts, such as Guns N' Roses, QOTSA and Foo Fighters.
"We've been lucky to have worked with some amazing bands," says Ben. "We've learned a lot from them because they have all been so friendly that we kind of forget who they are – they're just mates now. I'm not sure who we would like to work with next – we'll see what happens."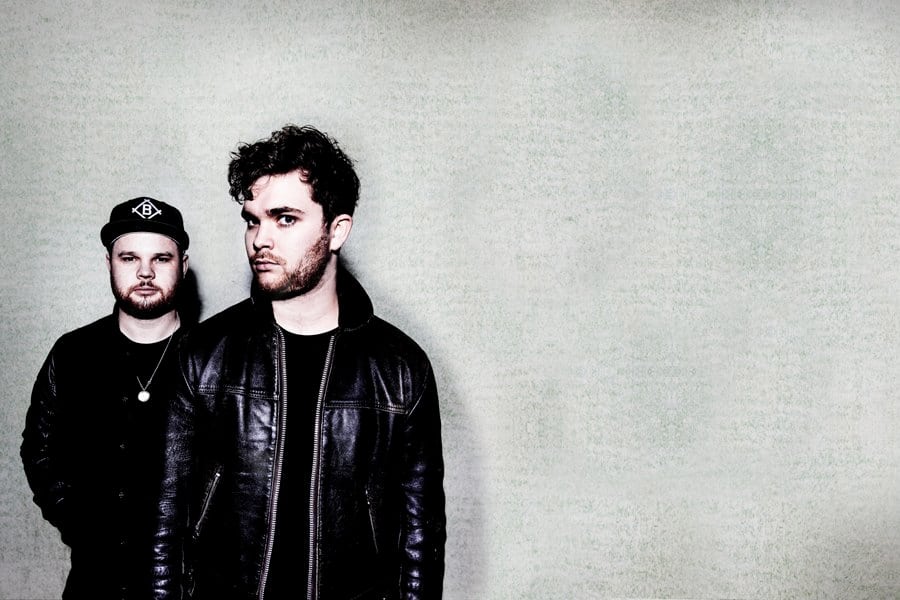 Touring extensively as the band has done comes at a cost though, with stories of injuries and mischief seemingly being the band's unknown 'third member', " is fun but it can be pretty hectic. It's about finding a balance and now I think we know our limits a little better," comments Ben.
In one extreme incident, a sound guy lost a testicle but Ben won't be drawn out on the story, "He's ok now – he still has one more…to lose. It was a crazy experience. We're just hoping that we get home all in one piece from this tour."
Finding a balance is one thing, but the practice is very different. As seen in Sydney recently, with just the two members playing the majority of the music on different instruments, the high-energy shows would, unquestionably, take their toll on the band. But it's not something that the boys think about too much.
"We know how lucky we are. We play every show like it could all end tomorrow, and we'd be ok with that," considers Ben. "We just want to have a good time before it is all over."
And as was the case with the first album, most of the material on the second was written while on the road – whether touring after the first album or just generally travelling around. Asked whether they are working on new material, Thatcher comments; "We're always working on new songs that come from our experiences. We're not sure when the next would be but we're working on it."
Royal Blood is currently touring Australia and New Zealand playing some individual shows and as part of Groovin the Moo festival.
TUE 1 MAY – Logan Campbell Centre Auckland, New Zealand
THU 3 MAY – TSB Bank Arena – Wellington, New Zealand
SAT 5 MAY – Groovin the Moo 2018Bendigo, VIC, Australia
SUN 6 MAY – Groovin the Moo 2018 Townsville, QLD, Australia
MON 7 MAY – Riverstage Brisbane, QLD, Australia
WED 9 MAY – Margaret Court Arena – Melbourne, VIC, Australia
SAT 12 MAY – Groovin the Moo 2018Bunbury, WA, Australia
SUN 13 MAY – HBF Stadium – Perth, WA, Australia
---
You'll Also like:
This Month In Music
---
Have you subscribed to Man of Many? You can also follow us on Facebook, Twitter, and Instagram.