Men's Shoe Guide: 12 Types of Men's Shoes
Men are simple and like things to be as uncomplicated as possible – especially when it comes to our wardrobe. For example: if we're going to the gym, we grab gym shorts and gym shoes. A trip to the beach means swim trunks and sandals. And anything that isn't a sneaker or a sandal gets classified in the overwhelming category of "dress shoes", right? Wrong.
When it comes to the various types of men's shoes, there's actually a hierarchy. To put it another way: not all types of dress shoes are created equal. But don't freak out just yet. We're here to go over the differences between an Oxford and a Derby, lace-ups and slip-ons and the other types of men's dress shoes. Presenting the Men's Shoe Guide: 12 Types of Men's Shoes.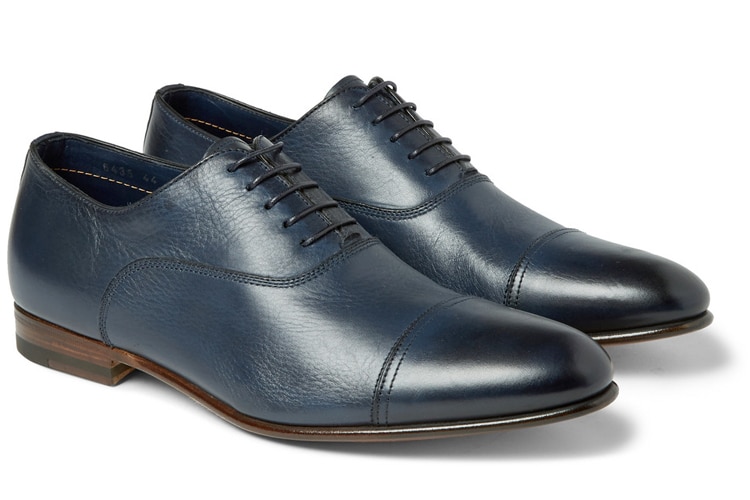 1. Oxford
Kicking off our men's shoe guide is the mighty Oxford (or a Balmoral for our UK blokes), probably the best-known type of dress shoe. The Oxford is a sleek, formal lace-up shoe identified by it's "closed" lacing style and the appeal that the shoe is made from one piece of leather. The closed style means that the eyelet flaps on top of the shoe are stitched over the vamp, or the front section of the shoe, restricting the flap's movement. Oxfords are usually worn in more formal situations, but can also be worn casually with a business suit. You might hear someone call this shoe a "closed front", but it's okay, you know they mean Oxford.
Features: almond toe
Material: leather
Price: from US$921
Santoni Wilson Leather Oxfords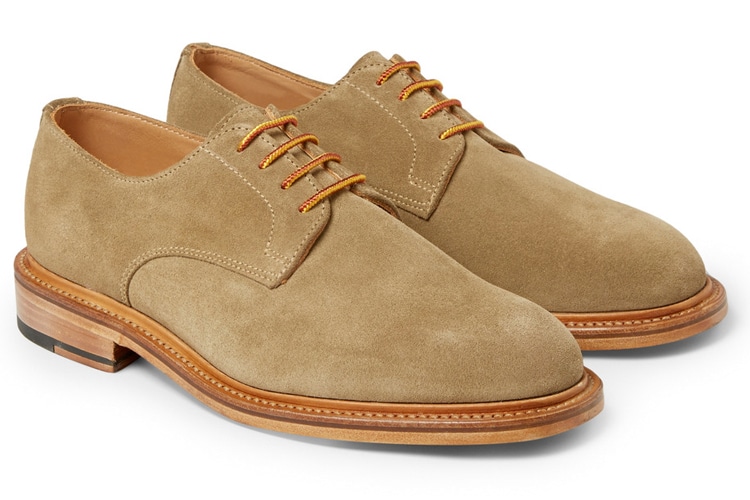 2. Derby
Often confused with the Oxford, the Derby is a close shoe relative, but not the same type of men's shoe. Rather than having a closed lacing system like the Oxford, the Derby sports an open lacing system with the flaps being sewn under the vamp and not connected at front of the shoe. This style of stitching makes the flaps capable of movement and when laced the shoe looks as if it's broken up into segments (top, side, back, etc.) Originally a sporting shoe, the Derby was used in more relaxed environments like hunting. Although a Derby could be worn in formal settings, it is more casual than an Oxford and could arguably make for a more comfortable, functional fit.
Material: suede
Price: from US$289
---
Featured Video from Man of Many
---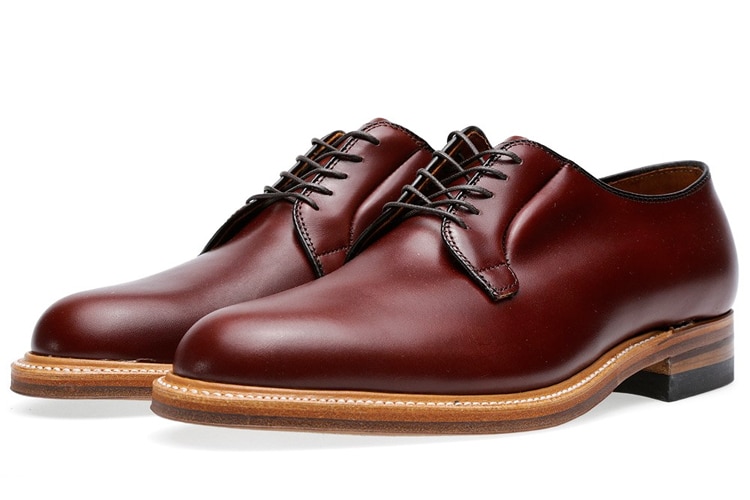 3. Blucher
In the U.S., Derby's and Bluchers are often used interchangeably to describe the open front lace style, but they're actually two slightly different types of men's shoes. If you pay close enough attention, you'll see that Derby's have the two sides sewn under the vamp, whereas Bluchers connect the two sides onto the vamp. Very similar, but it isn't quite tomato/tomato.
Price: from $523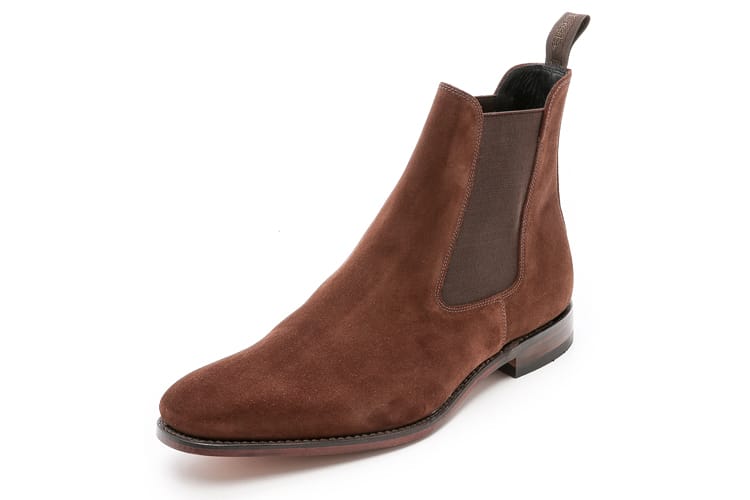 You'll also like:
10 Best Shoe Stores in Sydney
10 Best Australian Shoe Brands
4. Chelsea Boot
Ahh, the Chelsea Boot. The favourited boot style of rock icons The Beatles and badass galaxy soldiers in George Lucas' original Star Wars trilogy (yup, stormtroopers have a thing for Chelsea Boots). That easily makes it one of our favourites types of dress shoes as well. Originated during the Victorian era, but made mainstream cool in the 60s, this snug style of ankle boot is classified by its low heel, fabric tab on its' backside and slip-on/slip off quality thanks to its elastic side panelling. Chelsea Boots have rounded toes and are versatile enough to be worn with jeans or a suit.
Material: calfskin leather – suede upper, leather insole, rubber heel
Price: from US$280
LOAKE 1880 MITCHUM SUEDE CHELSEA BOOT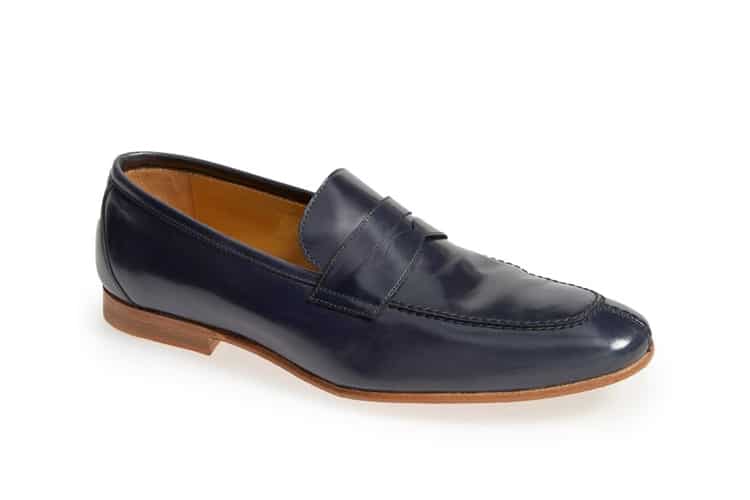 5. Loafer
Identified by its wide heel and slip-on capabilities, the Loafer was inspired by mocassins; the shoe of choice for Native Americans. Like Oxfords, Moccasins come in a variety of lace-less styles (tassel, penny loafer, monk strap, etc.). Regardless of style, when it comes to the various types of men's shoes, Loafers are generally considered to be the most casual. You can throw on a pair of loafers for a night on the dance floor with jeans or pair it with a suit – but we wouldn't recommend loafers to wear anywhere fancy.
Features: small saddle on top; no laces
Material: leather
Price: from US$310
CARLOS SANTOS 'ACACIA' PENNY LOAFER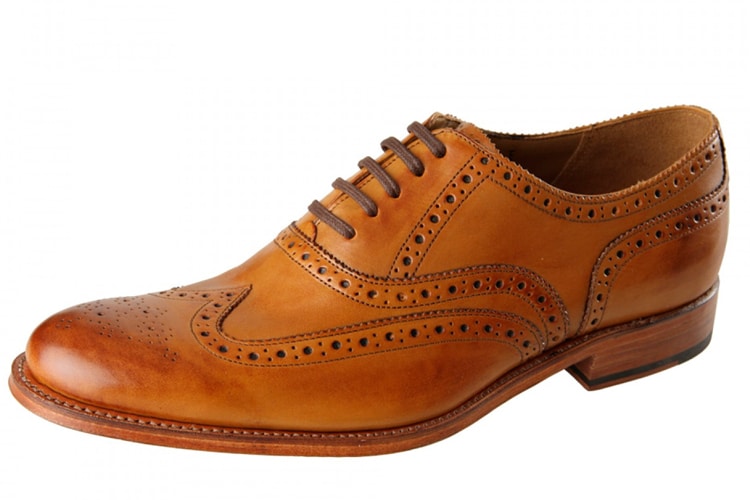 6. Brogues
Brogue shoes are a style of Oxford, Blucher or Loafer that come with a perforated design punched along the edge of the leather overlapping the vamp. In short, Brogue is the style of shoes with the holes and thereby it's own type of men's dress shoe. But there are also types of Brogues and that's worth distinguishing further. Hence we're about to go all types of dress shoes within types of dress shoes on you, Inception-style. Here are the 3 most popular Brogue shoes:
A Full Brogue or Brogue:
A wing-tip shoe where the perforations emulate the letter "W" as starting at the centre of the top of the shoe and sweeping around the sides of the shoe.
Features: signature broguing detail
Price: from £235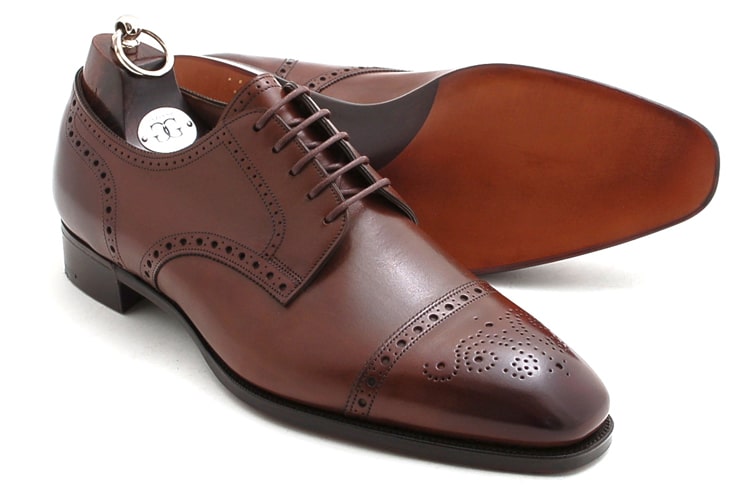 A Half Brogue (Semi Brogue):
A design with some perforations on the edge of the toe cap, but the majority of the design is the decorative perforations in the centre of the toe cap of the shoe (medallions).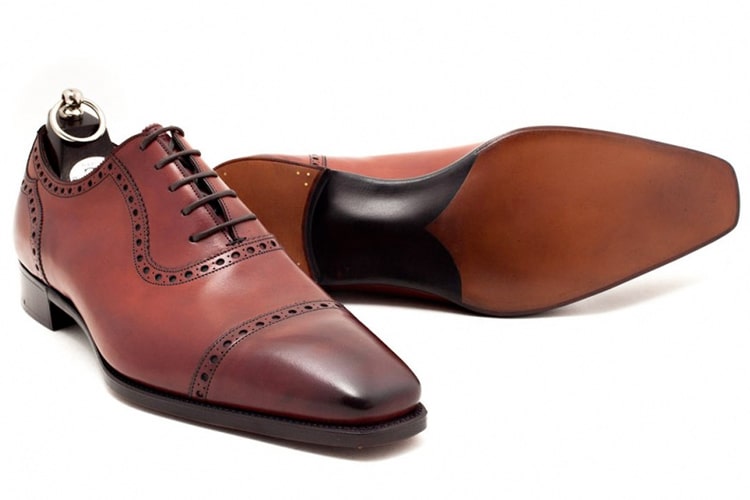 A Quarter Brogue:
This is the same as a Half Brogue, but with instead of the medallions in the toe cap, the Quarter Brogue is plain.
Material: Vintage Cherry Calf
Price: from £945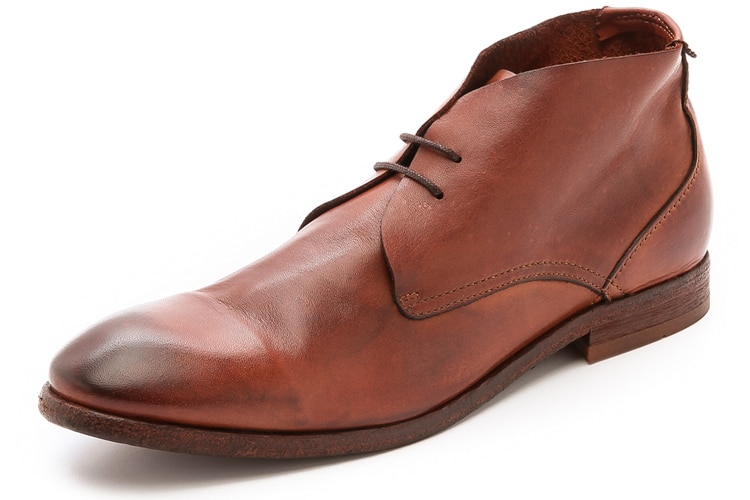 7. Chukka
Chukkas are a Derby styled ankle boot. Typically made from calfskin or suede, chukkas are created by using two to three sets of eyelets and an open lacing system to secure the quarters over the tongue of the boot.
Price: from AU$340
H BY HUDSON OSBOURNE DRUM DYE CHUKKA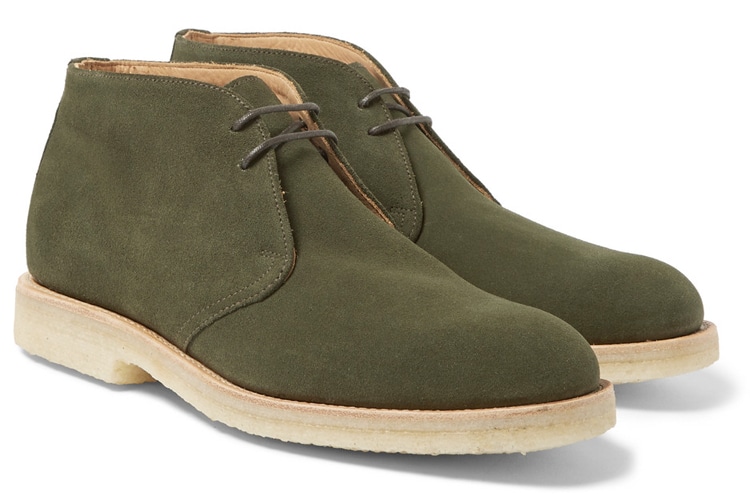 8. Desert Boot
Desert Boots are a type of Chukka, but Chukka Boots aren't always Desert Boots. Confused? Ok, here's the breakdown. Desert Boots were named after the light brown suede ankle boots the British soldiers wore during the desert campaign in WWII. Although very similar to the Chukka in style the different between Desert Boots and Chukkas is in their sole makeup. Desert Boots have a rubber sole and chukkas have a leather sole. Got it?
Material: suede; rubber sole
Price: from £250
MARK MCNAIRY CREPE -SOLED SUEDE DESERT BOOTS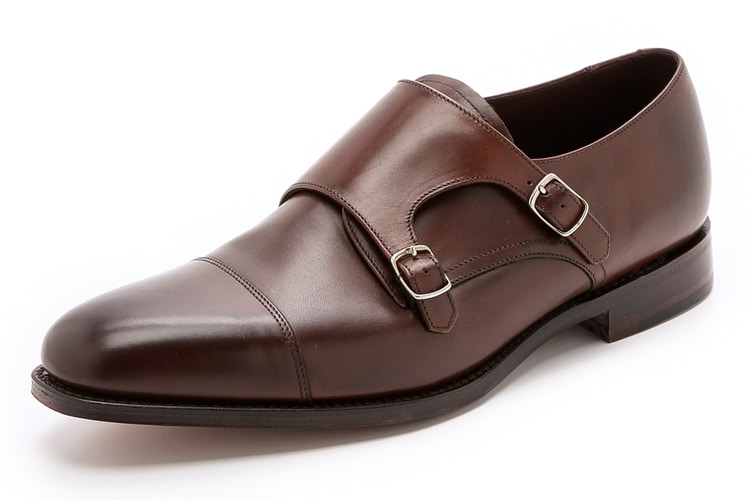 9. Monk/Double Monk
The Monk Strap style is defined as any shoe that uses a strap and a buckle instead of rather than laces to secure the foot in the shoe. When there's a broader strap with two buckles, that's called a Double Monk. Seems easy enough…
Material: leather upper, leather sole, rubber heel
Price: from $269
LOAKE 1880 CANNON MONK STRAP SHOES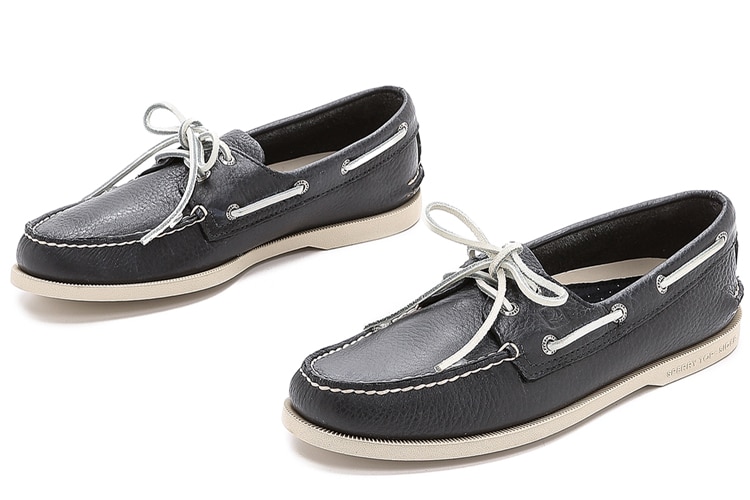 10. Boat Shoe
And capping off our men's shoe guide is the boat shoe, which should be worn…well, on a boat. Before you start having Jay-Z fantasies about galavanting around on your 100-foot yacht, realize that boat shoes aren't just a fashionable style of shoe, but they actually have a functional purpose. These shoes come equipped with an anti-slip rubber to accommodate walking (or partying) on wet decks. Usually, Boat Shoes (or Deck Shoes) come as Derbies or Bluchers in the Loafer style with the leather shoelaces tying over the tongue of the shoe. The typical Boat Shoe has a leather lace woven through the collar of the shoe and tying over the tongue of the shoe, to secure the shoe more tightly. Pair Boat Shoes with your most fitting yacht wear or pool clothes for a fashionable no-slip grip shoe option.
SPERRY TOP-SIDER A/O CLASSIC BOAT SHOE
Have you subscribed to After 160 Years, TAG Heuer Has Released its Most Advanced Watch Yet? You can also follow us on Facebook, Twitter, Instagram, and YouTube.
You'll also like:
10 Best Shoe Stores in Sydney
10 Best Australian Shoe Brands

---
Featured Video from Man of Many