How to Get Jerry Seinfeld's 'Normcore' Style
It's no secret that '90s fashion is back, and bigger than ever, with light-wash denim and oversized tees dominating the streets in 2023. Also just as timeless and never seeming to wane in its popularity, is the '90s cult sitcom Seinfield.
In the iconic TV series, the fashion shines almost as much as the jokes thanks to its classic '90s vibe and celebration of the 'normcore'. If you don't know what this means, it refers to dressing in deliberately unremarkable casual clothes, as championed by the main character, Jerry Seinfeld.
Why are we so invested? While it may have taken 20-odd years, Jerry, unknown to him at the time, was paving the way for today's trendy men, his style is the epitome of cool in 2023. So, without further ado, here is how to get Jerry Seinfeld's normcore style.
RELATED: Jerry Seinfeld Rocks 'Old Faithful' Breitling Reissue for Kith Fall 2022.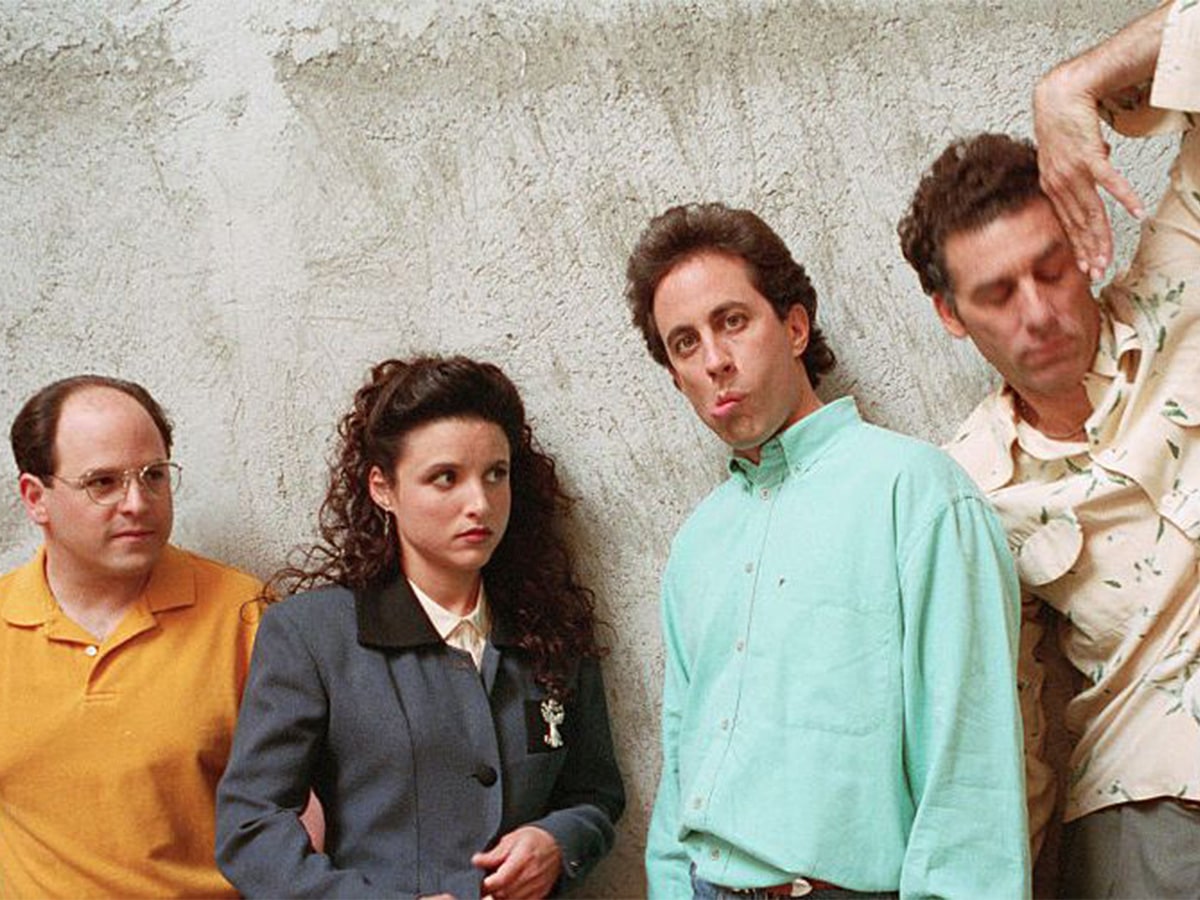 Jerry Seinfeld's Style from Head to Toe
Looking at the Seinfeld co-creators wardrobe, it's hard to imagine the '90s comedy star's aesthetic would come into vogue, but here we are. Jerry's mix of shirting, pants and sneakers has defied logic to become the most on-trend look of the 2020s and even saw him land a Kith photoshoot. Here, we've broken down his style from head to toe.
What Does Jerry Seinfeld Wear Up Top?
Plain Collared Shirts – You seriously can't go wrong with a plain collared shirt. They're easy to dress up, or down, incredibly comfortable to wear and with an air of class that makes you stand out, without trying too hard. If you're looking for some plain collared shirts to look just like Jerry, Polo Ralph Lauren will have you sorted.
Plain T-Shirts – Plain t-shirts are another no-brainer when it comes to rocking that normcore style. Choose whatever colour you fancy, and pair with jeans and there you have it – stylish with minimal effort. Some top brands we love for plain t-shirts include Carhartt and Nike, while Polo Ralph Lauren also has a great range of plain t-shirts.
Plain Overshirts – Overshirts are a wardrobe essential for any man – perfect for layering and adding an extra element to any outfit. The timeless look isn't going anywhere soon, and Jerry rockets plenty of oversized overshirts (with the collar popped when the mood is right) that people still copy today. Brands we love for plain overshirts are Carhartt, A.P.C and Thom Browne.
Plain Sport Coats – Simple overcoats are all the rage, a trendy addition that effortlessly elevates any outfit. Perfect for when you need to be a bit dressed up, adding a plain sports coat adds a refined touch without having to do anything too extreme. Tom Ford, Lorno Piana and Mr P have some stylish plain sport coats to get you started.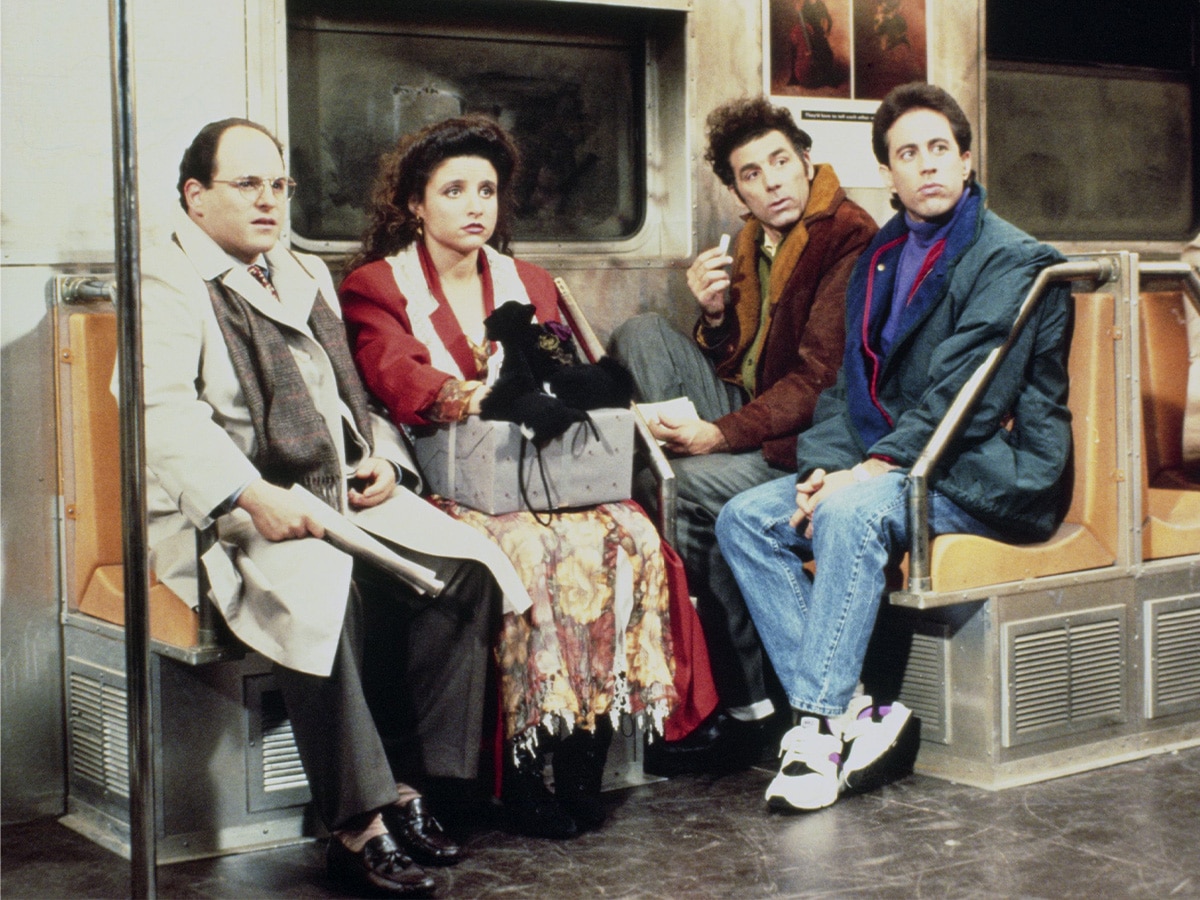 What About the Bottom?
Classic Straight Leg Blue Jeans– The quintessential '90s look and a go-to for Jerry Seinfeld, a pair of classic straight-leg blue jeans are essential if you want to master the normcore style. We recommend going for a light-wash shade for the complete dad jean look, Acne Studios and Levi's are the top brands we're loving right now for quality jeans and they have plenty of white-wash styles to get you looking just like Jerry.
Classic Straight Leg Black Jeans – Another timeless look and easily paired with literally anything, black jeans are a Jerry special. You can wear them out when you need to look the part, but they look just as in a place when you're at home lounging around. Once again, we love Levi's selection of black jeans and HUGO also does some good ones.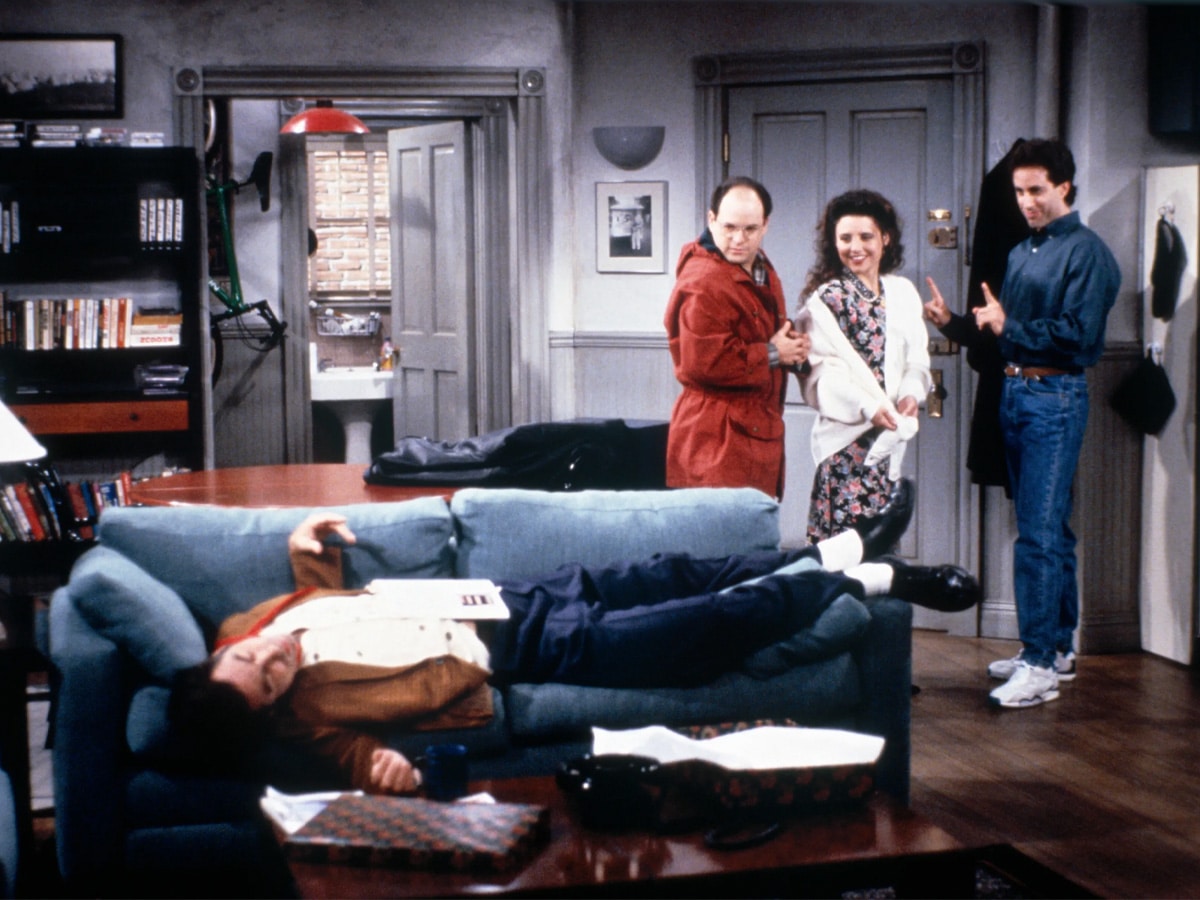 And On His Feet?
White Nikes – The quintessential '90s choice of footwear is a white sneaker, sometimes with some sort of accent. Jerry seemed to hold a lifelong commitment to the humble white sneaker, and we love to see it. If you want to be as loyal to the cause as Jerry himself, here are some white Nikes to start you off on the right foot, literally.
Nike Shox – The Nike Shox in white is the ideal shoe if you're looking for something with a little bit of extra oomph. With intricate detailing and colourful accents, it still does the job as a classic white sneaker but with a little bit of excitement on the side.
Nike Air Structure 2 – OK, these shoes are so '90s that it hurts. And so, it comes as no surprise that the shoe has returned after some years of being off the market, and we aren't complaining – the shoe is simple, comfy and oh-so-Jerry.
Nike Air Trainer SC High – One of the most-loved shoes from the Nike archives, the Nike Air Trainer SC High is one of the most popular Nike sneakers of the early '90s. The latest edition features Nike branding on the tongues, heel panels and insoles and a translucent outsole and we're obsessed.
Nike Air Challenge Pro Low – With no updated editions, this Nike sneaker is a true '90s relic. The classic white tennis-style sneaker with fluro accents screams cool, and with so few floating around, if you manage to get your hands on a (real) pair all we can say is, well done.
Nike Air Tech Challenge III – The Nike Air Tech Challenge 3 was originally released in 1990 and was retro-ed for the first time in 2007. Since then, hordes of Jerry wannabes have been lining up for these shoes – sporty, fresh and fun, they're the definition of timeless.
Nike ACG Air Mowabb – Probably the most colourful Nike to make our list, the Nike ACG Air Mowabb is celebrating its 30th year and showing no signs of going anywhere anytime soon. This is thanks to the legendary hiking design with a speckled midsole, soft nubuck leather in the upper, stretchy collar and effortlessly cool vibe.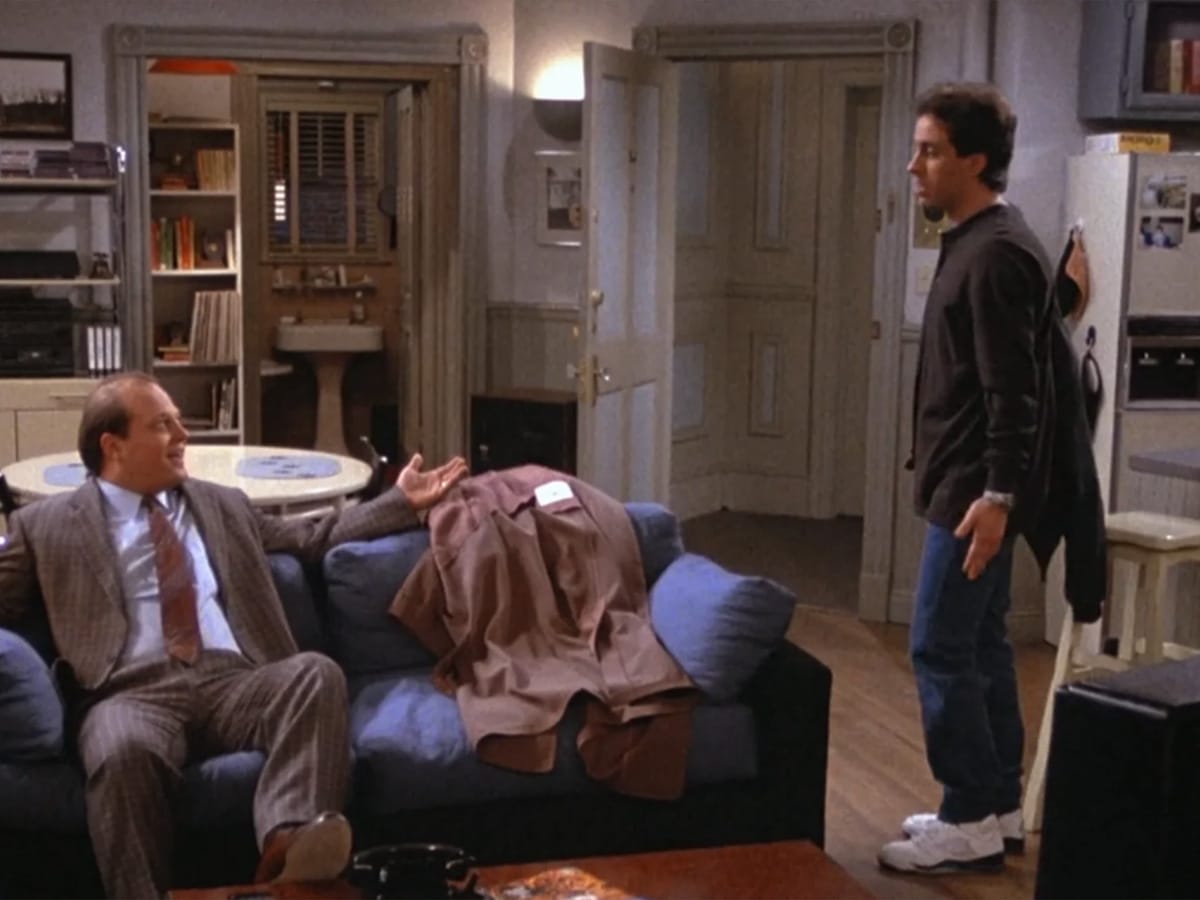 Sometimes it's Jordans
If you'd ever see Jerry wearing a shoe that wasn't a pair of Nike sneakers, it would be a pair of Jordans. These are the top Jerry-ish Jordans we rate, and a sure ticket for you if you're looking to rock the normcore look.
Jordan 6 Sport Blue – Originally released in 1991, the Air Jordan 6 'Sport Blue' has since made its long-awaited return as part of the 'Sport Blue Pack', featuring an all-white upper in smooth and perforated leather with the logo on the shoe's rubber tongue and lace overlay, so now you can look as fly as Jerry.
Jordan 5 'Grape' – One of the original four colourways released in 1990, this sneaker was rocked not only by Jerry but other 90s legends like MJ during a Wheaties box cover shoot and by Will Smith on the Fresh Prince of Bel-Air, so you can see why we love them.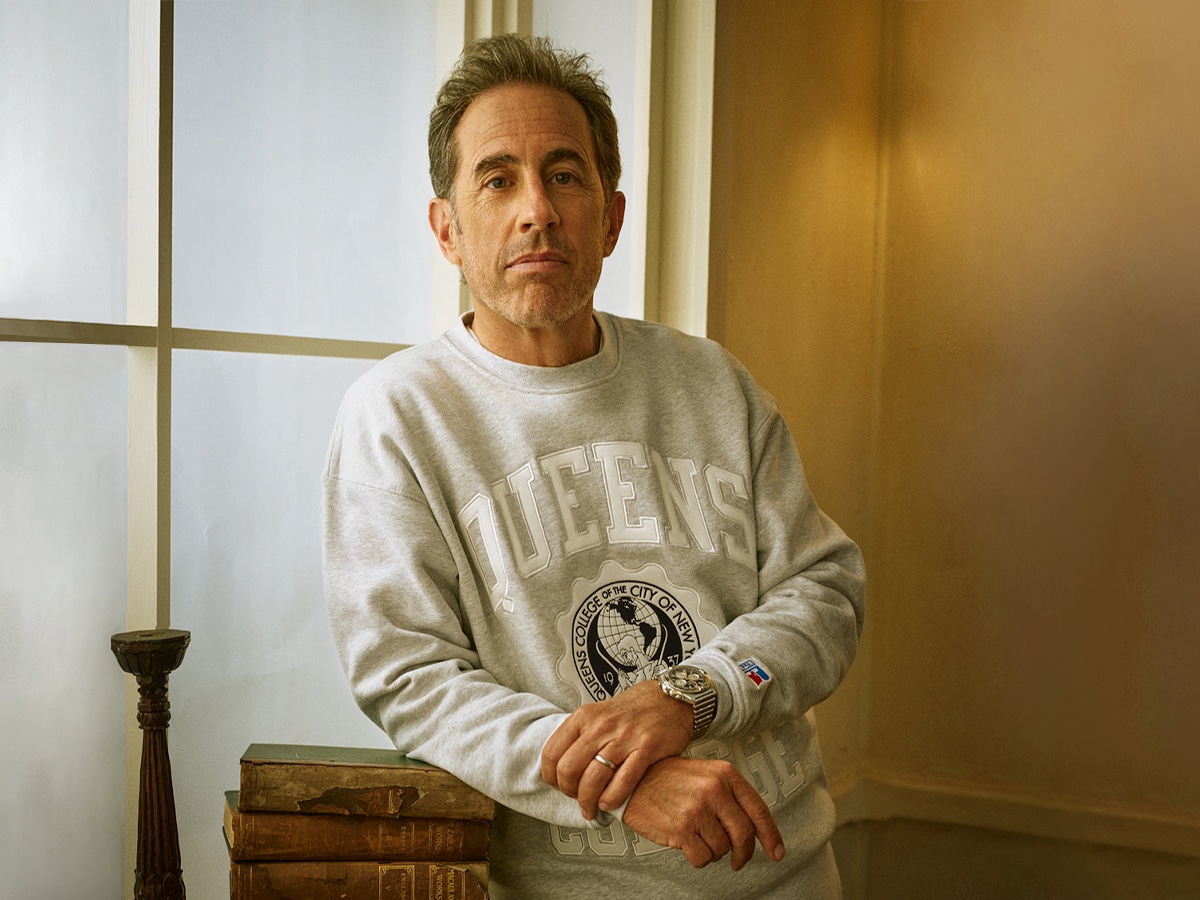 How Does Seinfeld Accessorise?
New York Mets Cap – The humble New York Mets Cap is probably the first thing that comes to mind when we think of Jerry Seinfeld. Jerry would rock the cap with almost every single outfit he wore, and the final look is what thousands of men are trying to replicate in 2022. The cap epitomises the classic dad hat that provides that effortlessly cool, trendy look, and with it still being so easy to get your hands on, what are you waiting for?
Breitling Watches – Another accessory to elevate your '90s, Jerry-inspired normcore style is a Breitling Watch. The traditional gold or silver accents and Roman numeral numbering contrasted against the leather band are subtle but luxurious, screaming cool.
Seinfeld Style FAQs
What shoes does Jerry Seinfeld like to wear?
Jerry Seinfeld likes to wear white sneakers like Nike or Jordans.
What hat does Jerry Seinfeld always wear?
Jerry Seinfeld always wears a New York Mets cap.
---
Featured Video from Man of Many
---
Does Jerry Seinfeld have a favourite watch brand?
Jerry Seinfeld's favourite watch brand is Breitling.
You'll also like:
---
Featured Video from Man of Many