Brown Suits for Men: Types, Brands, How to Wear and More
If you're a true master of your sartorial domain you'll want to add a few classic brown suits to your growing wardrobe. As you may soon discover, there's more to brown suiting than one would expect. Not only is this particular colour more fashionable (and hence, acceptable) than ever before, but also more versatile. It represents what you can call the graduating class of modern dress codes, meaning men of experience only need apply. Here's everything you need to know.
RELATED: Here's everything you need to know about suit types.
Brown Suit Types
You've already covered the basics by jam-packing your wardrobe full of stylish blue and grey suits and now it's time for the next step in your suiting evolution. Of course, you don't want to buy the first brown suit off the proverbial rack without knowing a little more about this somewhat advanced dress category. Here are our favourite types of modern brown suits for men, all of which are becoming more ubiquitous in offices and at major events around the world.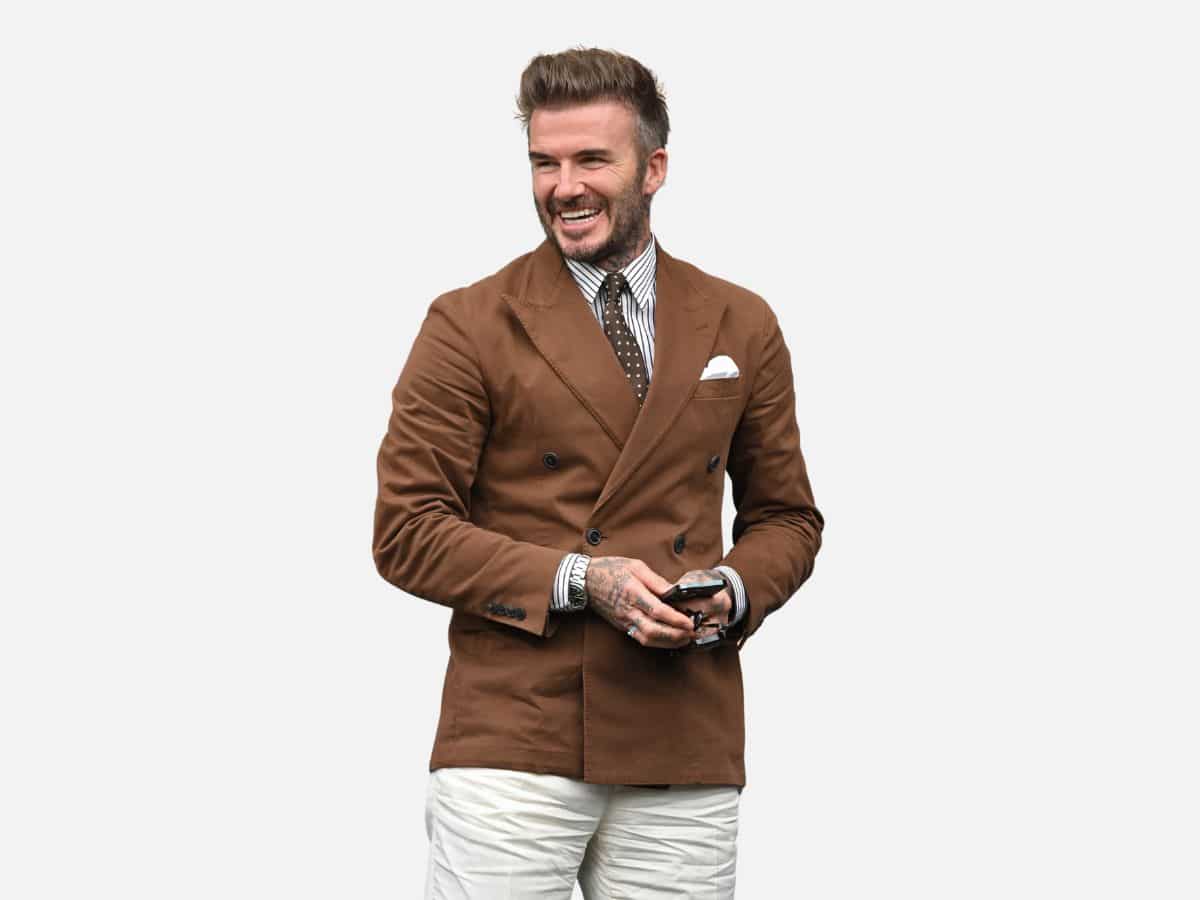 1. Dark Brown Suit
Is it just us or do dark shades never fail to render a striking impression? That's no less true when it comes to modern suits. Upon venturing into brown suit terrain, start with the darker shades. They'll effortlessly blend with lighter colours, allowing you to maintain a business professional look and even experiment with contrasts whilst still playing it safe. For a slightly less formal look, consider wearing a dark brown suit with subtle patterns like pinstripe or micro-check.
2. Light Brown Suit
Light brown suits give off a welcoming seasonal vibe, the kind that says you're a man of both great taste and approachability. Pair your light brown jacket or blazer with light or neutral hues, such as a light blue dress shirt or a light grey tie. Or you can dial up the contrast by combining a light brown suit jacket with a navy dress shirt and no tie, unbuttoning the shirt's top few buttons to cultivate a stellar smart casual or business casual ensemble.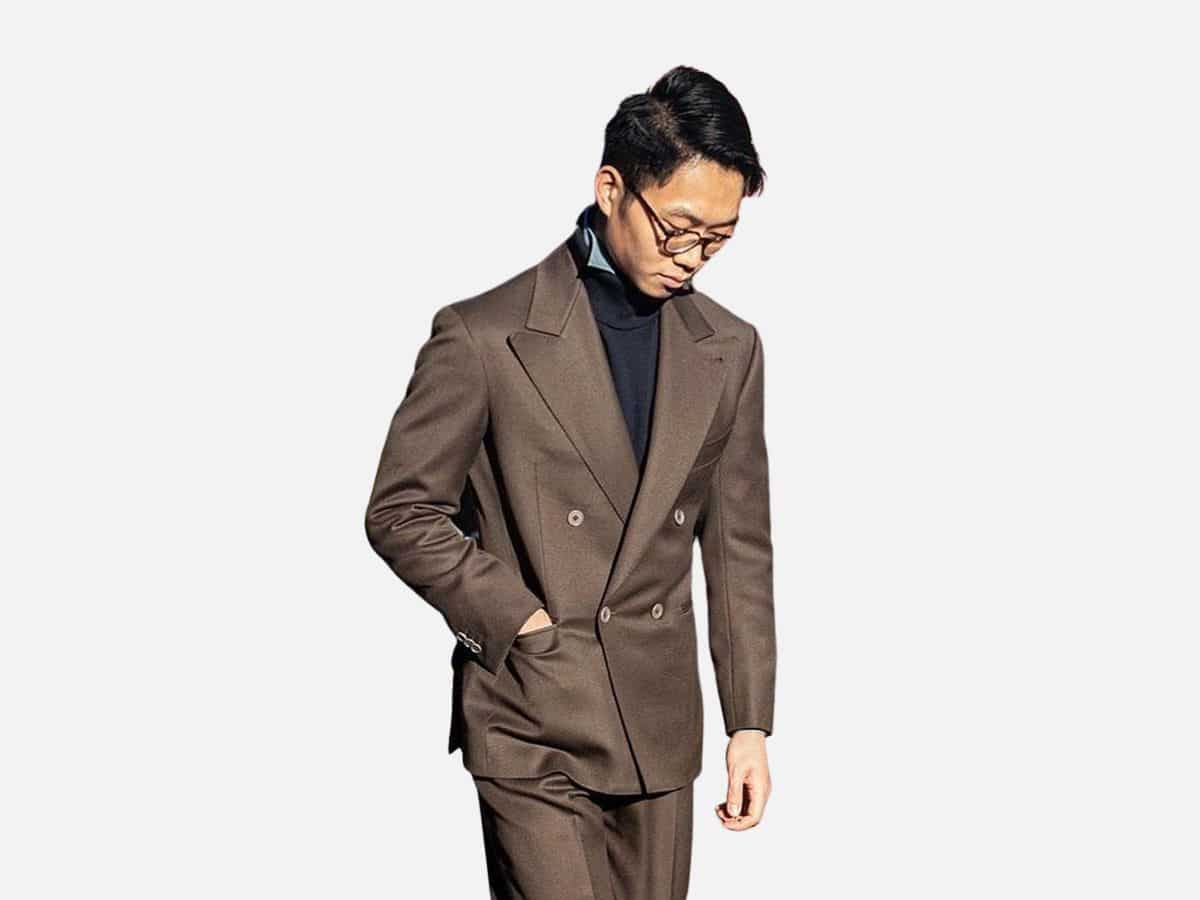 3. Brown Tweed Suit
Tweed is a type of woollen cloth that imparts warmth on both a figurative and literal level. When used for brown suiting, the results can be rather dapper and sophisticated, yet also buoyant enough to flirt with smart-casual dress codes. You can find brown tweed suits in a full spectrum of styles and tones, and understanding the differences between each one will go a long way. This is not a style of dress for amateurs.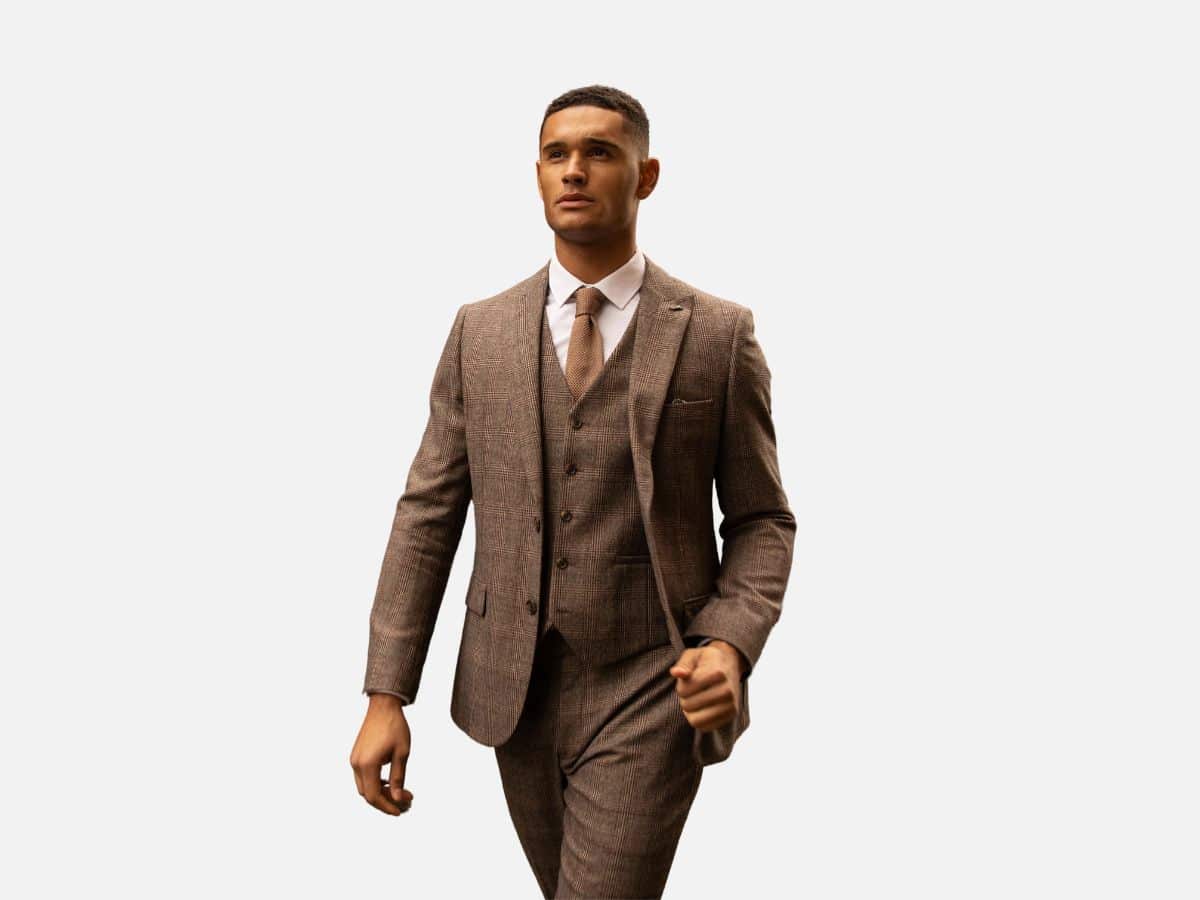 4. Brown Check Suit
A check pattern occurs when horizontal and vertical lines intersect to form squares on your suit or other apparel. The pattern can take an assortment of designs, ranging from large squares to tiny ones. When picking out your first brown check suit, we recommend sticking with a refined and subtle check pattern so that you don't end up looking like a 1970s TV game show host. As you gain a sense of confidence, you can begin to size up those squares.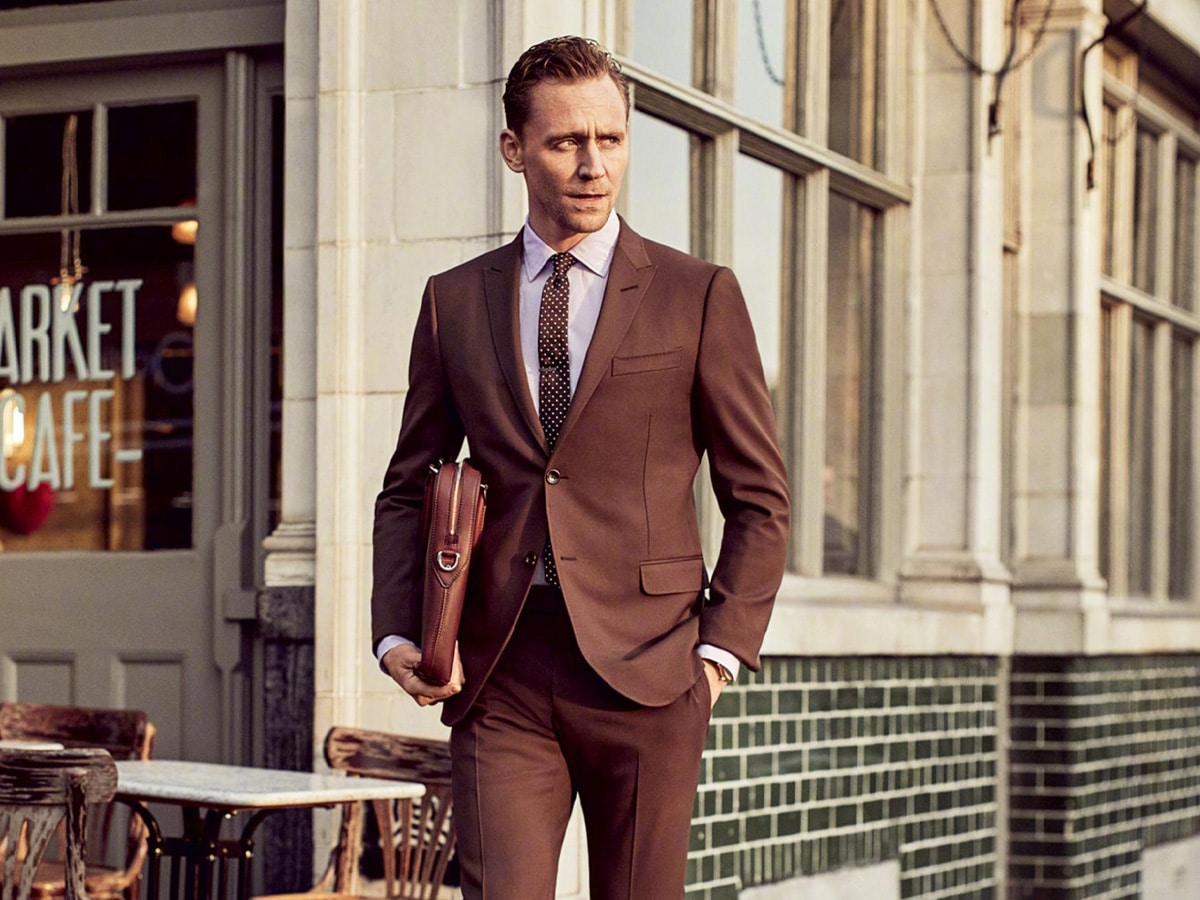 How to Wear a Brown Suit
The modern brown suit is widely considered the dress staple of a stylish gentleman, who's already mastered the basics and is now ready to move on to something a little more expressive. Nevertheless, you'll want to take small steps as you explore this newfound terrain, covering tried and true combinations before you get experimental. Here are some basic pointers to get you started.
Best Ties to Wear With a Brown Suit
When wearing brown suits for the first time, we suggest combining a monochromatic tie (or bowtie) and jacket over a lighter-coloured dress shirt. Hence, if your jacket is dark brown, then your tie should be a similarly dark tone such as navy blue.
Then we have analogous colour combinations, whereby two shades are known to match based on their positions on the colour wheel. For brown suits, stick with cooler analogous colours (as opposed to warmer ones) like brown and olive green. And when you're ready for the big leagues, you can experiment with complementary colours, rocking a light brown jacket with say a burgundy tie.
| | Best Tie to Wear With a Brown Suit |
| --- | --- |
| Red Tie | We wouldn't recommend wearing a red tie with a brown suit |
| Black Tie | Make sure you pair a black tie (or bow tie) with a white shirt |
| Yellow Tie | We wouldn't recommend wearing a yellow tie with a brown suit |
| Burgundy Tie | Make sure you pair a burgundy tie (or bow tie) with a white, light pink, or blue shirt |
| Grey Tie | Make sure you pair a grey tie (or bow tie) with a white, light pink, or blue shirt |
Best Shirts to Wear With a Brown Suit
Brown suit jackets typically go best with lighter or neutral dress shirts with hints of warmth to them. Examples include off-white shirts, white shirts with a slight yellow tint, and light blue shirts. Checkered and pinstripe patterns are also quite common, again with lighter-coloured dress shirts. Generally speaking, you want to play off the suit's somewhat harsh brown tones to soften the overall appearance of your ensemble.
| | Best Shirt for a Brown Suit |
| --- | --- |
| White Shirt | White shirts are the safest option to pair with a brown suit |
| Pink Shirt | Pink shirts can be paired with a darker-coloured tie |
| Blue Shirt | Blue shirts can be paired with a darker-coloured tie |
| Black Shirt | We wouldn't recommend wearing a black shirt with a brown suit |
Best Shoes to Wear With a Brown Suit
Brown suits go best with brown footwear of a different tone. For instance, a light brown or tan suit can match up beautifully with dark brown dress shoes such as Oxfords, loafers, or derbies. But keep it brown all the way down.
| | Best Shoes to Wear With a Brown Suit |
| --- | --- |
| Brogues | These are a great option for darker, more formal brown suits |
| Monk Strap | These are a great option for darker, more formal brown suits |
| Oxford | These are a great option for all types of brown suits, great for office wear |
| Loafers | These are a great option for all types of brown suits, great for office wear and casually |
RELATED: Thinking about sneakers? These are the best sneakers to wear with a suit.
Best Accessories to Wear With a Brown Suit
Round out your brown-themed get-up with accessories from the respective yellow, orange, and brown sections of the colour wheel. Your watch, for example, should come in gold or rose gold with either a matching bracelet or a brown leather strap.
When to Wear a Brown Suit
Brown suits come in different hues, so the time to wear them can vary depending on the situation or environment. Dark brown suits, for example, make for a respectable business professional or smart casual attire pretty much all year round. Light brown suits, however, give off far more of a relaxed, seasonal vibe. For that reason, people wear light brown suits primarily during the warmer months of spring and summer.
Here are some general pointers on when you should wear a brown suit.
Do wear darker brown suits for formal occasions
Don't wear darker brown suits for casual summer lunches
Do wear light brown suits during warmer months casually
Don't wear light brown suits as formal attire
RELATED: Looking for something a little more relaxed? Check out our business casual dress code for men.
Best Brown Suit Brands
You should be just about ready to stock your wardrobe with a quality selection of men's brown suits. Start with the following brands.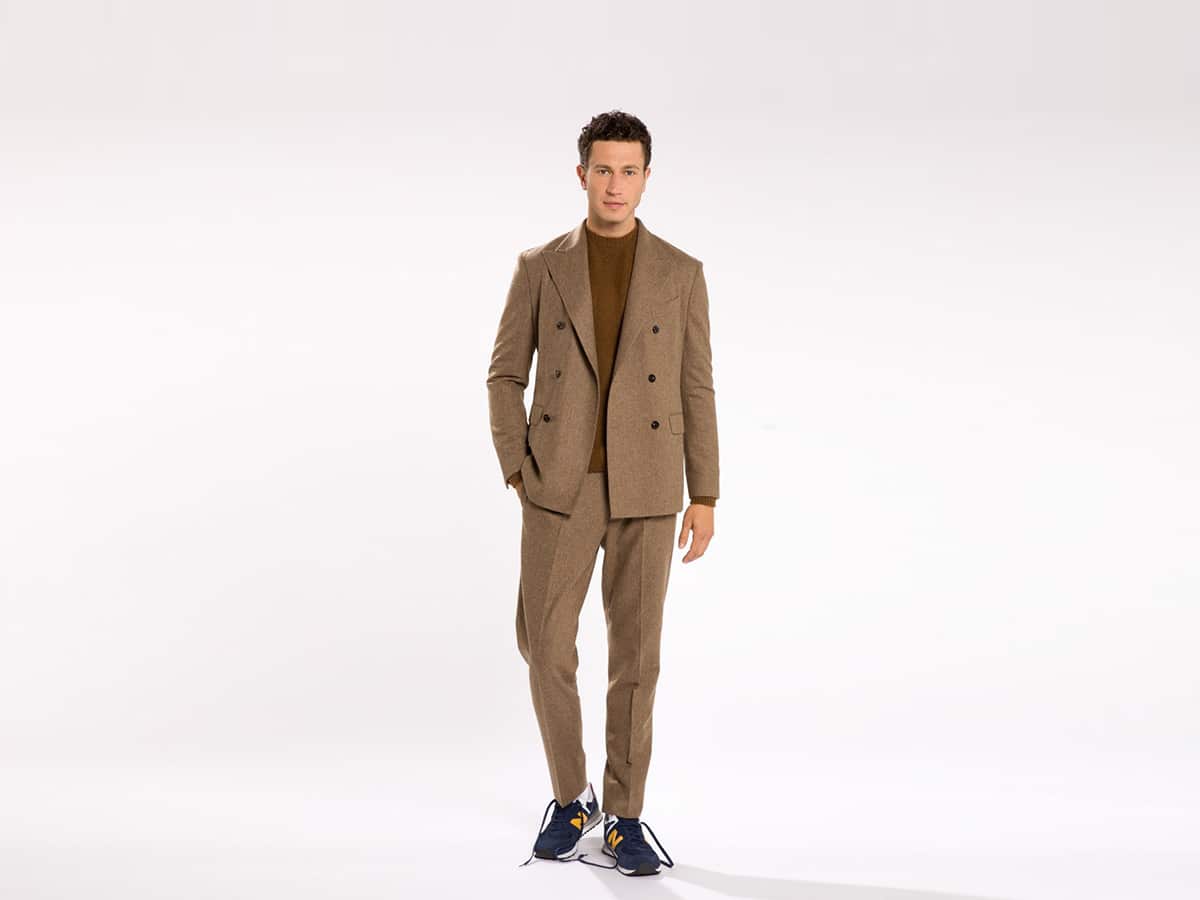 1. Boglioli Milano
With a showroom in the heart of Milan, family-run Boglioli Milano has the art of Italian craftsmanship and tailoring down to a science. For proof, look no further than something like the brown and beige 100 per cent virgin wool Prince of Wales K-Jacket suit, which features multiple hues and a premium check pattern. Effortlessly versatile, it blends with business professional dress shirts and ties as much as it does with business casual sweaters. The company also offers a double-breasted variant in light brown with a larger check pattern and a material blend of virgin wool, polyester, and 5 per cent nylon.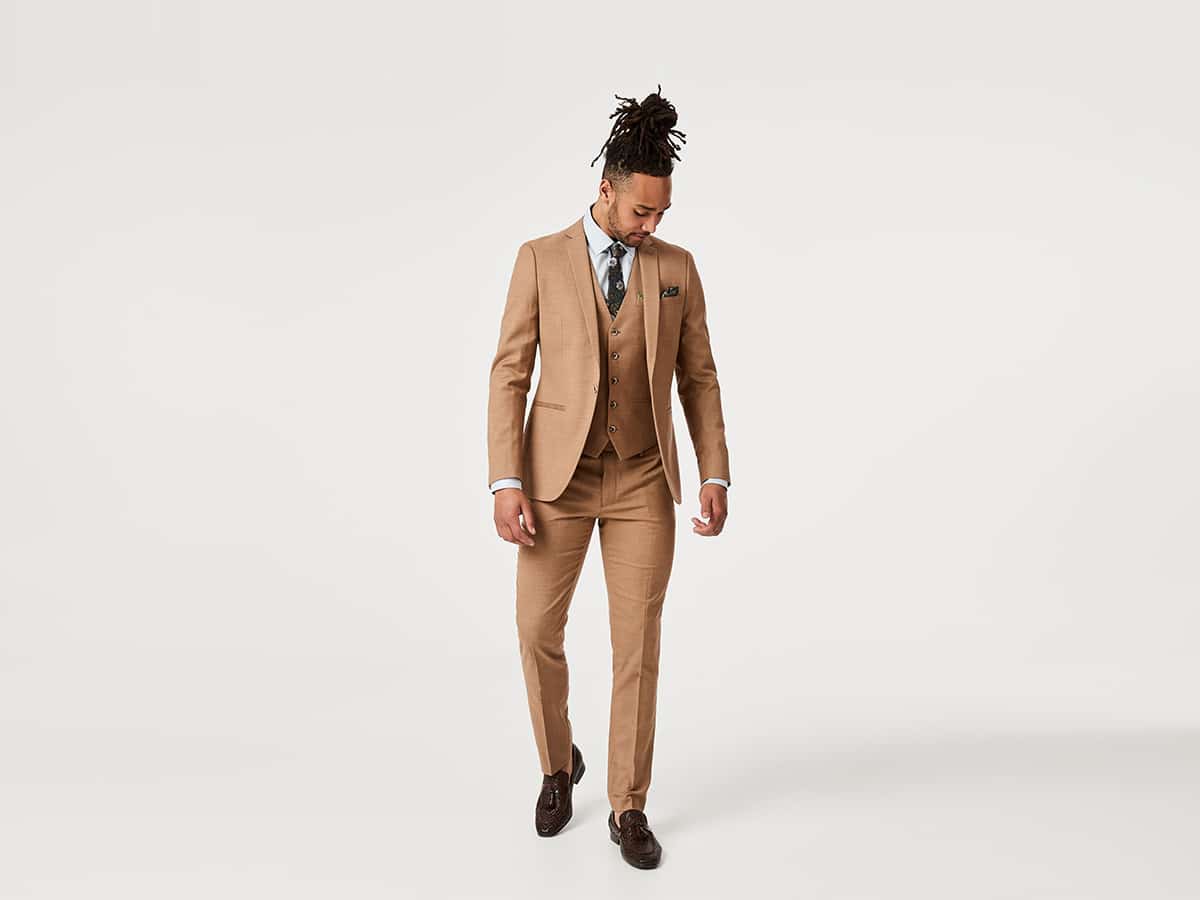 2. Politix
European-born Politix has been doing business in Australia for over 40 years, with deep connections to local communities and trends alike. The brand's selection of brown suits for men covers the full spectrum of patterns, textures, fits, and tones. An example such as the Slim Stretch Textured Tailored Jacket features a touch of elastane to deliver the best in modern comfort and performance. Oh, and did we mention that the brand's stylish brown jackets and pants all cost AUD$350 and under?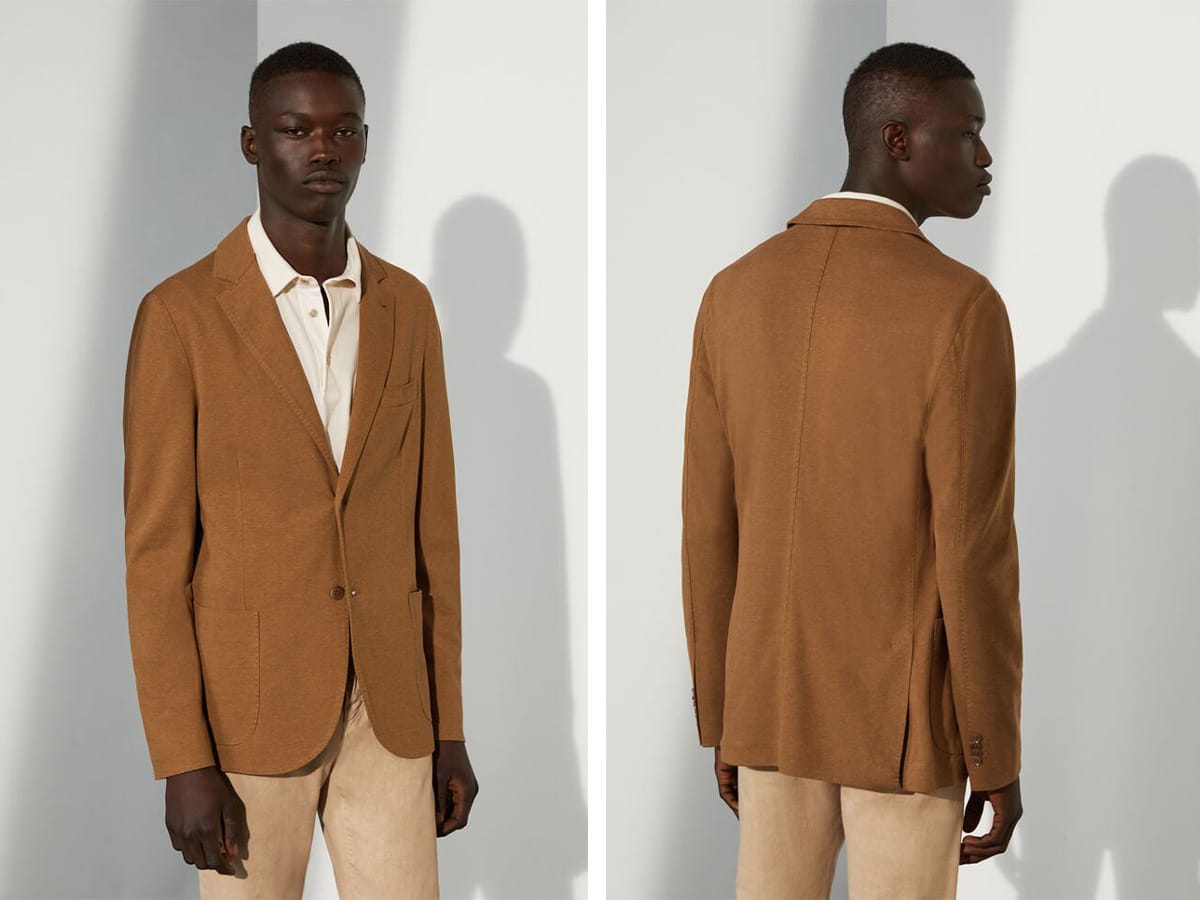 3. Loro Piana
Long-running Italian brand Loro Piana puts some of the world's finest fabrics at your disposal across its legendary selection of jackets, pants, blazers, and other wardrobe essentials. If you want to make a profound business casual or smart casual statement, this is definitely the place to go. Check out the label's luxurious sweater jacket, which combines 50 per cent silk with 50 per cent cashmere to deliver unforgettable comfort, wearability, and style. It's but one amongst a number of expertly crafted examples that you'll find in-store.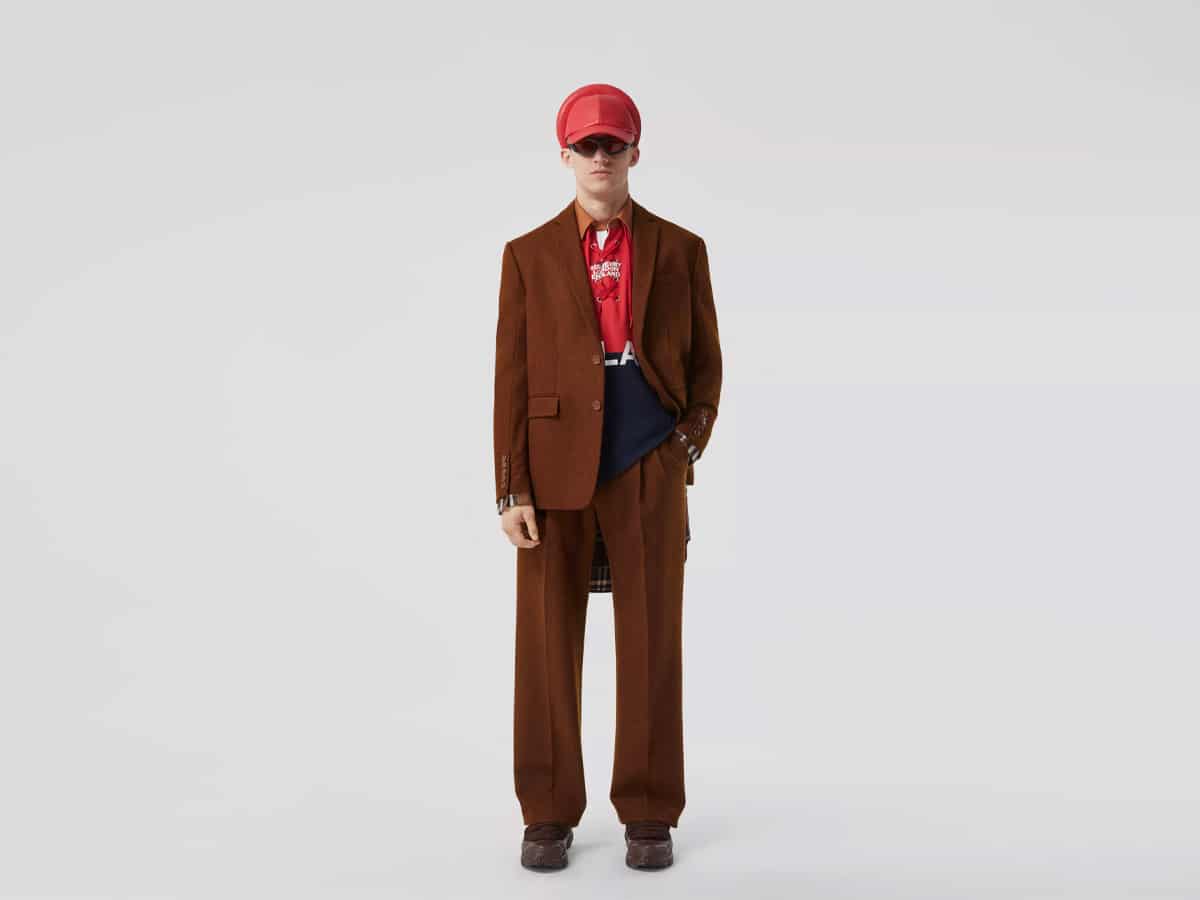 4. Burberry
This British fashion house has origins dating back to the middle of the 19th century and yet it remains at the cutting edge of quality and style. We're going gaga over the Monogram Motif Wool Harrington Jacket, which will look as terrific under club lights as it will in a modern tech office setting. You might scoff at the price tag until you remember that these suits are an investment, the kind that will pay off in the form of professional and social opportunities.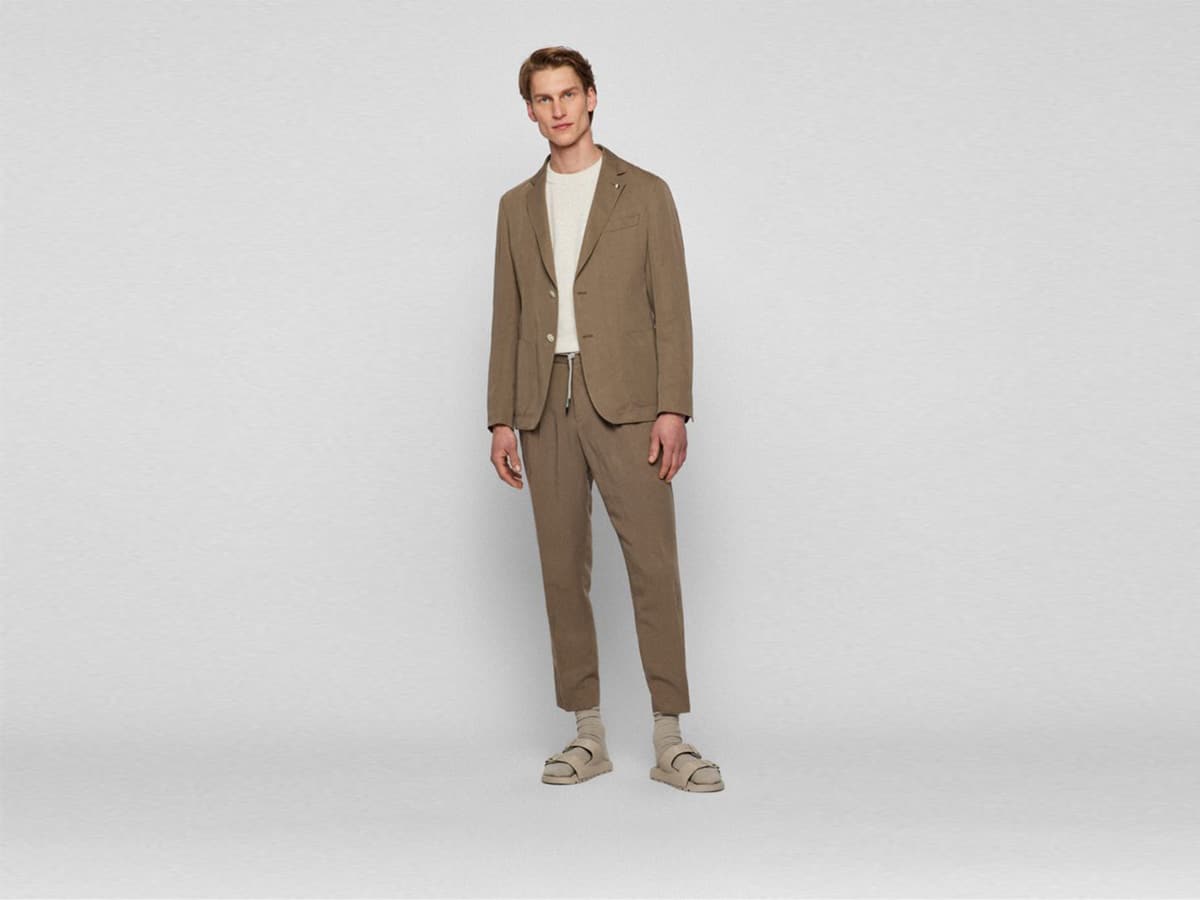 5. HUGO BOSS
Dominating the mid-range price sector, German luxury house HUGO BOSS offers two ultra-modern suits of light brown colour, premium virgin wool, and subtle micro-patterning. Additional details include patch pockets, notch lapels, kissing buttons at the cuffs, and button fastening at the top. Choose between slim-fit and regular-fit and behold the versatile design, which lends itself to a swath of contemporary dress codes.
Brown Suit FAQs
Should you wear a brown suit with black shoes?
If possible, you should wear brown dress shoes with a brown suit. Try to mix up the tones if you can. For example, if the suit is light brown then go with dark brown shoes.
Can you wear a bow tie with a brown suit?
Yes, bow ties are perfectly acceptable to wear with a brown suit. Make sure your colours match.
Can you wear a blue shirt with a brown suit?
A number of modern men wear light blue dress shirts underneath their brown suit jackets. Just make sure you pair it with a tie that's acceptable for the occasion. Alternatively, drop the tie entirely.