Blue Suits for Men: Types, Brands, How to Wear
A blue suit is more than just seasonal apparel, it can carry you the whole year round. That's presuming you know what type to buy, brands to look for, and how to wear them. You may be asking yourself, what's the right tie to wear with a blue suit? What colour shirt do I wear with a blue suit? When's the perfect time to break it out? Pay close attention and you'll find out exactly what to wear and pair with this combination.
In this comprehensive guide to blue suits, we'll help you figure everything out. Should you master this wardrobe essential, you'll have an ensemble for every dress code and every occasion.
RELATED: Trying to decide what type of suit is right for you? Check out our guide to suit types right here.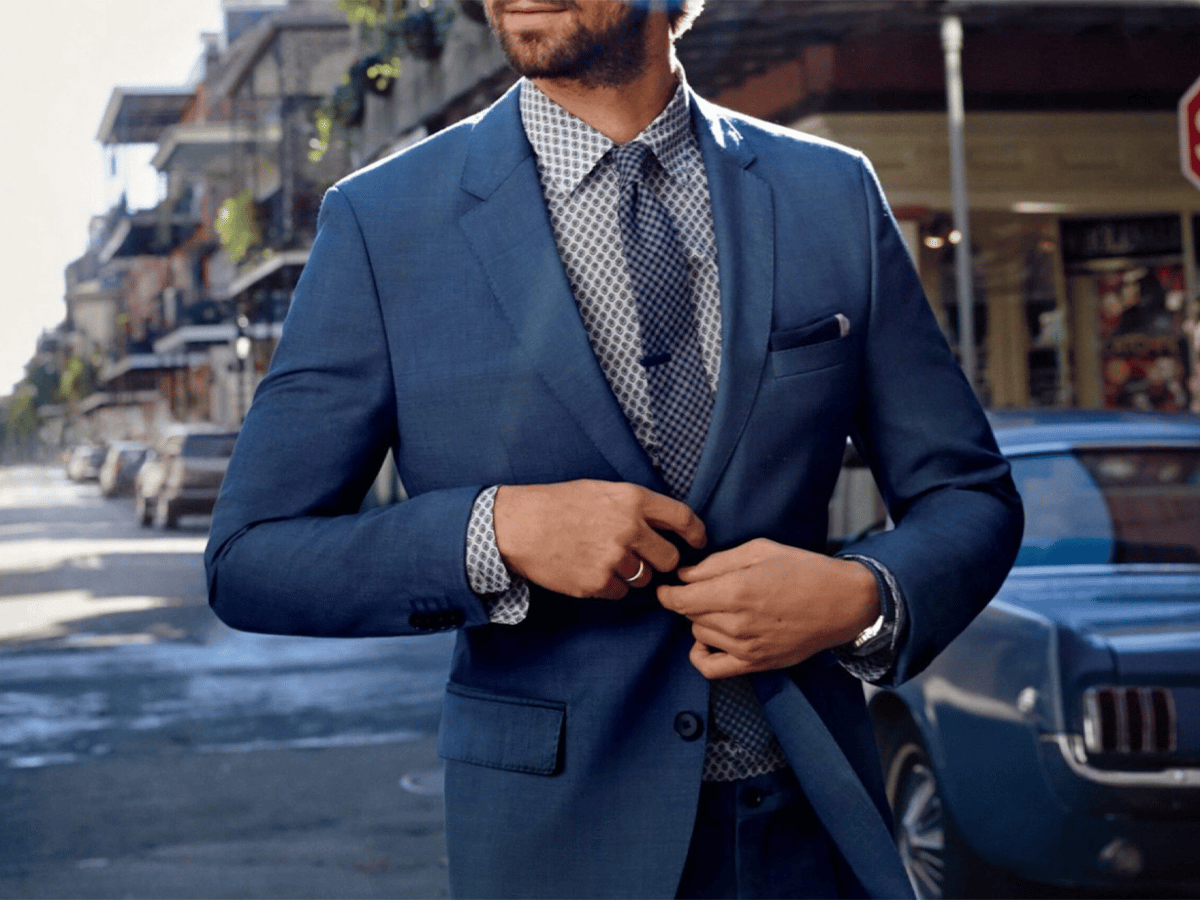 Blue Suit Types
When it comes to choosing the right shade of blue for you, there are a few things to consider before you go ahead and consult your favourite tailor. First, consider sticking to the darker or more neutral end of the spectrum, especially when attending formal events. There are a few shades that go with pretty much everything – such as the royal or navy – we're not writing off sky blue or even electric blue it's just that there's a time and a place for a bright blue suit.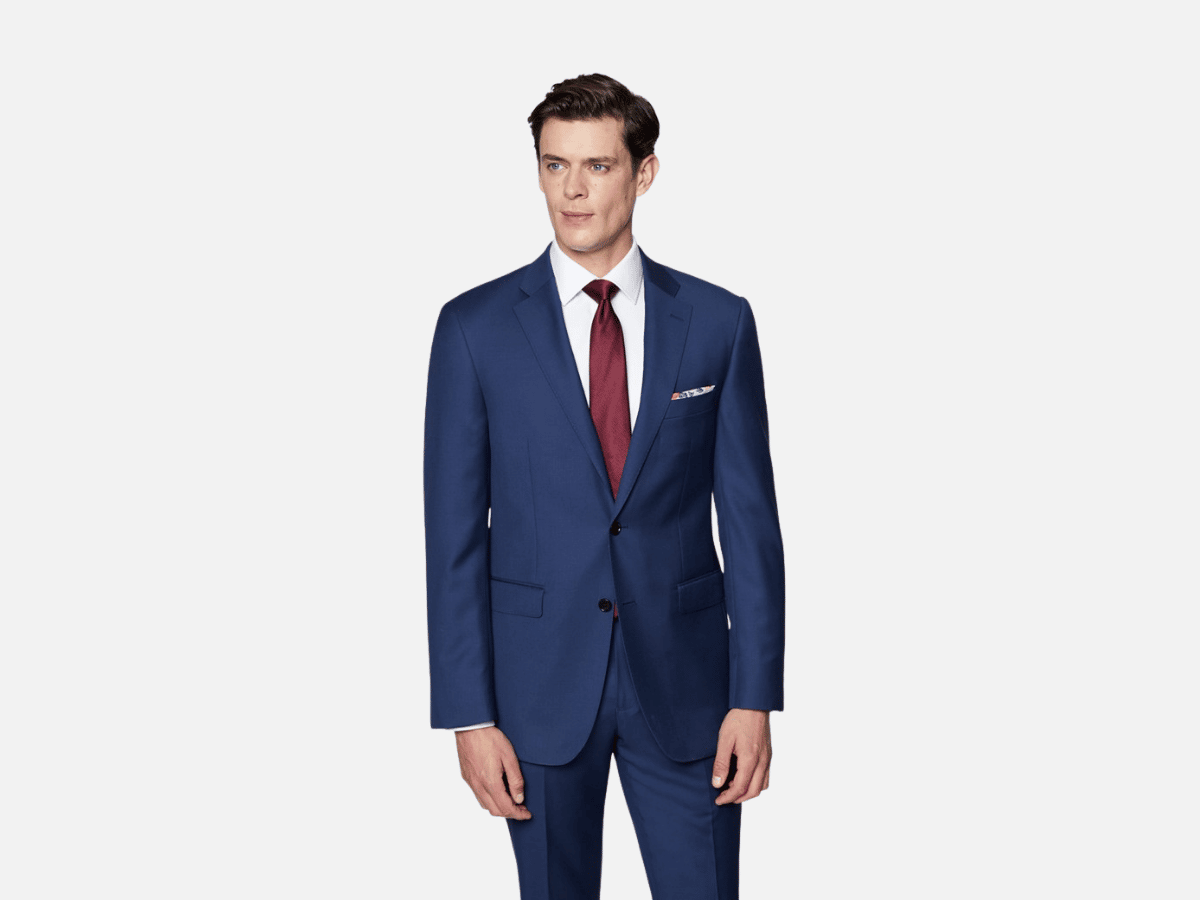 1. Classic
The classic blue suit is for the modern man, someone who identifies with the times, someone who likes to push the boundaries ever so slightly. This type of blue suit is the ultimate dress down and/or dress up the colour. Pairing a traditional blue with a pair of black or brown oxfords is demonstrating a level of technical prowess, however, dressing the suit down with a pair of leather sneakers is showcasing your potential to think outside the box and perform under semi-formal circumstances. The choice is yours.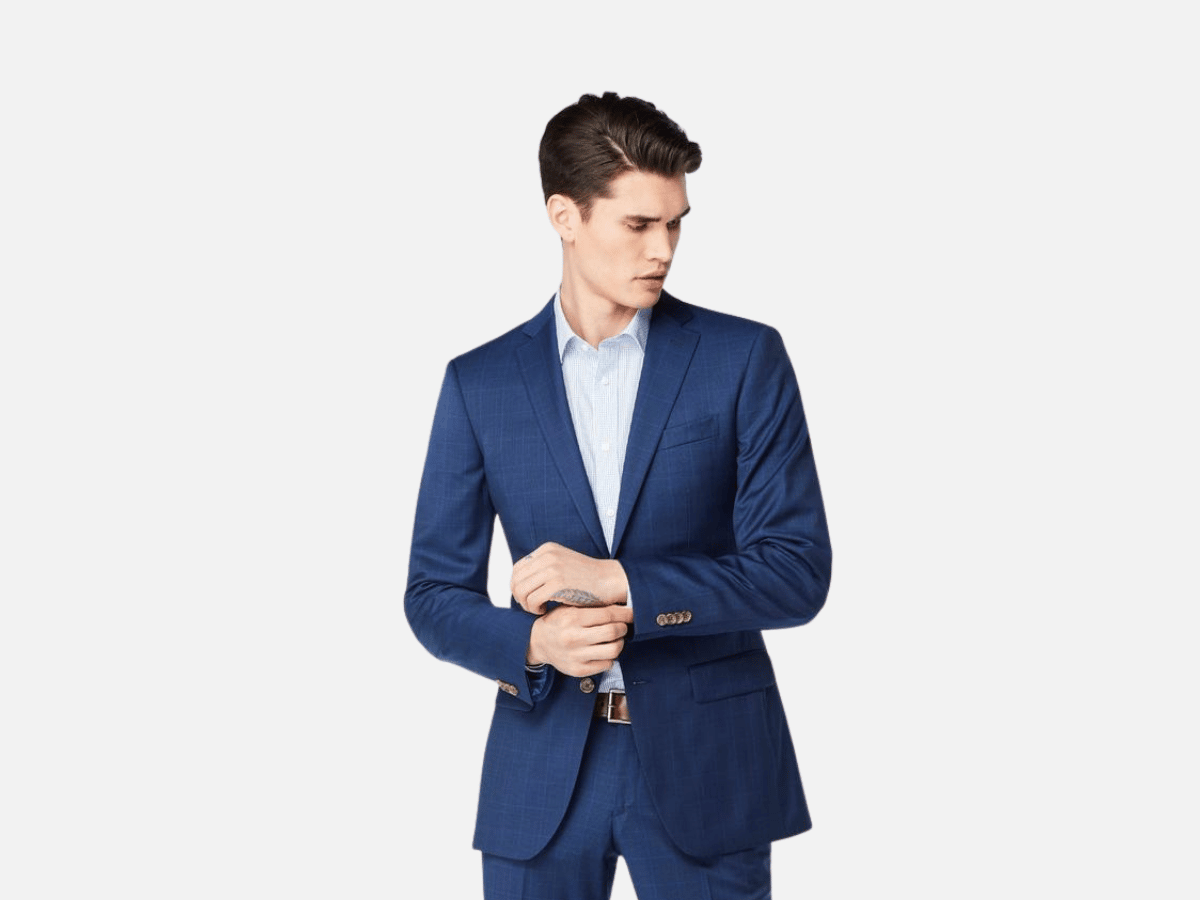 2. Navy
A contemporary selection, when worn with a quality white shirt the navy blue suit can step up to the plate of a 'black-tie optional' event. While the navy suit is a more contemporary option, it also suits the man who isn't interested in having the most extensive collection of suits. You can get away with having one suit, but it has to be navy, due to its versatility. The navy blue suit can be dressed down with some slacks and sneakers, or it can be dressed up as a three-piece set with a flash of colour on the tie.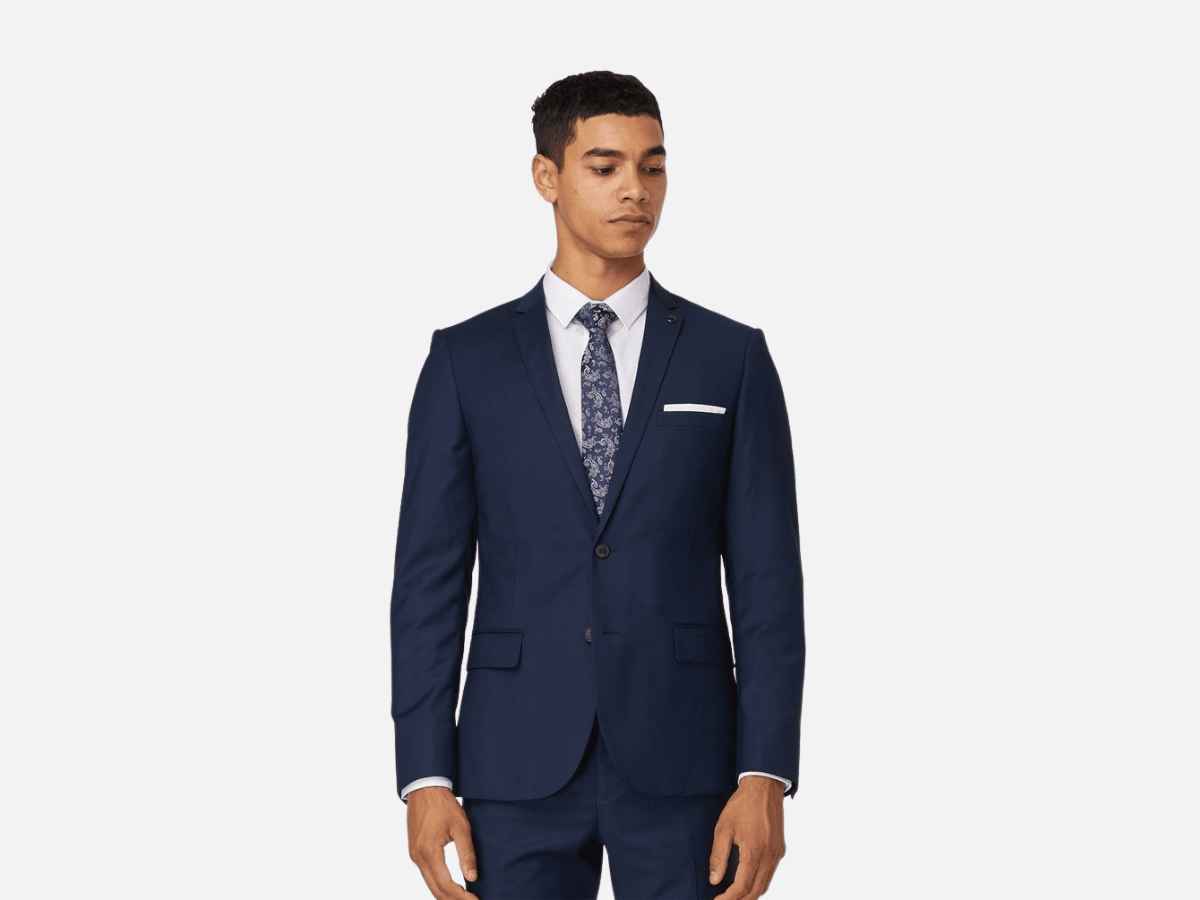 3. Royal
The royal blue suit is for the man who wants to stand out amongst the crowd. You definitely won't get lost with this one, it speaks volumes and perpetuates levels of personal self-confidence that you won't find in any other. Whatever you do though, turn it down on the accessories, understated shoes and tie combinations work best with a royal blue suit, think dark brown and black.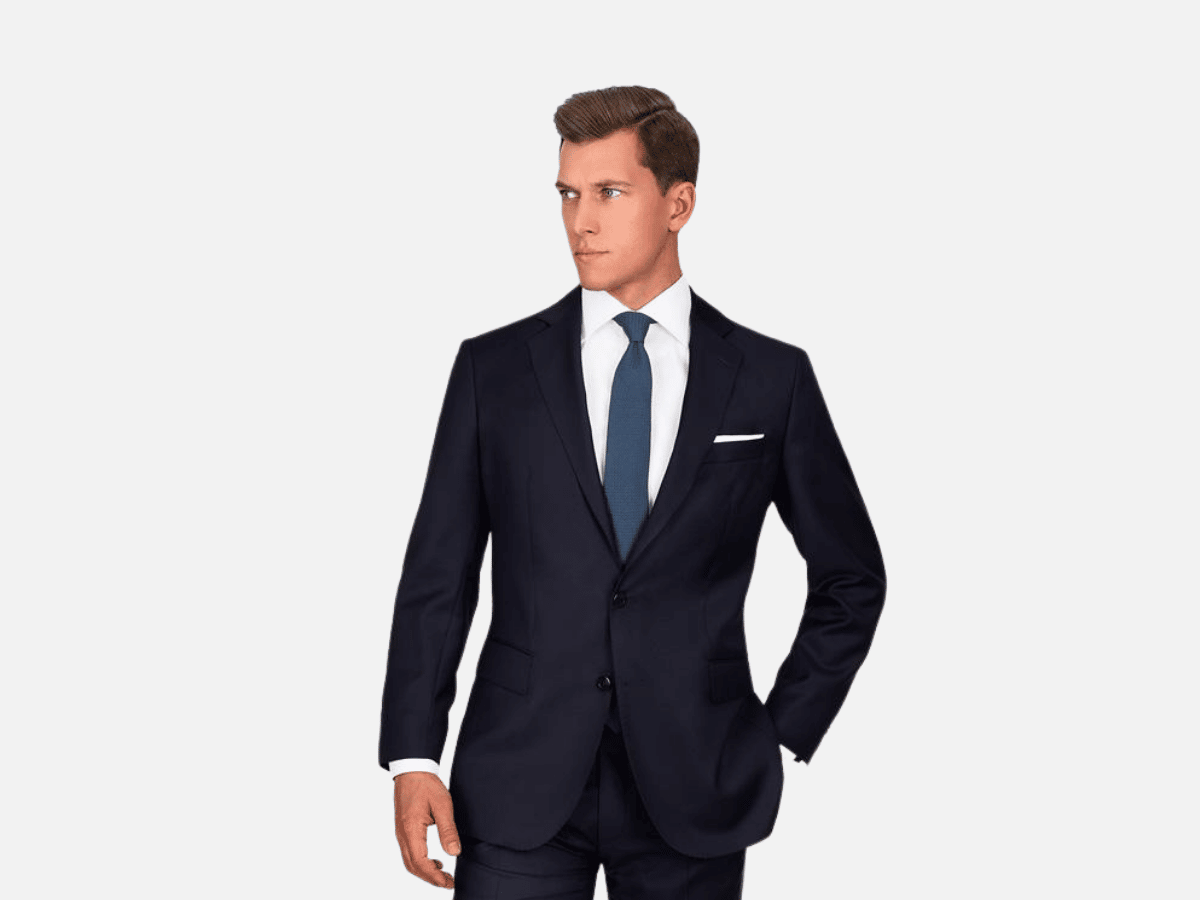 4. Dark
Fundamentally the dark blue suit isn't that far from black, and this makes life easier. This one is for the man who wants to veer on the safer side. The general rule of thumb is, the darker the shoes the darker accessories, this includes shoes, socks, watches, glasses, and ties. You wouldn't want to be caught dead in a dark blue suit with a pair of light brown shoes, or a highly contrasted tie, so planning this ensemble is the key to a successful day out.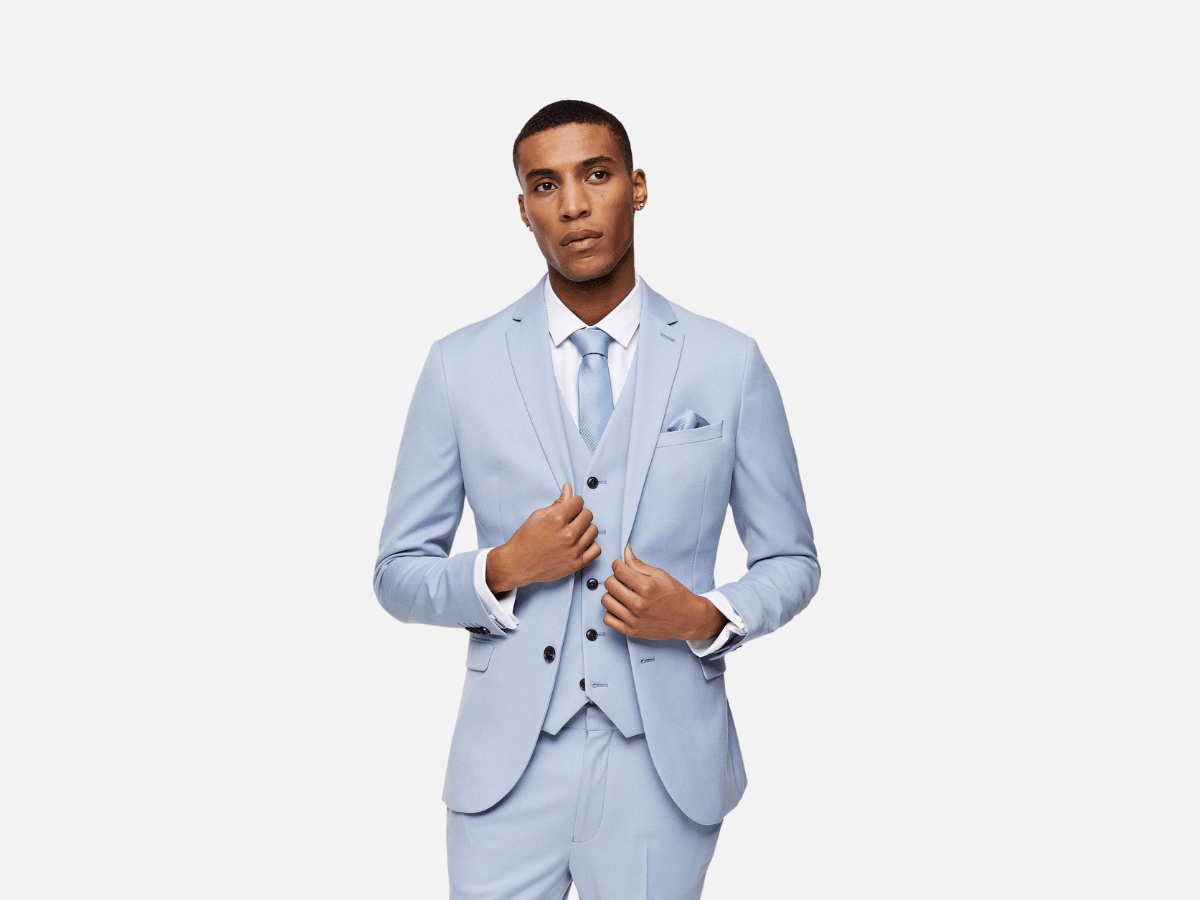 5. Light
The light blue suit is a great happy medium for a prospective suit buyer. We wouldn't recommend it as your first suit of choice, however, when you're comfortable with the navy or classic suit you might be ready to turn it up a notch. This one's for the man who likes accessories, we're talking a top-shelf timepiece, some perfectly maintained hair, a matching tie and some fine leather footwear to boot. If you're a bit on the fence with the light blue suit scroll down for some style inspiration.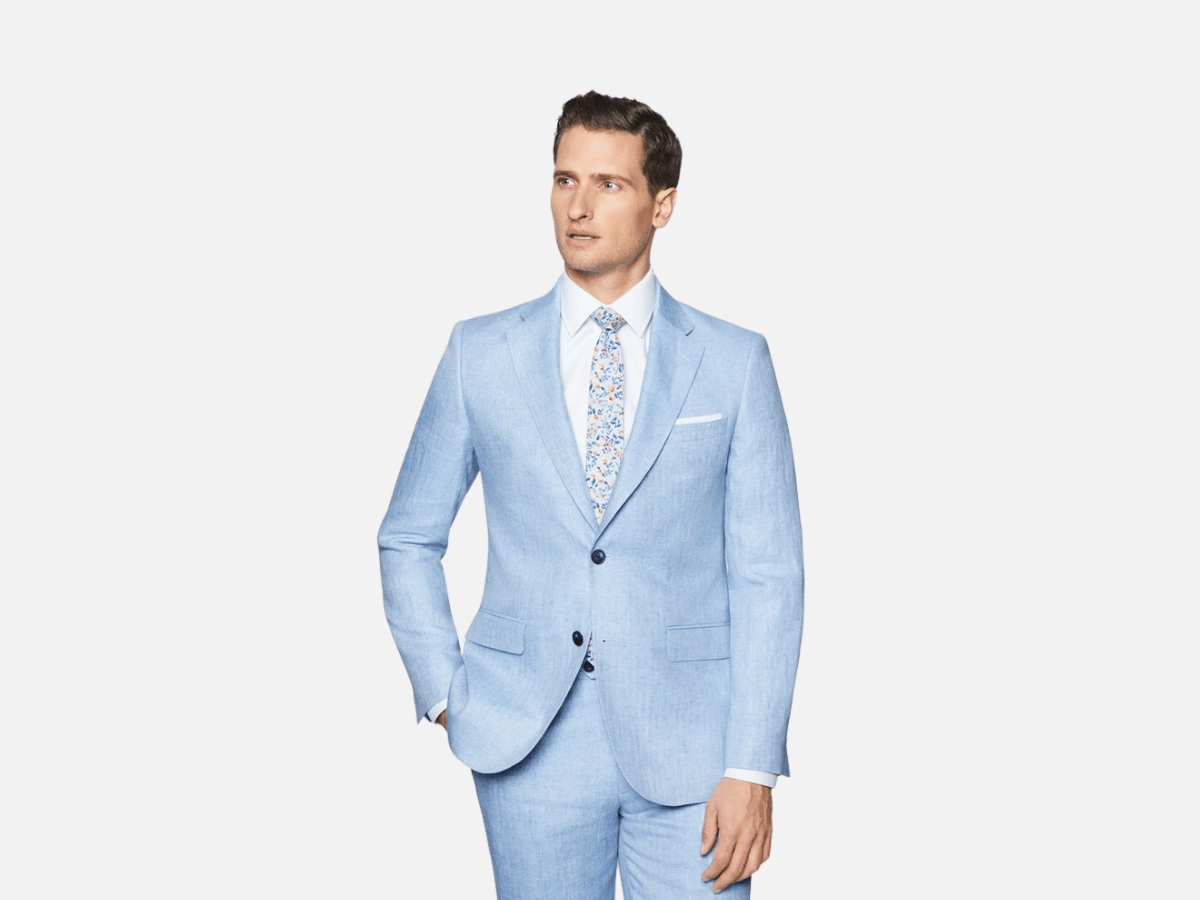 6. Blueish White/ Baby Blue
The blueish white suit is sometimes referred to as the baby blue suit, it is a semi-formal suit best associated with the polo or golf club luncheon. Especially suited for the warmer months, if you're the kind of guy who's known for rocking a different suit every day of the week, we can't think of a better-coloured suit for you. The suit represents a man that traditionally ventures outside in semi-formal attire, whether that be the golf club, the beach, or the local watering hole, if you aren't the best dressed there who is? The baby blue suit is best paired with a nice button-up shirt, no tie, slacks, a nice sports watch and some quality leather sneakers.
Related: This $249 Plain Cap Toe Oxford is a Style Cheat Code.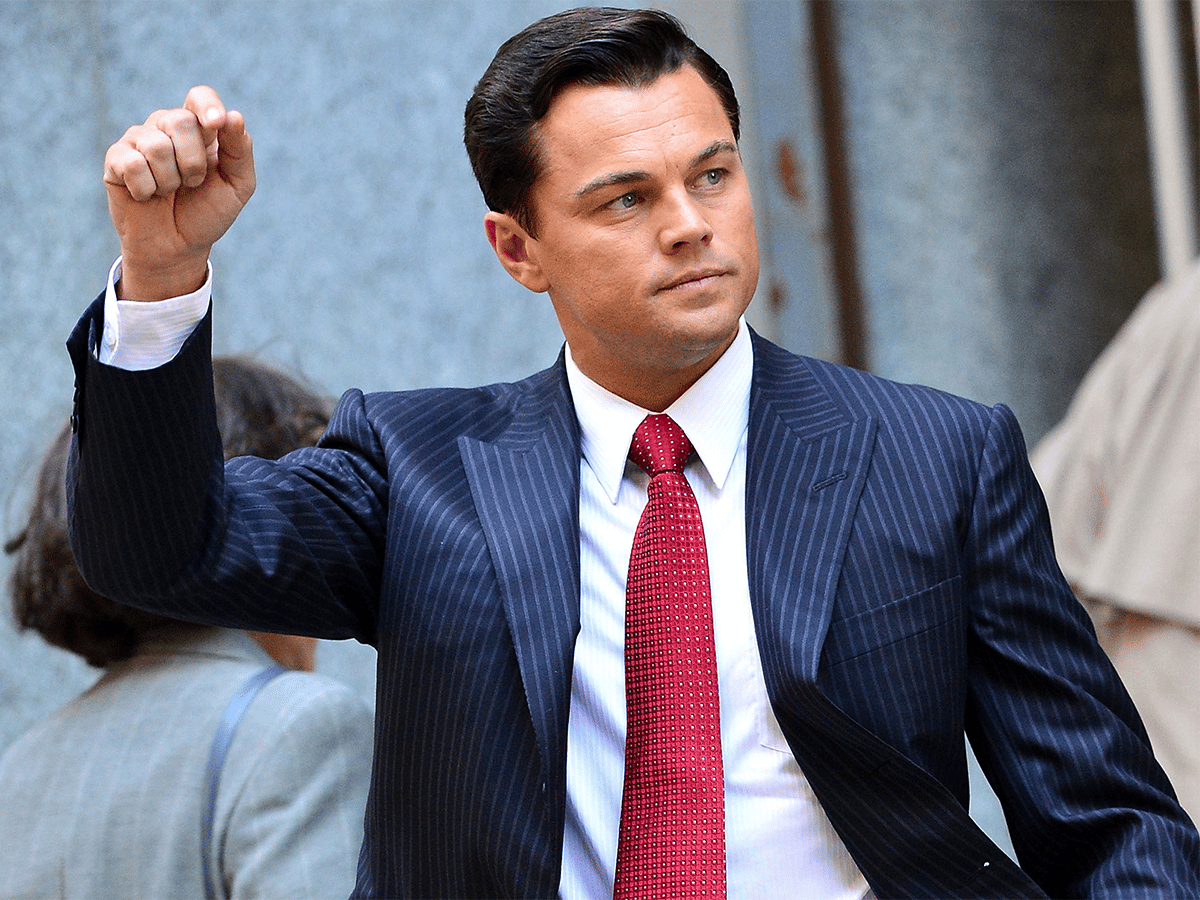 How to Wear a Blue Suit
We're not here to tell you how to dress because that's a decision for you to make after you've read through our comprehensive guide, however, you should know the basics when it comes to things like ties, shirts, shoes, and the best times of year to wear a blue suit. There are colours that go with a navy blue suit, and there are colours that match with a classic blue suit, we break it down below.
Best Ties to Wear With a Blue Suit
Should you be rocking a suit of the darker or more neutral variety, we have good news for you, blue suits tend to go with almost any colour tie. We like to stick to solid shades and neutral colours such as black or navy, but you might prefer the red tie and navy suit combination, which works just as well.
Since different styles make for different statements, here are some blue suit and tie combinations and what they typically relay:
| | Best Tie to Wear With a Blue Suit |
| --- | --- |
| Red Tie | The red tie and dark blue suit combo, have a powerful look. |
| Black Tie | A look that never fails, classic and safe. |
| Yellow Tie | Must have the aberrant personality to back it up. |
| Burgundy Tie | The deviant line is sophisticated and distinctive. |
| Grey Tie | Elegant, and allows the opportunity for textures. |
Best Shirts to Wear With a Blue Suit
For the shirt, white is probably your safest bet, but far from your only option. If you're feeling adventurous you can rock a light pink or light blue shirt, which will highlight a sense of contrast. On the other end of the spectrum is the black or dark grey shirt and navy blue suit combo, which renders quite a bold impression. Here's a quick breakdown:
| | Best Shirt for a Blue Suit |
| --- | --- |
| White Shirt | When all else fails, a white shirt of 100% cotton is your best bet. |
| Pink Shirt | If your pink shirt is of a brighter variety, then the suit should be neutral or dark blue. |
| Blue Shirt | A light blue shirt with a dark blue suit exudes premium and subtle levels of contrast. |
| Black Shirt | Ideal for dinner dates and dressy (not formal) affairs. |
Best Shoes to Wear With a Blue Suit
Remember this little mantra, the darker the suit, the darker the shoes. Just because blue suits offer a subtle way to break from tradition, that doesn't mean you should veer too far outside the box. The blue suit and brown shoe combination is a classic, we recommend you stick to either brown or black dress shoes.
When it comes to the specific type of shoe, your formal or semi-formal options are basically brogues, monk straps, oxfords, or loafers. Just make sure they're clean and shiny and try to avoid pointy tips.
| | Best Shoes to Wear With a Blue Suit |
| --- | --- |
| Brogues | Typically reserved for blue suits, the brogue style is matched perfectly thanks to its stylish attitude. While the oxford is best served up with a grey or black suit, these are our favourite choices for the blue suit on formal occasions. |
| Monk Strap | While they had a moment during the early 2010s, the Monk Strap is making a return alongside the blue suit trend. What is essentially an oxford dress shoe with a leather lace cover, the shoe is best paired with a dark blue suit for more formal occasions. If you want to prove just how in tune with the style trends you are, check these out. |
| Oxford | These are your best bet if you want to keep your look classic. The oxford shoe is typically a smooth leather dress shoe with laces and minimal details on the upper – perfect for formal occasions. |
| Loafers | Loafers are having a resurgence for their casual feel post-pandemic. We highly our favourite new footwear brand Myrqvist, but other brands include Sebago, Common Projects, GH Bass & Co., and Aime Leon Dore. |
If the dress code is something smart casual or semi-formal, you have more freedom to play around in the footwear department. You can layer up with a polo shirt under your blue blazer, leave a little room at the end of the pant leg, and throw on a pair of moccasins or dress sneakers.
Related: Thinking about sneakers? These are the best sneakers to wear with a suit.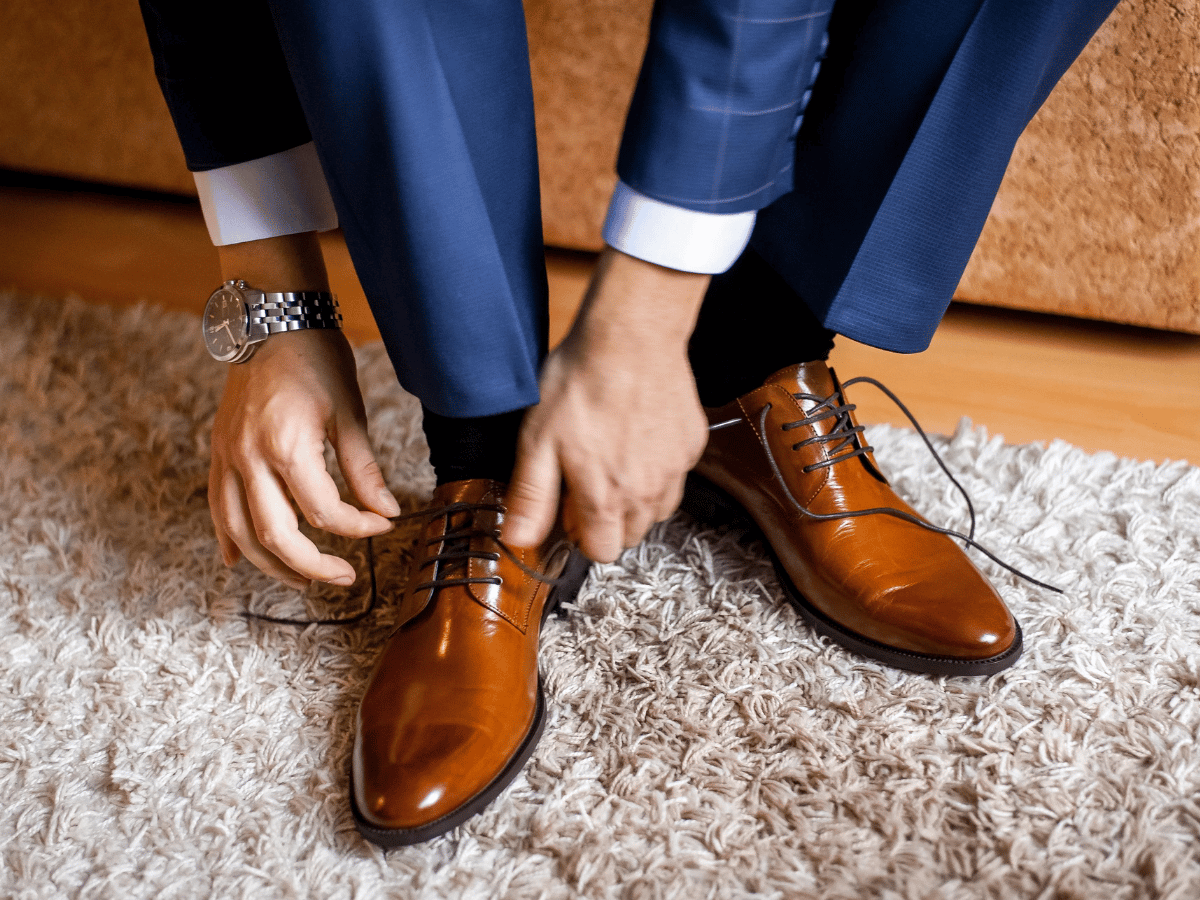 When to Wear a Blue Suit
As you're aware, blue is a colour that comes in many forms. Consequently, there's a blue for every suit-worthy occasion. Whether you're at a business meeting, wedding or swanky cocktail lounge, you'll likely find a suit nearby, presuming you're not wearing one yourself. Even at black-tie events, you'll spot a few navy blue suits.
Here are some general pointers:
Stick to neutral or darker hues in business environments, unless you work in a highly creative field (where pretty much anything goes).
If you're going to a baby or electric blue suit, do it during spring and summer.
Stick with quality materials and stay away from cheap fabrics.
Wear cotton or linen suits in the warmer months and wool or cashmere suits during colder months. Avoid materials like polyester altogether.
Don't hesitate to bring pocket squares or other suit accessories into the ensemble
It's worth mentioning that just because blue suits come in various shades and styles, don't take that to mean we're dealing with a "one shade fits all" scenario. On the contrary, certain types go best in certain settings.
Related: Smart Casual Men's Dress Code Guide.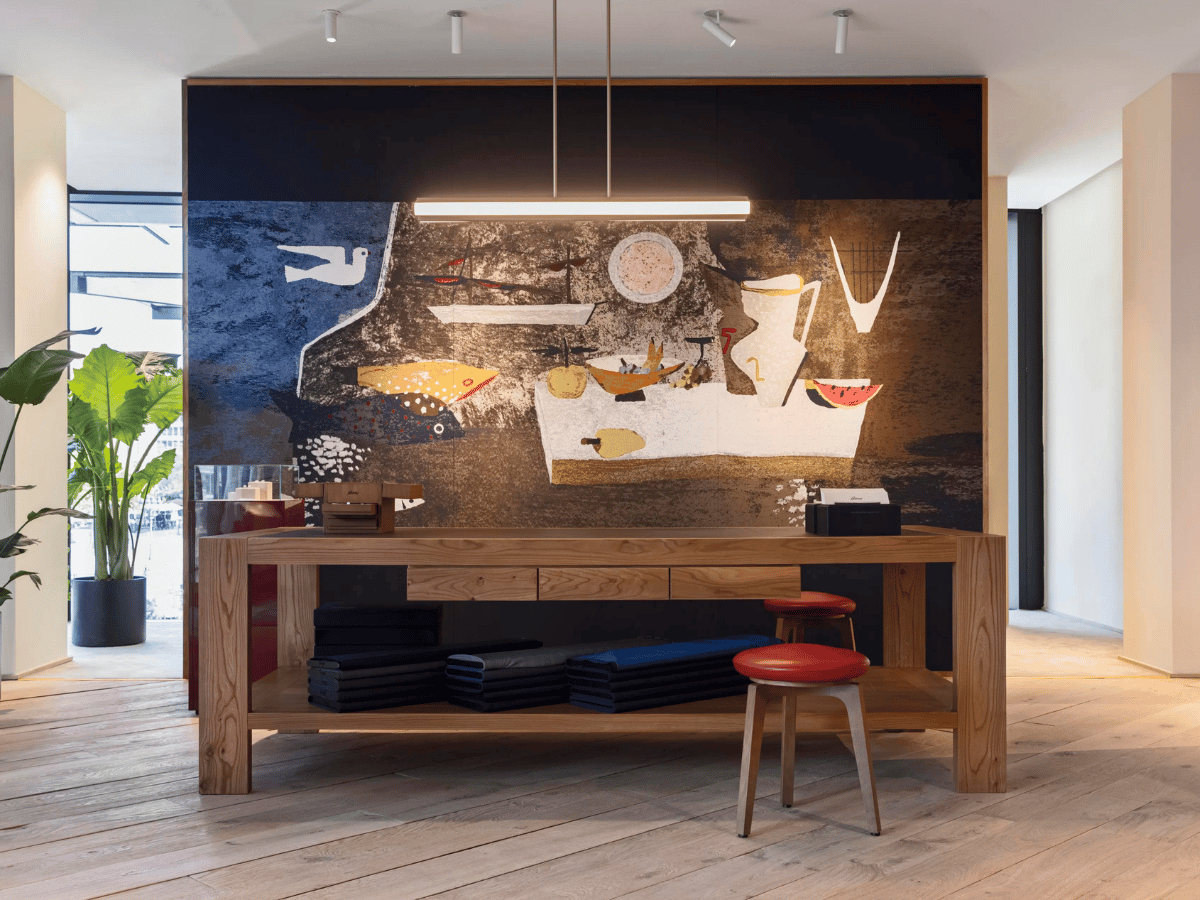 Best Blue Suit Brands
You'd be a fool to think that the humble blue suit is an extinct species in the style stakes of 2015 – it's timeless. That means it's not going anywhere anytime soon, so there are no excuses for not having one in your wardrobe. Standing just as versatile as the black suit when it comes to shirt, tie and pocket square combinations, the blue suit is a sure-fire resident in the seasonal collections of every clothing label: from Zara to Boglioli, Thom Browne to Topman.
Here are a few to have on your radar if you're looking to join the club.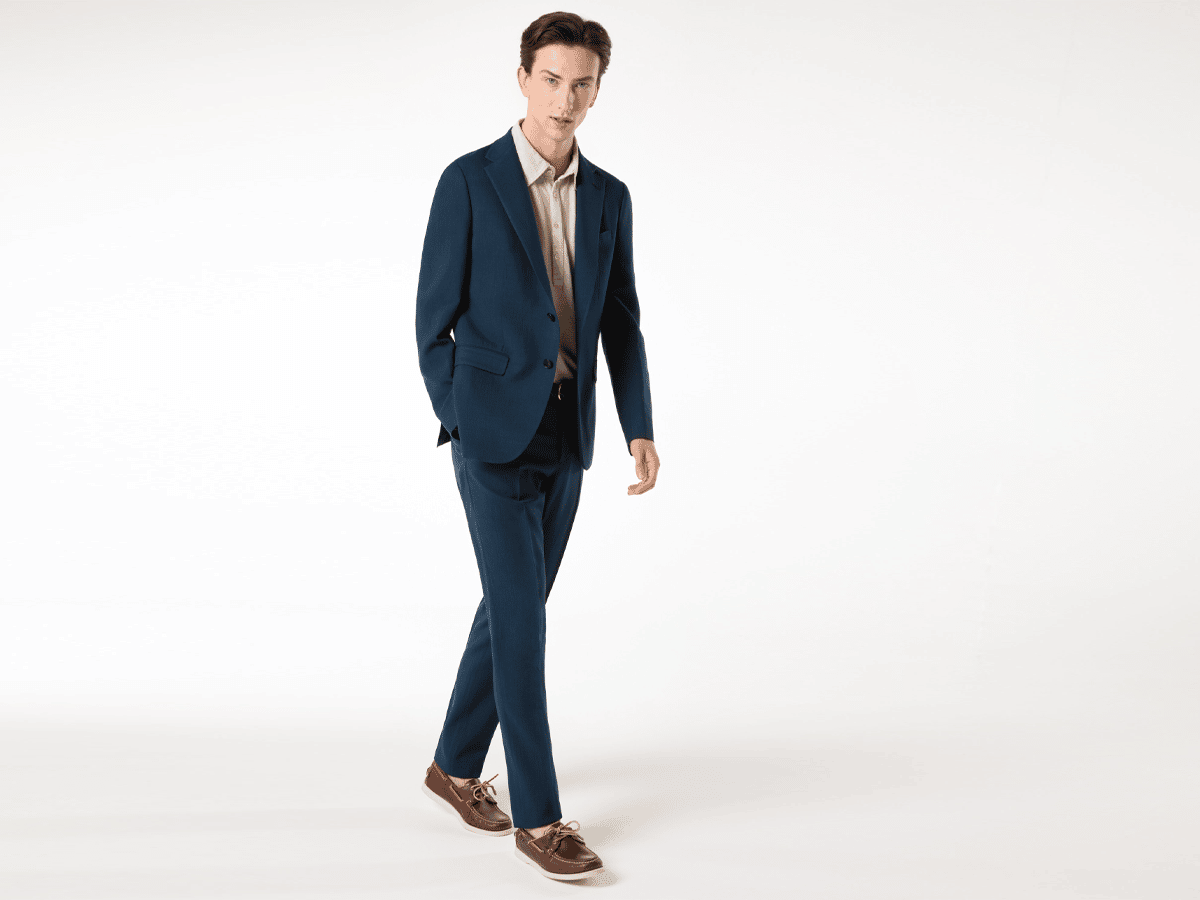 1. Boglioli
There's an old saying in the fashion world: "In menswear, do as the Italians do". For over 110 years, Milan-based Boglioli has been making some of the finest blue suits in the world, with actors like Christoph Waltz and Ewan McGregor among its many fans. For the man on his way to Pitti Uomo this year, the pick has to be the two-button wool-blend travel suit designed exclusively for MR PORTER. The shade of Indigo and its supreme tailoring will ensure you stand above the crowd without breaking the bank.
Material: Wool, flannel
Price: from $690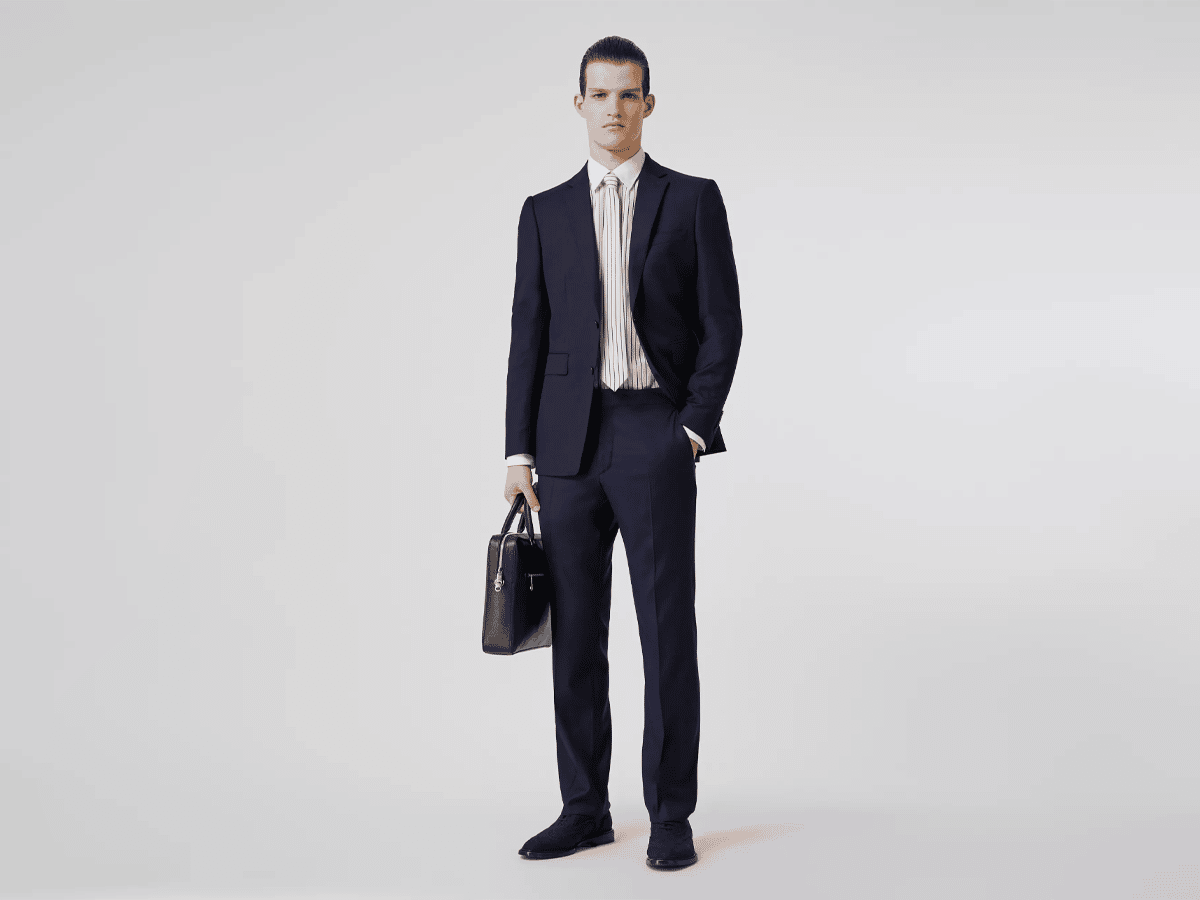 2. Burberry
The second-in-line range under the Burberry label is where the brand's iconic blue suits live. Delivering a combination of wool, silk, and cashmere suits season after season, you need not look further than the revered brand's slim-fit wool mohair suit in navy. The Italian-made suit features sublime pick-stitch detailing down the lapel and unfinished hems on the pants for custom-tailoring. Take note all: the custom tailoring feature is not just a friendly suggestion by the luxury British brand, it's a must. Remember: pants should carefully hit the opening of your shoe and not bunch up at the ankle. No excuses.
Material: Wool, silk, cashmere
Price: from $890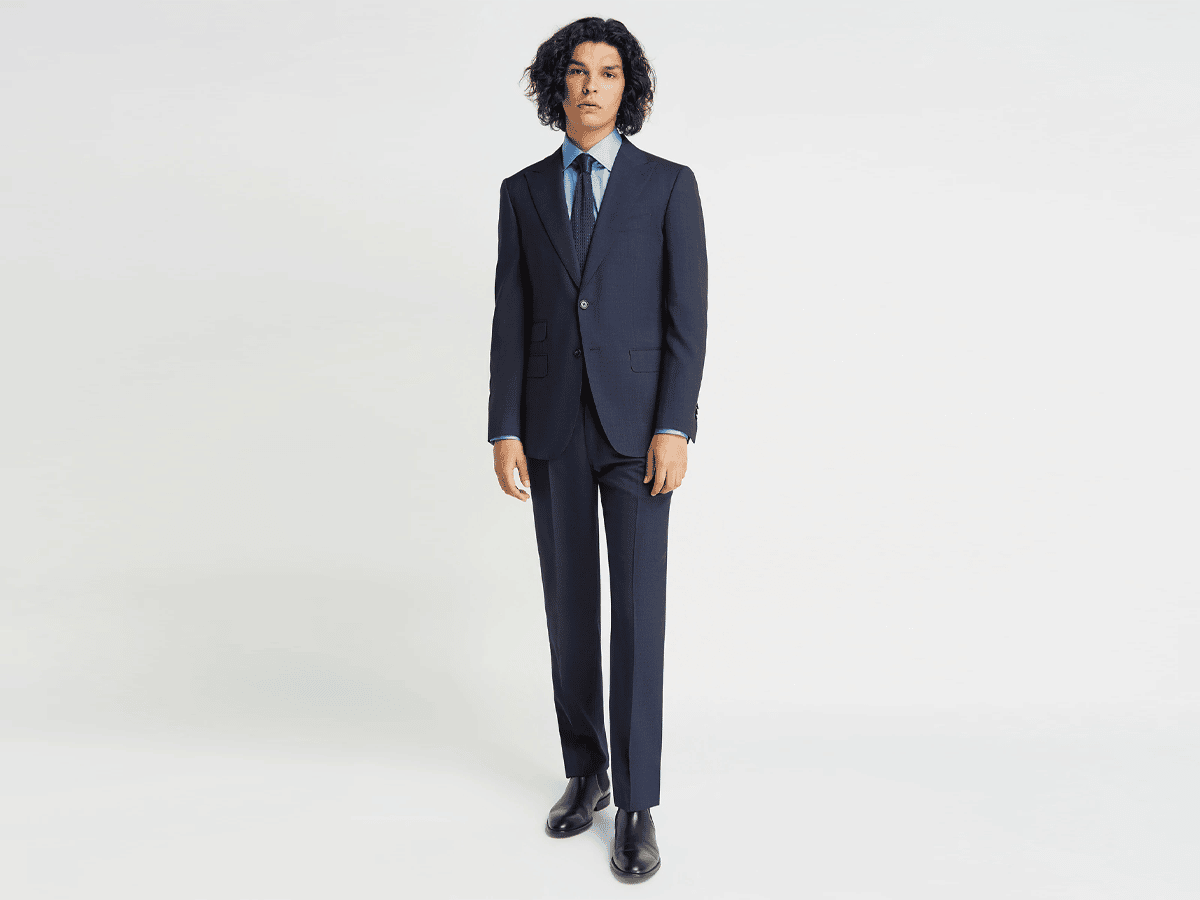 3. Farage
Launched in 1998 by husband and wife duo, Joe and Katy Farage, the Australian luxury brand was built on a dedication to fine tailoring and delivering an authentic bespoke experience for the customer. The Aston A Check suit in a smooth navy blue suit is the embodiment of this ideal. The subtle check detailing in this wool suit will reveal itself in natural light, making it just as suited for daytime wear as night.
Material: Virgin wool
Price: from $1295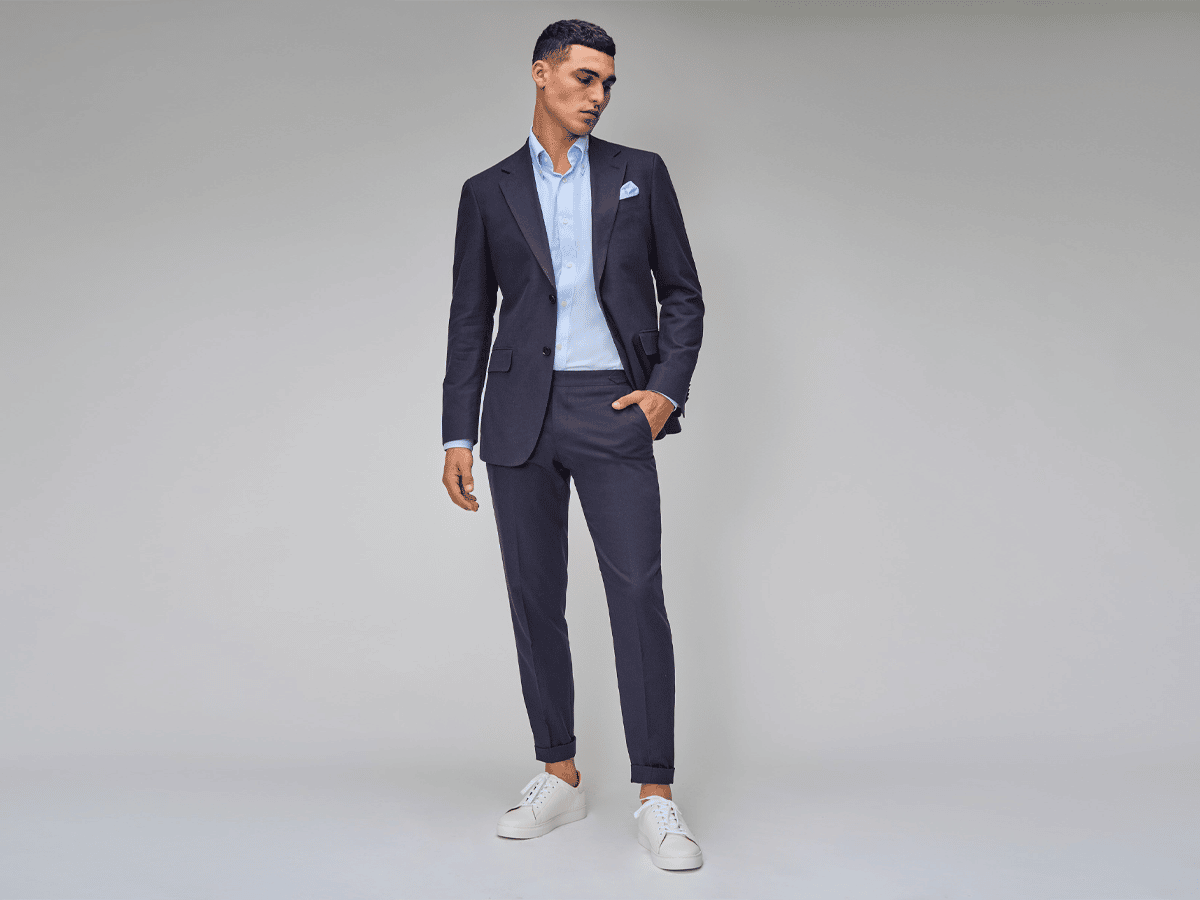 4. Brent Wilson
Launched in 2006, eponymous Australian designer Brent Wilson's dedicated work in producing expertly crafted menswear eventually landed him the coveted GQ Designer of the Year award in 2012. Since its launch, Mr Wilson has been producing ready-to-wear collections that are constantly at the forefront of the menswear industry in Australia, by observing and adapting the sartorial trends of the globe for the down-under audience. It's hard not to go past the label's dark navy blue suit, which just might make the groomsmen feel slightly challenged in the style stakes at the next wedding you're invited to.
Price: from $450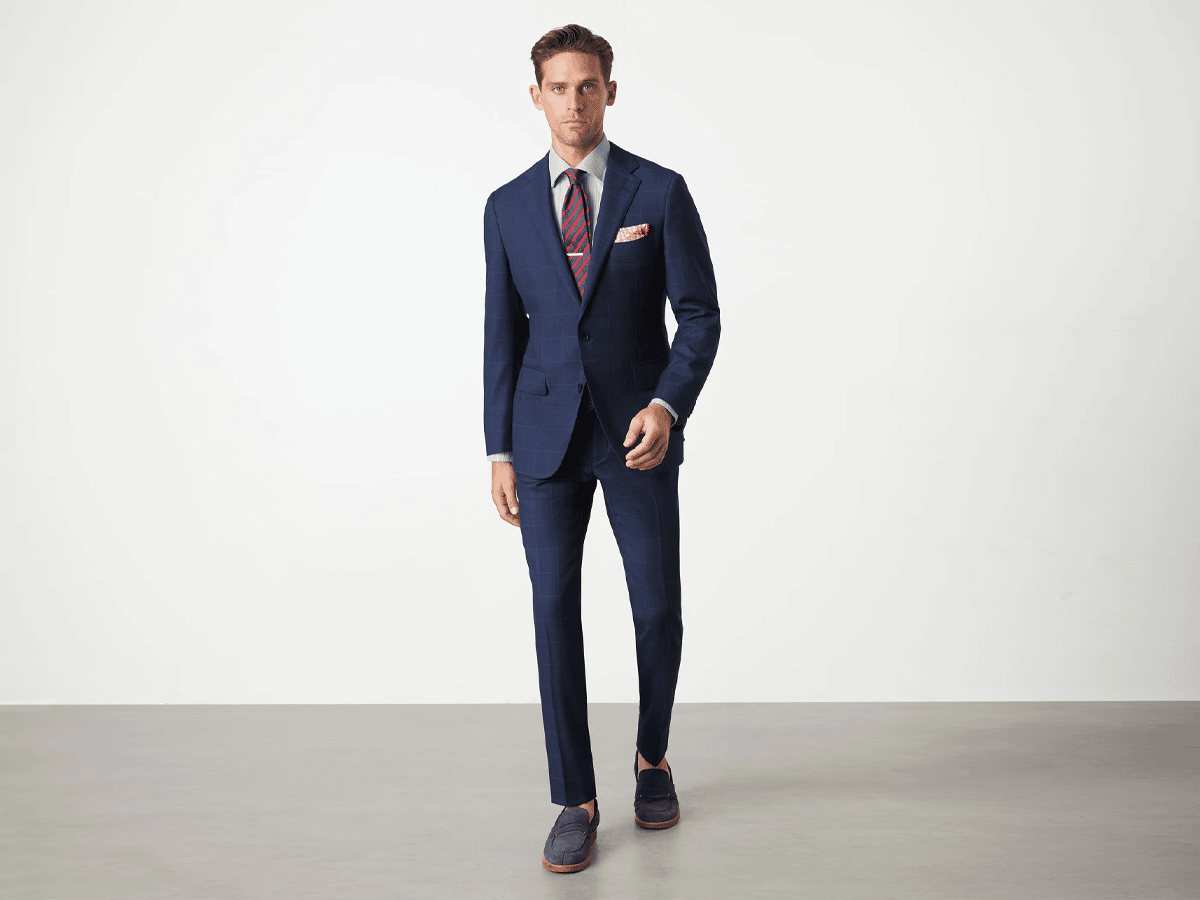 5. M.J. Bale
For the man with multiple black-tie events on his calendar, look to Australian tailor M.J. Bale and their Defoe tuxedo in midnight navy blue, featuring a contrasting black silk satin shawl lapel. Promoting superfine Australian Merino Woolmark wool, the brand curates a collection of clothing for that league of men rarely seen without a blazer and buttoned shirt. Bend the black-tie rules at your next event with this tuxedo, a knitted bow tie and some matching loafers. You can thank us later.
Material: Australian Merino wool
Price: from $399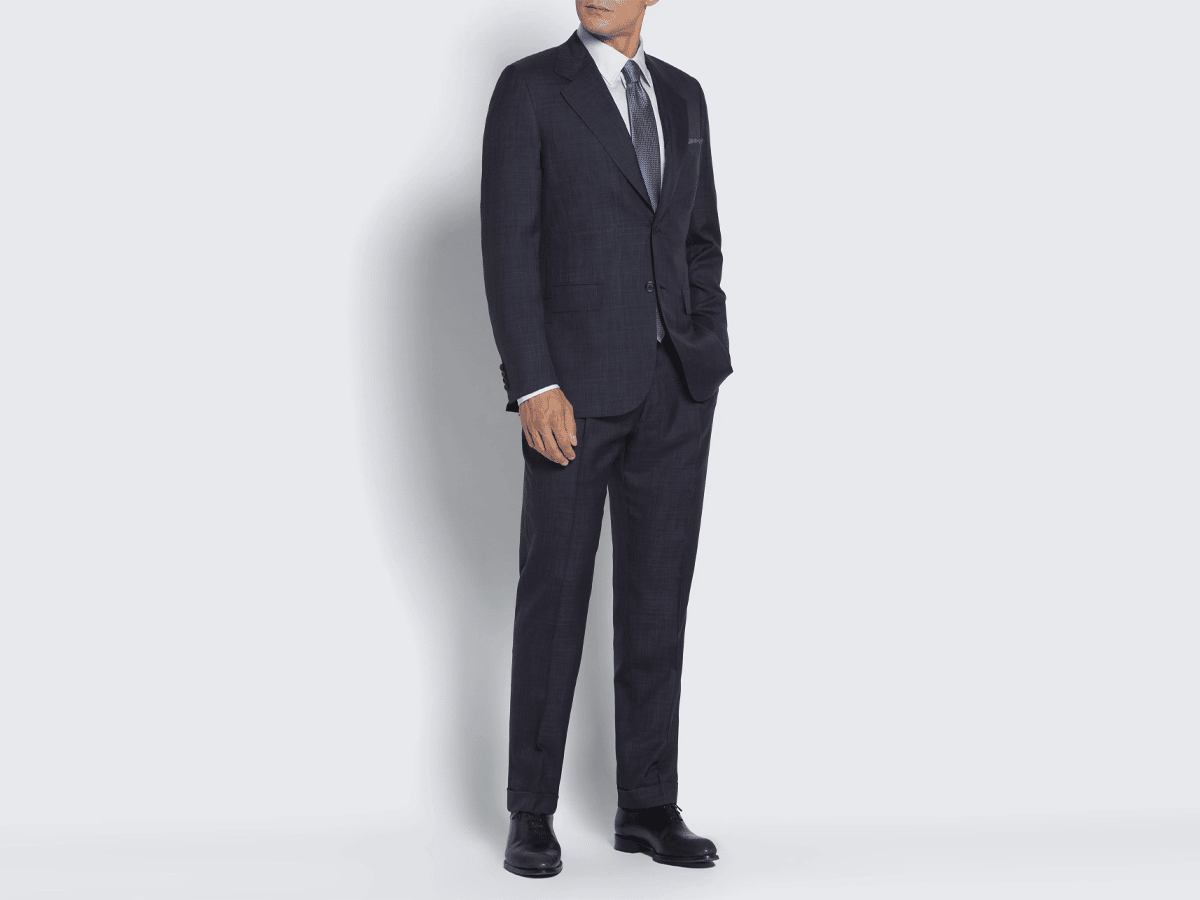 6. Brioni
With a brand known for utilising the finest and rarest materials to produce some of the most expensive couture suits known to man, it is a statement that hardly needs backing up. Perhaps the most famous wearer of Nazareno Fonticoli and Gaetano Savini's (the brand's founders) suits is none other than Daniel Craig as James Bond in the final scene of Casino Royale. Every man needs a double-breasted blazer in his wardrobe, so look no further than the Brioni check pattern suit, composed of silk and wool and featuring super-fine check detailing.
Price: from €4.688,53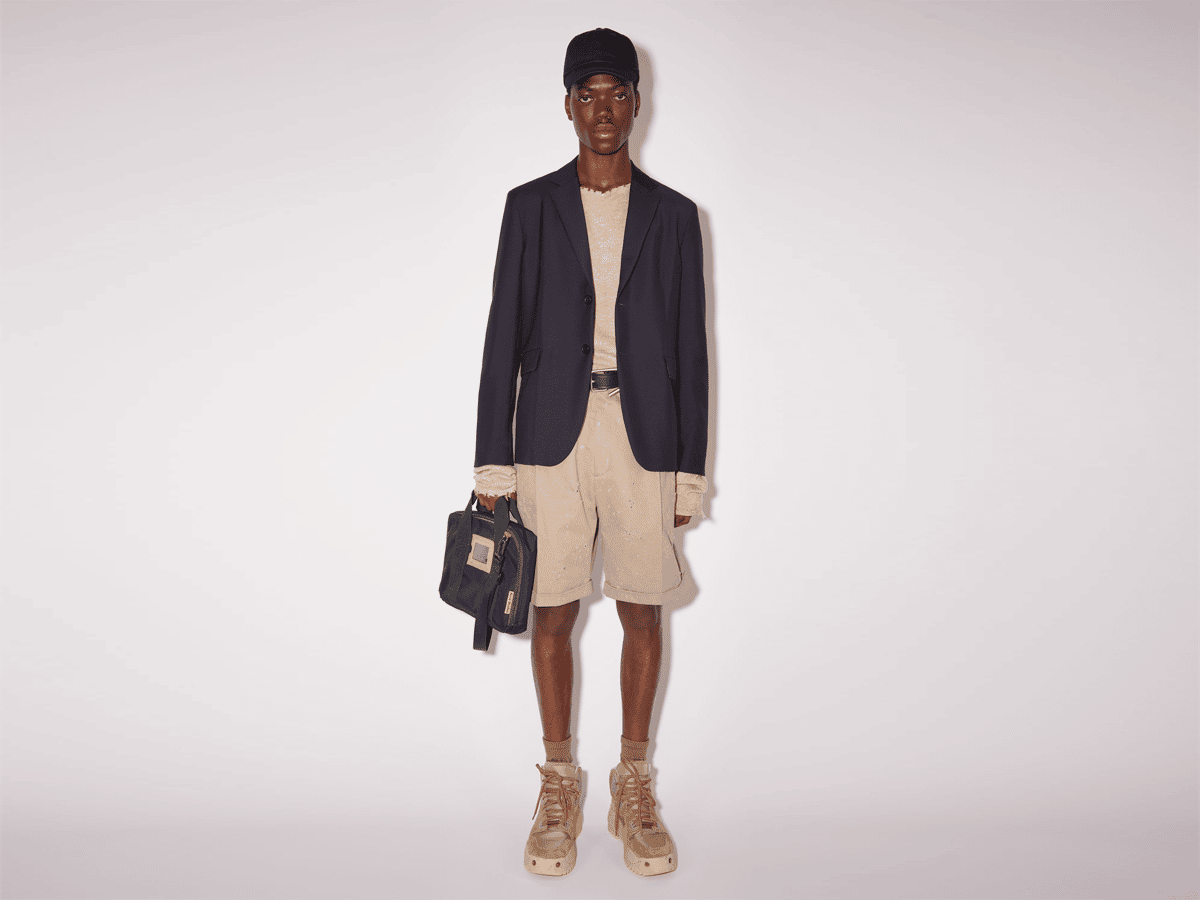 7. Acne Studios
For the sneakerhead with that pair of all-white sneakers, he is never seen without, the navy suit is possibly a match made in heaven. However, one cannot just slap on any suit and pray for the best. Luckily, Stockholm collective Acne produces suits practically made for wearing with those clean, white kicks. This season's pick has to be the Drifter denim blue suit, which is the perfect level of casual for this kind of look. For best results, wear it over a plain white Breton stripe sweater or white crew-neck t-shirt.
Price: from $980
8 Types of Loafers for Men and How to Wear Them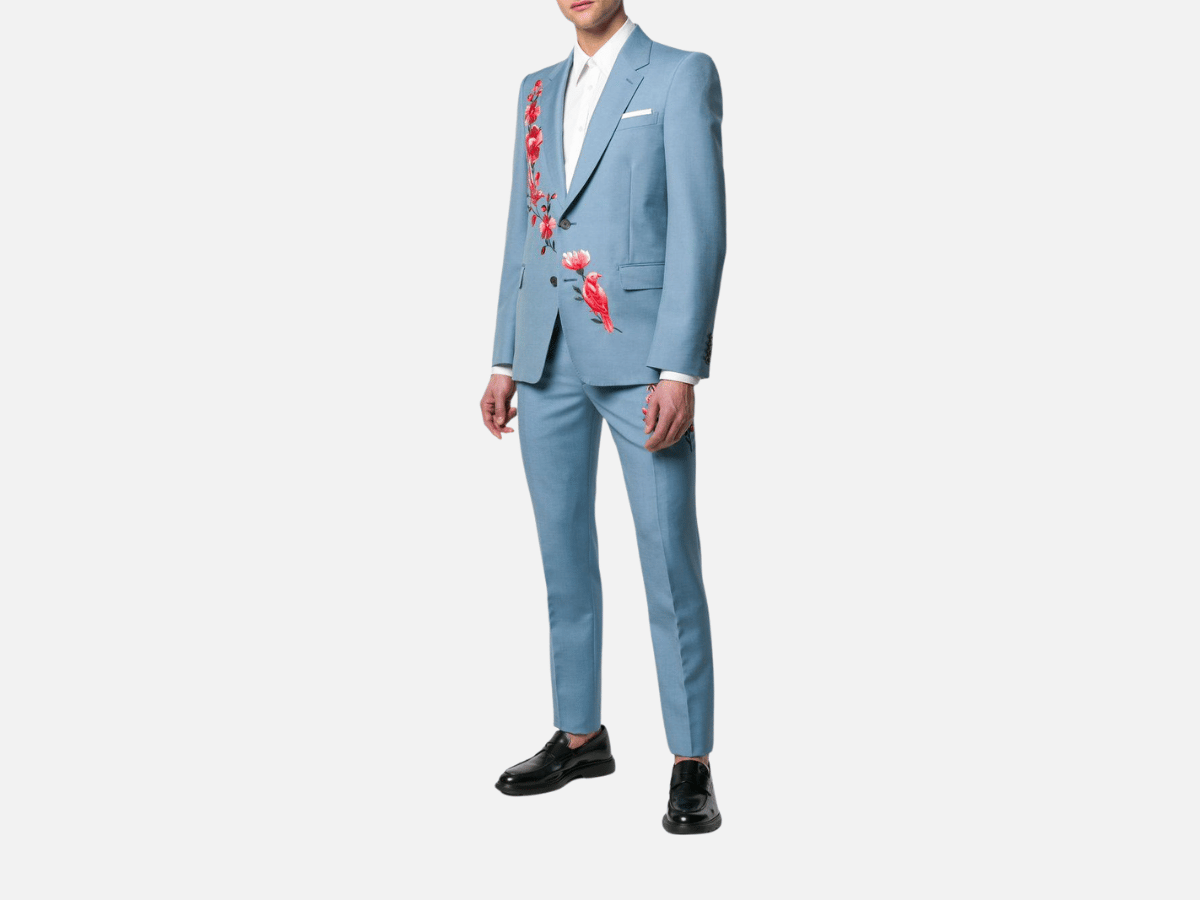 8. Alexander McQueen
Pin-striping in suiting might seem like an antiquated tradition, but in true Alexander McQueen style, the brand's wool candy-striped blue suit is a laugh in the face of those that cry 'archaic'. The Alexander McQueen ethos has always been on sharp British tailoring and daring designs, none more evident than in this suit's light blue wool construction. Take the 'aged banker' look out of this number by rocking the no-tie, Ryan Gosling look with a crisp white shirt buttoned to the top. It's what McQueen would've wanted.
Material: Wool
Price: from $2790 AUD
For the Best Men's Wedding Rings, Call in the KAVALRI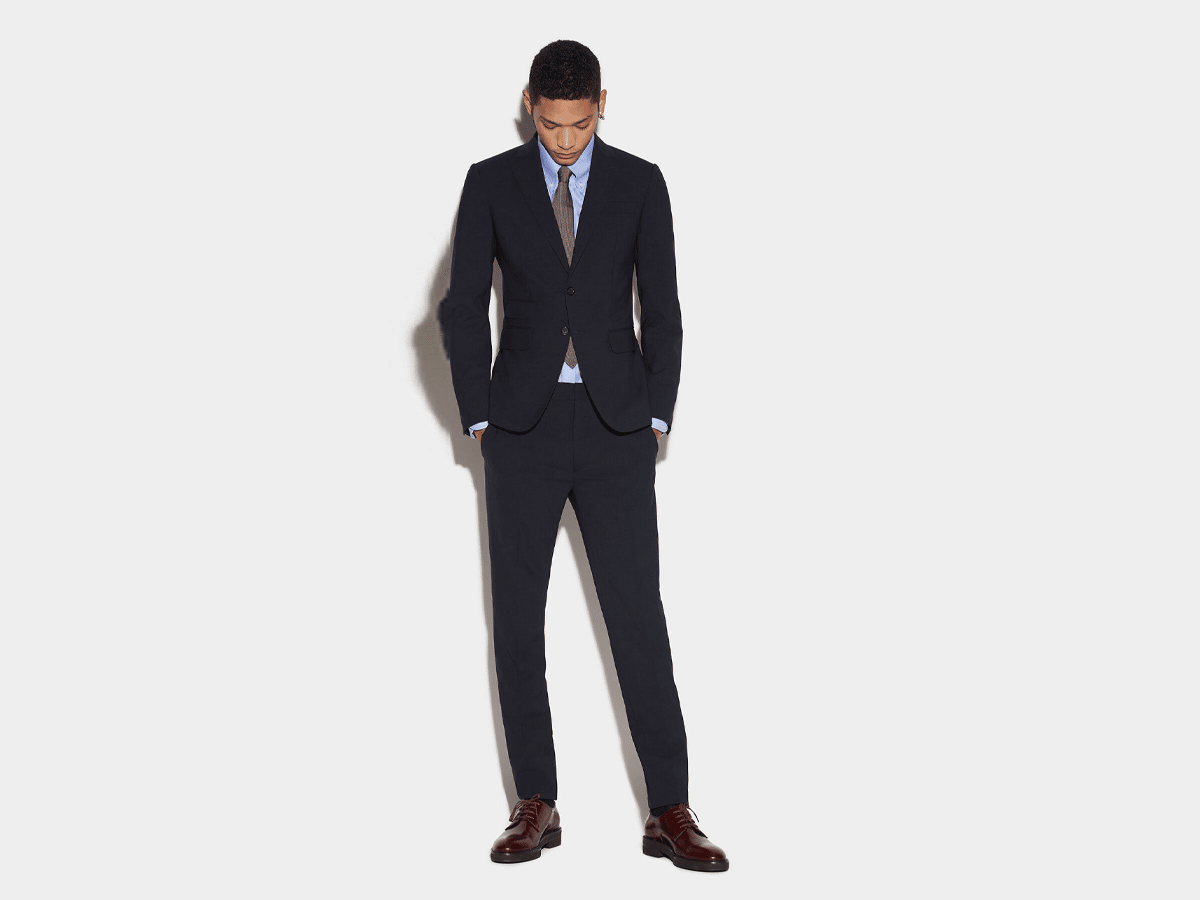 9. DSQUARED2
While the chill has well and truly hit down under, there are no hard and fast rules about showing a bit of colour in the winter months, especially on those odd balmy days when the sun is out in full force. For said weather, there's the pastel blue suit by twin brother duo Dean and Dan Caten, constructed in stretch cotton. For the less colourfully inclined, tone down the look with a pair of slim-cut beige chinos, a navy knitted tie and matching suede brogues.
Material: 100% Cotton
Price: from $1800 AUD
General FAQ
Can I wear a blue suit to a formal event?
Yes, you can. Blue suits are common at formal events. To play it on the safe side, stick with neutral or darker blue suits. Colors like navy blue and midnight blue—which bear a closer resemblance to black—tend to appear during formal events. However, blue suits are not intrinsically formal because they come in a variety of shades and styles.
Can I wear a blue suit to a wedding?
Yes, you can wear a blue suit to a wedding, as well as other formal events. When attending a wedding, men should wear a formal suit or tuxedo with matching pants, belt, button-down shirt, tie (or bowtie), and dress shoes. Men might also consider wearing accessories such as a dress watch or pocket square. Avoid tacky pastel colours, cheap materials, and casual attire such as sneakers, jeans, white socks, and polo shirts.
What is cocktail attire for men?
Swinging from semi-formal to formal, cocktail attire for men typically consists of a suit, tie, and dress shoes. Attire such as a dark blazer and dressy jeans will also suffice.