A Complete Guide to Buying a Tuxedo
Fact: If there's one thing anybody's who's visited Belance Tailoring knows, it's that one of the great joys in life is owning perfectly fitted fineries, so we've gone to great lengths to bring you this guide to buying a tuxedo. While some choose to rent a suit for a special occasion, a properly made tux will last you for years, and given that it's a uniform, can be worn to any semi-formal event time and time again, provided it gets looked after.
Contrary to popular belief, a tuxedo is not actually formal wear – it's semi-formal. Whenever anybody stipulates a black tie dress code, this is what they're talking about (white tie is proper formal). Black tie is far more common in current times (you're hard pressed to find an occasion that demands tails and a top hat anymore), and when it's called for, it's important to get right. With a few simple rules to follow, this is easy.
While some changes have crept into the overall concept of black tie over the years, the general look and feel of a tuxedo has remained the same.
"The change that has affected tuxedos and suiting in general is the methods and materials used to create these garments. Using viscose satin for the lapel as an alternative for silk has become more prevalent; this material is cheaper to use for suiting and the aesthetic isn't as smart compared to its silk/grosgrain counterparts. Using a material of a higher quality for every part of the garment will enhance the look and feel of the garment" says Ruben Espejel of Belance Tailors.
We spoke at length with Ruben, one of Belance's many professional tailors, to bring you this guide, with a few key tips to make made-to-measure suiting a cinch.

Three Tux Tips from Belancé's Ruben Espejel
1. Get the fit right – a made to measure suit should be cut in a way that compliments your figure. Whatever your figure may be, every man should look great in a tux.
2. Spring for something nice – as mentioned, the use of high quality materials is imperative.
3. A unique design; many traditional tuxedos come in the standard peak or shawl lapel in black or navy. Choosing a striking colour/textured fabric for the jacket. Side adjusters for the trouser or a lapel with a specific width and cut can make a world of difference.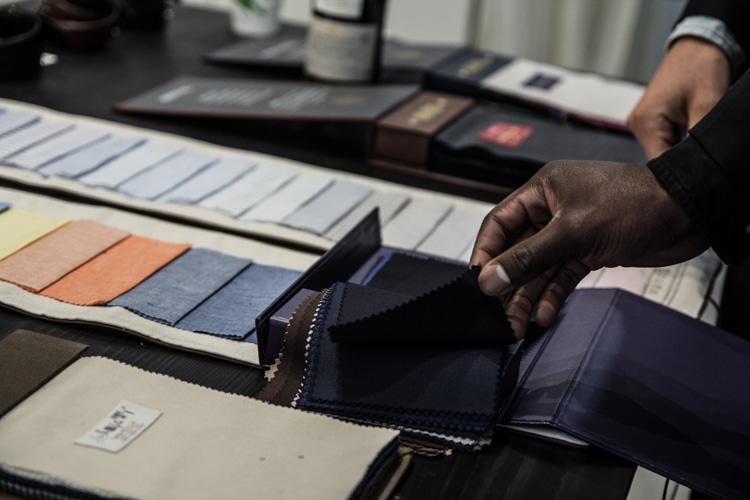 Made to Measure
Of all the obvious reasons to get a suit fitted properly, the most important is particularly relevant to a tux. While a nicely fitted suits looks good in any context, an event where every bloke is dressed exactly the same leaves little room to really set yourself apart from the crowd. Ensuring your tuxedo fits you like a glove is one of very few ways you can make sure you get noticed. People are seldom aware of why a suit looks impressive, but any dag can pinpoint when one looks rubbish, and usually it's a dodgy fit. This is the first argument against ever hiring a suit and for getting one made to measure.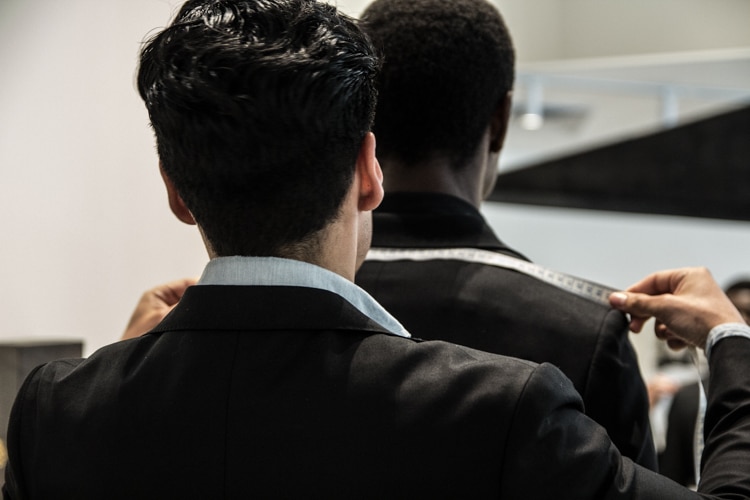 "Usually men who have either purchased a tuxedo off the rack or have had one made for them will own a garment that fits them well and is in line with their style preferences. When hiring any garment you are subjected to the style and fit that is available, and for many men these options would be incorrect and outdated. Owning your own tuxedo allows you to dress in a way that you are most comfortable with, and this will show throughout the evening to which you wear it" says Ruben.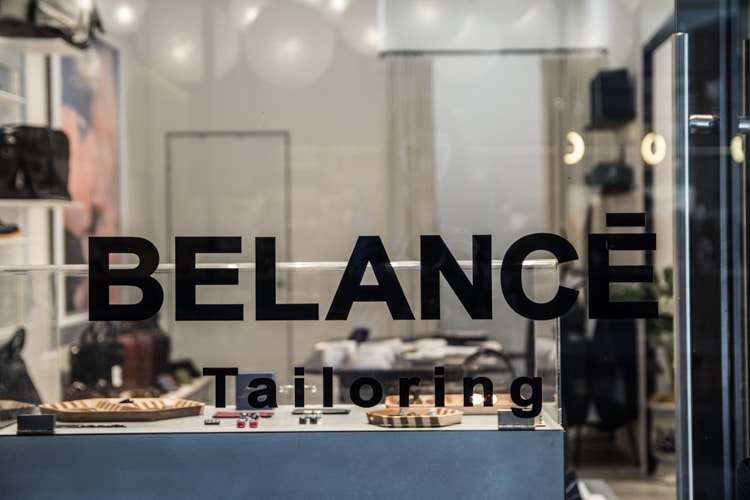 It's All in the Timing
If you've ever thought that a party of groomsmen wearing black suits on a sunny day in the park looked off-kilter, you'd be correct. Black tie is evening wear, though it can be worn to, say, an afternoon event if the festivities wind up in the evening. If an invite incorrectly indicates a black tie dress code for a daytime event, however, it's still polite to attend in a tuxedo. Just be quietly grateful that you have a better idea of what constitutes proper formal wear etiquette than most and enjoy the soiree.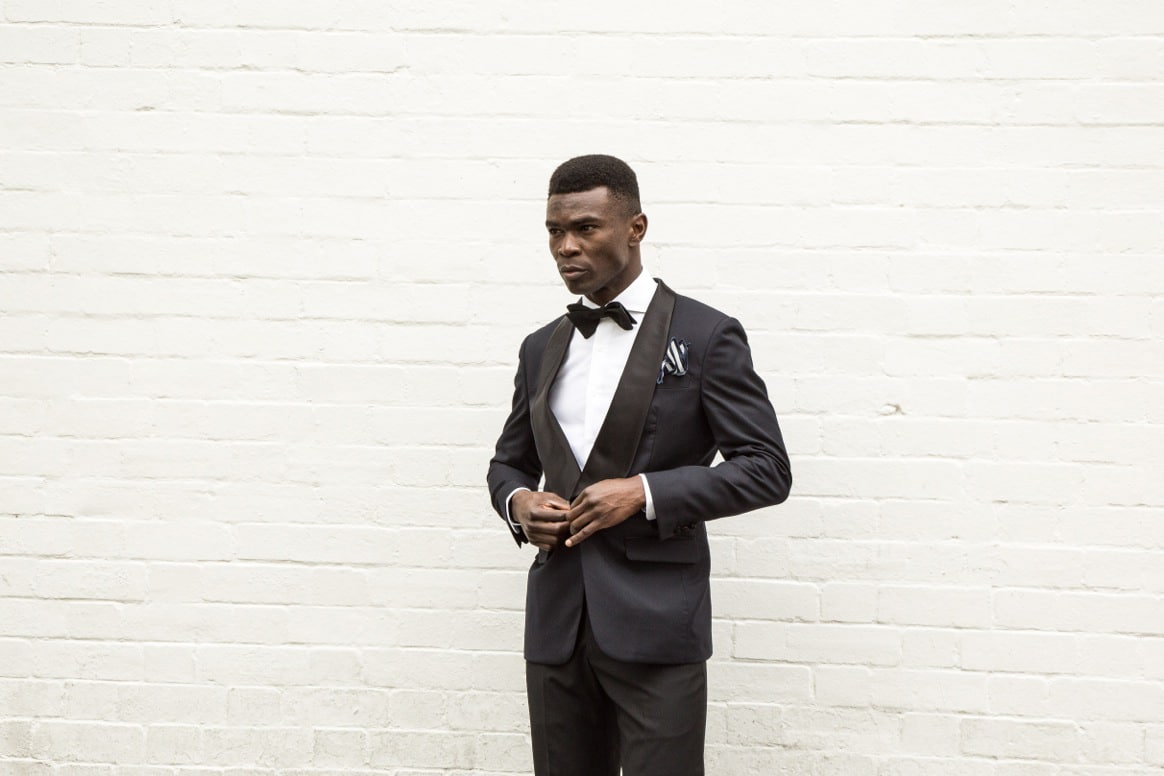 The Jacket
Surprise, surprise, a tuxedo jacket is the cornerstone of the entire outfit. Named after Tuxedo Park, an absurdly opulent village in New York an hour north of NYC, it is actually famous for opening the door to a more casual style of evening wear, removing the tails and lengthening the quarters for a more relaxed dinner outfit. Tuxedo Park was hugely influential as a beacon of style and fashion before the Great Depression, and hence the tuxedo was born: an elegant evening jacket for a modern era.
Traditionally speaking, you have two options for the colour; black or midnight blue, and it should be made out of wool (but with silk-faced lapels.) Modern variations allow for other dark tones such as a dark blue, deep purple or maroon, and also for a different fabric, in the way of a velvet if you're feeling more daring. While the principles of a great fit are not dissimilar to that of a business suit, there are several important details that set the tuxedo jacket apart from any other suit.
Lapels – These should either be peaked or in a shawl style; never notched. They will be faced with a different material to the rest of the jacket, preferably silk. The silk you choose can either be flat with a subtle sheen, or grosgrain, which adds a nice texture to the outfit. The left lapel should always have a working buttonhole for an optional boutonniére.
Buttons – Plain black or covered in the same silk as the lapels are the two options. A tuxedo jacket only has a single button in the centre, unless you choose double breasted, which is equally acceptable as single breasted, and a question of personal preference. Cuffs should have four touching buttons, just like a regular suit. A tailored suit will have working button holes – always ensure the last one is unbuttoned.
Vents – Strictly speaking, an unvented jacket is preferential, as it is the most flattering, fitted and formal, however this can be uncomfortable for long periods and impractical for getting to your pockets. As such, both single and double vents have become more of a norm in modern-day semi-formal suiting.
Pockets – On the outside of the jacket there should exist three pockets: two jetted ones in the quarters (much like a business suit, but without the flaps) and a breast pocket, where you can add a pocket square.
"If you have the advantage of designing your tuxedo, which is the case for made to measure and bespoke tailoring, I would opt for grosgrain silk on the lapel, rather than a regular silk satin. Grosgrain silk is much more expensive per metre than regular silk satins (or viscose satins which are also used on many tuxedos), if a suit has this feature it is noticeable that the suit is of a higher value, looks smart and extra attention to detail went into the construction of the garment.
"The change that has affected tuxedos and suiting in general is the methods and materials used to create these garments. Using viscose satin for the lapel as an alternative for silk has become more prevalent; this material is cheaper to use for suiting and the aesthetic isn't as smart compared to its silk/grosgrain counterparts. As mentioned earlier using a material of a higher quality (for every part of the garment) will enhance the look and feel of the garment".
 
The Trousers
The key to great trousers for your new tuxedo is simplicity. The material should match the jacket unless you have opted for something more outlandish in that department, in which case they should be plain black. The outer seams are covered by a strip of the same material as the jacket facing – this is called the braid. They shouldn't have cuffs or pleats, though a gently tapered fit is preferable in modern suiting. The waist should sit slightly higher that a regular business suit, and opt for side-adjusters over belt loops. Buttons inside the waist to allow for braces are optional – never wear clip-on braces.
Waistcoat, or Cummerbund?
The waist covering is an instrumental part of the tuxedo, and is one of the few elements that traditionally allowed for customisation. A waistcoat has many acceptable formats and advantages, and can be finished in either the same material as the lapels or the jacket. A tuxedo waistcoat should be cut low and wide, allowing to display the bib of the shirt.
A cummerbund wraps all the way around the waist like a sash, and should cover the waistline of the trousers in its entirety. It is always made out of the same material as the lapels, and the pleats should face upwards like shallow pockets (which was once their intended use).
Whichever you choose, it should be said that the expected colour to go with is black. Some occasions allow for a deviation from this – for example maroon or forest green are options that could work if you were attending a wedding, but generally speaking, black is the safest bet.
It's Not Just a White Shirt
The specific shirt that goes with a tuxedo is unique, and essential to the look. Always in plain white, there are a few other features that make this style distinct from, say, a business shirt.
The Bib – This is exactly what it sounds like – an extra panel of fabric sewn onto the front of the shirt. It can be pleated with vertical pleats, or a starched, textured material with a dimpled pattern. Either is acceptable; pleats are more comfortable as they are softer – starched fabric (known as pique) is slightly more formal.
Studs – Formal shirts very rarely have buttons, and when they do, they're usually covered behind a flap of fabric to keep them hidden from view. Instead of buttons, most shirts will have buttonholes on both edges, to allow for the use of studs. Widely spaced apart, studs should be simple and elegant, and match your cufflinks to a certain degree. If buttons are used and shown, then mother of pearl is preferred.
Collar – While wing collars (small peaks that shoot outward from the neck) are common in semi-formal dress, they are best kept for white-tie events. A simple fused turndown collar is the best for a tuxedo. Never wear a button-down collar for a semi-formal outfit.
Cuffs – Try and choose French cuffs over button cuffs and make sure your cufflinks are the same metal as your shirt studs.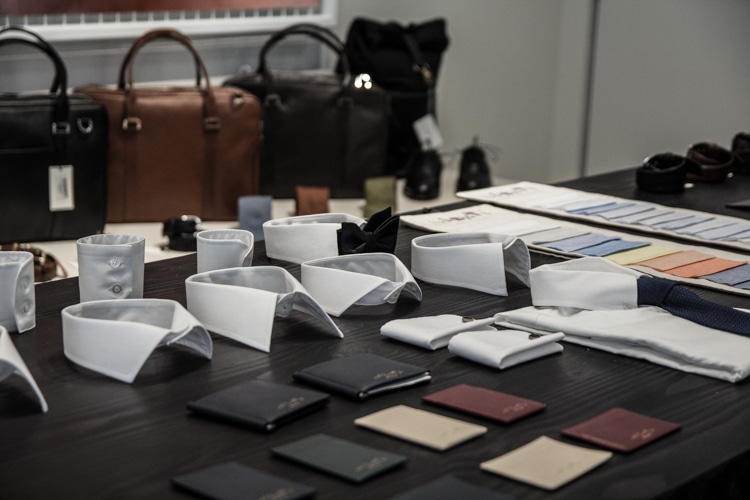 "One noticeable mistake I realise is that men tend to choose the wrong shirt to wear underneath a tuxedo. Usual suspects are casual shirts with a button down or unfused collar underneath their dinner jacket, whilst wearing a bow tie; this combination is a mistake for evening wear. One solution is wear a plain white fabric, French cuffs (optional but recommended for evening-wear), wide cutaway (fused) collar, with a hidden placket (optional); this shirt looks great underneath a dinner jacket and can be worn on other occasions for business or going out".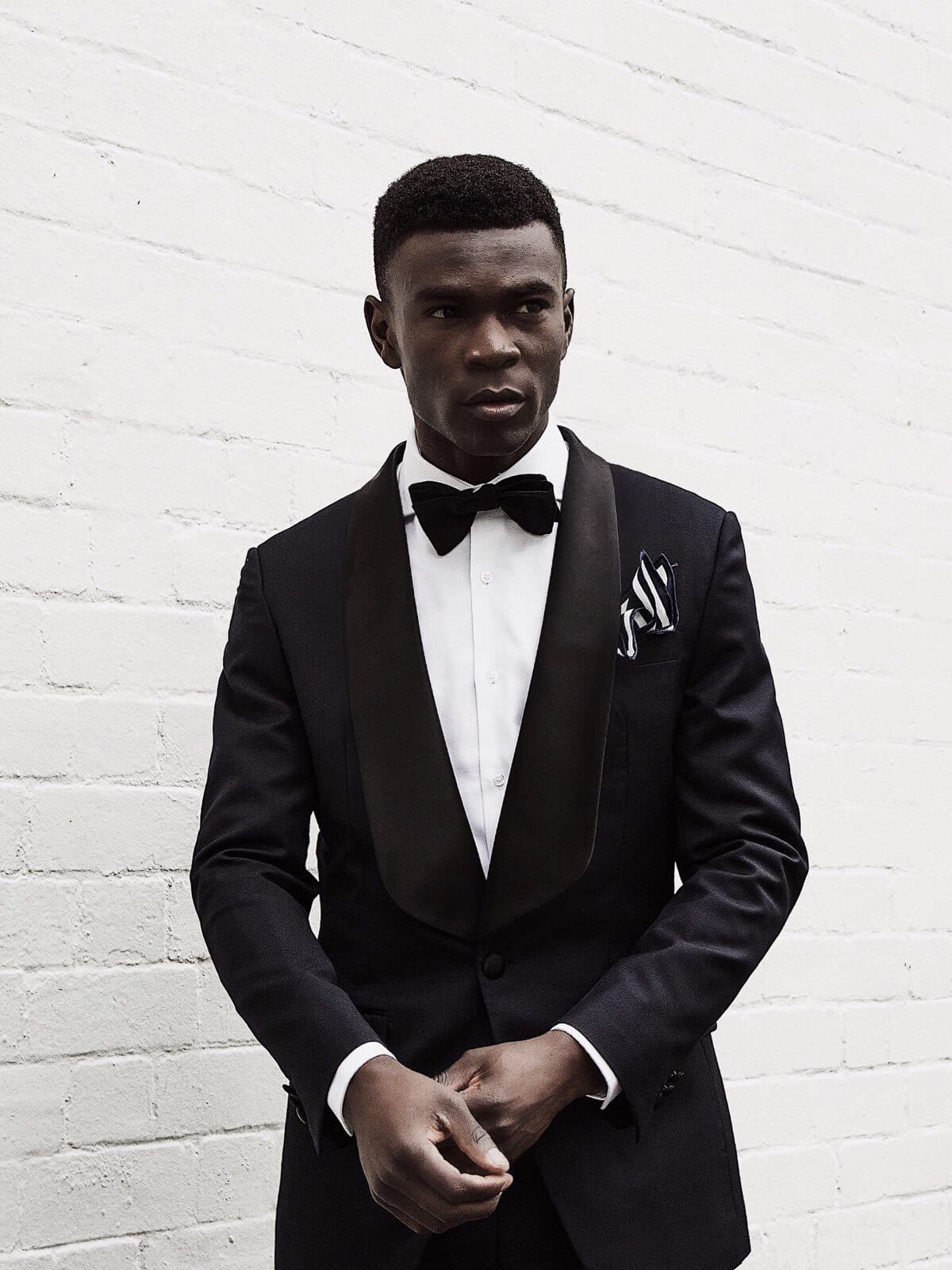 The Correct Black Tie for Black Tie
There are myriad styles, shapes and sizes of bow tie that you can choose to complete the outfit. The most important thing is that it is a) always a bow tie – never a neck tie and b) it is exactly the same colour and material as the lapels of your jacket. In case the name of the dress code wasn't obvious enough – it must be black. Never use a pre-tied bow tie. If you know how to tie your shoelaces then you know how to tie a bow tie, practise is all it takes to get the perfect bow every time.
Shoes & Socks
Traditionally speaking, patent leather formal pumps (or court shoes) were the preferred option for any formal dress, however this has evolved. While a pair of pumps is still an appropriate choice (especially with the grosgrain silk bow or strap adorning the front), the commonality of Oxfords makes them an easy choice. Choose either patent leather or smooth calfskin, and make sure they're polished. A plain-cap is fine, but avoid brogues – these were traditionally a walking shoe and not at all suited to semi-formal wear.
The socks should be thin and black – thick fabric socks don't match the elegance of the outfit.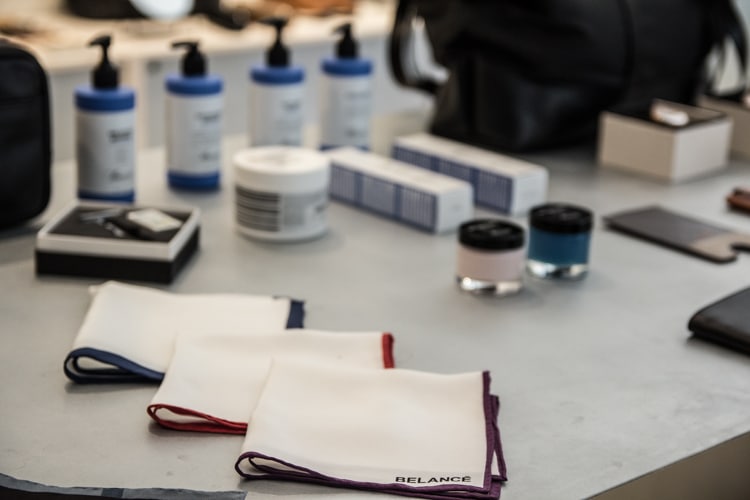 How to Accessorise Your Tux
There isn't much room for individualisation when it comes to a tuxedo, and all accessorising should be done with restraint. The following items are all options for consideration, but are not compulsory.
Cufflinks & Studs – as discussed above – show some restraint. Something classic like silver or gold (or even rose gold) with onyx is a safe bet. Modern times call for elegance and a "less is more" approach.
Suspenders – AKA braces, these attach to the trouser waist with six or eight buttons (depending on the style). While black or white are equally acceptable, they should be hidden at the waist underneath the cummerbund or waistcoat, and then masked over the shoulders and back by your jacket, and hence remain unseen throughout the evening.
Pocket Square – While you can fold it however you feel, it must be plain white, and preferably made from silk.
Boutonniére – If you choose to wear a flower in the lapel then opt for a single-blossom white or red choice, and make sure it's fresh – cloth flowers are for common dandies.
Watch – polite etiquette dictates that checking your watch during a black tie event is a sign of rudeness, and hence wearing one in the first place is not necessary. This attitude has, of course, evolved over time. A simple wristwatch with black leather band and details that match your studs and cufflinks is fine, but a pocket watch is even better.
It has been said many a time that a tuxedo is not a costume – it is a uniform. It's a mark of respect for your host, or a standard you set for your guests. It should look both exquisite and unremarkable; distinctive yet subtle. By knowing the few ways by which you can tweak and customise your glad rags without going overboard or making a fashion faux pas, you guarantee yourself a future of sartorially sexy semi-formal soirées.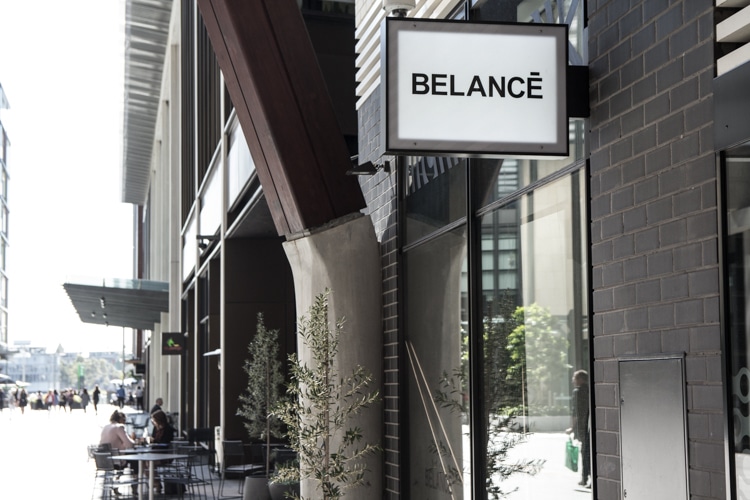 For a made to truly amazing made to measure tuxedo worthy of your next black tie event and many more to come, visit our friends over at Belance Tailoring.
Bonus
Check out Belance Tailoring's latest fashion film Audere Sapere in video below.