Style Guide: How to Dress Like Kanye West
Kanye West is a divisive force, but one thing that's universally undeniable is his impact on the fashion world. In his recent sit down with David Letterman for Letterman's new Netflix series My Next Guest Needs No Introduction, West revealed that he sees his athleisure based fashion label Yeezy as the Hermès of sportswear.
One of Kanye West's biggest fashion ventures was not that of a business nature, but his infamous transformation of Kim Kardashian West's style in late 2012.
By swapping Kardashian West's bright makeup and voluminous hair, skinny jeans, dresses and leggings sets, mid-calf length boots, and body con dresses courtesy of Sears, for contoured makeup and sleek hair, monochrome two-piece crop top and skirt sets, sheer gowns, slinky satin, and body con dresses (some things never change) by Givenchy, Versace, Balmain, and Azzedine Alaïa, West served to elevate Kardashian West from merely a reality star to a (fairly) respected member of the fashion world.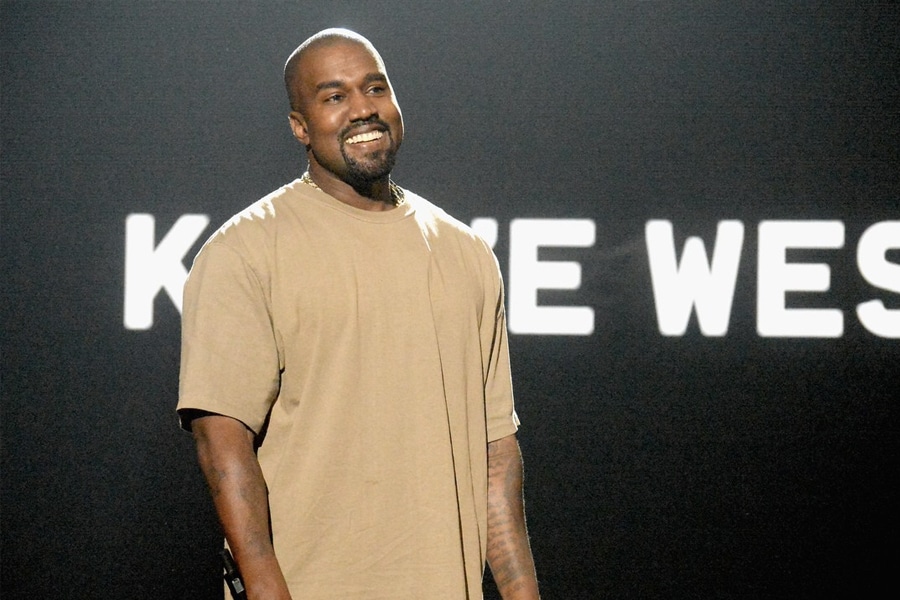 As of around late 2017, West and his wife's wardrobes seem to have amalgamated, with West dressing Kardashian in predominantly Yeezy fits, signifying the rise of the bike shorts era and the continued prevalence of athleisure. Although their wardrobes have formed a more unified aesthetic of late, the Kanye West style differs from Kim's in regards to the fit. Whilst his wife tends to opt for figure-hugging clothing which enhances her curves, Kanye wears layers upon layers of baggy garments which work to submerge his physical form.
Kanye West referenced this sartorial difference in his 2018 song, Violent Crimes, wherein West confessed he wanted his daughter North to dress more like him than his wife Kim Kardashian West, rapping "I pray your body's draped more like mine and not like your mommy's, curves under your dress, I know it's pervs all on the net."
Here's how to emulate Kanye West's style (sans MAGA hat).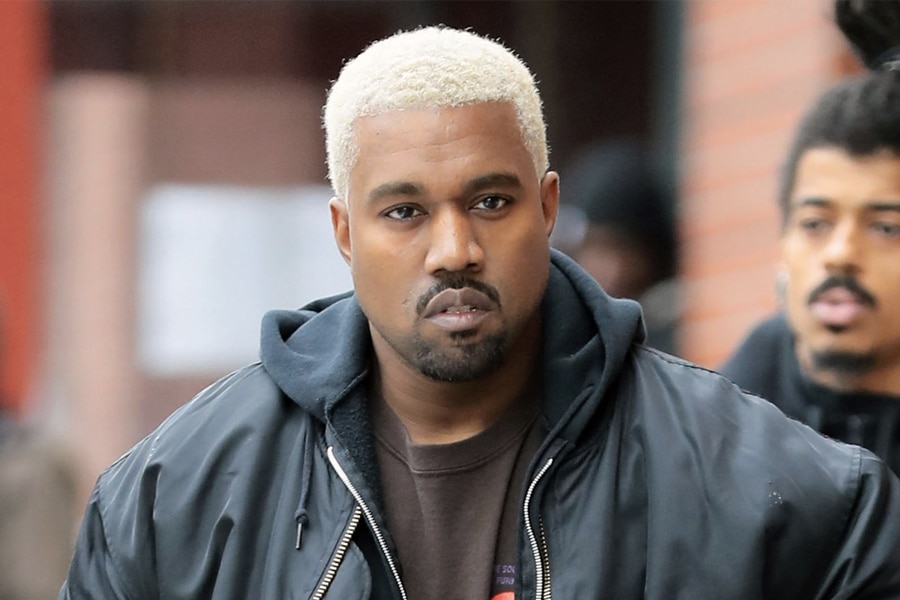 Get the Kanye West Blonde hair
Kanye West regularly experiments with different hairstyles, including a tiger-striped haircut, rainbow hair, a number two haircut, and even a noughties-era mohawk. However, one of our favourites is Kanye's 2017 platinum blonde hair.
The Kanye West blonde hair can be achieved by a close-cropped haircut with the top and sides relatively the same length (this works best on afro-textured hair), followed by a scalp bleach (best to get this done professionally).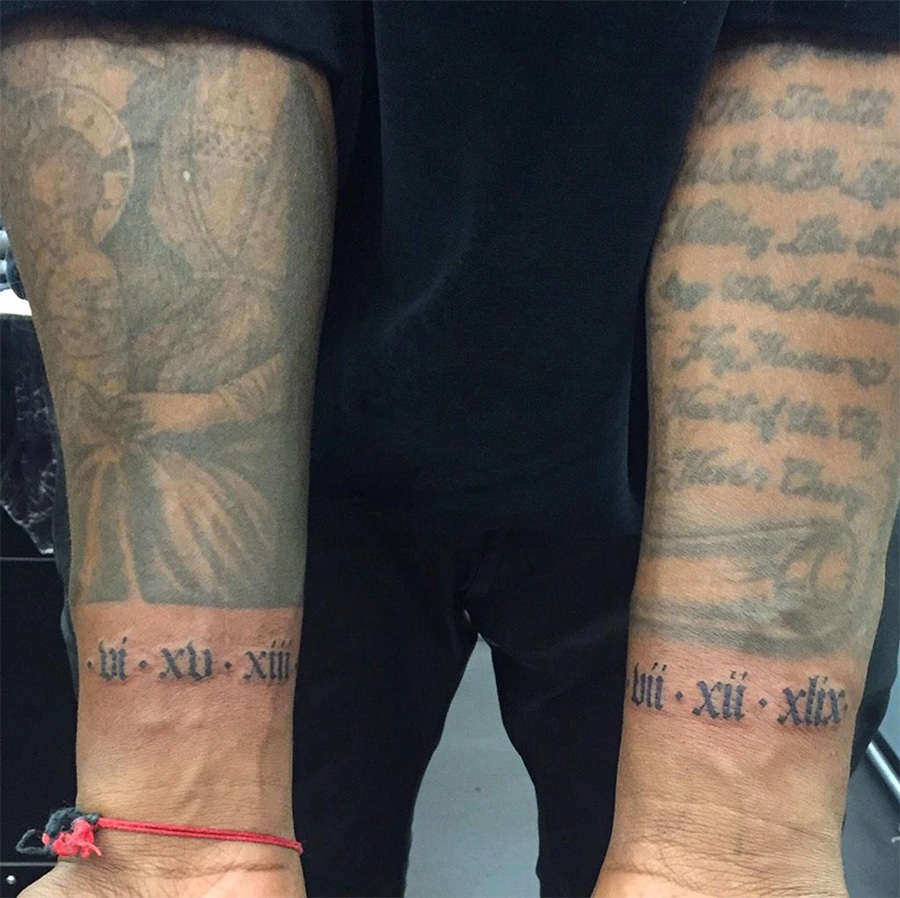 Kanye's Tattoos
Kanye has a few tattoos, however, these seem to serve more of a sentimental purpose as opposed to a style statement. West has the Roman Numerals XI.XV.XIII and VII.XII.XLIX inked on his right and left wrist respectively, representing his daughter North West and his mother Donda West's birthdates.
On his left forearm West has a long scroll which features the names of some of his songs including This Can't Be Life, You Made Me, and Hey Mama. Talking to MTV in 2002, Kanye talks about his forearm tattoo (and accurately predicts his own future), saying "I put a lot of the songs on here that changed my life, that means something at a point in my career. That way when my family is in a million dollar home… I'll say this tattoo is why we're here."
Kanye also has a dragon on his left arm, and a medieval style portrait of Madonna and child on his left, with the latter thought to represent the bond between him and his late mother Donda West.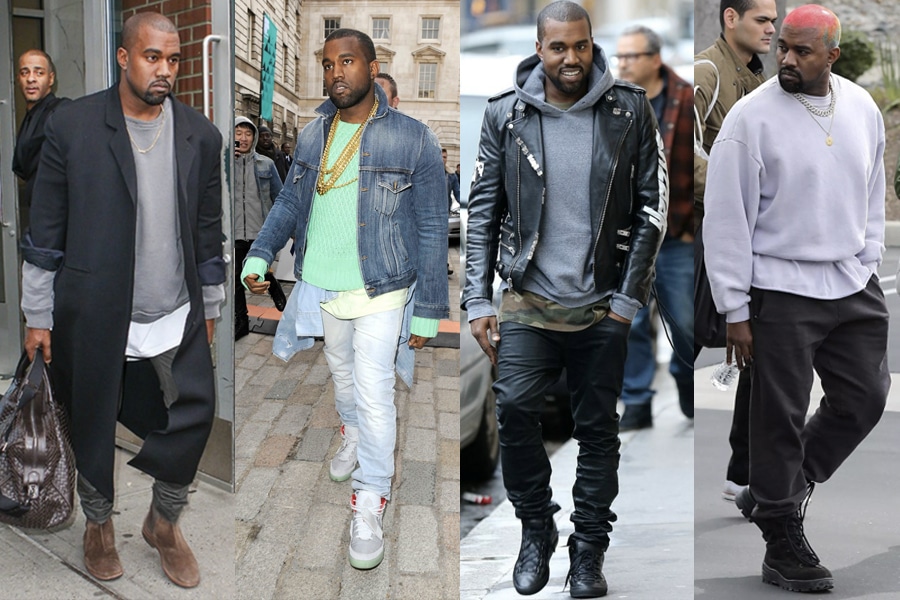 Experiment with Atypical Layering
When layering, the rule of thumb is to layer heavier longer pieces over lighter shorter items e.g. a thigh length or knee-skimming coat over a simple t-shirt or oxford shirt. However typical rules do not apply to Mr West who favours longline t-shirts, worn under shorter sweatshirts or sweaters. Some of Kanye's best reverse layering looks include a monochromatic grey t-shirt under a grey hoodie and a loose-knit COMME des GARÇONS sweater worn over a longline white tee and baggy camouflage trousers.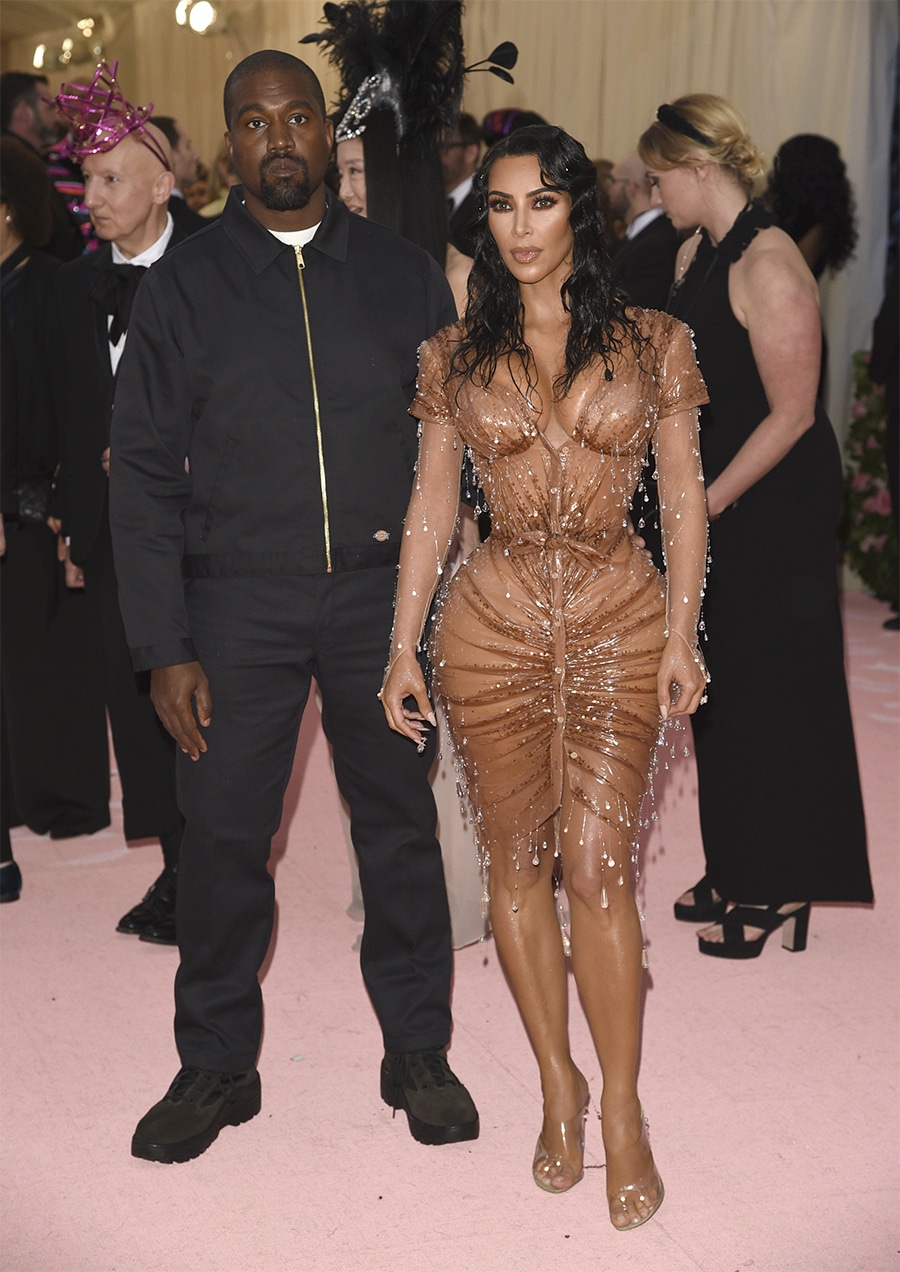 Play with Socioeconomic Sartorial Juxtaposition
Not only did Kanye completely ignore the "camp" theme of the 2019 Met Gala (typical), he opted for a surprisingly accessible, somewhat out-of-character choice of attire. In lieu of a conventional choice – Moschino, Brandon Maxwell, Gucci, and Louis Vuitton were among the most worn designers of the night – West wore a workwear-inspired look consisting of black chinos, a white t-shirt, Yeezy desert boots, and a black Dickies Eisenhower jacket, which retails for less than $50.
In contrast, West's wife Kim Kardashian West wore a custom latex Mugler gown, designed by Thierry Mugler himself; designer's first design in 20 years.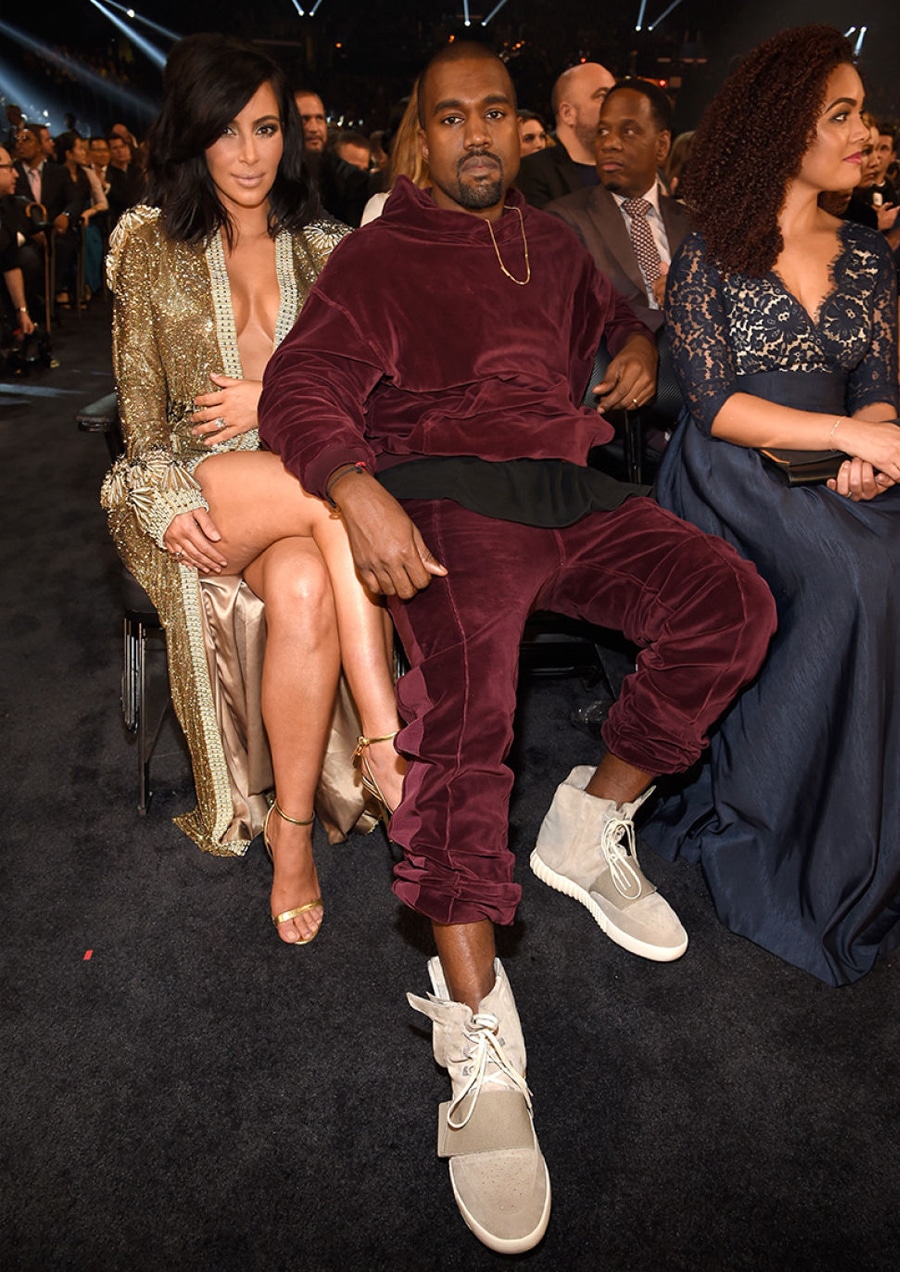 Elevated Casual
A proponent of athleisure on the red carpet, Kanye West is a master at elevating casual elements into a sleek, put together look. West donned an Adidas velour tracksuit in a burgundy hue to attend the 2015 Grammys. To avoid looking like he'd stepped out for a spot of grocery shopping, West coordinated his tracksuit with a longline black t-shirt worn underneath, taupe Yeezy 750 Boost high-tops, and accessorized with a simple gold chain for a relaxed yet appropriate Grammys audience look.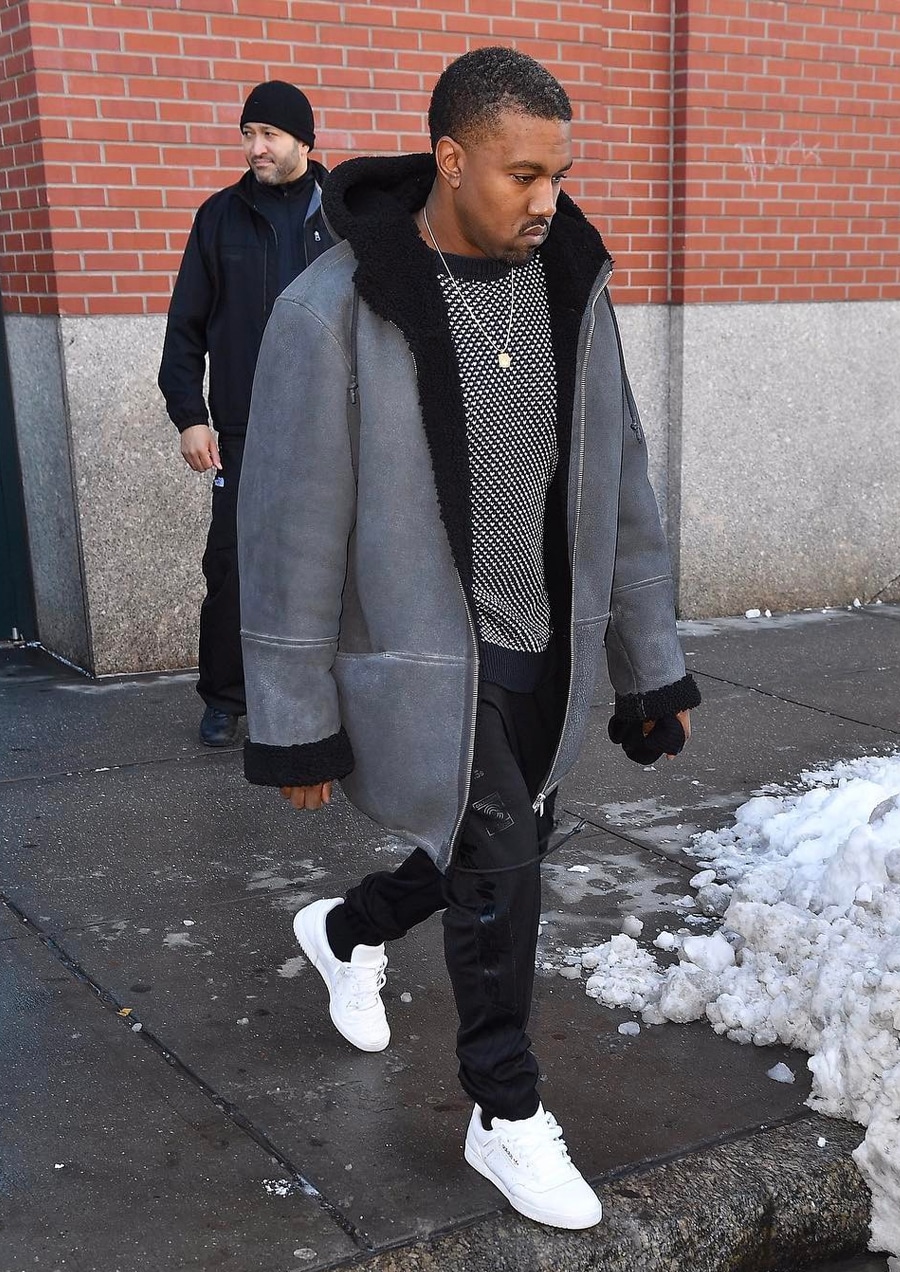 Take Cues from the Kanye West Fashion Line
One of Kanye's biggest supporters is Kanye; the rapper and designer regularly wears his own creations out and about as well as on the red carpet. Kanye West teamed an outsized Yeezy black and grey shearling coat with a black and white sweater, slim-fitting black track pants, and Adidas Yeezy Calabasas sneakers; essentially a walking Yeezy ad.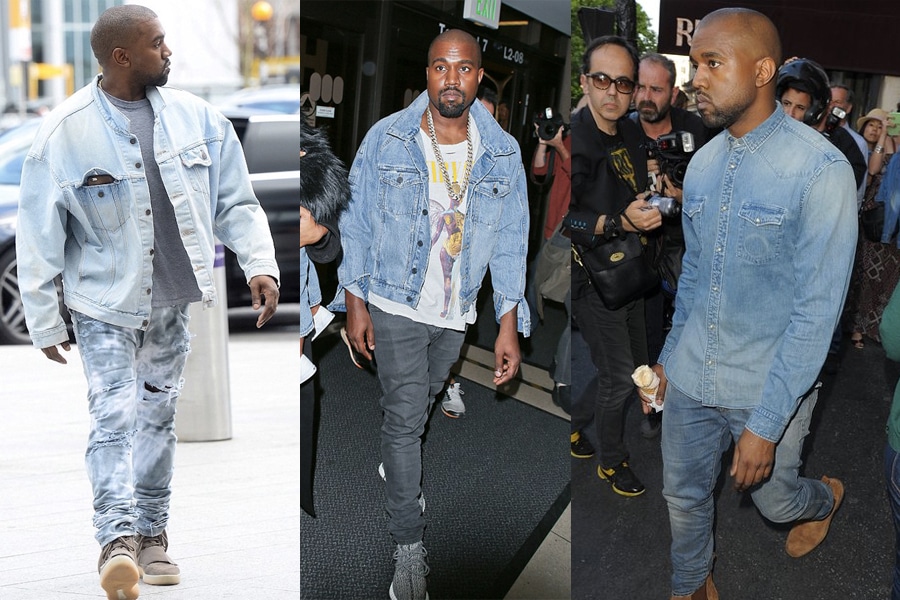 Don't be Afraid of Double Denim
Kanye has been pulling off double denim since the naughties, regularly pairing jeans with denim jackets. Key Kanye looks include a light wash denim jacket and jeans over taupe boots, a light blue denim jacket over a t-shirt teamed with grey jeans and Yeezys, and a light blue denim shirt over blue denim jeans paired with tan Chelsea boots (pre-Yeezy Kanye was regularly spotted wearing Chelsea boots).
You'll also like:
Style Guide: How to Dress Like Michael B Jordan
Style Guide: How to Dress Like Shia LaBeouf
Style Guide: How to Dress like Jason Statham
General FAQ
What brands does Kanye wear?
Kanye favours luxury brands like Balmain, Tom Ford and Balenciaga as well as classic active wear like Puma, Vans and, of course, Adidas, who he collaborated with to make Yeezys.
How do you dress like Yeezy?
Kanye often experiments with atypical layering anf often rocks the double denim. He also knows how to make a casual look elevated enough for a red carpet.