19 Best Luxury Shopping Sites for Designer Labels
The advent of online shopping has made it exponentially easier for us to shop, with hundreds of retailers just a click away. Leaving the comfort of your house is no longer a necessity to have access to luxury brands like Fendi, Supreme, Gucci, Tom Ford, and Prada, as well as streetwear staples like Junya Watanabe, Off-White, and AMIRI.
However, with the great variety of choice available to us, also comes a large variation in quality. To prevent you from sifting through endless Google shopping results or resorting to the same tried and tested sites, we've put together the 19 top luxury shopping sites for designer goods, streetwear, one-off collaborations, and ready-to-wear looks.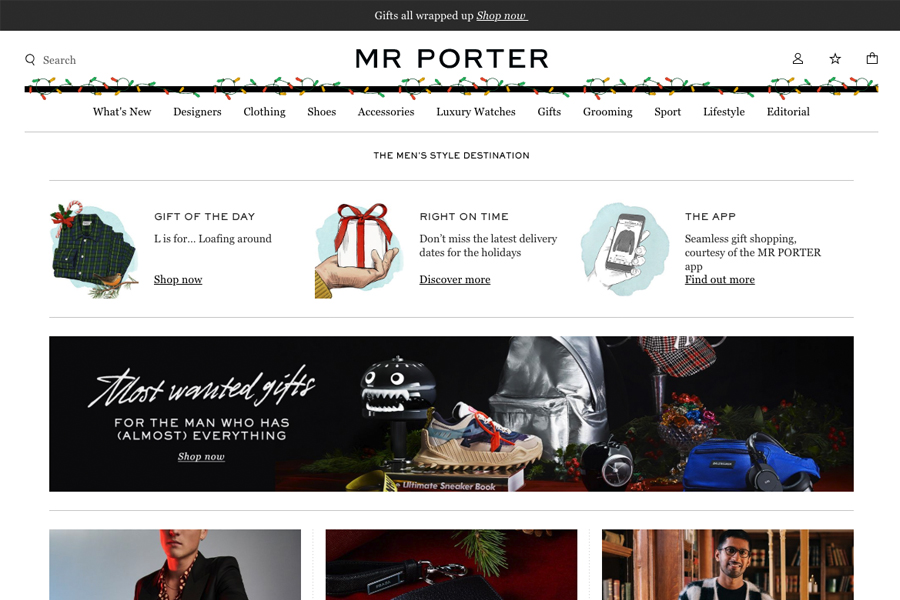 1. Mr Porter
One of the best in the menswear business; if you've ever shopped for clothing online, you'll have inevitably encountered Mr Porter. Part of the Yoox Net-A-Porter group, Mr Porter is an online only e-commerce platform that houses luxury clothing and goods from over 300 designers. With carefully curated and edited collections, it's easy to find what you're looking for on Mr Porter; from luxury menswear labels like Tom Ford, Gucci, and Ermenegildo Zegna, to streetwear favourites like AMIRI, Off-White, and Nike. Additionally, Mr Porter has an editorial section, The Journal, with styling tips, lookbooks, mental health discourse, and lifestyle content.
What they offer: clothing, shoes, accessories, home, luxury watches, grooming, sport
Designers available: Tom Ford, Brunello Cucinelli, Balenciaga, Gucci, Polo Ralph Lauren, Loro Piana, A.P.C, Amiri, Nike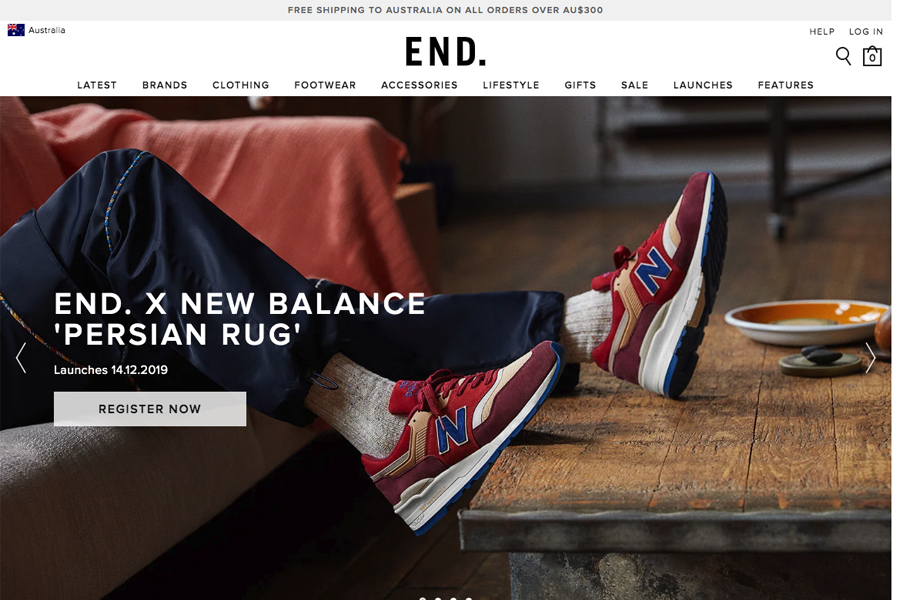 2. End. Clothing
With an extensive selection of menswear brands, End. Clothing is a go-to for luxury shopping. Though the UK based site carries mid-level brands like Rag & Bone, they also carry streetwear stalwarts like Bape, FUCT, Maharishi, and Stussy, along with luxury labels such as Thom Browne, Givenchy, Dries Van Noten, Rick Owens, Visvim, and Valentino. End. Clothing also seasonally updates its roster of brand with upcoming designers and regularly releases creative, high-quality lookbooks.
What they offer: clothing, footwear, accessories, lifestyle
Year started: 2005
Founder: John Parker, Christiaan Ashworth
---
Featured Video from Man of Many
---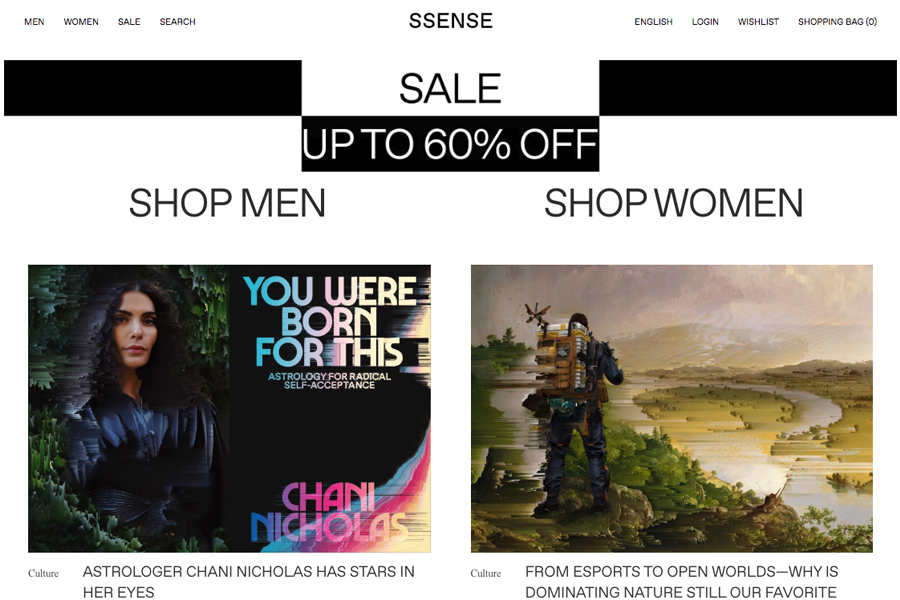 3. SSENSE
SSENSE is a premium retailer stocking over 500 labels, from established luxury houses to emerging designers and streetwear brands. Based in Montreal, Canada, SSENSE is primarily comprised of high-end labels from the likes of Issey Miyake, AMIRI, Loewe, Alexander Wang, and Balmain. SSENSE also features an editorial section, providing shoppers with perspectives on their roster of designers and other creatives, as well as other fashion and lifestyle content.
What they offer: men's and women's accessories, bags, clothing, shoes
Year started: 2003
Founder: Rami Atallah, Firas Atallah, Bassel Atallah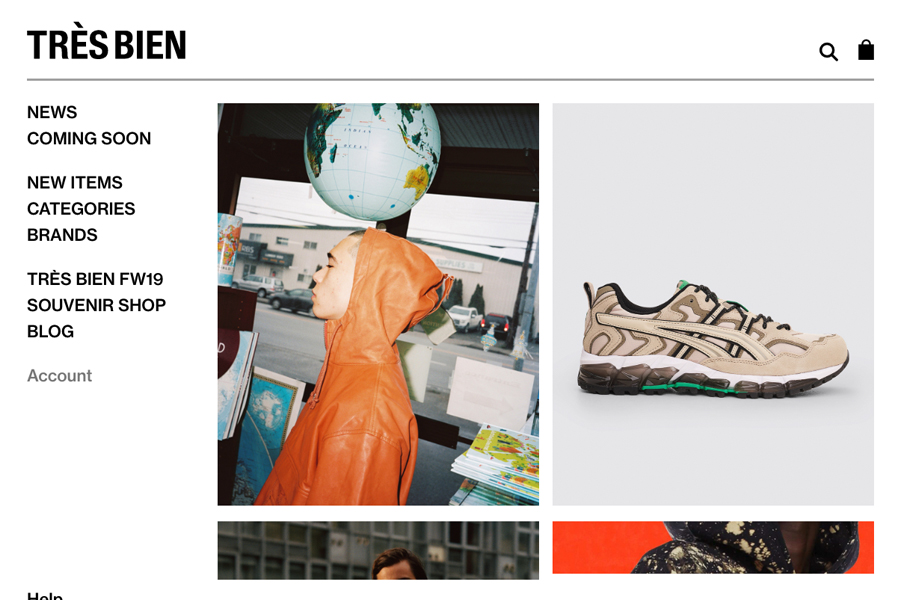 4. Très Bien
The go-to online store for the discerning shopper, Très Bien caters to those who prefer a more selectively curated approach to luxury fashion. The Sweden based menswear retailer takes a minimalist approach and stocks contemporary brands like Acne Studios, Malmö, Adieu, Needles, Martine Rose, Auralee, Gosha Rubchinskiy, Dime, and Y-3.
Year started: 2006
Founder: Hannes and Simon Hogeman, Jakob Törnberg and Björn Linden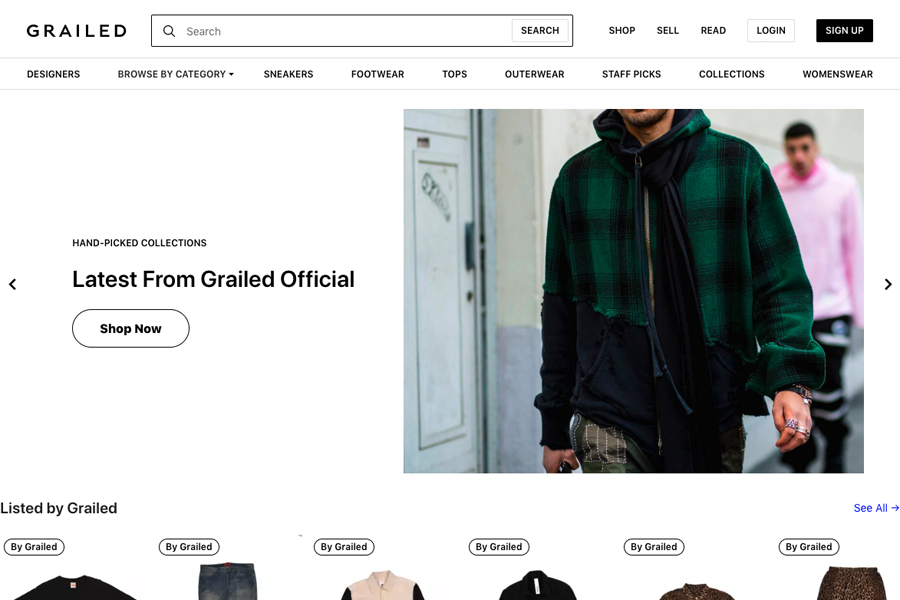 5. Grailed
For those looking for rare or sold-out products, Grailed is the holy grail. Whether you're after vintage YSL or were too slow to snag the latest Yeezys, Grailed is the place to go. The secondhand marketplace has vintage wares from designers like Chanel and Rick Owens as well as resales of Supreme, Air Jordans, and other hypebeast-esque streetwear.
What they offer: sneakers, footwear, tops, outwear, womenswear
Founder: Arun Gupta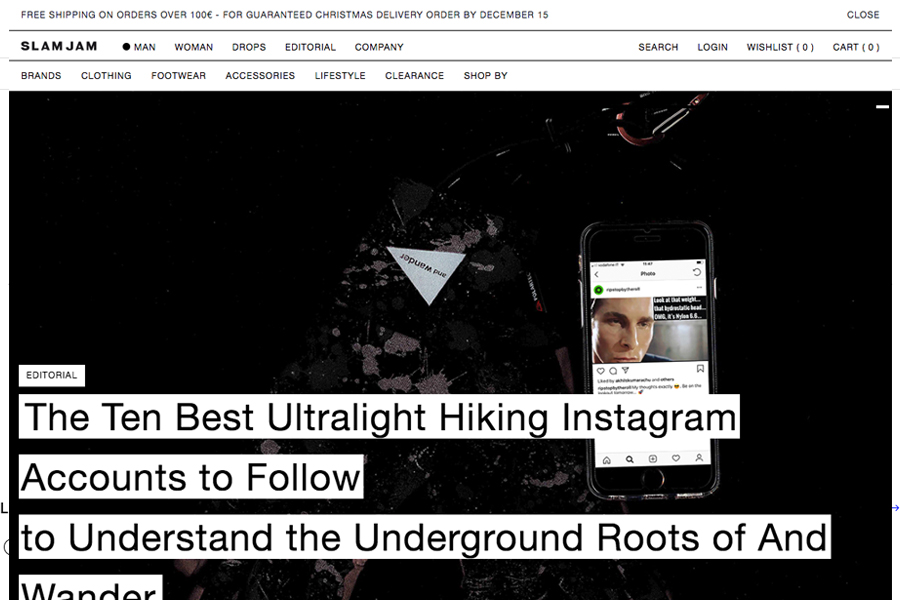 6. Slam Jam
Born in Ferrera, Italy 30 years ago as a brick-and-mortar boutique Slam Jam has long been Italy's foremost supplier of streetwear. Today, the conceptual site carries wares from the likes of JW Anderson, Comme des Garçons, Dries Van Noten, Gosha Rubchinskiy, Helmut Lang, Public School, and A-Cold-Wall*. As well as stocking streetwear stalwarts, Slam Jam also engages in collaborations of its own, with previous projects involving collabs with Carhartt WIP and Needles. Additionally, their editorial section has a unique visionary feel, filled with editorials, interviews, and brand info.
What they offer: clothing, footwear, accesories, lifestyle
Year started: 1989
Founder: Luca Benini
7. HAVEN
Canadian based HAVEN has built a name for itself since its inception in 2006. The men's fashion boutique is carefully curated and an ideal place for those who are interested in discovering more Japanese brands, stocking Junya Watanabe, Bape, Wacko Maria, and Sasquatchfabrix amongst offerings from Cav Empt, Stone Island Shadow Projects, and Acronym. HAVEN also stocks its own apparel, flogging t-shirts, logo hoodies, trucker jackets, and flannels.
What they offer: accessories, apothecary, bottoms, footwear, headwear, home goods, knits, outerwear, publications, shirts, sweaters, t-shirts
Year started: 2006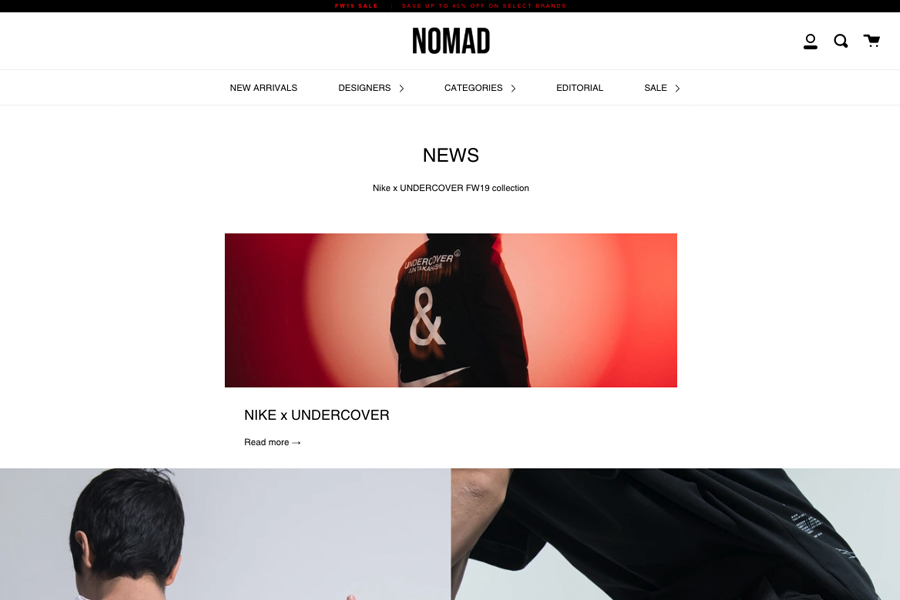 8. Nomad
Canadian based Nomad presents its products in an understated, minimalist way. The store has a tightly curated range of streetwear designers like Junya Watanabe, Calvin Klein, adidas Originals, John Elliot, and OMAC, as well a small inhouse Nomad range consisting of caps, t-shirts, and tote bags.
What they offer: clothing, accessories, footwear, lifestyle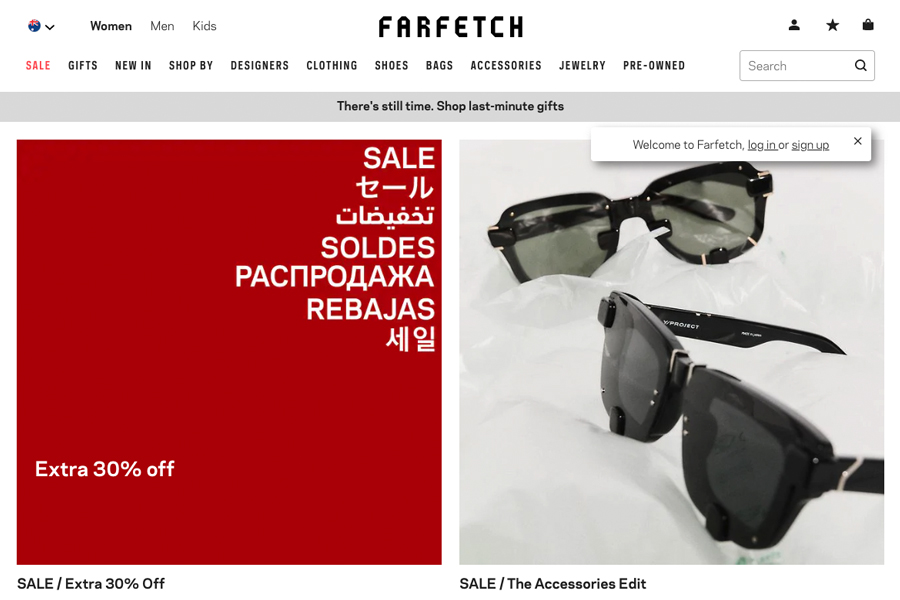 9. Farfetch
With products from fashion houses and brands around the world, Farfetch boasts the world's largest selection of luxury attire and accessories. With established luxury brands such as Altuzarra, AMIRI, Balenciaga, Marni, Fendi, Moncler, and Prada as well as emerging designers on its book, Farfetch offers a wide range of – often discounted – designer wares your fingertips.
Year started: 2007
Founder: José Neves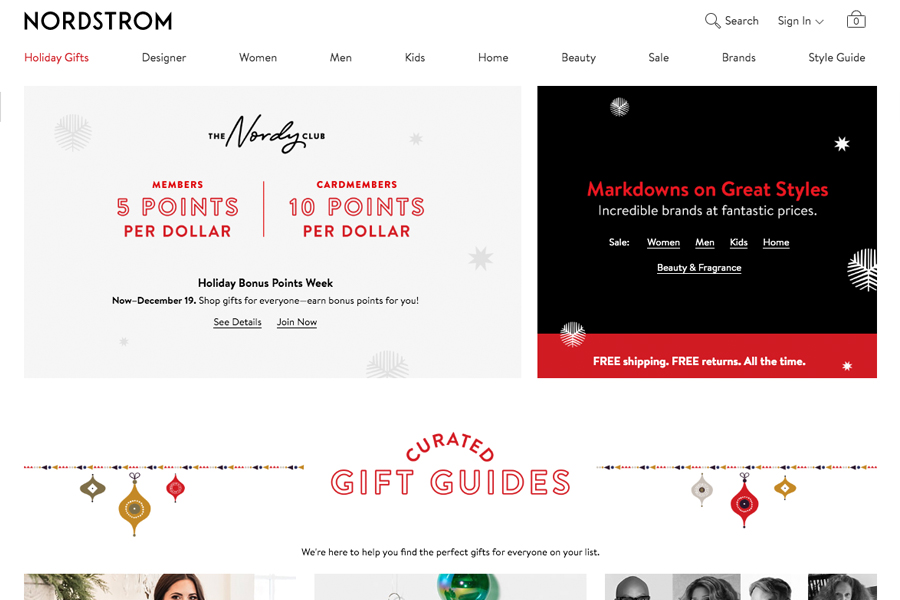 10. Nordstrom
Well established as a leading luxury retailer for over a century as a brick-and-mortar store, the brand is newer to the online retail game. However, the introduction of its e-commerce site allows customers to access Nordstrom's wide range of designer products, including garments from Balenciaga, Dries Van Noten, and a Nordstrom x Nike collaboration.
Year started: 1901
Founder: John W. Nordstrom, Carl F. Wallin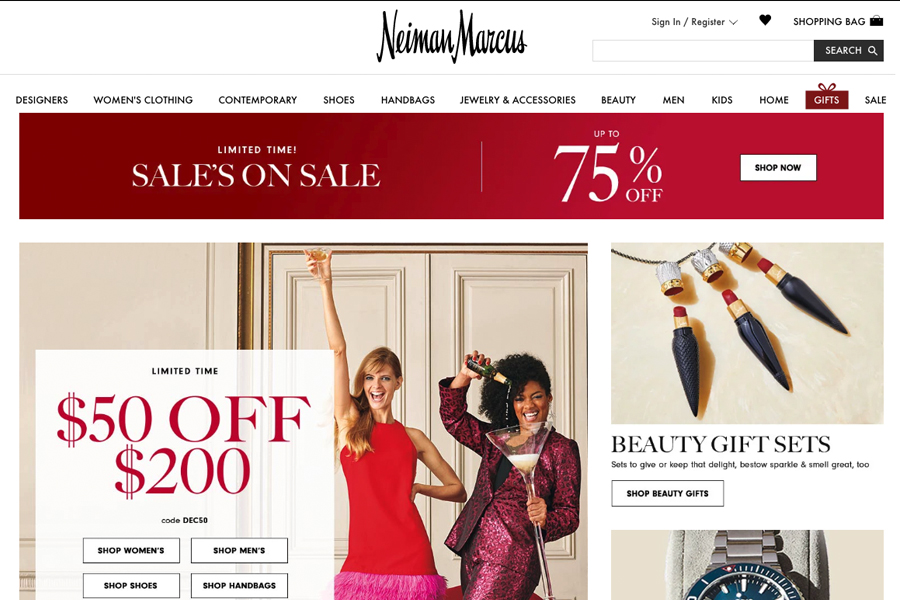 11. Neiman Marcus
The American luxury retailer stocks an extensive range of designers, including the likes of Tom Ford, Gucci, Ermenegildo Zegna, Fendi, Off-White, Saint Laurent, and Versace.
Year started: 1907
Founder: Carrie Marcus Neiman, Herbert Marcus, Abraham Lincoln Neiman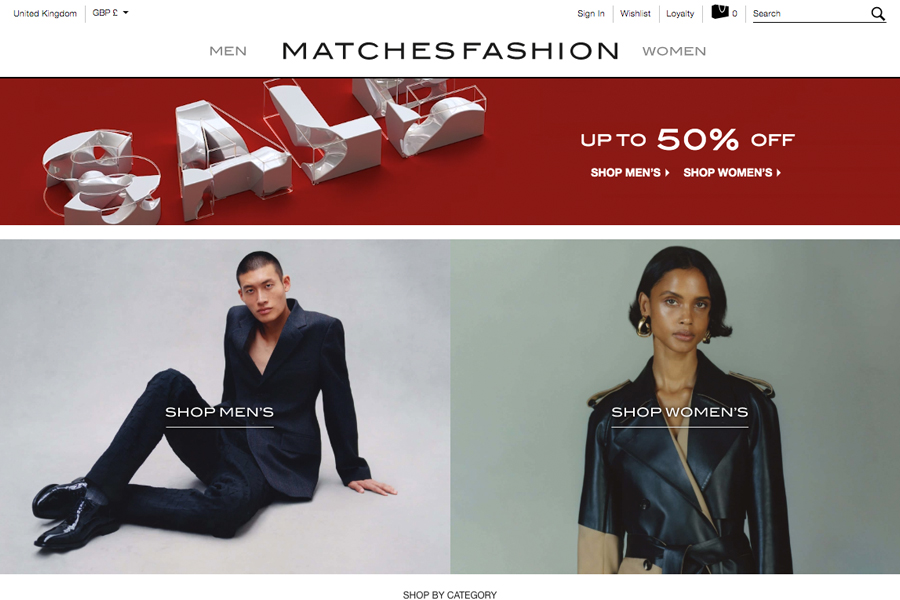 12. MatchesFashion
Offering one of the most well curated range of established and emerging designers, MatchesFashion is a go-to for luxury lovers, with their stock list including Vetements, Lanvin, Gucci, Saint Laurent, Prada, Givenchy, Alexander McQueen, Burberry, and The Row. MatchesFashion regularly drops well curated themed seasonal edits and immaculately styled lookbooks.
What they offer: men's fashion, women's fashion, fashion accessories
Year started: 1987
Founder: Tom Chapman, Ruth Chapman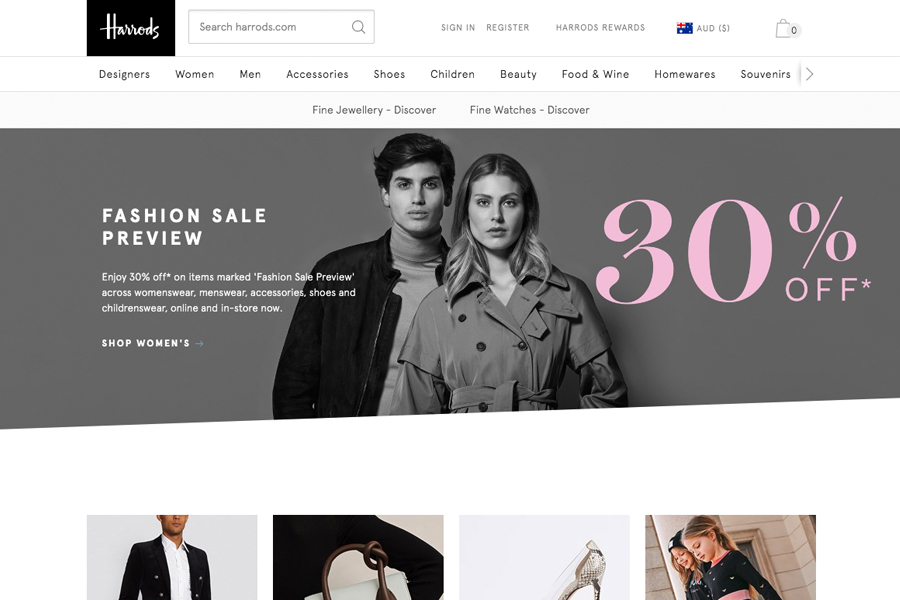 13. Harrods
One of the most iconic luxury retailers, Harrods (and their green bags) is one of the most well-known names in the world. The London-based department store offers a wide selection of luxury goods around the world via their online store, with names like Bottega Veneta, Moncler, Kenzo, Dolce & Gabbana, and Givenchy on their books.
Year started: 1849
Founder: Charles Henry Harrod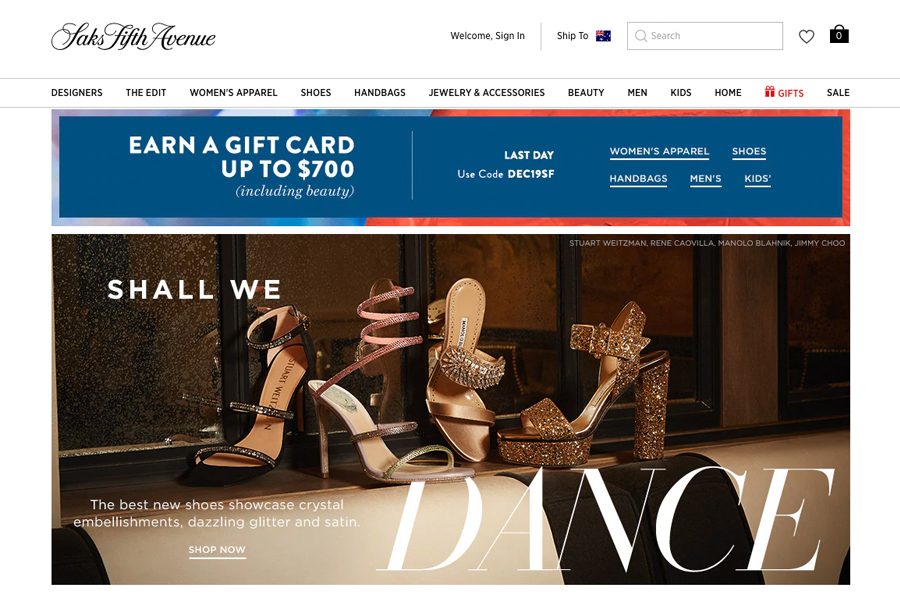 14. Saks Fifth Avenue
Even if you can't make it to Manhattan, the Saks Fifth Avenue online site is a mecca of luxury brands. From Moncler and Stella McCartney to Alexander McQueen and Armani, Saks Fifth Avenue has something for everyone.
Year started: 1867
Founder: Andrew Saks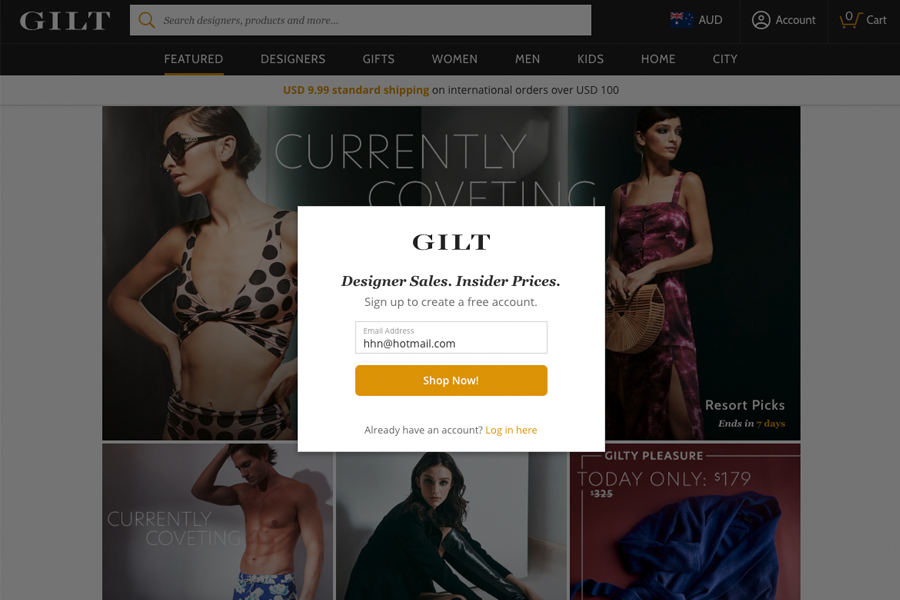 15. Gilt
US based online shopping and lifestyle website Gilt stocks seasonal clothing and accessories, as well as luxury lifestyle items like home decor, alcohol, and grooming gear. The site works on a membership basis, and carries designer labels like Moncler, Alexander McQueen, Tommy Hilfiger, and Mont Blanc at discounted rates of up to 70% off.
Year started: 2007
Founder: Kevin P. Ryan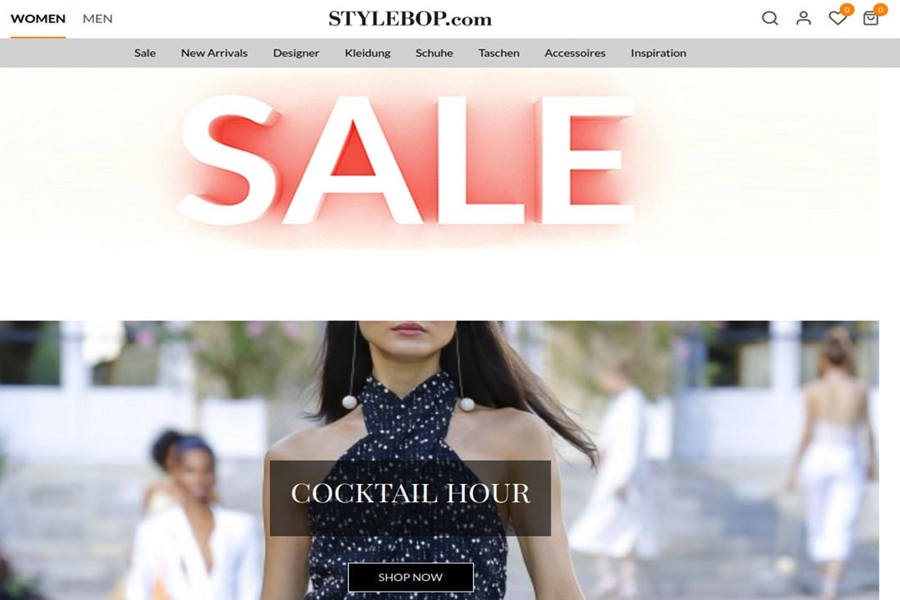 16. STYLEBOP
The e-commerce brand carries over 200 brands with their portfolio including established luxury houses, cult favourites, streetwear labels, and emerging designers. Their portfolio includes Balmain, Boss, Burberry, Kenzo, Palm Angels, Off-White, Axel Arigato, and Vince, with STYLEBOP often offering sales of up to 70% off.
Year started: 2004
Founder: Mario and Thorsten Eimuth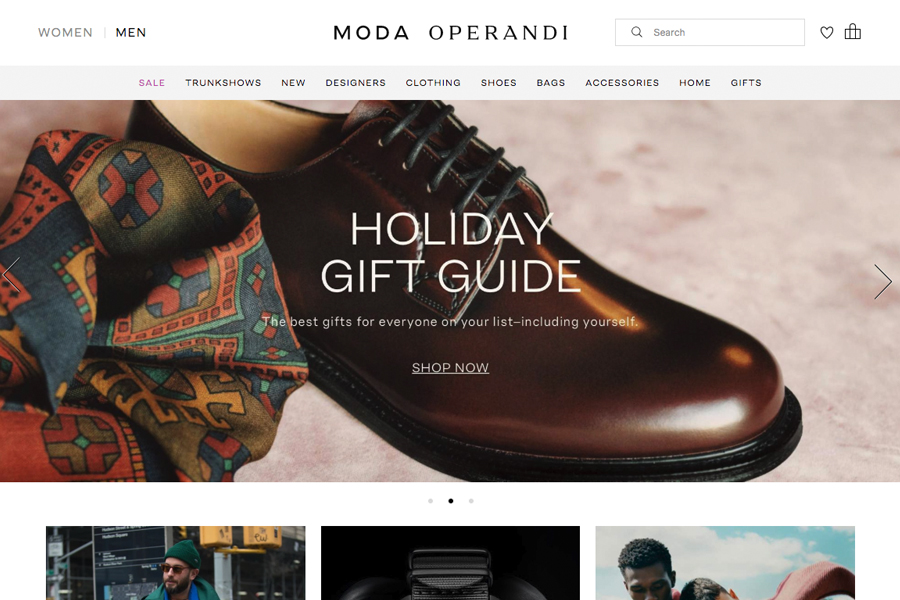 17. Moda Operandi
A one-of-a-kind site in the luxury shopping market, Moda Operandi allows you to shop designer collections in their entirety straight off the runway. Moda Operandi often has heavily discounted products, as well as unique curatorial sales.
Year started: 2011
Founder: Lauren Santo Domingo, Aslaug Magnusdottir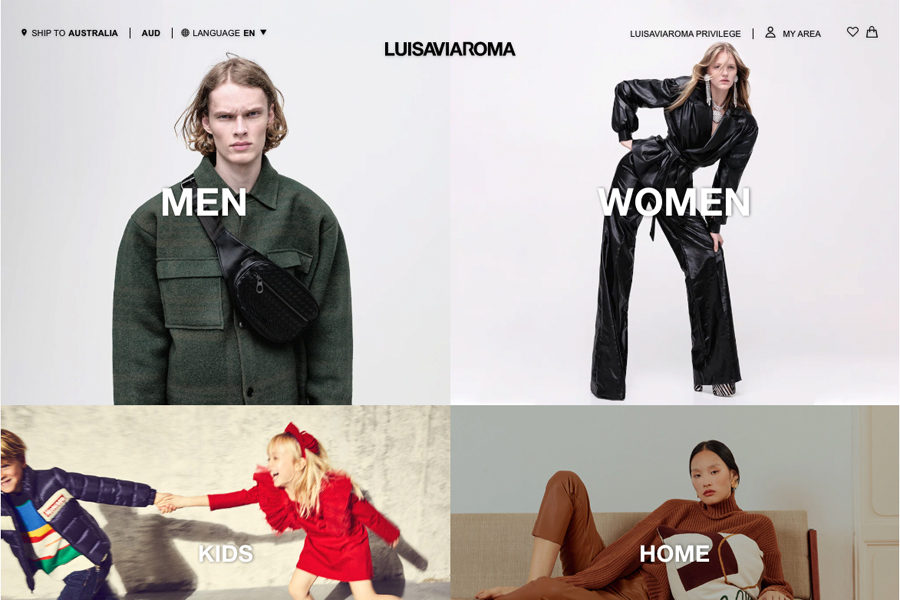 18. Luisa Via Roma
Founded in 1930 in Florence, Italy, Luisa Via Roma began as a brick-and-mortar luxury store, later opening an online site for customers around the world in the early 2000s. LVR features established designers as well as emerging and avant-garde talent, making it the ideal place to discover new designers.
Year started: 2000
Founder: Andrea Panconesi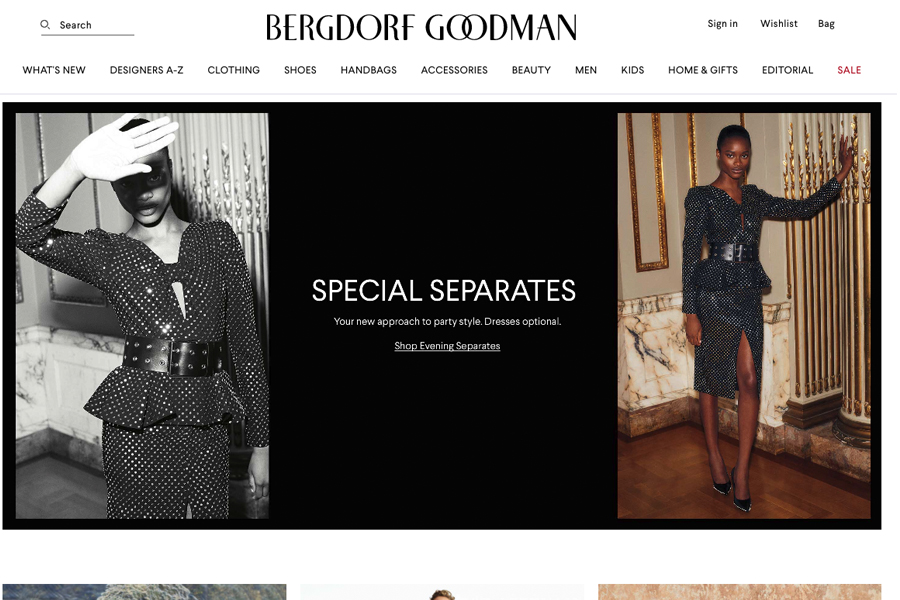 19. Bergdorf Goodman
Manhattan based luxury department store Bergdorf Goodman has long been a prime destination for designer collections. Stocking designers like Givenchy, Saint Laurent, Alexander Wang, Lanvin, Gucci, Dolce & Gabbana, Khaite, and Moncler, Bergdorf Goodman's online store makes it easy to shop luxury garments, regardless of your location.
Year started: 1899
Founder: Herman Bergdorf
General FAQ
Where can I buy luxury brands online?
Some great websites to buy luxury brands online are Mr. Porter, End Clothing, Harrods, SSENSE, and Neiman Marcus.
What stores are like End CLothing?
Some sites that are similar to End CLothing are Mr. Porter, FarFetch, SSENSE, and MatchesFashion.
---
Featured Video from Man of Many