Dad's on the lookout for stylish staples this Father's Day – and we're bringing you the goods. Whether he's been explicit about asking for it or not, we've got your dad's best intentions in mind with our selection of 10 stylish staples to make your Father's Day extra special.
Covering everything from shirts to rugby's, chinos, and even accessories. There isn't a product on this list that wouldn't leave mum jealous of dad's newfound stylish ensemble. Let's check it out.
Take our word for it, Dad's on the lookout for some stylish staples this Father's Day – and we've got the goods. We're breaking down 10 stylish pieces for every dad, with quality, style, and materials at the top of our list.
The 1985 Polo
The 1985 Polo
Striking the perfect balance between elevated appeal, comfort, and sports history, the 1985 Polo oozes with retro-appeal that's seemingly been cool for decades. Probably because polo shirts refuse to go out of style! Whether you're looking for the sport or smart-casual look, a polo shirt from Tommy Hilfiger is more than happy to oblige with a sporting archive-inspired silhouette ready for all occasions. Simply put, this polo is an effortless smart-casual piece.
We love the stretch organic cotton pique construction, featuring flex technology, polo collar, two-button placket, and sufficient Tommy Hilfiger branding on the chest. We recommend pairing this polo with almost anything of your choice, but a pair of shorts or chinos makes the most sense of style in our books.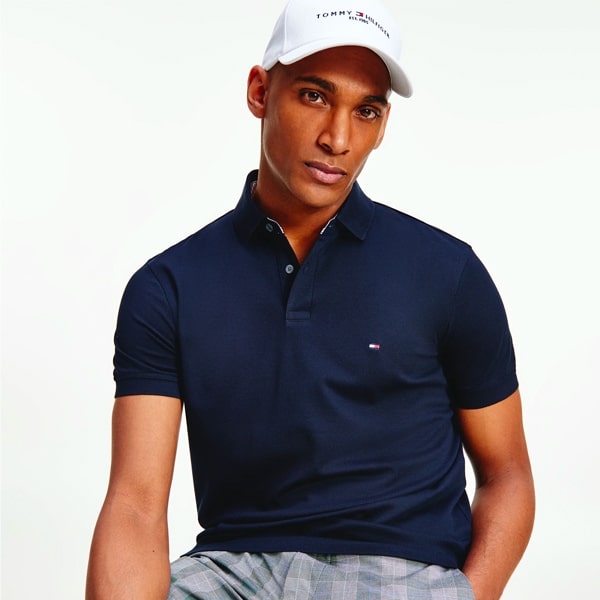 Rugby Shirt
Rugby Shirt
Iconic is an understatement. Rugby shirts are a part of every Aussie dads history because whether he grew up with them or came across them later in life, there's a reason they're a style staple for dads around the world. In the case of Tommy Hilfiger's stripe rugby shirt, it's likely the most iconic, with a signature stripe detailing and large colour-blocking it's the perfect casual ensemble for whatever the weekend holds.
Cut from a durable 100% cotton construction and sporting the classic button-up placket in the front, there's a reason you'll struggle to find a dad without one. We love the classic collar, seen here in a contrasting hue of blue. Pair this long-sleeve style staple with a pair of shorts when the weather can't make its mind up, or a pair of denim jeans to complete the preppy edged outfit.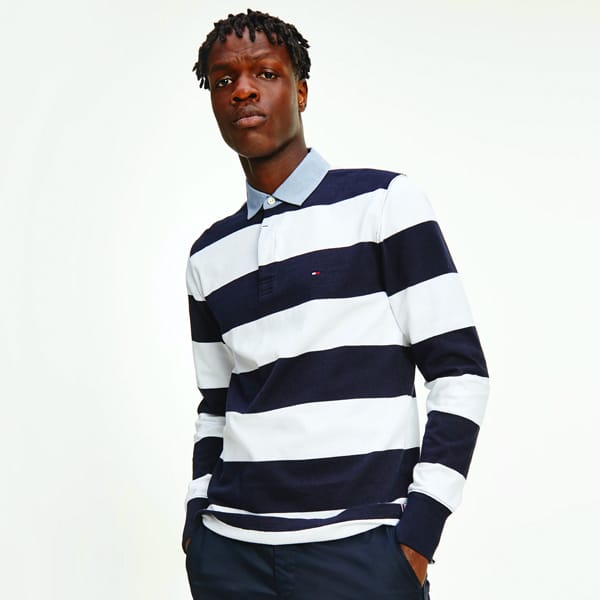 Poplin and Cotton Shirts
Poplin and Cotton Shirts
They pretty much speak for themselves, but preppy poplin button-ups are back in a big way! Available in a variety of colours, this poppin' – excuse me, poplin* – option from Tommy Hilfiger is infused with stretch materials for everyday comfort, tailored, barrel cuffed, and hemmed. What more could dad possibly ask for from a button-up shirt?!
We recommend pairing this style staple with a pair of chinos and brown Derbys or sneakers. To answer the age-old question "to tuck or not to tuck" well, we're noticing a strong trend in not tucking today but it all depends on the occasion. Taking the kids to basketball on a Saturday? Untuck. Going out to dinner at a hatted restaurant? Tuck that sucker in! Most importantly, add a belt whenever you tuck in and make sure it matches while you're at it.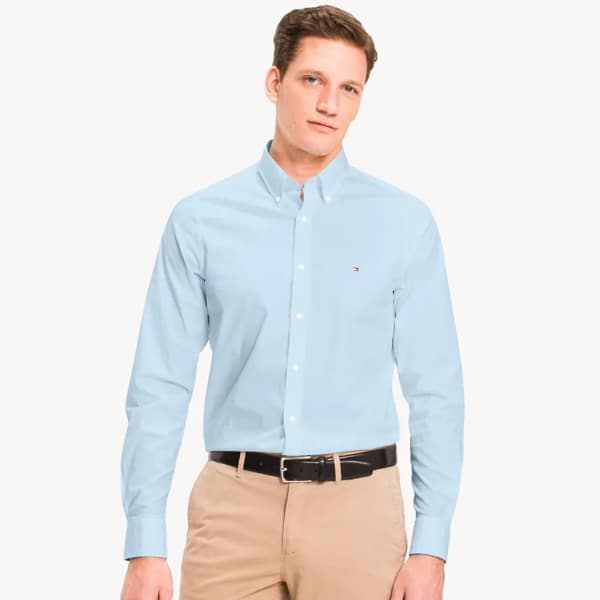 Signature Crew Neck Sweater
Signature Crew Neck Sweater
Transcend every season with this crew neck sweater from Tommy Hilfiger. We can't think of a scenario this sweater doesn't work in – ok, maybe a wedding – but that's beside the point. We're talking about a transeasonal staple that's comfortable, stylish, and works perfectly with chinos, denim jeans, and any shirt you want to throw underneath it.
These days, a little logo goes a long way, and the signature crew neck sweater takes this motto and runs with it. You'll find the classic embroidered flag logo at the chest, along with a rib-knit collar, cuffs and hems finished in a 100% cotton composition. It's hard to argue with that. We recommend pairing this piece with a button-up collared shirt underneath or for casual appeal a plain white t-shirt and denim jeans. Finish off the outfit with some white sneakers and you're good to go.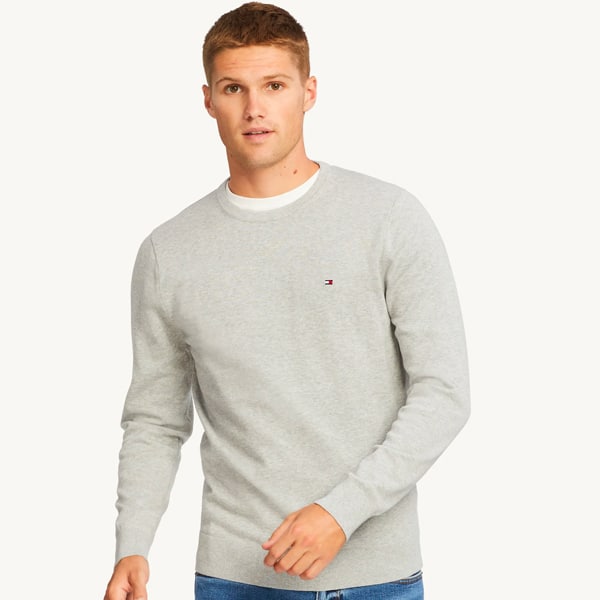 Denton Chino
Denton Chino
A good pair of black chinos are a staple piece of any modern man's wardrobe. Casual Friday? Sorted. Taking the kids to football on the weekend? Sorted. These are the do it all stylish staple that is ready for any occasion. Wear them every day and accessorise accordingly, but more on that in a minute.
This choice option of chino from Tommy Hilfiger features every bit of tech, style, and fabric you could possibly want in a pair of chinos. With stretch, organic cotton, flex technology, two back buttoned pockets, and finishing logo touches throughout. The fit is a straight leg, perfect for pairing with a pair of casual loafers of white sneakers, and with a composition of 98% cotton they're more than a little comfy too. We recommend pairing these with a cotton button-up shirt for the ultimate smart-casual fit.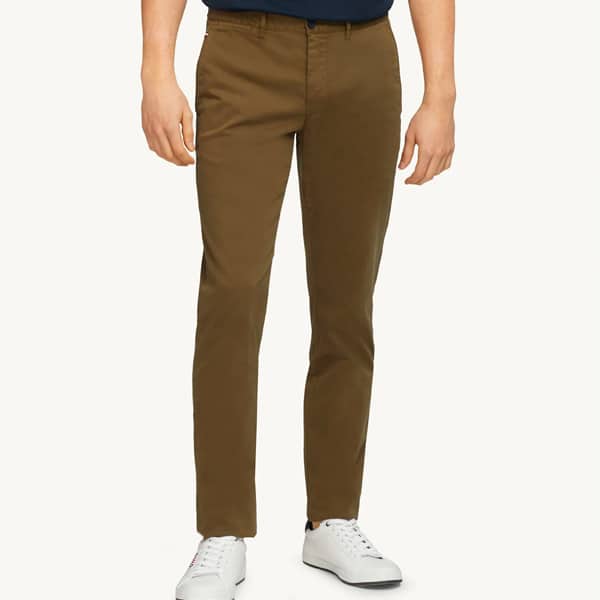 Accessories
Accessories
What's the point in looking good when you don't have the accessories to match? Tommy Hilfiger is coming through in a big way with a selection of leather goods and professional accessories that work in your daily commute and on special weekend occasions. Starting with the basic 1985 logo cap – it's a staple of any outfit today – simply because you can forget bad hair days and look great while doing it! A cap also doubles as a 'dress down' accessory, that is, one that can turn a preppy outfit into a casual ensemble in an instant with its sporty appeal.
We love the seamless, smooth and sculpted computer bag that will comfortably fit a 15-inch laptop. Featuring zip closures, two top handles, and an adjustable shoulder strap this bag will see fit for your daily commute. Cash is a thing of the past, a quality card holder is all the modern man really needs, and the Tommy Hilfiger leather cardholder is ready for business with a pebble-grain and smooth leather combination. This compact card holder also features the signature logo in enamel – a nice touch indeed.
Buy it here: Cap Buy it here: Card Holder
Buy it here: Belt Buy it here: Computer Bag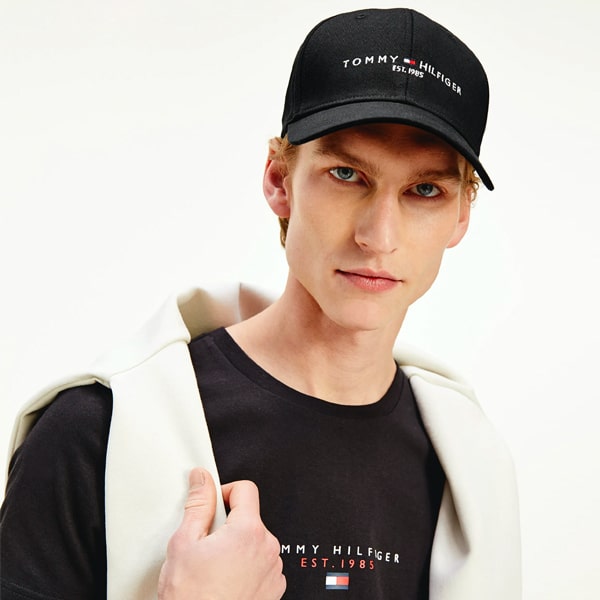 When you're not turning an outfit down with a cap, you're probably turning it up with a belt. The Denton Braided Stretch Belt does so flawlessly with a square buckle, and plenty of branding to boot. We love the braided design that screams smart-casual and the enamelled logo on the keeper is a nice touch. You're on to a winner no matter which way you look at it with these accessories.
Take our word for it – dad is looking for a little style this Father's Day and Tommy Hilfiger is offering a smorgasbord of stylish staples. For more style inspiration for dad, follow the link below to check out the entire Tommy Hilfiger Father's Day range. Available now.