Conor McGregor's 'Fuck You' Pinstripe Suit
Two years after it was first unveiled, the Conor McGregor 'Fuck You' pinstripe suit hasn't lost an ounce of its notorious lustre. Created by luxury suit maker David August, the custom three-piece made clever use of the world's most offensive phrase, converting it into a stylish pattern.
Rocking the garb, McGregor strolled onstage in Los Angeles, where he traded verbal jabs with Floyd Mayweather. It was the first among a handful of widely publicized press conferences, which were in some ways more legendary than the fight itself.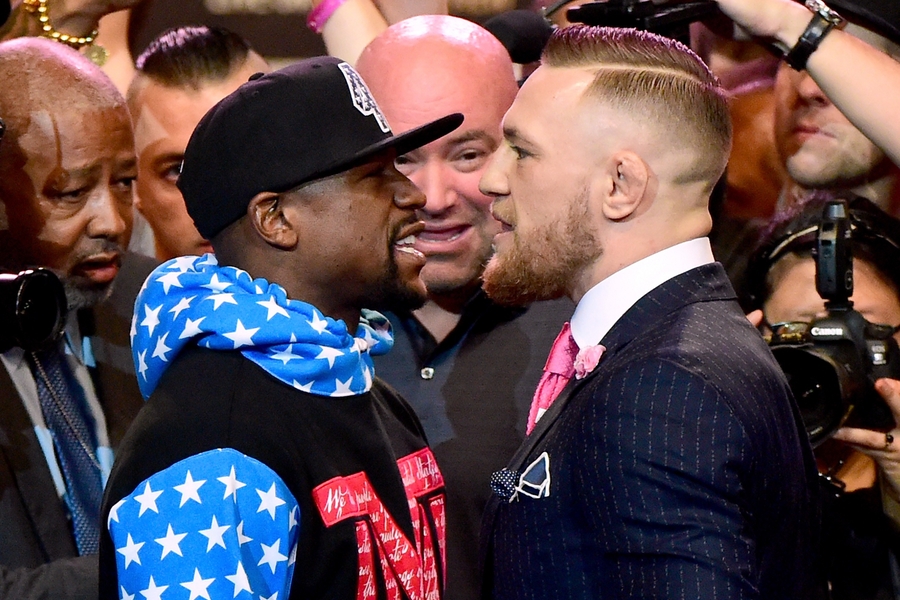 On one hand, you could say the Conor McGregor pinstripe suit was par for the course. After all, what's more 'Conor McGregor' than dressy apparel adorned with the words 'Fuck You' over an over again? On the other hand, it was a refreshingly subtle approach, especially when compared to the MMA star's louder gestures.
And by "louder gestures," we mean just about everything else he's ever done.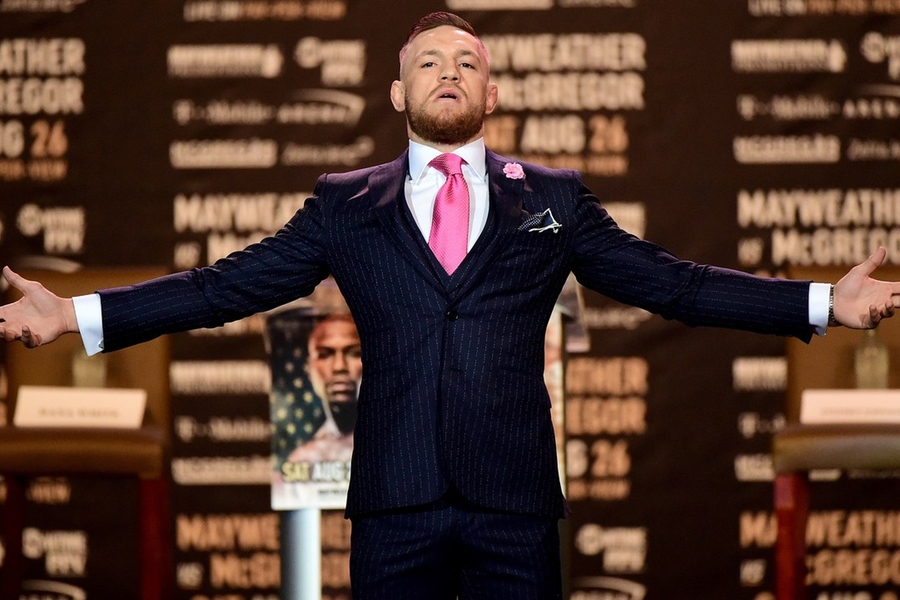 Is the Conor McGregor Suit for Sale?
For a limited time, David August had the Conor McGregor FU pinstripe suit available for purchase at a retail price of US$6,500. Those days are long gone and thus the infamous suit is now gathering value in some savvy consumer's closet, one would presume. Those seeking a cheap knock-off version, meanwhile, should scope the ones currently for sale on Alibaba. Only $99 to $199? And it's of the "same top quality?!" What a steal!
To be clear: we do not advise buying the Conor McGregor FU Suit on Alibaba. In fact, we strongly urge you to forget that was even an option. There can be only the fabric that came from David August and no substitutes. You'll just have to check eBay now and then while squirrelling away thousands of dollars, waiting for the opportunity to strike. Maybe one day you'll get lucky.
Should you ever score the original David August iteration, you'll own a custom suit of the highest calibre. We're talking breathable French-facing construction, hand-stitching, and made-to-measure tailoring. Each one was numbered and hand-signed by August himself. Oh, and don't forget that the phrase 'Fuck You' forms a classic and somewhat omnipresent pattern. What's there not to love?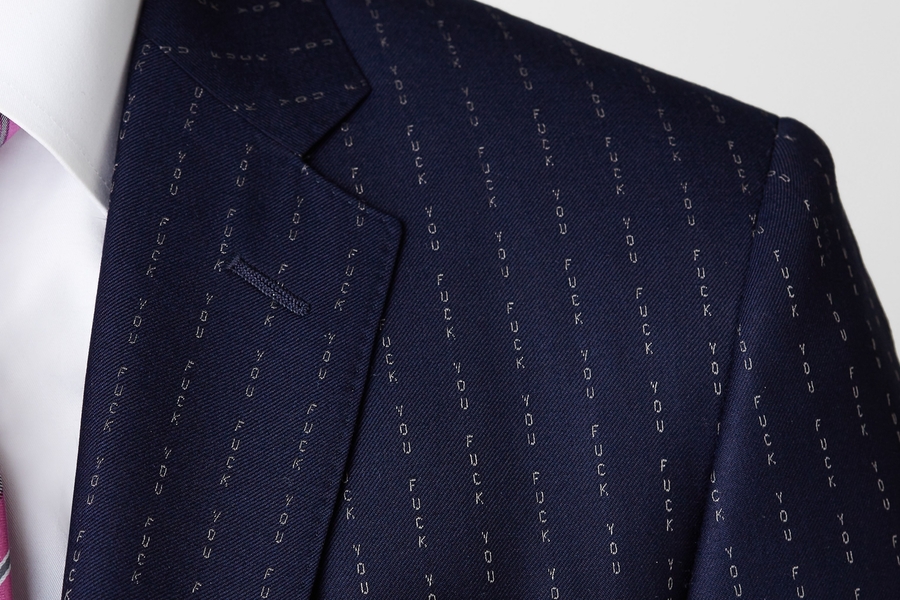 Where is the Original Conor McGregor Suit?
As for the specific suit that Conor McGregor wore onstage, we assume it's still somewhere in his possession. Given his proclivity for making enemies, there's even a chance he'll wear it again one day. Just kidding. He's Conor McGregor and if he's going to sport another FU pinstripe suit it will obviously be a new one. That's just how he rolls.
One could say that the FU pinstripe suit blends right in with McGregor's broader inclinations toward branding, fashion, and absolute distinction. From watches to whisky, the man certainly knows how to render a unique and individual impression. The suit also joins the long-standing tradition of custom celebrity garb, as seen on the likes of everyone from Elvis to Andre 3000.
Unsurprisingly, demand was high for the suit as soon as it hit the stage. Mere moments later, David August received a flood of texts and phone calls, all of the same variety: "Where can I get the Conor McGregor FU pinstripe suit?!" As we mentioned previously, August fulfilled at least some of that demand to the tune of US$6500 a pop. Nowadays, who knows how much they'd go for.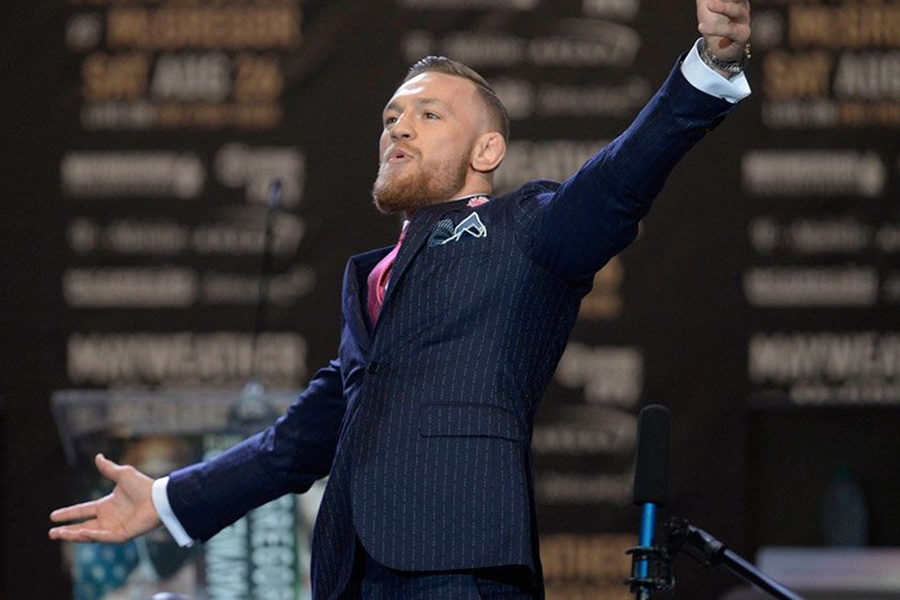 Hence, we raise a glass of $3,000 Louis Vuitton Coffee Cup is For Serious Coffee Snobs to the Conor McGregor 'Fuck You' Pinstripe Suit. It was, if nothing else, a testament to the fact that the man has a perennial eye for details both loud and…well…less loud. And if there's anyone out there who owns one of David August's limited edition follow-ups, we say throw it on and take it for a spin tonight. Just be prepared to put your MMA training to use, should someone take the suit's built-in messaging the wrong way.
You do have MMA training, right? Right?
General FAQ
Who makes McGregor suits?
Some of Conor McGregor's most memorable and iconic suits were created by tailor David August, CEO of David August and co-founder of the August McGregor clothing line.
What type of suits does Conor McGregor wear?
A stylish athlete if there ever was one, Conor McGregor has been spotted wearing Gucci suits and custom-made pinstripe suits, amongst other things. His suit colour of choice is usually blue.
Does Conor McGregor have a clothing line?
In 2018, Conor McGregor and tailor David August collaborated for McGregor's own clothing line, better known as August McGregor.