Best Men's Hairstyle Sites & Blogs
There are millions (if not billions) of men out there with healthy heads of hair. That means a ton of different men's hairstyles. Likewise, it means an open door policy for the best men's hairstyle sites and blogs. After all, you can simply never have too many perspectives or too much coverage on something as diverse as hairstyle. Being that we actually read about things like men's hair for kicks, we've compiled a list of the Best Men's Hairstyle Sites & Blogs. Peruse them all and find the ones that cater to your personal sensibility–you know, the way you might approach hairstyle itself.
This article is part of our Trimmed & Terrific Series.
You'll also like:
10 Short Hairstyles for Men
20 Best Men's Street Style Blogs
30+ Best Barbers in Sydney: A Complete Guide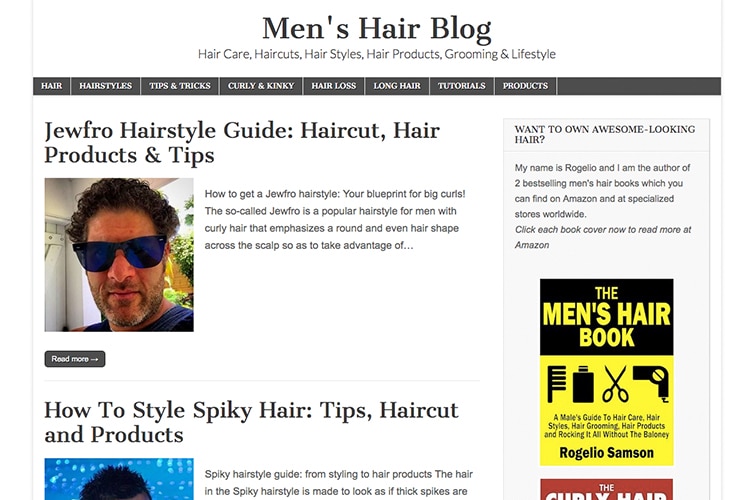 1. Men's Hair Blog
His name is Rogelio. Not only is the host of the Men's Hair Blog, but he's a consummate traveler, the published author of two books and the "Dr. Phil of curly hair". He brings to his site a cut-to-the-chase attitude on all things men's hair (curly hair in particular). If you're looking for a dude who's seen and done it all in hair and in life, Rogelio is your man and Men's Hair Blog is your place.
Founder: Rogelio Samson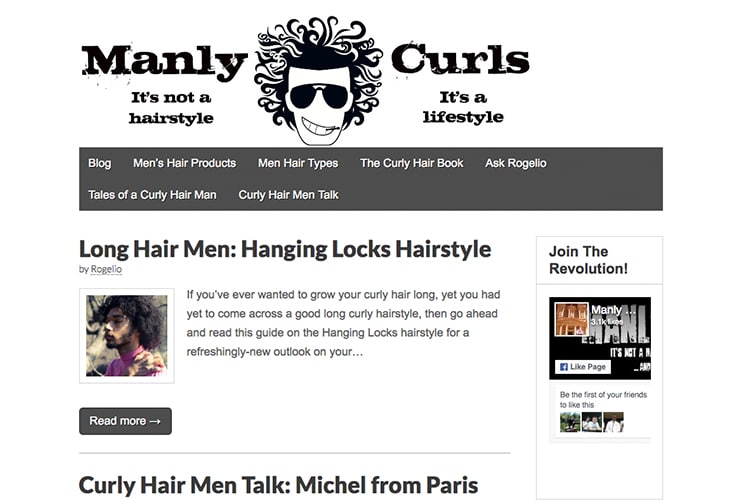 2. Manly Curls
Just when you thought you'd seen the last of Rogelio, here he is again with another best men's hairstyle blog. Manly Curls sees Rogelio focusing purely on his foremost arena of expertise: curly hair. That means you'll find life hacks, general discussions about curly hair, product guides and more. If you're a man who thinks of curly hair as not just as a hairstyle, but a lifestyle, then you've found your new online home.
Founder: Rogelio Samson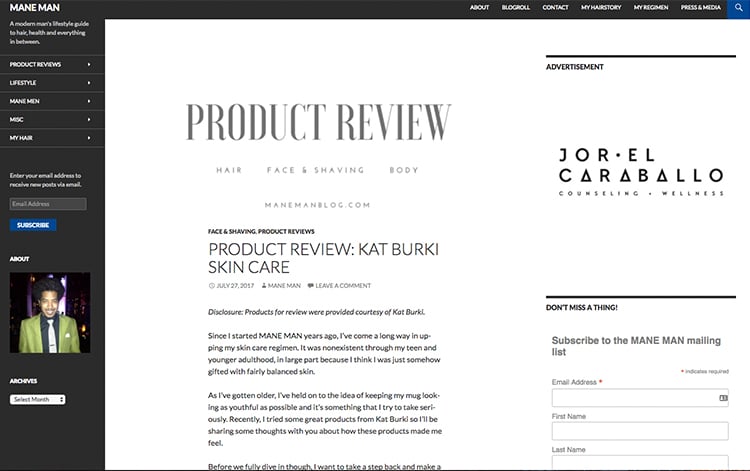 3. Mane Man
Not only is Mane Man one of the best men's hairstyle blogs, but it's a great resource, period. Here you'll find everything from grooming product reviews to lifestyle pointers to delicious recipes to, yes, plenty of hairstyle coverage for men. That includes "My Hairstory", the site founder's personal journey from relatively short hair to full blown fro.
Founder: Jor-El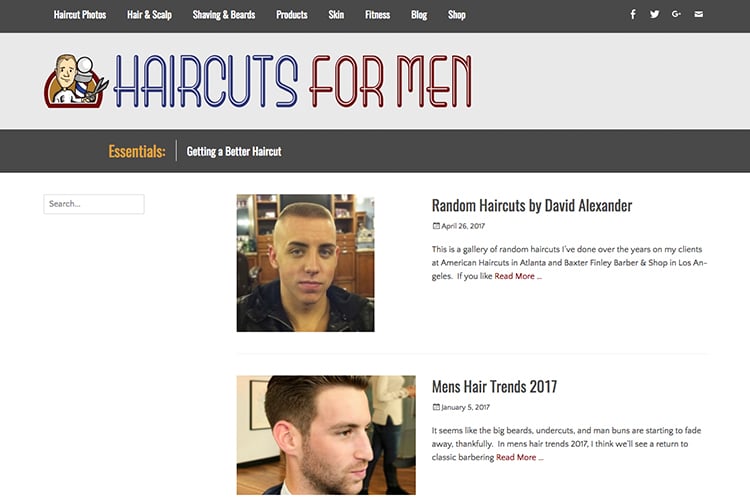 4. Haircuts for Men
Brought to us by a master haircutter with over 30 years of experience, Haircuts for Men is so much more than its namesake. This best men's hairstyle site is on top of every trend, every look and every product. And when those trends, looks and products change or get upgraded, Haircuts for Men is on top of them all over again. This is a truly terrific destination that touches down on the entire spectrum of men's hair.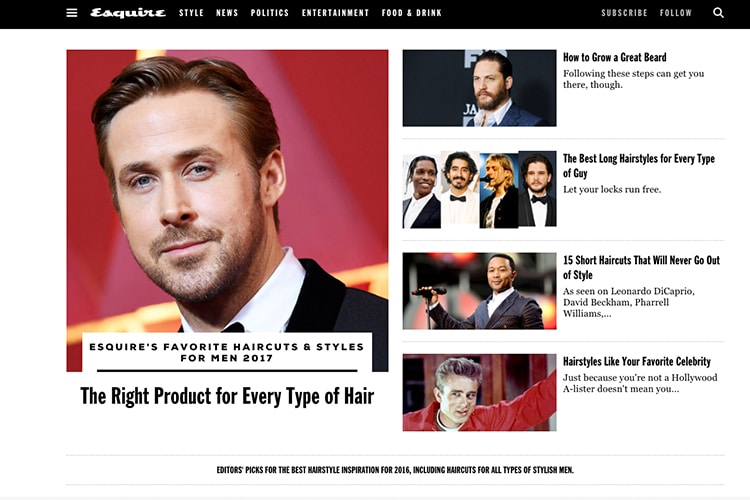 5. Esquire
Esquire is among the few longstanding authorities on men's fashion, and their hairstyle department is naturally no exception. This is a place that's setting trends when it's not covering them, and always keeping one eye on those male celebrity scalps. Needless to say, Esquire is one of the best hairstyle (and lifestyle) sites for men…but you already knew that.
Founder: Farouk Shami (Esquire Grooming haircare brands)
Year Started: 1933 (magazine)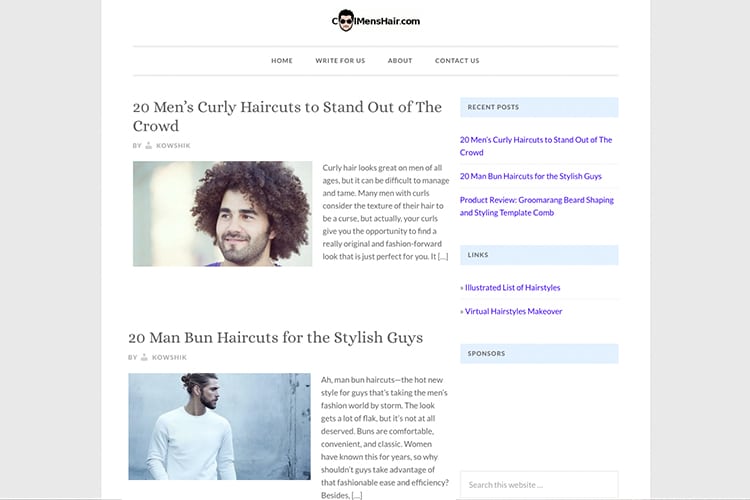 6. Cool Men's Hair
Sometimes you just want a place where you can scope a bunch of men's hairstyles before your next trip to the barbershop. Cool Men's Hair is that place. This best men's hairstyle site provides a selection of hairstyles to choose from depending primarily on your type of hair (curly, long, etc). That's all joined by the occasional product review and celebrity hair profile. Easy. Breezy. Cool.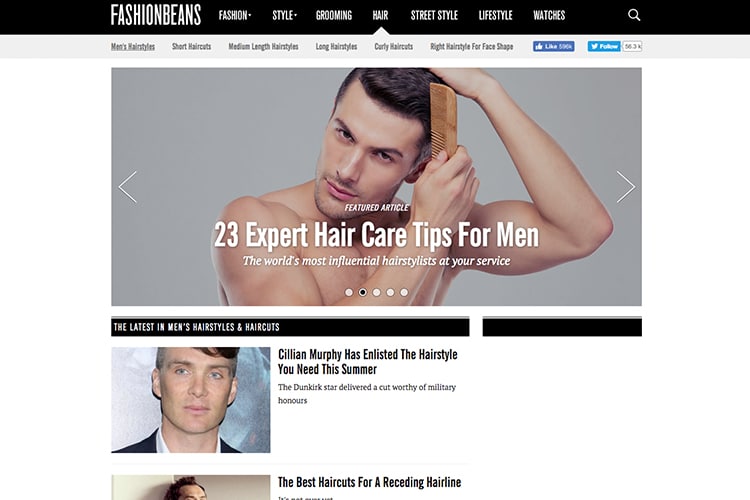 7. FashionBeans
Here's another comprehensive and veritable resource for the modern men's lifestyle in all its glory. Naturally, that entails a brilliant men's hairstyle section as well. If you're the kind of guy who likes keeping up with trends or getting the hottest pointers, then designate a few hours to go through everything on their site. You will emerge all the wiser.
Year Started: 2007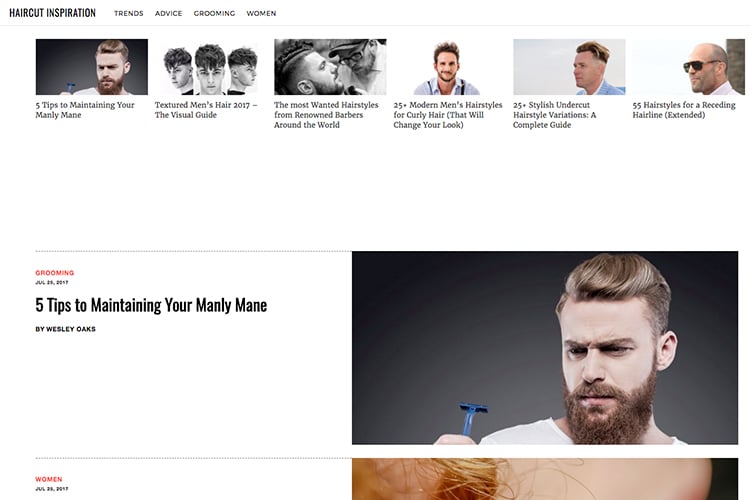 8. Haircut Inspiration
There are men who walk into the barber shop already looking at the clock, and there are men who can't stay long enough. If you're the latter, it means you get inspired by hairstyles and haircuts. Well, you're not alone. Haircut Inspiration is nothing but men just like you writing about what they love. This is one of the best men's hairstyle sites because it gives off a community vibe and dispenses valuable insight and advice without ever coming off as snobbish or superior.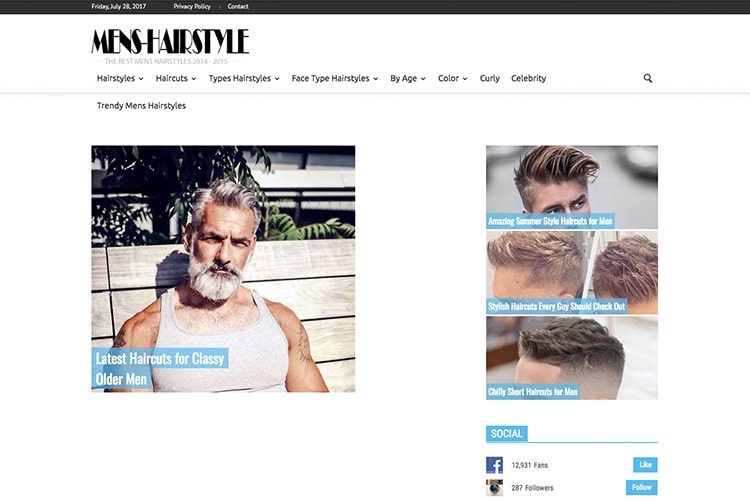 9. Mens-Hairstyle
Mens-Hairstyle is an ongoing celebration of hair from all walks of life. That means intensive overviews of men's hairstyles for all races, ages, face shapes, niche groups and hair types. If you're flirting with different aesthetics, but aren't sure how to proceed, use this best men's hairstyle site as your guide.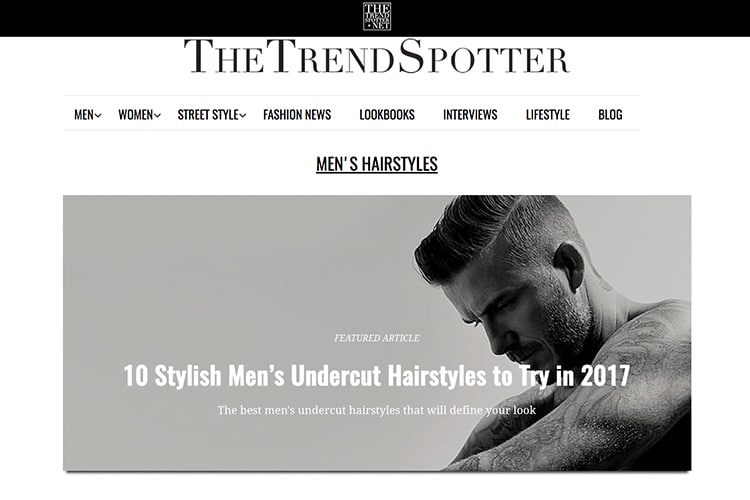 10. The Trend Spotter
The Trend Spotter is a wildly popular hub that takes it name to heart. These folks are like investigative journalists of fashion, gear and lifestyle. Their men's hairstyle coverage keeps the momentum going strong, showing you not just what's hot today, but will be even hotter tomorrow.
Founder: Dasha Gold
Year Started: 2012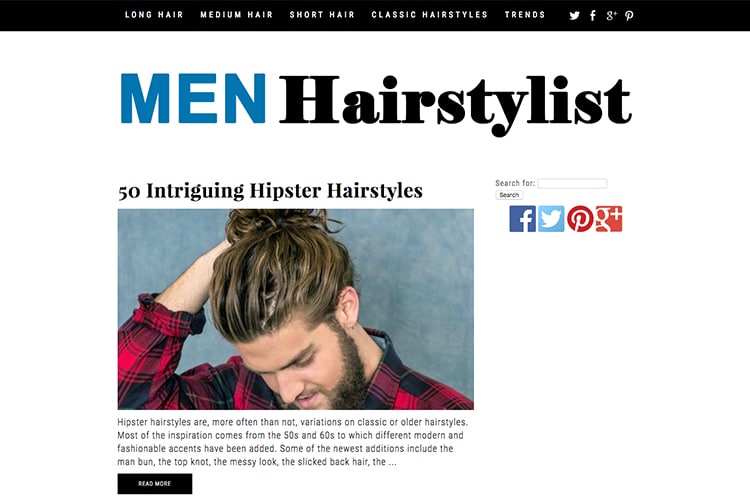 11. Men Hairstylist
This is one of the best men's hairstyle sites because in addition to covering all possible types, Men Hairstylist is not afraid to get truly niche. So if you're looking for creative ways to approach the man-bun, or if you're not sure what type of haircut to rock at the next sporting event, you can most likely find an article on it here.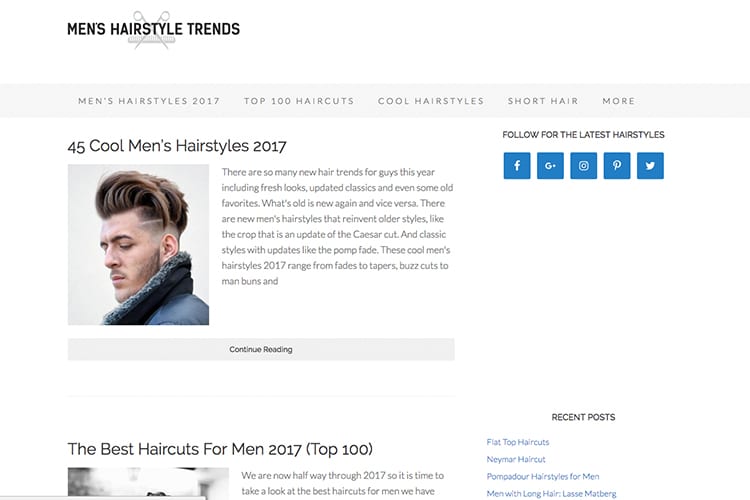 12. Men's Hairstyle Trends
Sometimes it feels like trends can change at the speed of light. You walk in to the barber shop ready for the newest thing, and by the time you walk out that thing is yesterday's news. Men's Hairstyle Trends is on the hottest cuts like white on rice. Check in with them daily so that you'll never feel left behind.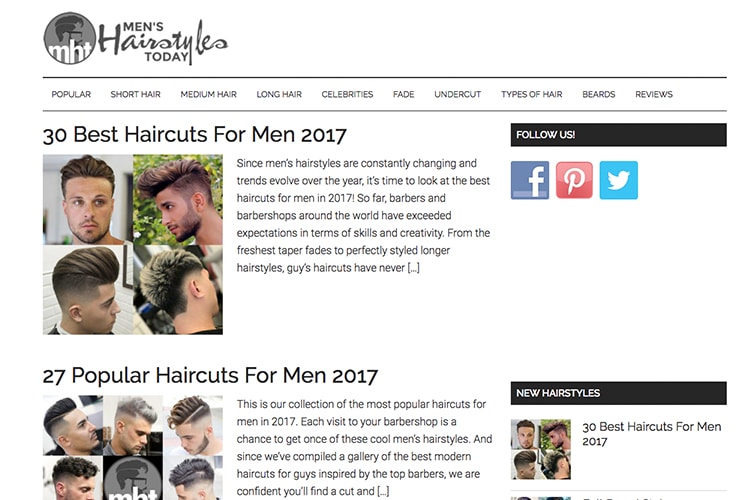 13. Men's Hairstyle Today
Men's Hairstyle Today remains one of the best hairstyle sites for men by focusing on what's hot right now and covering that in all its potential. So if 2017 is (so far) a year for killer fades, you'll find a bevy of fade haircuts on their site as well as a slew of other current styles. That's called being contemporary and classic at the same time.
On the lookout for more of the best blogs and sites? Be sure to check out our list of the 20 Best Men's Street Style Blogs, and our list of the 11 Best Men's Gear Blogs.
This article is part of our Trimmed & Terrific Series.
Have you subscribed to Man of Many? You can also follow us on Facebook, Twitter, Instagram, and YouTube.
You'll also like:
10 Short Hairstyles for Men
20 Best Men's Street Style Blogs
30+ Best Barbers in Sydney: A Complete Guide