How to Choose a Hairstyle for your Face Shape
How to choose the right hairstyle for your face shape? Males tend to struggle with this question, and rightly so. After all, in the same way that a great suit tailors to the contours of your body, a superb haircut should tailor to the natural contours of your face. Believe it or not, there are factors for how to determine face shape among men, and then how to choose a haircut accordingly. Read on for a breakdown of face shapes and men's hairstyles. We delve first into how to determine your individual face shape and then detail what kind of men's haircuts that face shape works best with.
Related: Our complete guide to the best haircuts for men is your reference point for hairstyles.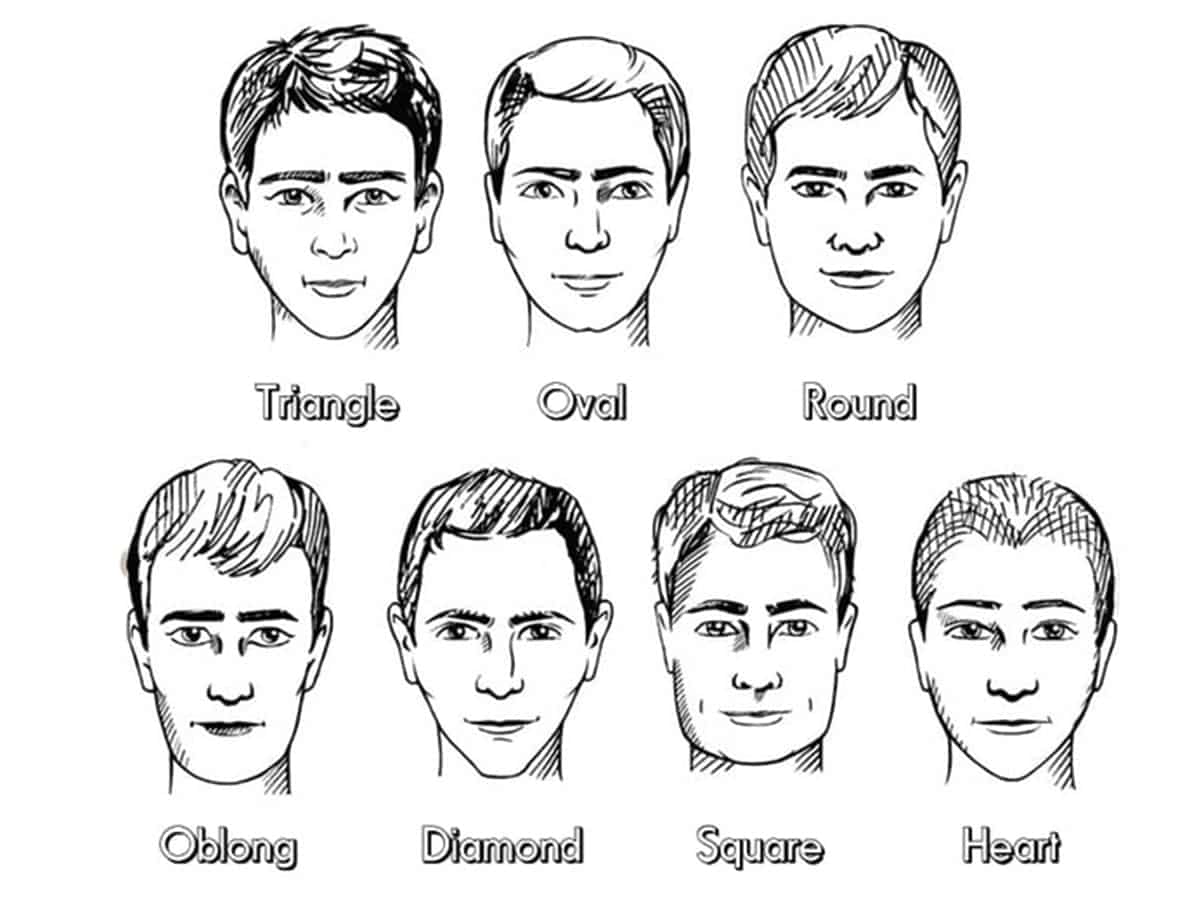 How to Determine Your Face Shape
First things first: you need to determine your actual face shape. The quickest way to do this is to stand in front of a mirror, pull back your hair and trace the outline of your face on the mirror using a bar of soap. The shape you see outlined is the general shape of your face. You'll be able to identify if you have a pointy chin, pronounced jawline, or any of the other characteristics that make your face unique. Of course, if you'd rather take a more rigorous approach, by all means, grab a tape measure and get to work measuring the following areas:
Forehead: Measure the distance between the top of one eyebrow to the top of the other eyebrow.
Cheekbones: Locate the pointiest part of one cheekbone (right below the eye) and measure across to the pointiest part of the opposite cheekbone.
Jawline: Start at the tip of your chinny chin chin (aka your chin) and measure up in one direction to the corner of the jawbone, right below the ear. Multiply that number by two for an accurate jawline measurement.
Face Length: Start at the centre of your hairline and measure down to the tip of your chin.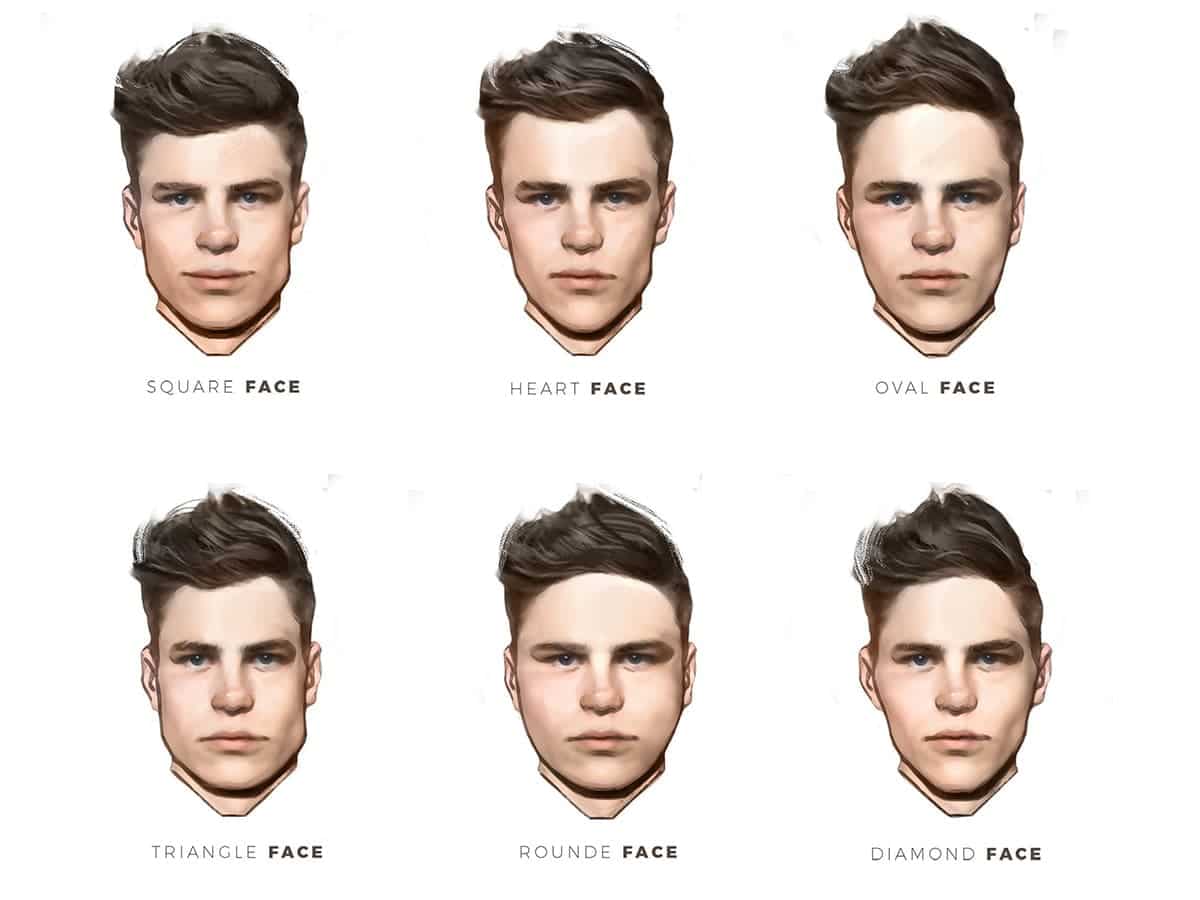 Types of Men's Face Shapes
Now that you've got either a bold geometric outline on the mirror or some precise measurements, determine your face shape using the following guide:
Oblong: Your face length is the longest measurement while your forehead, cheekbones, and jawline are almost equal in size.
Square: Your face, jawline, forehead, and cheekbones are all more or less the same length. Meanwhile, your jawbone angles are sharp and not curved or round.
Oval: Your face is longer than the width of your cheekbones and your forehead measurement is greater than the jawline. Meanwhile, your jawline angles are round and not sharp.
Round: Your cheekbones and face measurements are similar and your forehead and jawline measurements are similar. Furthermore, those cheekbone and face measurements are greater than the jawline and forehead measurements. Meanwhile, the jawline sports soft, semi-round angles as opposed to sharp or clearly defined angles.
Diamond: Your chin is pointy and your face is the longest measurement. Then the measurements go greatest to smallest in the following order: cheekbones, forehead, jawline.
Triangular: Your jawline is wider than your cheekbones, which are wider than your forehead.
Heart: Your forehead is wider than your cheekbones and jawline, and your chin is pointy.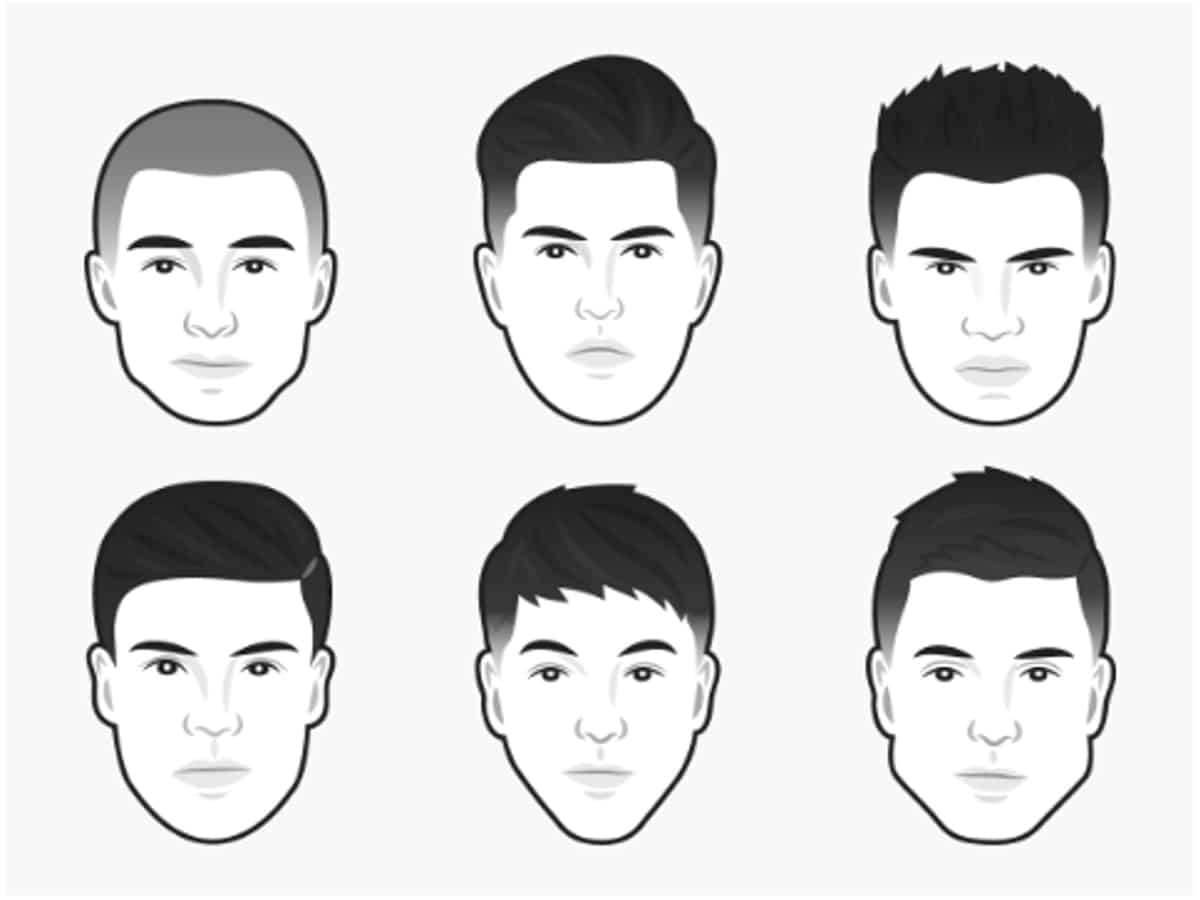 Face Shape Haircut Pointers
Now that you've determined your shape and made your old grade school math teacher proud, please use the following male face shape and hairstyle guide to determine the cut that's right for you. And don't take anything we say as gospel because there are simply too many variables. For instance, some men with heart-shaped faces want to cultivate the natural pointedness of their chins rather than conceal that pointedness. What's most important is that you get a good sense of the relationship between face shapes and male hairstyles, and then proceed accordingly. It's not as simple as oblong vs oval face, there are A LOT of options in between.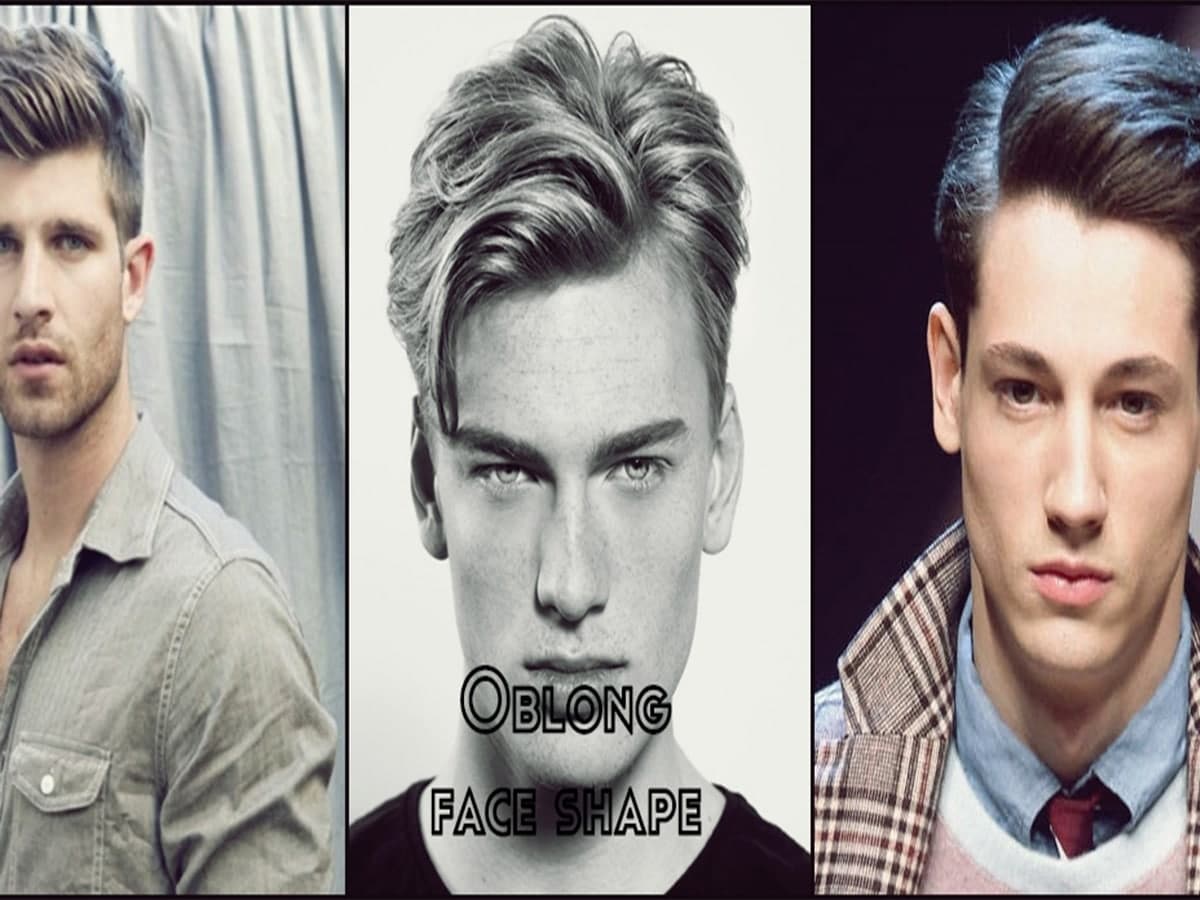 Oblong
Since your face is somewhat long, seek a balanced hairstyle that lends a uniform vibe. Avoid tapered faux hawks or pompadours with deep fades or anything that pairs long hair on top with much shorter length around the sides. Instead, opt for a quality side part if your hair is short or a voluminous slicked back look if your hair is longer.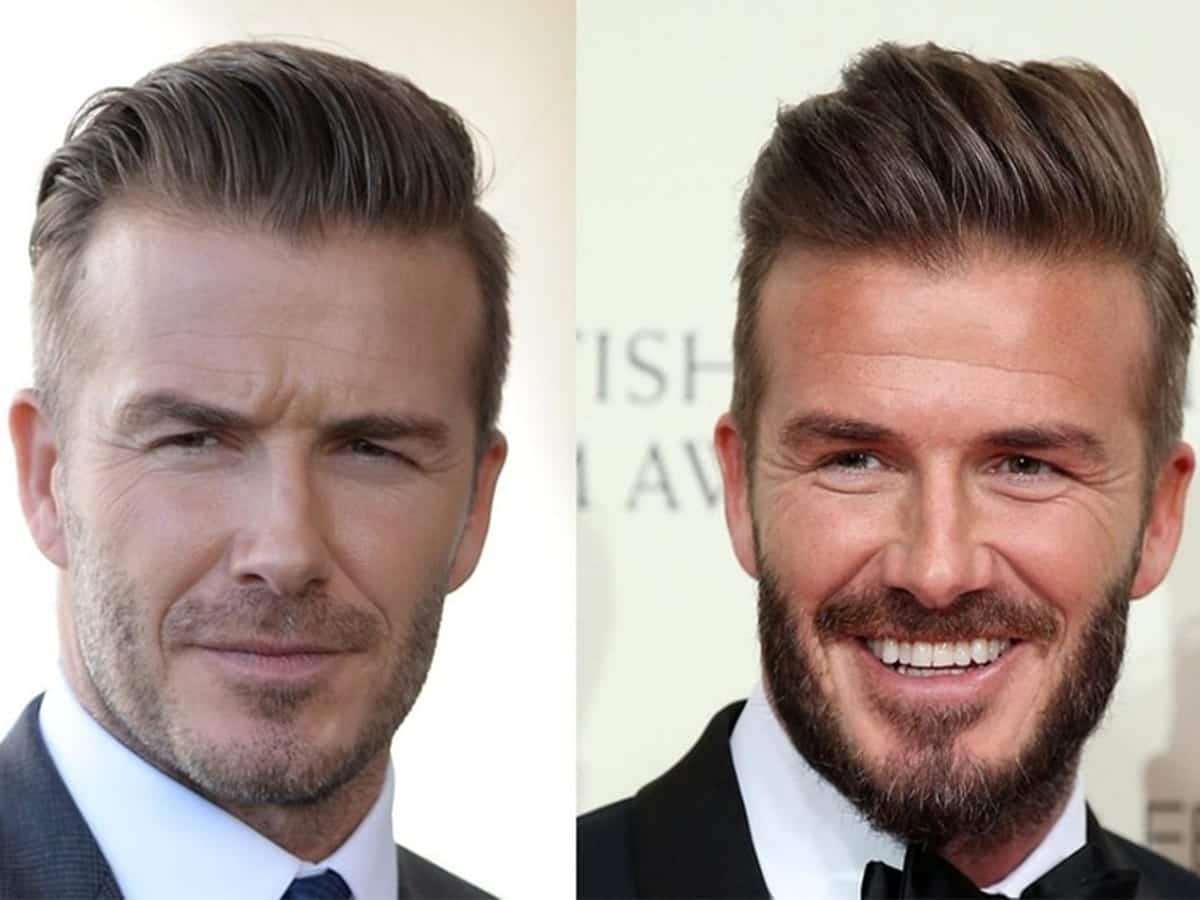 Square
The square is a desirable face shape among men and it lends itself to plenty of hairstyles. That said, most experts suggest males with square faces keep their hair fairly short and traditionally neat. Consider a short pompadour or faux hawk with a close fade or a classic layered side part. If you want to add facial hair, you're best off going really short (i.e. stubble) or fairly long. You'll probably want to go short on top if pairing with a beard. Also, try to keep those sideburns short.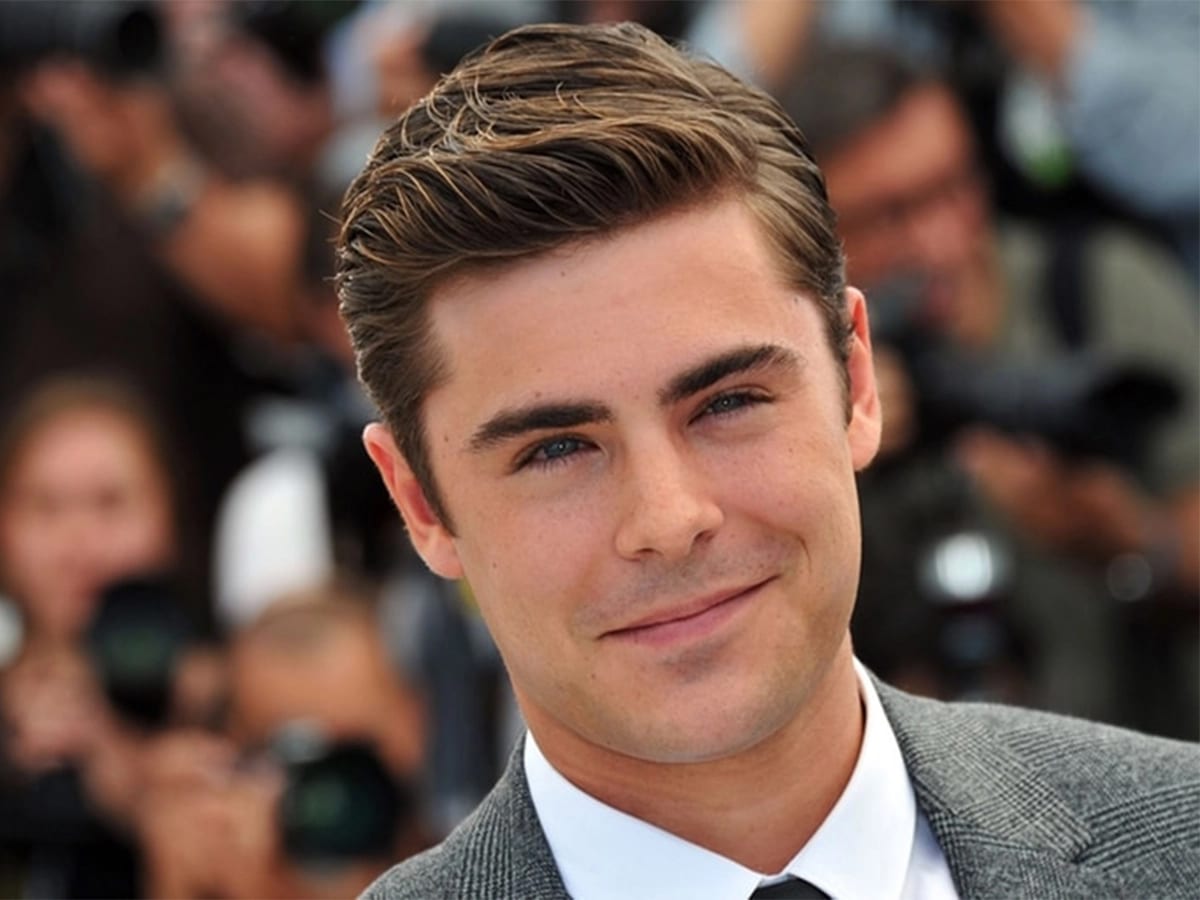 Oval
As a well-proportioned face shape, the oval works with lots of men's hairstyles. However oval faced men are typically advised to leave hair off the forehead as much as possible and completely avoid fringe haircuts. Instead, go for a short quiff or pomp with maximised volume, and pair that with a modest undercut and/or striking side part. A shaved head also goes really well with an oval face. Great for a classic military look,
---
Featured Video from Man of Many
---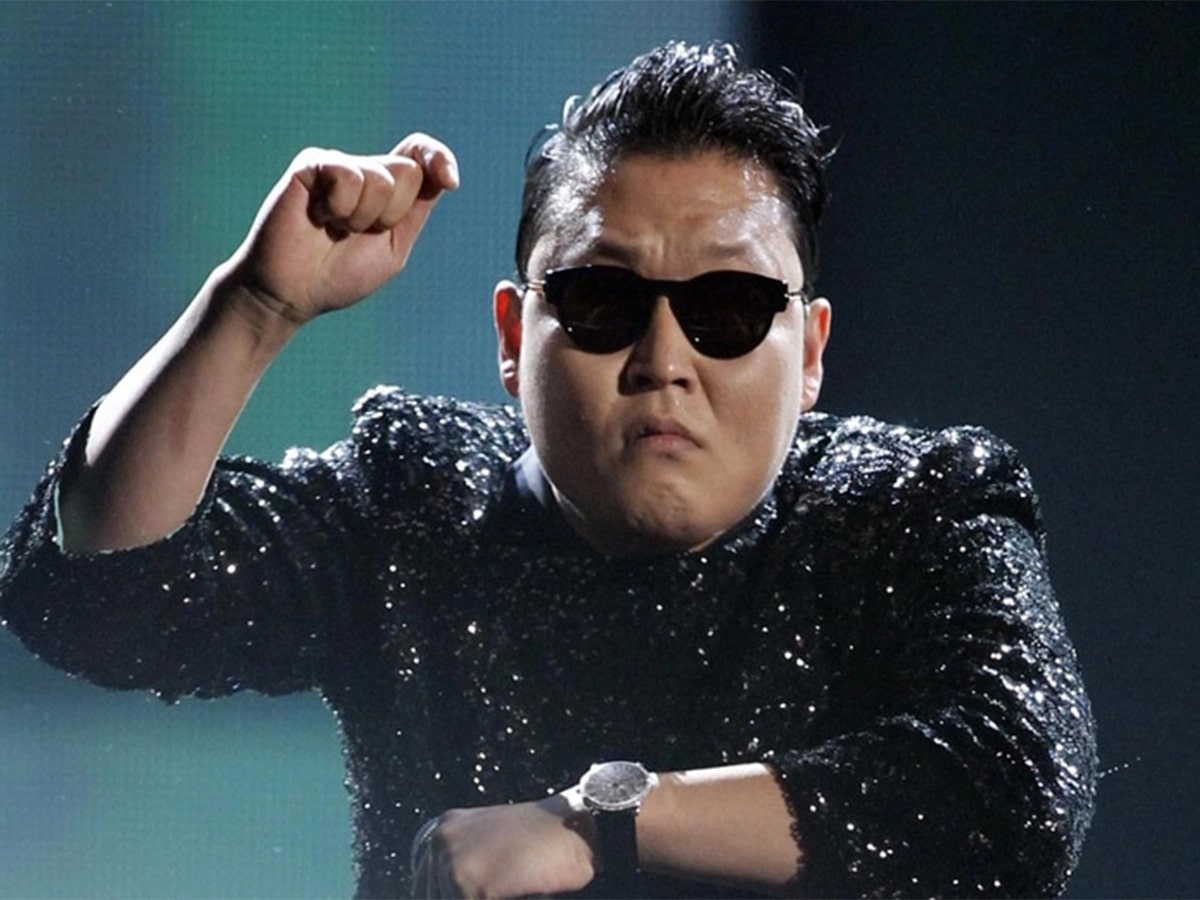 Round
Since round faces tend to lack hard lines or definition, a nice angle-heavy haircut can do wonders. That means emphasising structure and volume as much as possible, rocking plenty of definition up top to make up for the lack below. You can do no wrong coupling a quality pompadour with a hard side part or even a part on both sides–anything to give that head more definition. Finish off the stylish look with a square beard and suddenly no one will be able to tell you have a severe case of babyface. So finding a haircut for round-face men might at first seem difficult, but it's certainly not impossible.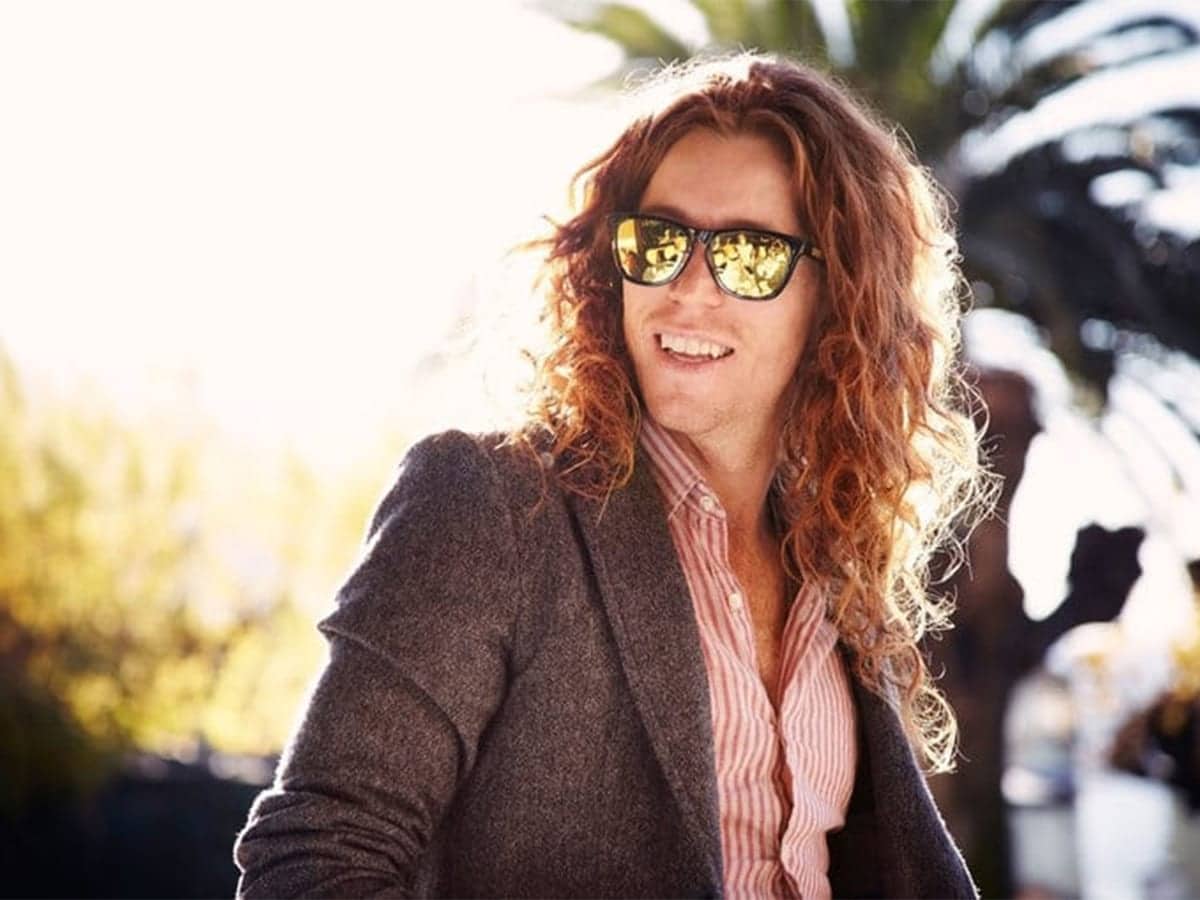 Diamond
Having a diamond-shaped face means getting to rock those bangs and long side sweeps. A messy fringe will add some nice texture to the forehead of narrow face men. The key is to keep the hair relatively long and layered and the angles soft, which will play off the pointy facial features.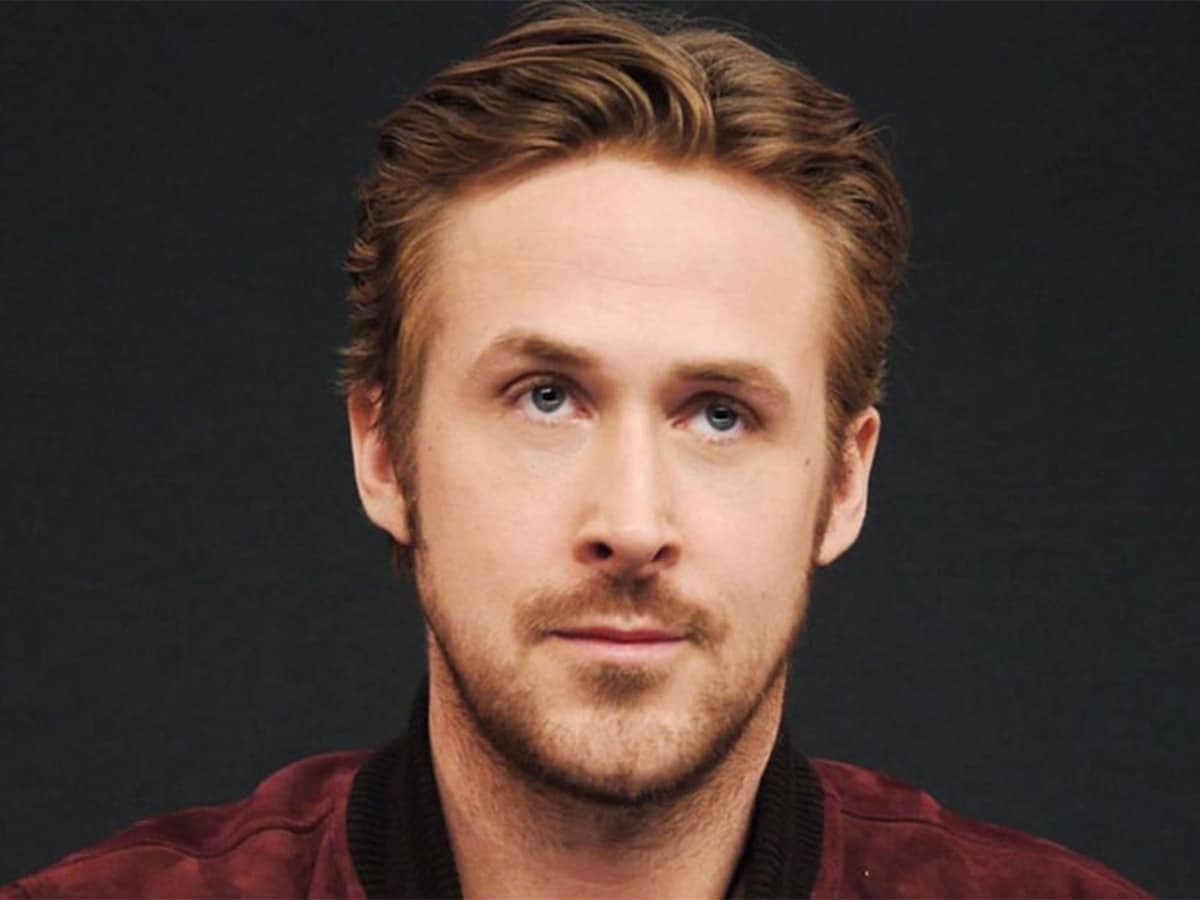 Triangular
A triangular face shape means a wider jaw and narrower forehead, and you want to balance all that out by going big with volume up top. A thick quiff or pomp will work wonders. What's most important is that you keep the hair thick and flowing, even if that means using a little extra volumising hair product. Most experts also agree that beards and triangle face shapes don't necessarily match so opt for some light stubble or a clean shave instead. Always remember, short haircuts for a strong jawline.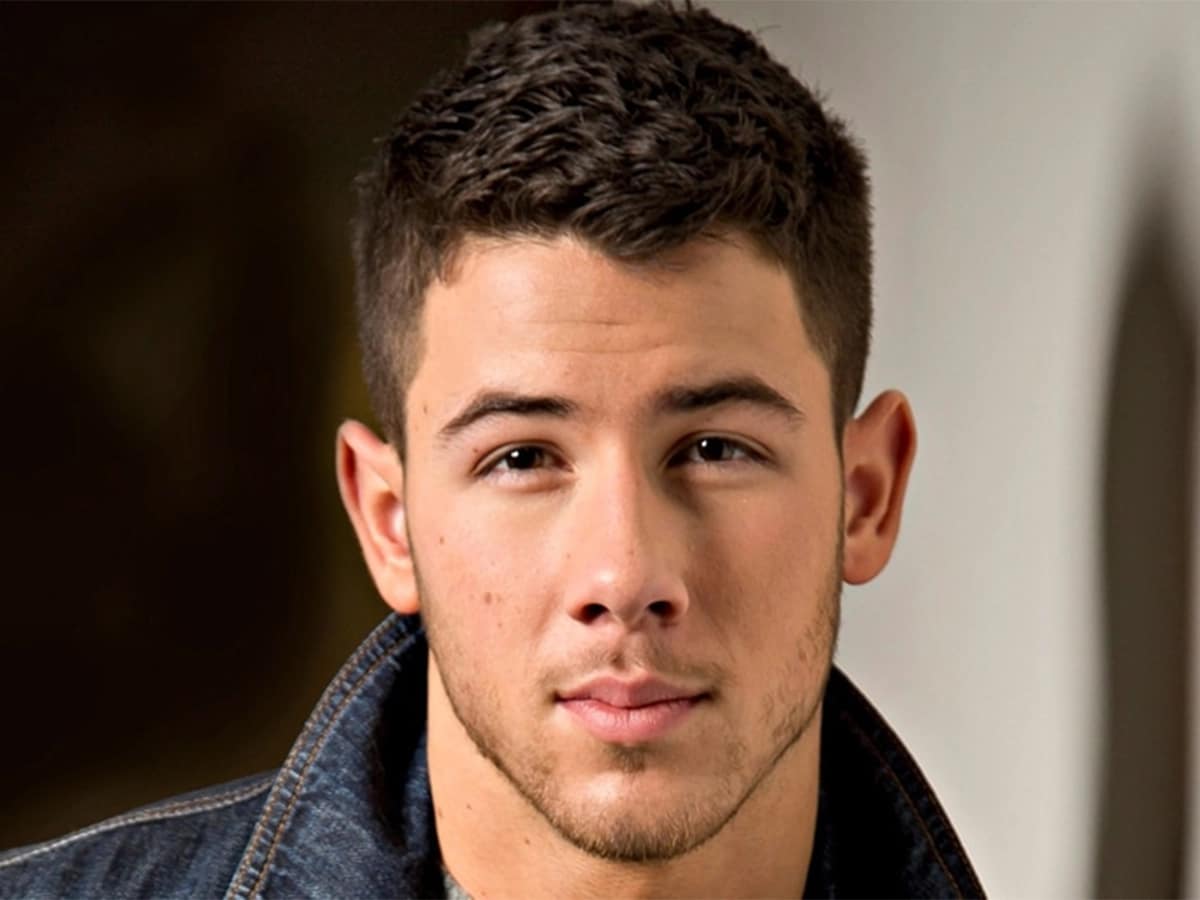 Heart
A heart-shaped face means a pointed chin, thus a narrow haircut will emphasise literal sharpness. If pointy is not what you're going for, pursue longer, softer styles like a mid-length side-swept part, layered quiff, or textured fringe. Employ a lightweight hair product to ensure no hard angles emerge. Grow a nice beard to create a sense of fullness on that narrow jawline. Short to medium-length hair is welcomed.
On the lookout for more men's hairstyles, haircuts and pointers? Be sure to check out the links below:
Popular Men's Haircuts
Best Men's Hairstyles
Managing Hair
General FAQ
What are the different face shapes?
The most common face shapes are oblong, square, oval, round, diamond, triangular and heart.
What is the best haircut for a heart shaped face?
Longer, softer styles, like a mid-length side-swept part, layer quiff, or textured fringe are best for a heart-shaped face.
What is the best haircut for a round face?
For a round face, it is best to emphasise structure and volume with plenty of definition up top to make up for the lack below. A pompadour with a side part is great for a round face.
---
Featured Video from Man of Many