21 Best Minimalist Sneakers for Men
As the majority of athletic brands strive for wild patterns and innovative specs, the best minimalist sneakers take things in the opposite direction. They choose to emphasise superb quality by way of subdued colourways and a few choice handmade materials. As a result, the best men's minimalist sneakers deliver an unparalleled tier of stylish versatility, duly blending with a broad spectrum of outfits, engagements, and environments.
Minimalist sneakers have been taking the world by storm over the last decade, and it's no wonder that brands like Common Projects have taken the world by storm. While they might be the go-to minimalist sneaker, there is a slew of Common Projects alternatives just as worthy of your attention. Indeed, whether you're seeking Swedish sneaker brands, Italian sneaker brands, or even shoes similar to C0mmon Projects, you'll find all that and more below. Without further ado, we present the 21 best minimalist sneakers for men.
You'll also like:
21 Best Black Sneakers For Every Man's Rotation
10 Sneakers You Can Wear to Work
Sneaker News #25 – Nike Celebrates 30th Anniversary of Air Huarache
1. Common Projects Original Achilles
There are not many shoes like Common Projects Original Achilles. Since their auspicious debut in 2004, these men's minimalist sneakers have come to redefine minimalist footwear, paving the way for an entire industry of luxury trainers. Decked out in all white from front to back (gold-embossed serial number notwithstanding), every pair of Achilles deliver top-shelf quality with Zen-like precision. Drake loves them. Kanye loves them. You'll love them too. Assuming you can afford them, that is.
Lining: Leather 100% 
Outer: Leather 100%
Sole: Rubber 100%
Price: $500+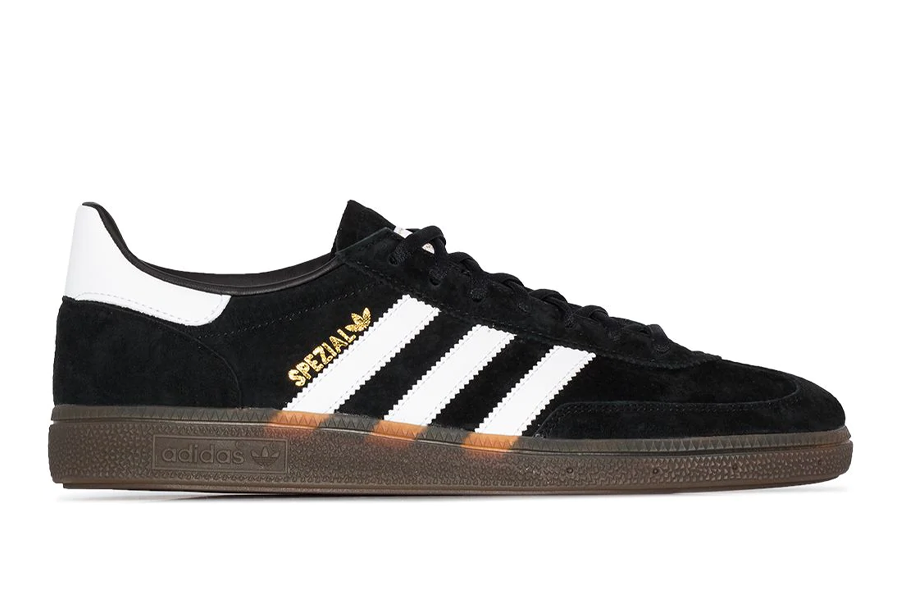 2. adidas Handball Spezial
There's a good chance by now that the names 'Stan Smith' and 'Superstar' conjure up thoughts of minimalist sneakers in your head, however, there's another famous adidas sneaker that flies a little more under the radar. The handball spezial doesn't have quite the cultural history behind it compared to its cousins the Stan Smith and Superstar, but it does have the style and comfort. These are a great minimalist sneaker for wearing casually with a pair of jeans, and they're a proper alternative to all the Stan Smiths you see today.
Lining: Leather 100%
Outer: Suede 100%
Sole: Rubber 100%
Price: $150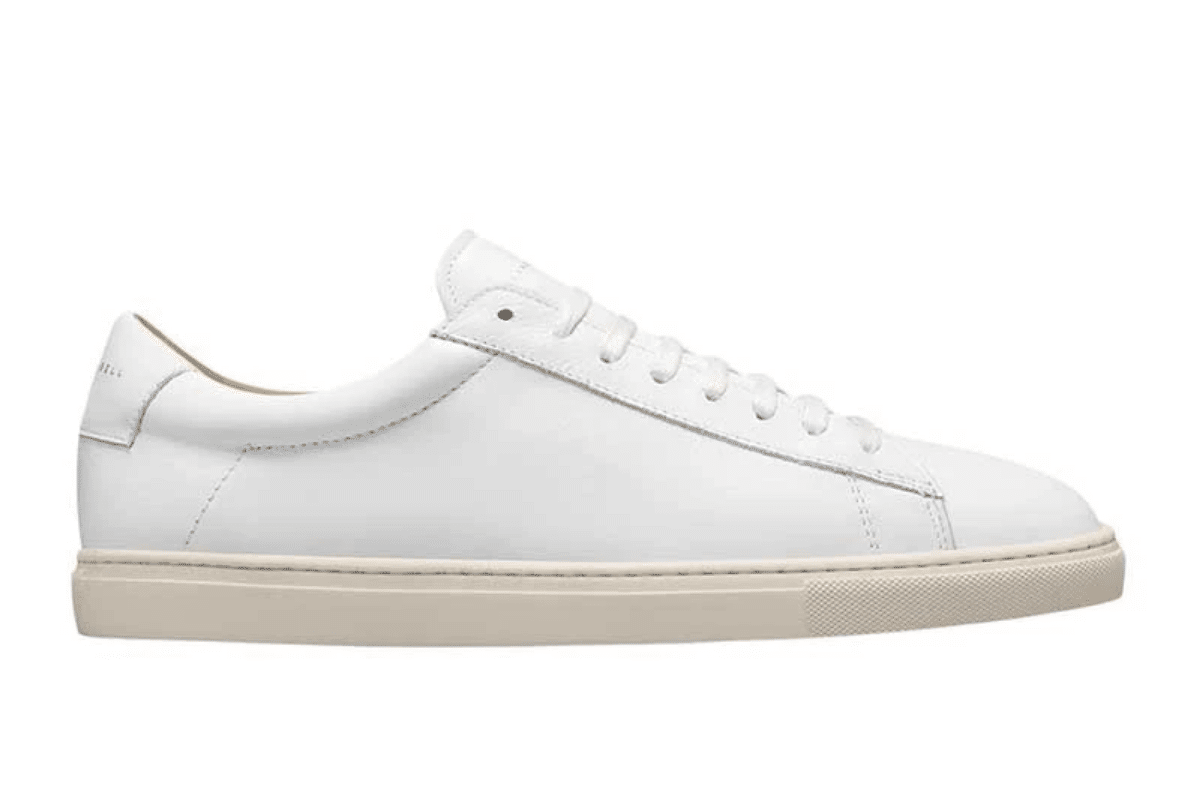 3. Oliver Cabell Low 1
Looking for Common Projects alternatives? Then check out Oliver Cabell, a Minneapolis-based sneaker brand that launched in 2017 and wasted no time in exploding all over the world stage. The Low 1 remains one of the minimalist's brand's finest statements. Every pair of these men's fashion sneakers is hand-stitched using an array of quality leathers. Sealing the deal are waxed cotton Italian laces.
Lining: Italian calfskin leather
Outer: 3oz full-grain calfskin leather from Marche, Italy
Sole: Margom Italian outsoles
Price: from AU$243.06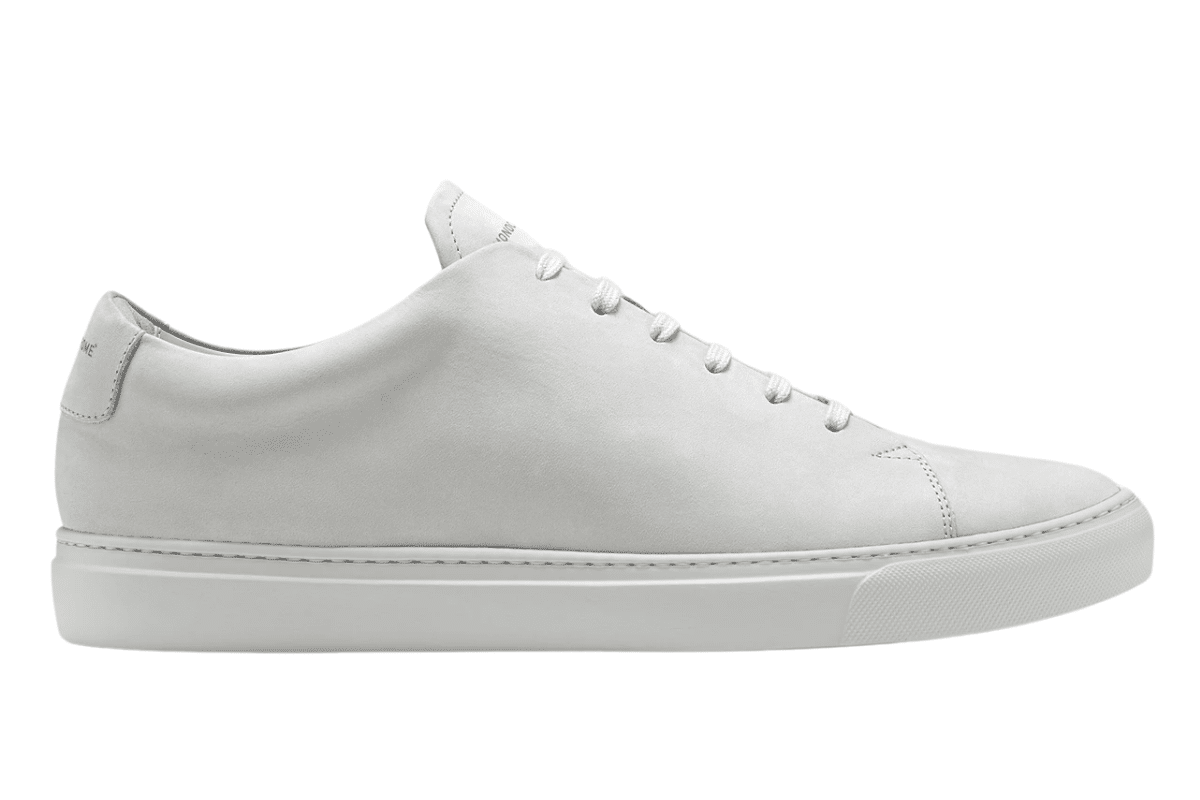 4. MONOCHROME Low Glacier Nubuck
This shoe features all the premium materials. Made from top-grain leather, this sneaker from Australian shoe brand MONOCHROME` is the brands take on the minimalist sneaker trend. This lace-up shoe is finished in nubuck leather and features superior smoothness, water resistance and construction that is built to last. A minimalist sneaker should also be comfortable and this one features a Lightweight EVA outsole by Wear light, which is non-toxic, fully sustainable and is partially recyclable. All of the brand's raw materials are sourced from within Italy and are made in the famous Le Marche region, known for its time-honoured traditions in shoemaking.
Lining: Leather 100% 
Outer: Leather 100%
Sole: Rubber 100%
Price: $459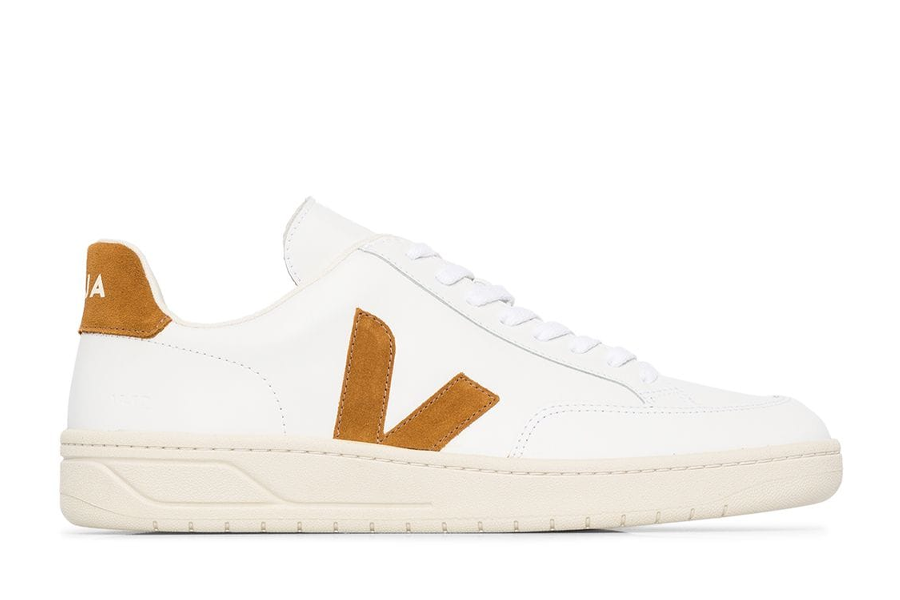 5. Veja V-12
You can truly give your feet a treat with the Veja V-12. These minimalist sneakers come in a variety of colourways and feature a comfy interior and sleek design to boot. The white outer is traditionally paired with a coloured logo keeping the design minimal but engaging. Try these and give your feet a break.
Lining: Fabric 100% 
Outer: Leather 100%
Sole: Rubber 100%
Price: $185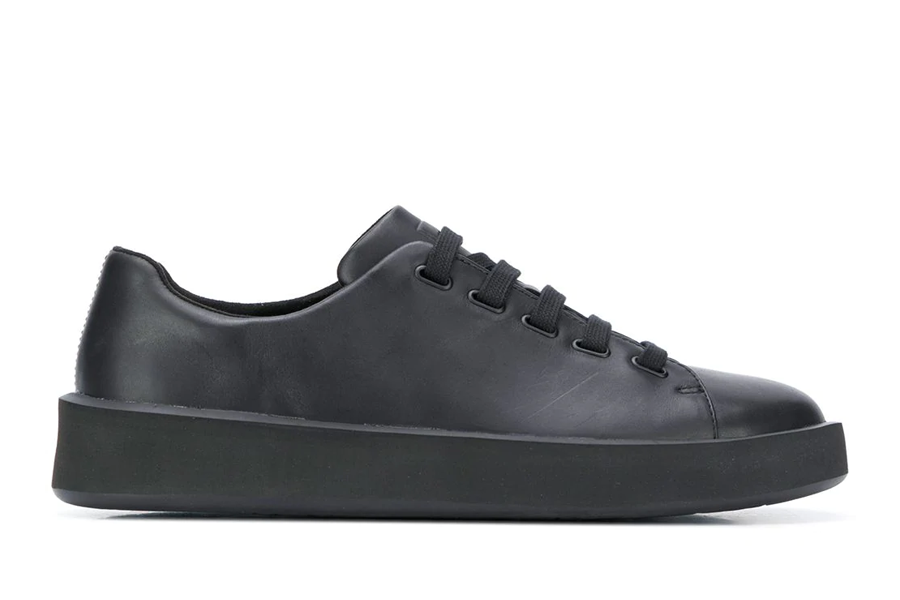 6. Camper Courb
Camper has a name for quality sneakers and the courb might be the best minimalist sneaker they make. This sneaker for men features a logo patch on the tongue, front lace-up detail, and a round toe with a flat rubber outsole. Camper has a strong consideration for the environment and the leather on the courb is produced in an audited and certified Leather Working Group tannery at which it scored Gold.
Lining: Polyester 100% 
Outer: Leather 100%
Sole: Polyethylene Vinyl Acetate (PEVA) 100%
Price: $270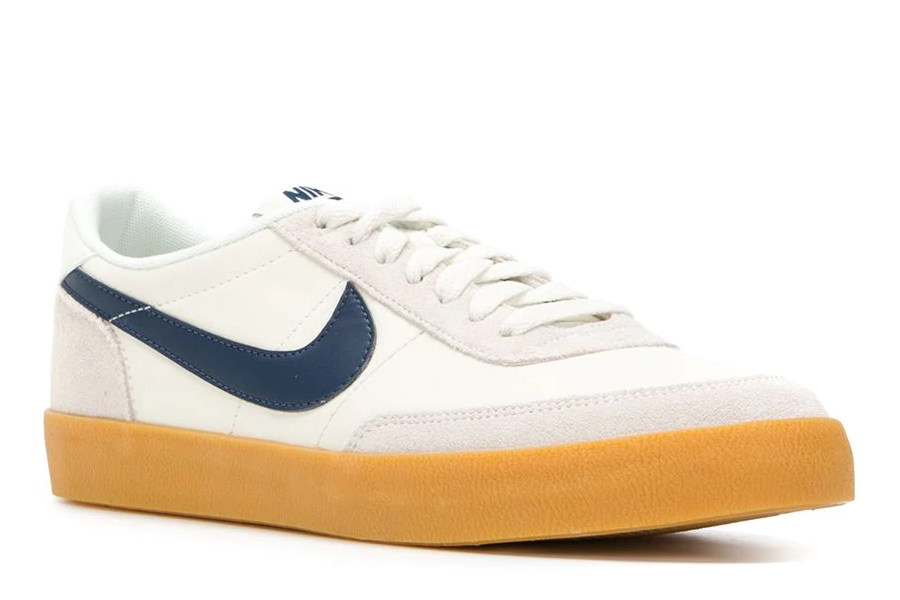 7. Nike Killshot 2
The Nike Killshot 2 follows on from the success of the original. You'll recognise this minimalist sneaker's large side swoosh and gum rubber outsole. The sneaker features a round toe, flat outsole, lace-up front fastening and signature Nike swoosh along the side in navy. Available in a multitude of colourways the Killshot 2 is a minimalist sneaker that represents great value for money.
Lining: Nylon 100% 
Outer: Leather 100%
Sole: Rubber 100%
Price: $200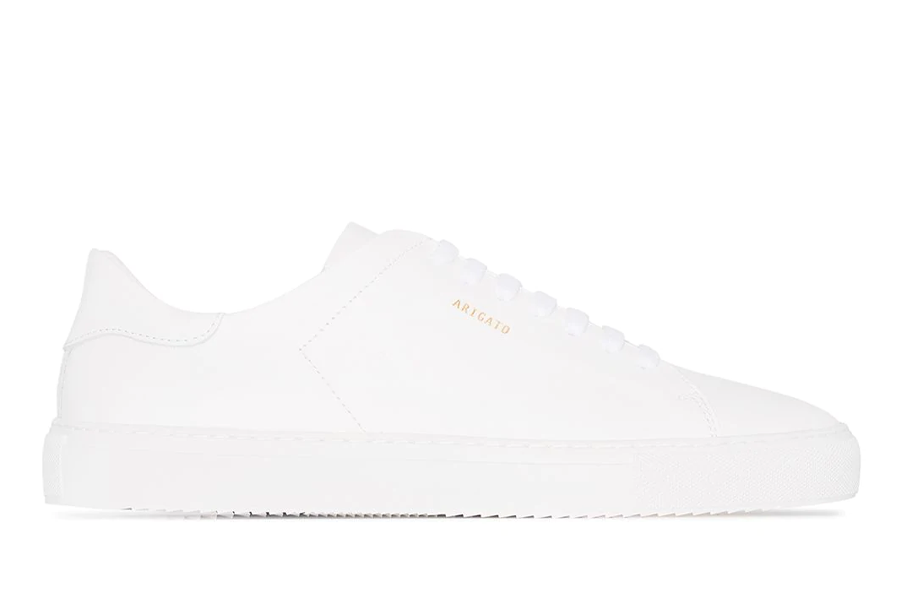 8. Axel Arigato Clean 90
Minimalism and Scandinavian design are practically interchangeable concepts, so it's no surprise that Swedish sneaker brand Axel Arigato crafts impeccable minimalist footwear. The Clean 90 is no exception, though it takes things a step further by incorporating a classic aesthetic. Throw in prime leather construction and you're looking at the best of all worlds.
Outer: Leather 100%
Sole: Rubber 100%
Price: $260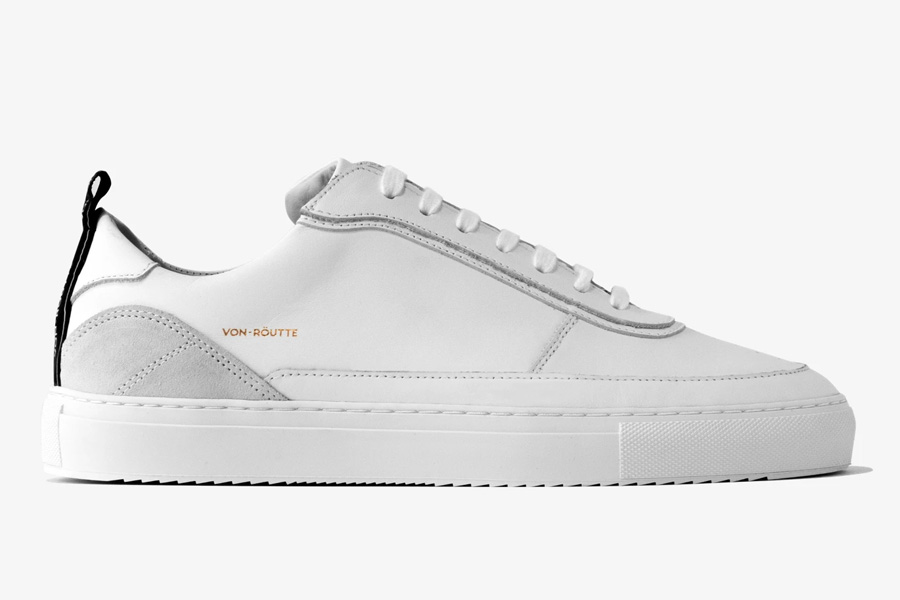 9. Von Routte Munich Sneaker
Sydney locals, Von Routte show how to get a classic right with the Munich Sneaker. The timeless athletic low-top silhouette features a leather upper with suede trimmings and a contrasting logo pull tab at the heel. A sneaker that'll suit any occasion, Von Routte focuses on the details. From a cushioned footbed with arch support for ultimate comfort, stitched and glued sole for durability, cotton laces, leather lining and embossed logo – rest assured there's no substitute for quality.
Country of Origin: Portugal
Price: AU$320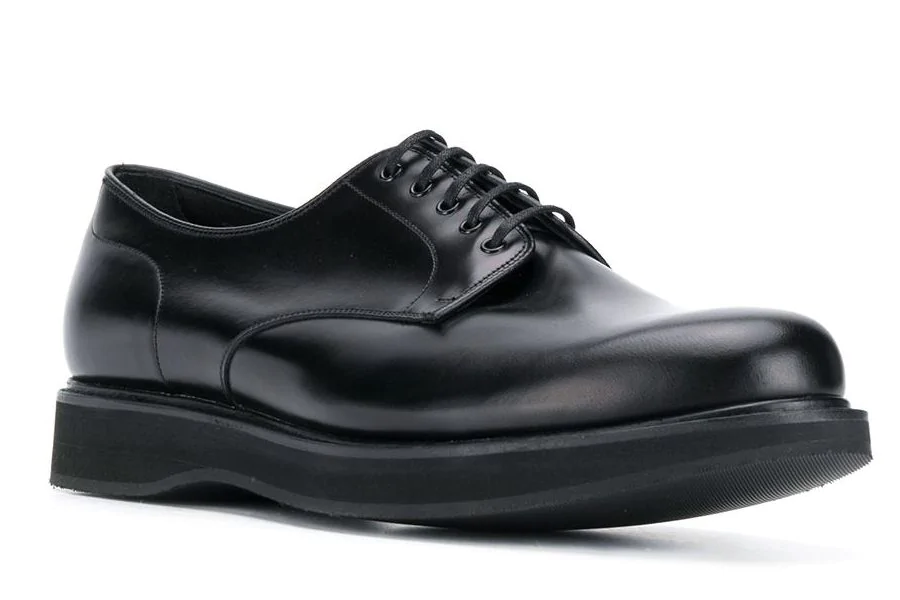 10. Church's Leyton 5 Derby
UK-based Church's has been in the game for almost 150 years, with a substantial legacy to show for it. The minimalist brand is primarily synonymous with faultless dress shoes, and the Leyton 5 blends the best of both worlds. The Leyton 5 Derby is a post-sneaker world shoe that combines a genuine leather upper with breathable textile lining, lace-front closure, a cushioned leather footbed, and a round-toe silhouette.
Outer: Leather 100%
Lining: Leather 100%, Polyester 100%
Sole: Rubber 100%
Price: $811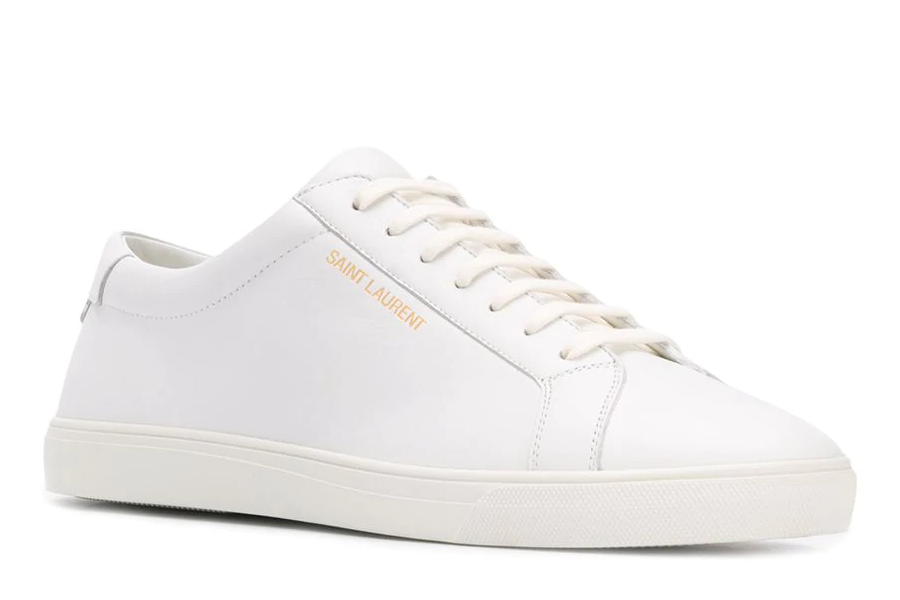 11. Saint Laurent Andy
Saint Laurent Andy needs no introduction, it's a renowned minimalist sneaker. This extraordinary low-top is crafted in Italy from the finest calf leather. Just how much leather, you ask? Try 100% leather inside and out, barring the rubber sole. Look for the gold-tone embossed logo stamp and branded insole, since the last thing you want is to drop nearly $800 on sneakers just to end up with a knock-off. Luxury minimalist sneakers don't get more luxurious than this, folks.
Outer: Calf Leather 100%
Lining: Leather 100%
Sole: Rubber 100%
Price: $790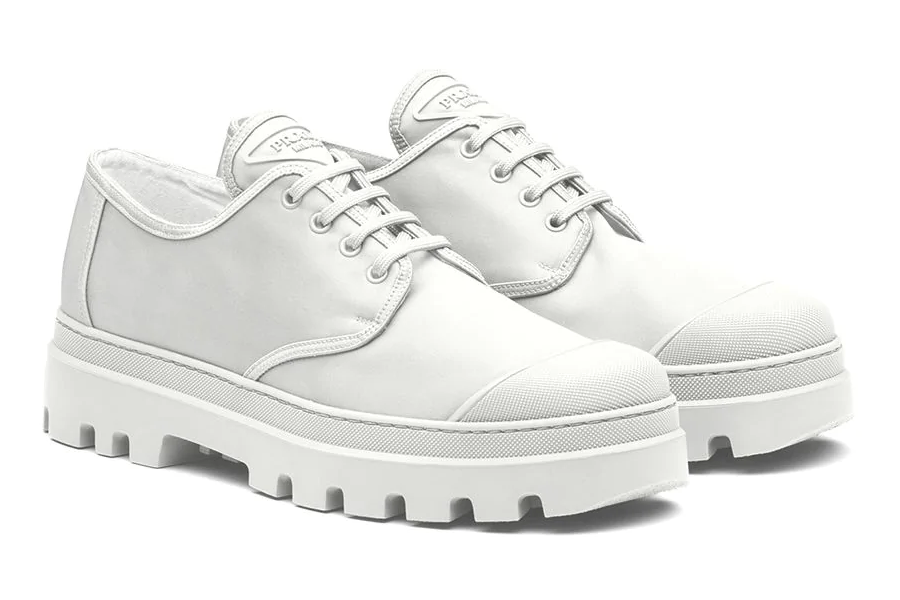 12. Prada Logo Patch
This minimalist sneaker from Prada walks the fine line between a fashion statement and minimalist legend. It all comes down to the outfit you pair with this shoe. If you go for something outrageous that takes the eye off the all-white colourway, you'll have a sneaker that is flying under the radar cool. On the other hand, if you pair these with some slack and a button-up they might become an all-white eyesore, so play it safe, or not.
Lining: Leather 100%, Fabric 100%
Outer: Nylon 100%, Rubber 100%
Sole: Rubber 100%
Price: $1000+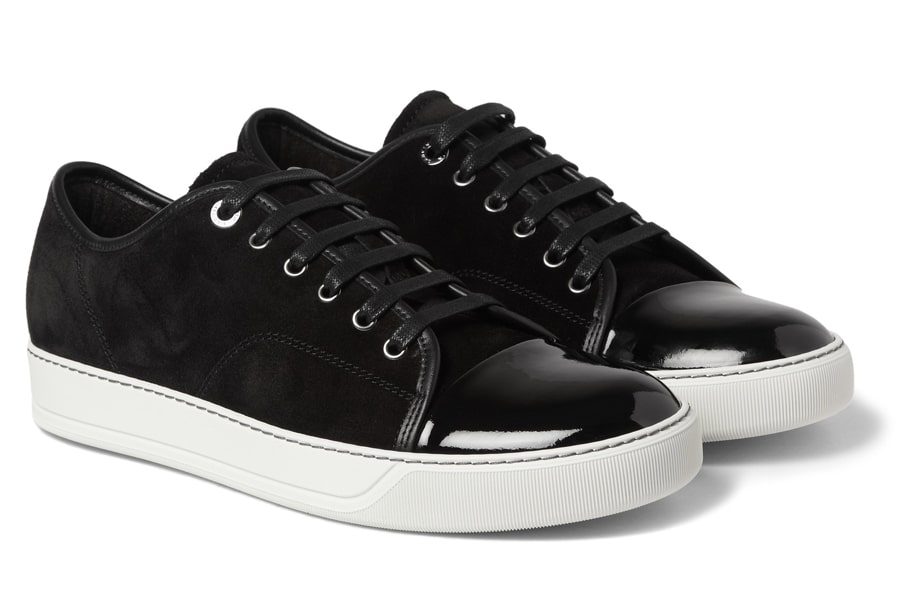 13. Lanvin toe-capped
Even after all these years, France's oldest couture house, Lanvin, deftly keeps up with the times. For proof, look no further than the classic brand's toe-capped sneaker. This is a masterstroke of material and design, with an army-green matte leather upper, leather lining, and rubber sole. The sneaker emanates style, so much so that it can easily elevate your smart casual or semi-formal outfit. This is what the best minimalist sneakers for men are all about.
Lining: Leather 100%
Outer: Suede 100%, Leather 100%
Sole: Rubber 100%
Price: $585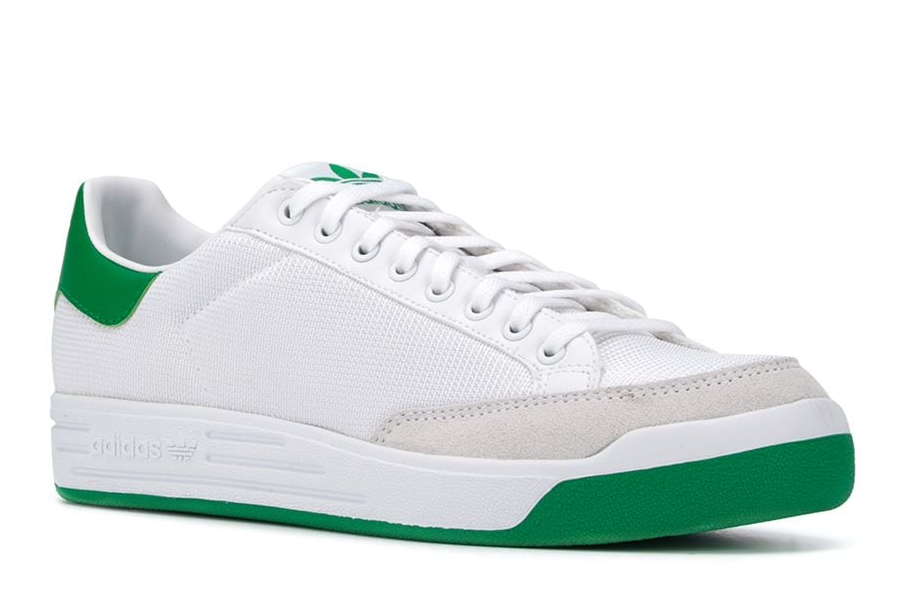 14. adidas Rod Laver
adidas might have very well started the minimalist sneaker trend back in 1963 when it unleashed the Stan Smith, i.e. the world's first leather tennis shoe. In the time since, the brand has certainly explored a full spectrum of styles and materials, but that doesn't mean it can't churn out the occasional minimalist silhouette. Enter the Rod Laver, which simultaneously bursts with retro style and modern allure. And it all comes in at a price that's simply too good to refuse. One of the greatest Aussie tennis players continues to be encapsulated in this amazing shoe.
Lining: Polyurethane 100%, Fabric 100%
Outer: Polyurethane 100%, Fabric 100%
Sole: Rubber 100%
Price: $180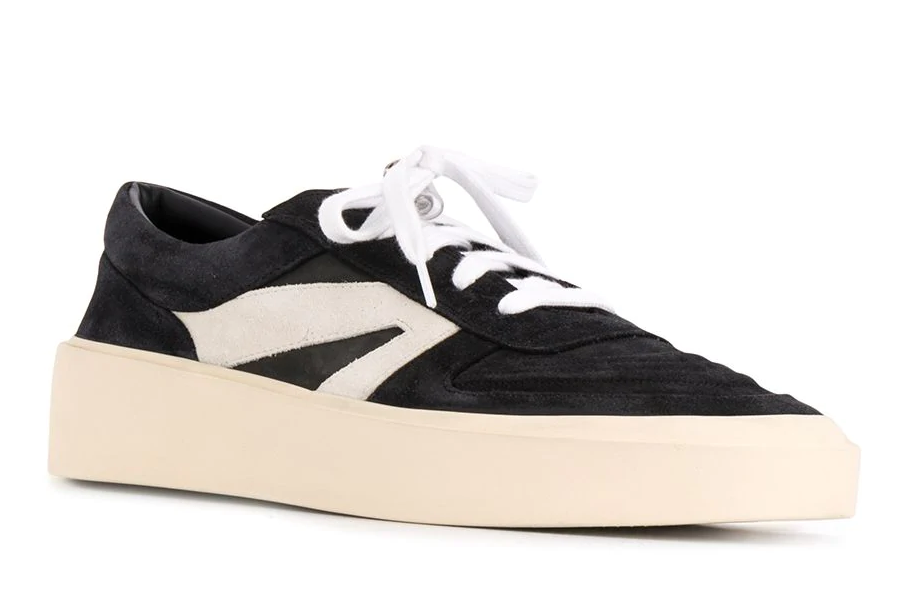 15. Fear of God Low-top
Jerry Lorenzo utilises his minimalist style on the Fear of God low. This minimalist sneaker features a trademark 30-degree sloping outsole that gives the sneaker a futuristic look. The black/ grey colourway is the best for pairing with a monochromatic outfit and the lace-up look is truly timeless. If you're looking for an instantly recognisable minimalist sneaker for men, you might have found your best option.
Lining: Leather 100%
Outer: Calf Leather 100%
Sole: Rubber 100%
Price: $785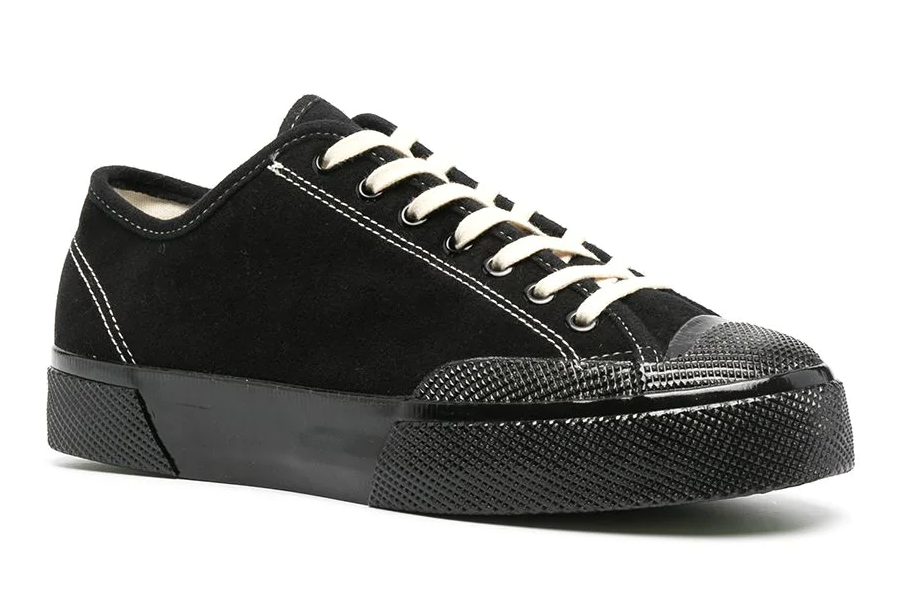 16. Superga W-14 Moleskin
With so many luxury labels having their sneakers made in Italy, it's only natural that the beloved country would already host some of the best minimalist brands. One of those Italian sneaker brands is Superga, which has been in business since 1911. For proof of Superga's brilliance, scope its respective ranges of low-top and lace-up sneakers, which deliver plush colourways and blatant quality at relatively low cost. If you like eye-catching footwear, prepare to fall in love with the Superga W-14 Moleskin.
Lining: Fabric 100%
Outer: Fabric 100%
Sole: Rubber 100%
Price: $262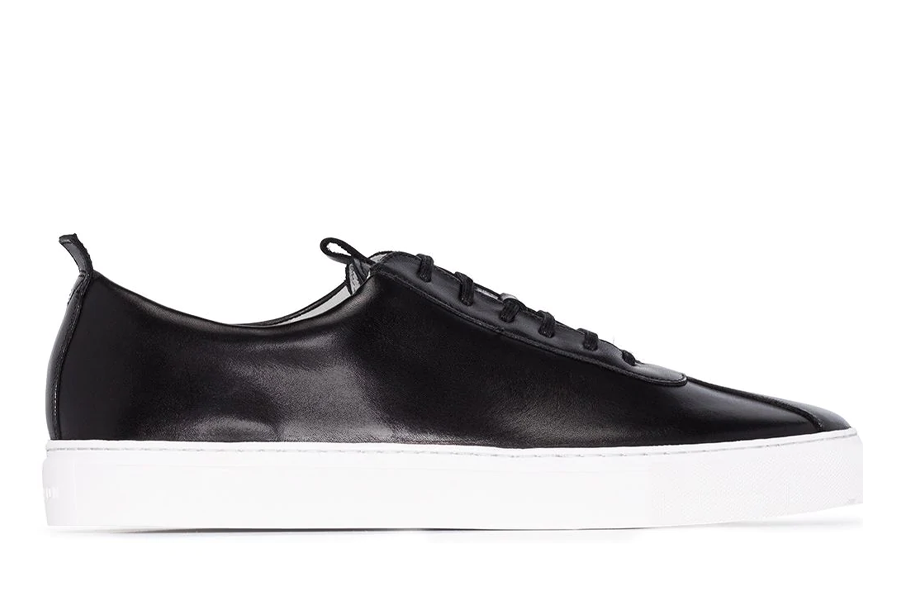 17. Grenson Sneaker 1 low-top
UK's Grenson has been operating for over a century, but it just recently moved into sneaker territory.  The result? Try these outstanding low-tops. Made in Europe using canvas and natural latex, every pair retains a vintage aesthetic, thereby exuding all sorts of classic personality. Able to blend with casual and smart casual wear alike, these sneakers are both stylish and unfettered, and that's definitely the point. Great shoes for the casual workplace and everything more.
Lining: Fabric 100%
Outer: Fabric 100%
Sole: Rubber 100%
Price: $262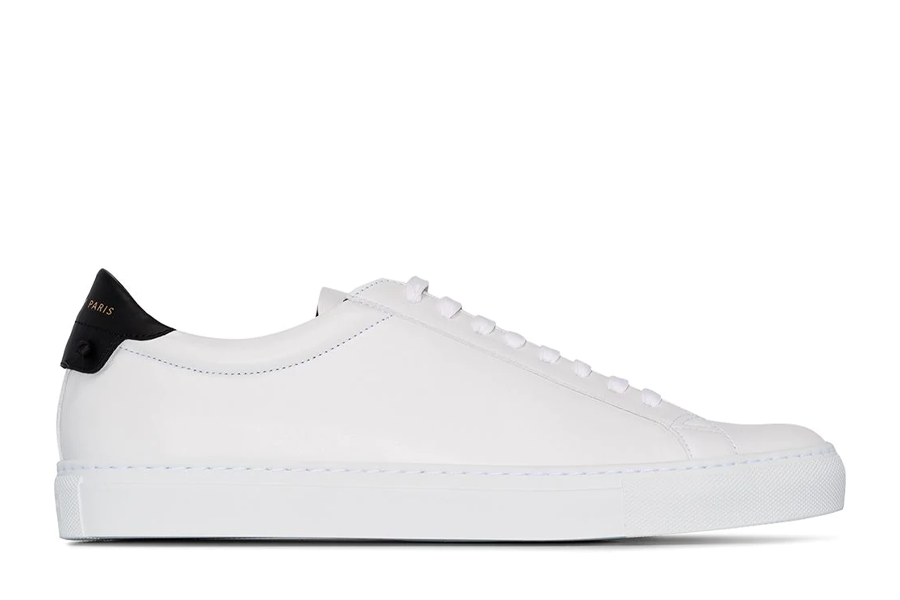 18. Givenchy Urban Street
Looking for minimalist sneakers with a little extra flair? Iconic luxury brand Givenchy has something just for you. Dubbed Urban Street, the collection frequently employs distinguished prints or patterns in addition to leather construction, knot details, leather lining, and rubber soles. That said, if you want a straight-up all-white pair of minimalist sneakers, you'll find them in the Urban Street collection.
Lining: Leather 100%
Outer: Leather 100%
Sole: Rubber 100%
Price: $850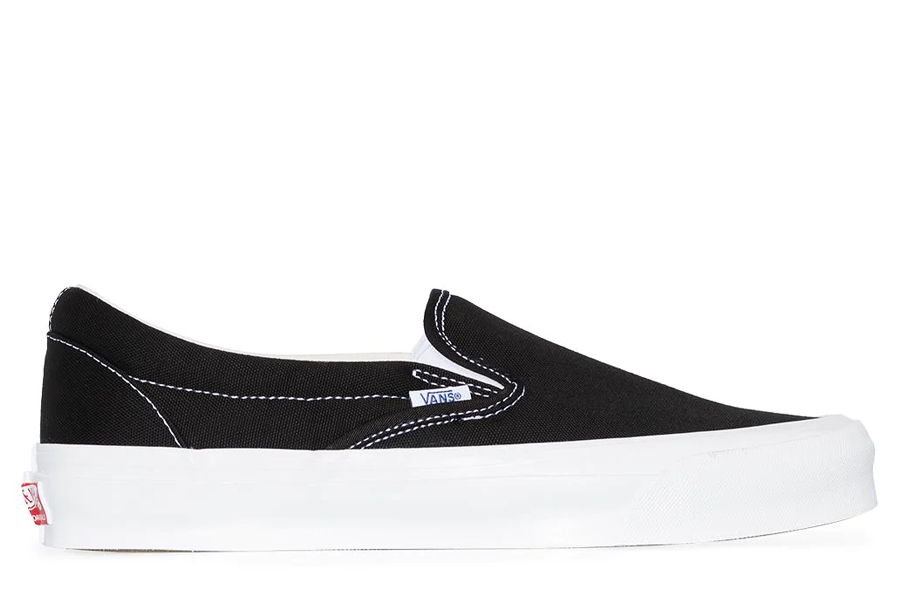 19. Vans UA OG Classic slip-on LX
Vans is a classic skate brand and here they deliver classic slip-on skate shoes. Each low profile pair combines a canvas upper with a rubber sole and offers the kind of low profile that the brand has banked its reputation on. Opt for the sleek black colourway, or say good riddance to all this minimalist philosophy and get chequered out instead. Either way, you're rocking some timeless street style.
Lining: Canvas 100%
Outer: Canvas 100%
Sole: Rubber 100%
Price: $100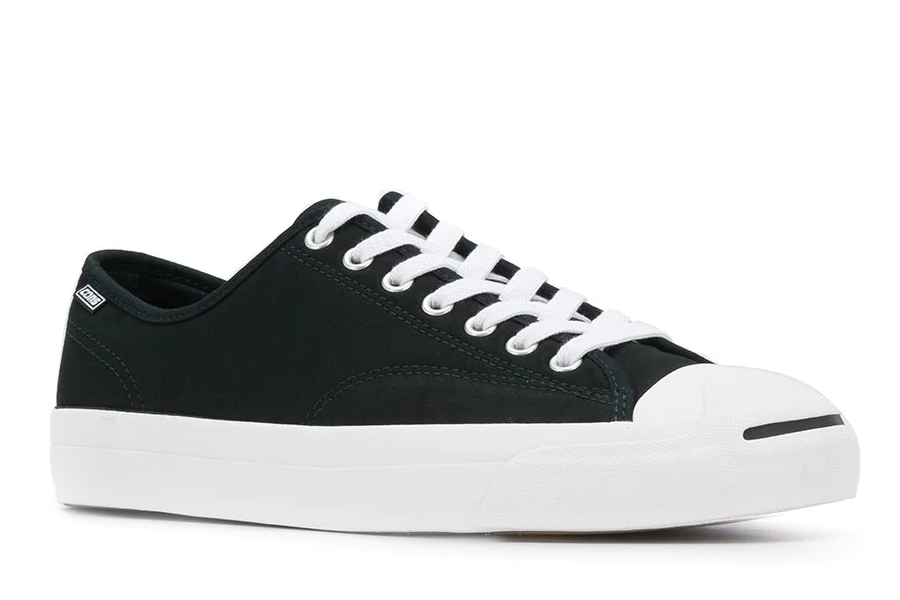 20. Converse Jack Purcell
Speaking of timeless street style, meet the Jack Purcell sneaker from Converse. Between the vintage aesthetic and monochromatic colour scheme, this casual but savvy silhouette is basically minimalist by default. But don't let us convince you to buy a pair. After all, you're either a Converse man or you're not.
Lining: Canvas 100%
Outer: Canvas 100%
Sole: Rubber 100%
Price: $130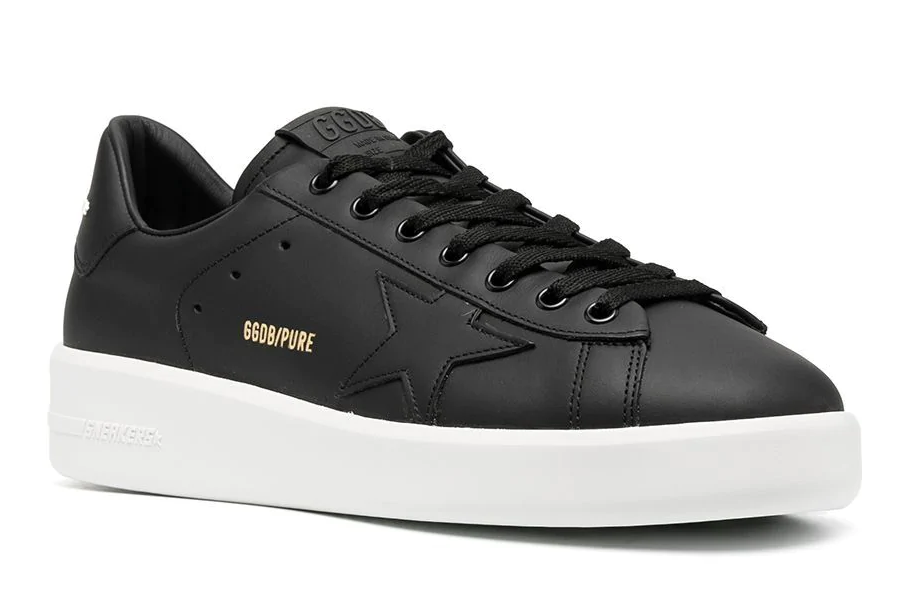 21. Golden Goose Pure Star
It's hard to put together a 'best' list and not include Golden Goose Deluxe Brand. The brand has an all-inclusive lineup of sneakers to suit just about any lifestyle. The traditional 'Superstar' sneaker isn't minimal at all, but if you look hard enough you'll find the Pure Star that forgets about the brand's usual distressed look. This minimalist sneaker for men employees a clean black and white colour scheme that adds a touch of gold to the logo.
Lining: Leather 100% Canvas 100%
Outer: Leather 100%
Sole: Rubber 100%
Price: $660
General FAQ
What is minimalist fashion?
Minimalist fashion is simple, all you have to do is keep it simple. Streamline your clothes shapes and limit yourself to a small selection of colours. These are the main principles to keep in mind.
What are the best minimalist sneakers?
There are a number of good minimalist sneakers. At the value end of the spectrum, you have the adidas Stan Smith, Nike Killshot, and Converse Jack Purcell. If you're looking to drop the bag on some minimalist sneakers you can't go past the Common Projects Low, and Givenchy Urban Street.
What are good Common Projects alternatives?
While Common Projects are without a doubt the end all be all minimalist sneaker, there are still a few quality alternatives on the market. You should have a look at the range from Oliver Cabell, Von Routte, and Camper.
You'll also like:
21 Best Black Sneakers For Every Man's Rotation
10 Sneakers You Can Wear to Work
Nike Air Max 270 Lifts Sneakers to New Heights, Literally